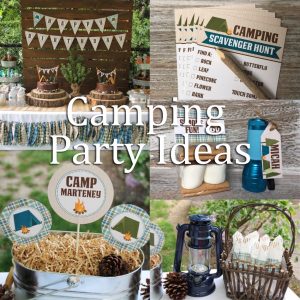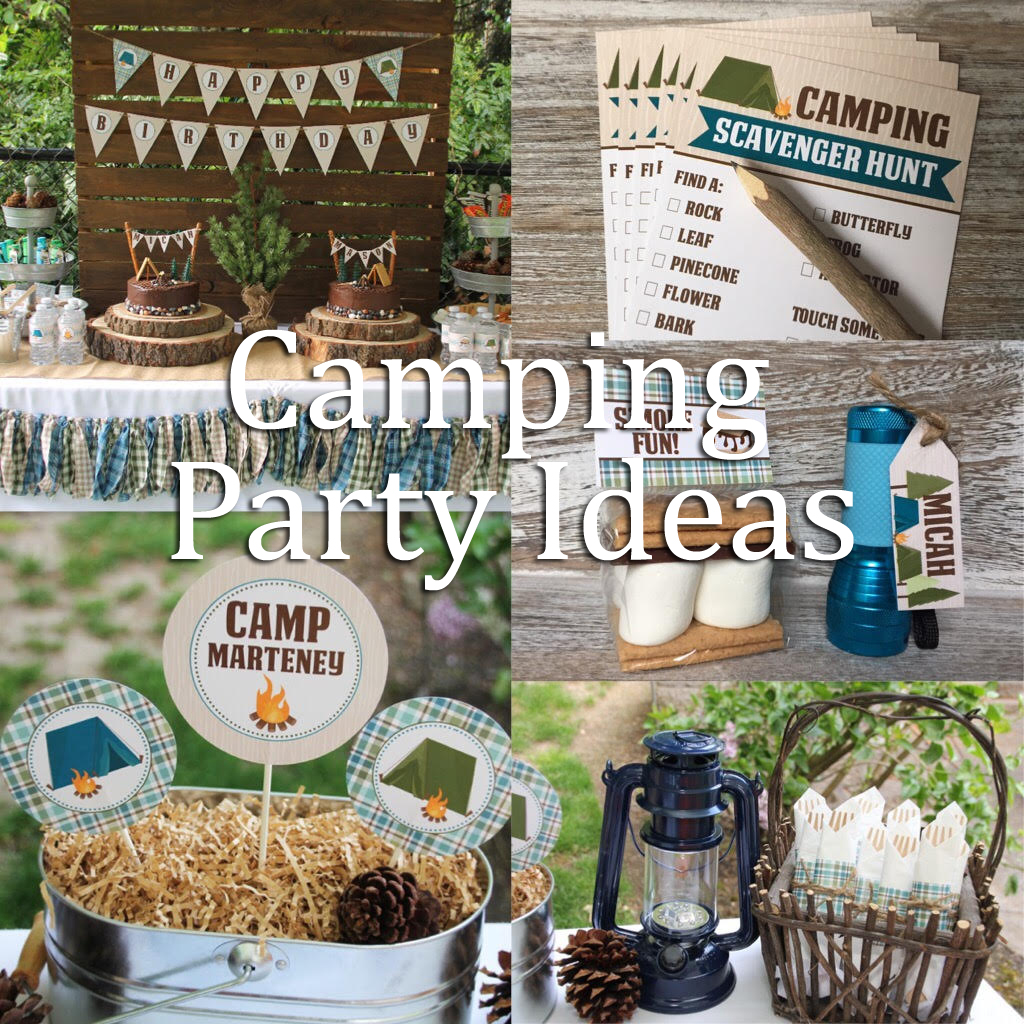 For several years I have been wanting to throw a camping party for my boys. We decided 8 was the perfect age for a tent campout. In our new home we back up to a forest space. I knew I wanted to utilize this for a real outdoor camping feel. I set up the main party table with the trees as our backdrop.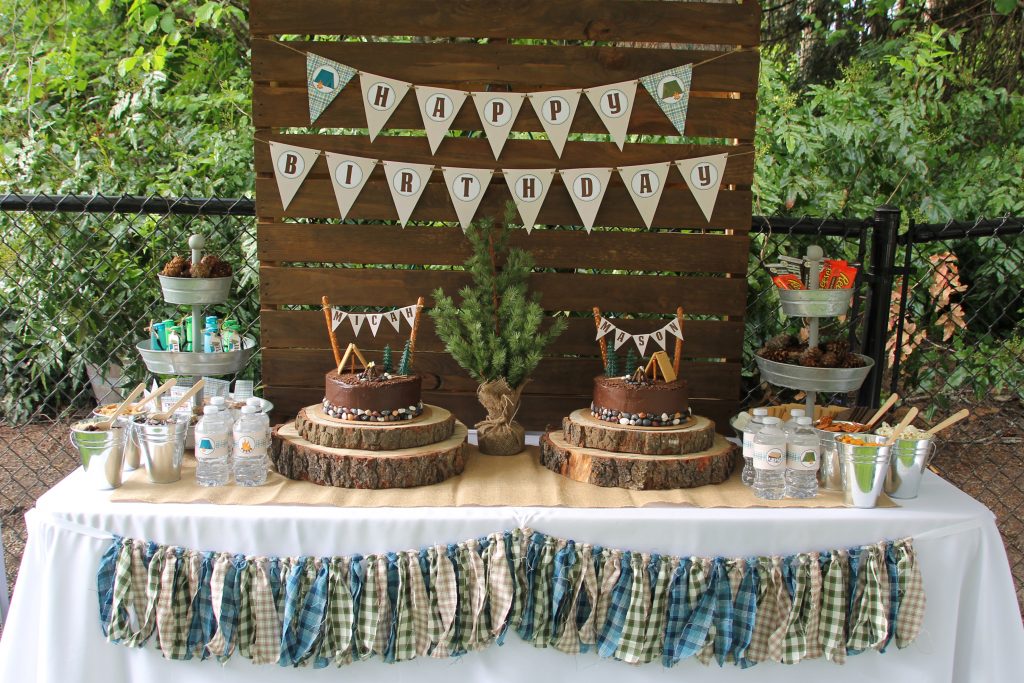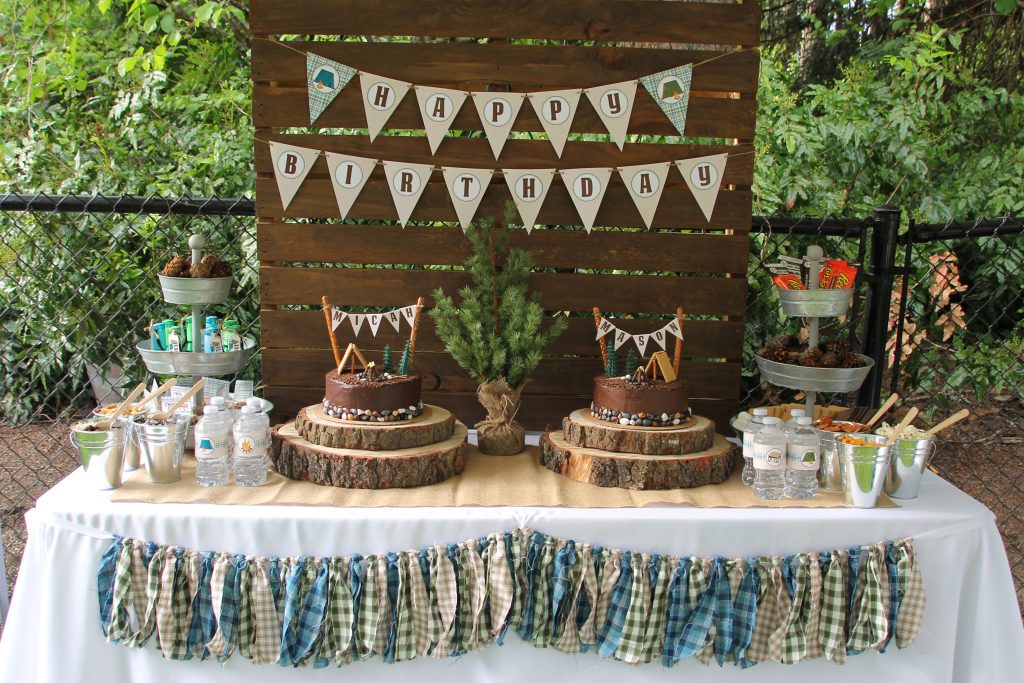 For this party package I used wood grains and plaid for a very BOY outdoor feel. I started with this Happy Birthday banner. I love the cute tent images in my boys' favorite colors. I displayed it on a pallet I stained. I shared earlier this week on Instagram how I did that with vinegar and steel wool!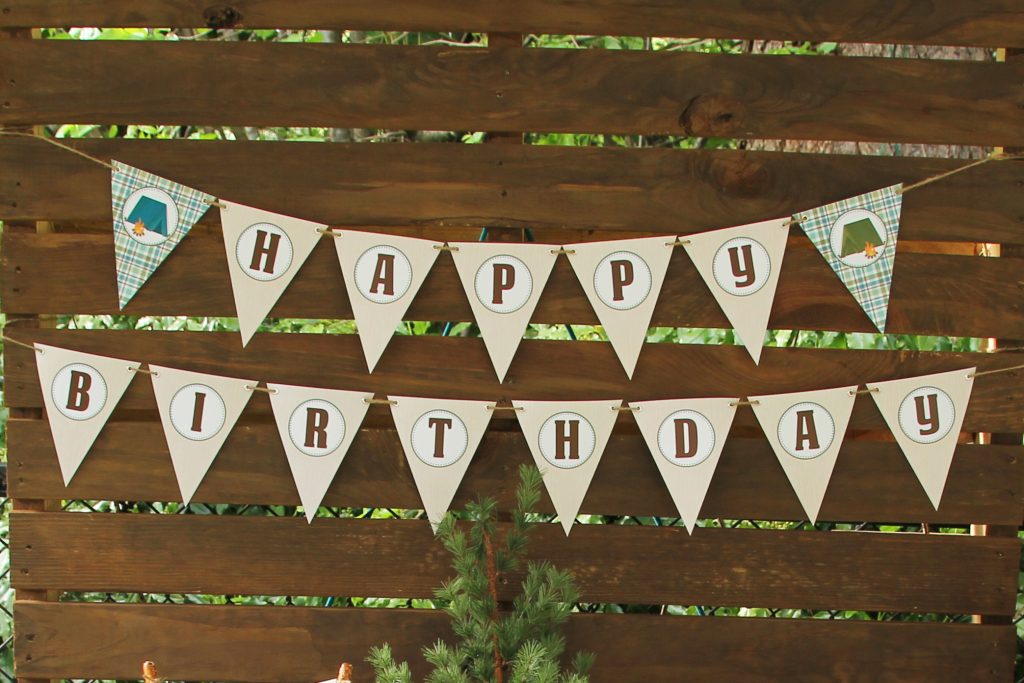 I found adorable cakes on pinterest I wanted to recreate. You can see the original here. I almost always do cupcakes at the twins' parties but these were perfect and they could each have their own cake. I used wood slices to create a cake stand making them front and center of the display. In the party package I have included the mini pennants in the full alphabet to create any name. I reduced the size slightly so longer names can fit as well.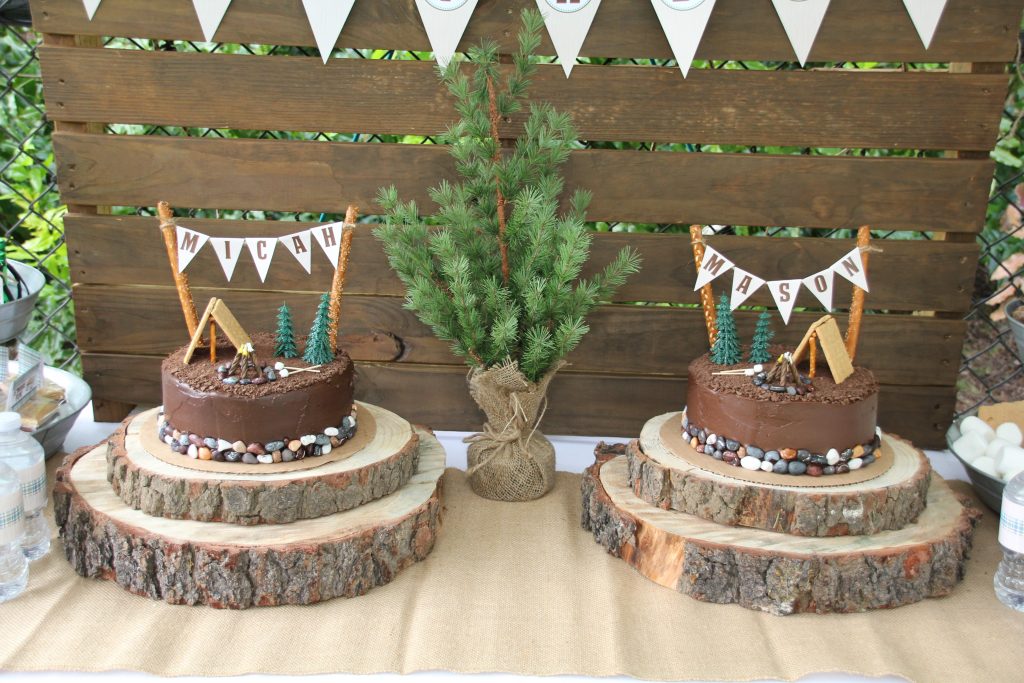 Later in the evening we would be watching a movie on a projector. I wanted to let the boys create their own trail mix. My boys are super picky and don't like traditional trail mix. By creating a trail mix bar each kid could pick their own snacks. Mini galvanized buckets were the perfect container to hold them.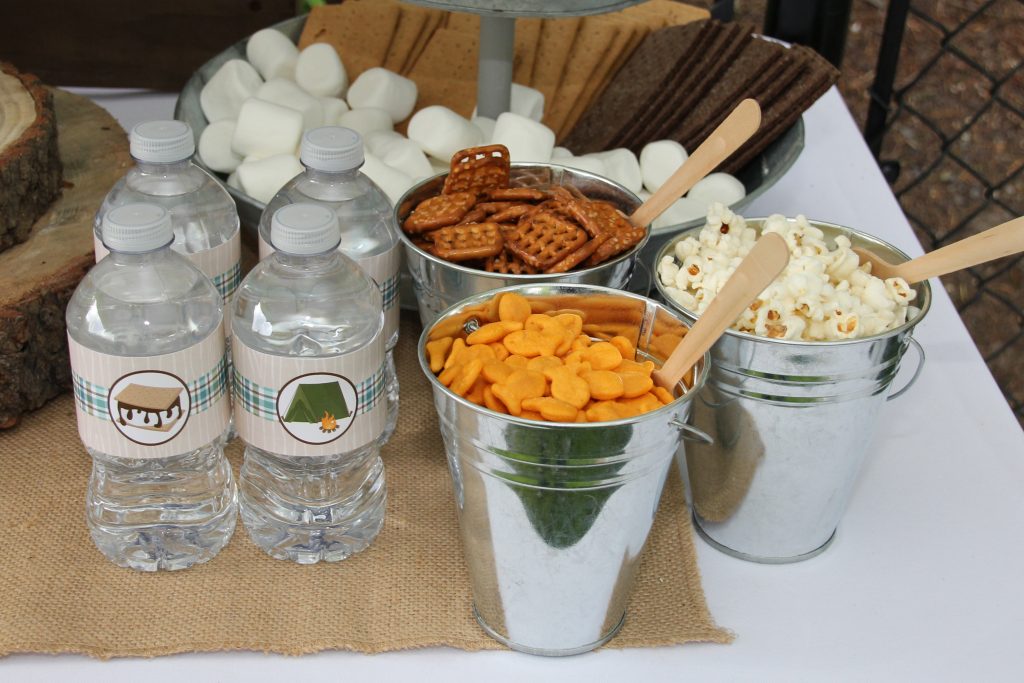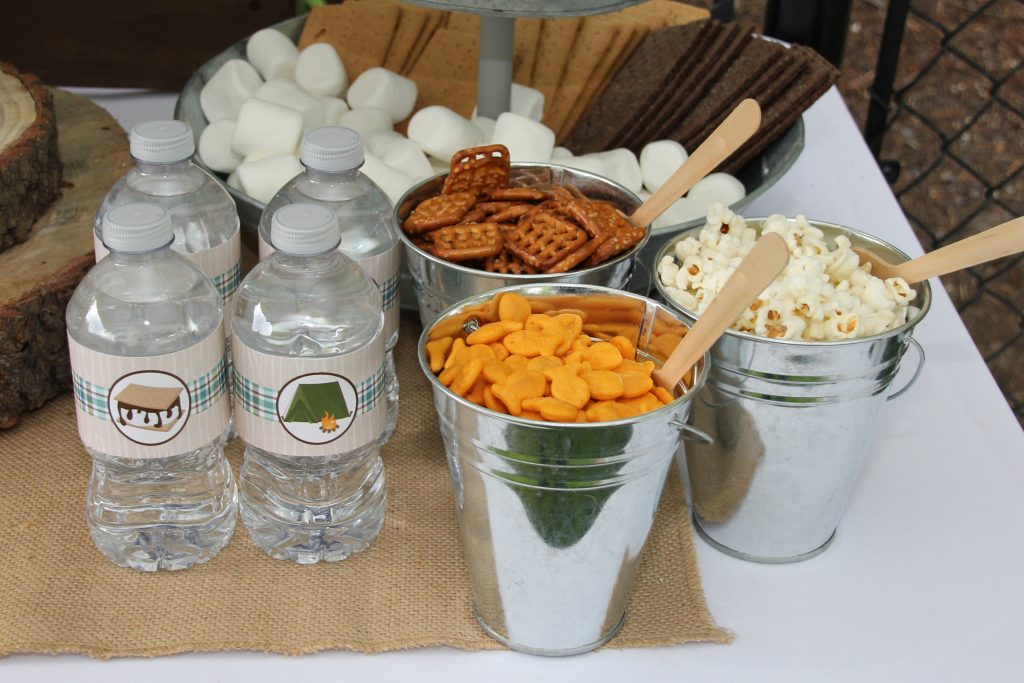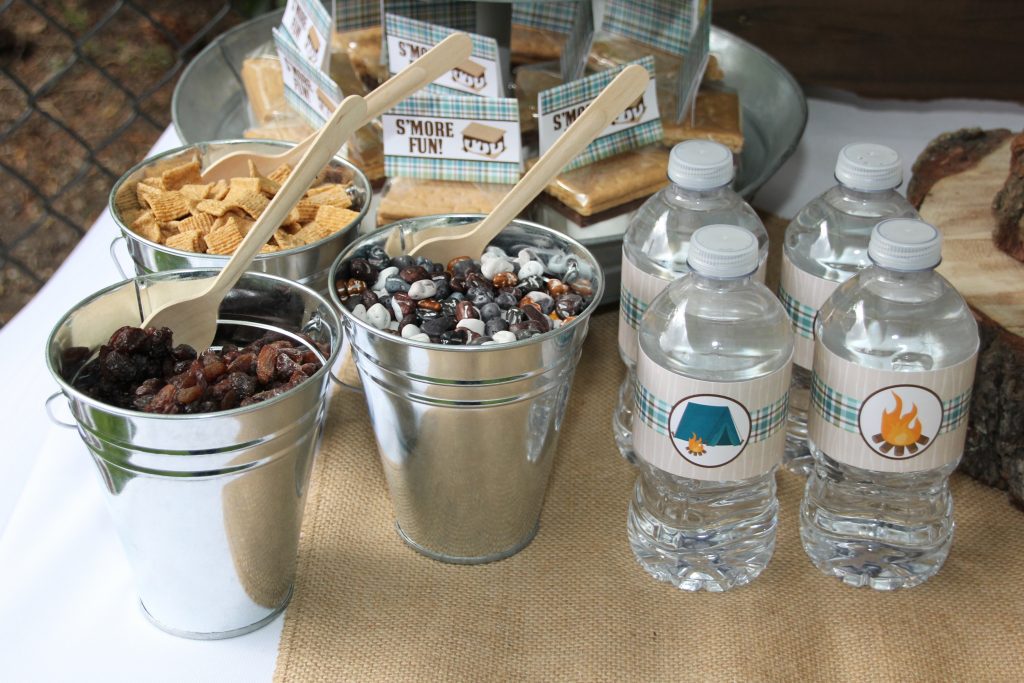 I used the printable cupcake toppers on the front of these mini kraft bags for each boy to fill with their trail mix. Also included in the party package is a printable treat bag topper that says trail mix. You could premake your own trailmix and have them packaged ready to go if a make your own trail mix bar does not fit for you.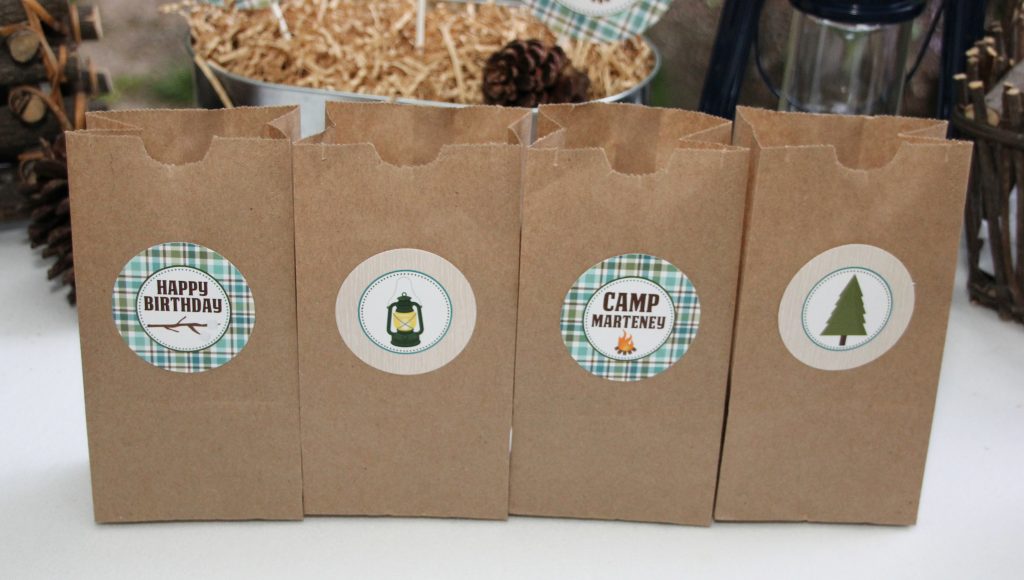 These tiered trays are one of my favorite party items I own. I have used them in so many ways. For this camping party they held the party favors. I filled in the extra spaces with pine cones for another natural element on the table.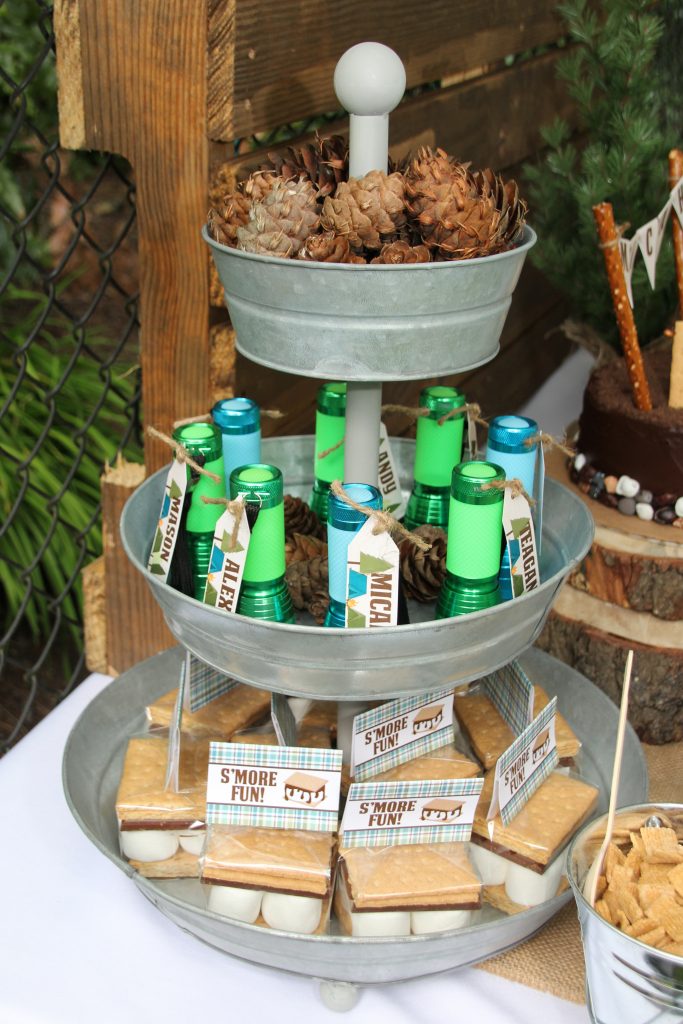 For the party favors each boy got a flashlight. I put name tags on them so  there were no mix ups during the party.
I also created take home s'mores kits so the party fun could continue. These printable treat bag toppers come in 2 sizes. A larger version if you are creating a s'mores mix with mini marshmallows, choc chips, and a graham cereal instead. Another fun take on s'mores.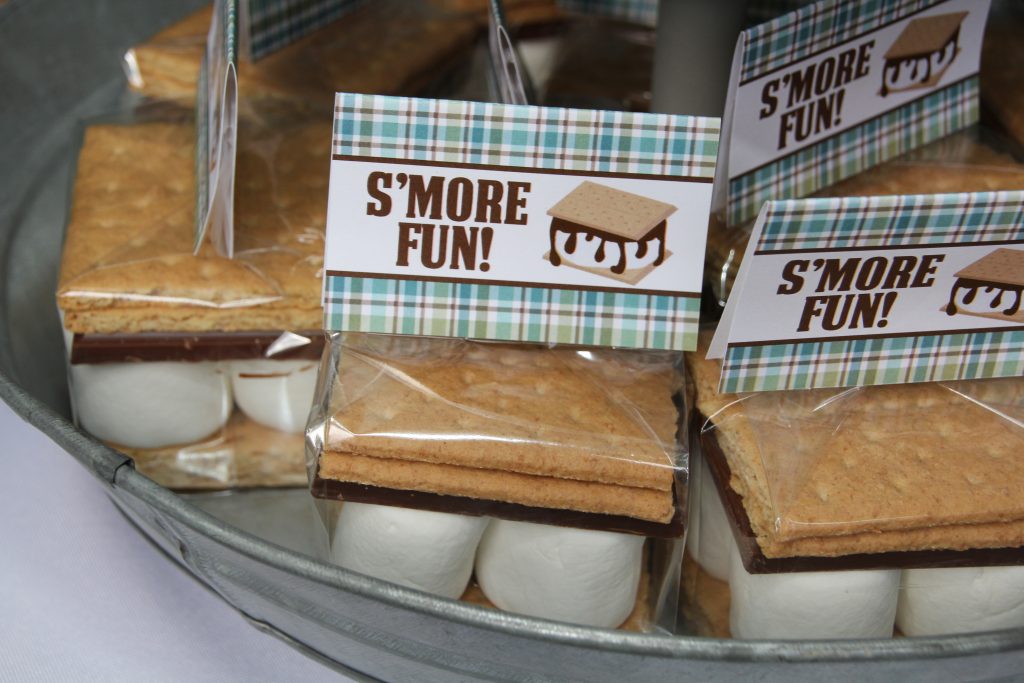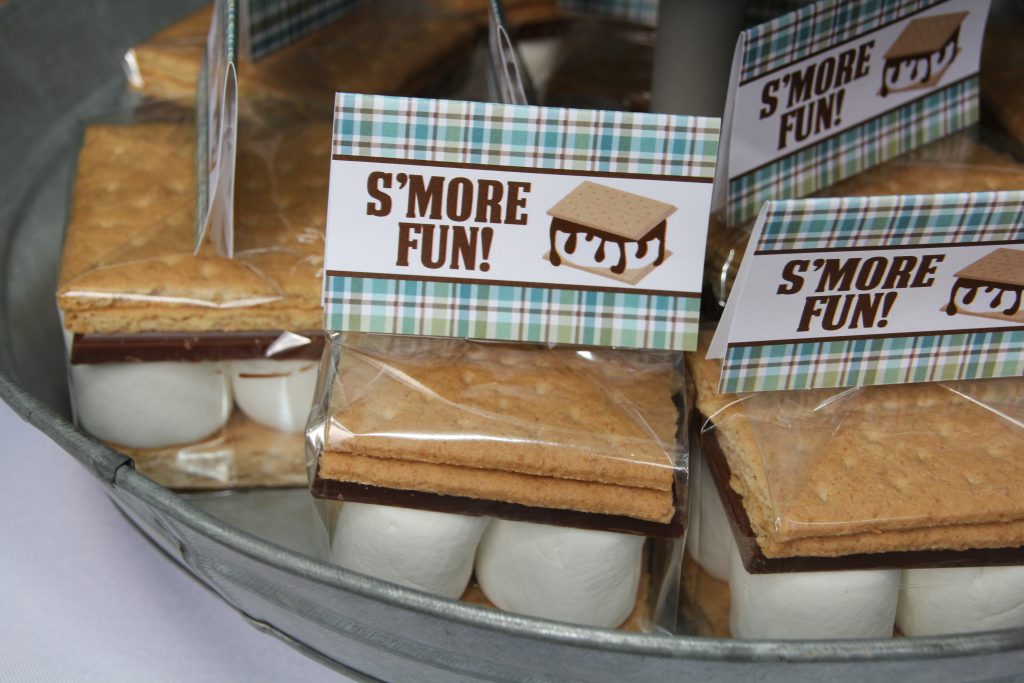 A closer look at the favors!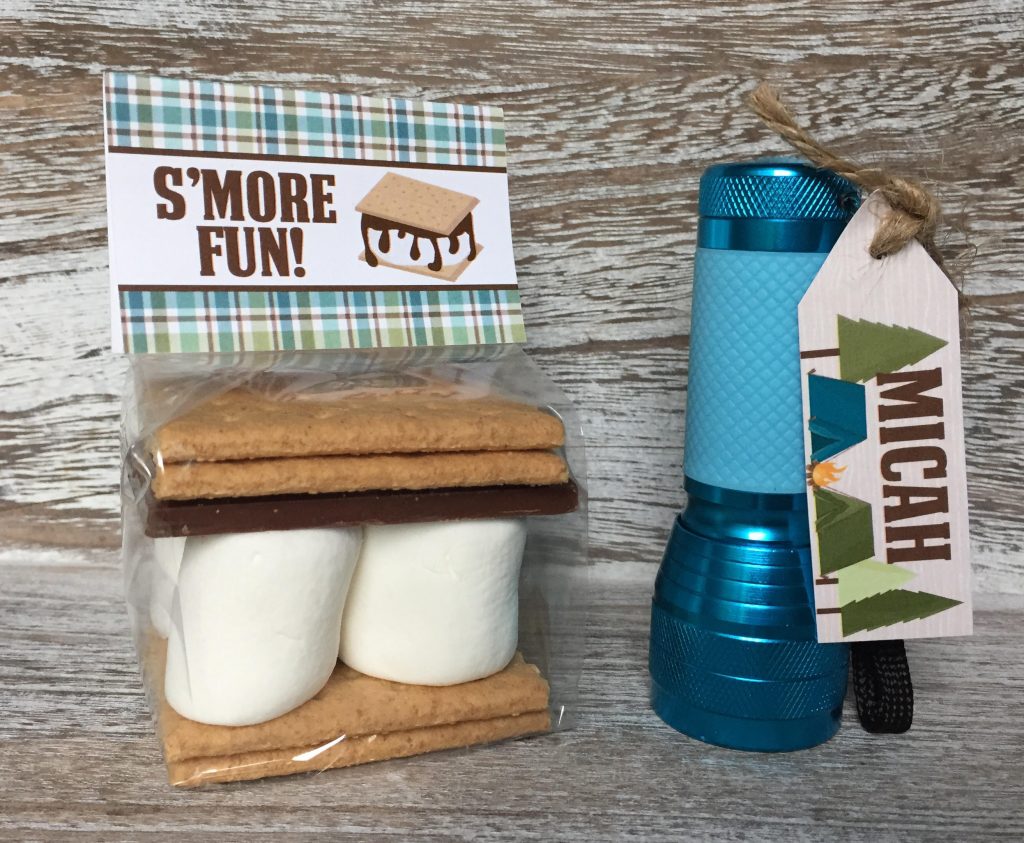 One the other side of the table we had all of our s'mores ingredients for our fire later that night. Get creative. Add multiple kinds of candies, various flavors of cookies or crackers, and even several kinds of marshmallows.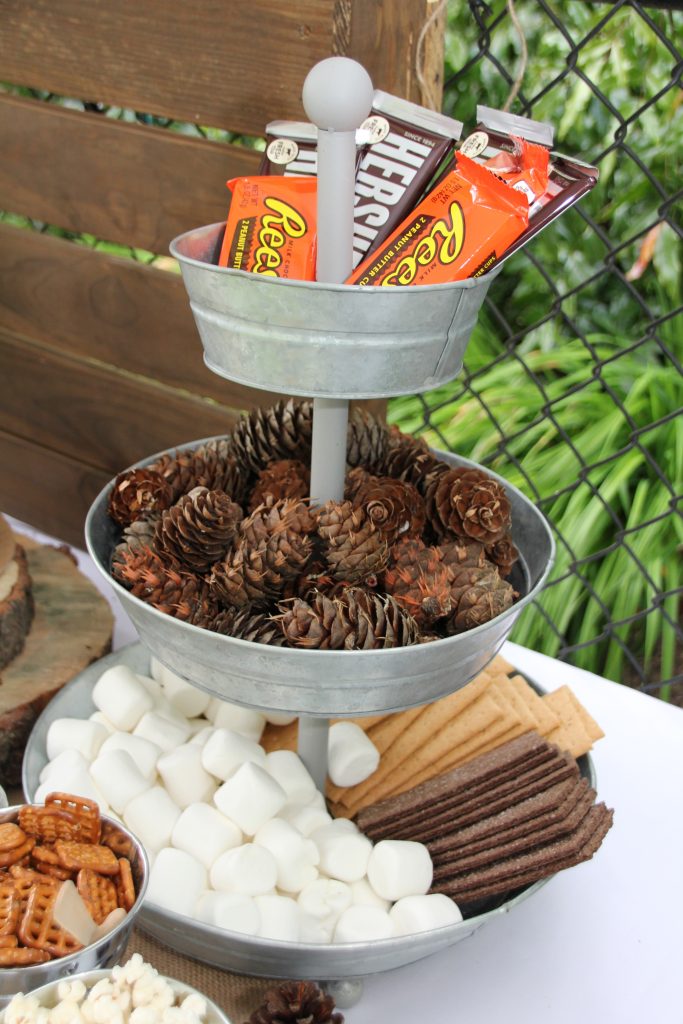 The chocolate graham crackers were a big hit!

I wanted to add a little more plaid to the table. I found these fun plaid fabrics at my local craft store. I cut strips and just did a basic slip knot around a strand of 5/8 ribbon to create a garland. Mix and match any fabric you like. Even add burplap strips for another texture.
My dreams of an outdoor party almost came to and end the week of the party. We live in Oregon and May is not always known for reliable weather. We get lots of rain. Of course the weeks on either side of the party were unseasonably warm. The day of the party however was rainy. We put up a pop up tent to cover the tables. The boys could have cared less about the rain. Give them some rubber boots and they were happy.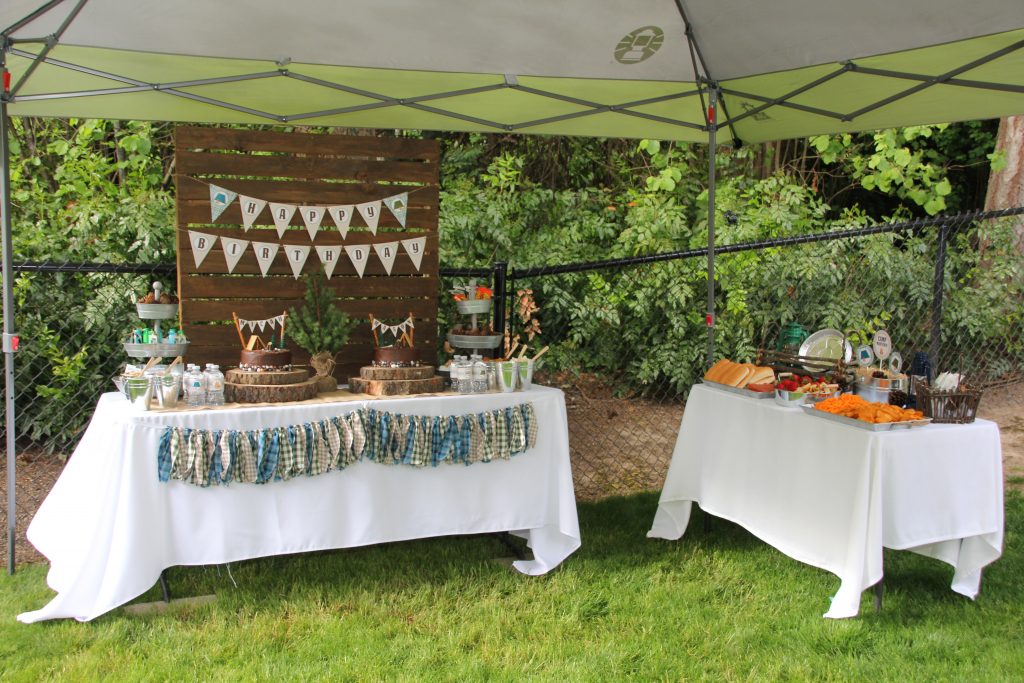 We were lucky to get a few breaks in the rain to have our fire. They even slept in the tent in the rain!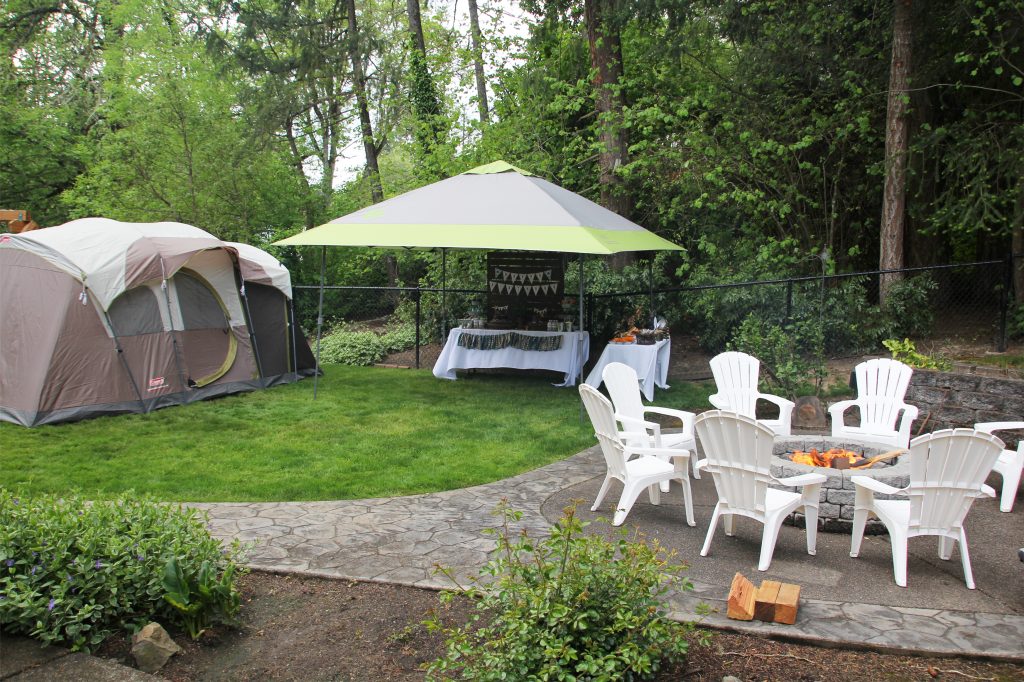 As each boy arrived at the party they were given these fun wood slice name tags. If you follow me @5mCreations on Instagram you saw me creating these. I used block alphabet rubber stamps to add their names and a leaf stamp for the green.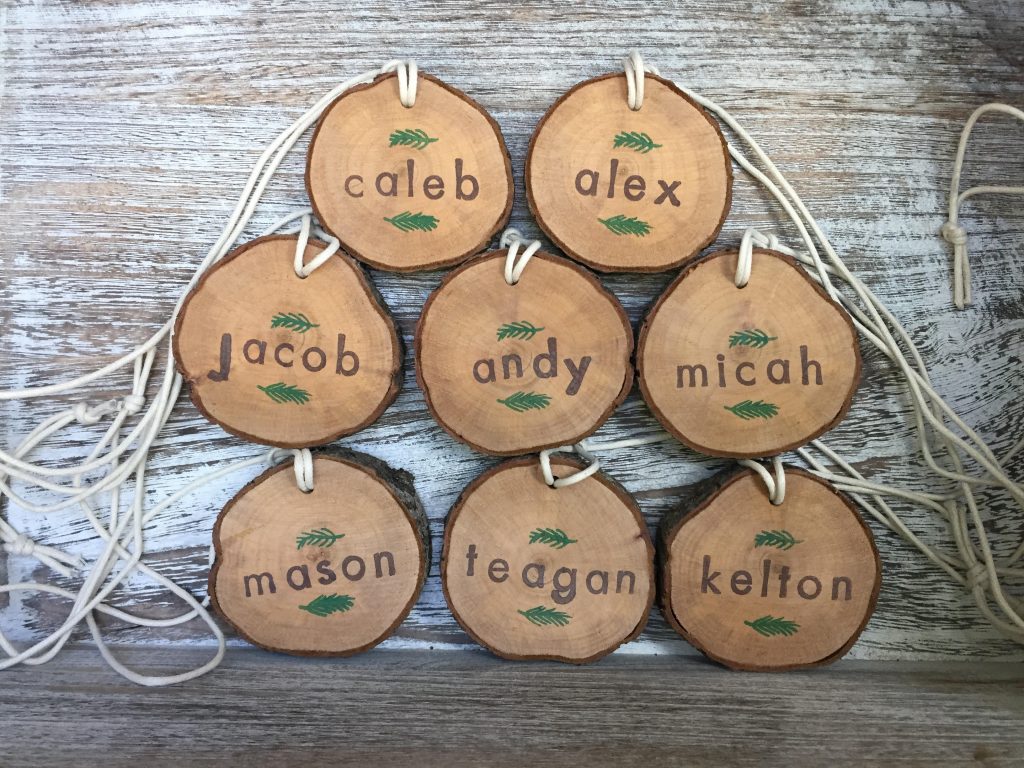 The boys loved wearing these! This made another item to take home with their party favors.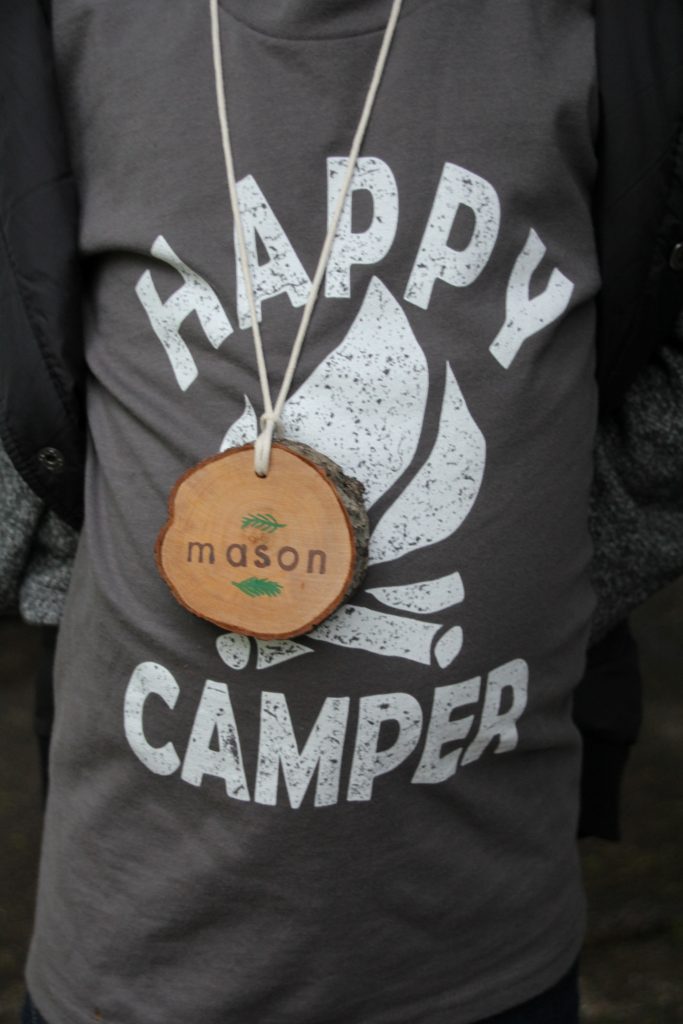 For food we went simple. Classic hotdogs roasted over the fire, fruit and chips. Between this, trail mix, and cake nobody went hungry!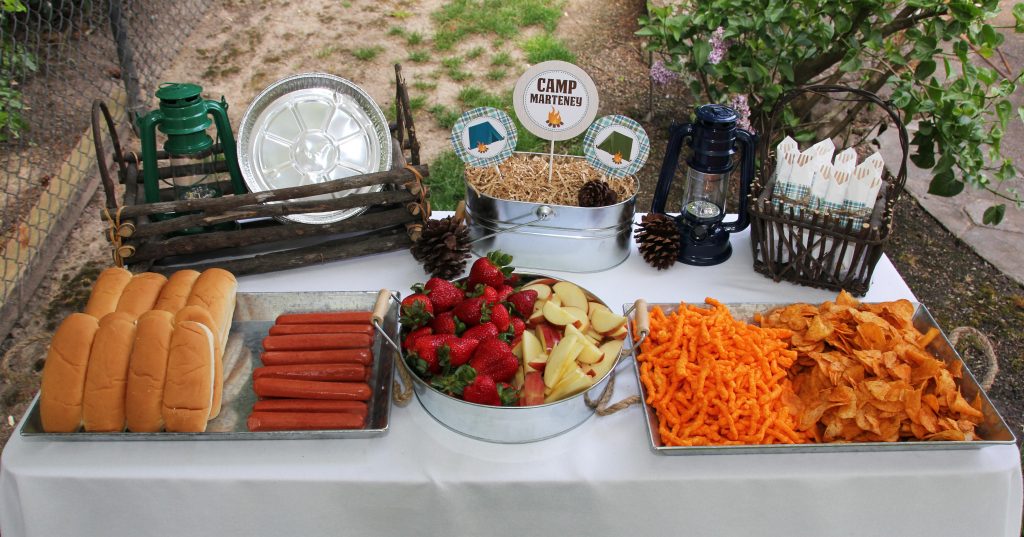 I love the look of these pie tins from the dollar store for plates. You might remember them from the camping party I posted on the blog a while back.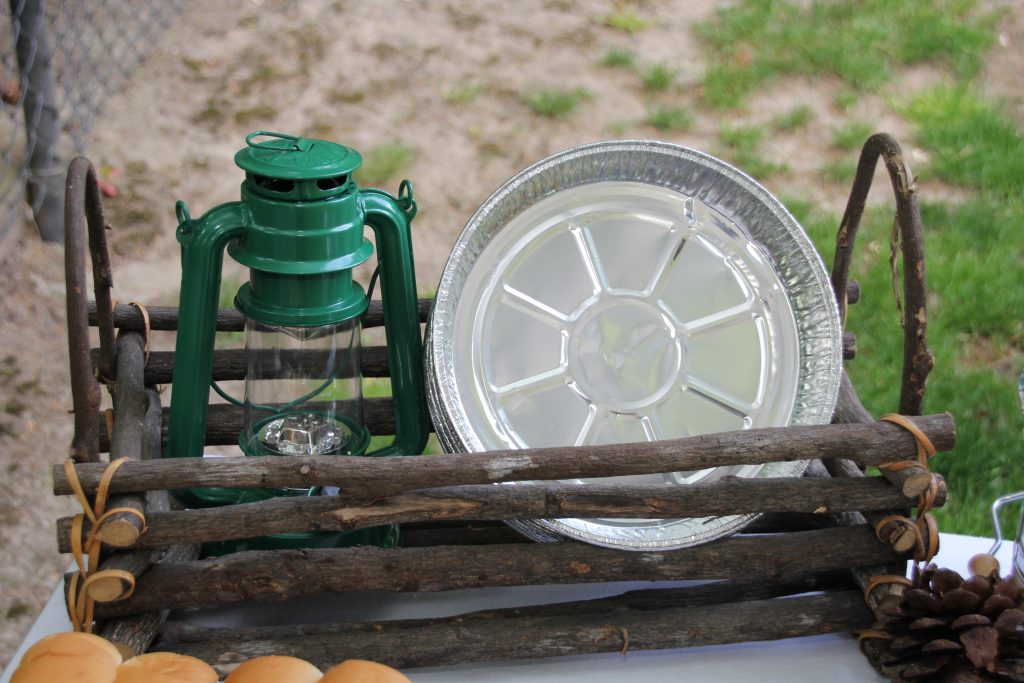 Hotdogs for everyone!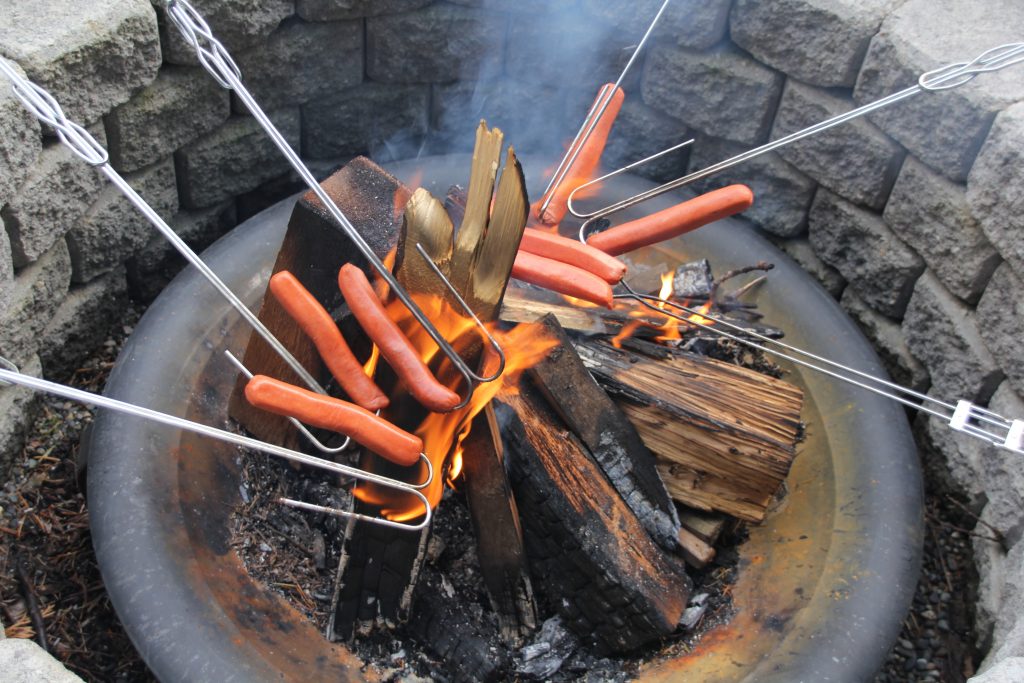 The pie tins keep everything from spilling off of laps. The mom part of me loves this. And they look so fun!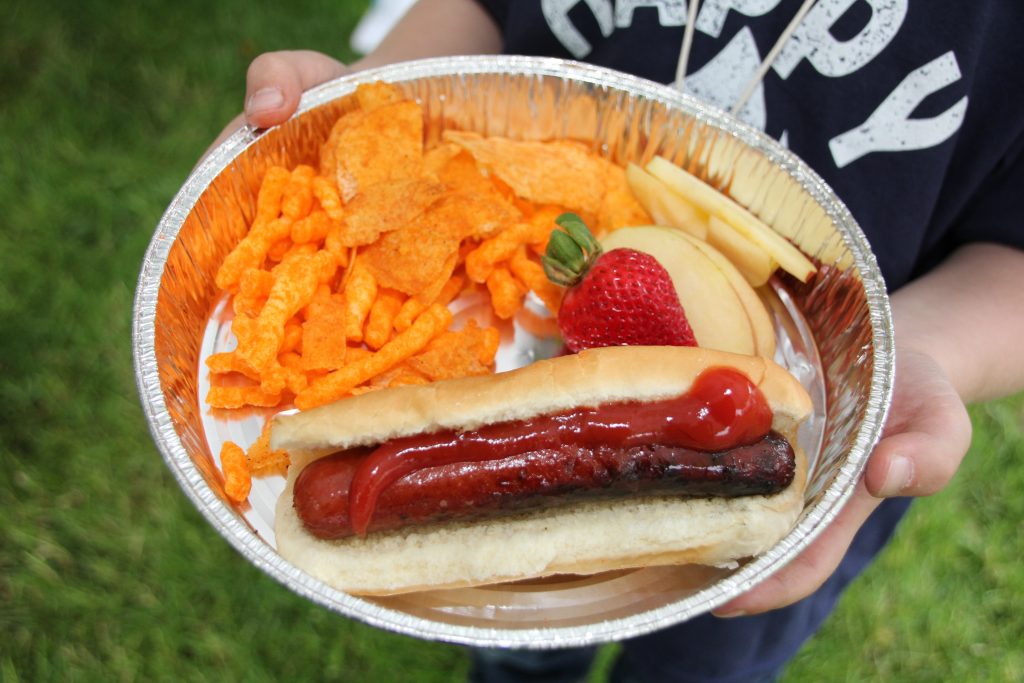 These lanterns seriously make my heart skip a beat. Aren't they adorable. Ok maybe I shouldn't say adorable for a boy's party. I found them in blue and green and knew they had to make an appearance on the party tables. They come in so many colors.
My other favorite item in this photo is that basket. I went to an estate sale down the street a few months before the party and found this one and the one you may have noticed in the pie tin plate photo. You don't get much more outdoors than a basket made of twigs. For the napkins inside I printed a sheet of patterned plaid paper (included in the party downloads), cut them 2×4 inches and wrapped them around the rolled napkins and wood silverware, tie with twine and they are complete. I have said this before but I love napkin wraps. They are so easy but make such a big impact.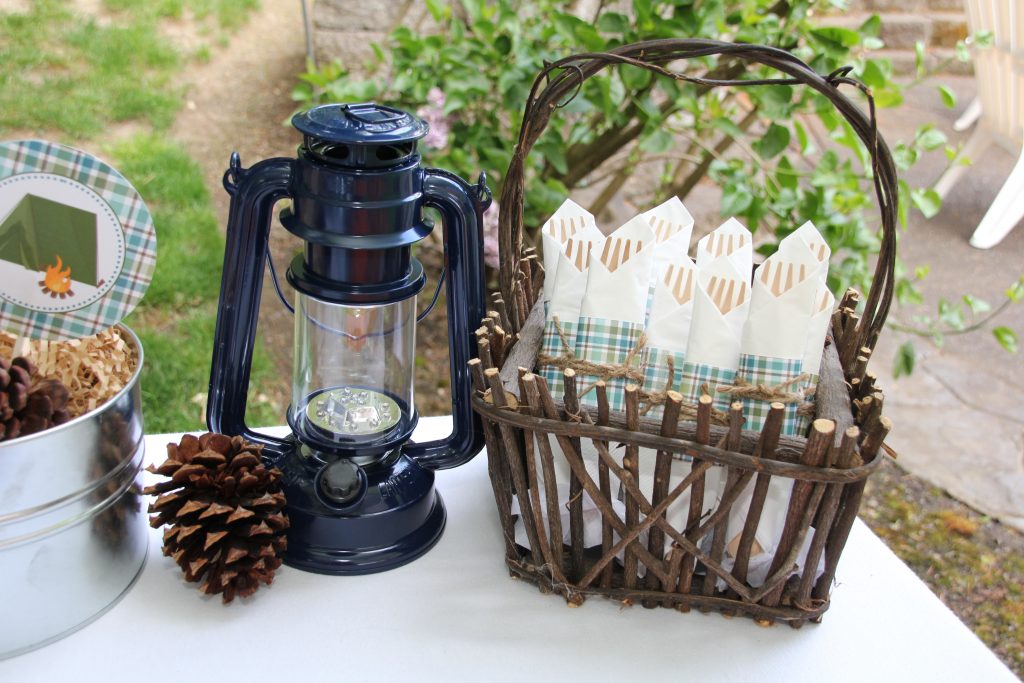 The last step to our meal was drinks. Since it was an outdoor party I didn't want to have to deal with a drink dispenser. I dressed up water bottles with these printable water bottle labels. Prefect for the boys to carry around to each activity.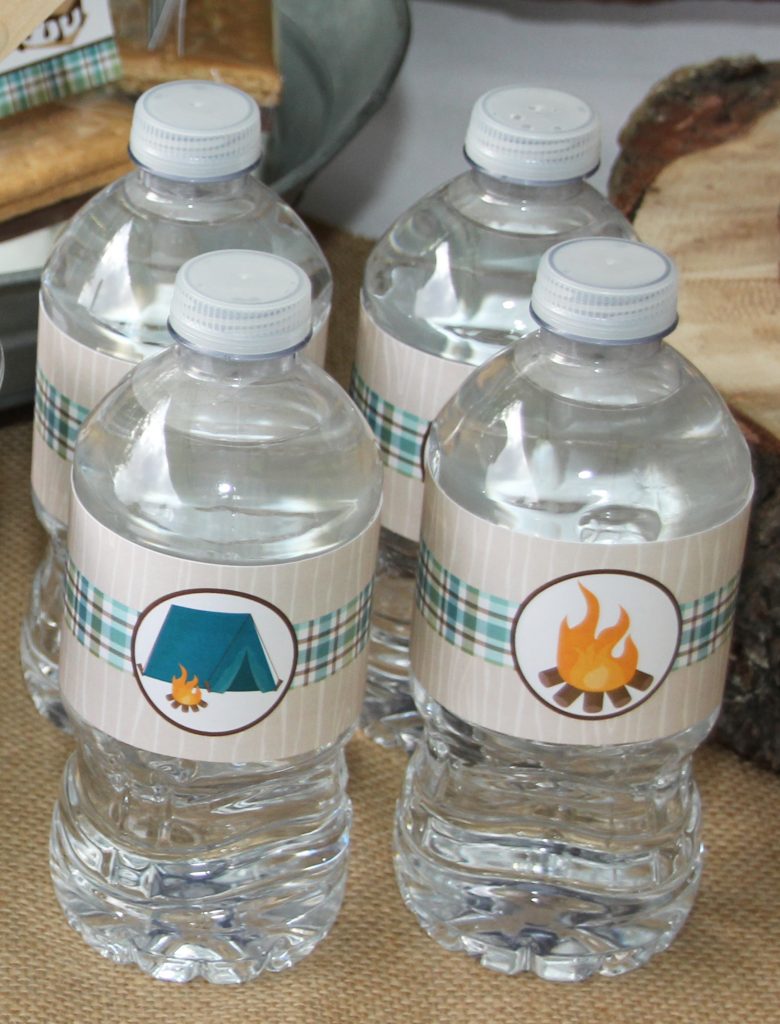 This Camp centerpiece is created using party circles from my printable camping party decor package. I offer several styles of images. For my twins I wanted them each represented with their color of tent. The package comes with Happy Birthday and Happy Camper but personalization with your camp name is always available. Just add the sticks to your favorite container (floral foam in the bottom), cover with crinkle paper, and you are set.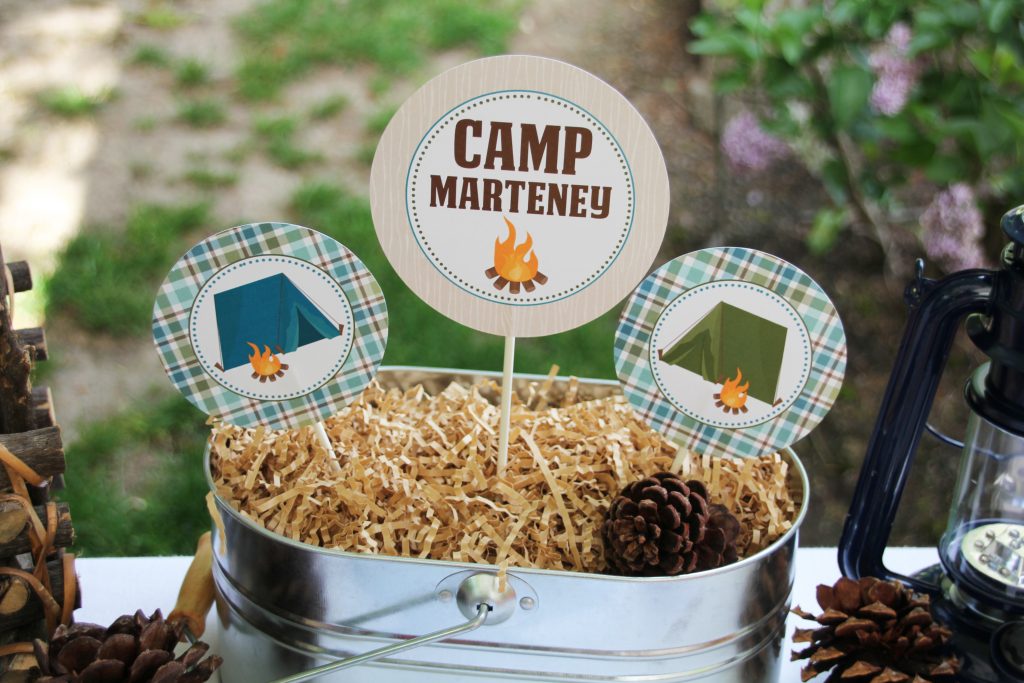 Once dinner was done I got the boys together for a scavenger hunt. You may notice an odd object on our scavenger hunt list. We have a stone alligator that was left by the previous owner who lives in our forest. The boys got a kick out of it. A printable version of this card (without an alligator) is included in the camping birthday party decor package.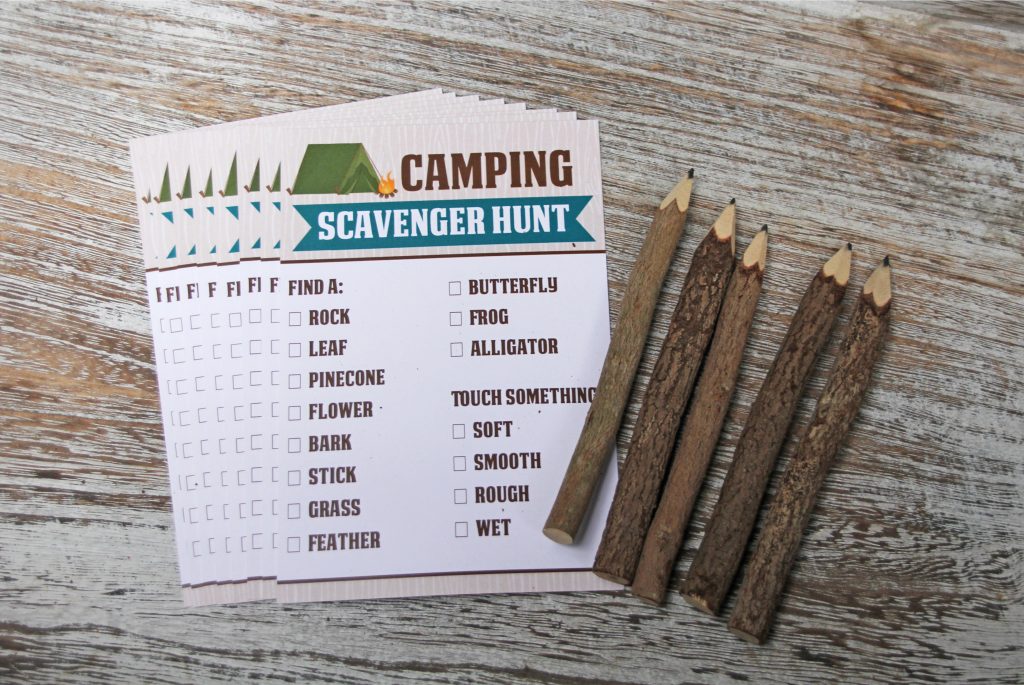 The boys had a great time hunting down the objects and checking them off. You could take it a step further if you wanted and give them each a bag to collect items in.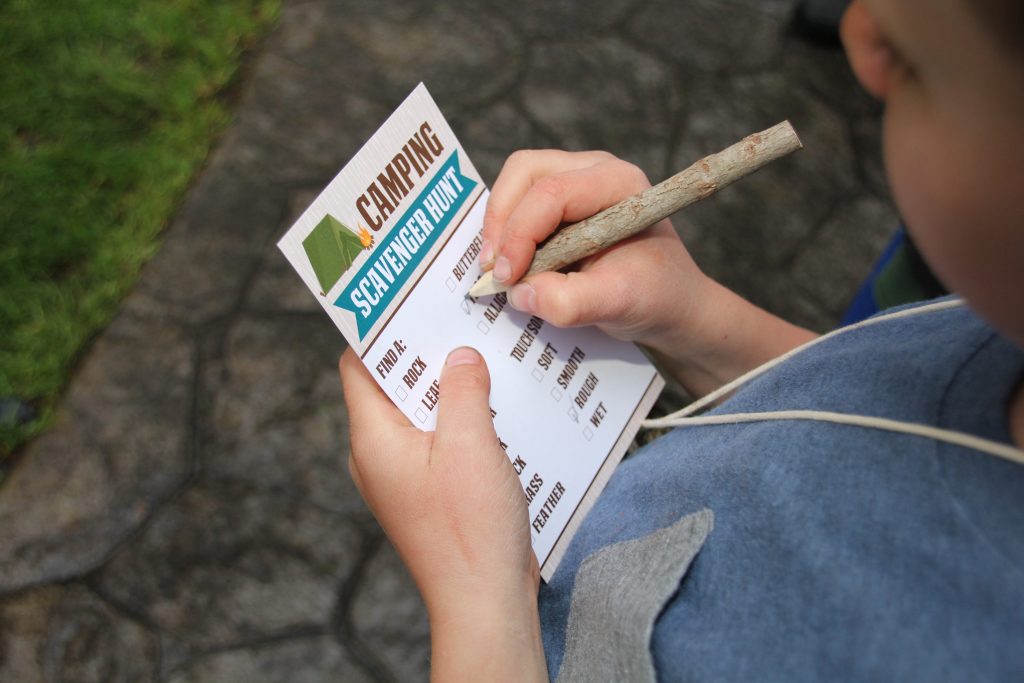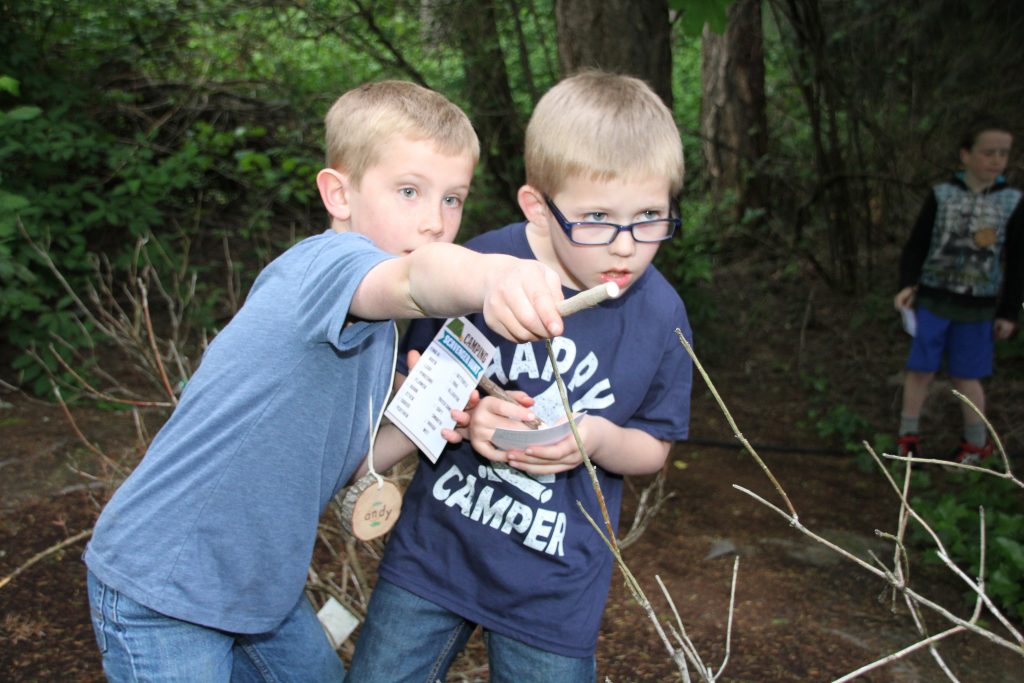 Next was birthday cake! My favorite thing about these cakes was that when you lit the candles you were lighting the fire.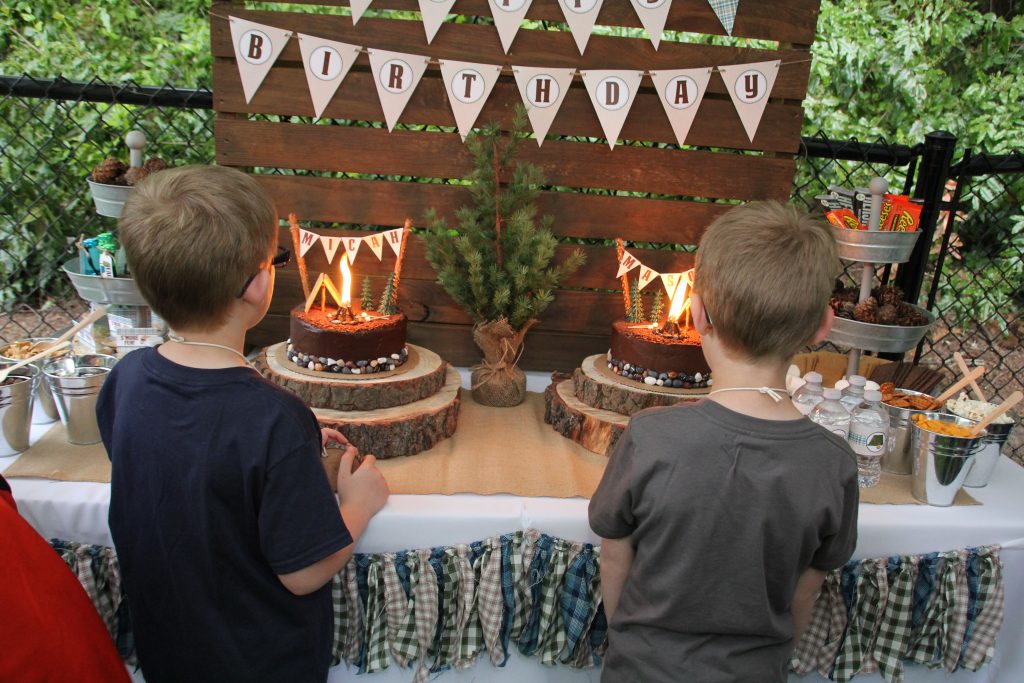 I painted plain generic colored birthday candles with brown and white craft pain to make the logs.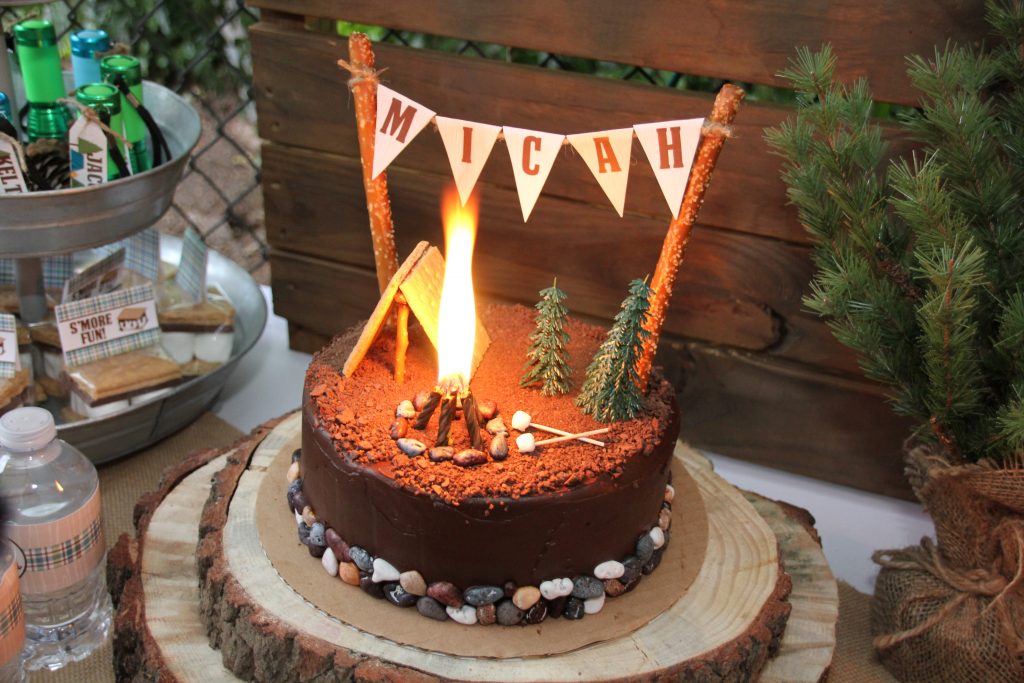 We spent the rest of the evening watching a movie. This was supposed to be outdoors on a projector screen, however the rain and cold had the boys decide on warmth indoors. We ended the night camping out in the big tent in the backyard. Everyone bundled up and made it all the way through the night.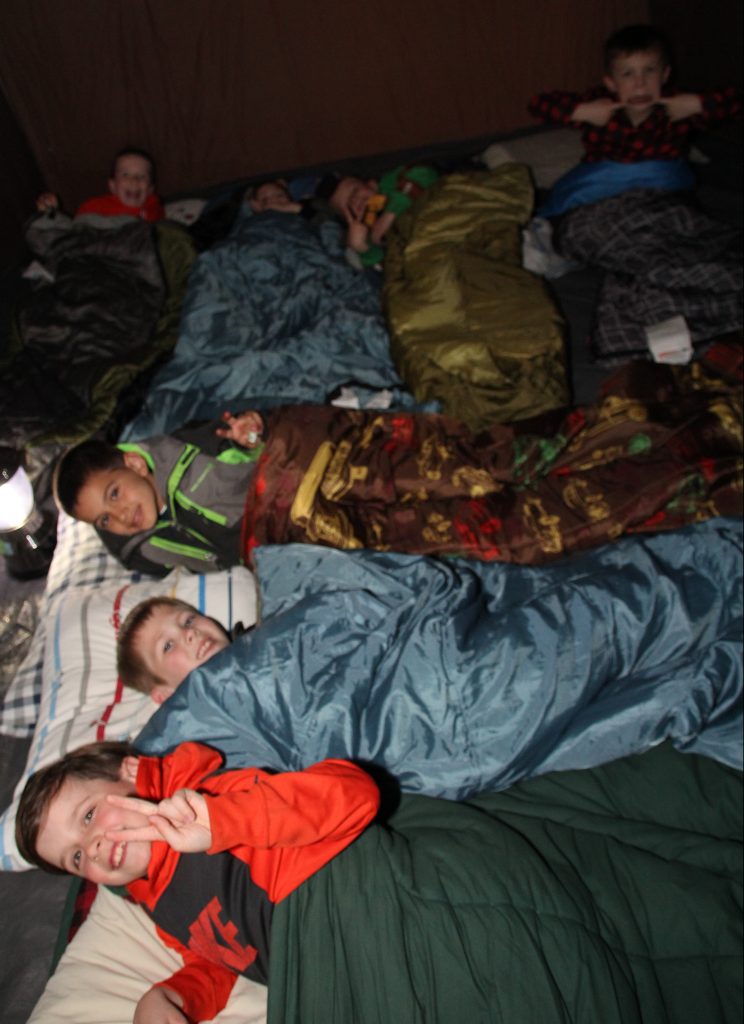 It was such a fun party! Happy Birthday boys! If you create a party using this package be sure to send me photos at fivemcreations@gmail.com. I am always looking for parties to feature here on my blog or in my shop.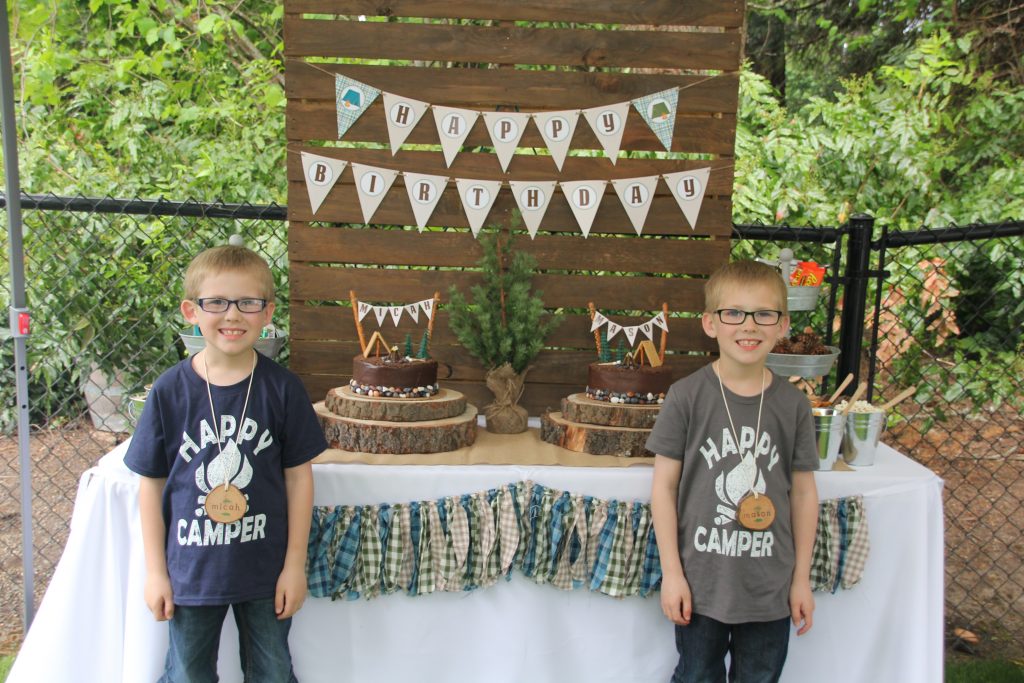 The camping birthday party printable invitation is now EDITABLE. You can purchase, download and edit right at home to fit your party needs. You can find it in my shop.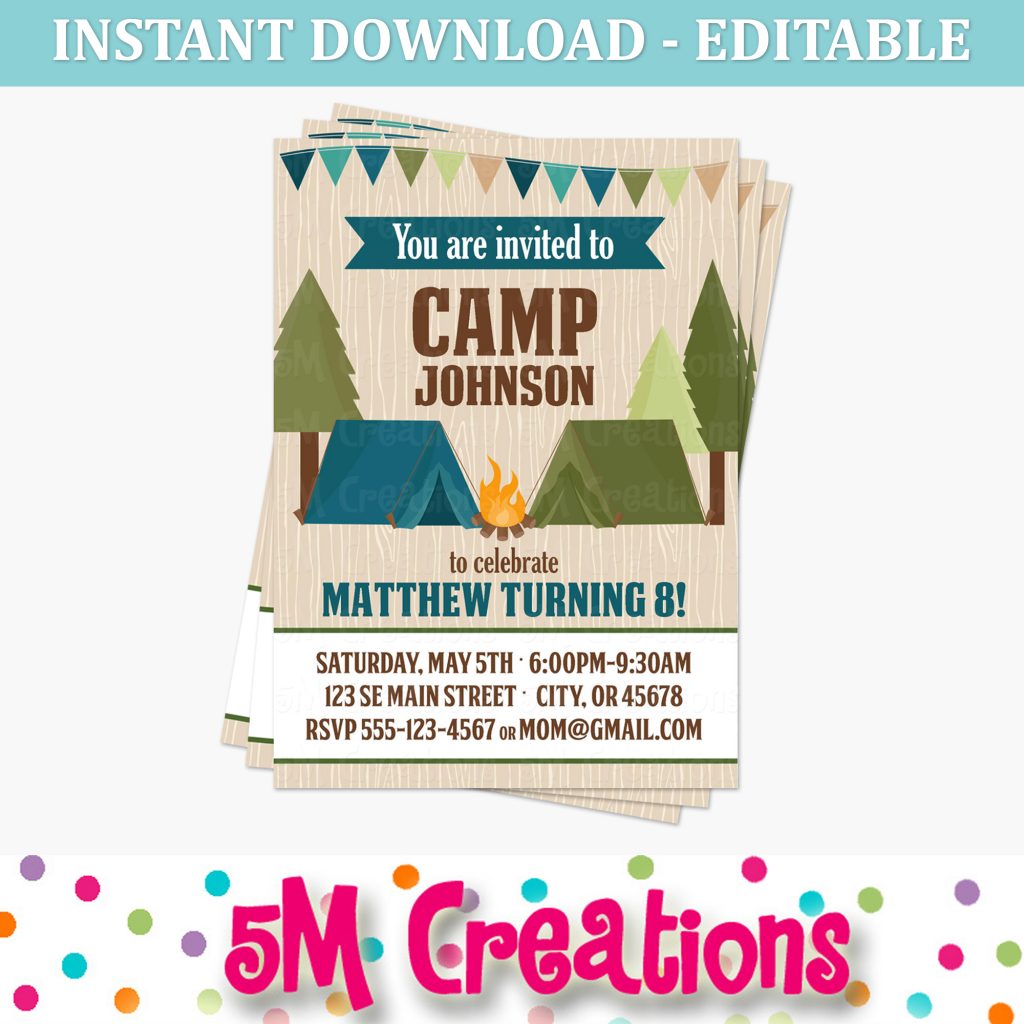 The full camping birthday party printable decor package includes so many extras and is also now EDITABLE! Create your perfect camping party space! Click here to find this set in my shop.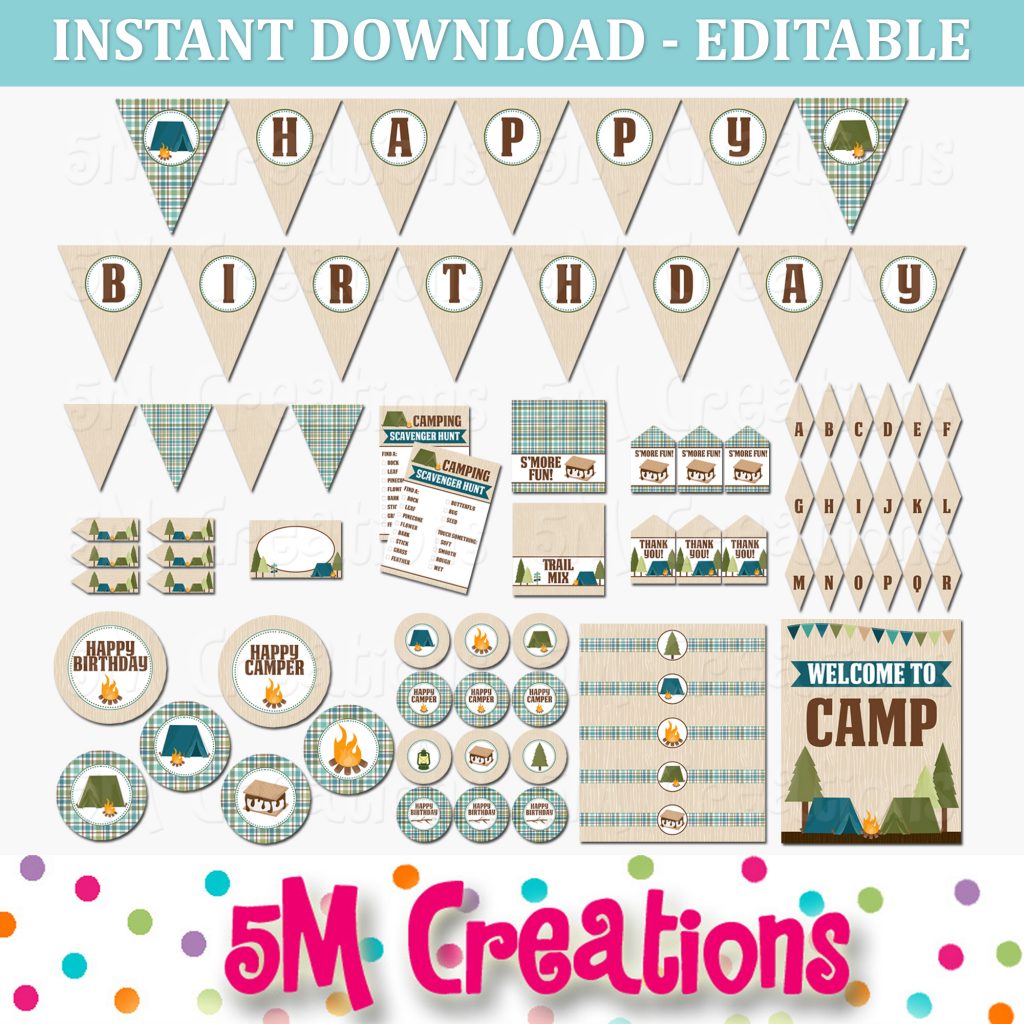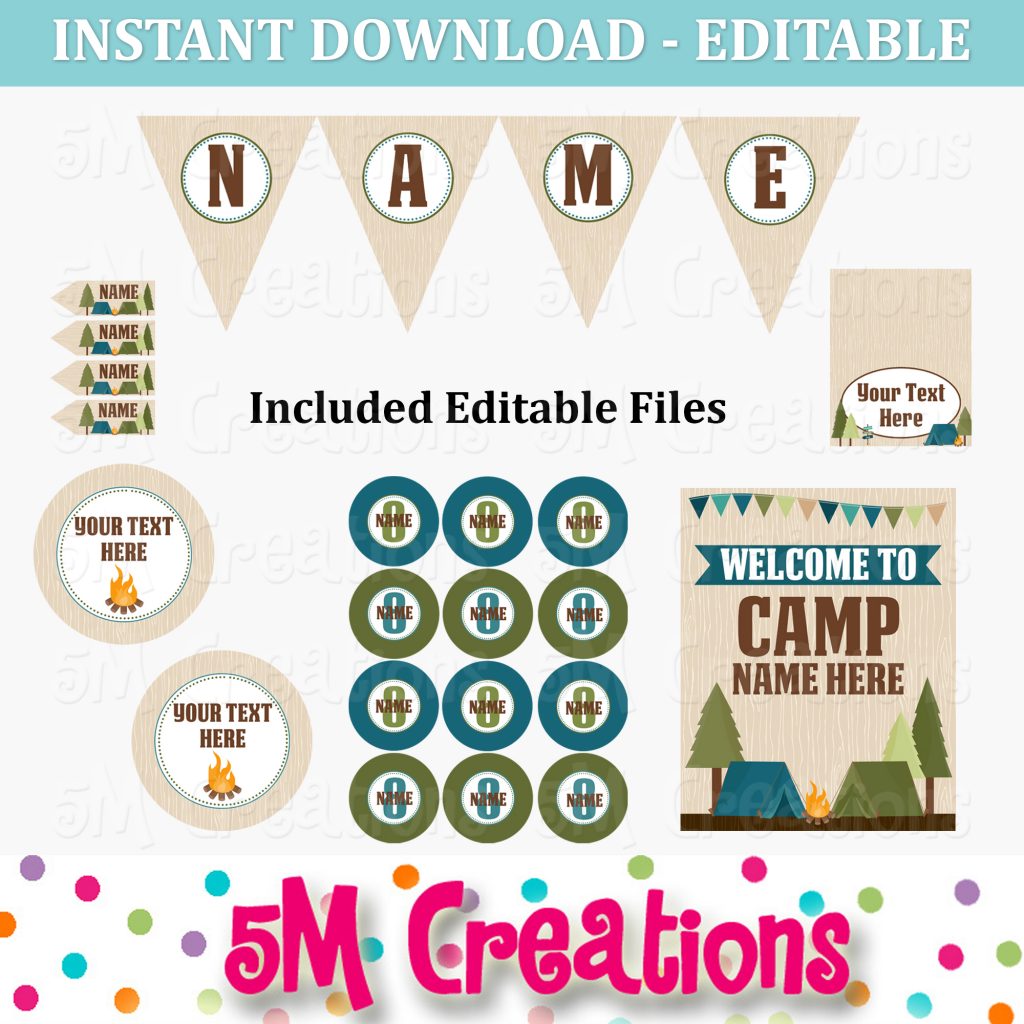 Links to products used above:
Happy Camper Shirts: (note-I ordered 2 different colors and the brand and sizing was not the same on each. They shrunk quite a bit after washing.) AMAZON
Wood Pencils: AMAZON (AD)
Lanters: The exact one is no longer available but there are lots of styles available on AMAZON (AD)
Trees on cakes: AMAZON (AD)
Clear Cello S'mores Bags: (9 x 2 1/2 x 2 1/2) PAPERMART
Galvanized Foor Trays: HOBBY LOBBY
Mini Galvanized Trail Mix Buckets: Target Dollar Spot
Centerpiece Bucket: Target Dollar Spot
3 tier Galvanized Tray:(seasonal) Pick Your Plum
Pie Tins: Dollar Tree
Check out more camping party ideas on my pinterest board.
5M Creations May 25th, 2017
Posted In: Boy Birthday Party
Tags: backdrop, Banner, birthday party, Boy Birthday, cake, camping, centerpiece, cupcake toppers, pallet, party favors, pennant, printable decor, printable party, rustic, smores, twins