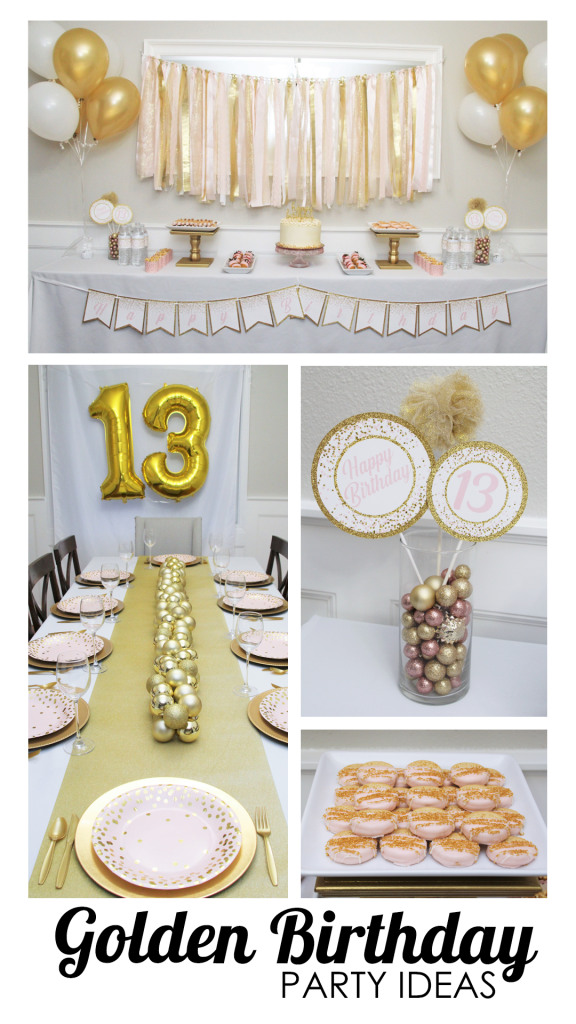 My 13 year old turned 13 on the 13th! Her Golden Birthday! We embraced gold as our theme to make an elegant teenage party room. The addition of pink made it soft and feminine.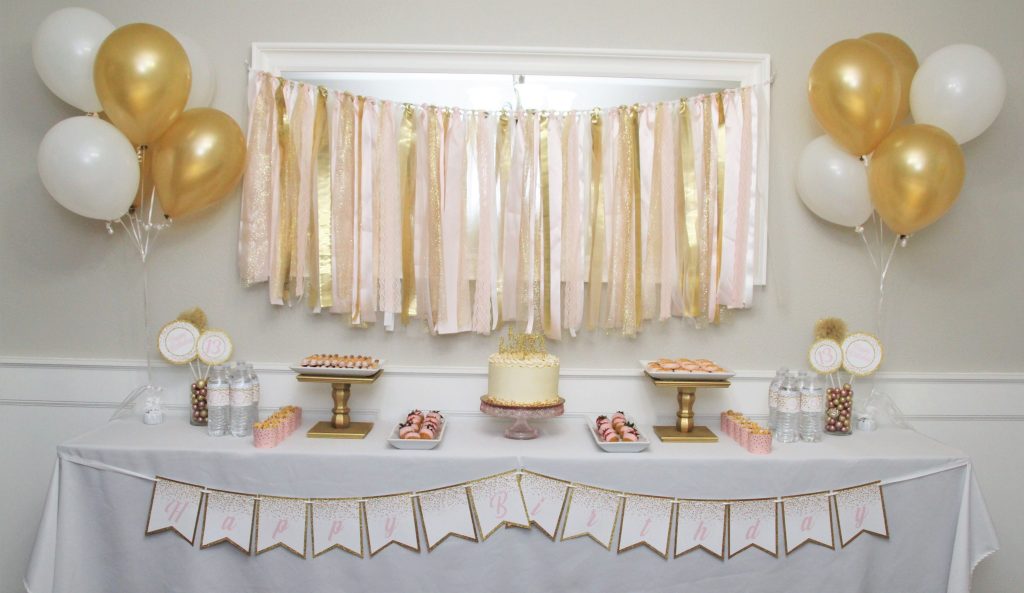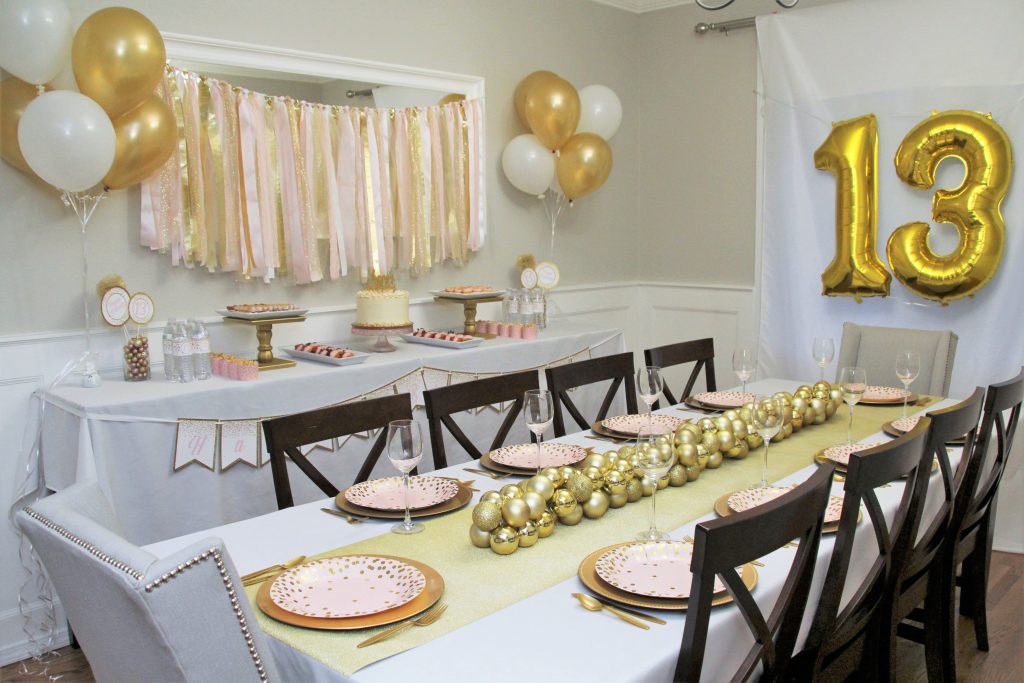 The place settings were created using these pink and gold dot plates from Hobby Lobby. They were the first party item I purchased and the colors were designed around them. I added gold chargers, silverware and real glassware to create an elegant grown up table.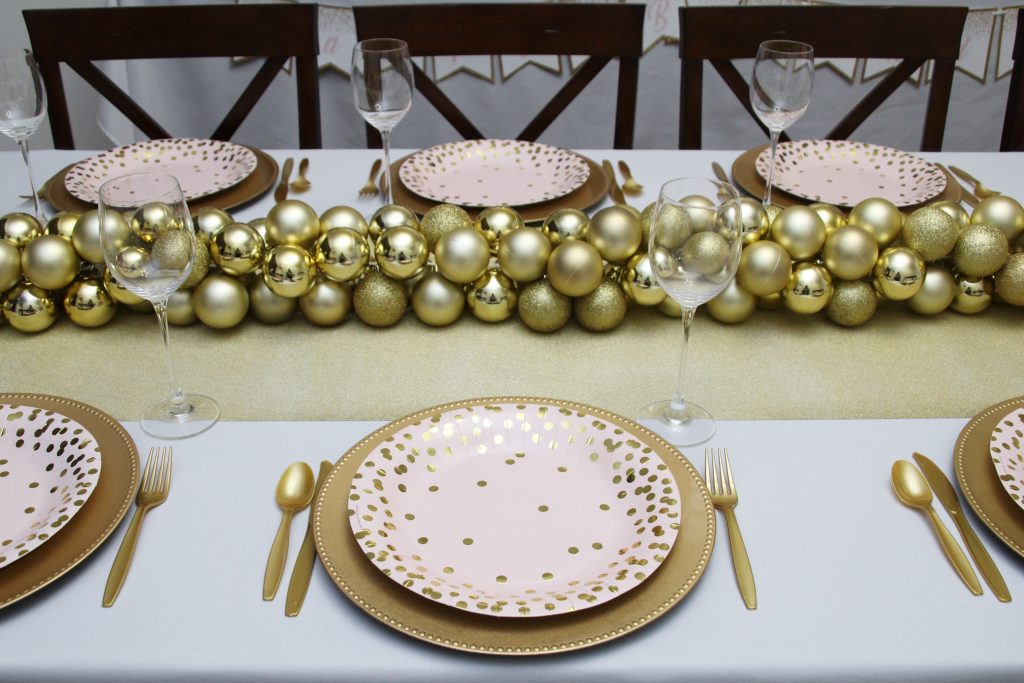 The centerpiece for the main table was the last piece of this party to fall into place. I felt like I had done versions of so many other things that came to mind and none felt right. While setting up the room my friend and I remembered a gorgeous ornament garland we did for our girls' 5th birthday. It was a Christmas pajamas and pancakes party in red and greens. As soon as we said it I knew that a gold version was the perfect thing to run down the table. It added texture and shine and was so fast to make. It is as simple as stringing shatterproof ornaments on a ribbon.
My daughter chose the menu for her Golden treats. Golden oreos, pretzels and strawberries dipped in pink melting chocolate and gold sprinkles, caramel corn in pink and gold cups, and a plain vanilla cake dressed up with gold sprinkles and a topper. It was simple and elegant.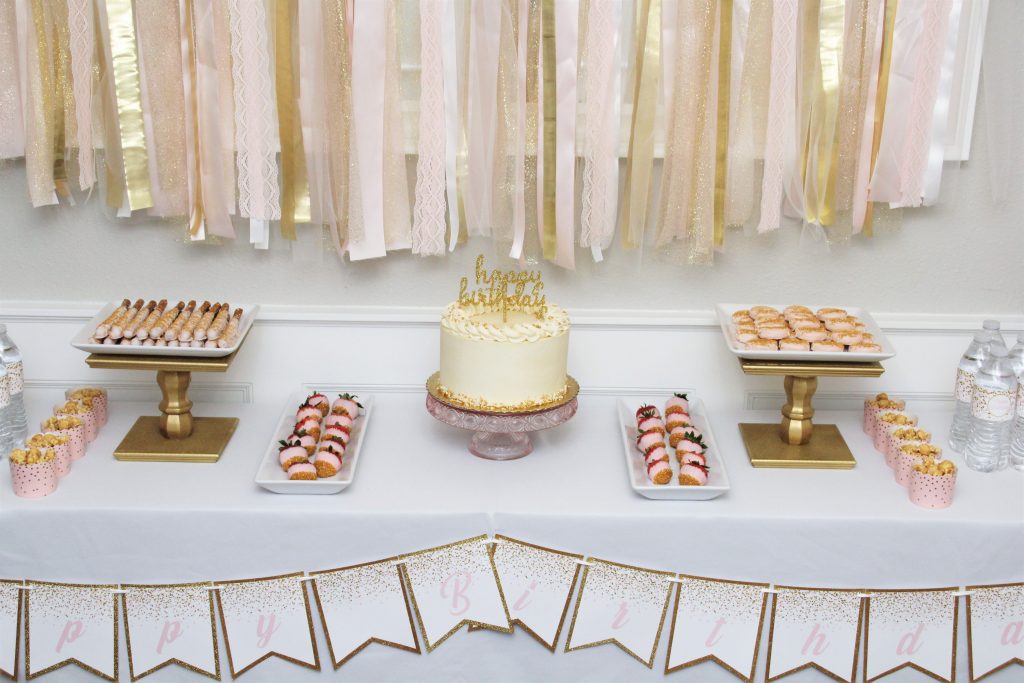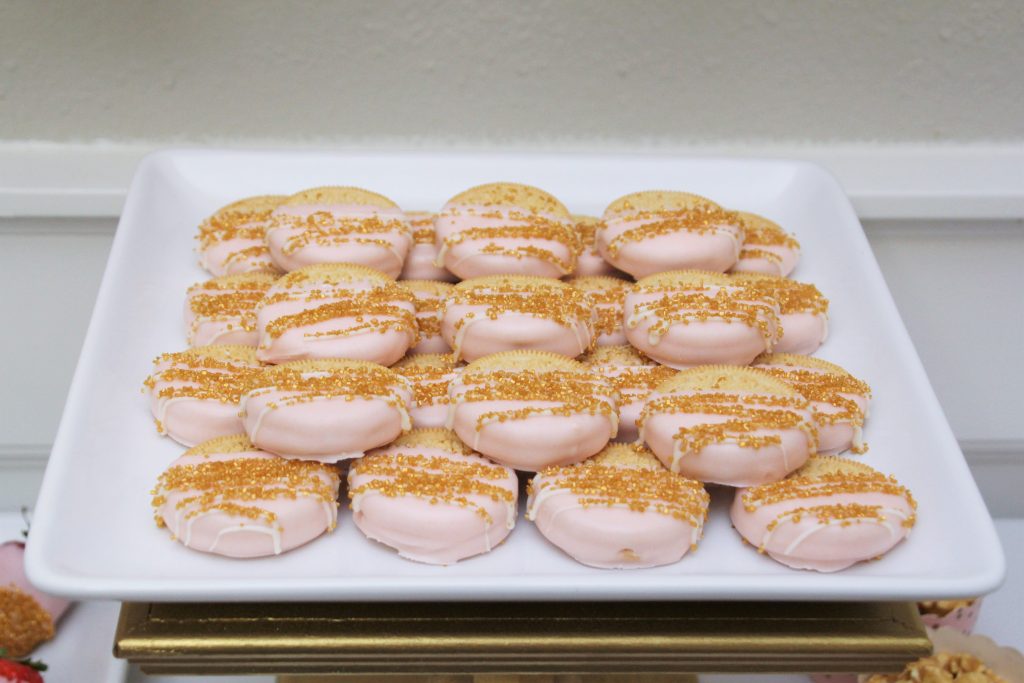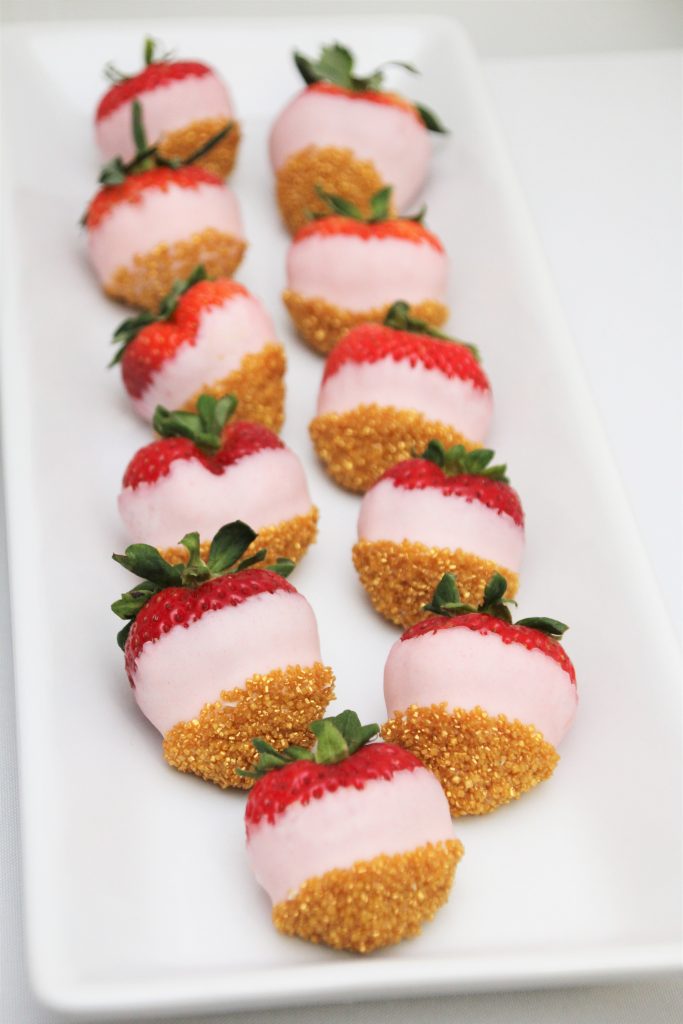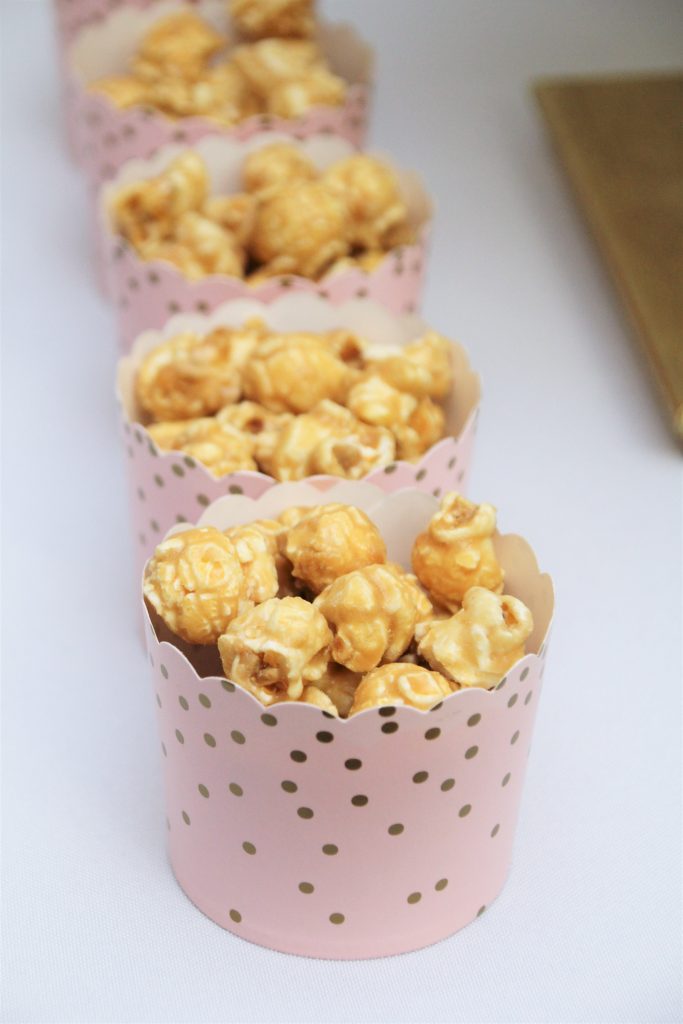 The biggest labor of love by far was this gorgeous ribbon garland. It took LOTS of ribbon, lace and tulle to make. I lost count of how many spools I used. It really wasn't that hard to make but it took several hours to cut and tie them all and was not cheap. If you have this on your list for a future event definitely use your coupons! It I hung in my daughter's room now so it was a worth while investment and such a beautiful statement piece.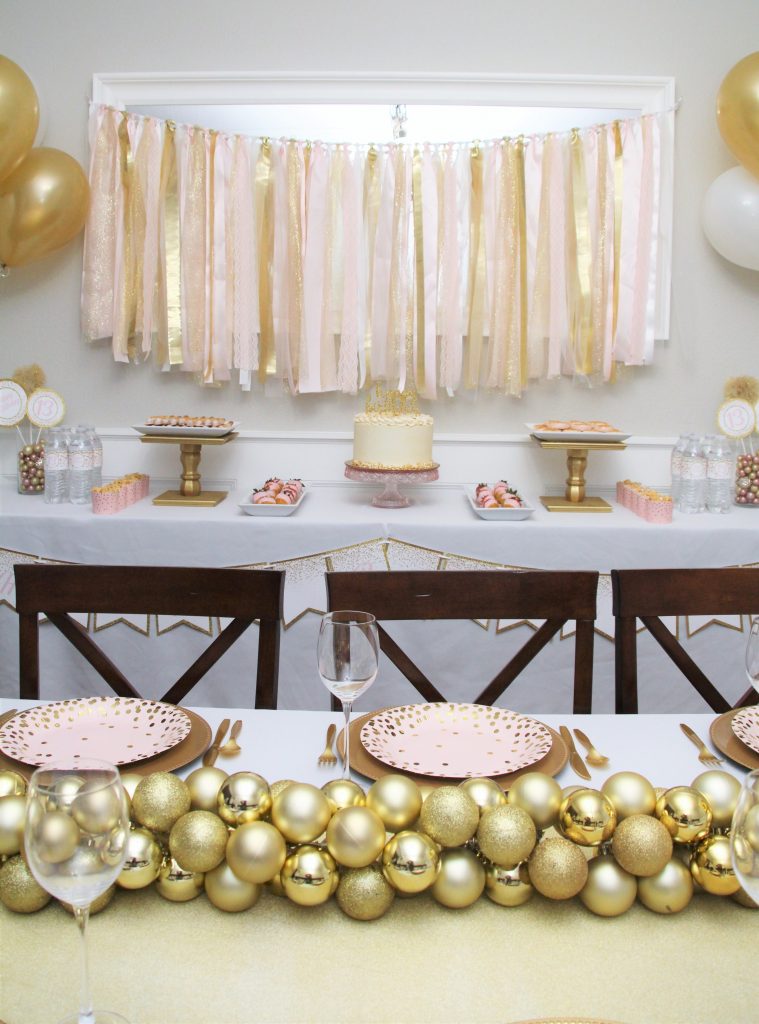 I designed printables for the party with a pink and gold glitter background. The were the perfect addition to the other elements of the party. Printable labels are always a great way to dress up a water bottle.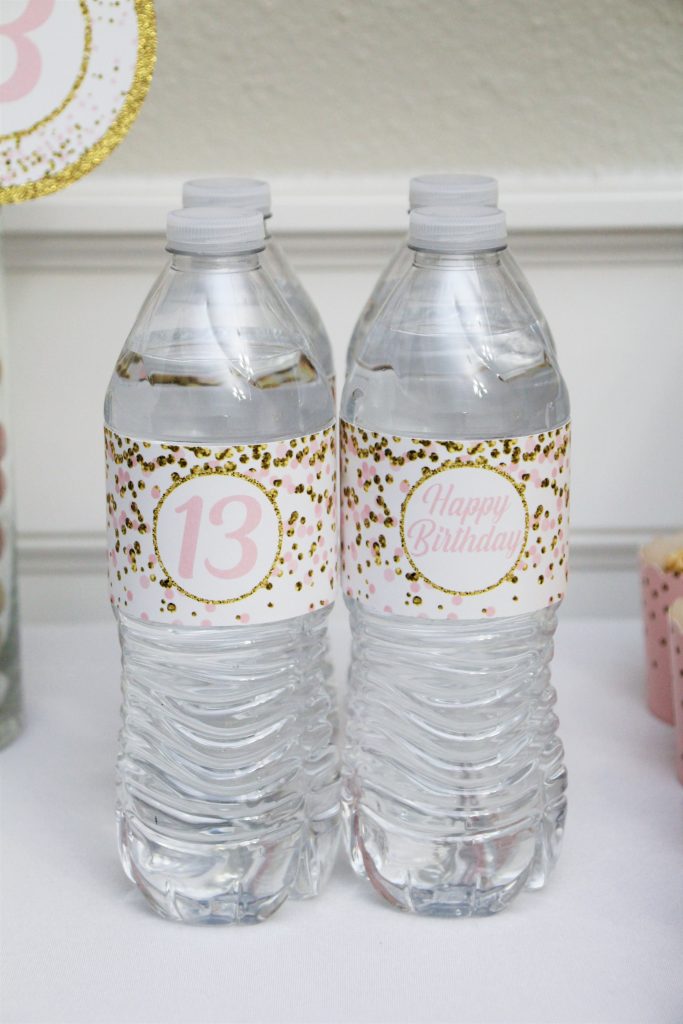 I backed the banner shapes with gold glitter paper from the craft store to add even more sparkle. Is there ever really too much sparkle?
I did the same with the centerpiece circles. Tiny pink and gold glitter ornaments and balls were the perfect vase filler.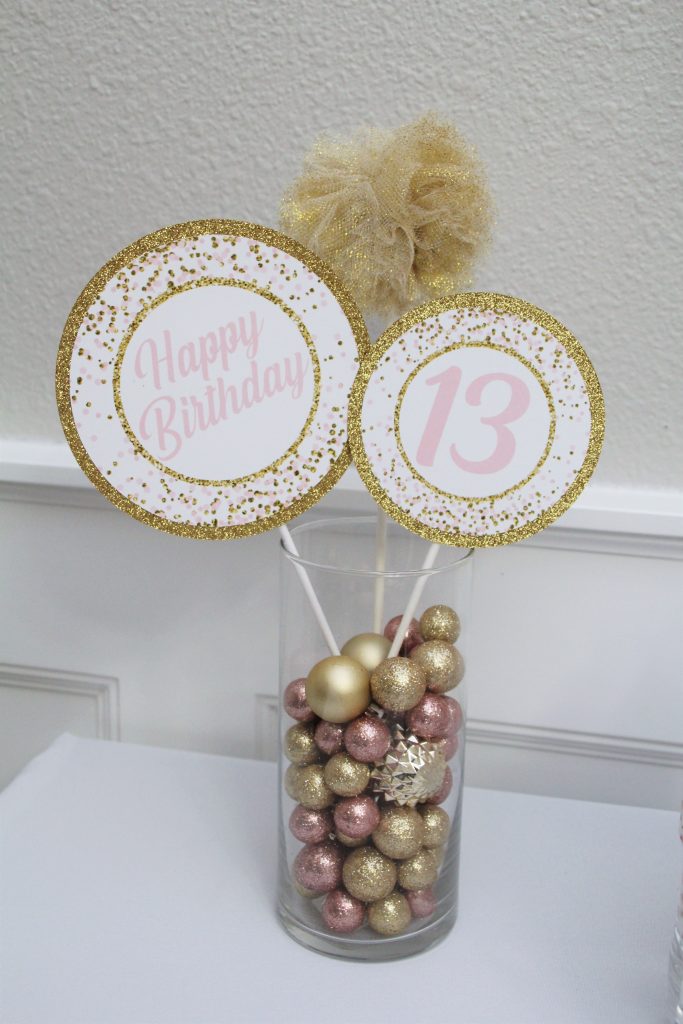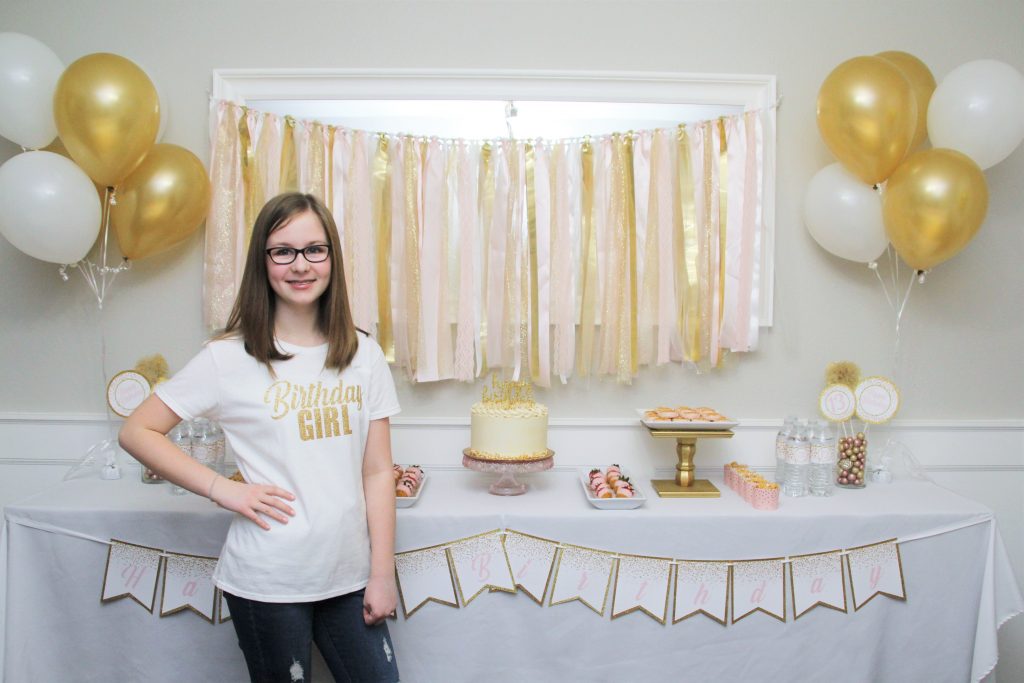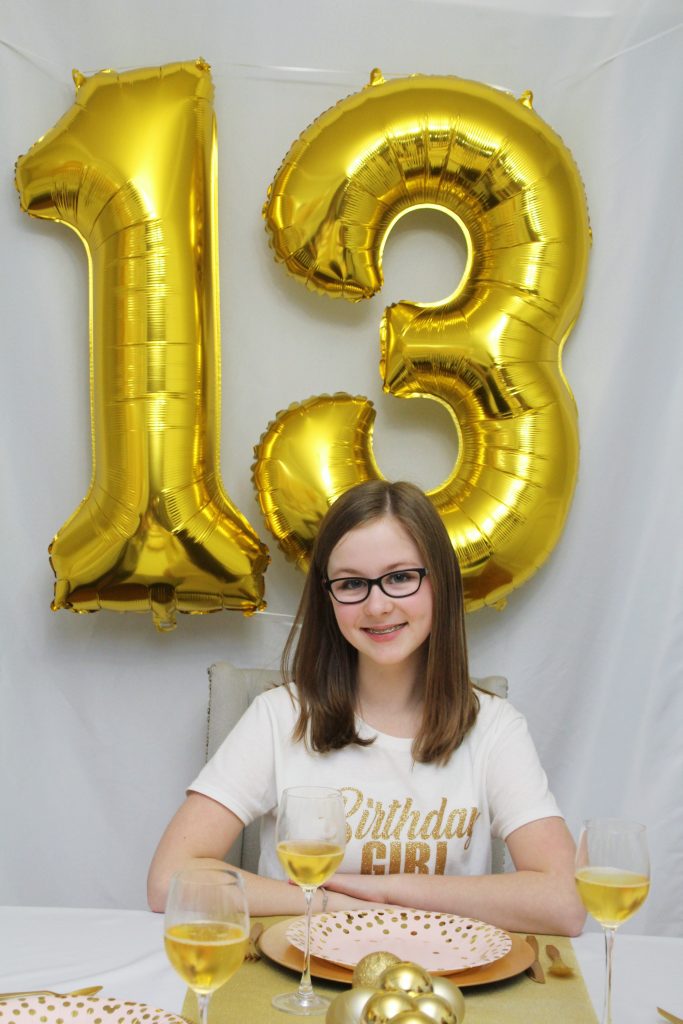 Our main activity of the evening was a mall scavenger hunt! Could there be anything more perfect at 13? I created matching shirts for the girls that said Birthday Girl and Birthday Squad. Each girl received a bag with their name on it to collect all of the mall goodies.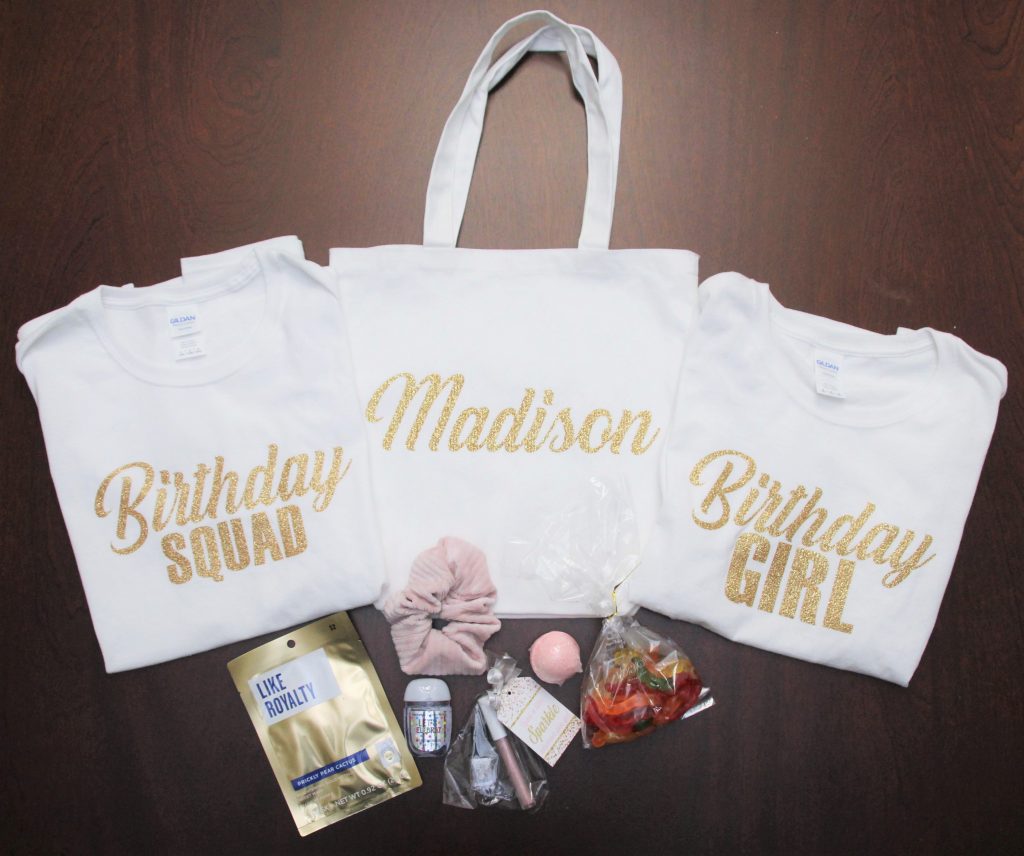 At a few of our stops they got to pick out an item at the store the clue led them to. The rest of them I purchased ahead and at certain stops handed out a favor to everyone. It was a great way to make it more budget friendly with 10 girls.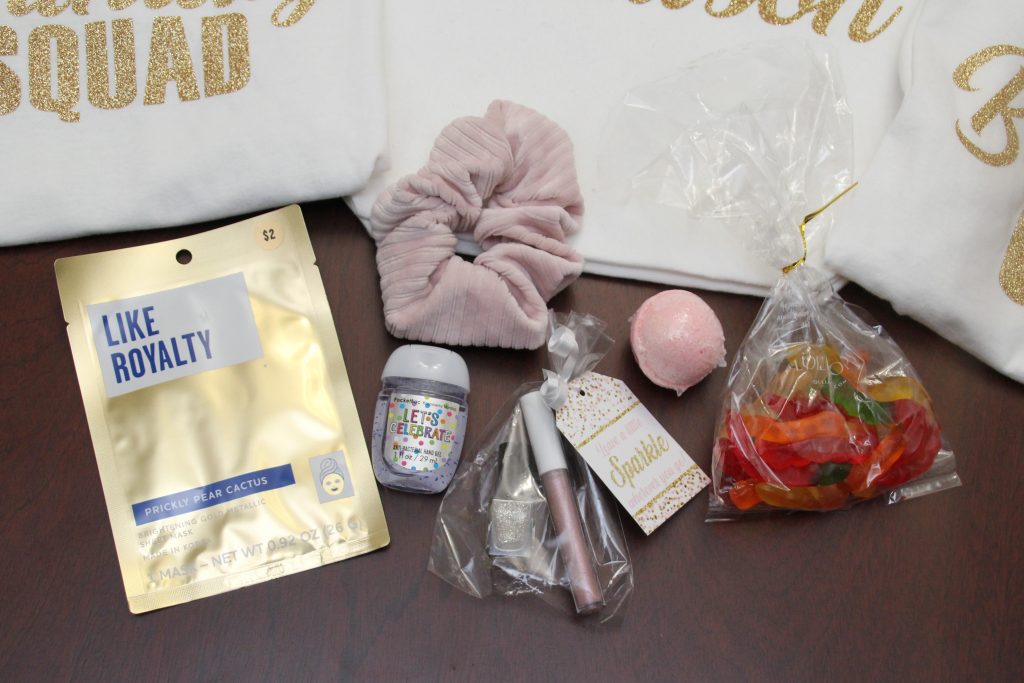 A large section of our scavenger hunt was to take photos as a group with certain items or take photos of items found throughout the mall. For these cell phone loving teens it was a great way to expand our hunt without adding cost. Our scavenger hunt printable card is available below.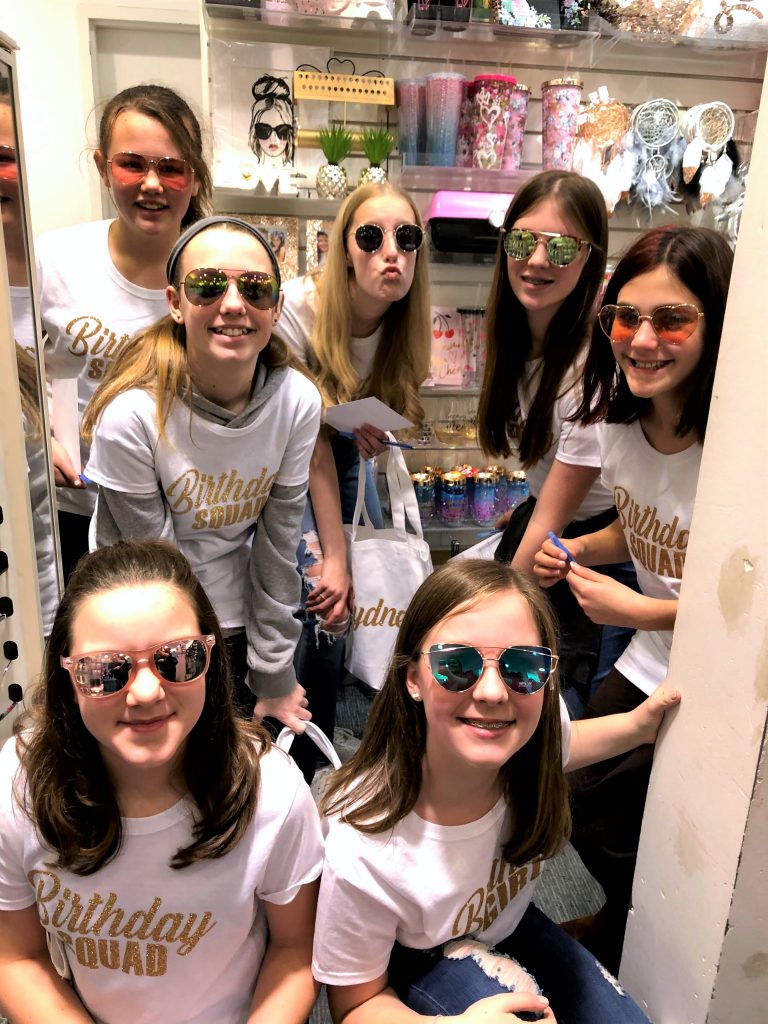 We ended the evenging with the golden face masks and a sleepover! So far having a teen is fun!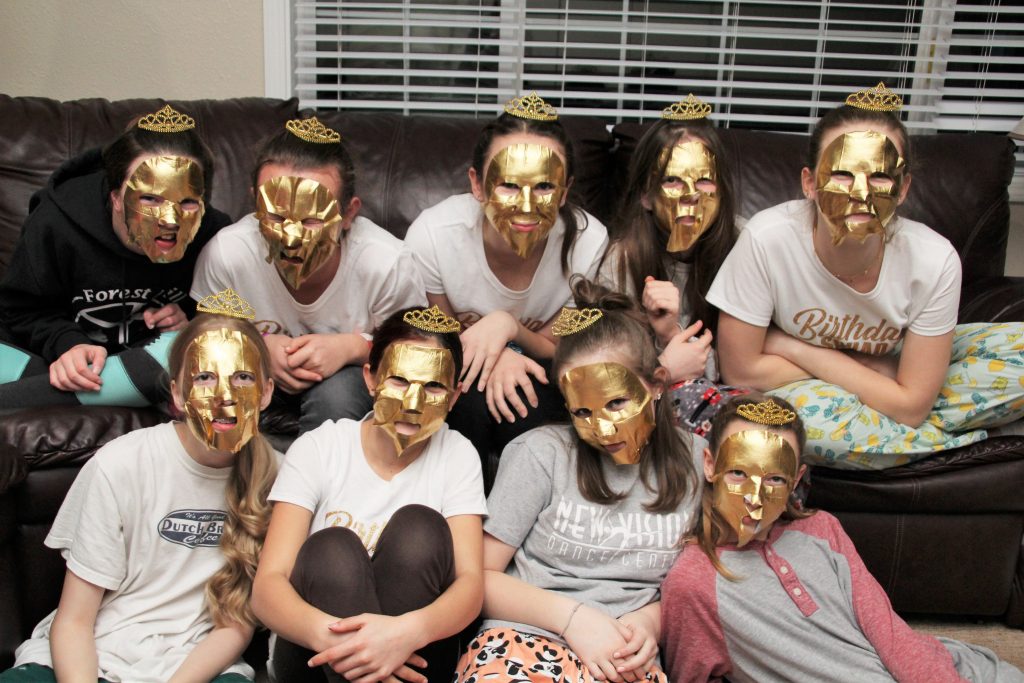 You can find the EDITABLE printable party décor in my store! Just print, assemble, and party!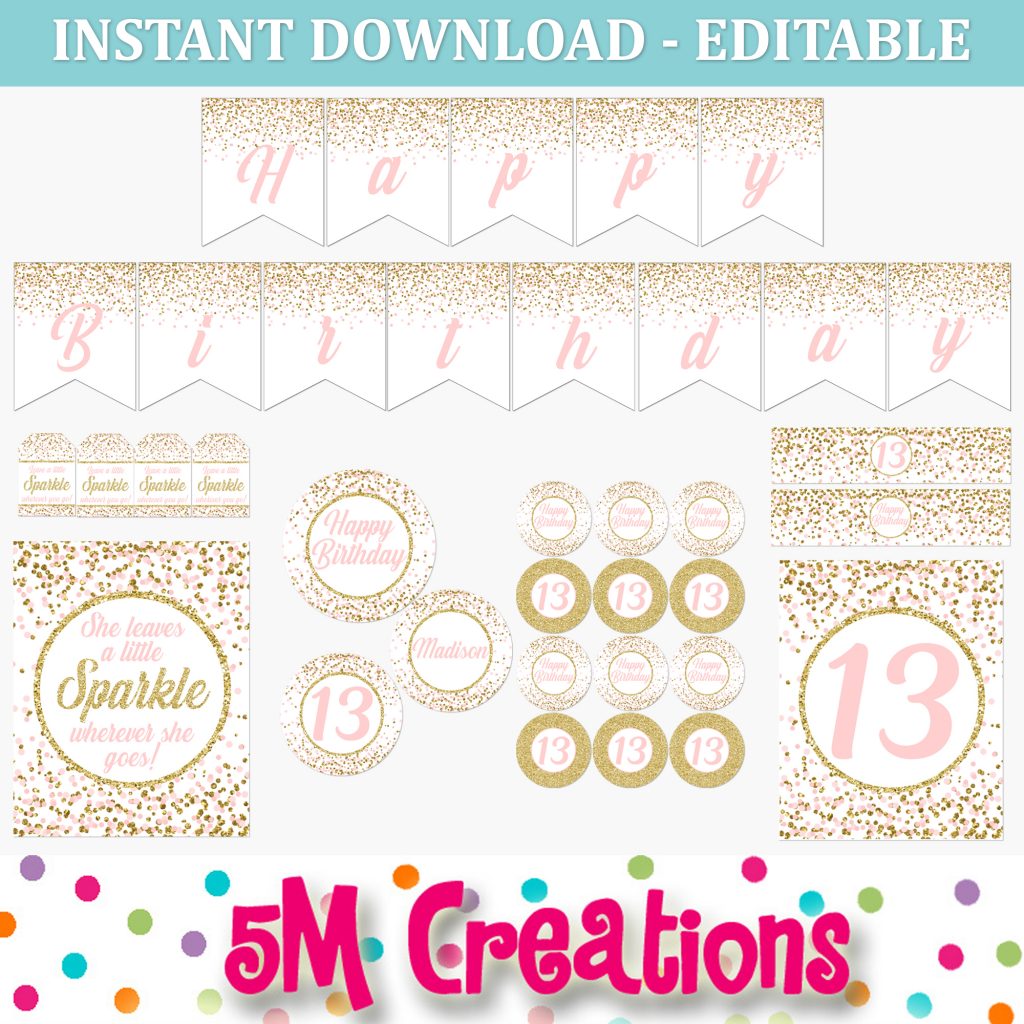 A matching EDITABLE invitation is also available. I backed the invite with more gold glitter paper to make it extra sparkly.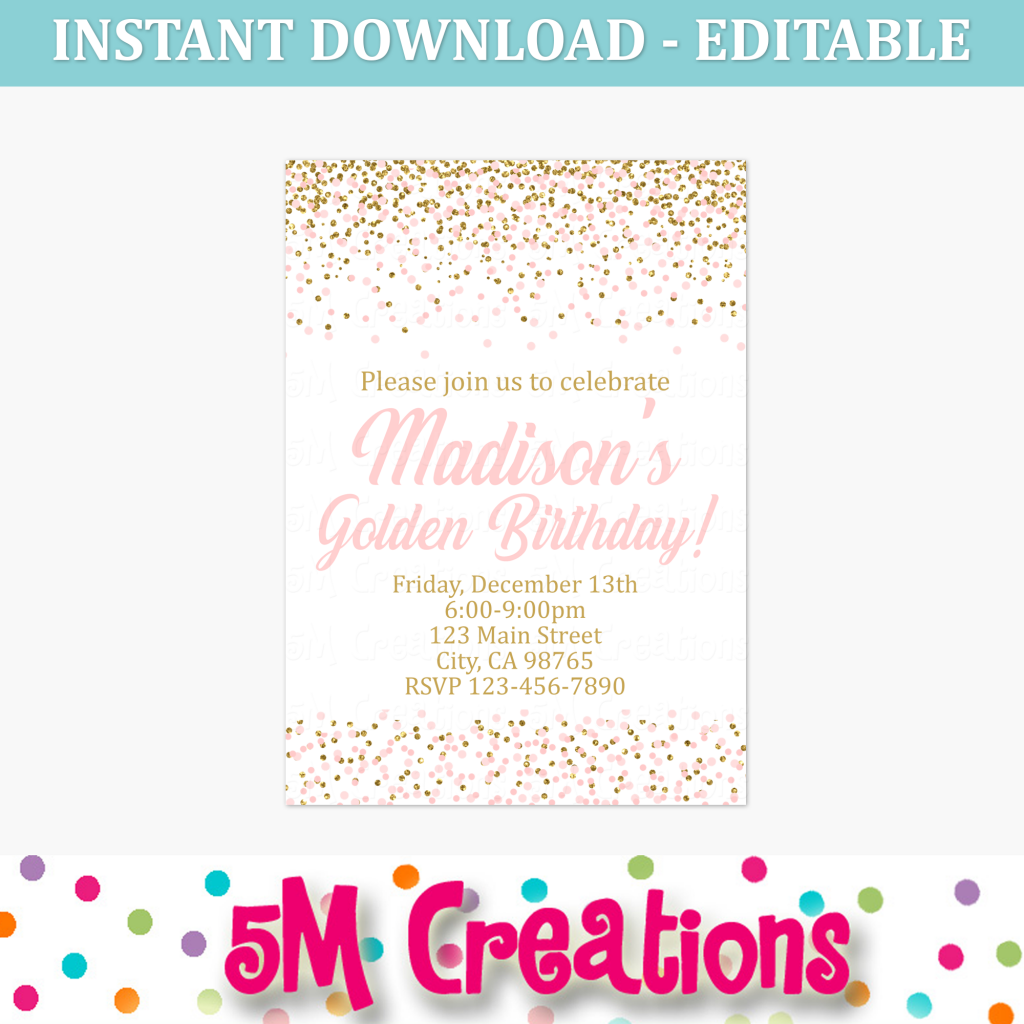 You can download the FREE Printable Scavenger Hunt card here! golden party scavenger hunt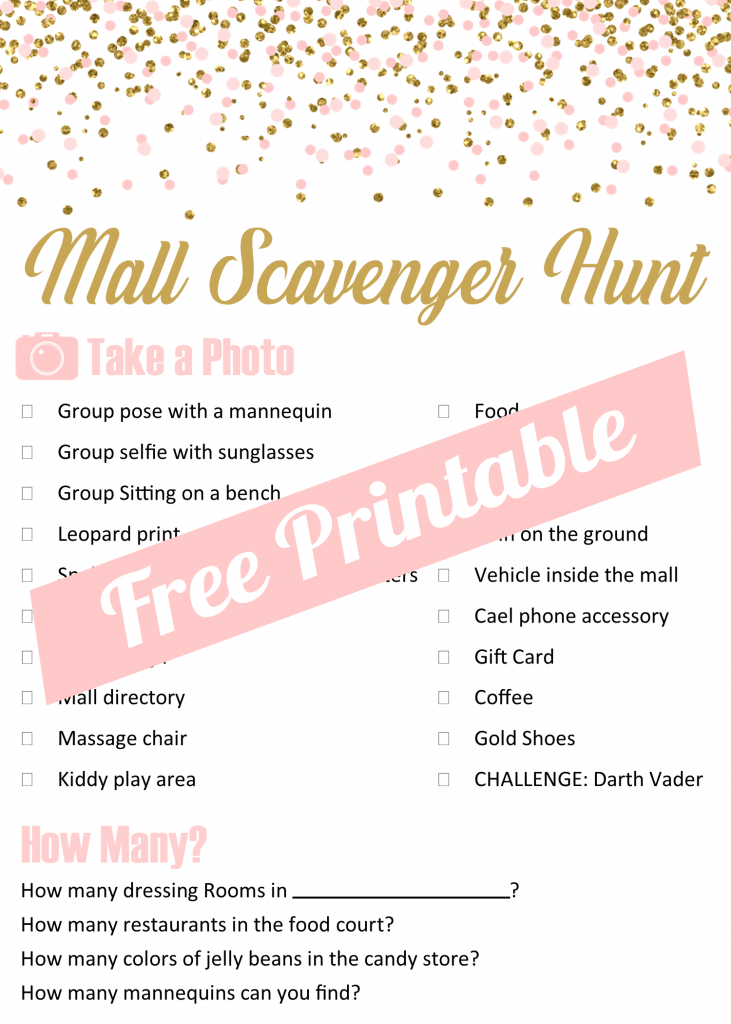 Happy Party Planning!
5M Creations January 13th, 2020
Posted In: Uncategorized