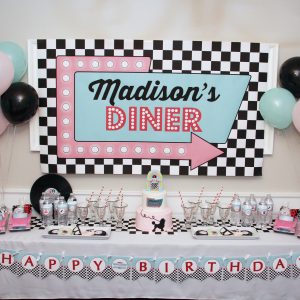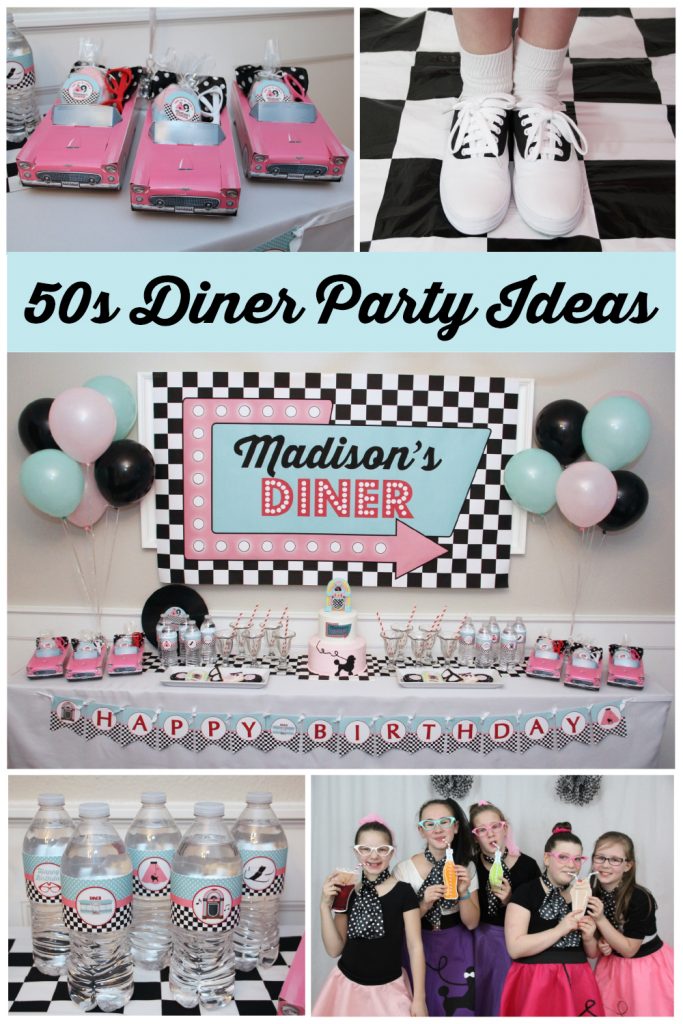 My daughter has always loved anything from the 1950s. When the Mary Ellen American Girl doll came out and she got a diner to go with it we knew it would be the perfect party theme! My goal was to create a fun diner style atmosphere. I always love the retro colors and black and white check patterns in diners. I used this as the starting point when designing this 50's diner party decor package. (Links for everything used can be found at the end of the post)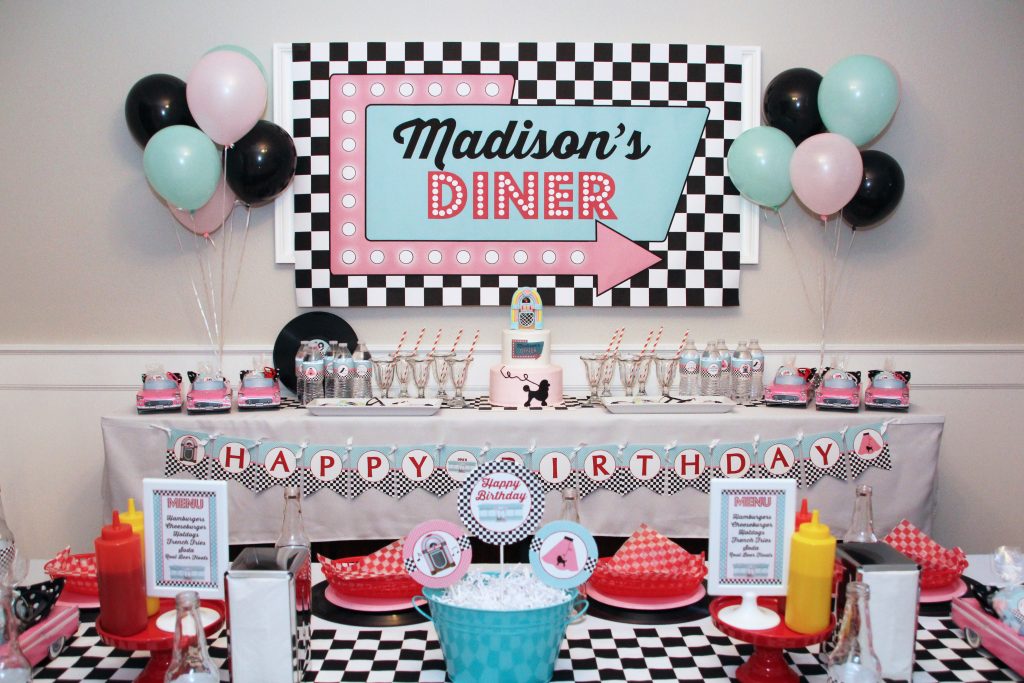 At the table I started with a simple black and white check table runner to continue the patterns in the printable party decor.
I used these cute red cake stands (found in the Target Dollar Spot) to add some color. They held printable diner menus and retro ketchup and mustard containers.  A restaurant style napkin dispenser added to the diner feel.
My printable 50s printable party circles made the perfect centerpiece for the table. I love the cute jukebox and poodle skirt images throughout the party line.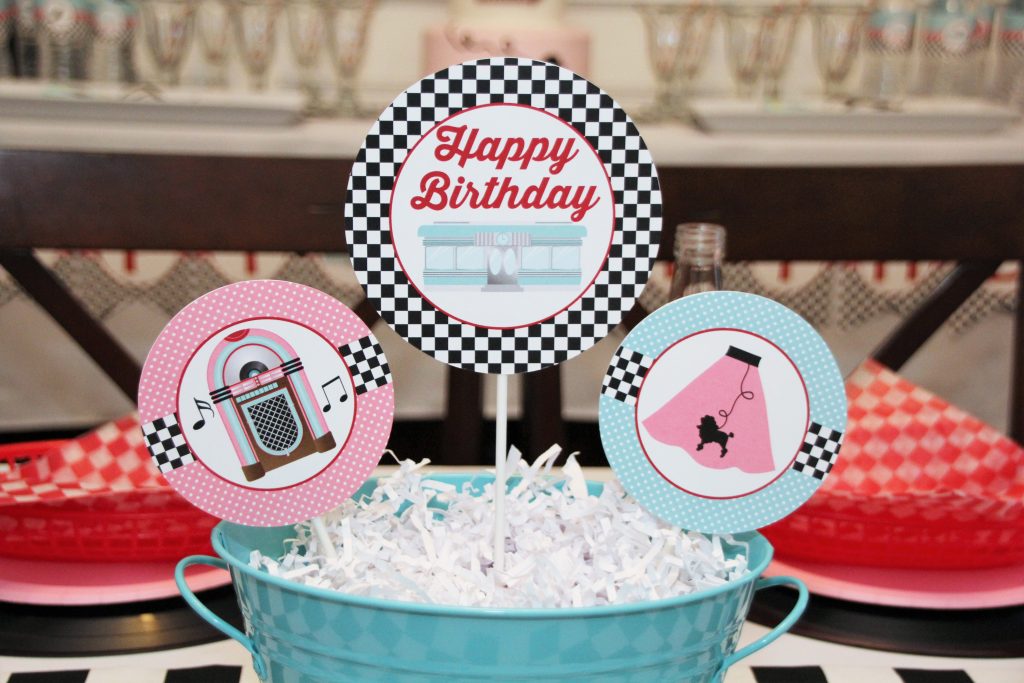 Glass soda bottles were dressed up with a printable water bottle label. The girls loved drinking soda from them.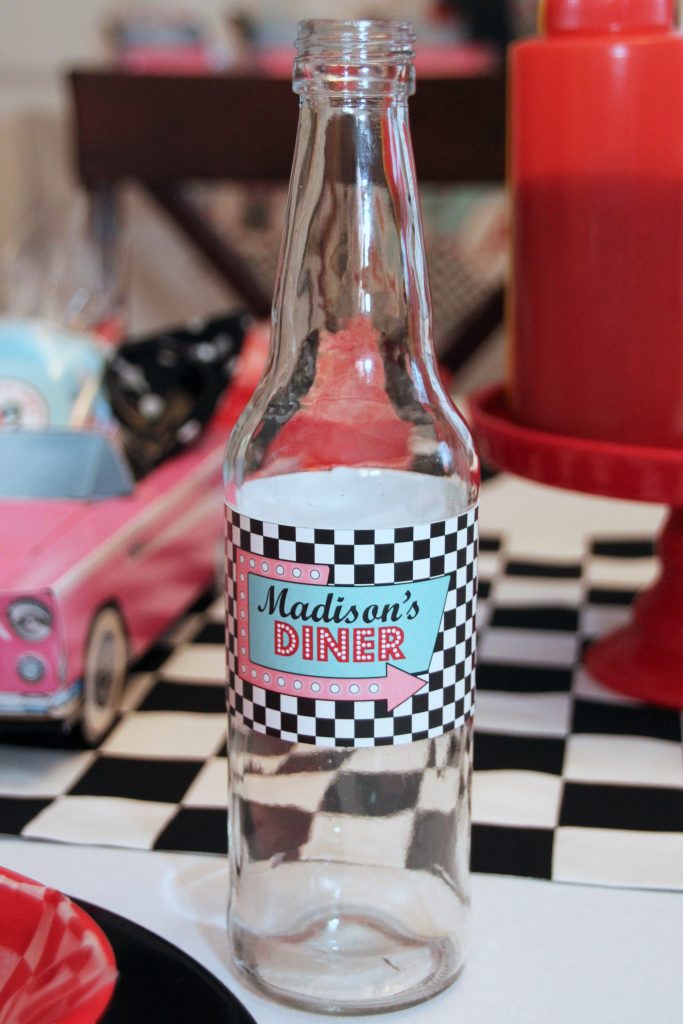 At each place setting I used records as chargers. A printable label personalized it and made a keepsake for the party guests. I went to our local Goodwill store and bought tons of old records. The style of music did not matter for this use.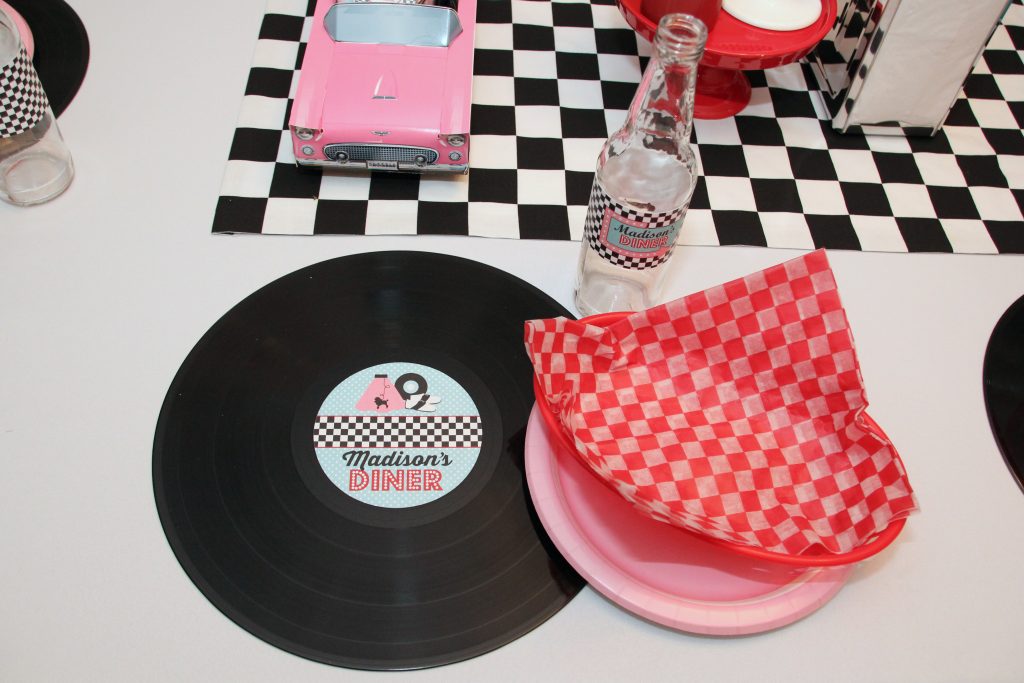 Food was served in classic red diner food baskets and checkered liners. The girls had their choice of hotdogs and hamburgers served with a side of fries.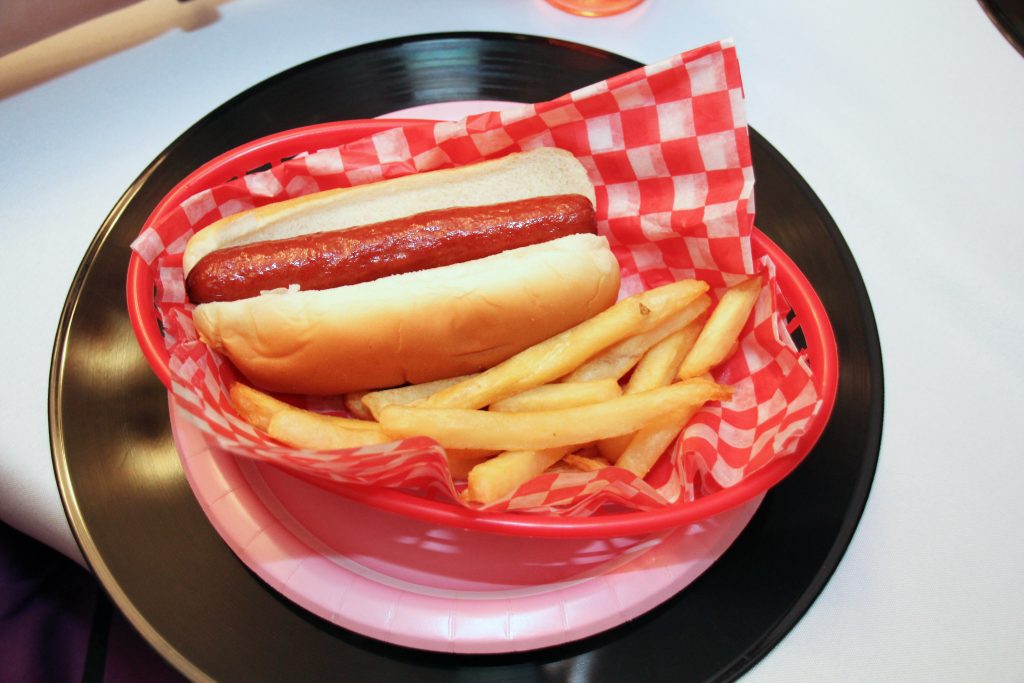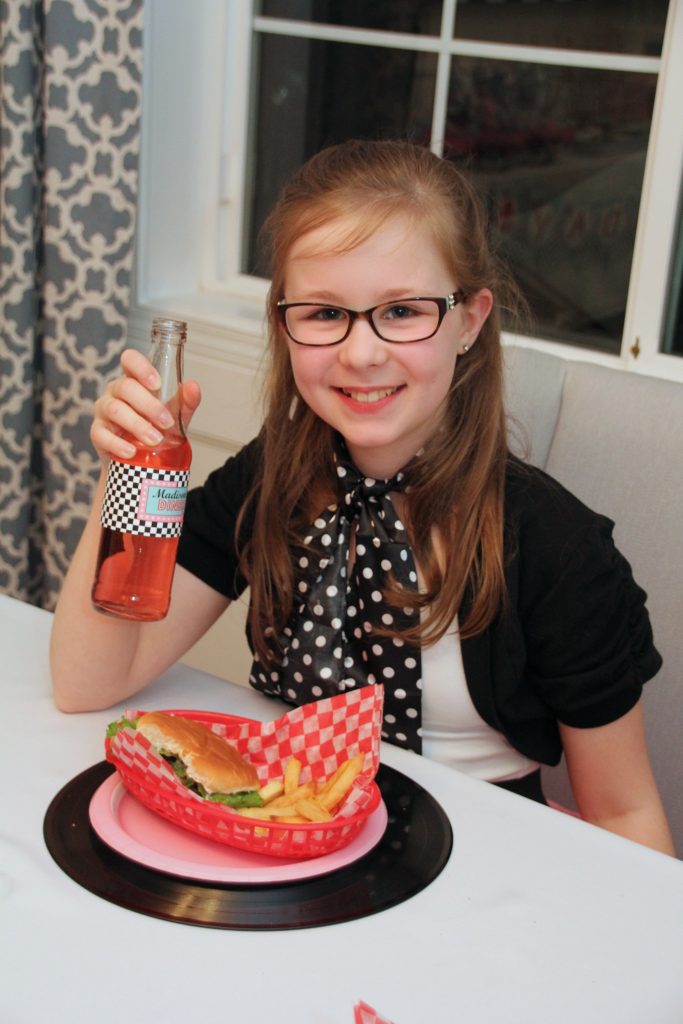 It is always fun to set up a little doll scene matching the party decor. MaryEllen had a yummy meal at the diner too.

For the main party table I had this extra large Madison's Diner sign printed. I loved the impact it made in the space. This table held the desserts and party favors.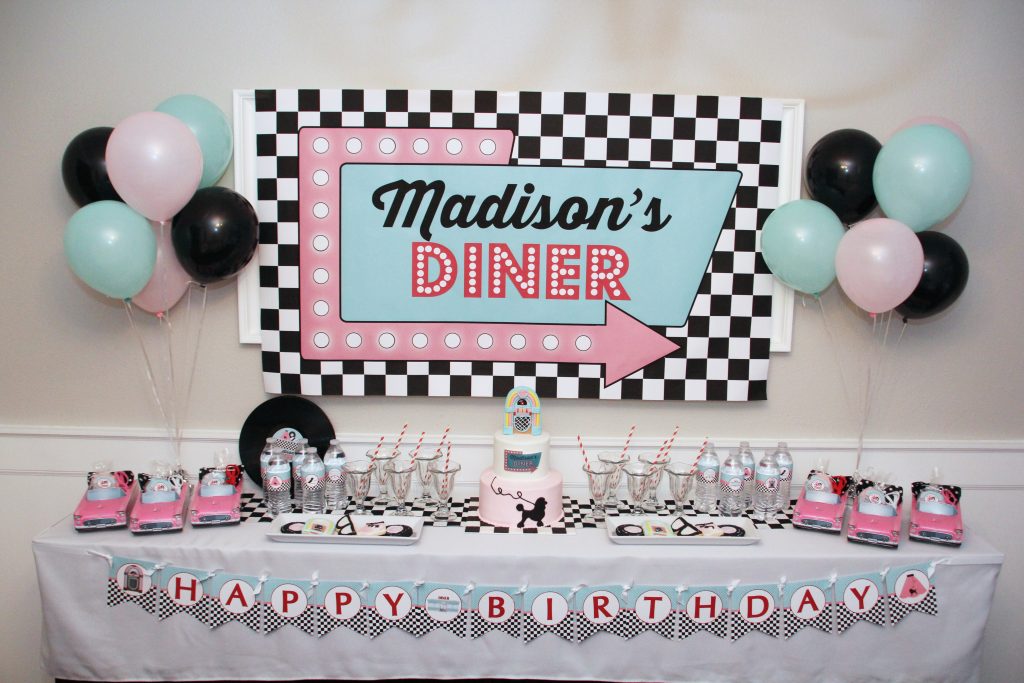 The cake was inspired by a pink poodle skirt, the sign image, and of course a jukebox. Look at that tiny record inside.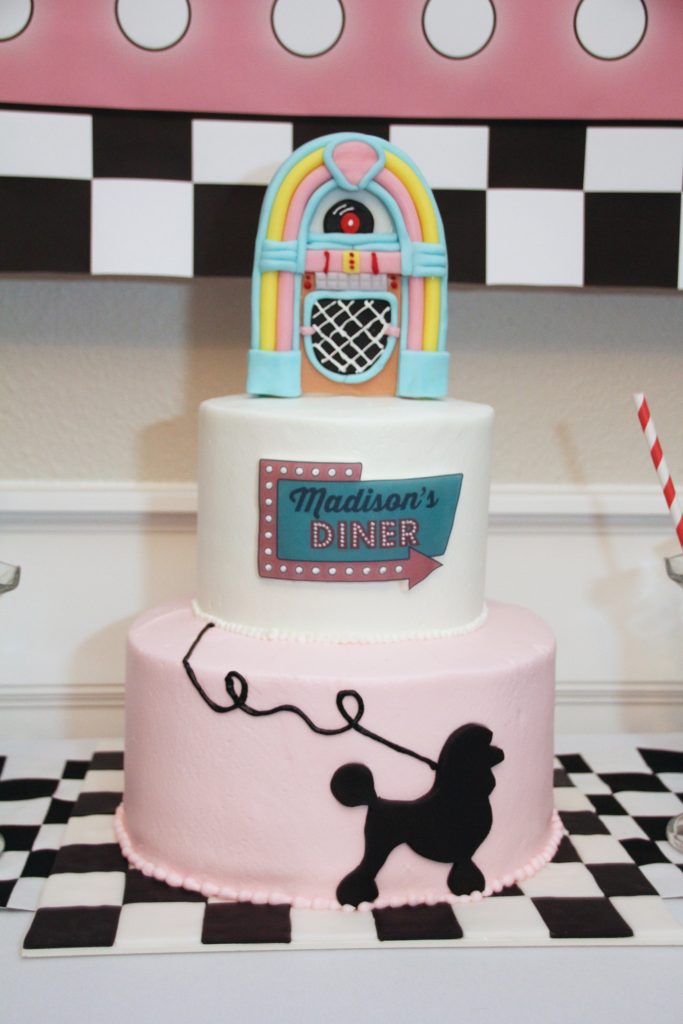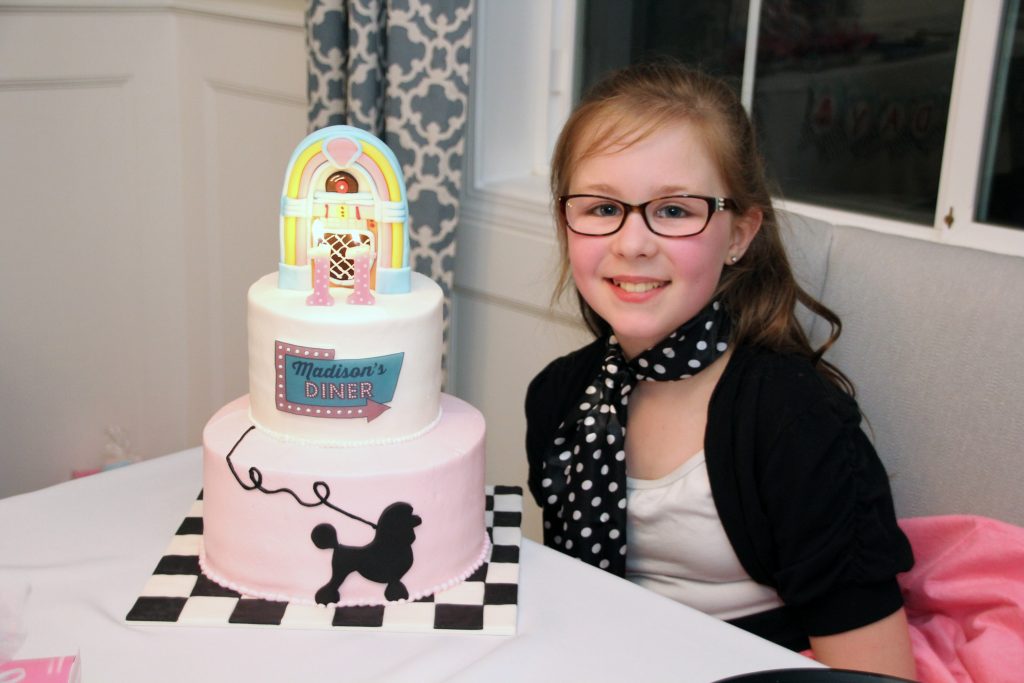 Just in case anyone needed something other than soda I used these 50's printable labels to dress up water bottles. They featured all of the cute images found in the party decor package.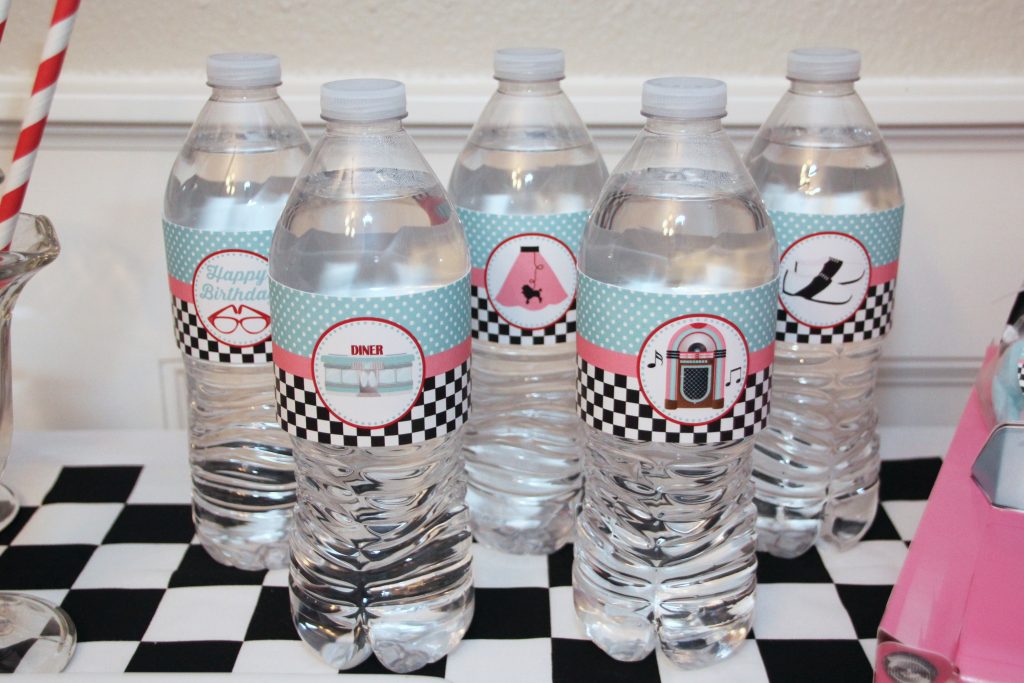 As if cake was not enough, we had yummy root beer floats served in these cute ice cream sundae cups.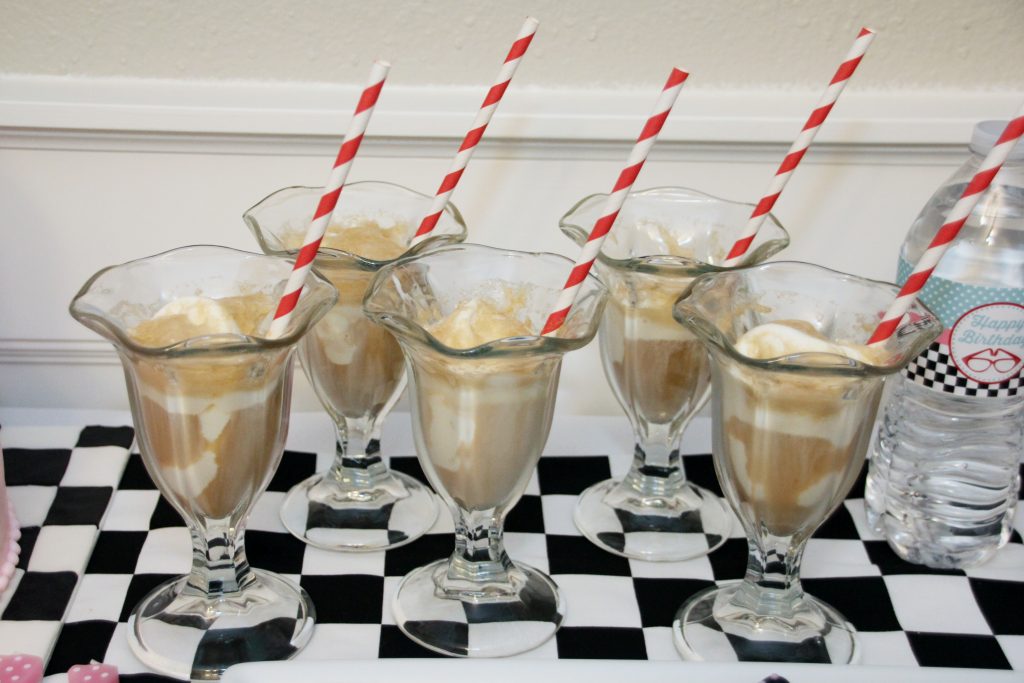 Party favors for the guests were adorable in these pink classic car favor boxes.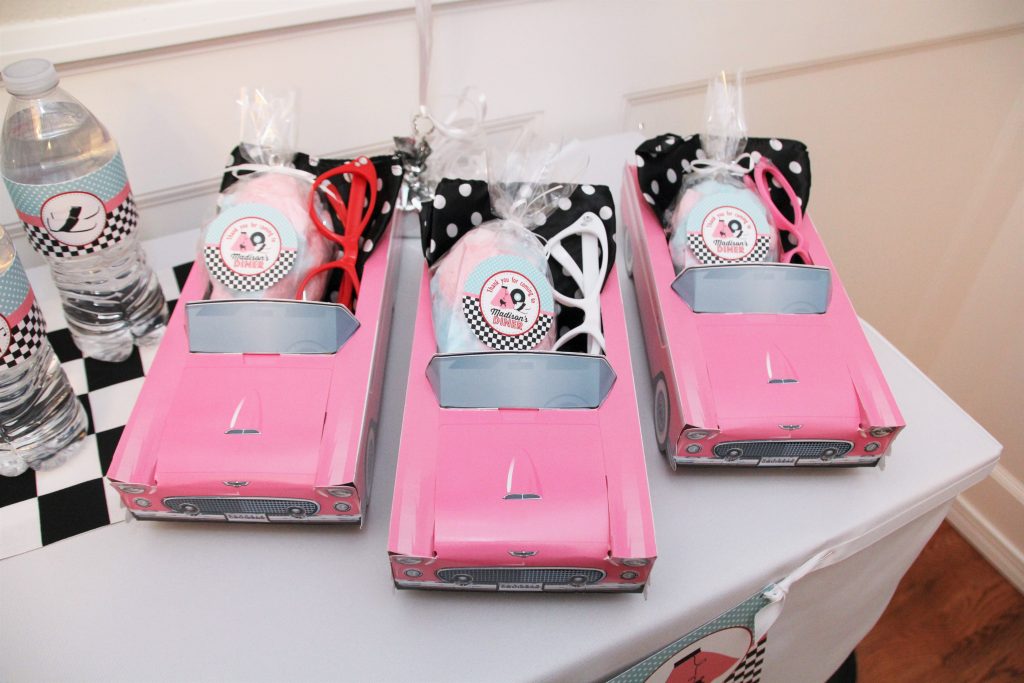 Each girl got a pair of vintage glasses and polka dot scarf to wear during the party.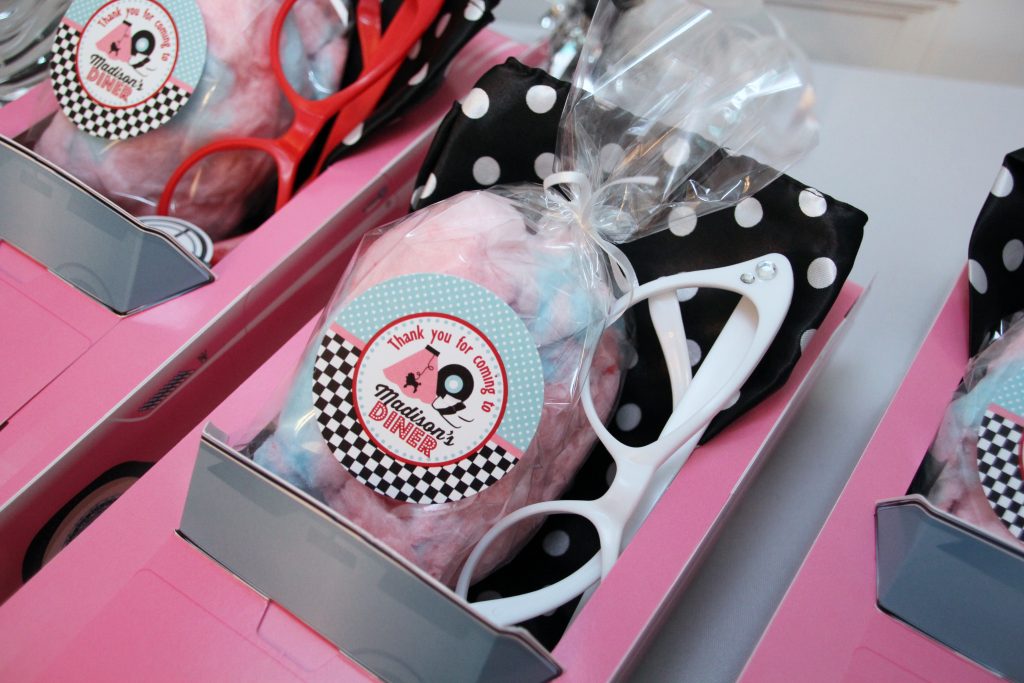 Also included was pink and blue cotton candy with a printable favor tag.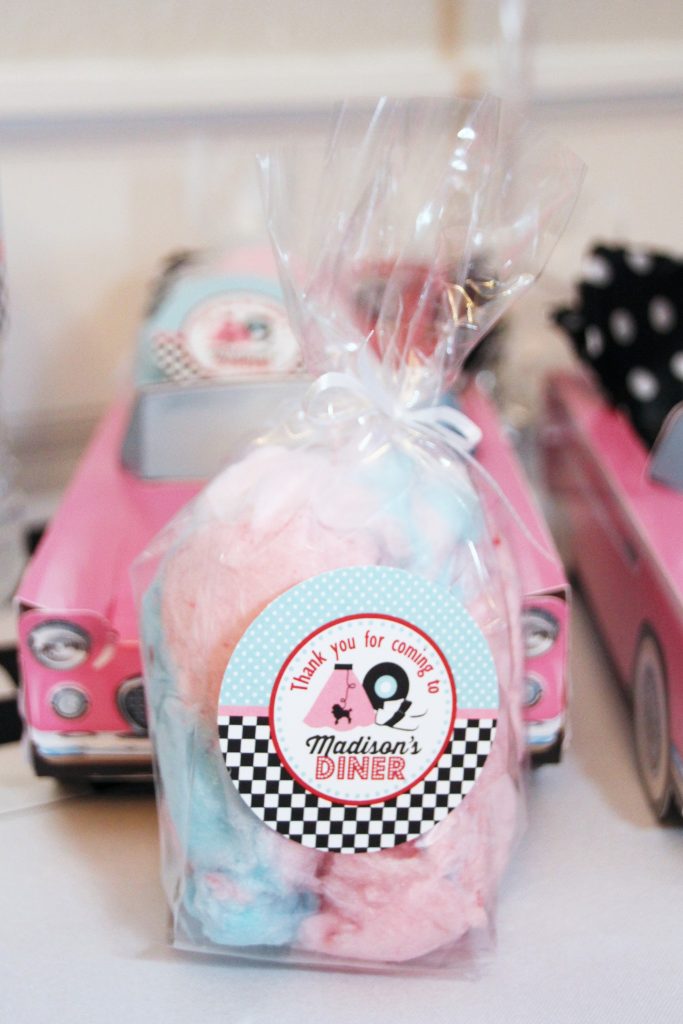 50s inspired sugar cookies were wrapped up and sent home with each of the girls as well. They were all to sugared out to eat them during the party. ha!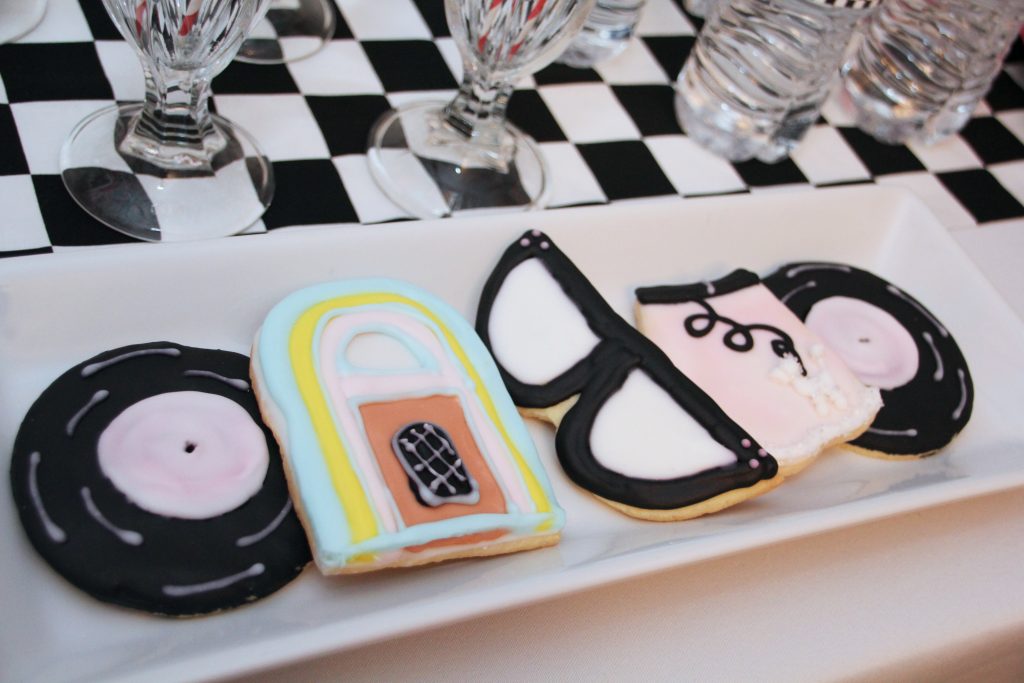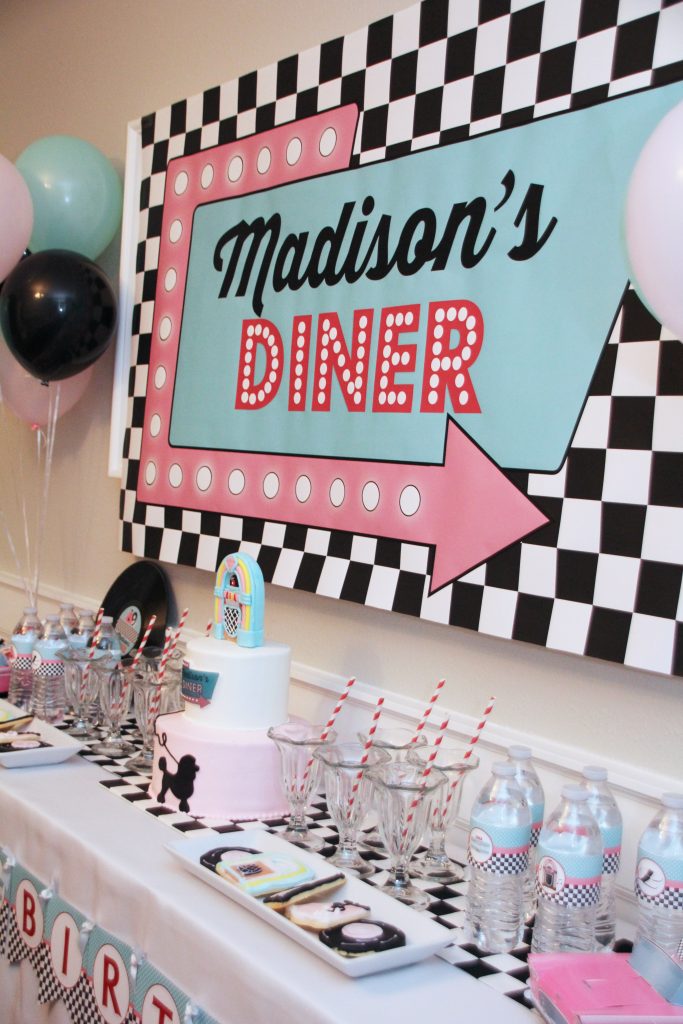 After our yummy diner experience we had fun with a photo booth 50's sock hop style.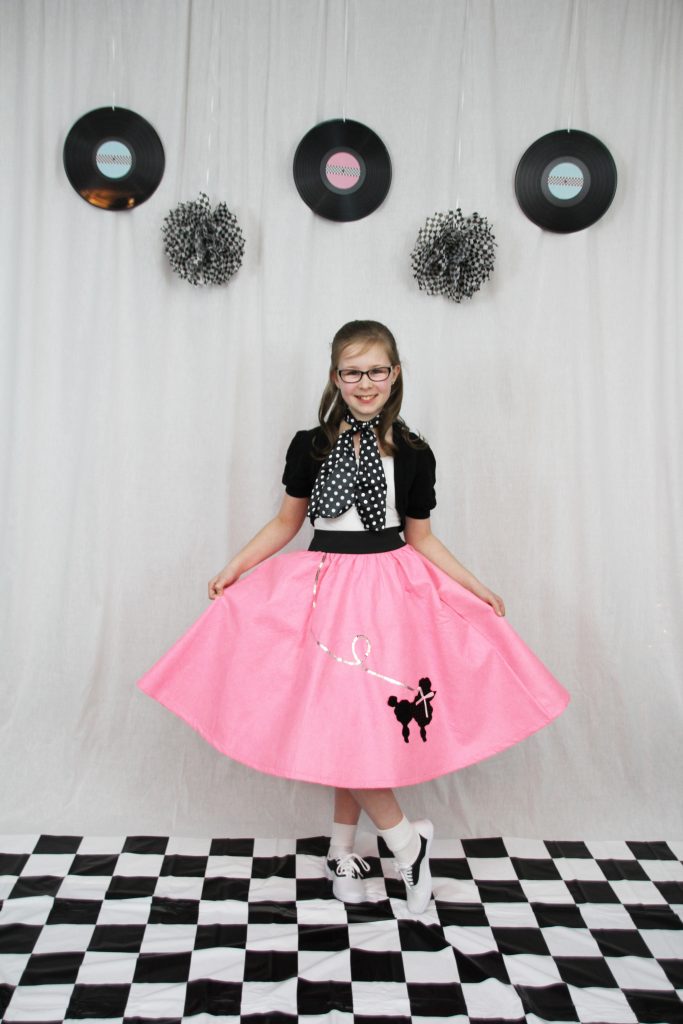 We made these cute saddle shoes from basic white tennis shoes found at Target. I used black craft paint to paint the inside shape.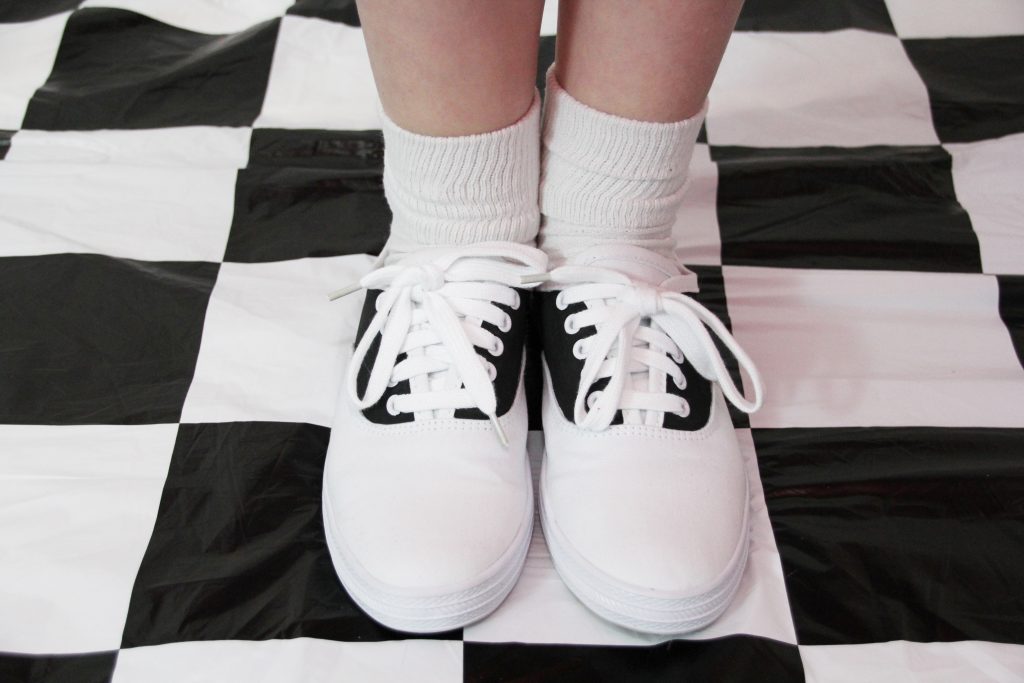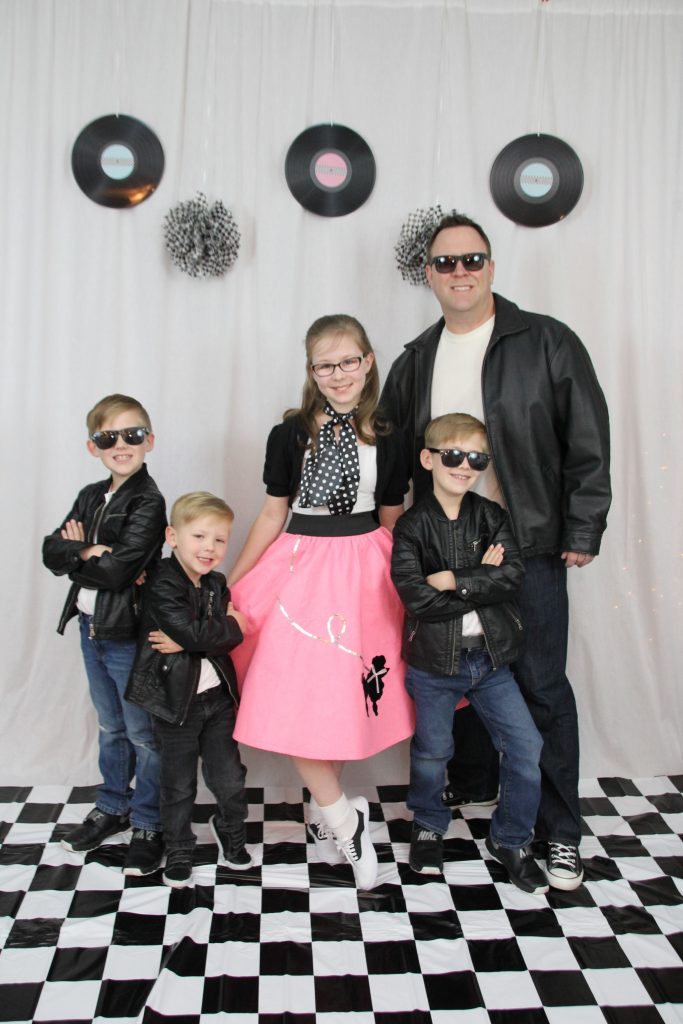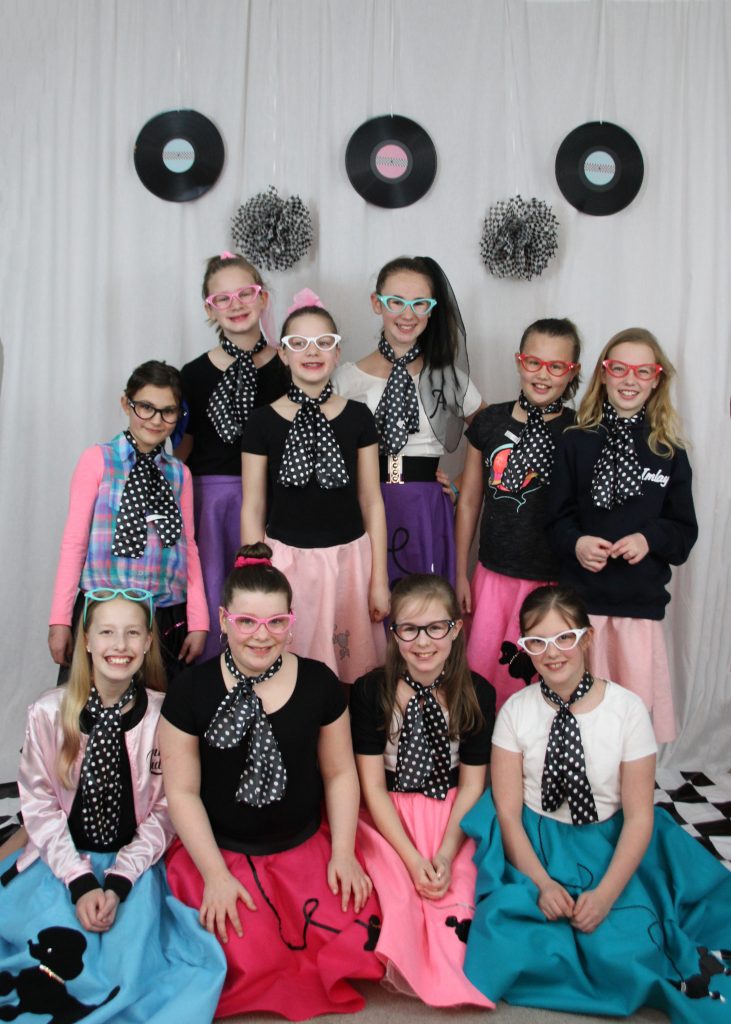 I purchased a set of printable 50s photo props on Etsy. They were super simple to print at home and cut out. The girls had a blast being silly with them.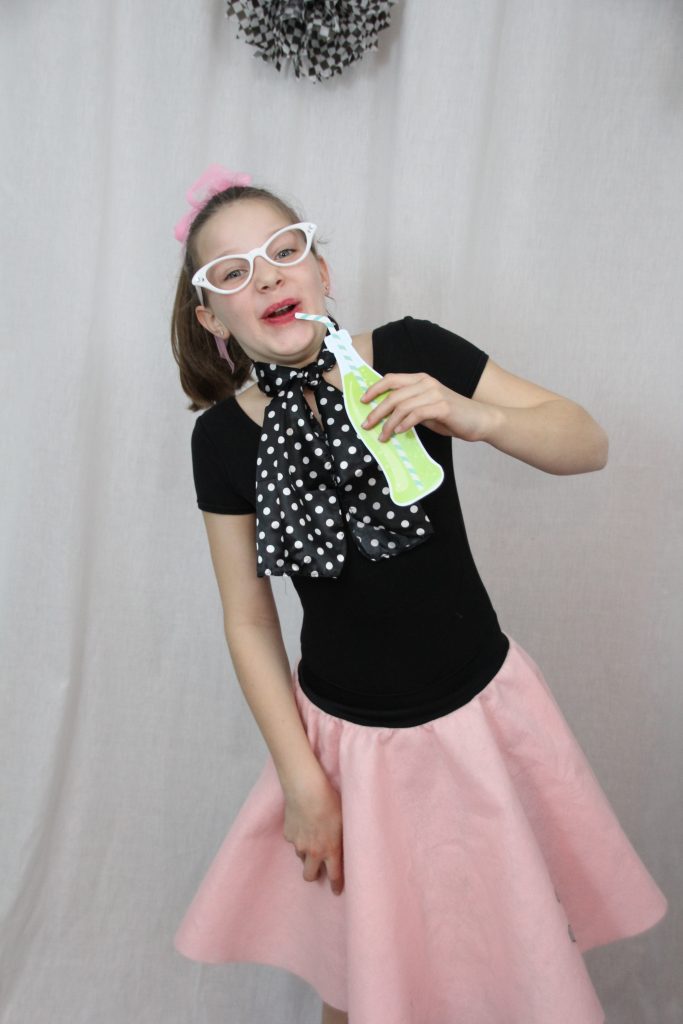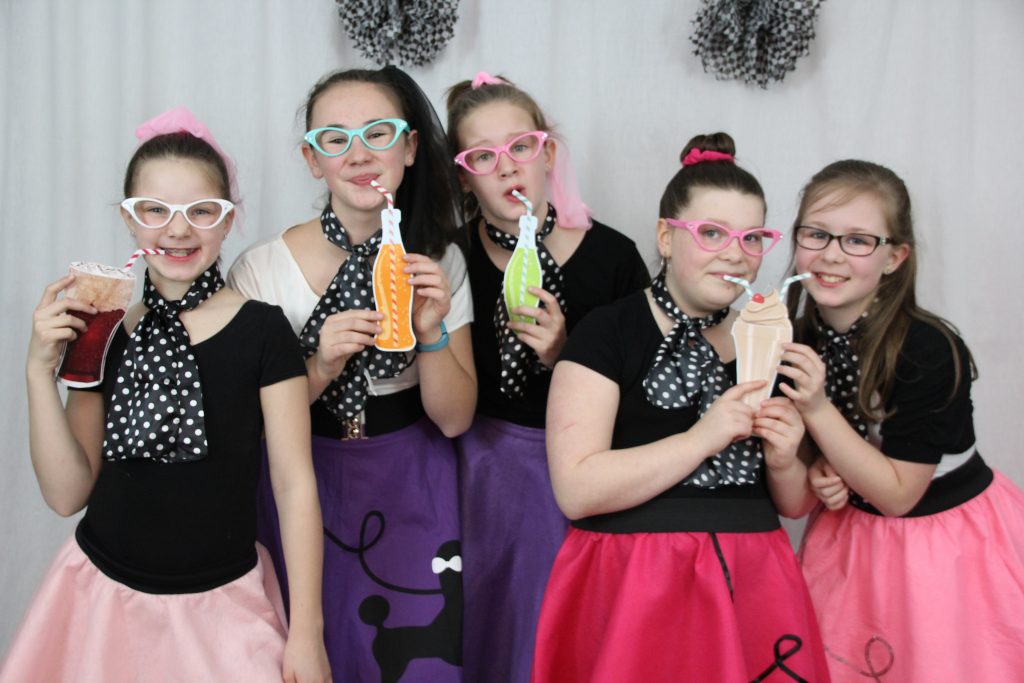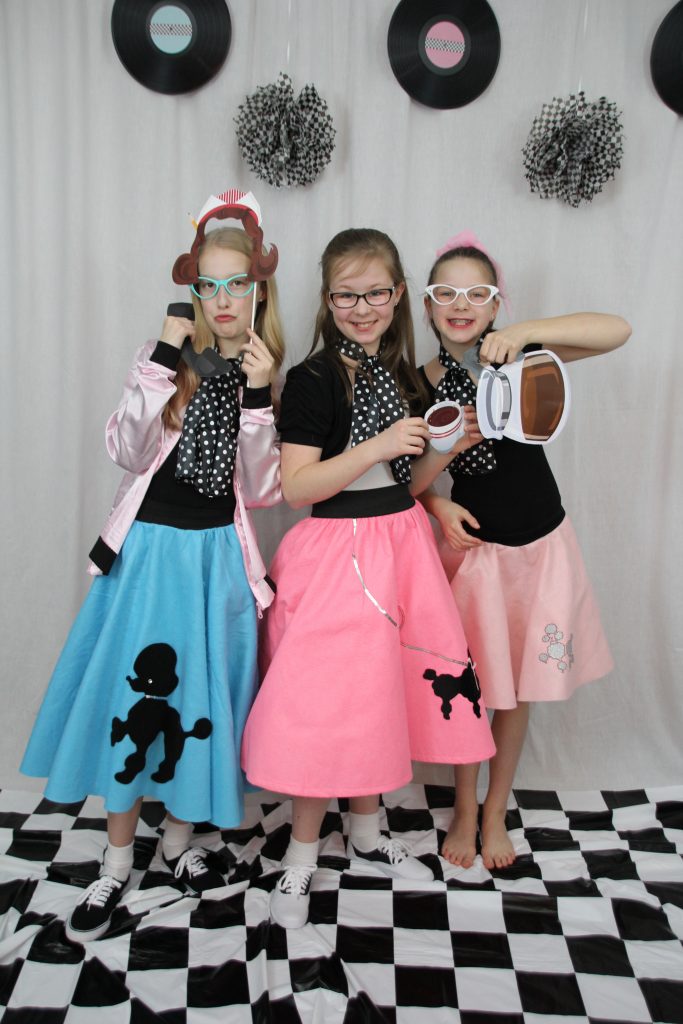 Next we had a hoola hoop contest. It was so funny to watch. The girls loved it!

Last for the evening was karaoke. This is where the evening got the silliest. They sang their hearts out and laughed until they cried.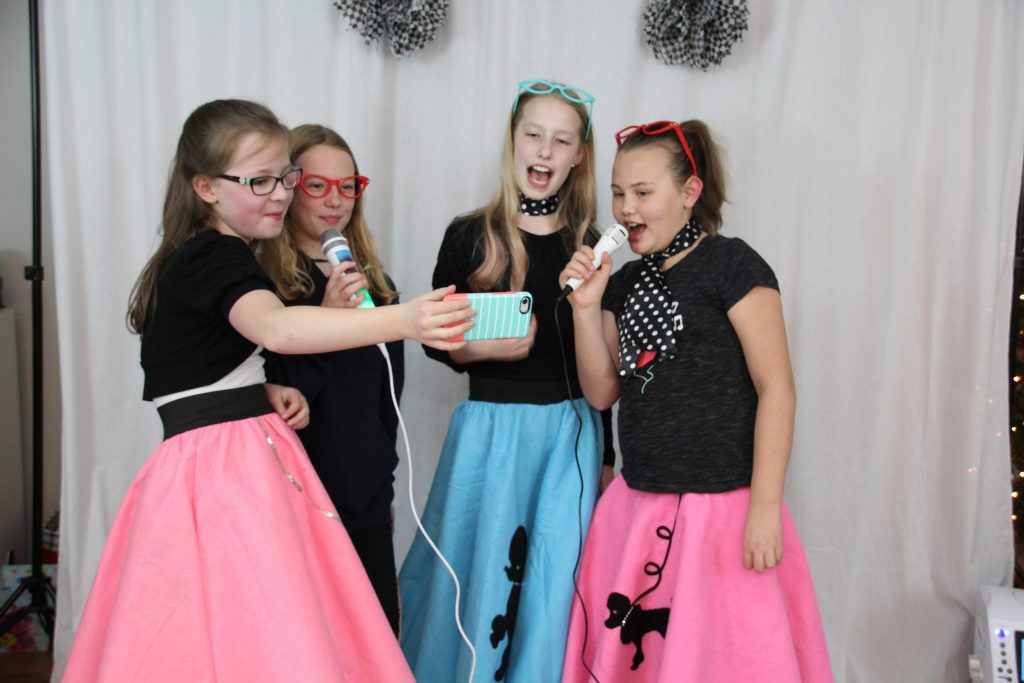 This was such a fun party theme. Having the guests come dressed up made it even more fun. The girls really got into character. I hope you enjoyed our 50's Diner Party.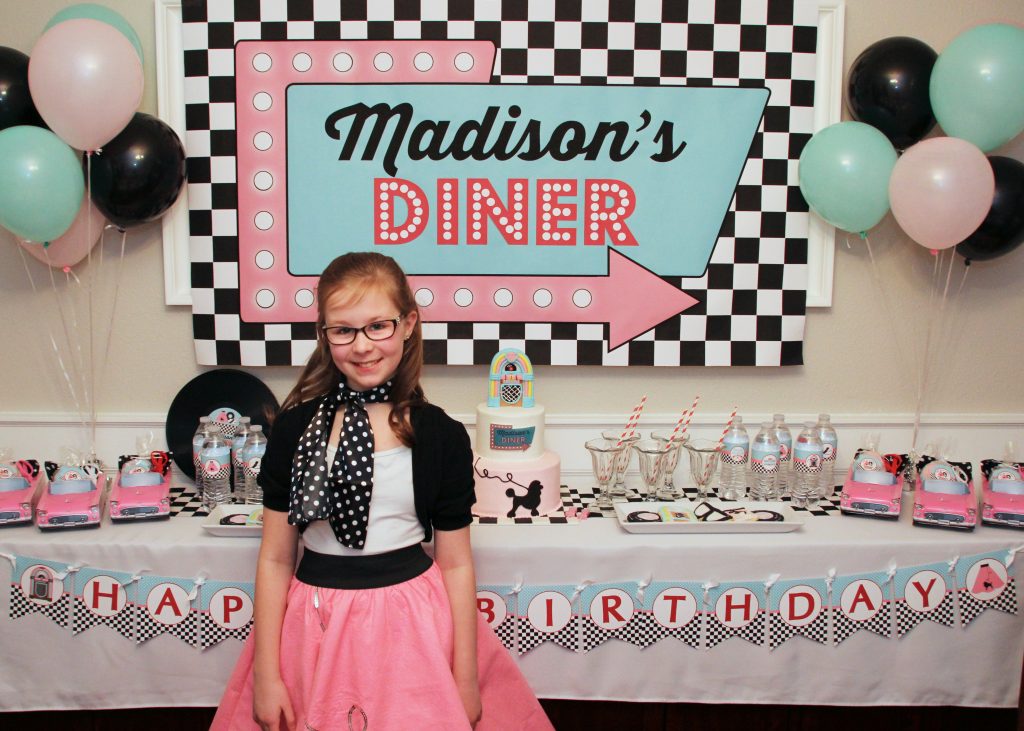 You can find all of the printable decorations by clicking shop above or following the links and party sources are below.
(Edited 5/20- Some fonts have been changed slightly from the original set. Files are now editable. Photo below are the most current.)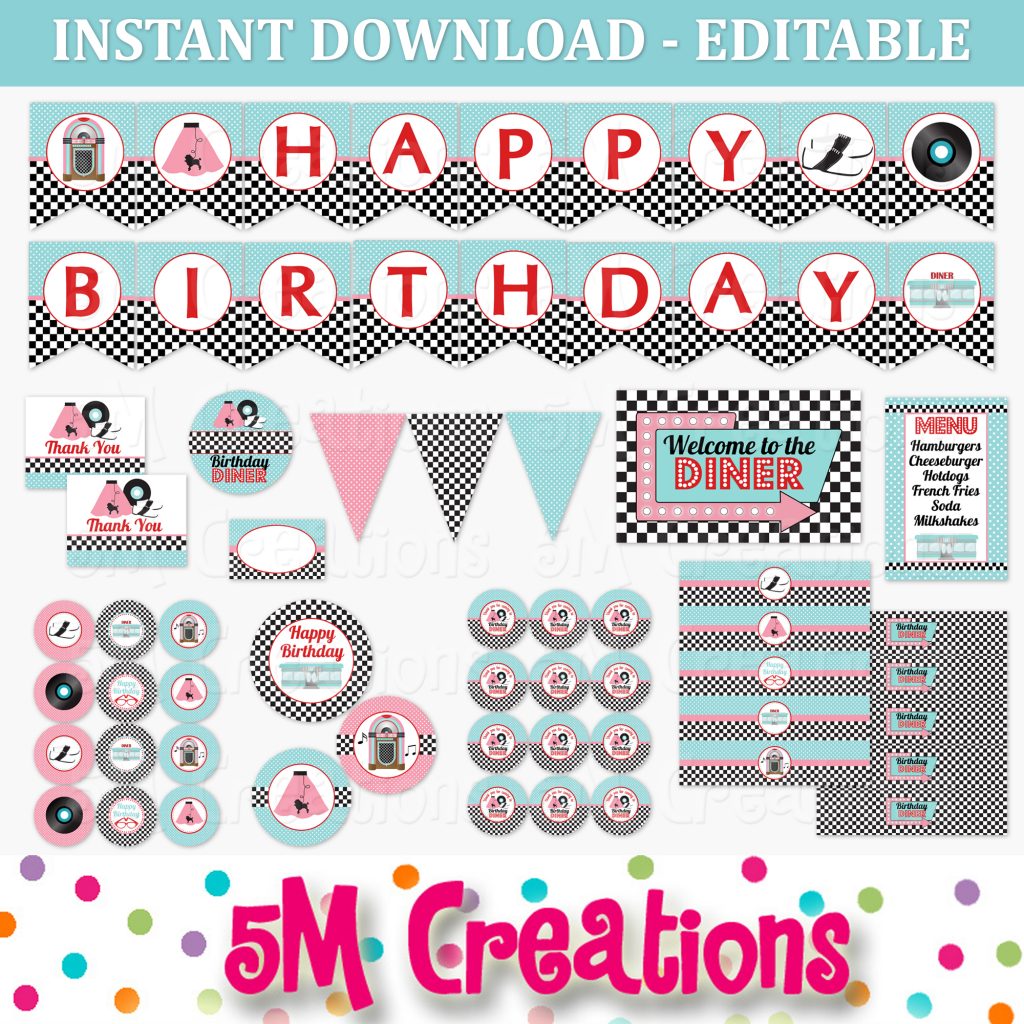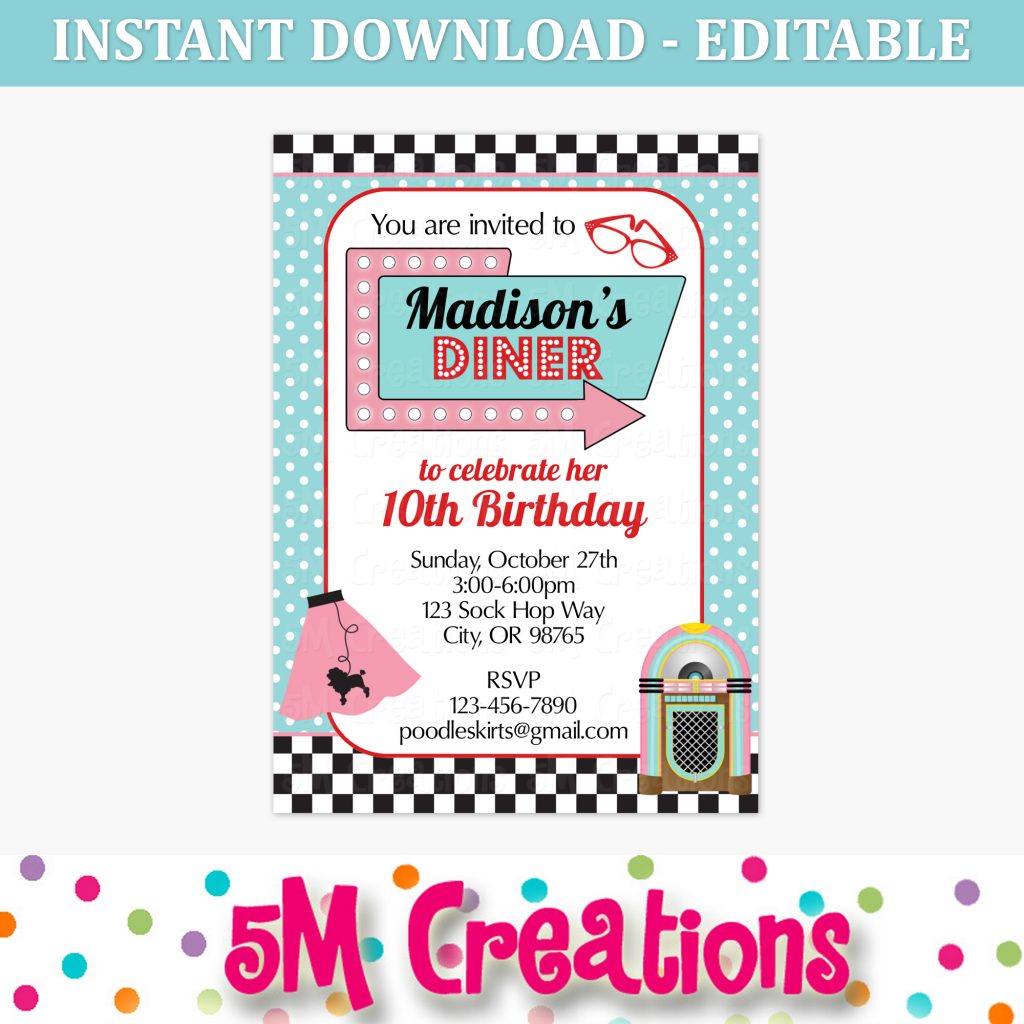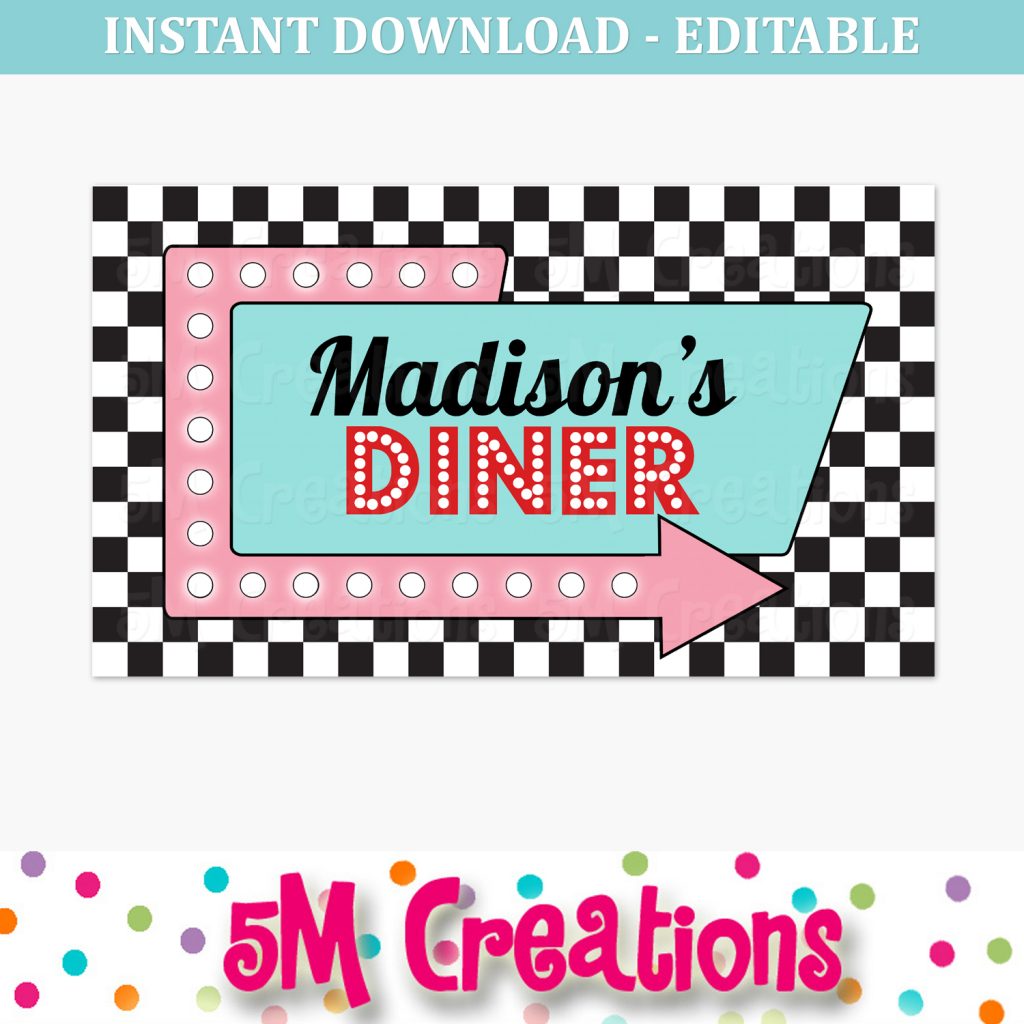 Sources:
Printable Party Decor – Sign   Party Decor   Invite
Scarves- Amazon(currently unavailable)
Glasses- Amazon (AD) (rhinestones added by me)
Pink Car Boxes- The Sugar Diva
Black & White Checkered Floor- Amazon(AD)
Ketchup & mustard bottles- Local restaurant supply store (similar can be found on Amazon)(AD)
Napkin Dispensers- Local restaurant supply store (similar can be found on Amazon)(AD)
Glass Soda Bottles – Michael's Crafts
Records – Used records of any style from Goodwill
Food Baskets & Liners -Local restaurant supply store (similar can be found on Amazon)(AD)
Poodle Skirt -Bday Girl – Amazon (AD) (runs small! My 11 yr old is a 14/16 and wearing the Women's Med/Lg)
Doll Diner – Target
Doll Outfit – Local Market
Photo Props – Etsy
Saddle Shoes- Target
5M Creations August 22nd, 2018
Posted In: Uncategorized