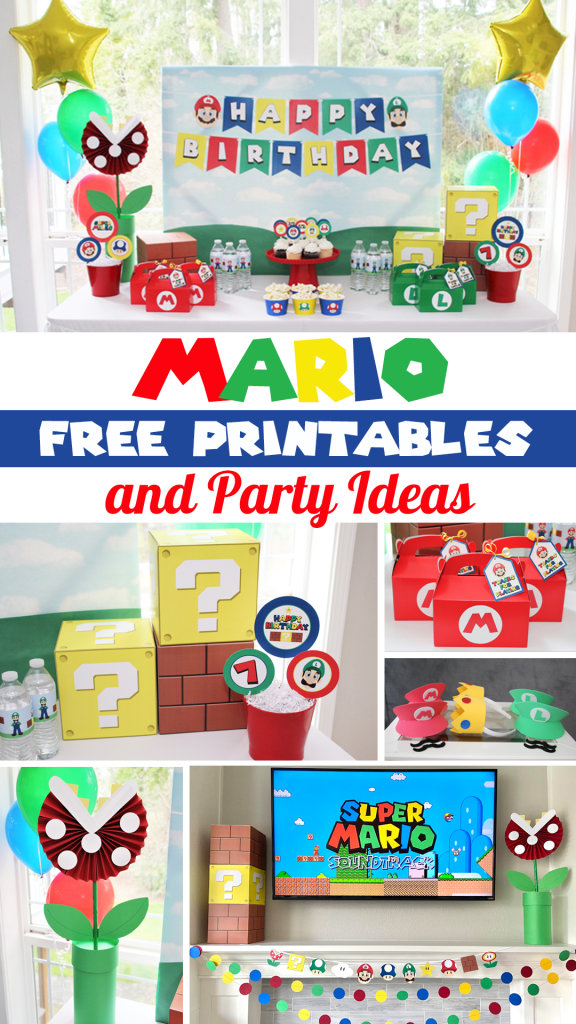 Do you have a video game lover in your house? I happen to have 3! My youngest asked for a Mario inspired birthday party so I looked to Pinterest for some fun ideas. I created this Mario inspired FREE printable party decor, found some awesome game and craft ideas and I cannot wait to share it with you. Watch for another post with video tutorials on a few items. See the bottom of the post for links to all of the products I used.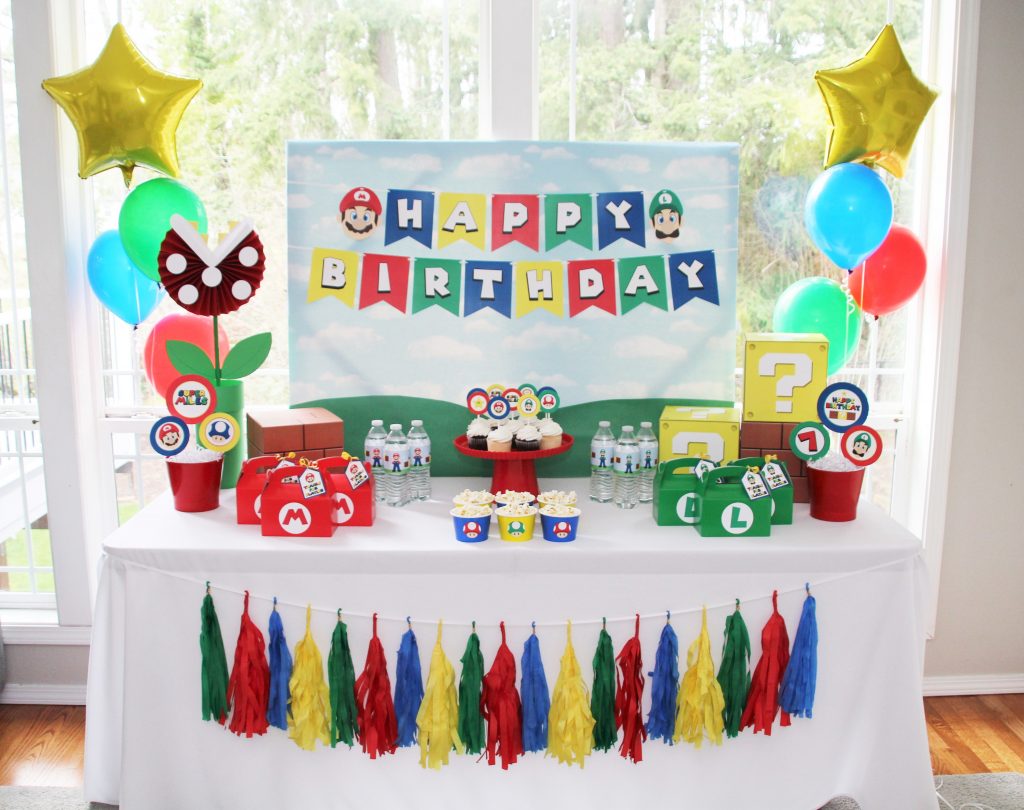 The backdrop was the focal point of the party table. The cloud paper was a photo backdrop I got on clearance at Joann Fabric. I added some green butcher paper hills and the Mario inspired printable happy birthday banner.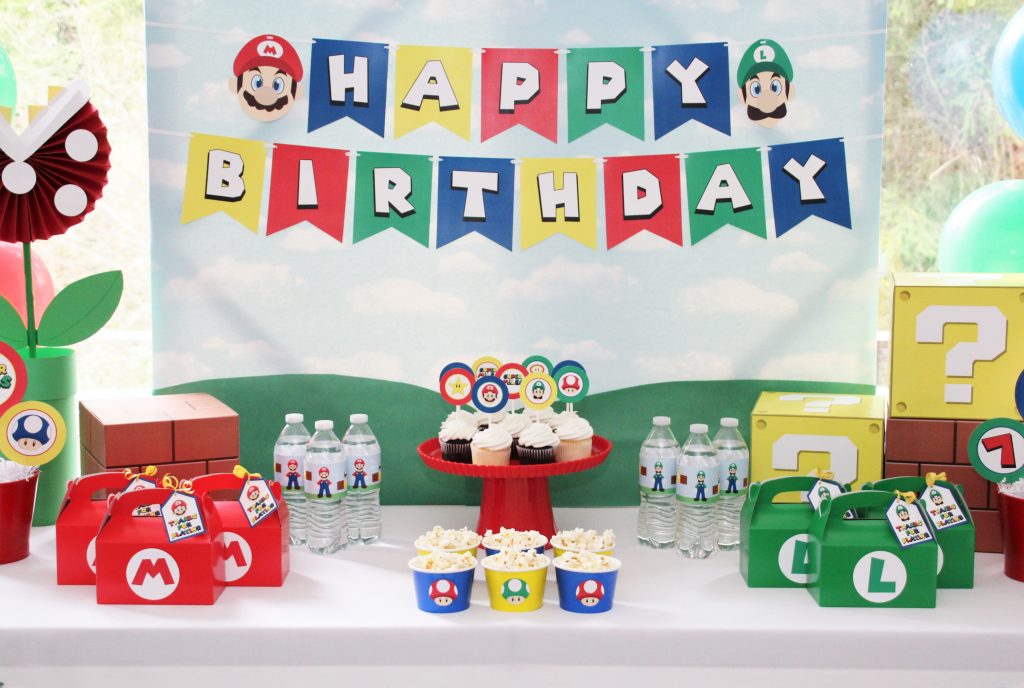 Each guest received a favor box filled with goodies. They included Mario fruit snacks, a pencil. mustaches, Mario stickers and gold coins.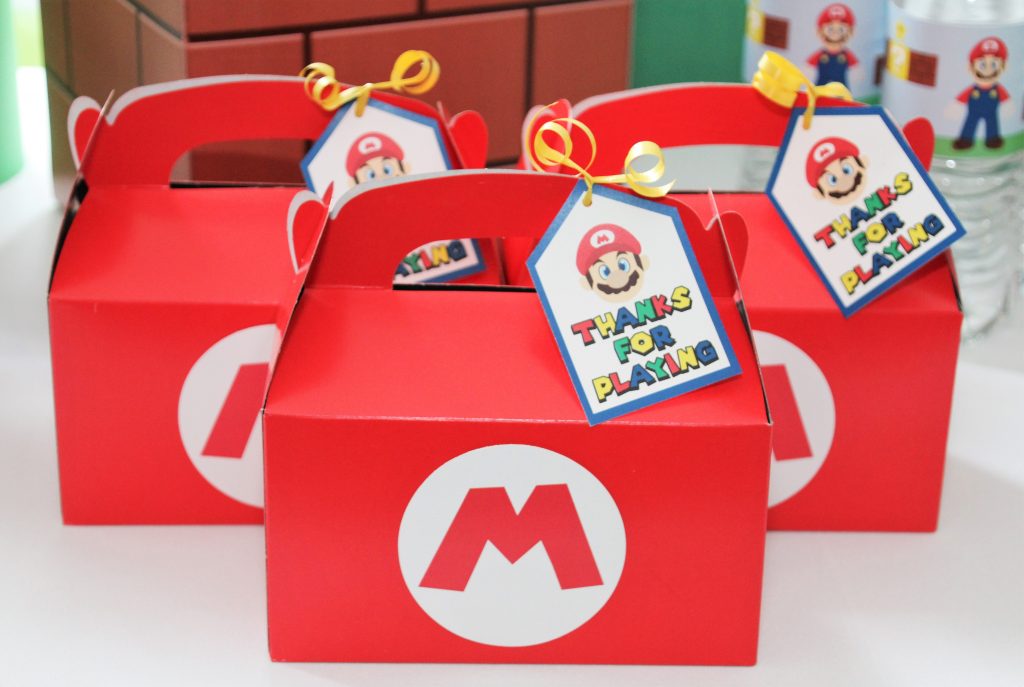 Each box had a printable "Thanks for Playing" favor tag.
Power Up printable treat bag toppers were the perfect addition for the gold coins.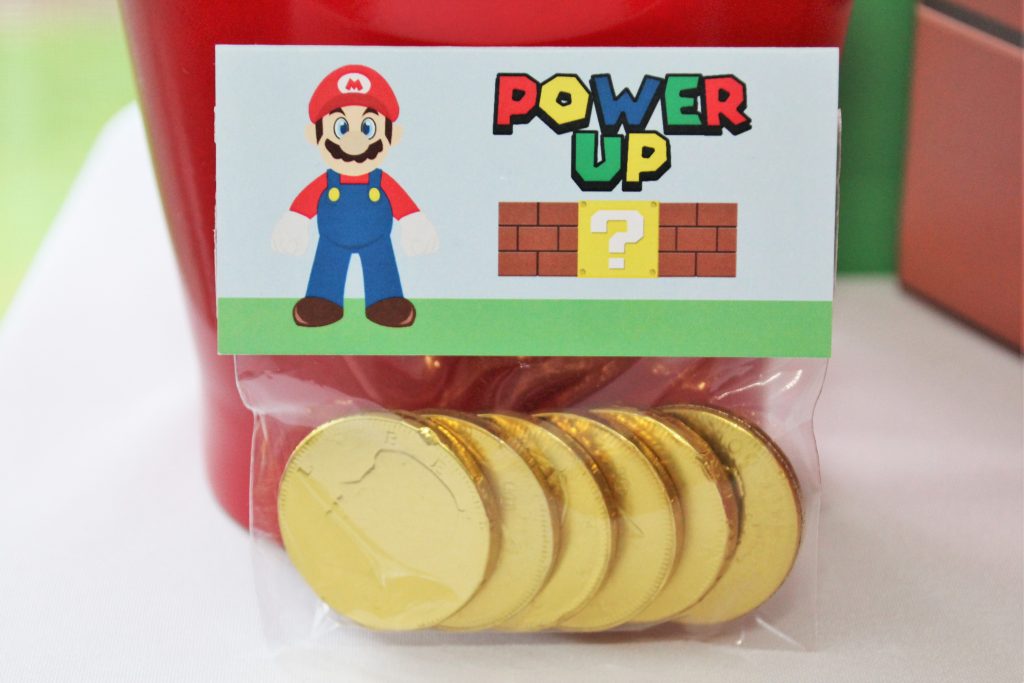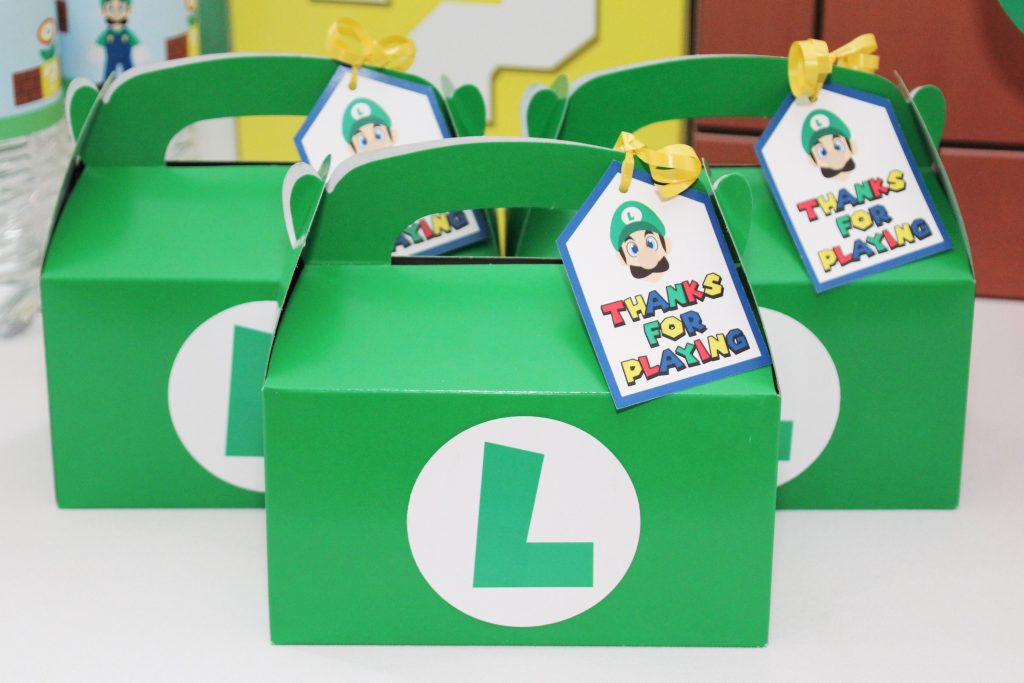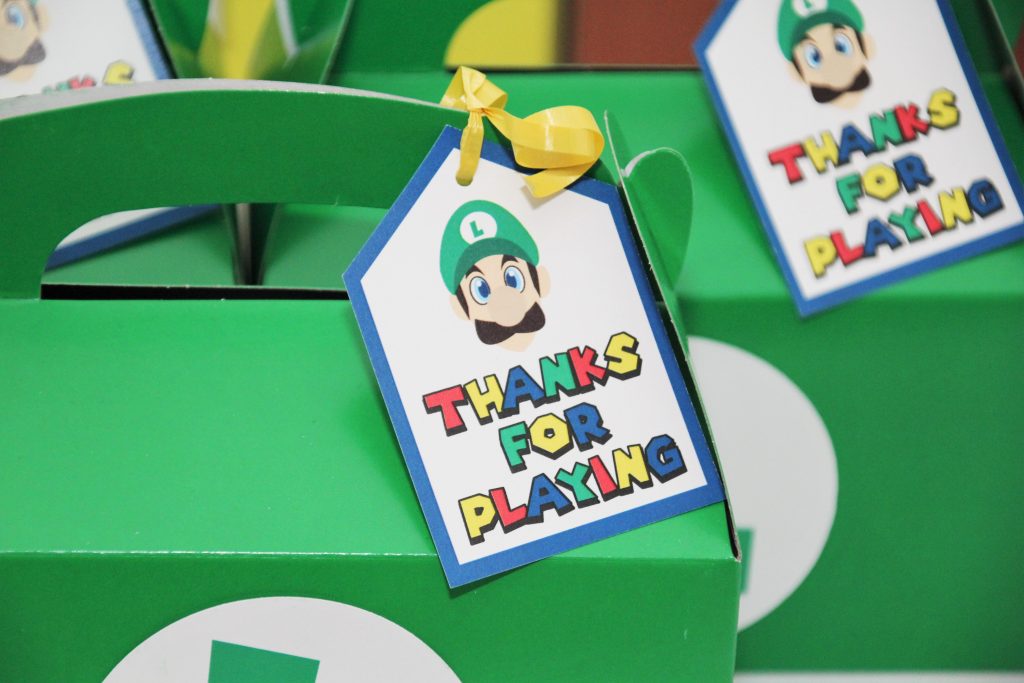 Printable Mario inspired cupcake toppers were added to store bought cupcakes for a sweet treat.
I cut out little mushrooms to add to the front of solid color snack cups I got at the dollar store. An easy way to dress up our popcorn snack.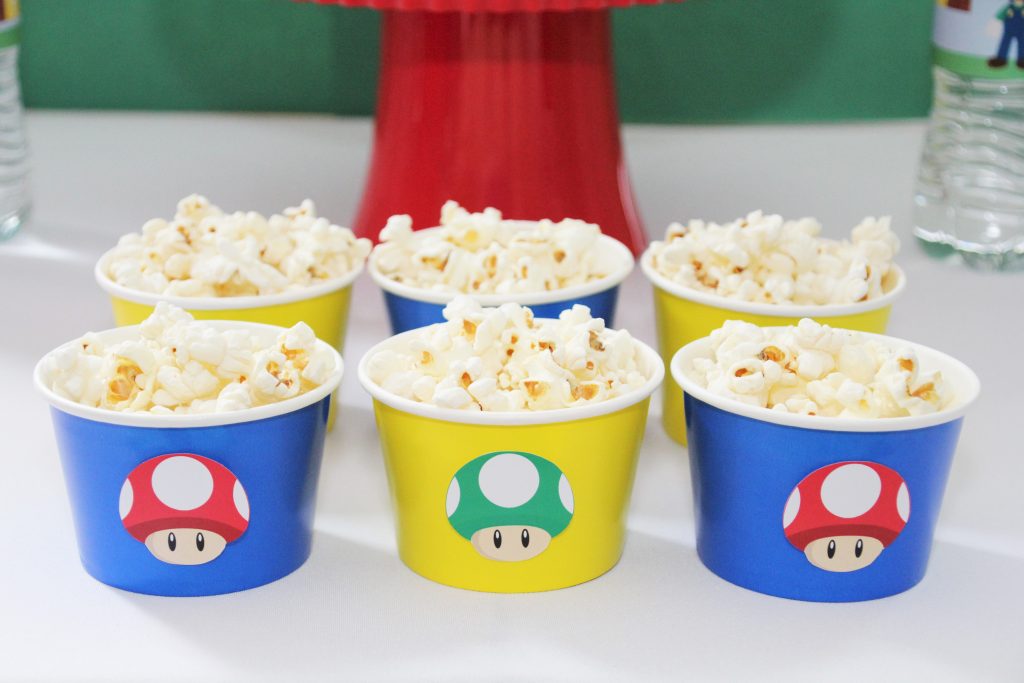 Water bottle wraps are always a go to for me. I love how easy it is to add the theme to something so basic. The kids love drinking out of them.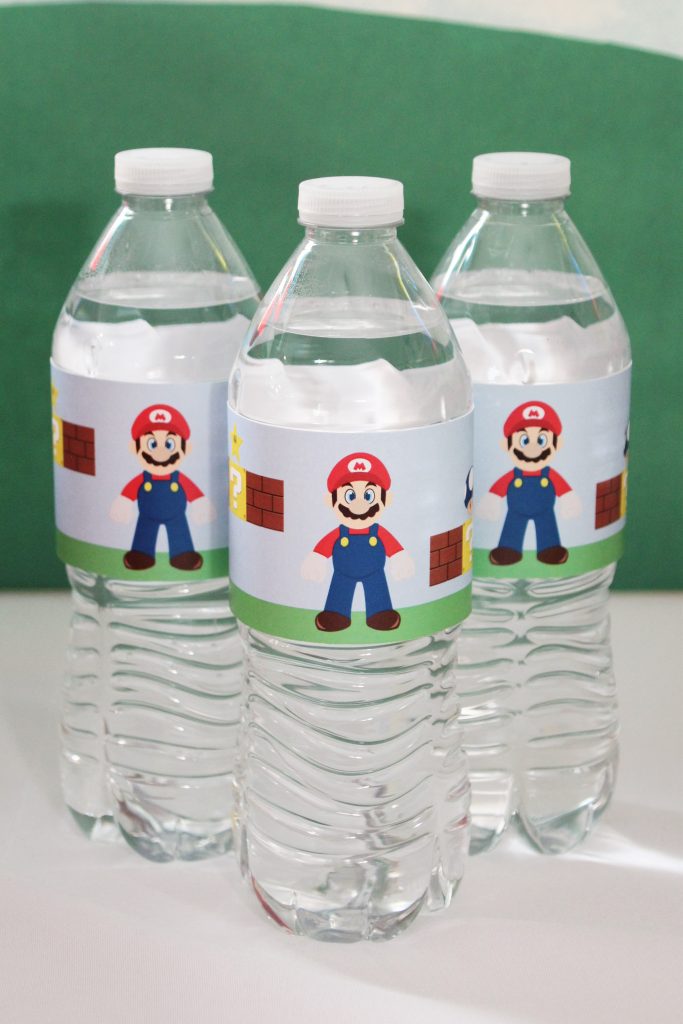 I saw several different Piranha plant ideas on pinterest but ended up making my own paper fans out of red cardstock and a tube with an oatmeal canister. I will add more details in my next post.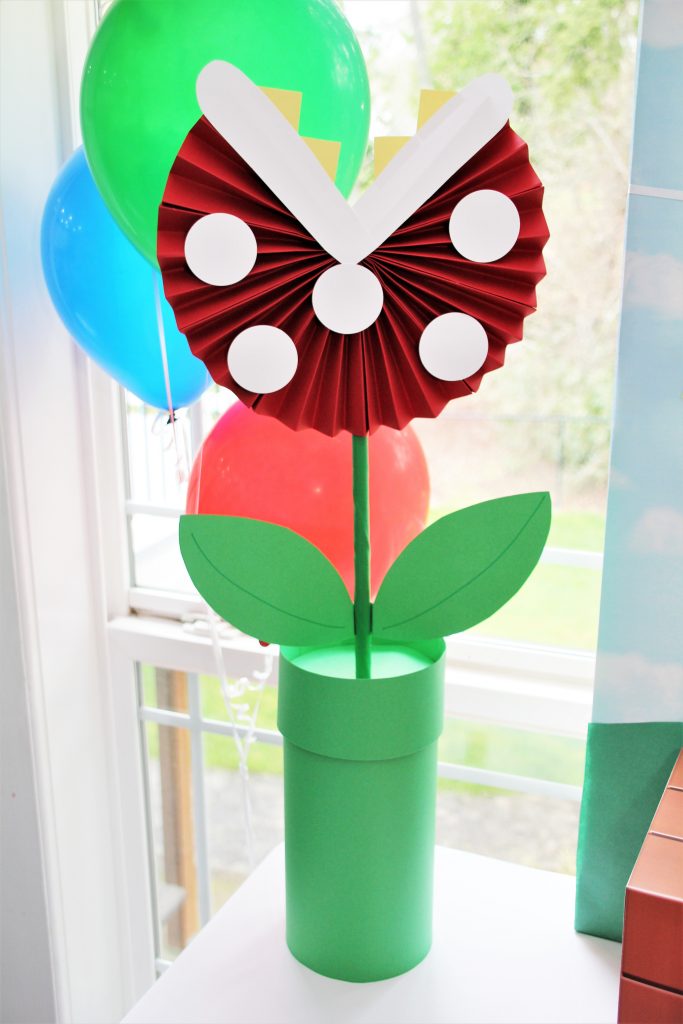 I designed these printable 3D brick and mystery boxes to stack on my party table. They were so much fun! (TUTORIAL HERE)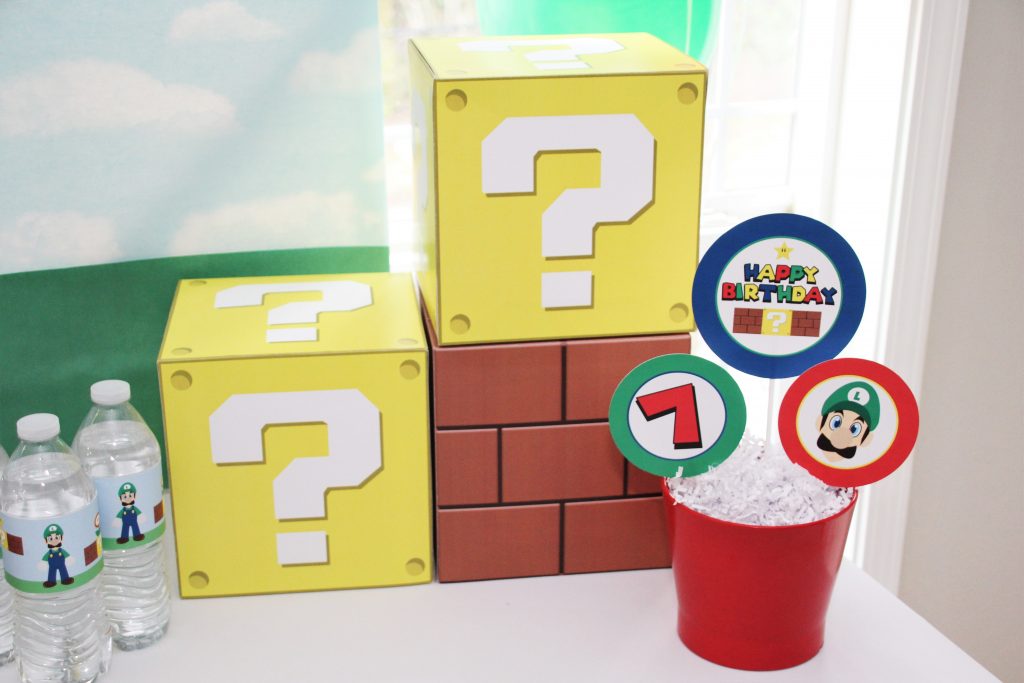 Party guests were given a hat and mustache when they arrived. (TUTORIAL HERE & HERE)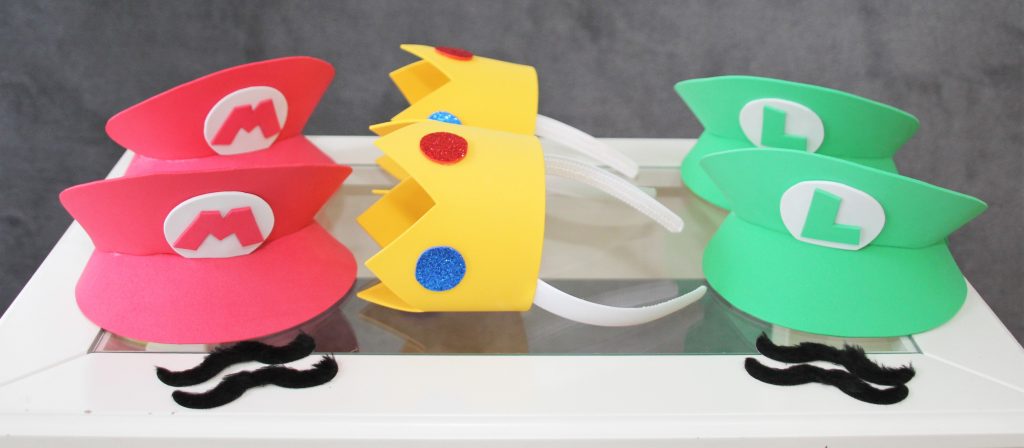 For party games we did a Fire and Ice Ball throwing contest. Green bowls from the dollar store were our green tubes. The kids tossed bean bags into the tubes to earn points.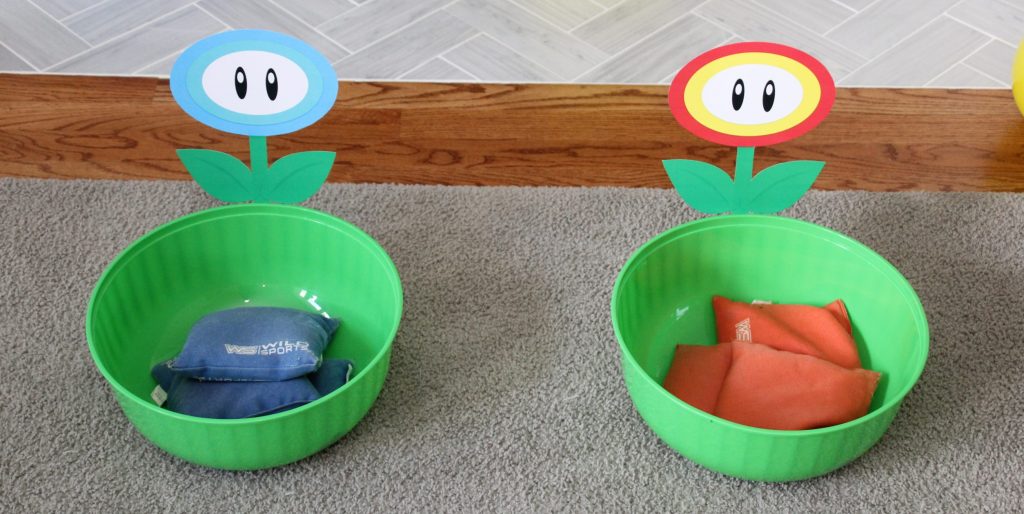 We played pin the mustache on Mario. (Printable file for free at the end of the post)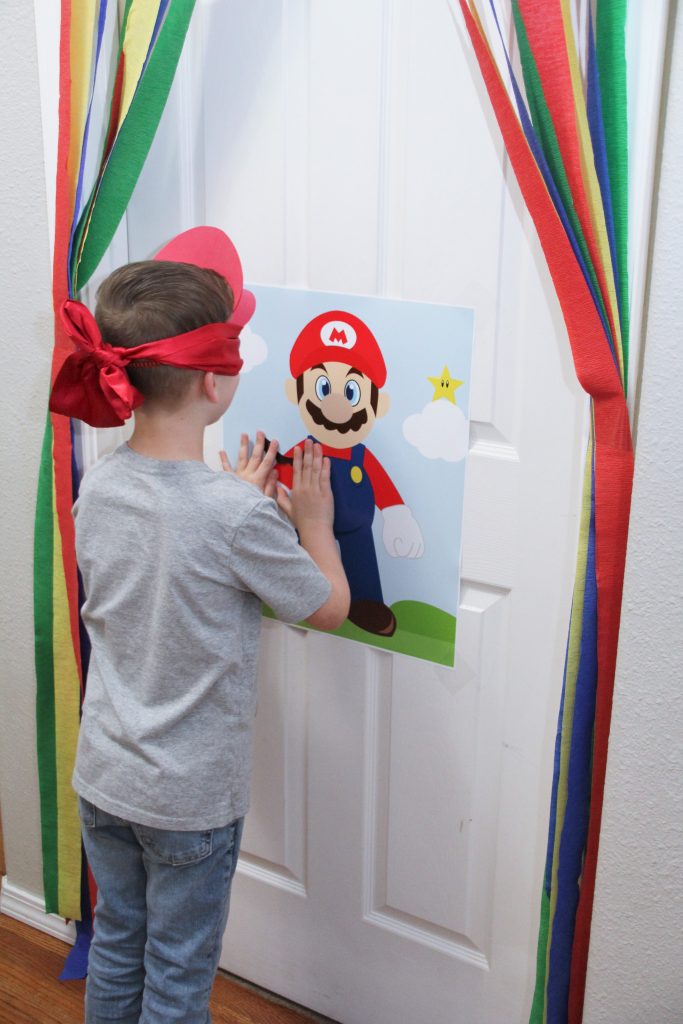 Stomp the Goomba. I cut paper feet out of cardstock, punched a hole at the back and pulled the knot of the balloon through to make them stand up. I was originally going to add faces to them, but never got it done. Honestly the kids didn't care. Inside each balloon I put a chocolate gold coin. They they defeated (popped) the Goomba and got a gold coin. Each kid got to stomp 3 Goombas. This was the kid's favorite game.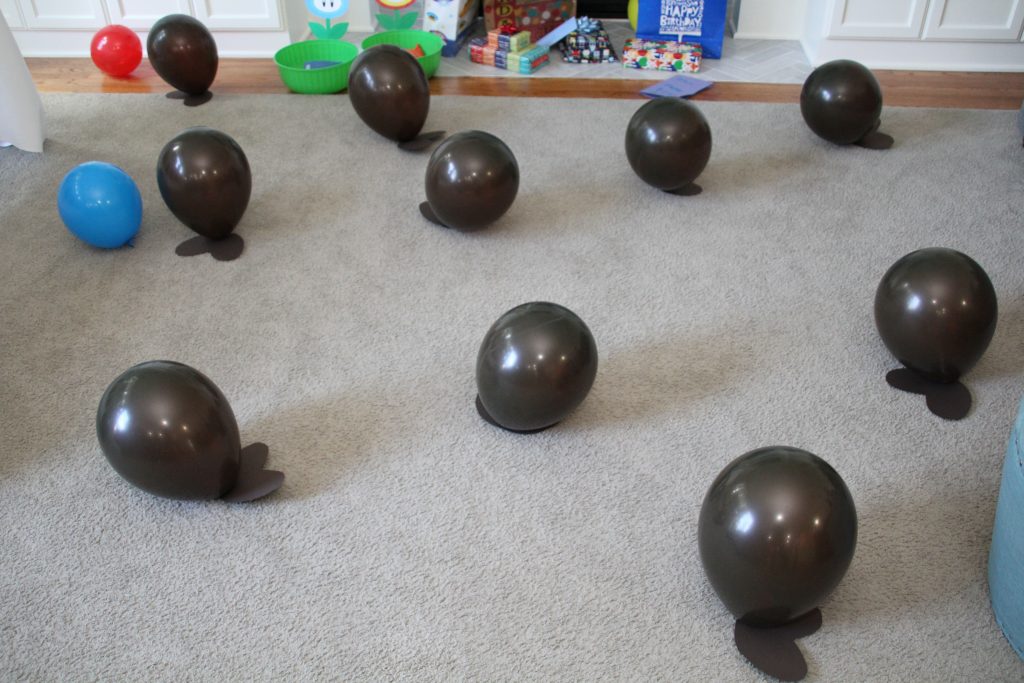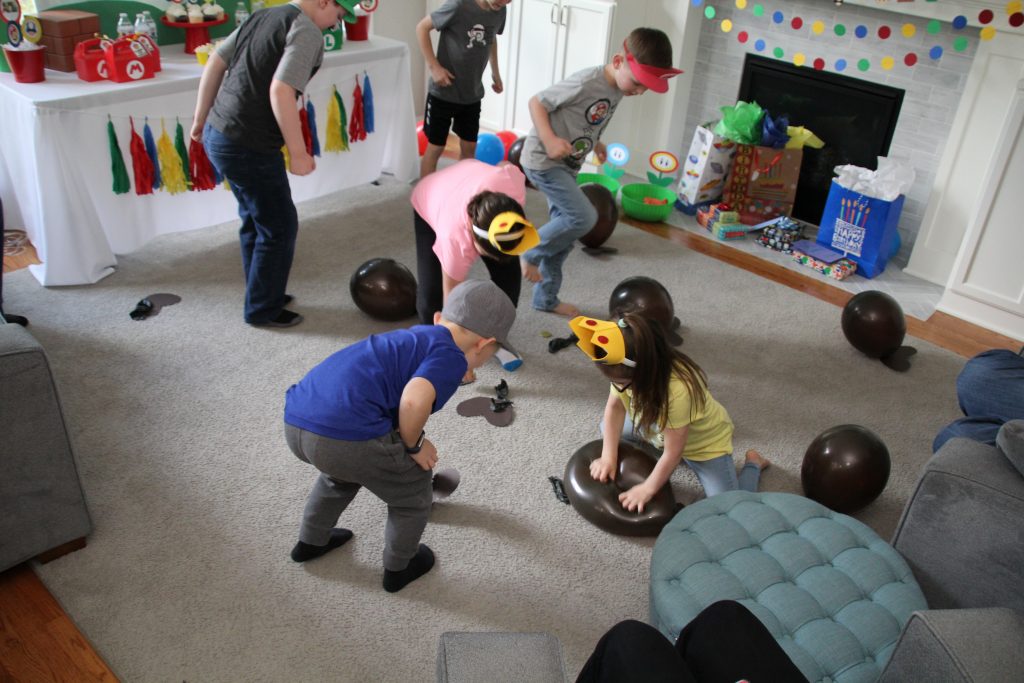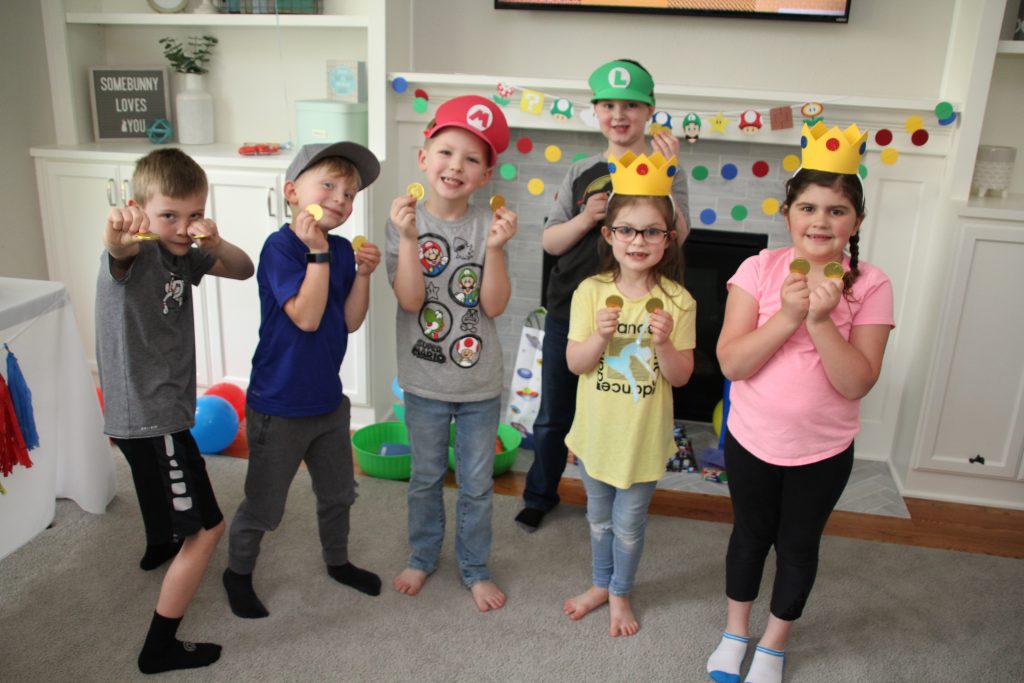 Next we knocked over cups with our Yoshi Tongues (party blower). First to knock over every cup won.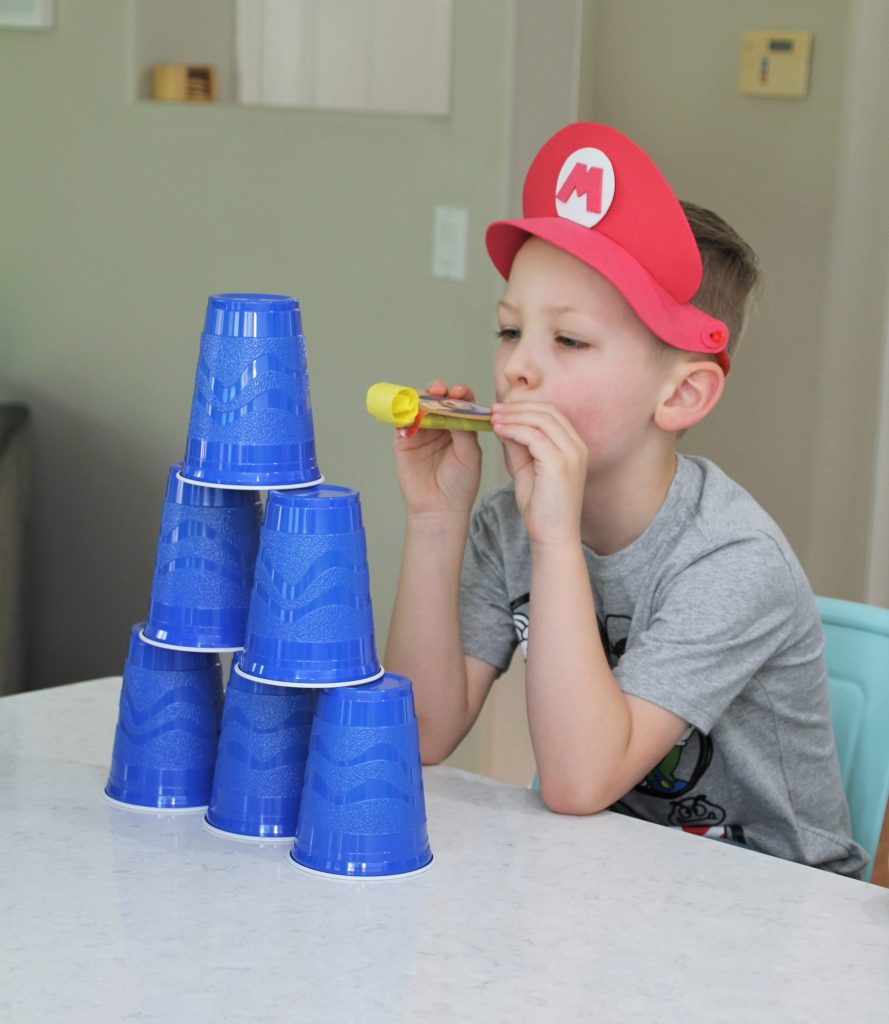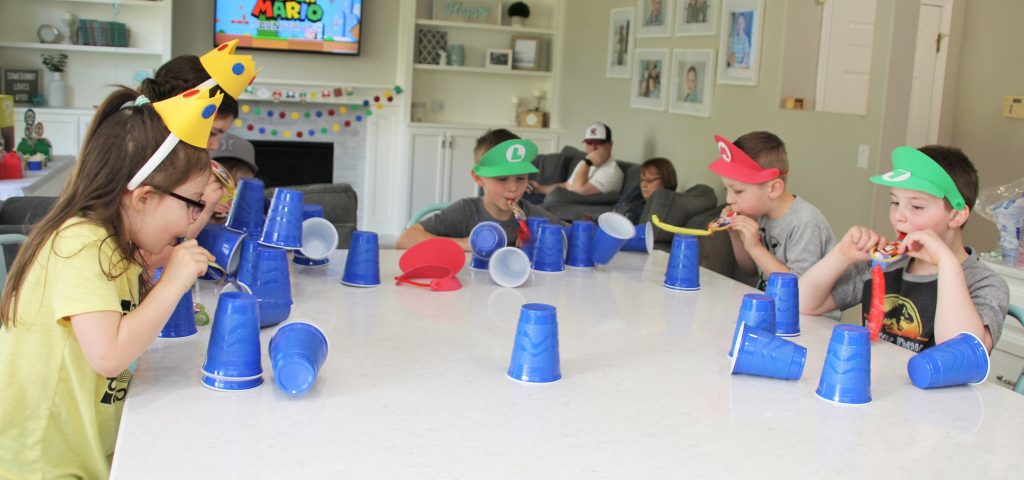 We had Mario coloring sheets I printed from free. The kids did this while we were waiting for everyone to arrive. It was a nice activity while we waited.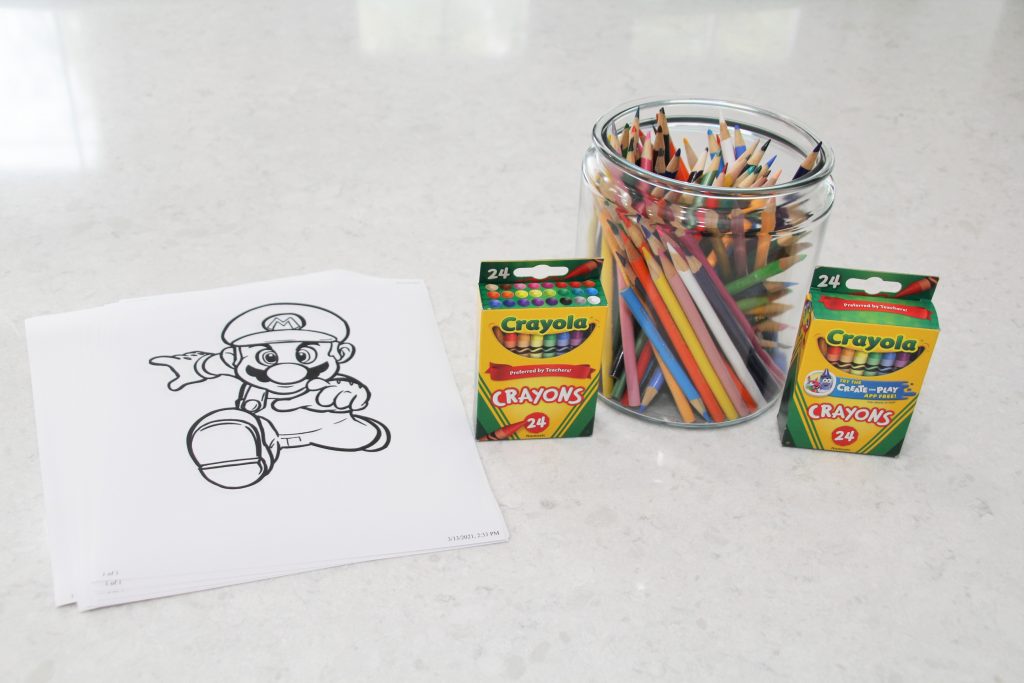 This last craft I found on Fab Everyday. The kids made piranha plant tubes by coloring a printable piranha plant and gluing it to a craft stick. We cut a slit in the bottom of the cup for the stick to slide up and down. They LOVED this activity. Thanks Fab Everyday for the idea. Check out her post for more Mario Party Ideas.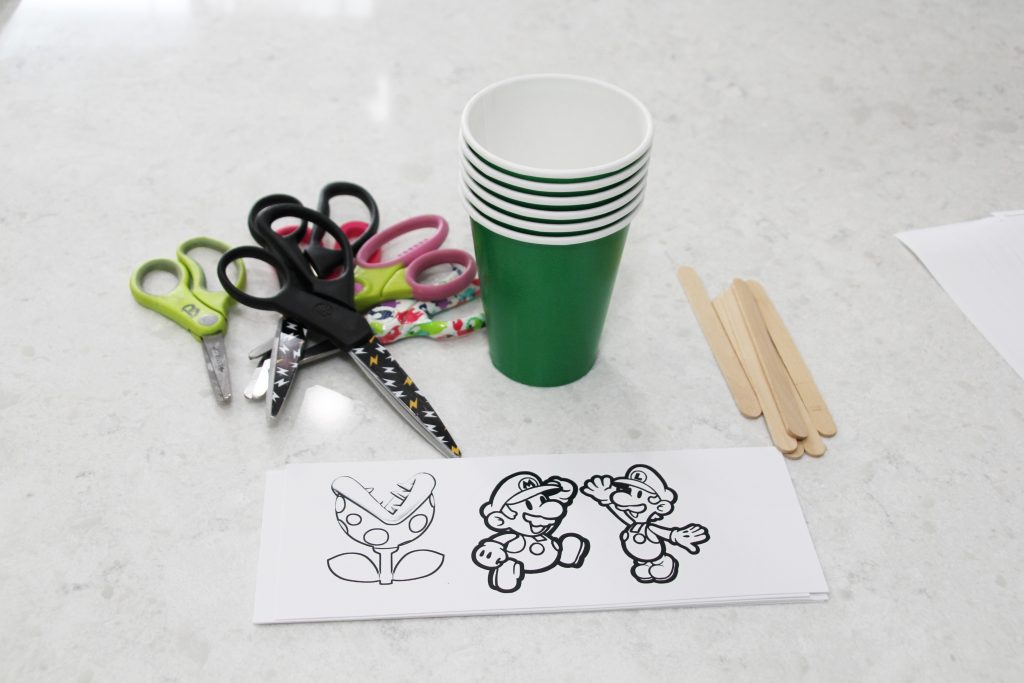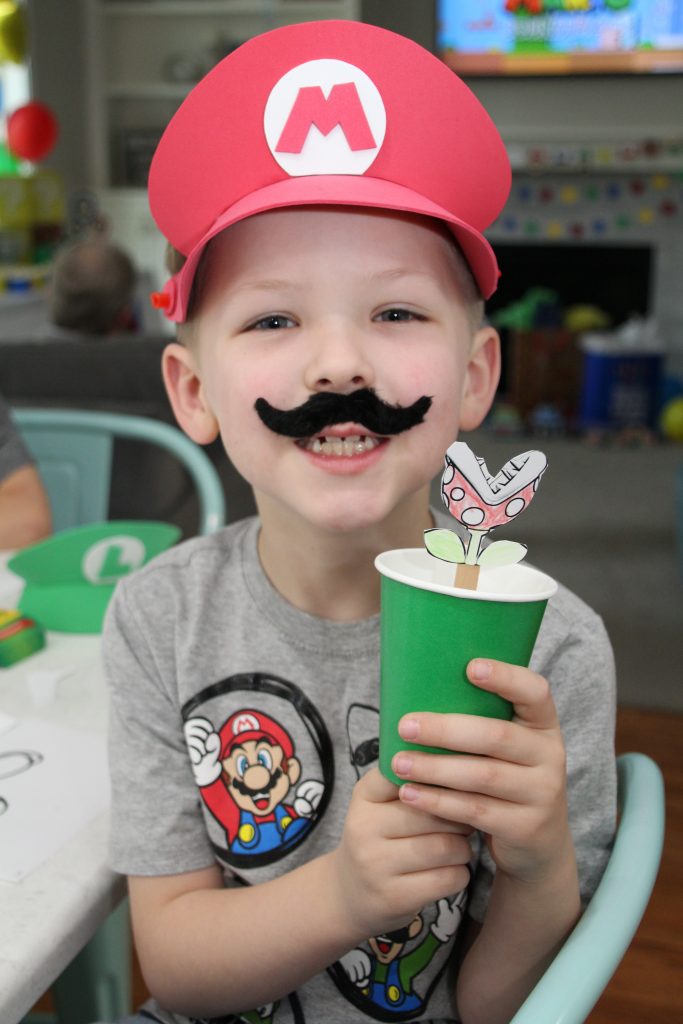 We played a Mario soundtrack I found on youtube during the party. It was perfect! It also added a fun graphic to the tv. My mantle was decorated with more of the mystery and brick boxes, piranha plant and a mini banner made with printable characters. I added a circle banner I had left from our LEGO inspired party that was the exact same colors.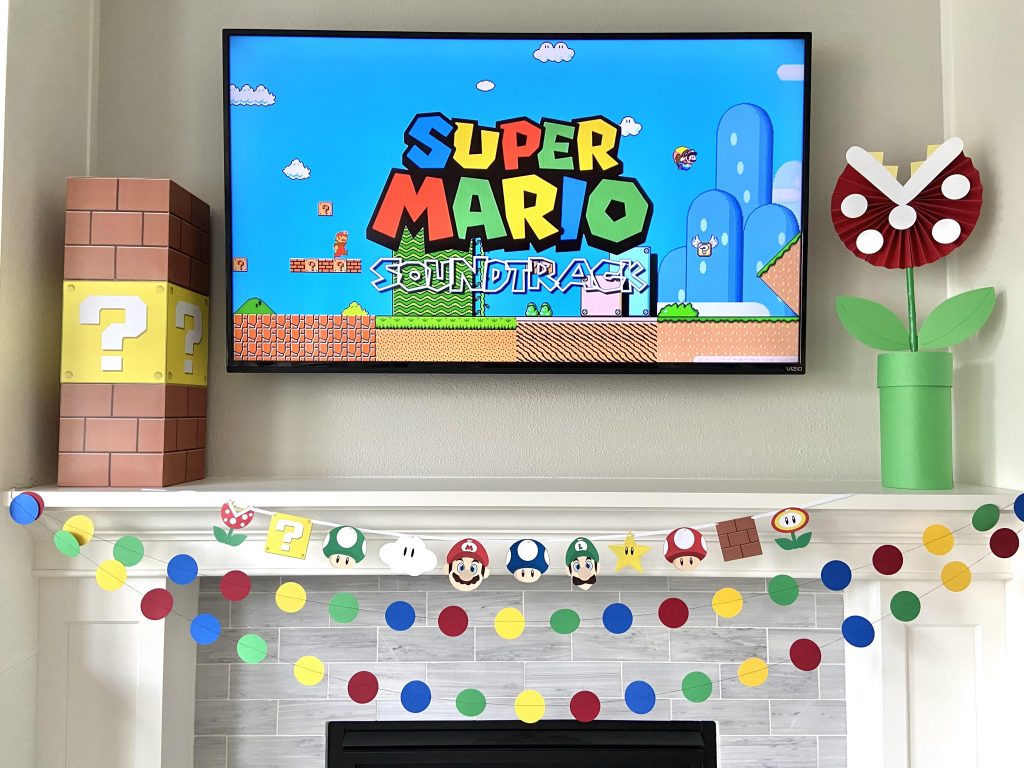 I hope you enjoyed some of our Mario Inspired party tips. The kids had a blast and took home lots of fun Mario goodies. You can find the FREE Mario inspired printable decor in my shop. It includes everything shown below plus a few extras. If you are wondering where I got most of the non printable items shown above there is a party supply list is below! Comment with how you used the decor and email me any party pics at fivemcreations@gmail.com to possibly have your party featured. Happy party planning!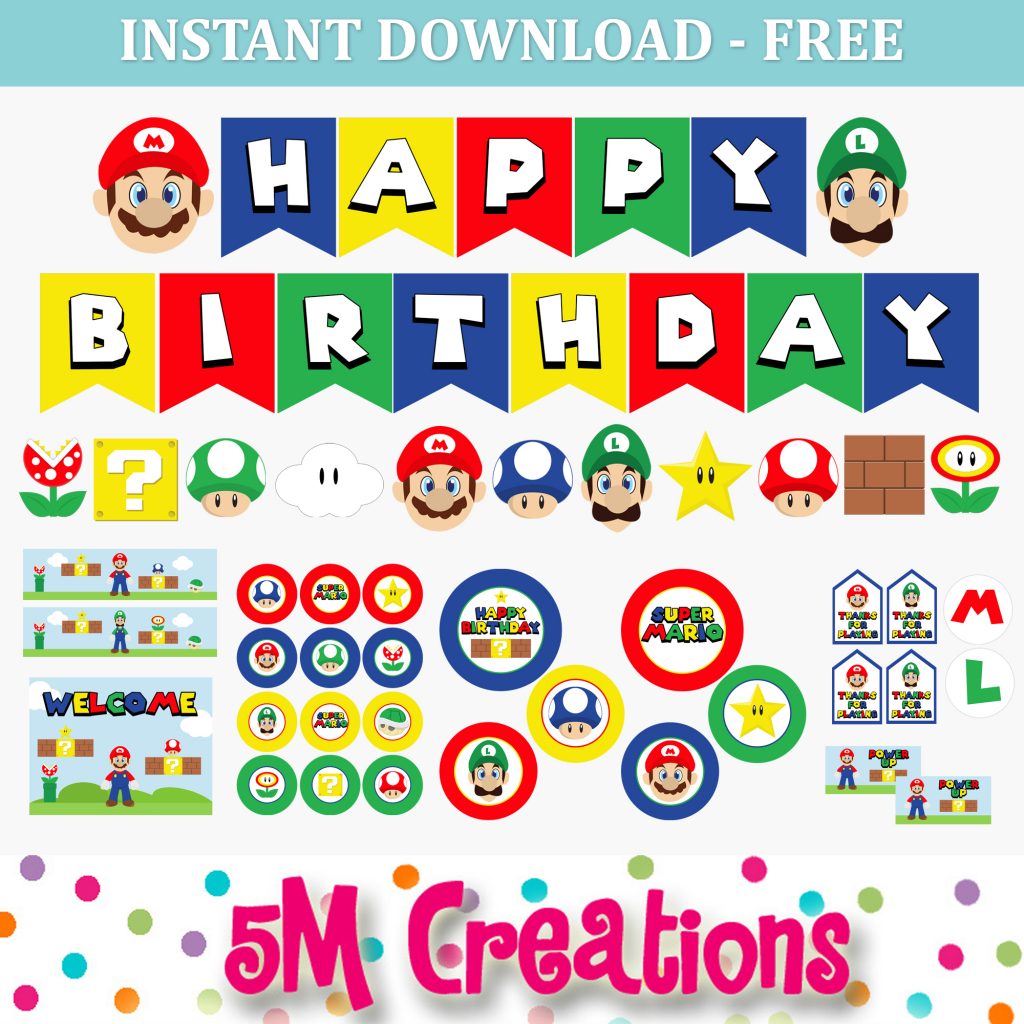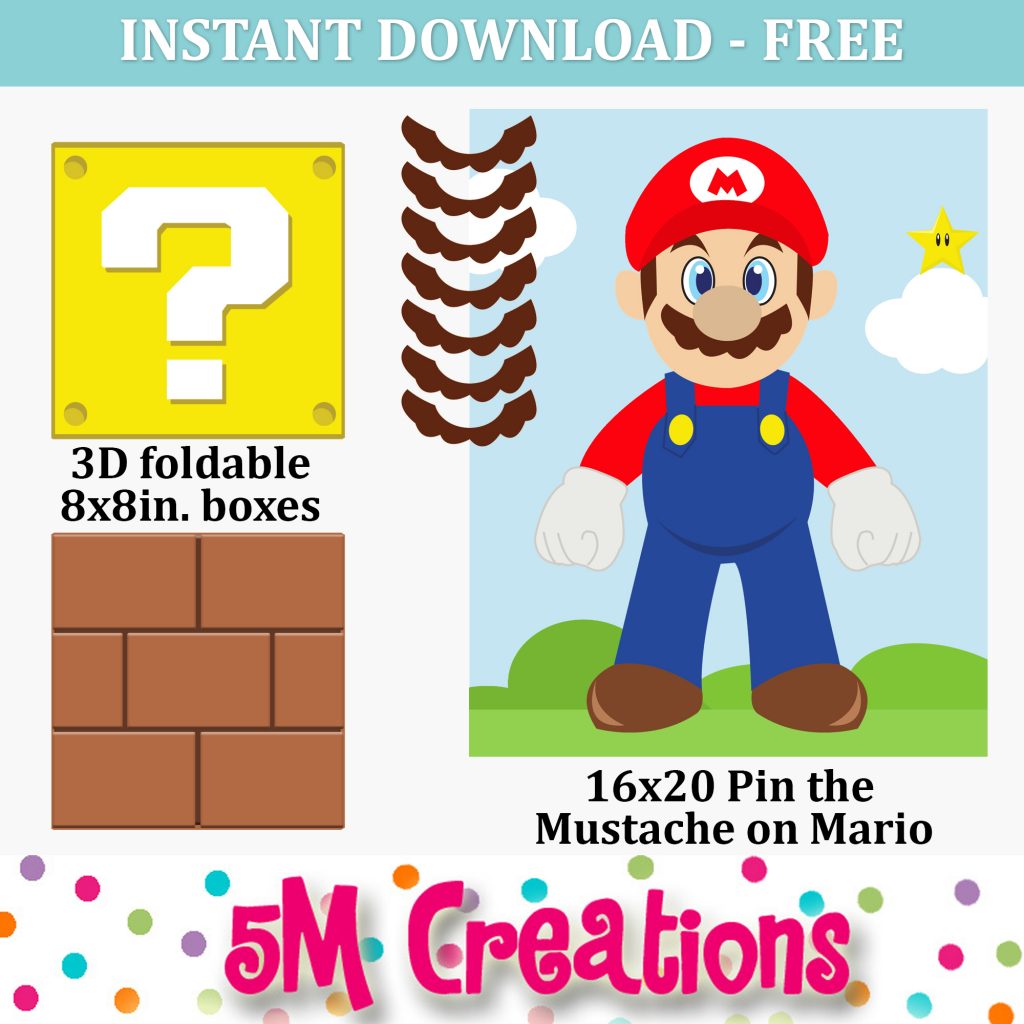 Party Supplies:
Printable party decor: 5M Creations
Red/Green Favor Boxes: Amazon (AD)
Mario Sticker: Amazon (AD)
Mario Party Blowers: Amazon (AD)
Mustaches: Amazon (AD)
Brown Balloons: Amazon (AD)
Yellow Star Balloons: Amazon (AD)
Mario Fruit Snacks: Amazon (AD)
Mario Pencils: Amazon (AD)
Gold Chocolate Coins: Amazon (AD)
Not Shown but a few other fun products:
Mario Nintendo Switch Pro Controller (gift for the birthday boy): Amazon (AD)
Mario Paper Plates: Amazon (AD)
Mario Pez Dispenser Favors: Amazon (AD)
Yellow Cake Stand: Amazon (AD)
Red Cake Stand: Amazon (AD)
5M Creations April 12th, 2021
Posted In: Uncategorized