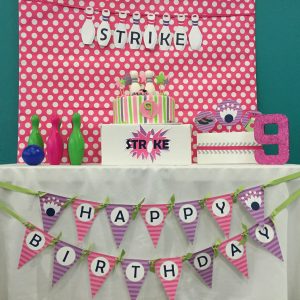 I have so many fun parties to share with you over the next few weeks/months. I am playing catch up once again after taking a bit of a break from blogging. A family of 6 causes that to happen once in a while. Watch for some fun new themes that have been added to 5M.
For my daughter's 9th birthday she wanted a theme both girls and boys would enjoy. After much thinking we landed on bowling. Who doesn't love to bowl? The party mom in me cringed a little as I wasn't sure what this would mean for decor. I requested a couple of end lanes so I could have a wall to do my table against. It worked perfectly. We carried in tubs of decor as ready to go as it could possibly be and set everything up in about 20 minutes prior to the party. Don't be afraid to decorate even at an off site party location.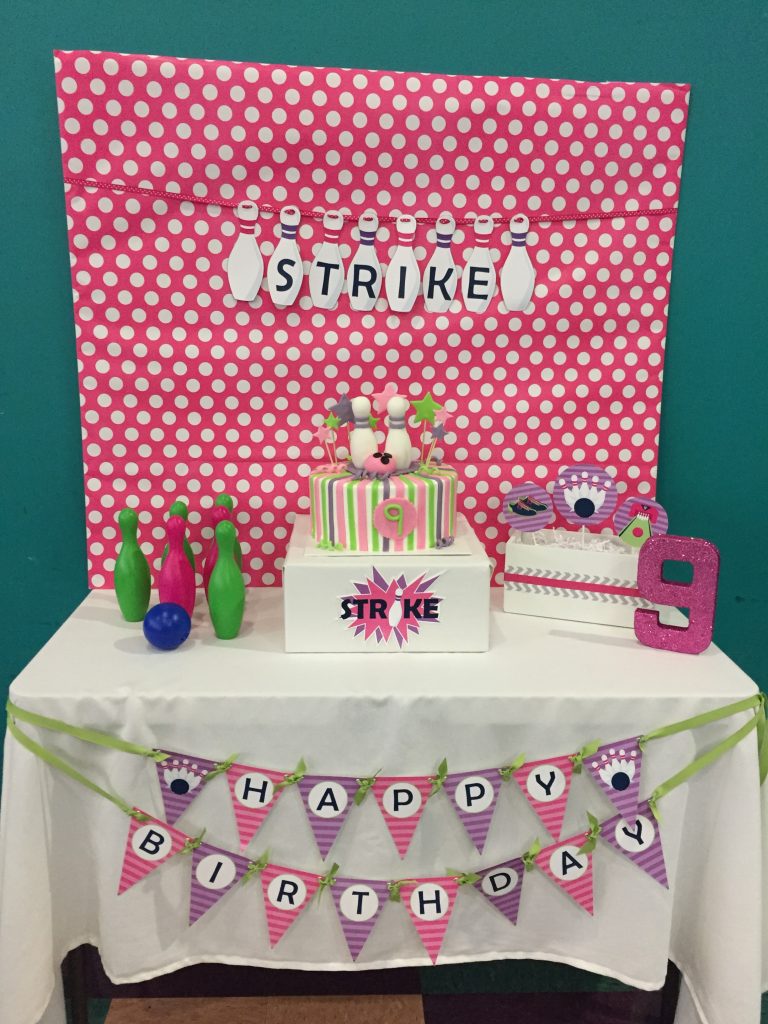 This cake was a special request by my 9 year old after letting her loose on pinterest. She fell in love. A local baker made it happen for us.
I love this bowling party centerpiece trio. Those shoes!!! Centerpiece circles are one of my favorite ways to add the theme into my space. They can be on the larger side like this box set up or just single circles in a container. I also use them on the front of  things like buckets holding favor. The glitter 9 was actually a 6 I used at her baking party . Flipped over and tada!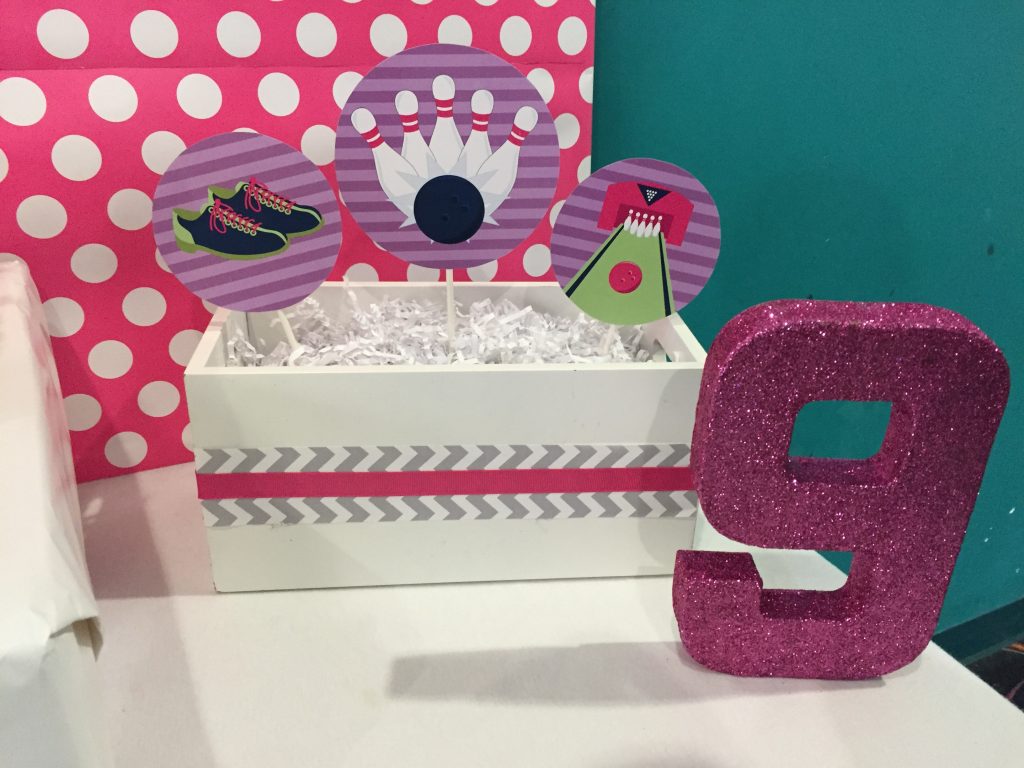 I lucked out that this toy bowling set my kids had matched the colors. Think outside the box when choosing decor. Don't be afraid to look around the house for things you may already have. I love re-purposing things.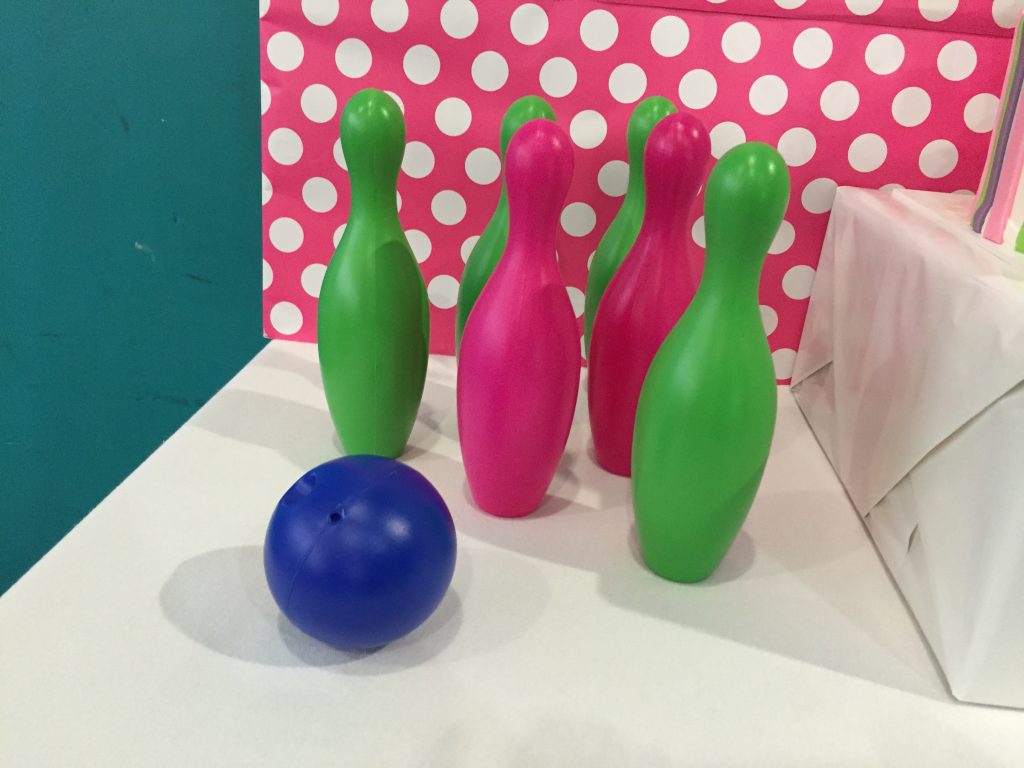 Our printable Happy Birthday bowling banner has cute stripes and fun bowling pin images. It can be personalized as well. Banners are such a great way to add big impact. Use them as your backdrop or across the front of a table like this.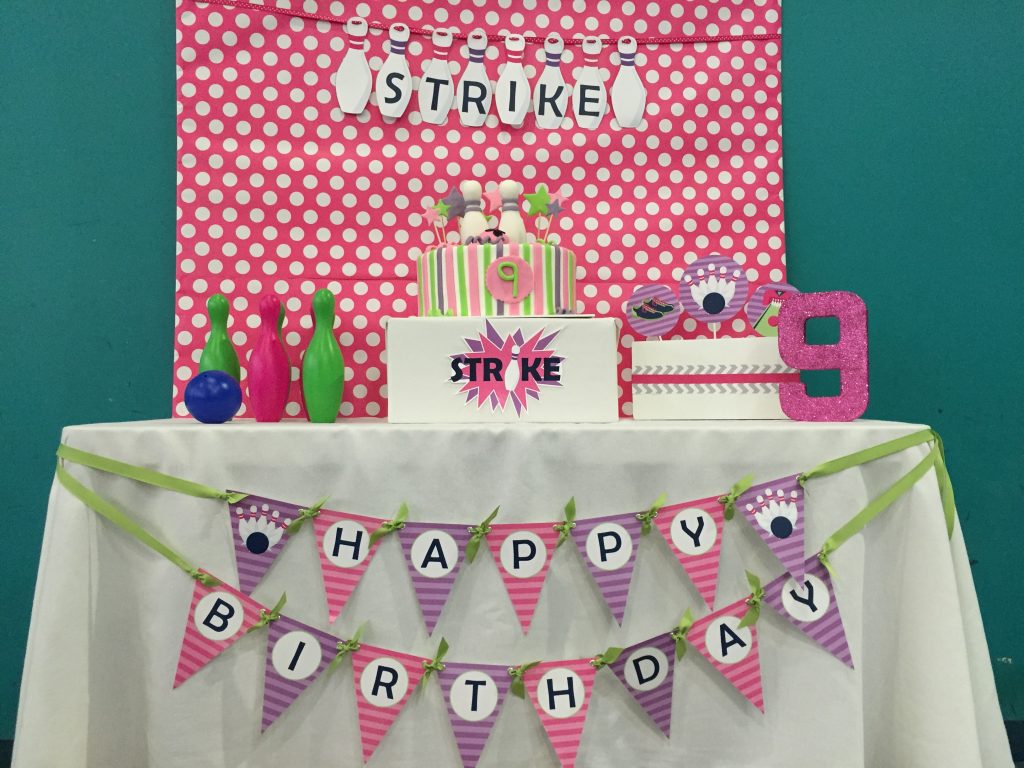 I am in love with the bowling pin banner! Easy to string together and small enough to use anywhere in the party. How cute are those bowling pins?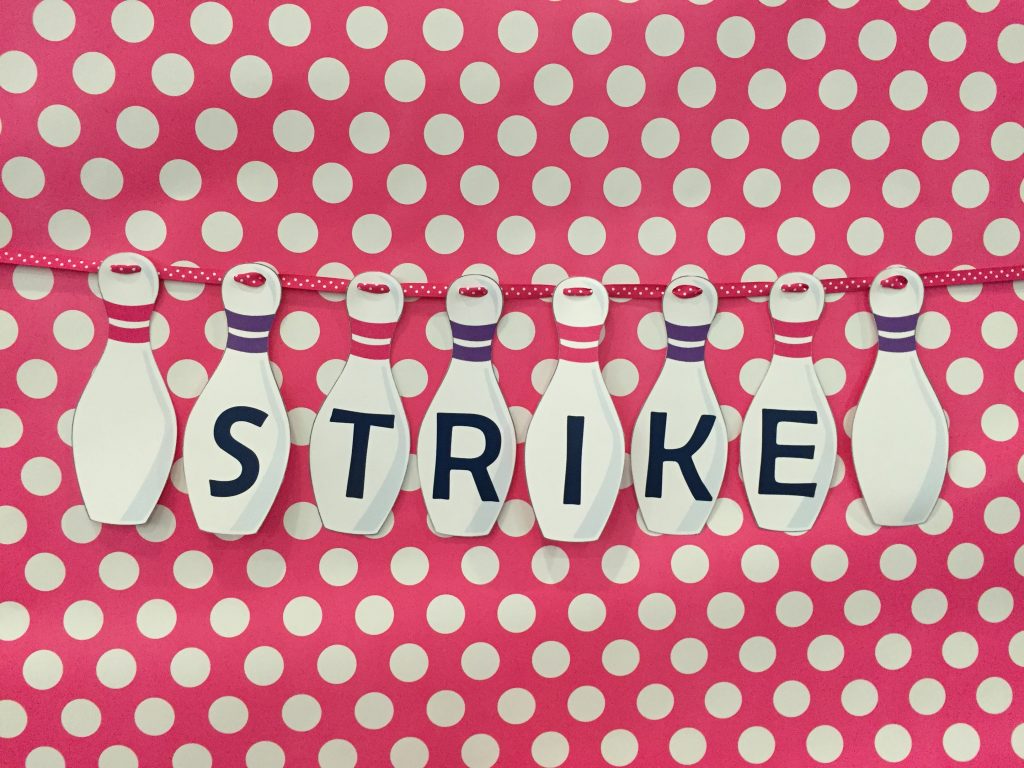 I loved that our bowling alley let us set up our party space right at the lanes vs a party room. It made it easy for the kids to come and go as they ate. Plus we got to enjoy our decor the whole party. Not just for 30 minutes at the end.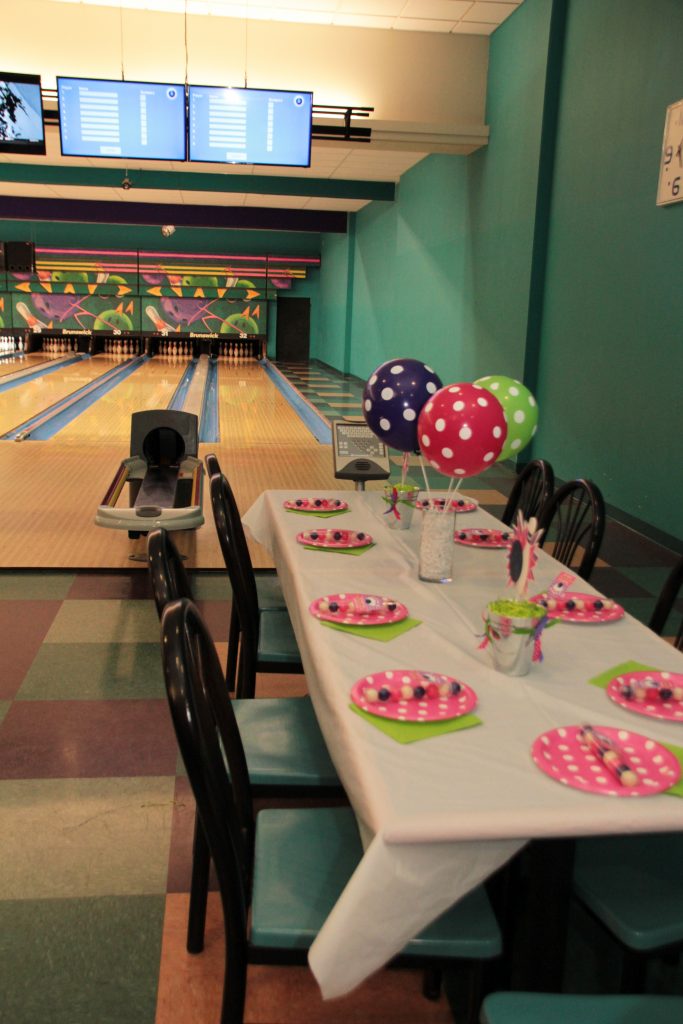 These cute bowling images made the perfect centerpieces for the table. Mini galvanized buckets are one of my favorite containers for a single centerpiece. They are a great neutral base that can be dressed up with ribbon in your party colors.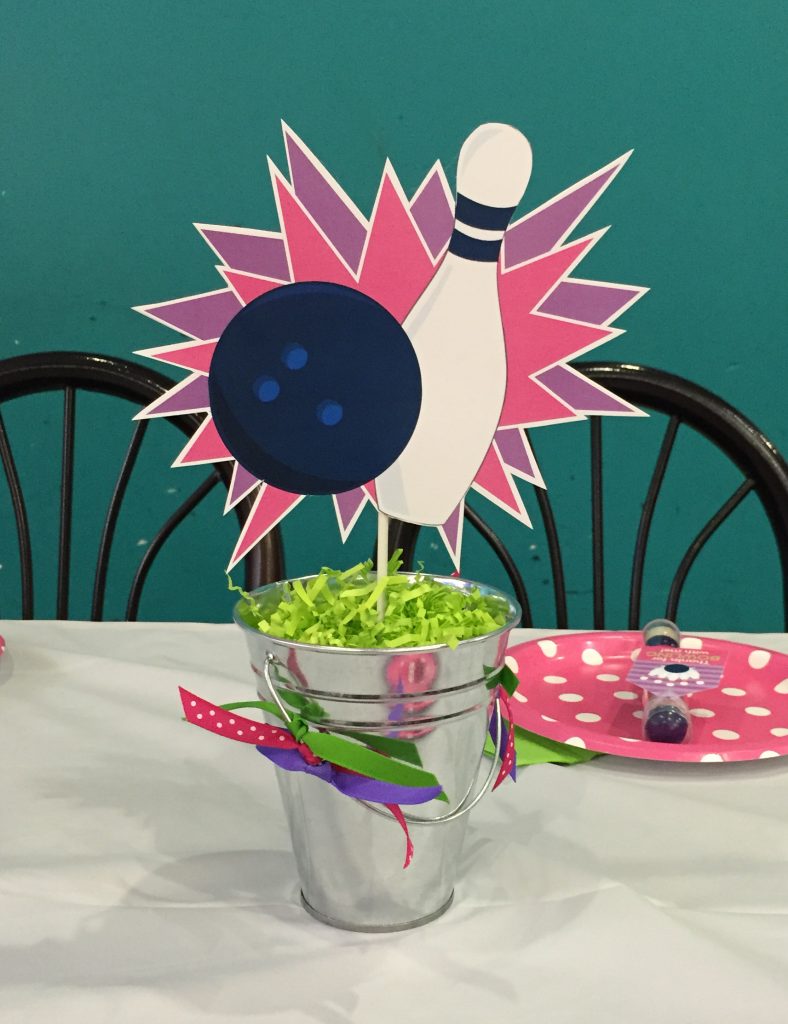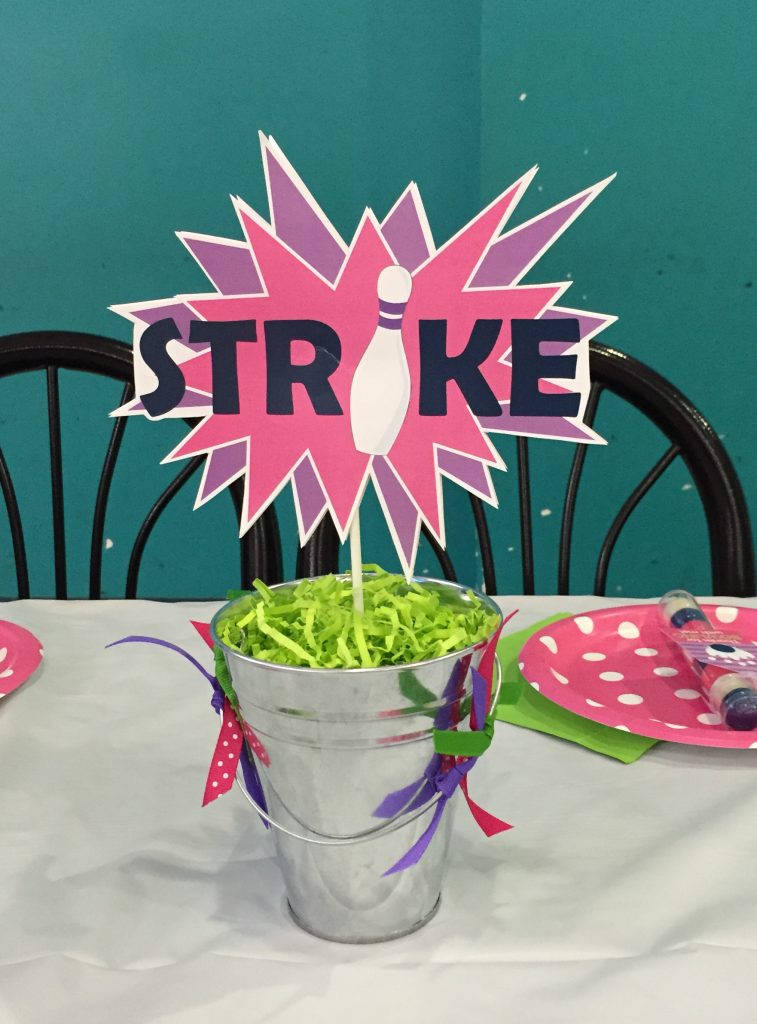 Each place setting had a bubble gum tube with our printable bowling favor tag.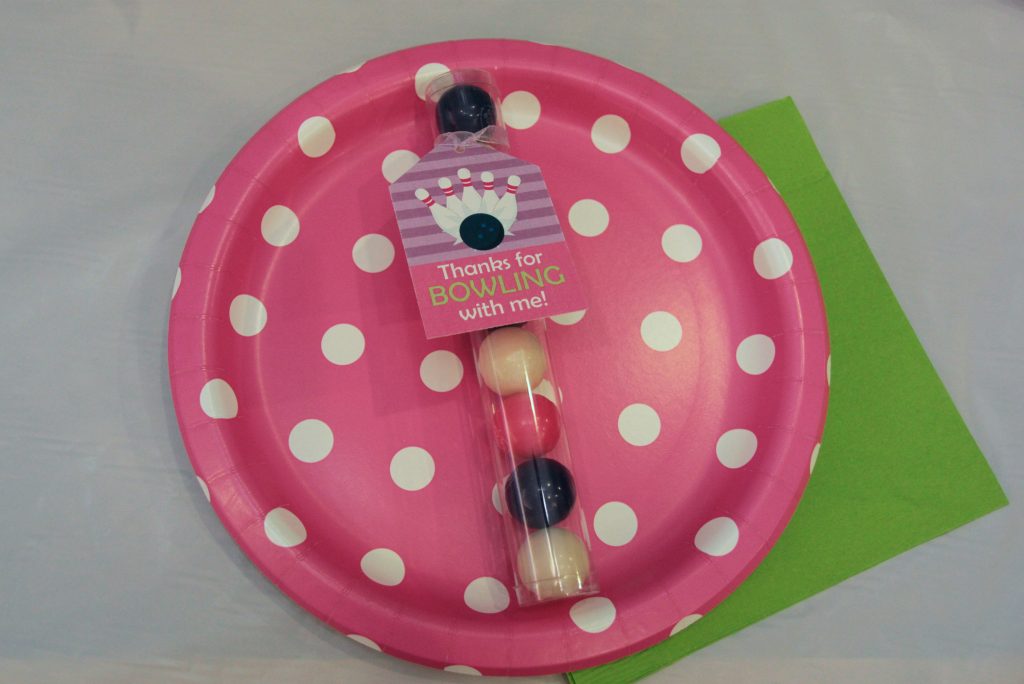 The kids all had a blast bowling. They could have stayed all night.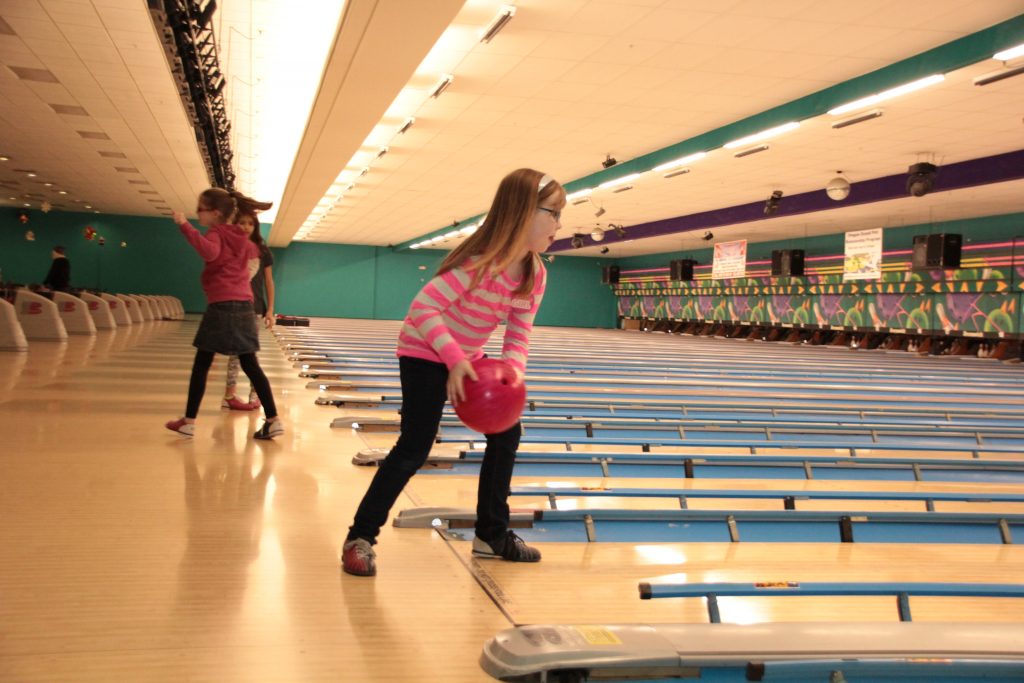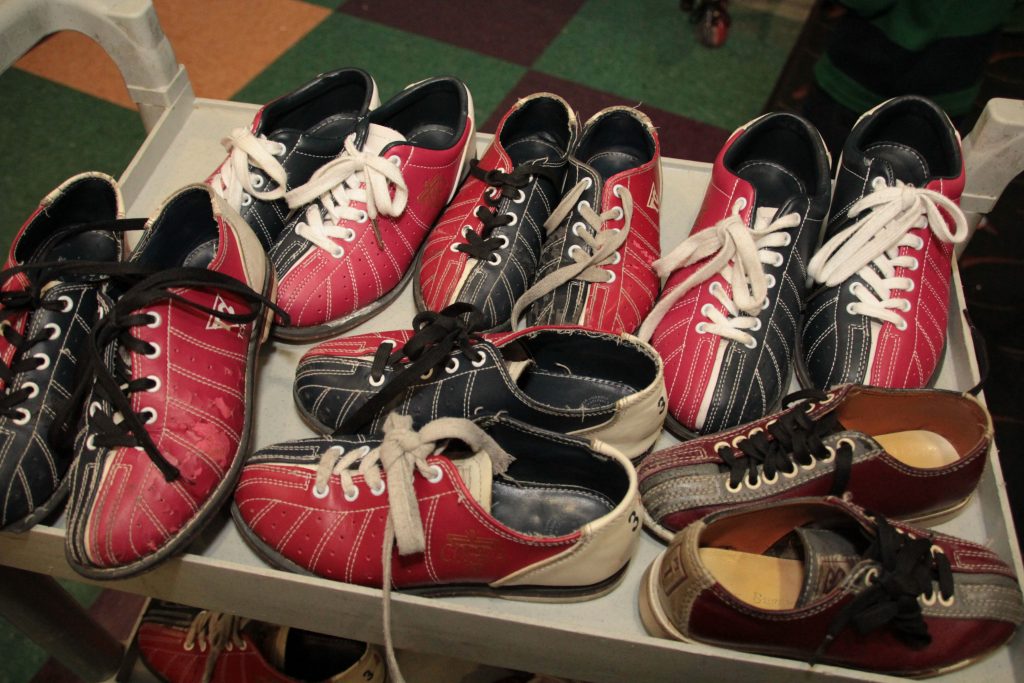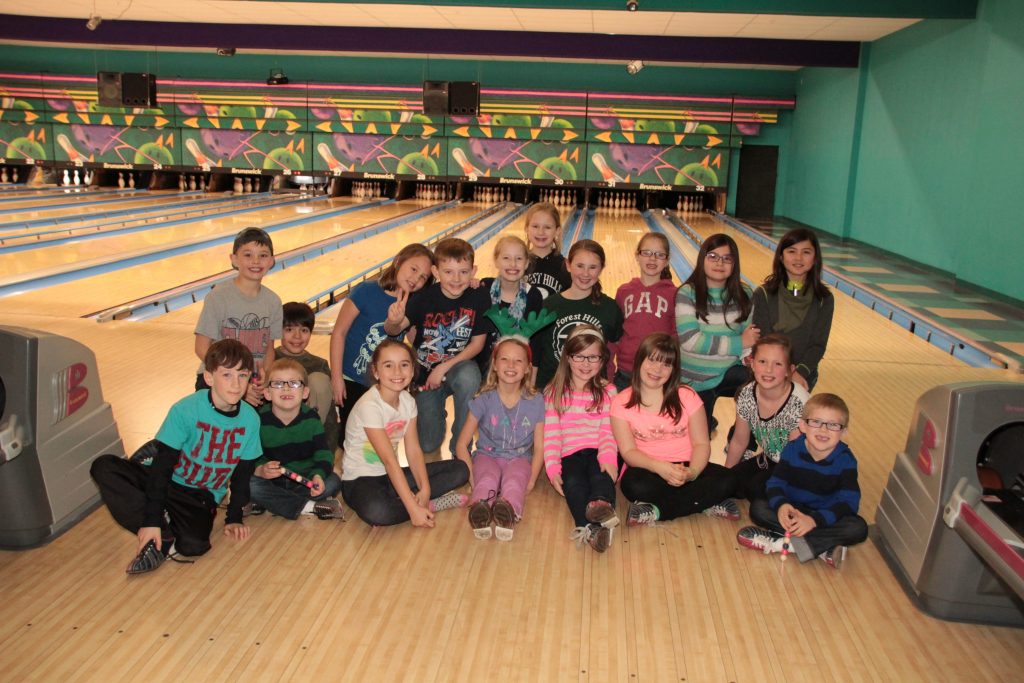 My printable Girl Bowling birthday party package is available in the etsy shop.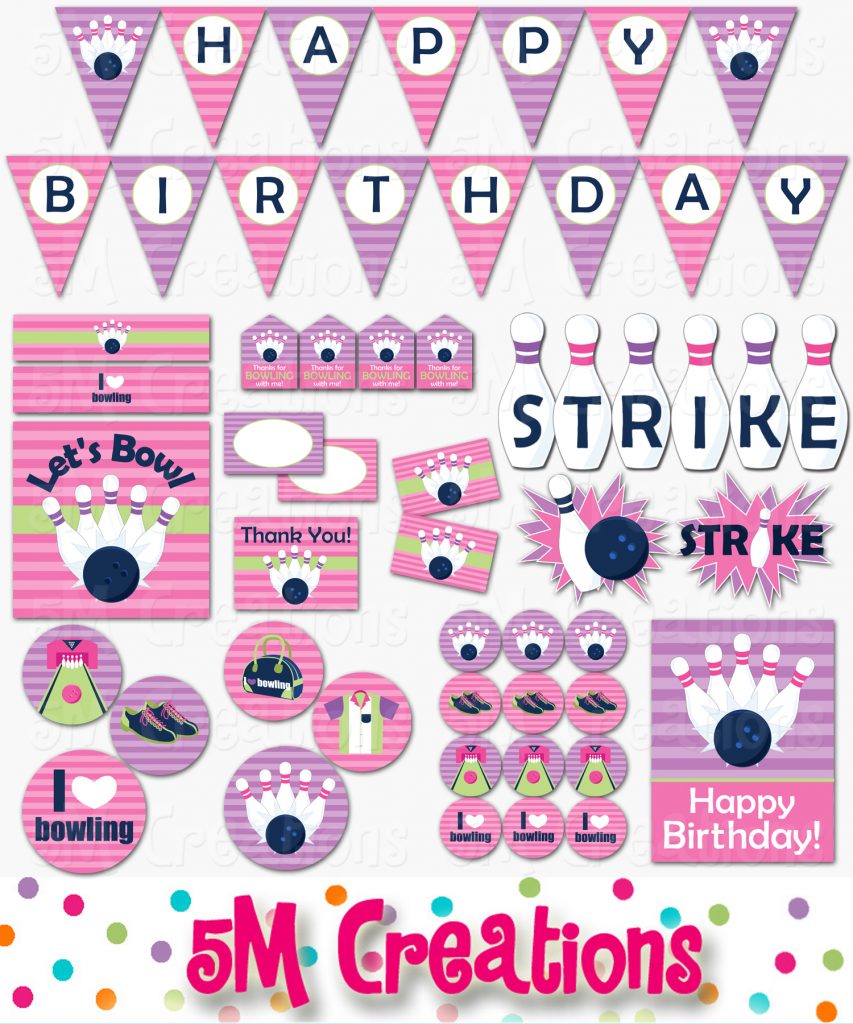 A matching Bowling Party invitation in several version can also be found in the etsy shop.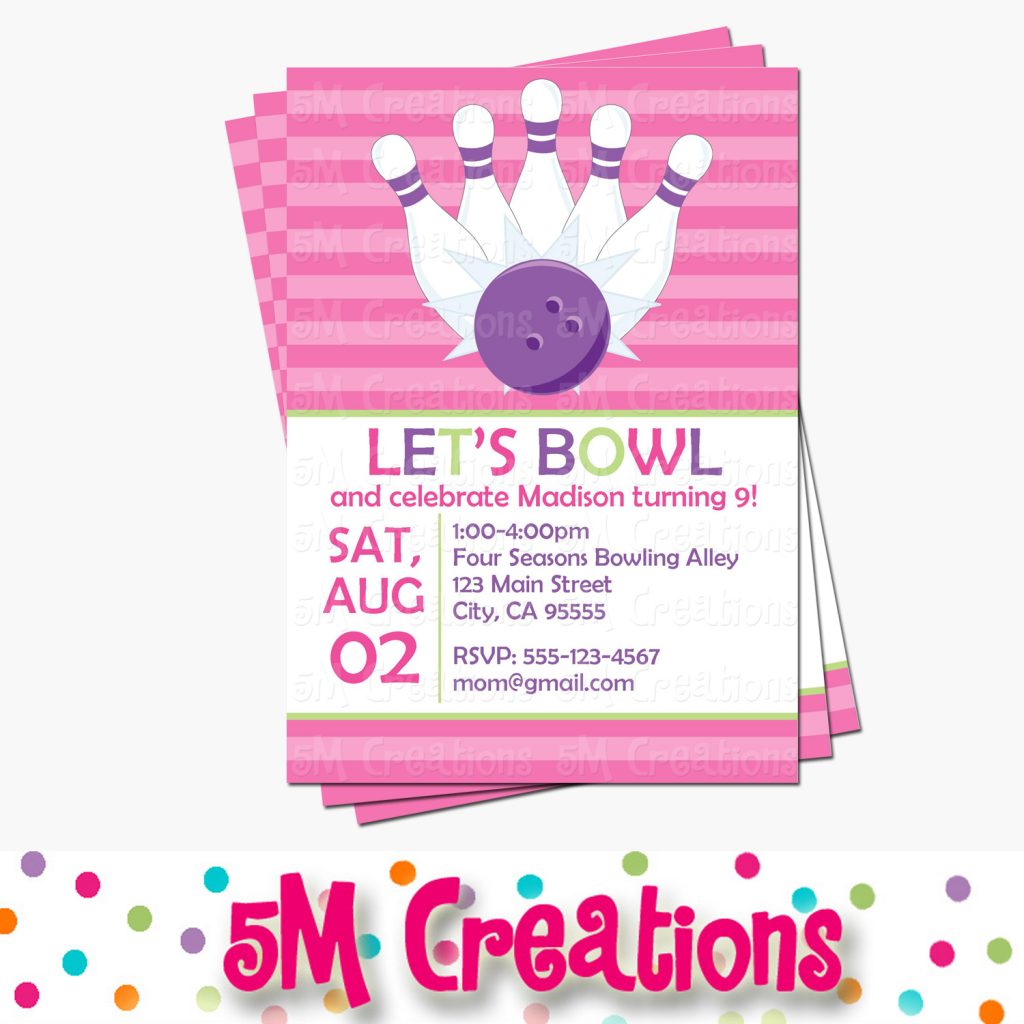 I also have a more classic colored retro bowling party decoration package.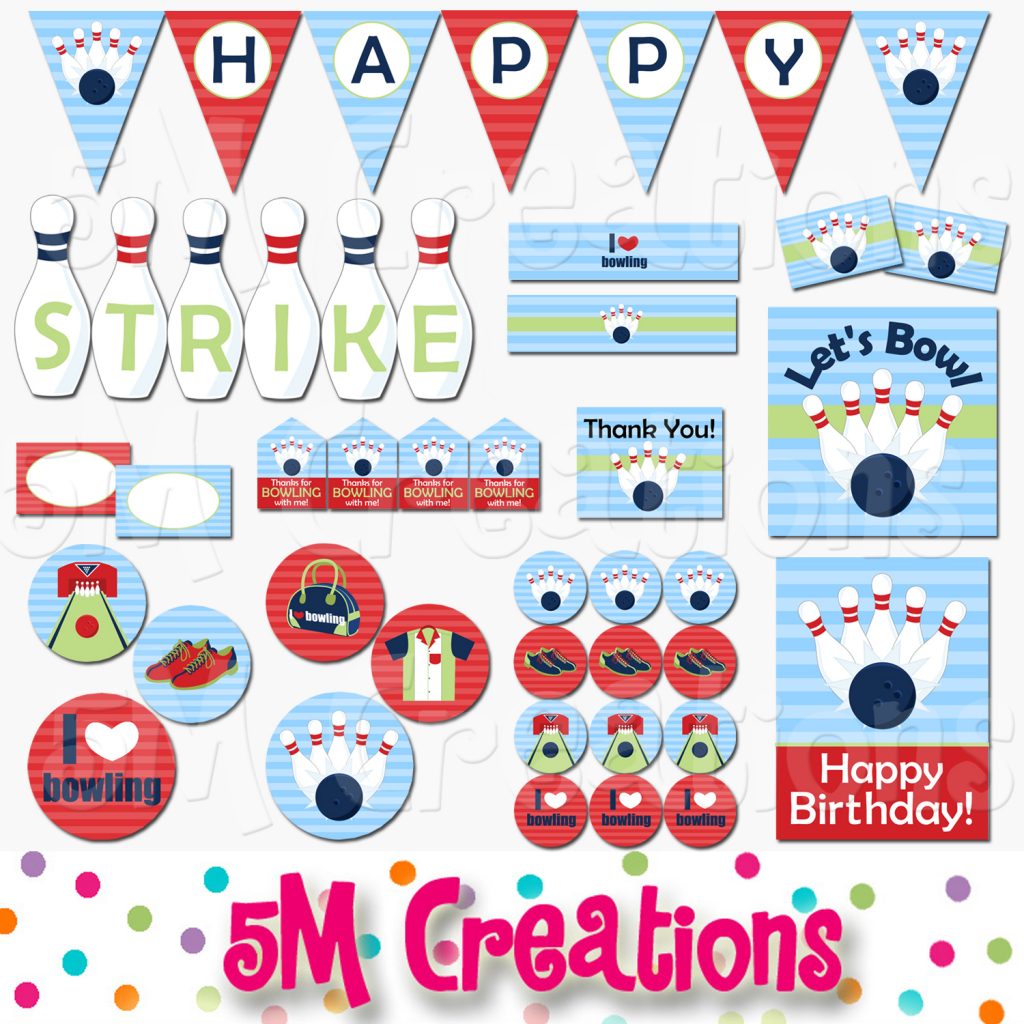 You can also find several banners and cupcake toppers sold individually.
Thank you for stopping by. Be sure to check out more 5M parties on Instagram or on Facebook.
5M Creations February 24th, 2017
Posted In: Girl Birthday Party
Tags: Banner, birthday, bowling, centerpiece, cupcake toppers, girl party