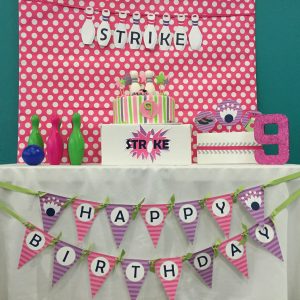 I have so many fun parties to share with you over the next few weeks/months. I am playing catch up once again after taking a bit of a break from blogging. A family of 6 causes that to happen once in a while. Watch for some fun new themes that have been added to 5M.
For my daughter's 9th birthday she wanted a theme both girls and boys would enjoy. After much thinking we landed on bowling. Who doesn't love to bowl? The party mom in me cringed a little as I wasn't sure what this would mean for decor. I requested a couple of end lanes so I could have a wall to do my table against. It worked perfectly. We carried in tubs of decor as ready to go as it could possibly be and set everything up in about 20 minutes prior to the party. Don't be afraid to decorate even at an off site party location.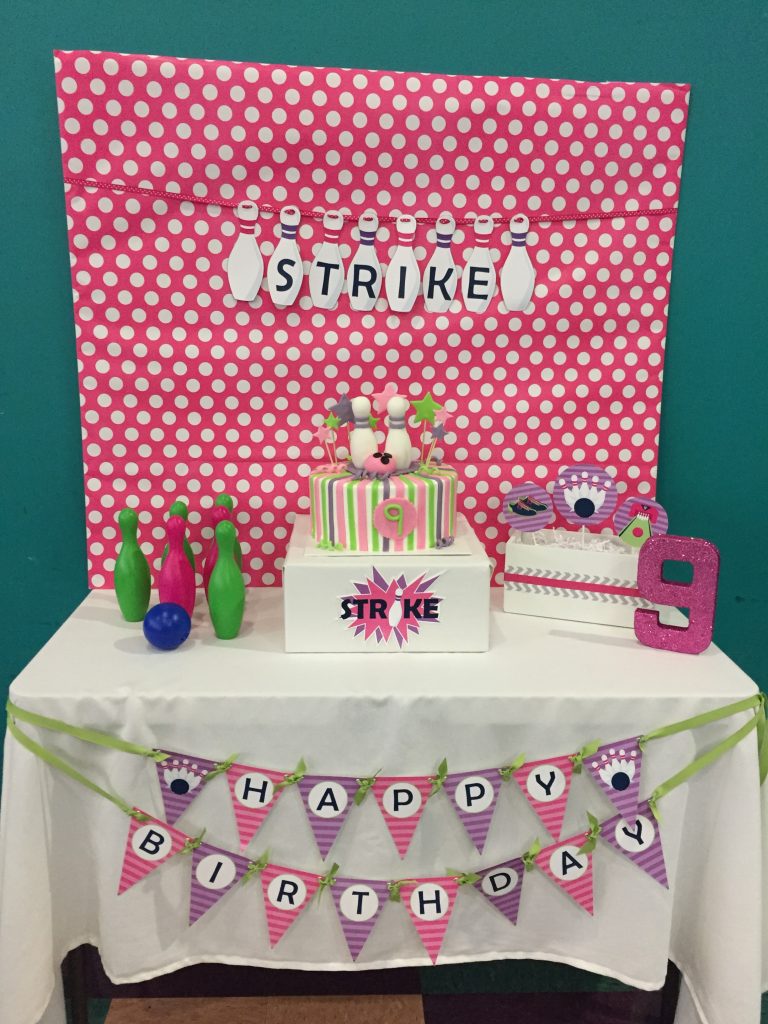 This cake was a special request by my 9 year old after letting her loose on pinterest. She fell in love. A local baker made it happen for us.
I love this bowling party centerpiece trio. Those shoes!!! Centerpiece circles are one of my favorite ways to add the theme into my space. They can be on the larger side like this box set up or just single circles in a container. I also use them on the front of  things like buckets holding favor. The glitter 9 was actually a 6 I used at her baking party . Flipped over and tada!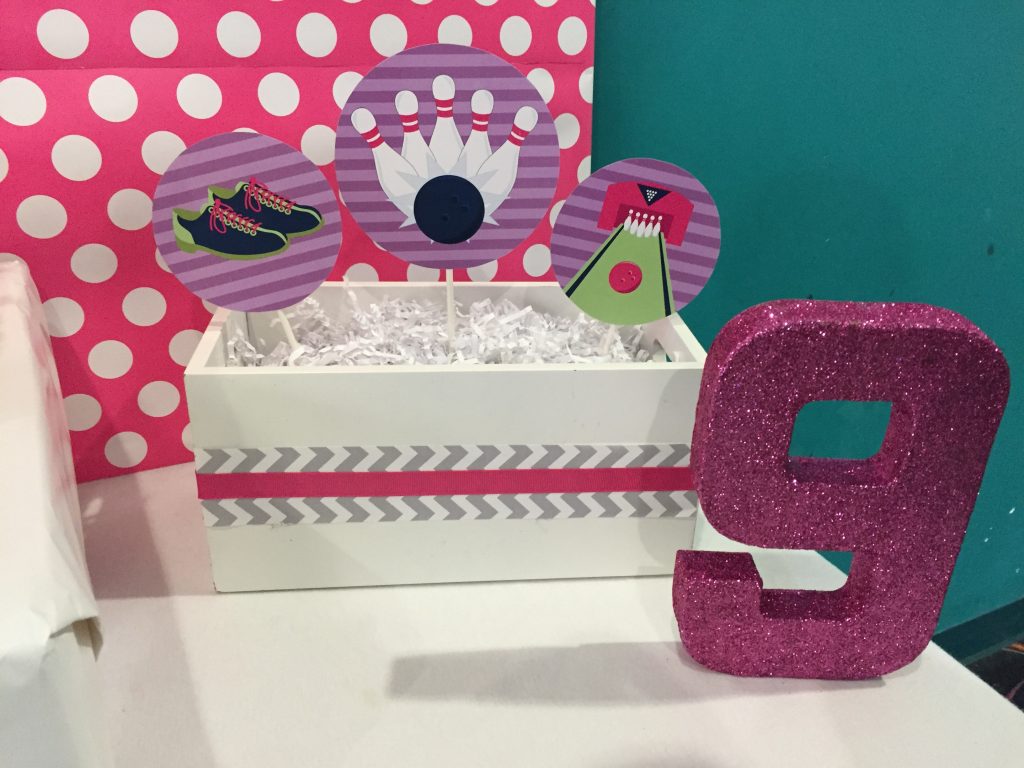 I lucked out that this toy bowling set my kids had matched the colors. Think outside the box when choosing decor. Don't be afraid to look around the house for things you may already have. I love re-purposing things.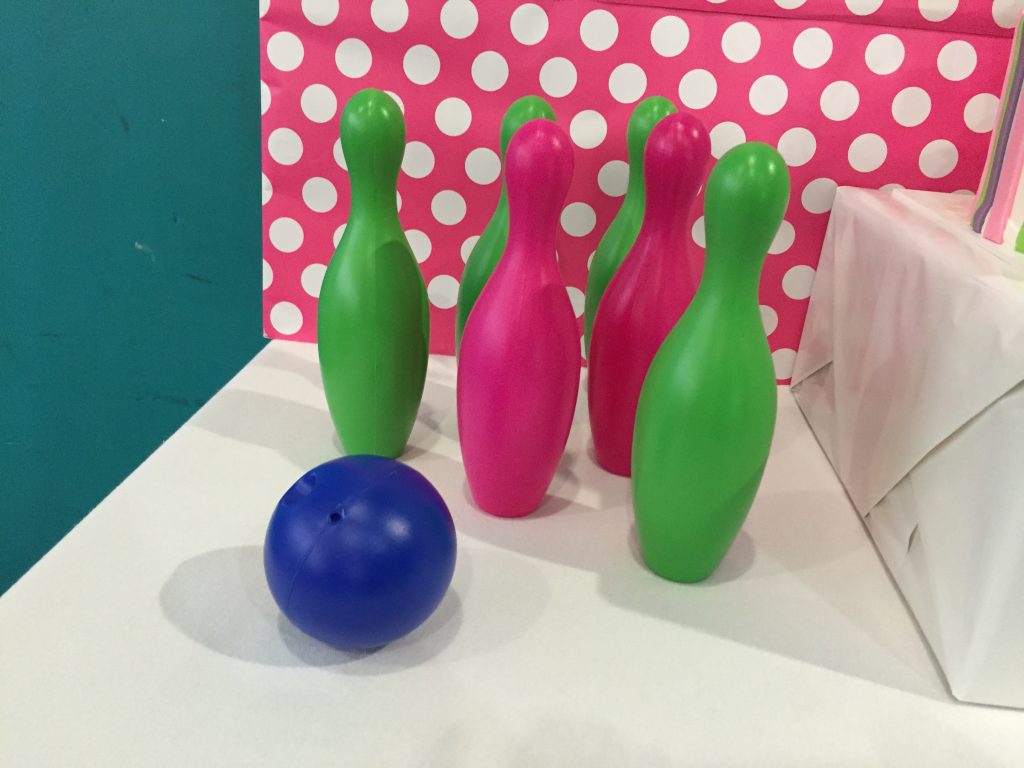 Our printable Happy Birthday bowling banner has cute stripes and fun bowling pin images. It can be personalized as well. Banners are such a great way to add big impact. Use them as your backdrop or across the front of a table like this.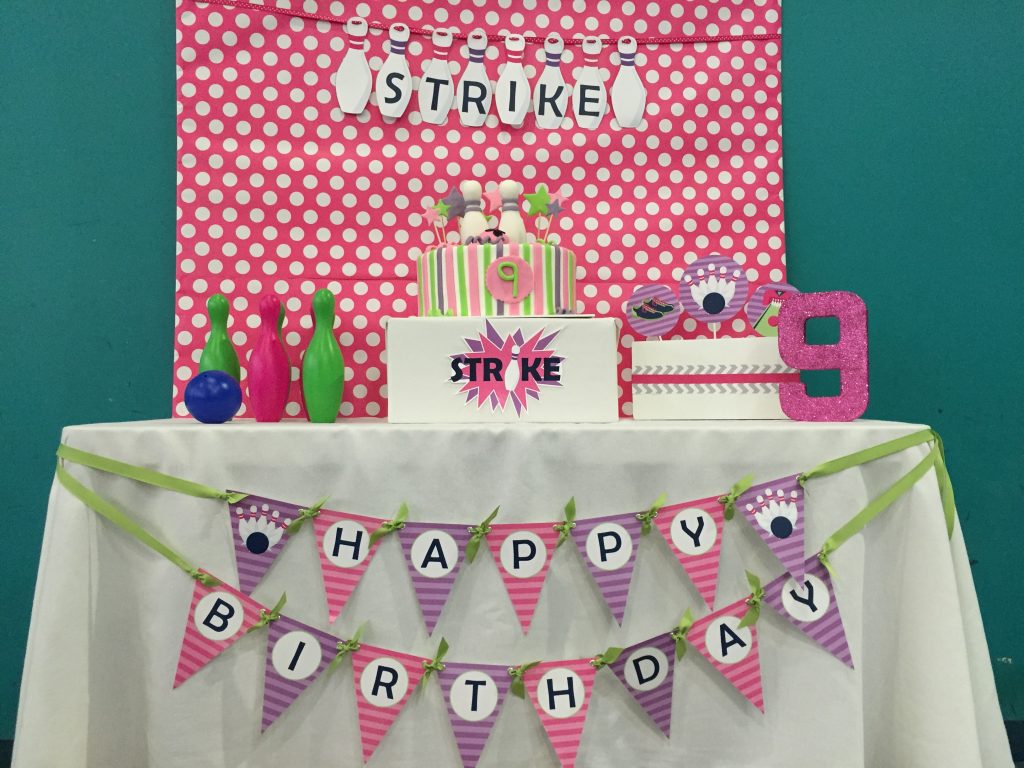 I am in love with the bowling pin banner! Easy to string together and small enough to use anywhere in the party. How cute are those bowling pins?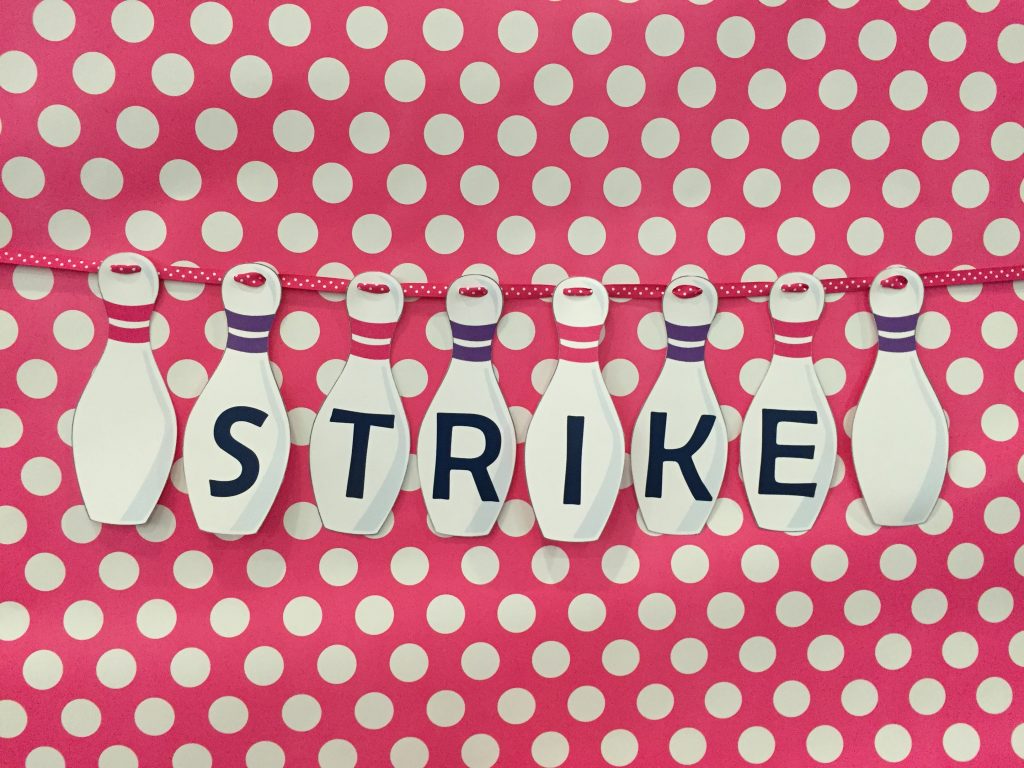 I loved that our bowling alley let us set up our party space right at the lanes vs a party room. It made it easy for the kids to come and go as they ate. Plus we got to enjoy our decor the whole party. Not just for 30 minutes at the end.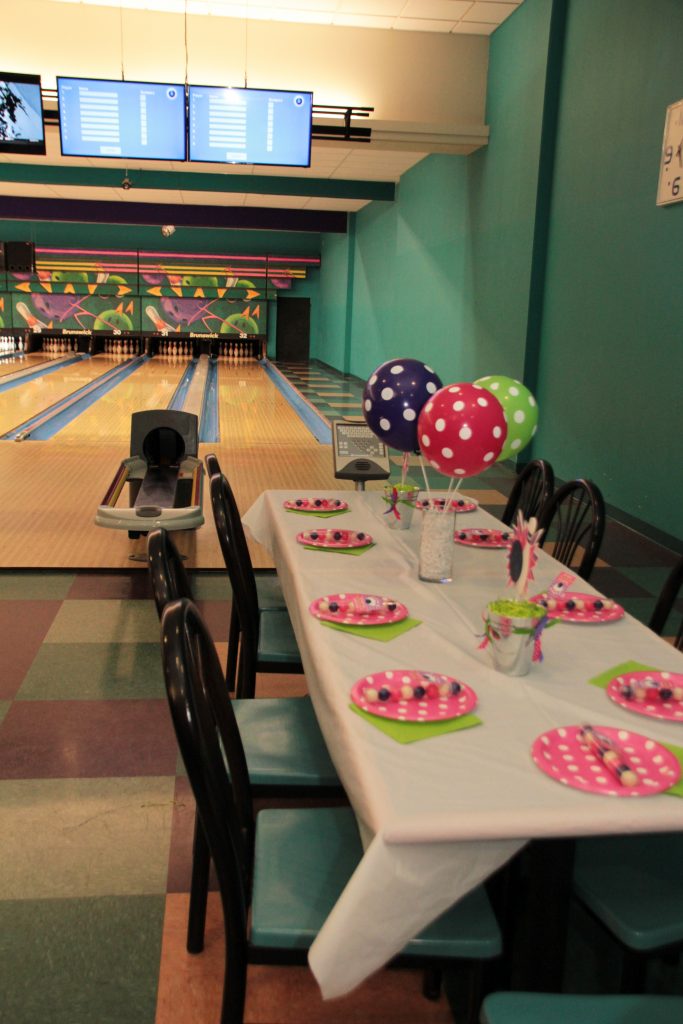 These cute bowling images made the perfect centerpieces for the table. Mini galvanized buckets are one of my favorite containers for a single centerpiece. They are a great neutral base that can be dressed up with ribbon in your party colors.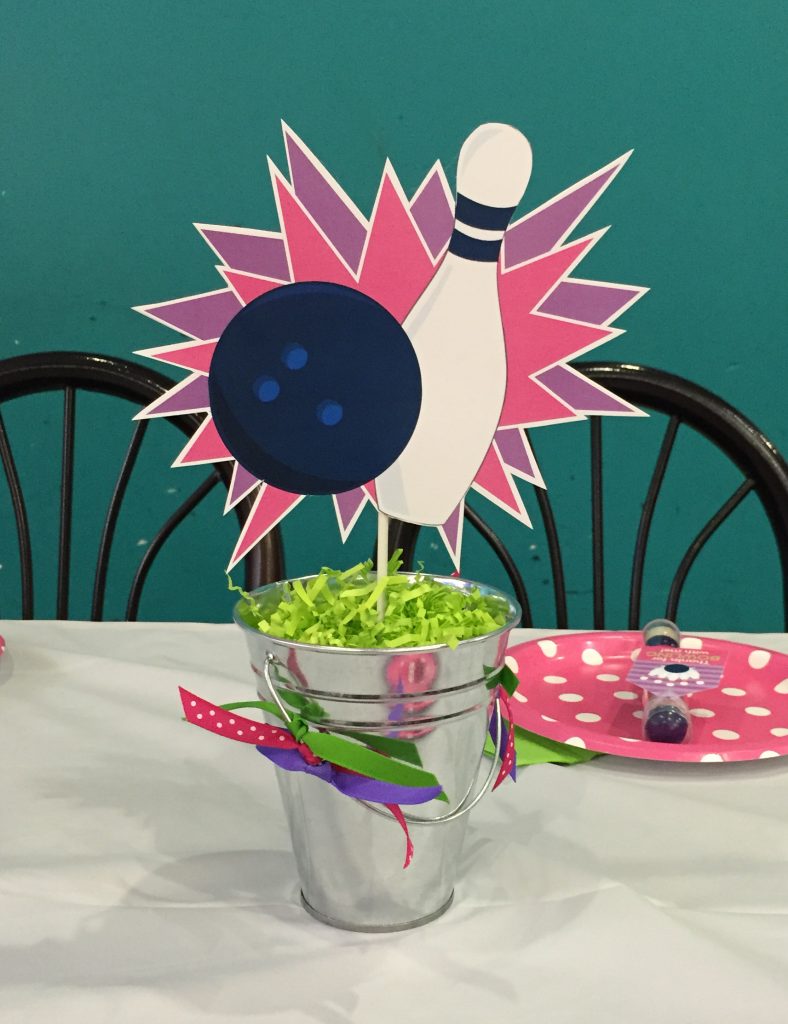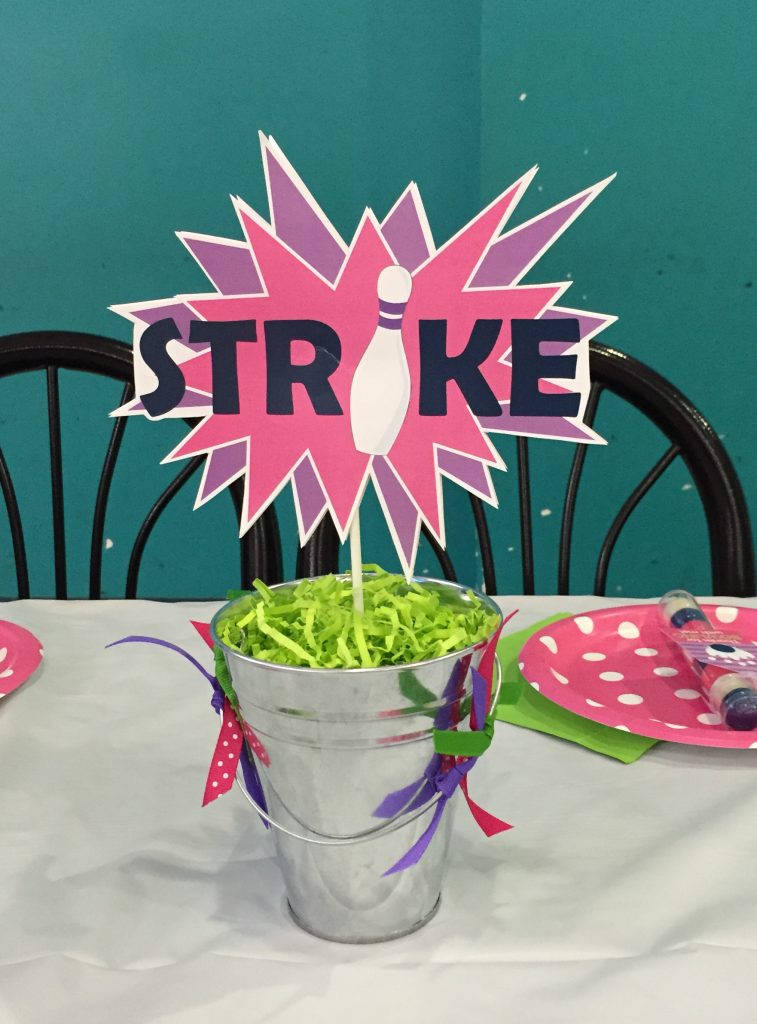 Each place setting had a bubble gum tube with our printable bowling favor tag.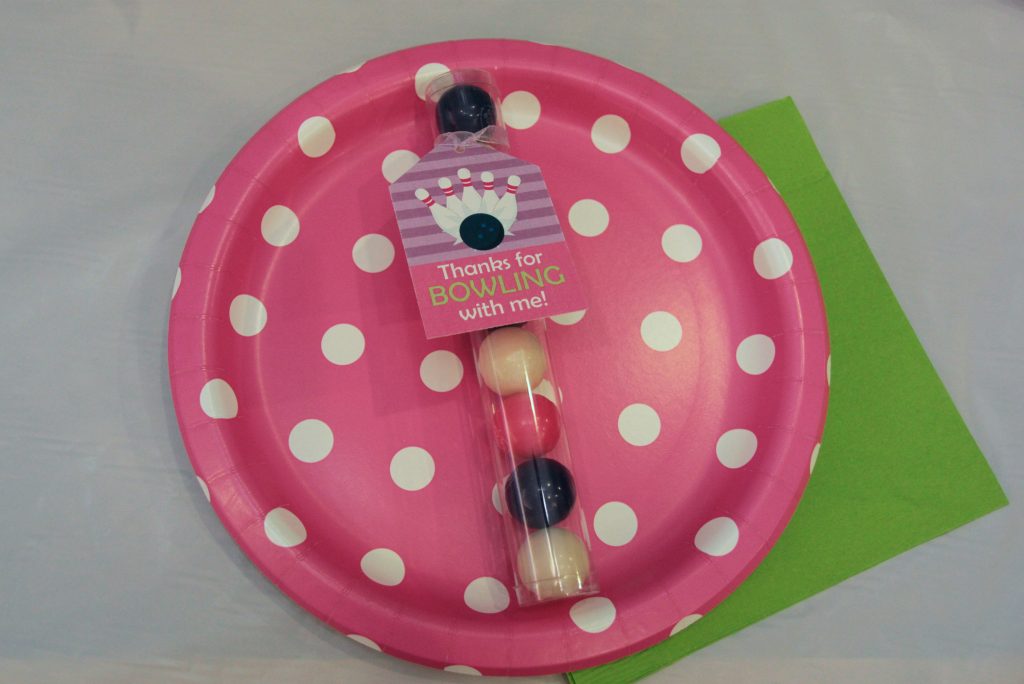 The kids all had a blast bowling. They could have stayed all night.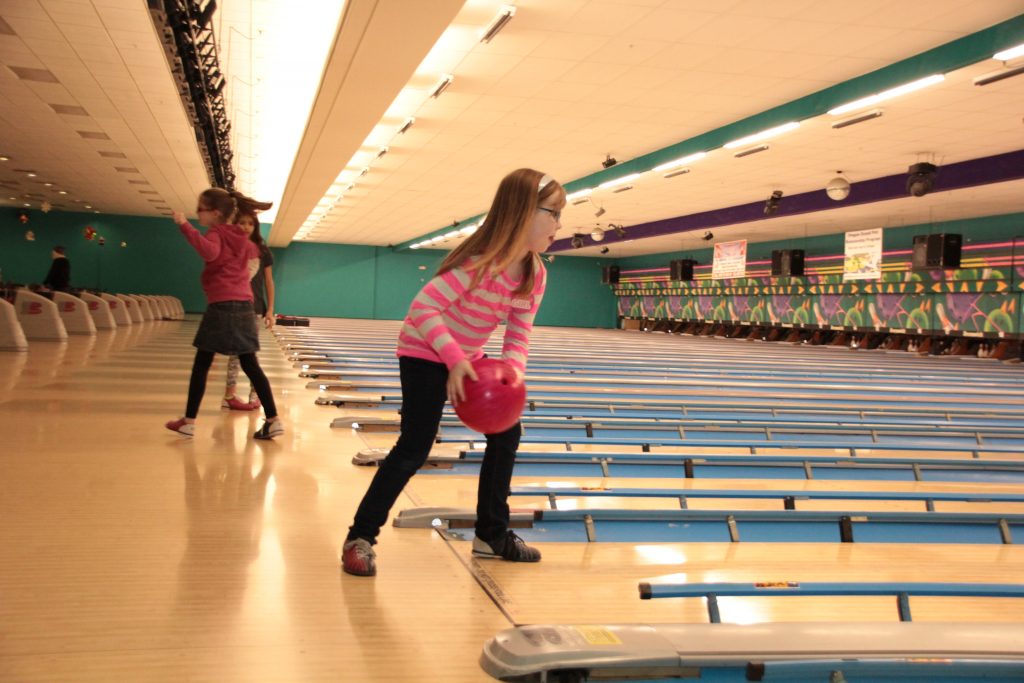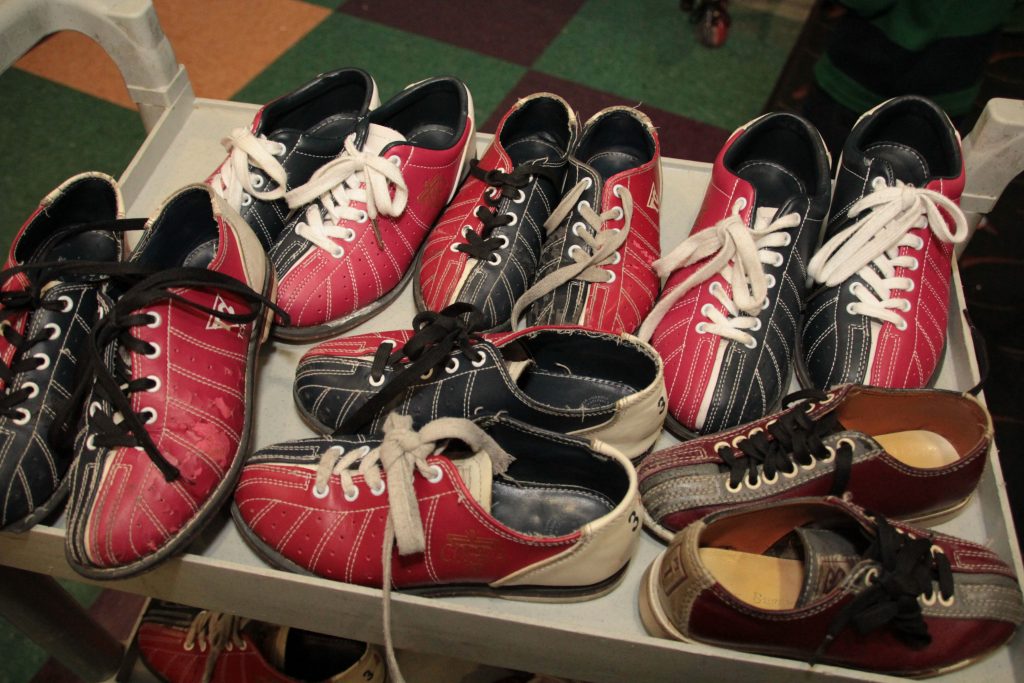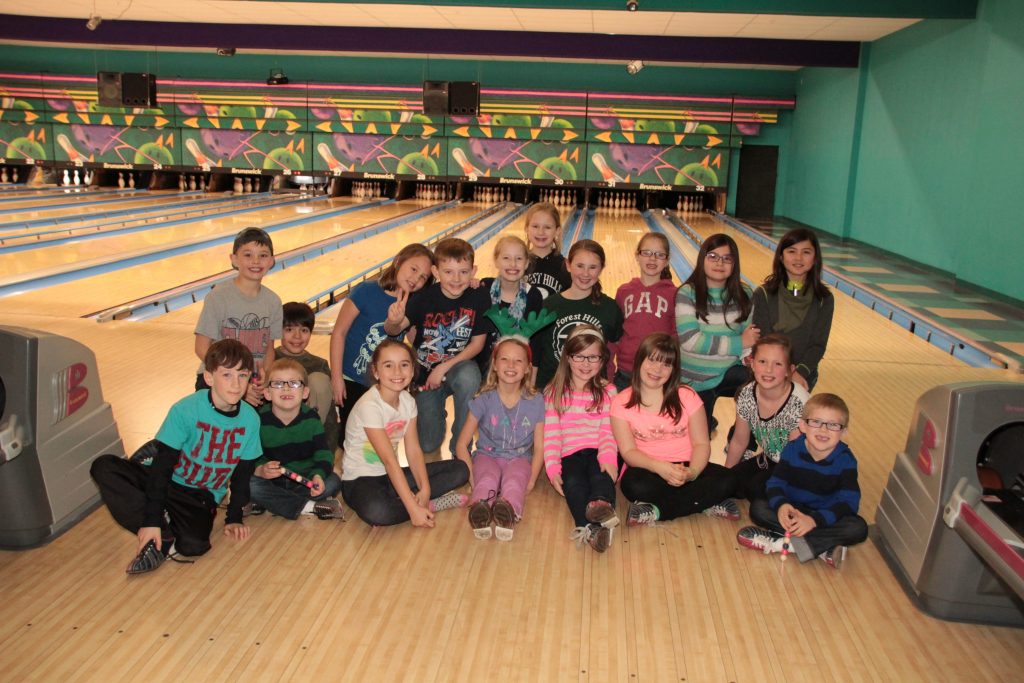 My printable Girl Bowling birthday party package is available in the etsy shop.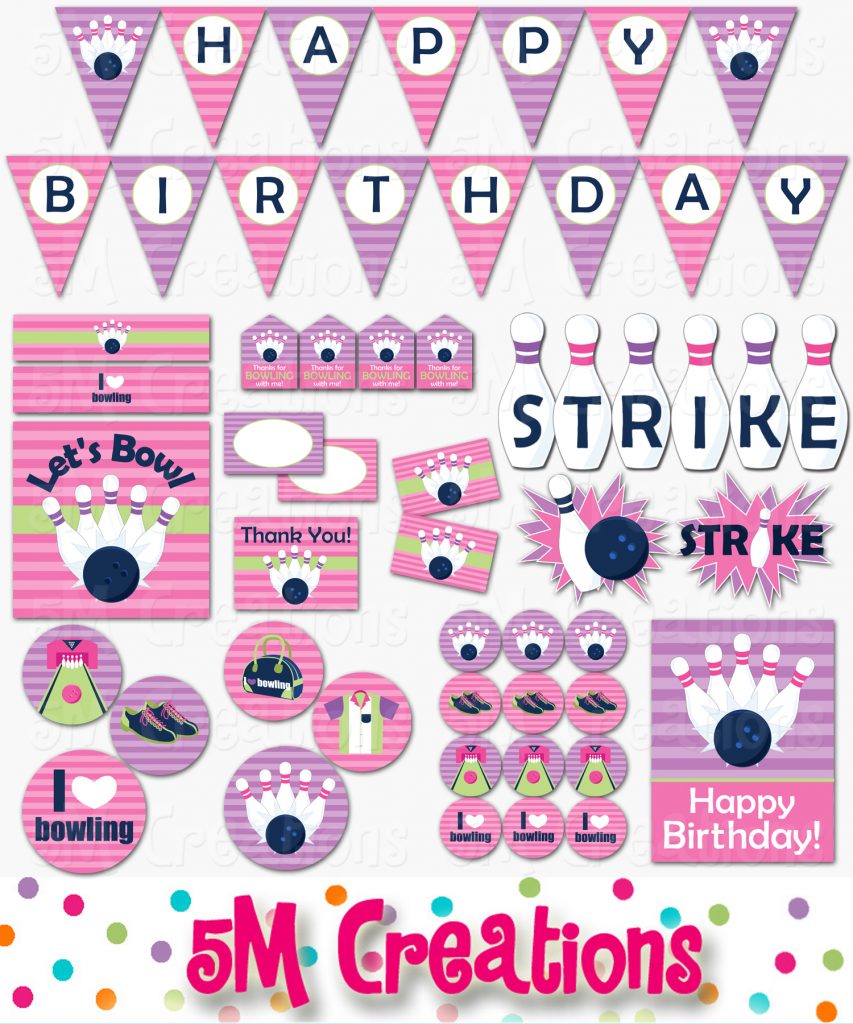 A matching Bowling Party invitation in several version can also be found in the etsy shop.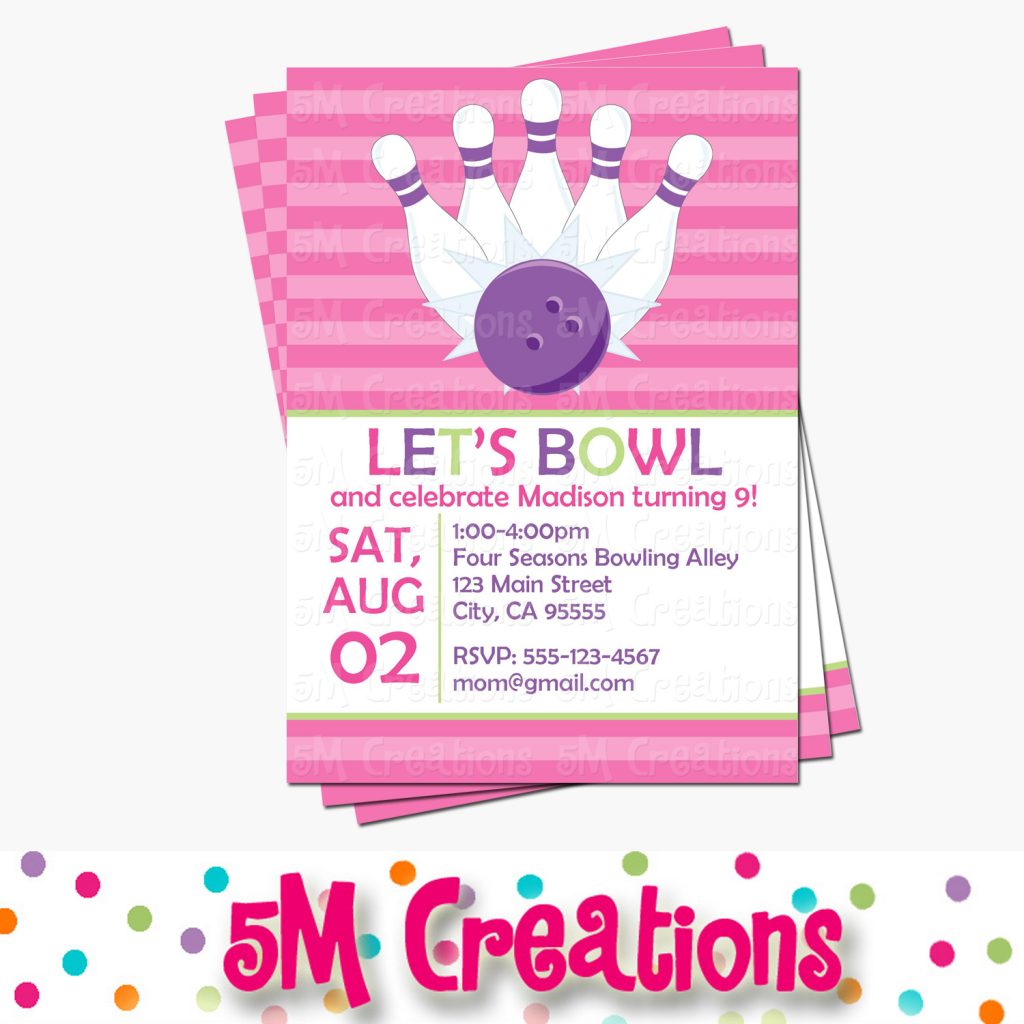 I also have a more classic colored retro bowling party decoration package.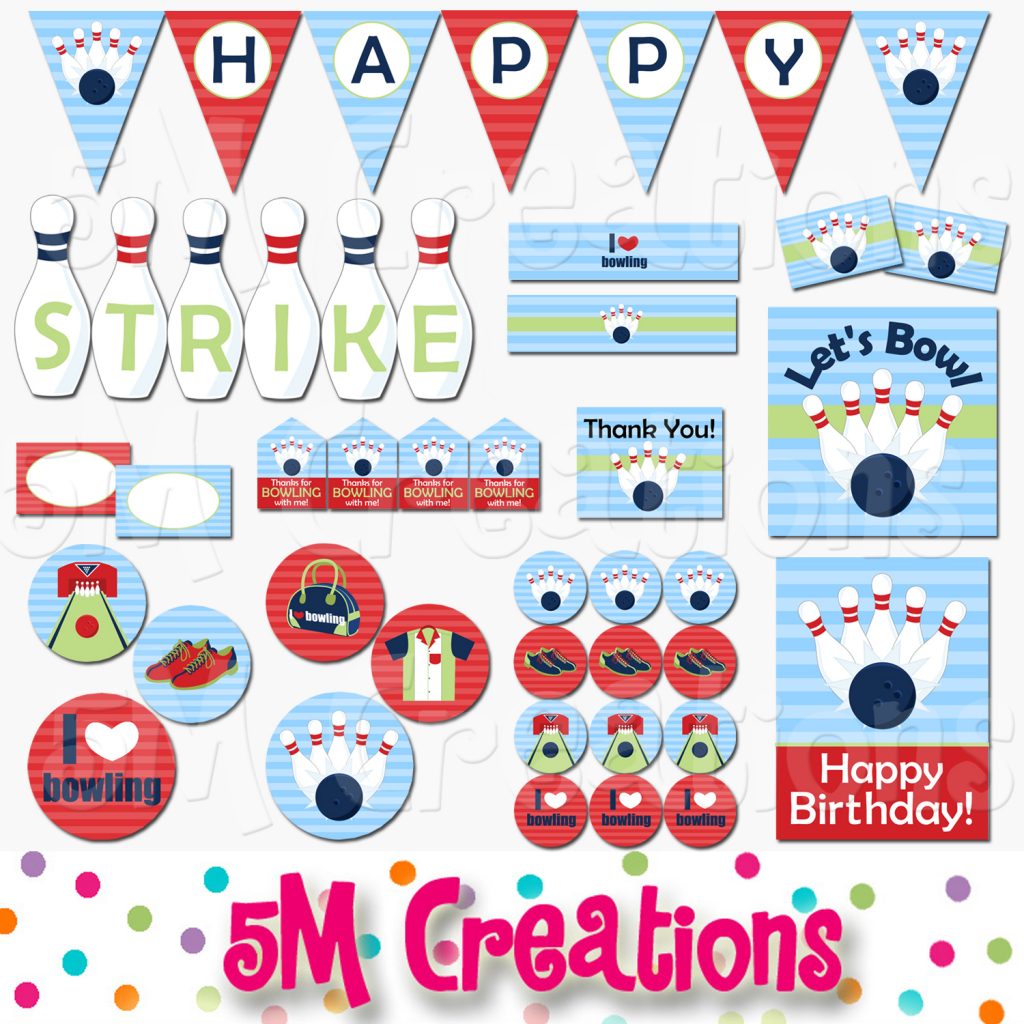 You can also find several banners and cupcake toppers sold individually.
Thank you for stopping by. Be sure to check out more 5M parties on Instagram or on Facebook.
5M Creations February 24th, 2017
Posted In: Girl Birthday Party
Tags: Banner, birthday, bowling, centerpiece, cupcake toppers, girl party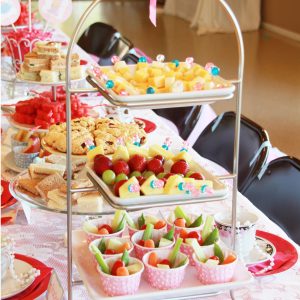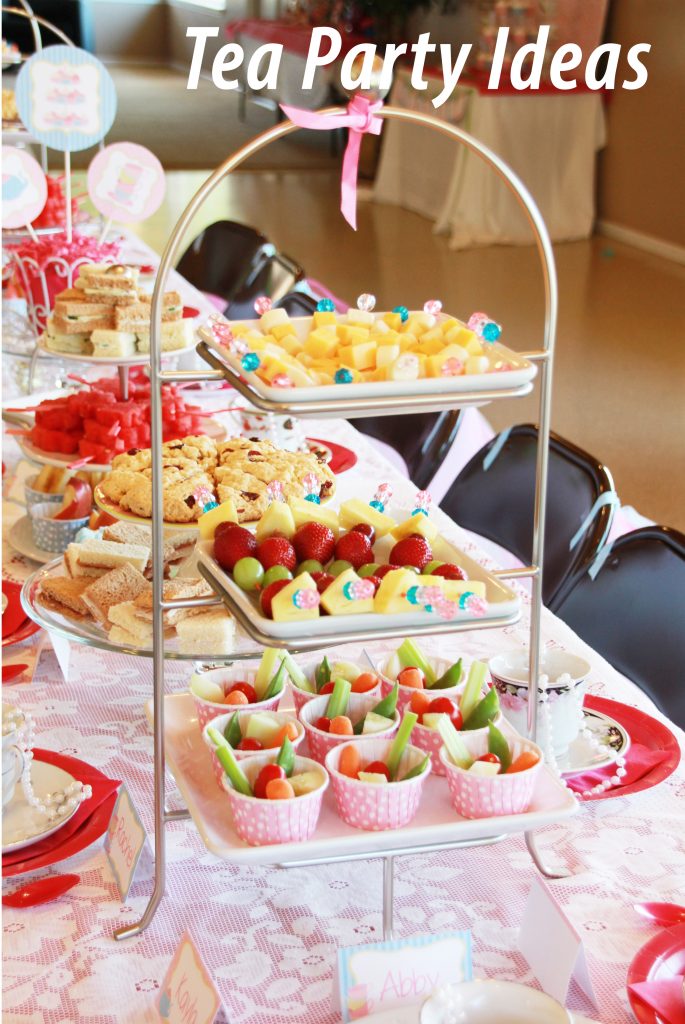 This customer party is so much fun. There is something magical about a sweet tea party! This party features our printable Tea Party decoration package.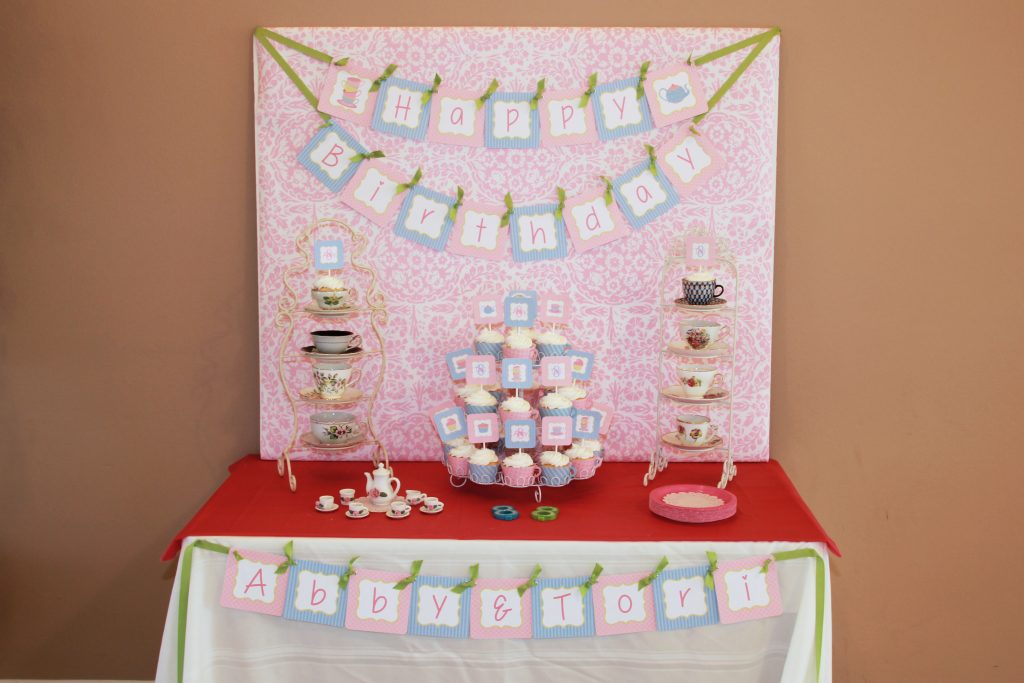 The Tea party happy birthday banner features some pinks and blues with a mix of polka dots and stripes. I love it against this paisley backdrop.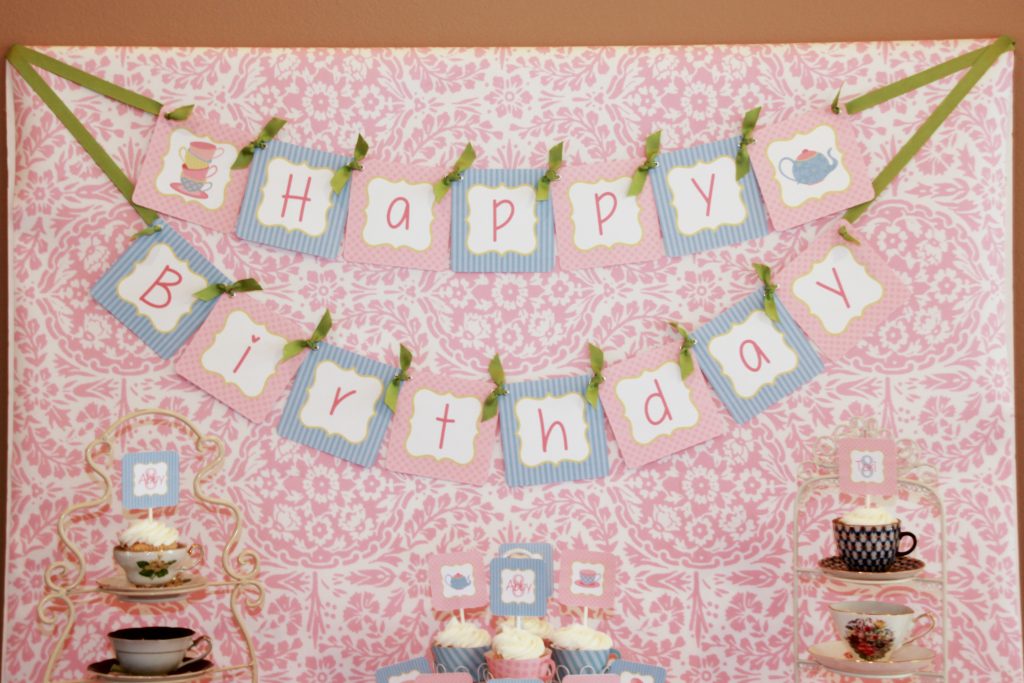 Cupcakes in cute tea cup wrappers are the cutest touch. A scalloped frame adds a bit of whimsy to a traditional topper. Sweet tea cups, cupcakes, and tea pots are the perfect addition to the cupcakes.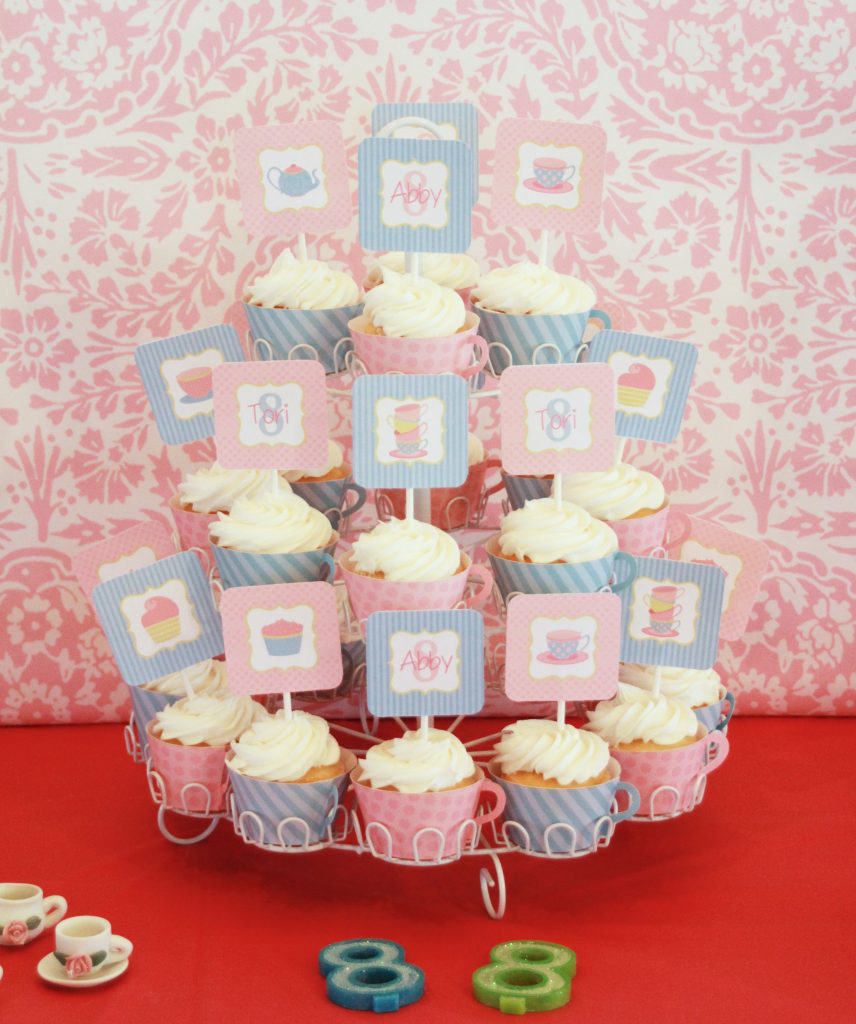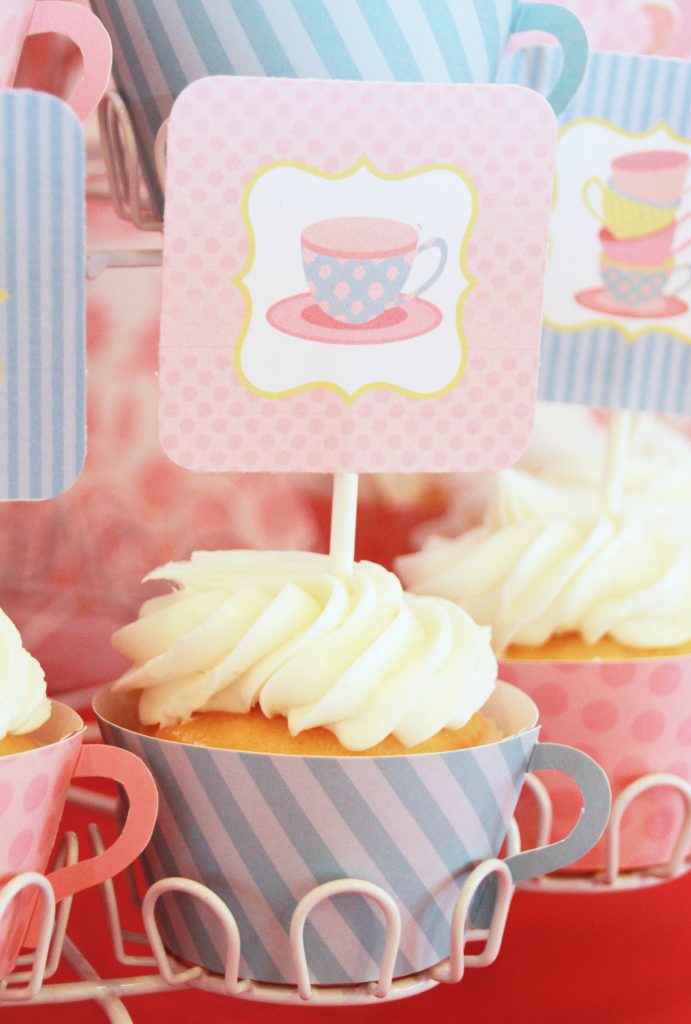 What tea party is complete without stacks of tea cups in all shapes, colors and sizes? Mixing and matching adds to the charm.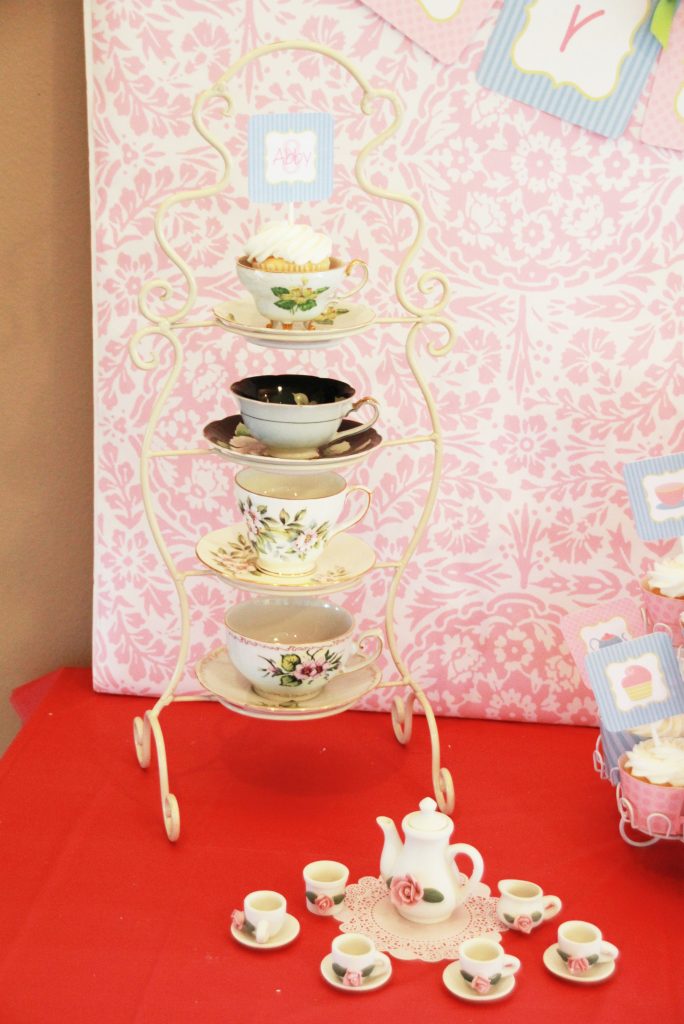 This table is breathtaking. Adding a classic lace tablecloth over the top of a plastic colored tablecloth gives an elegant soft touch of pink to the table and makes for easy clean up. Use different sizes and heights of serving trays on your tablescape.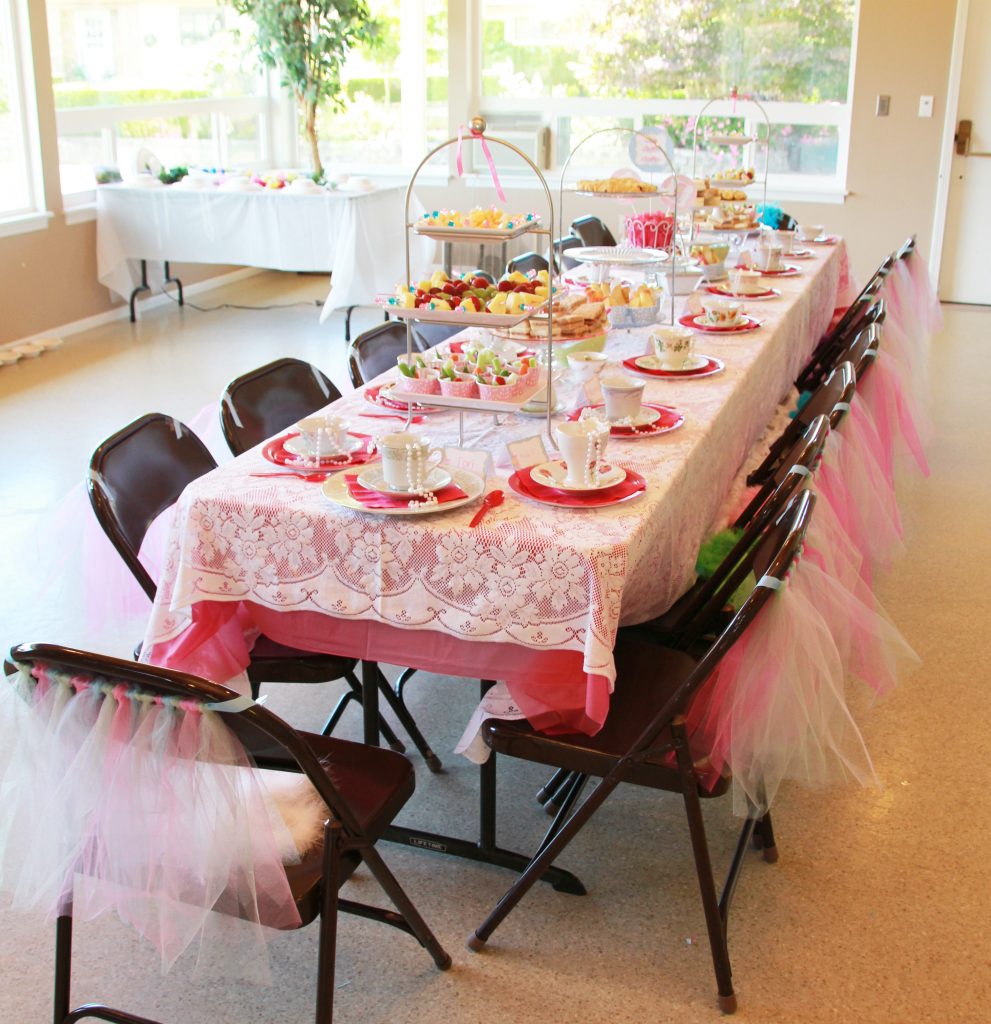 These chair tutus soften the harsh metal folding chair. They can be multi purpose serving as a party favor for the guests to take home.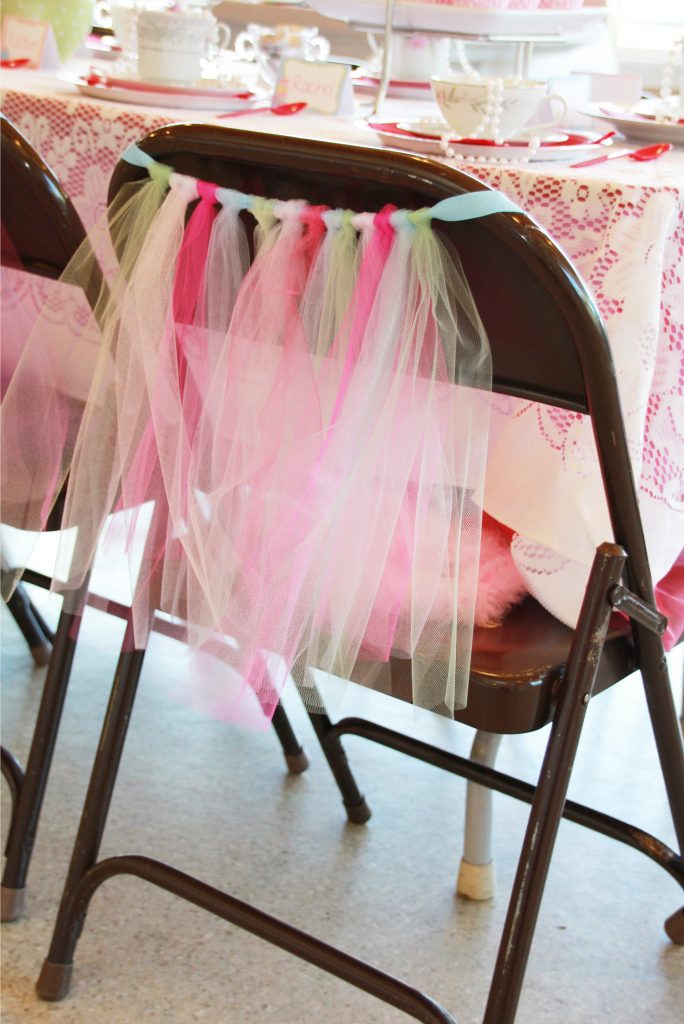 How beautiful are these place settings? A mix of paper and china makes this table budget friendly. I love the look of the pop of color with the elegant china.  Check your local goodwill for great deals on mix and match china pieces.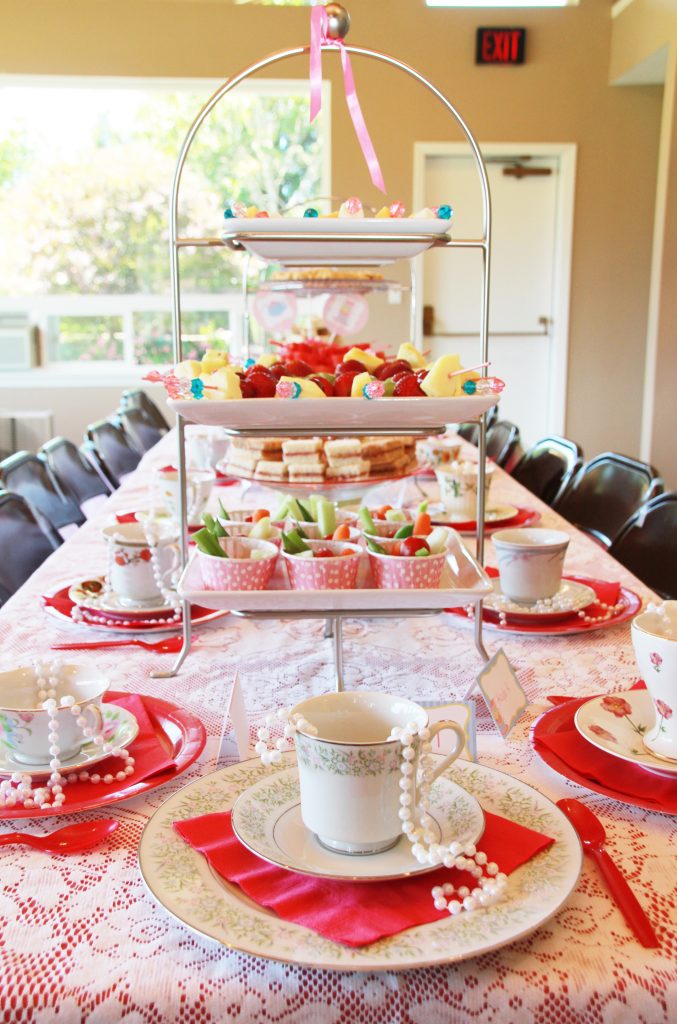 Every tea party needs finger foods. Mix and match sweet and savory foods of all kinds to create a lunch for your guests. I love the watermelon cut out with a flower cookie cutter. Beads were glued to the end of toothpicks to make a sparkly server for cheese cubes. Put fruit and veggies in polka dot cups to dress them up.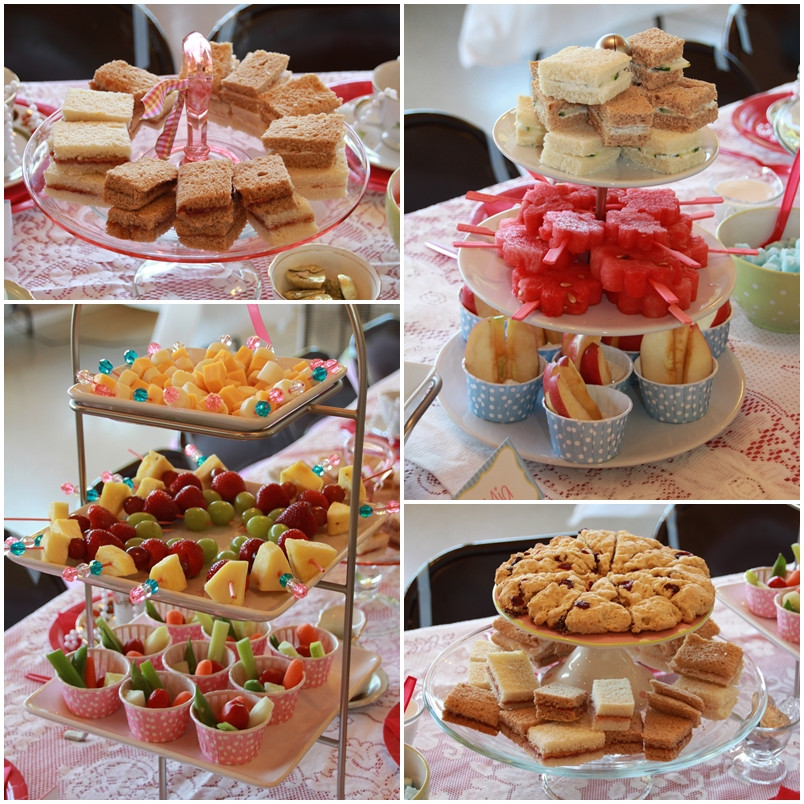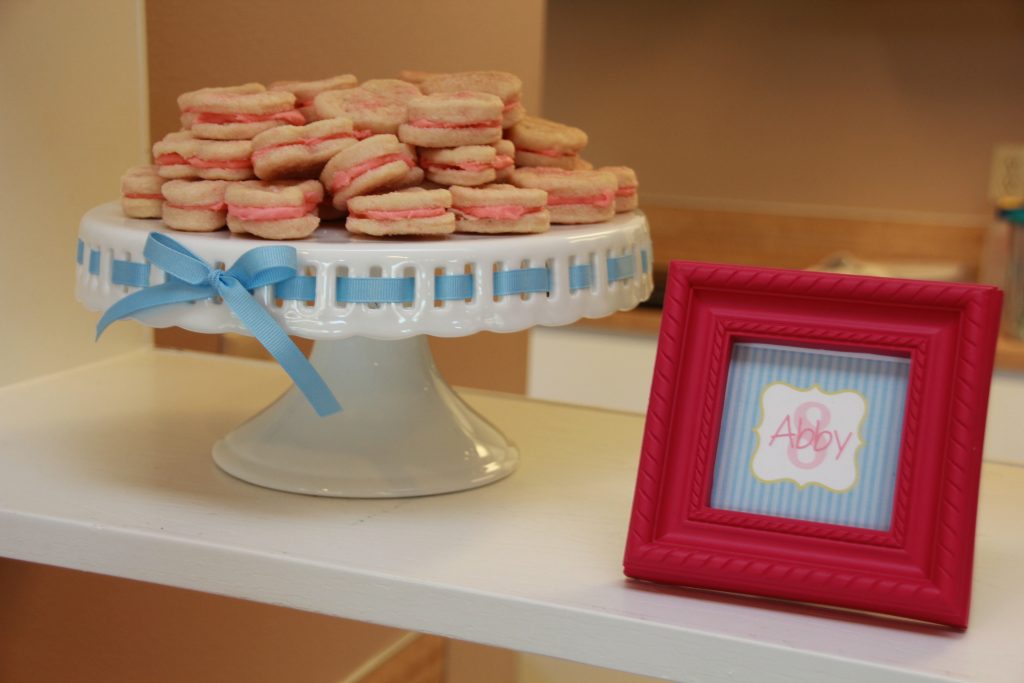 Sweet pearls dress up the place setting and the girls will be so excited to receive them.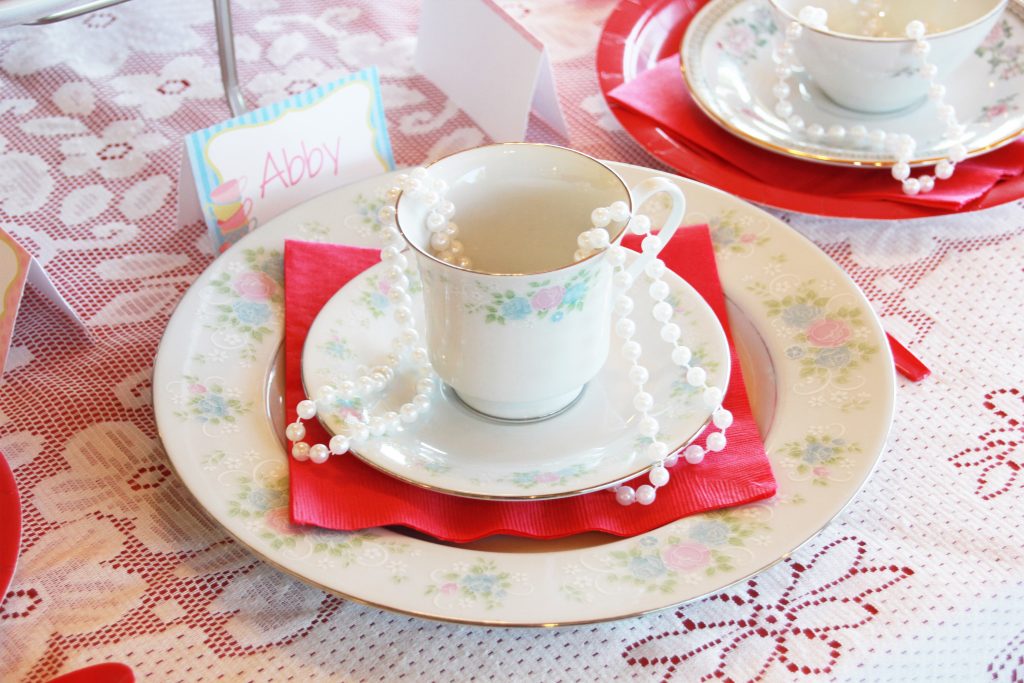 Our printable Tea Party printable centerpiece circles make a cute display on any table. The metal tea cup used is amazing!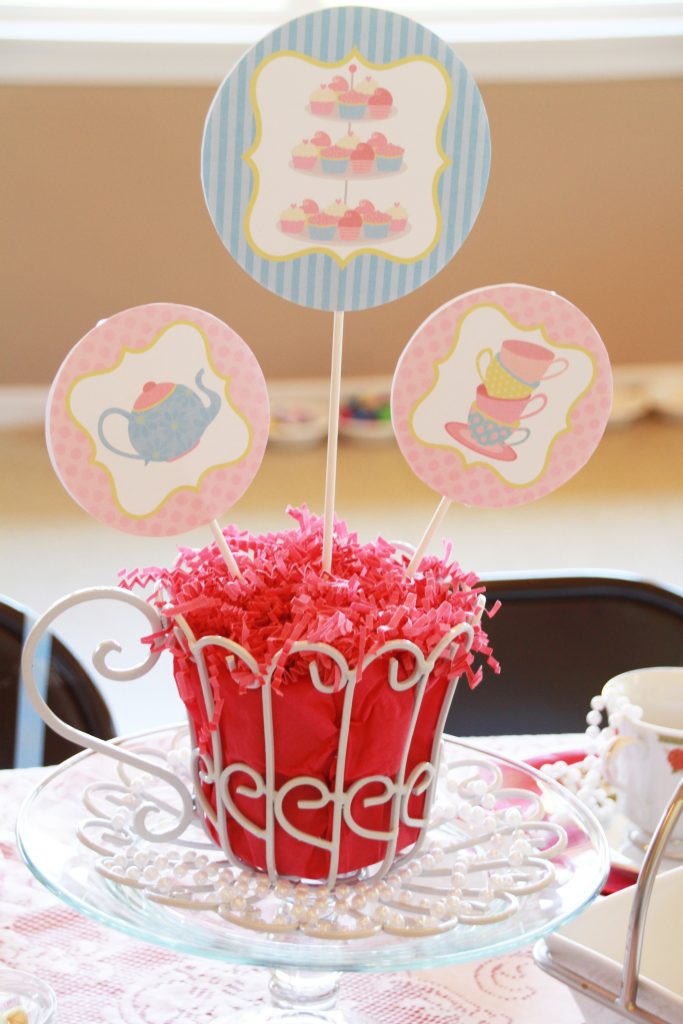 The girls decorated these tea party hats with faux flowers. The hats are made from paper plates and bowls. So creative!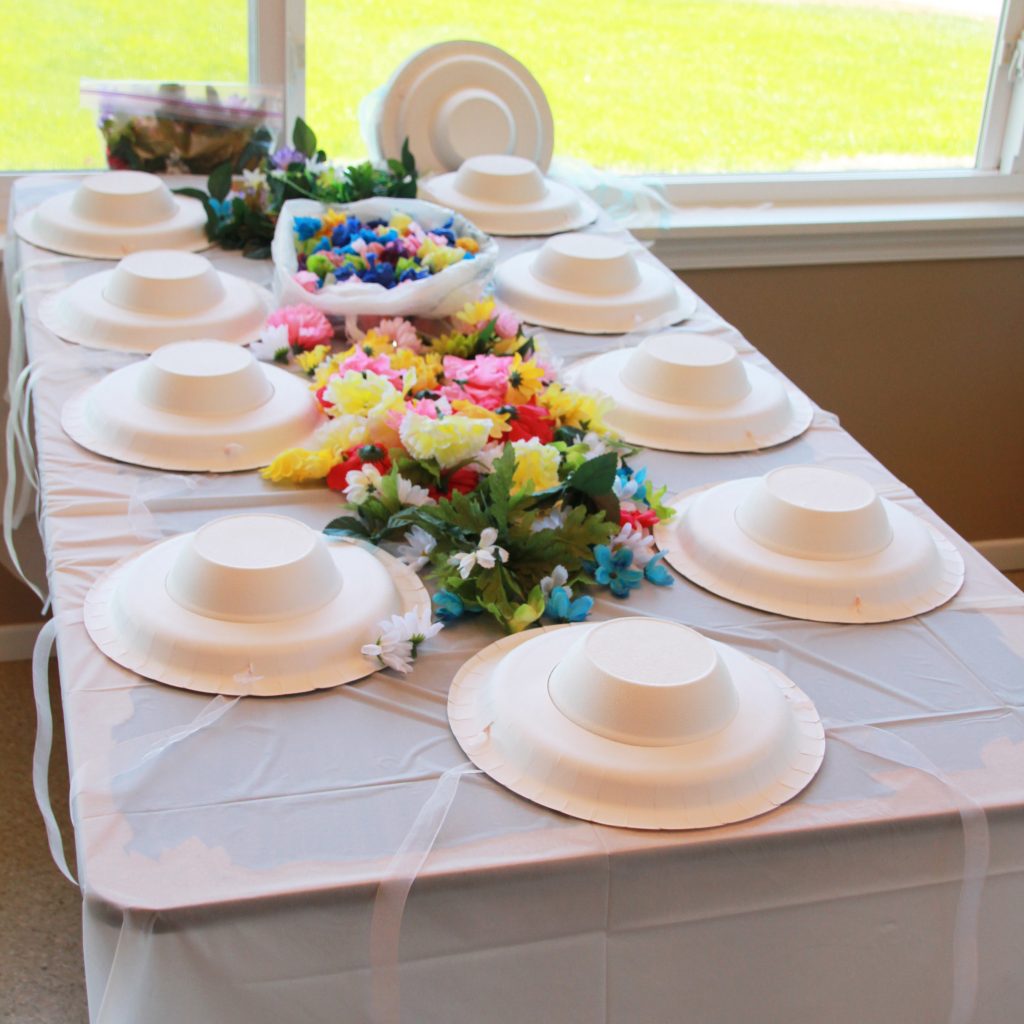 The bases for these purses were made from card board boxes and decorated by the girls as well.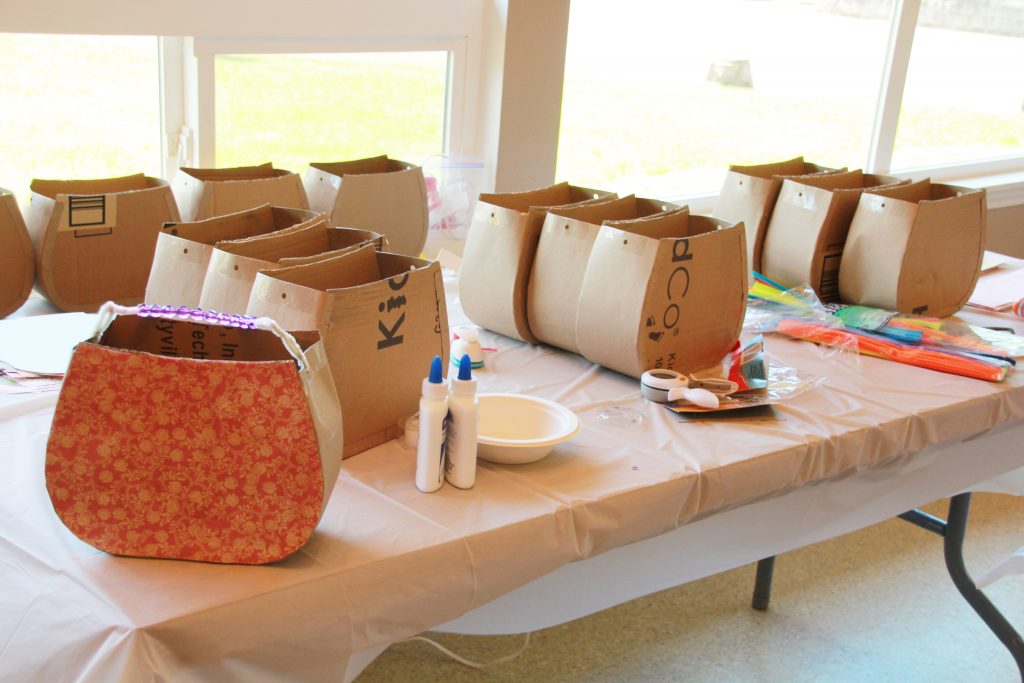 So sweet!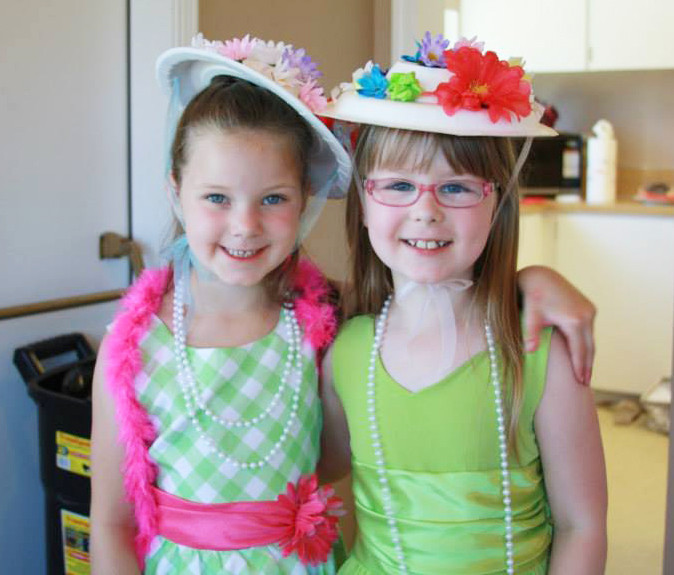 At the end of the party each girl took home a box with the leftover goodies.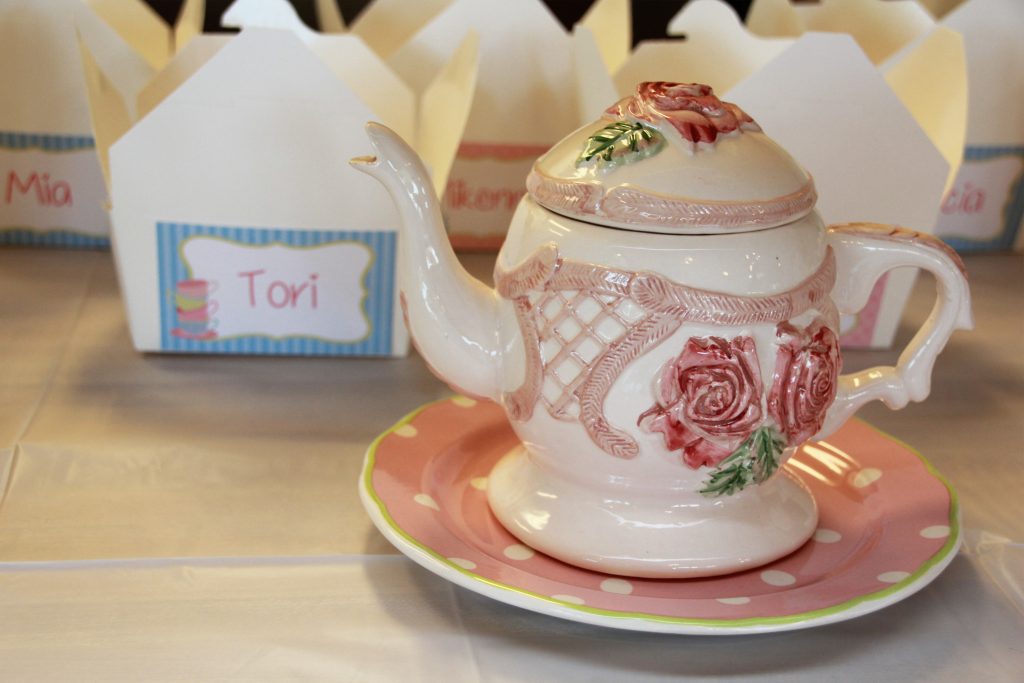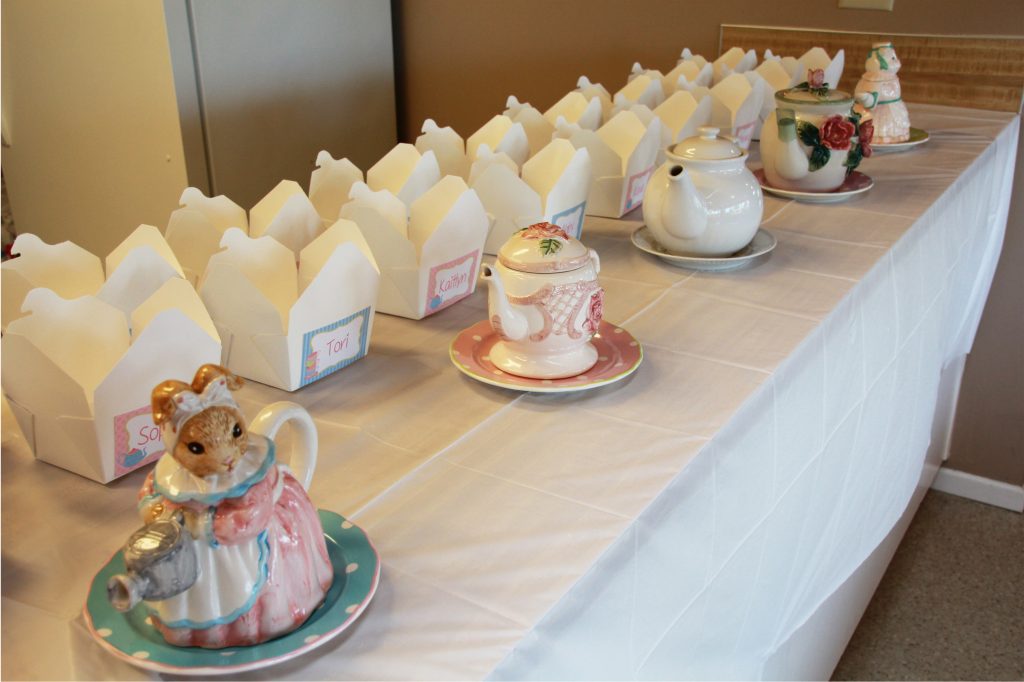 I love all of the special details that were incorporated into this party!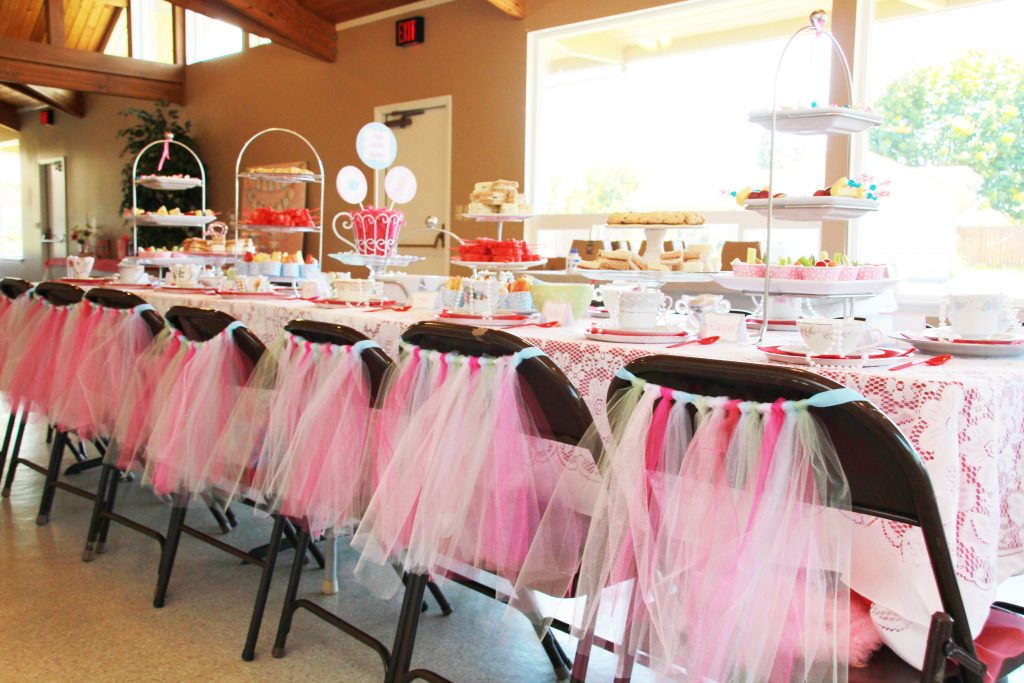 You can find the matching printables for this party in my etsy shop.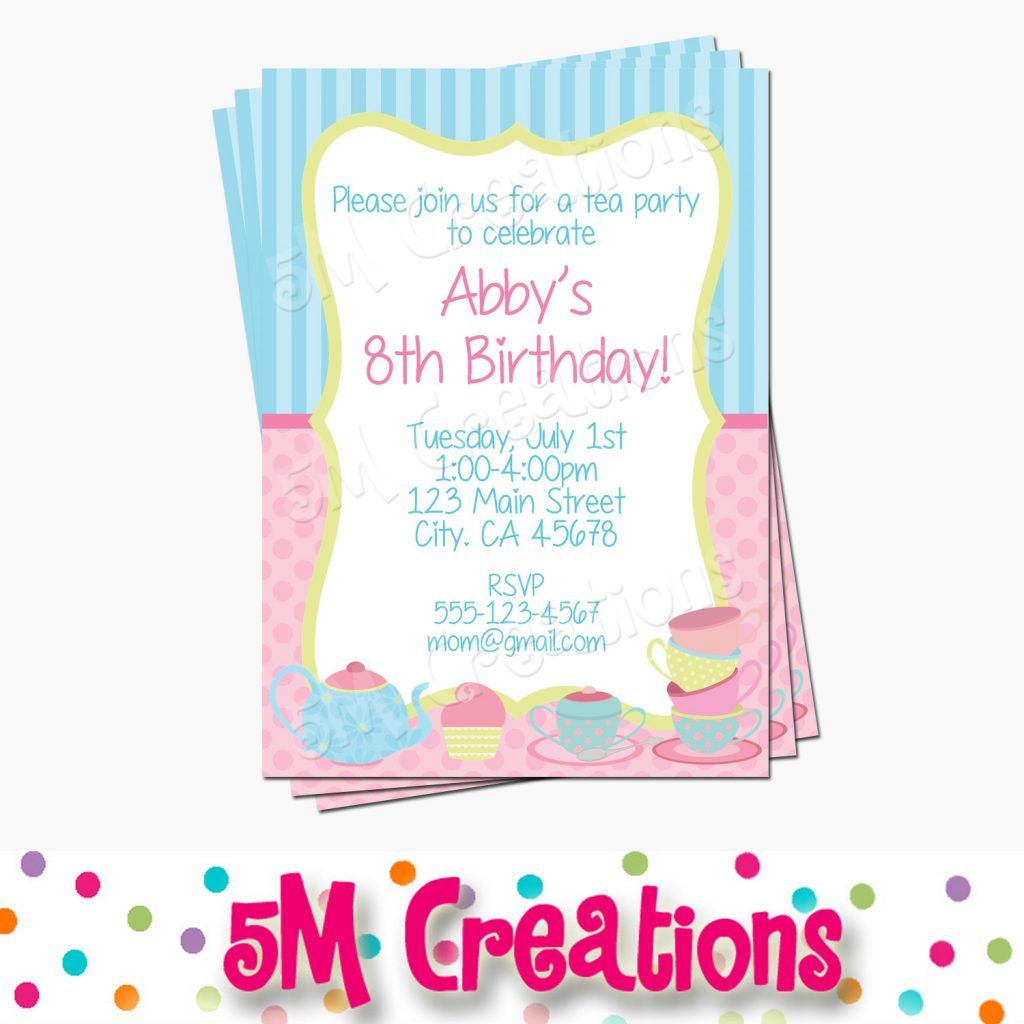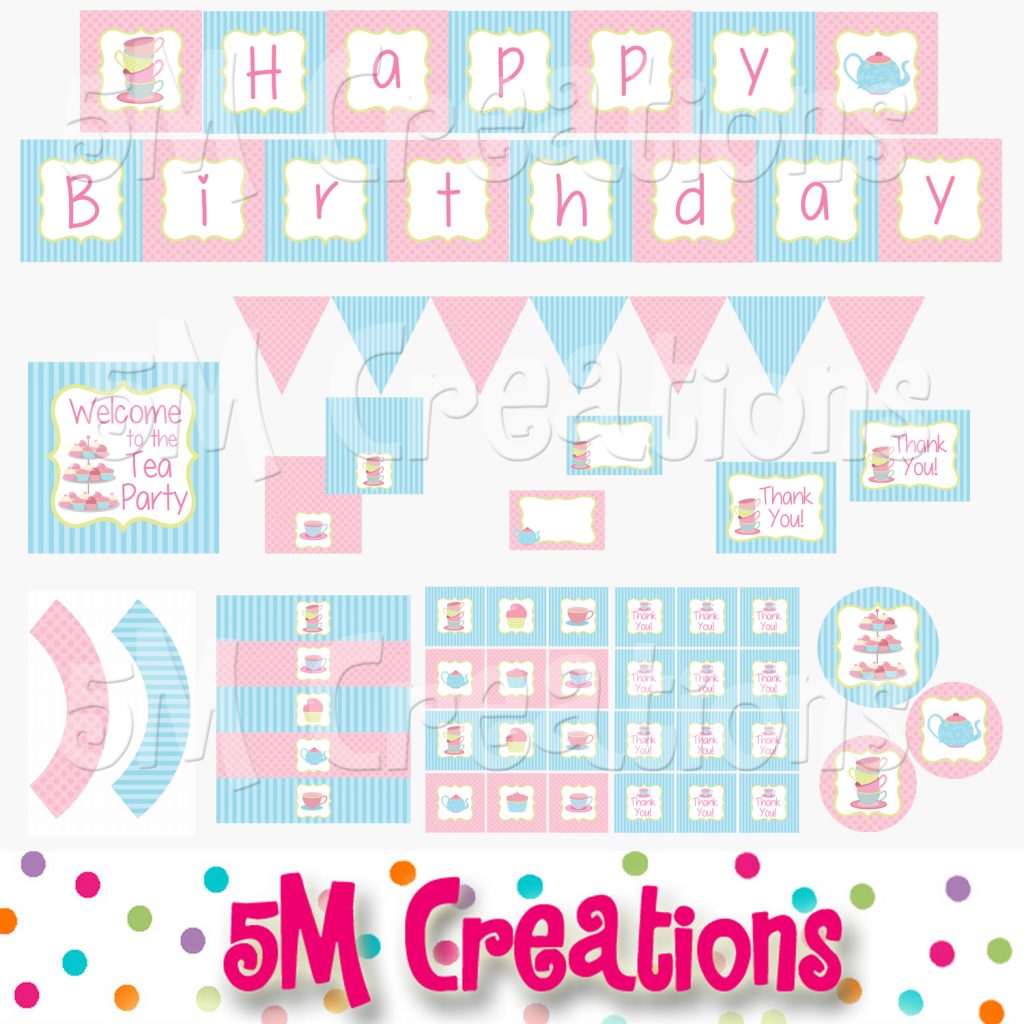 5M Creations February 17th, 2017
Posted In: Girl Birthday Party
Tags: Banner, birthday party, centerpiece, cupcake toppers, girl party, invitation, party food, photo booth, tea party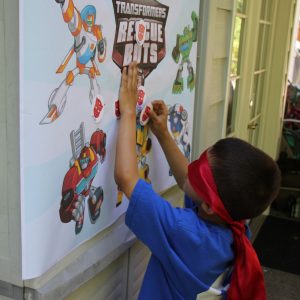 For my twins 7th birthday they requested a Rescue Bot party. I had actually avoided this theme for the last 3 years as there is NOTHING available for the theme. They have been in love with them for years and I really wanted to give them the theme they wanted. We did not want grown up transformers. I finally found some art work online and decided to make my own.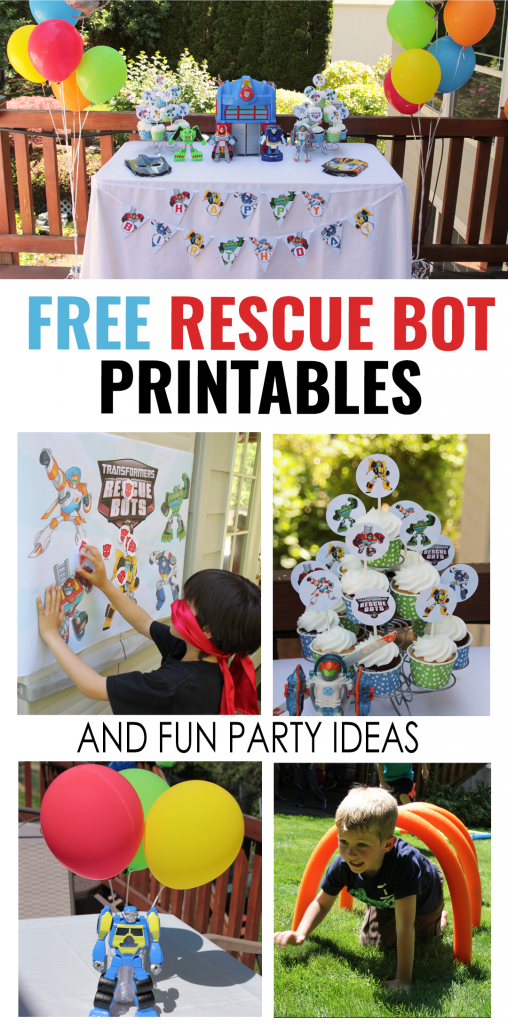 I started with a basic Rescue Bots welcome sign. My boys have this on their bedroom door now. This balloon wreath I found on pinterest by Abstract Grace. I love that it can be used for any birthday in the family. It is also able to be customized by changing the colors to fit your theme. It was super easy to assemble.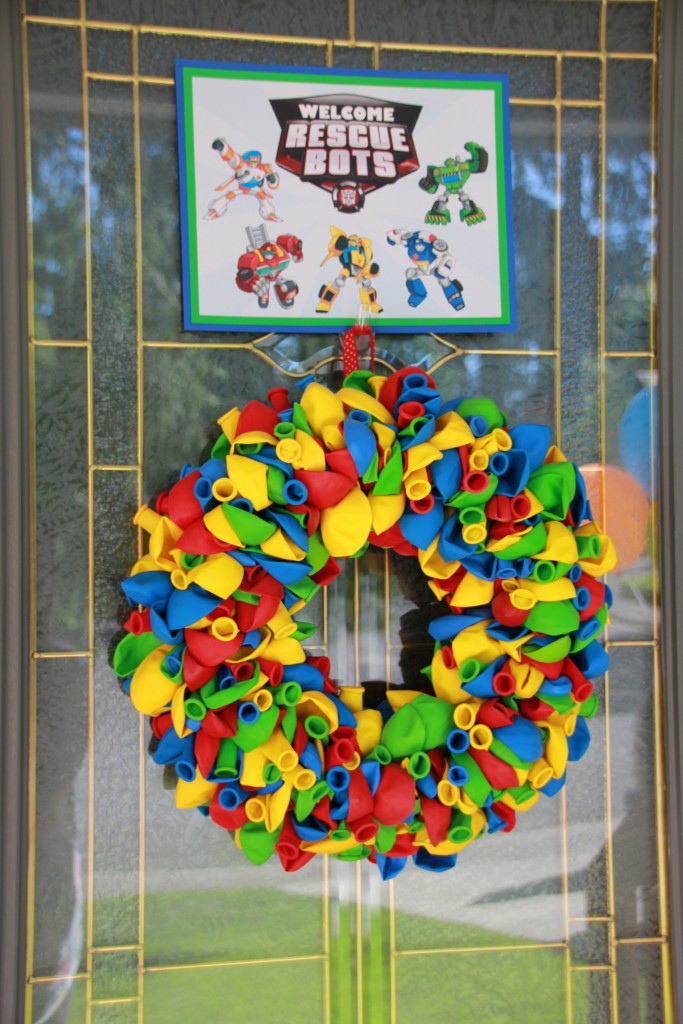 I knew that I wanted a party table. We are lucky to have a great deck in our backyard. We set up tables for the kids to eat at to keep the mess outdoors. On one end I set up this Rescue Bot display and a gift table. Being outside does not mean you have to skip out on decor. The boys Rescue Bot figures and fire station made a great display.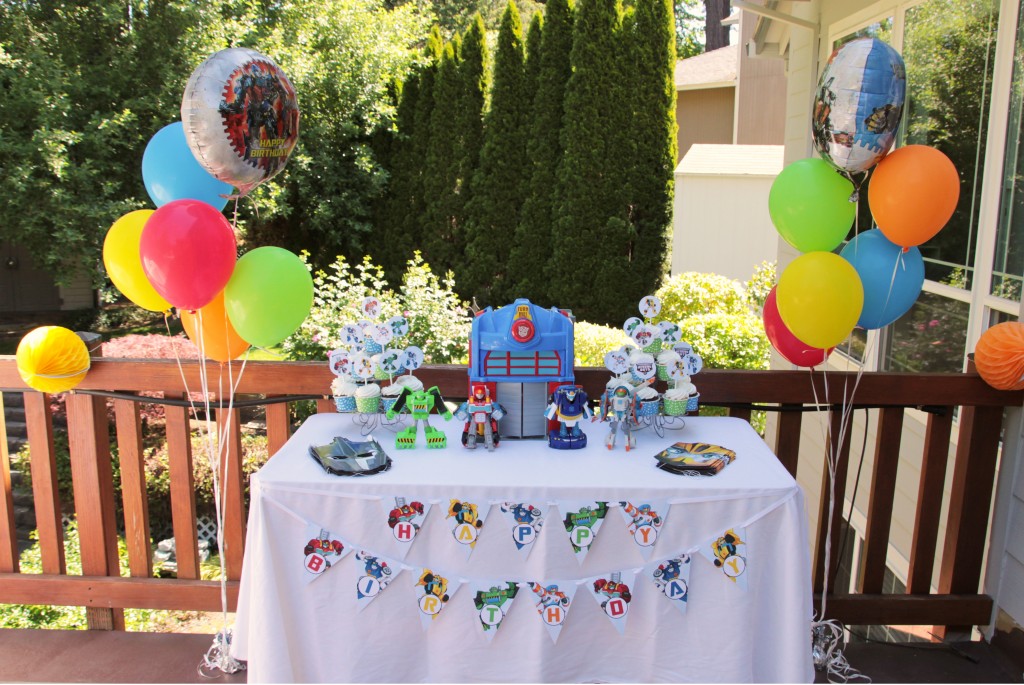 I wanted the characters front and center on the Resuce Bot cupcake toppers. We went with a light blue starburst background so the bright characters would pop. I added a few logos as well.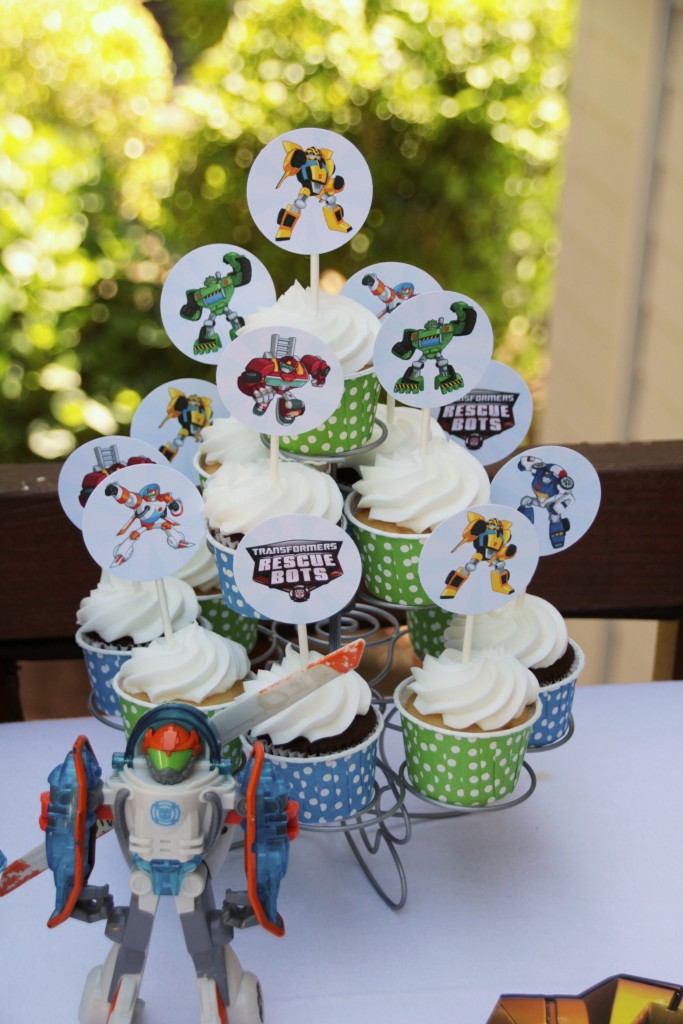 For the Rescue Bot Happy Birthday banner I wanted the characters and colors to be bright and bold. I love how it turned out.
For centerpieces my boys had large transformers we placed on the tables. We added some balloons to mason jars filled with paper shreds. What party is complete without balloons?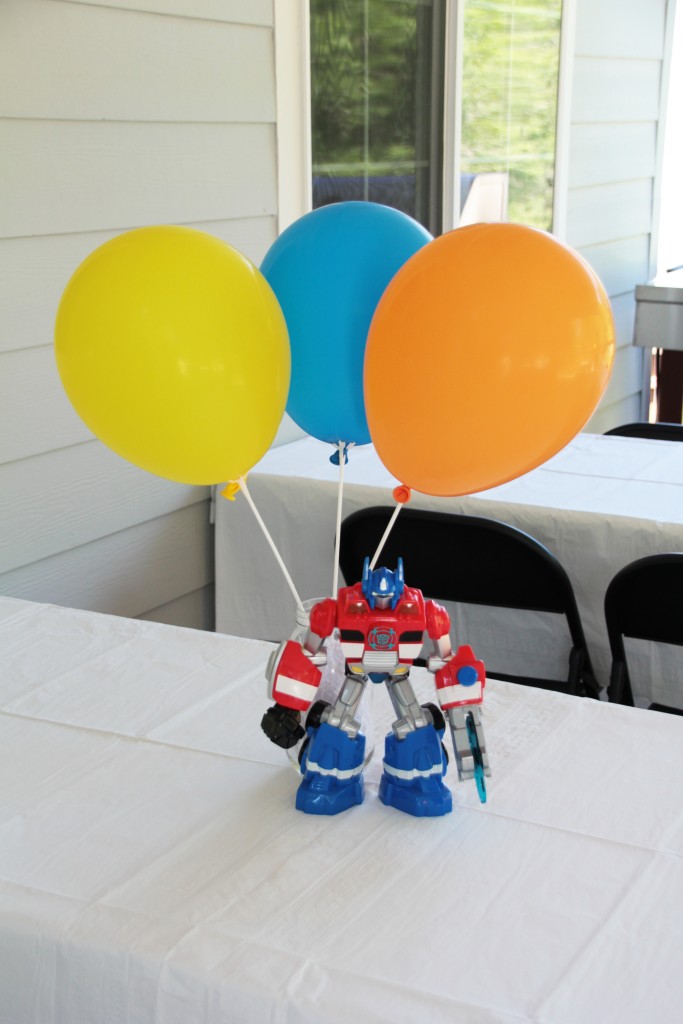 My boys wanted to play party games at their Rescue Bot Birthday Party. We created a Rescue Bot obstacle course. They had to rescue a stuffed kitten from a tree, race up then slide down the fire station(play structure). run across a ring maze,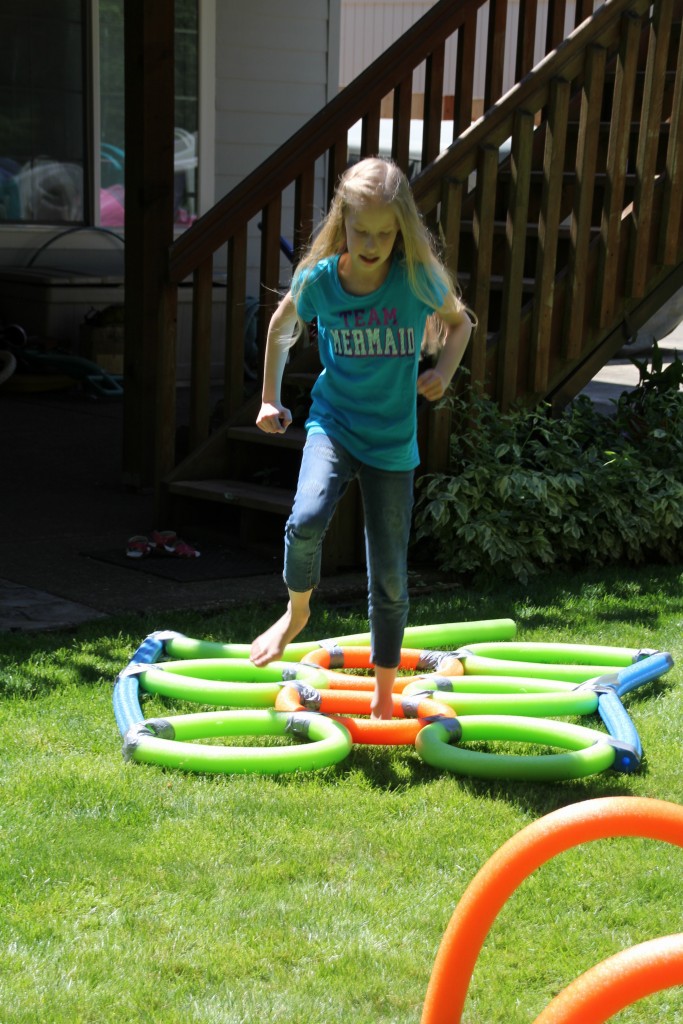 Climb through a tunnel,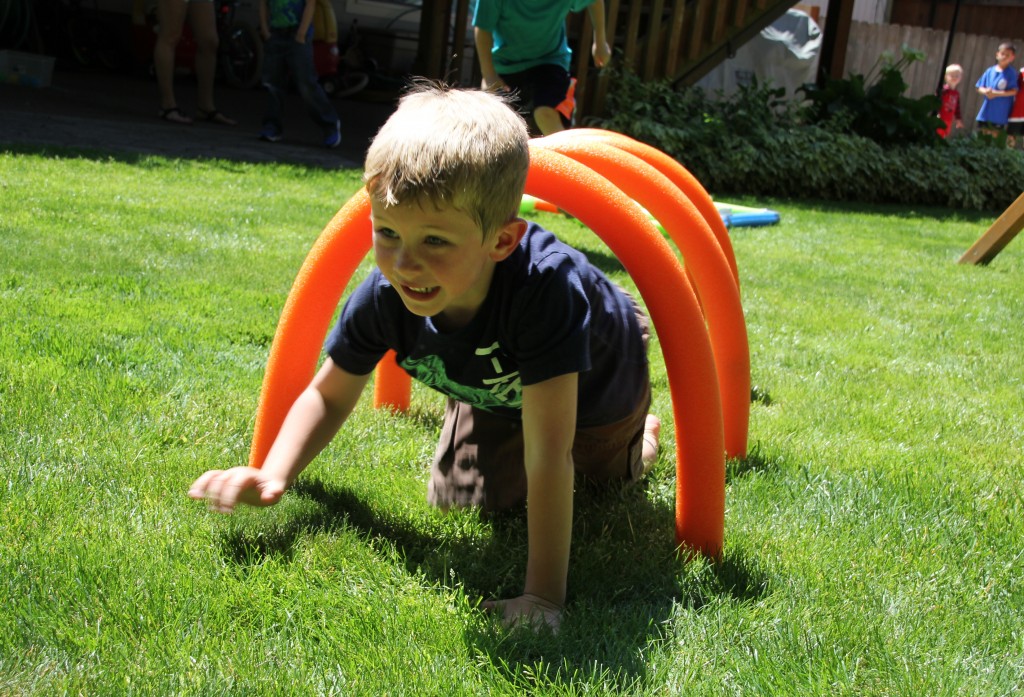 Shoot the Deceptaconcans with nerf gun,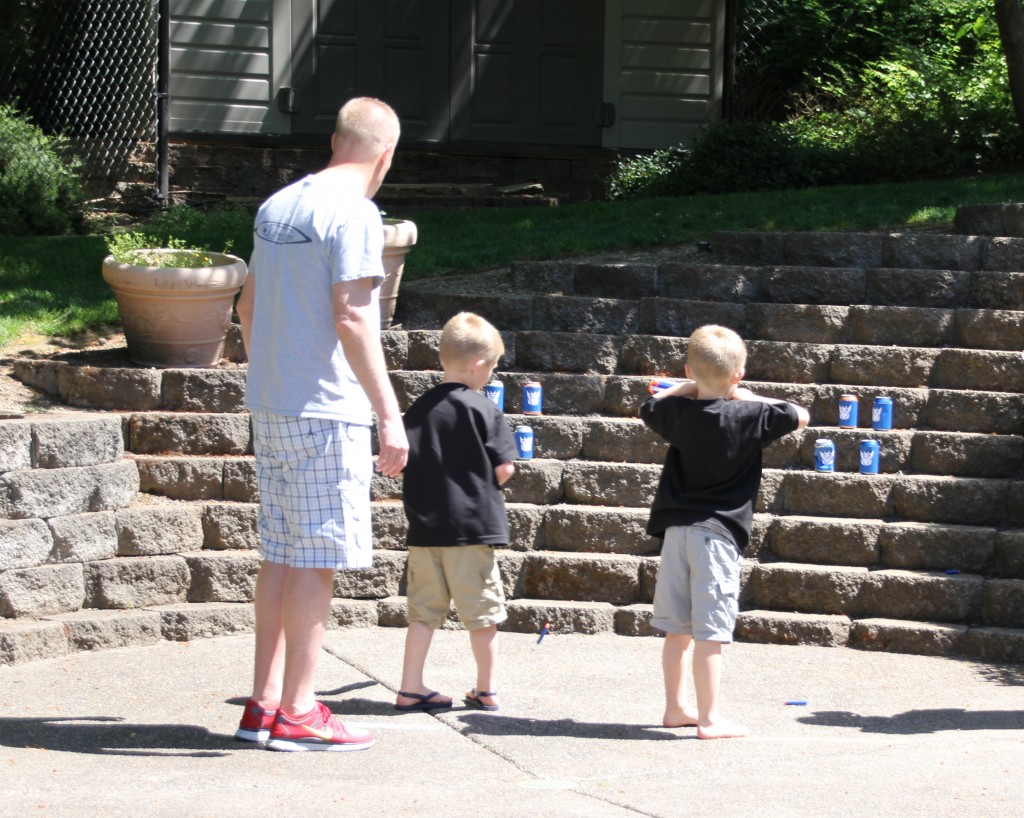 Use their robot hands to transport a ball, then race back to their team. The kids loved the obstacles. They spent most of the time doing the stations over and over.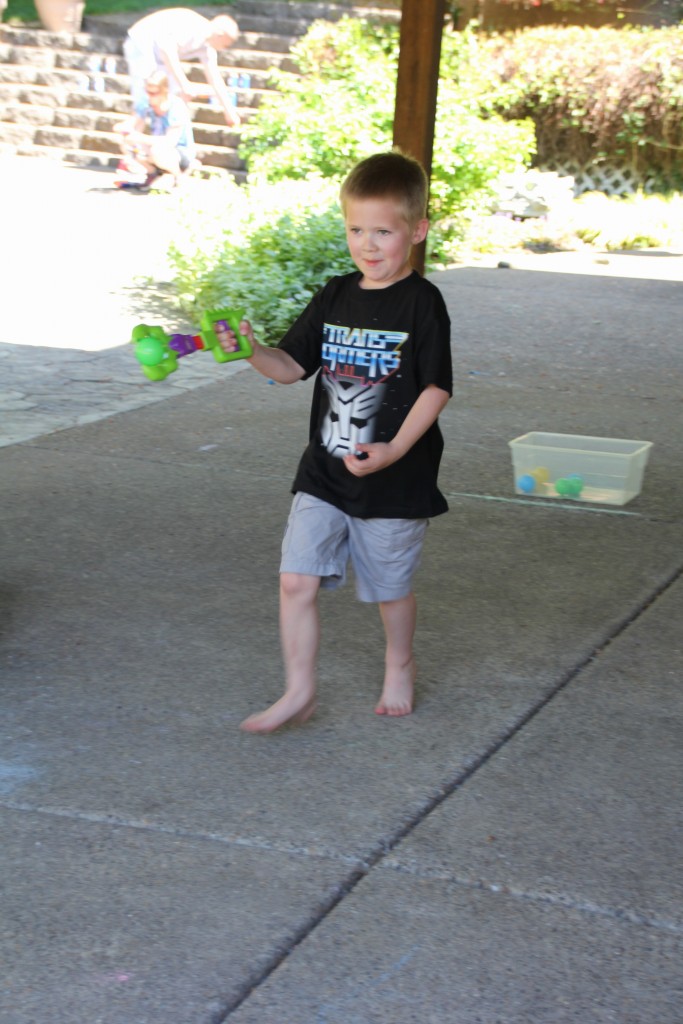 My boys also wanted a "pin the" game. The transformer party games I could find did not work for the number of kids I had. I made a large sign and created a transformer logo sticker for each kid to place over the logo on the sign. It worked perfectly.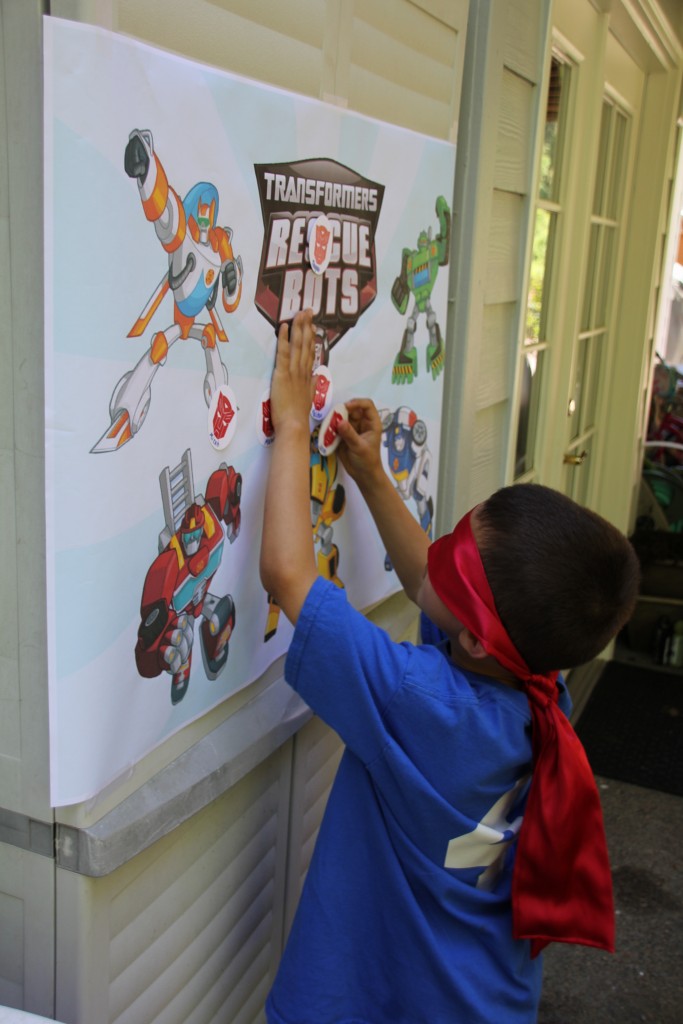 Last was the always loved pinata. I got this one from www.walmart.com.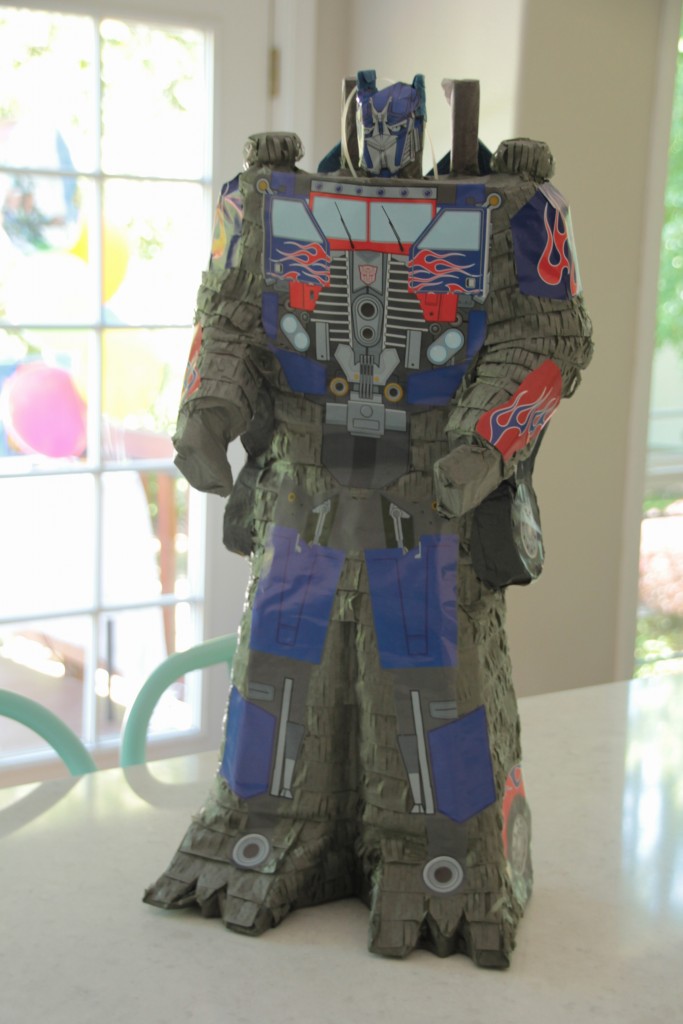 Overall it was such a fun party and fairly easy to make happen. The boys had a blast. In my opinion a party where kids can run around outside is the best kind of party.
Because the images used are licensed characters I cannot sell the files in my shop. Lucky for you I am sharing these files that I created for my own personal use FREE. (For Personal Use Only). Not for reproduction, commercial use, or sharing. I hope you have your own awesome Rescue Bot Party. Like always I love seeing customer photos to share on my blog or instagram. Check them out HERE in my shop!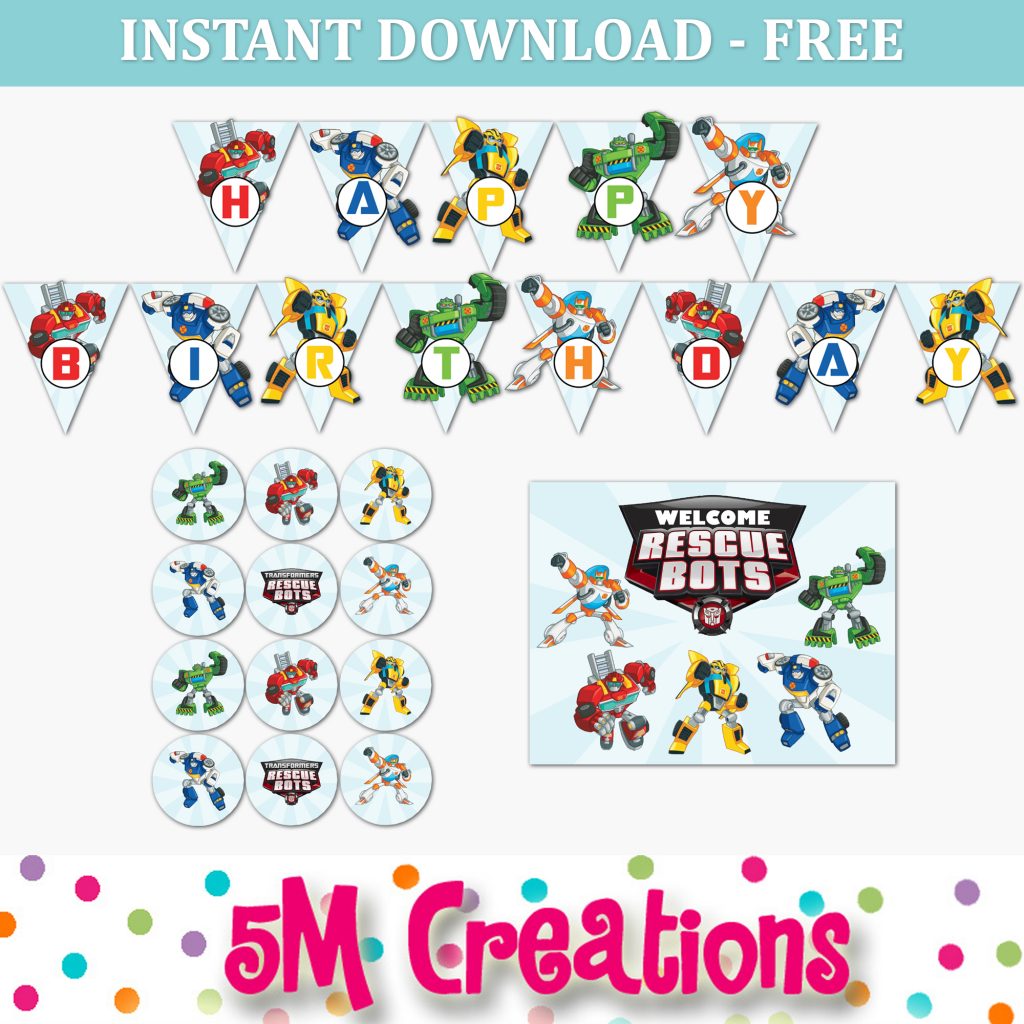 5M Creations February 14th, 2017
Posted In: Boy Birthday Party
Tags: Banner, birthday party, Boy Birthday, cupcake toppers, printable, printable decor, rescue bot
« Previous Page