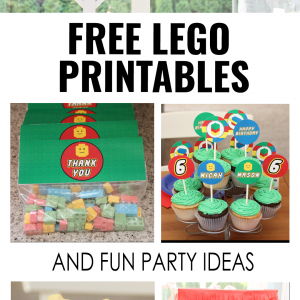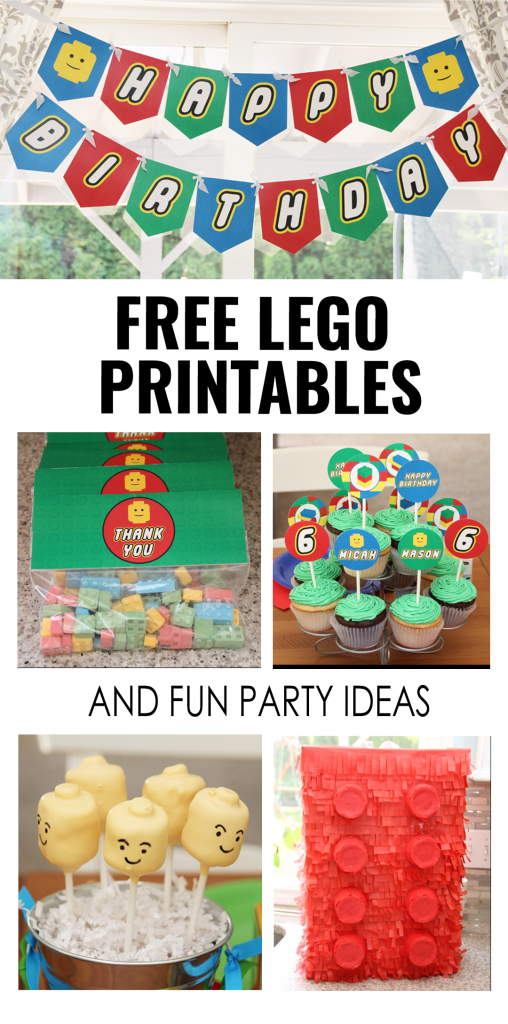 I have been going back through party photos to find old events I have never shared. This Lego inspired party is one I threw for my twins several years ago. It was so much fun! Check out all the fun details including FREE printable decor below.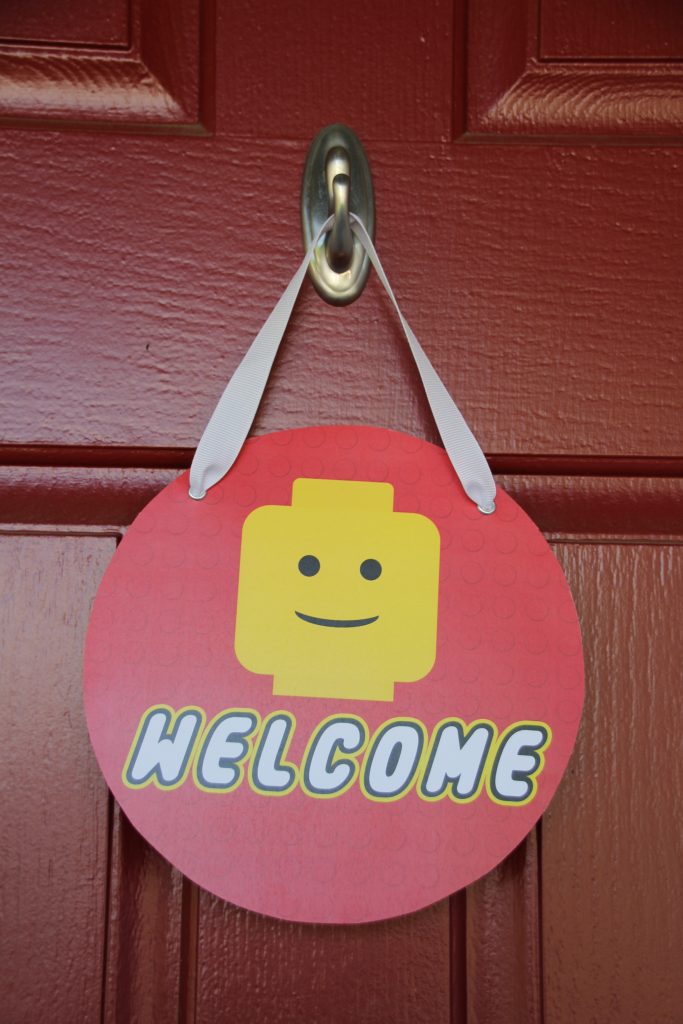 I added a few pieces to my mantle to create a cute lego display. A polka dot garland in the party colors, a couple of lego storage pieces (the mini fig head and large green brick, and a fun printable centerpiece. I made a centerpiece holder out of lego bricks.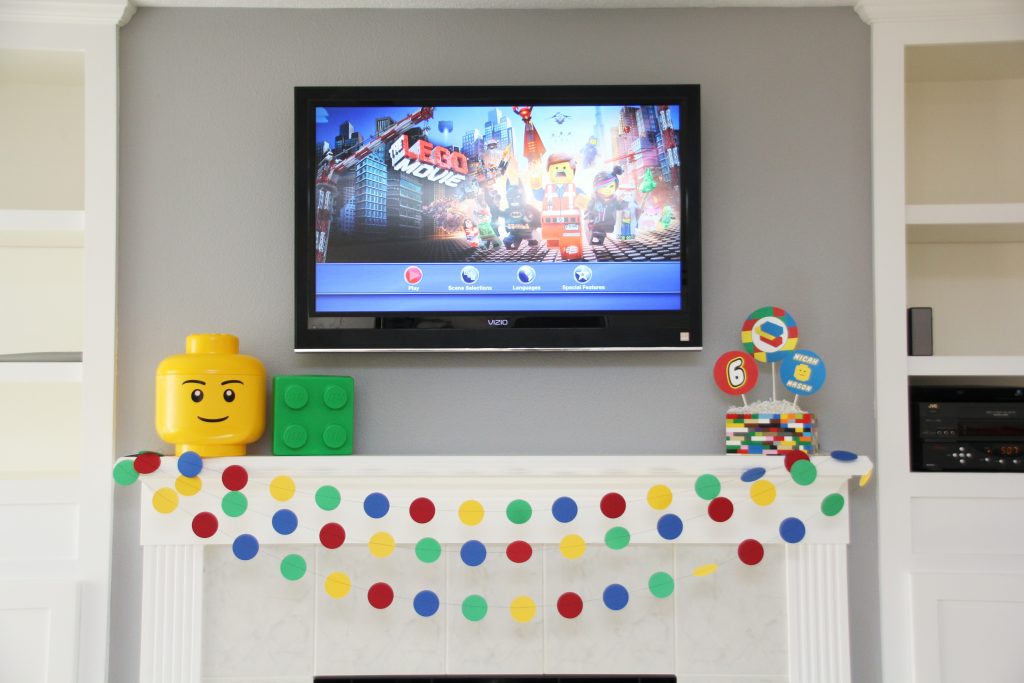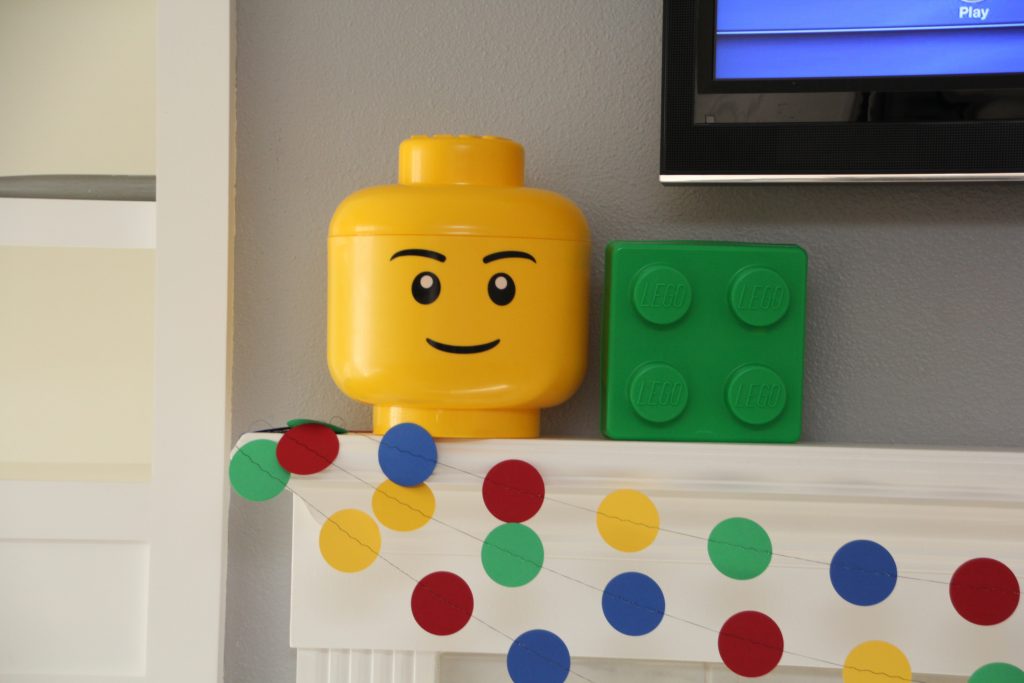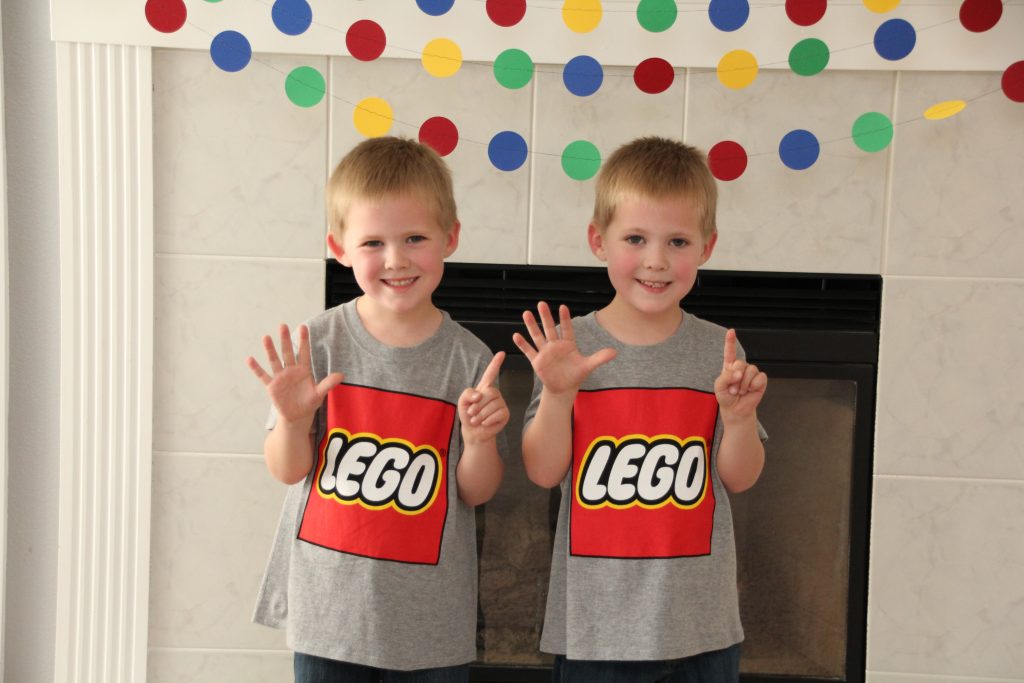 I set up my main dining room for treats and lego building.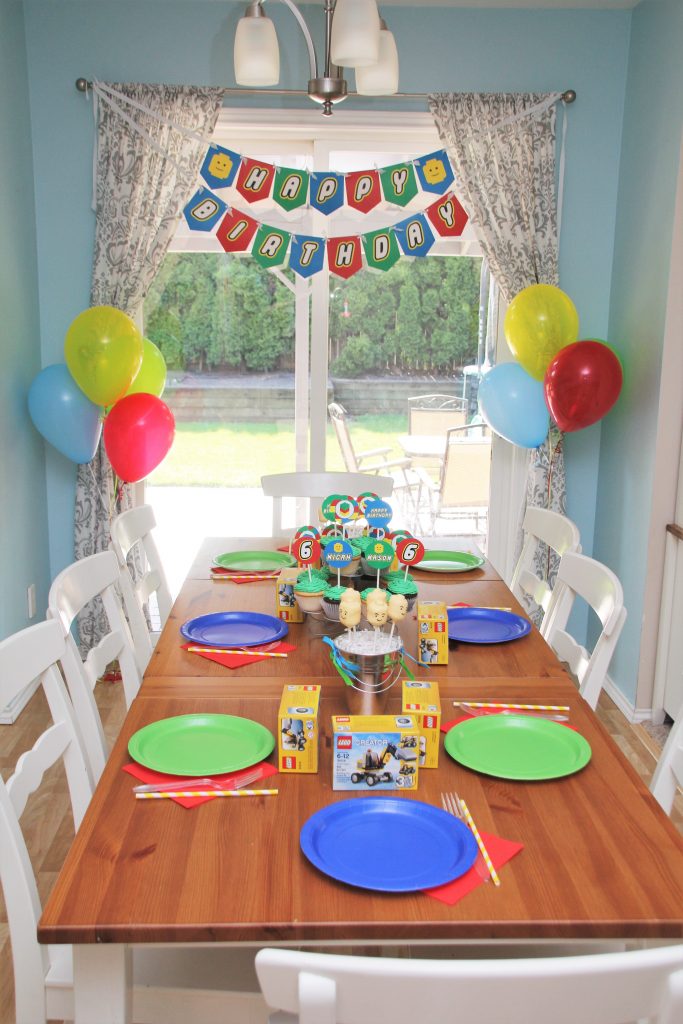 This fun printable banner has lego patterns on the paper and cute mini fig heads.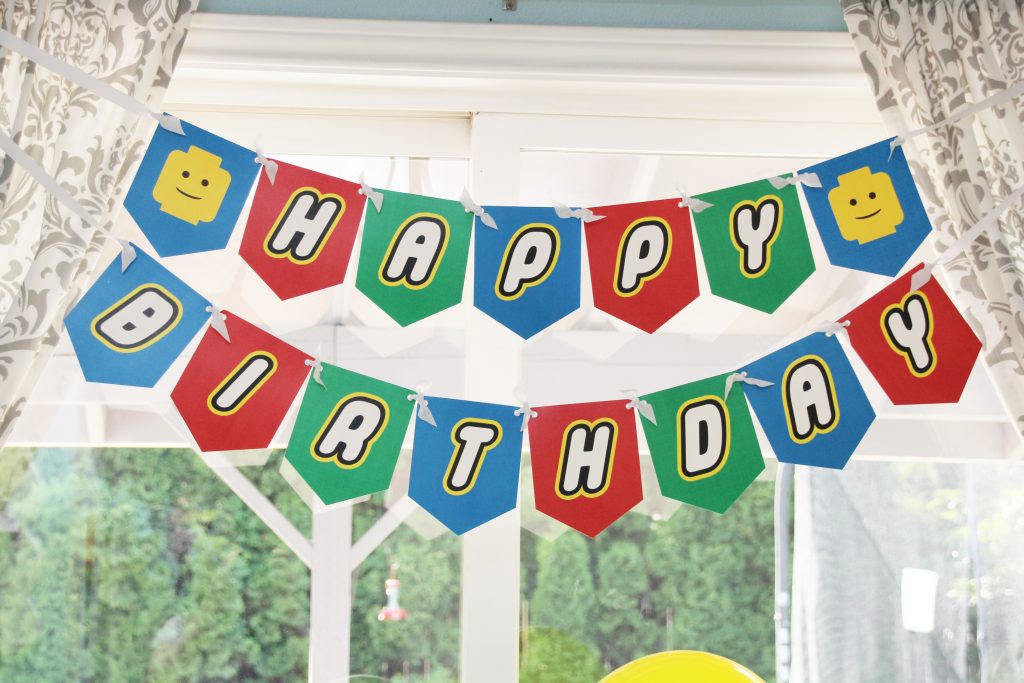 Each guest got a mini lego set to build during the party. We watched the LEGO movie while building.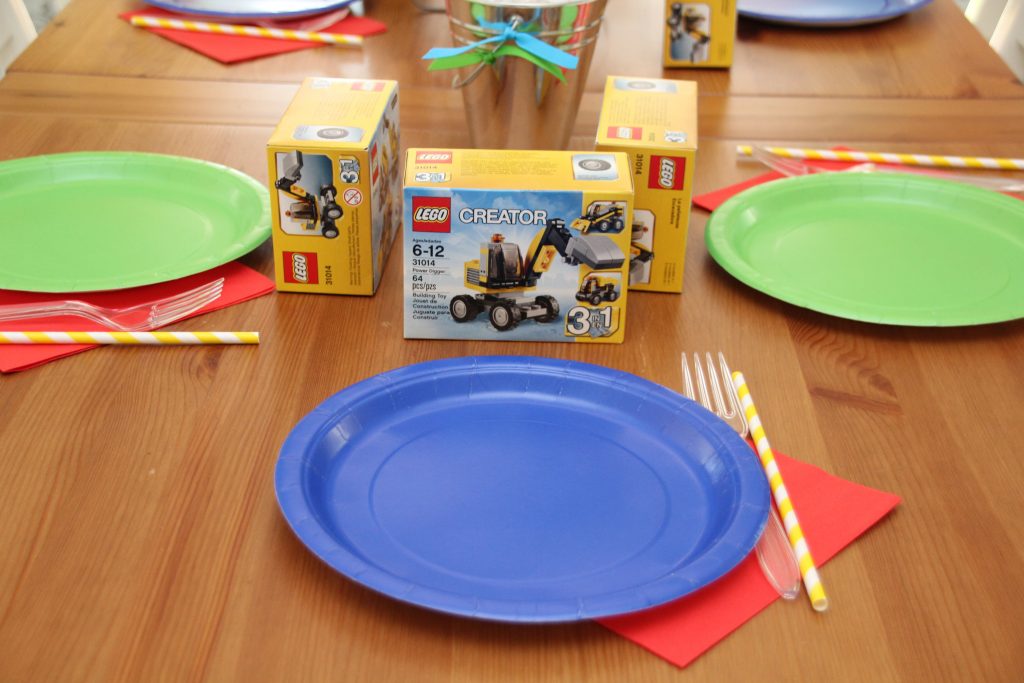 Printable cupcake toppers dressed up homeade cupcakes.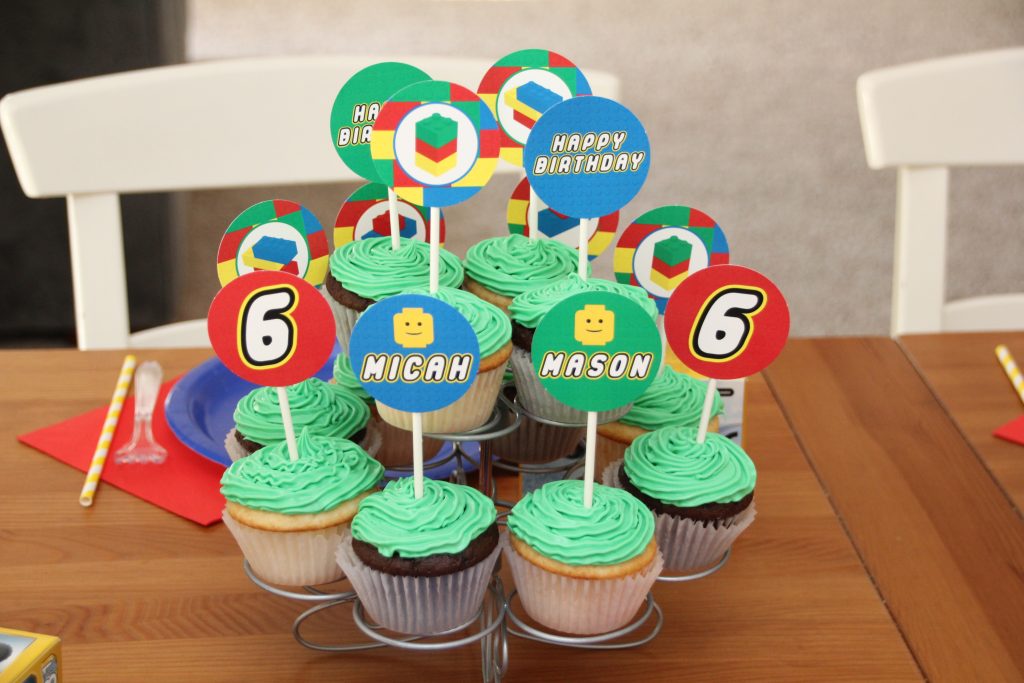 I made these cute mini fig marshmallow pops with large and mini marshmallows and yellow candy melts.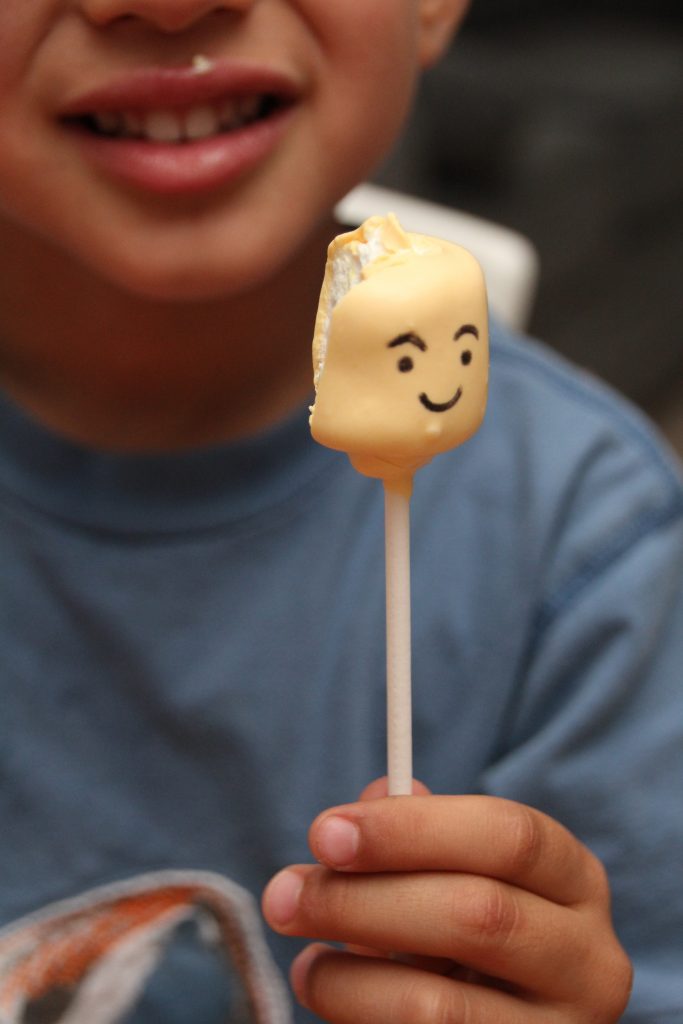 This lego pinata was a cinch to make. A rectangle box and solo cups were wrapped in red crepe paper. I just cut the fringe before wrapping. I left a hole in the top and filled with candy.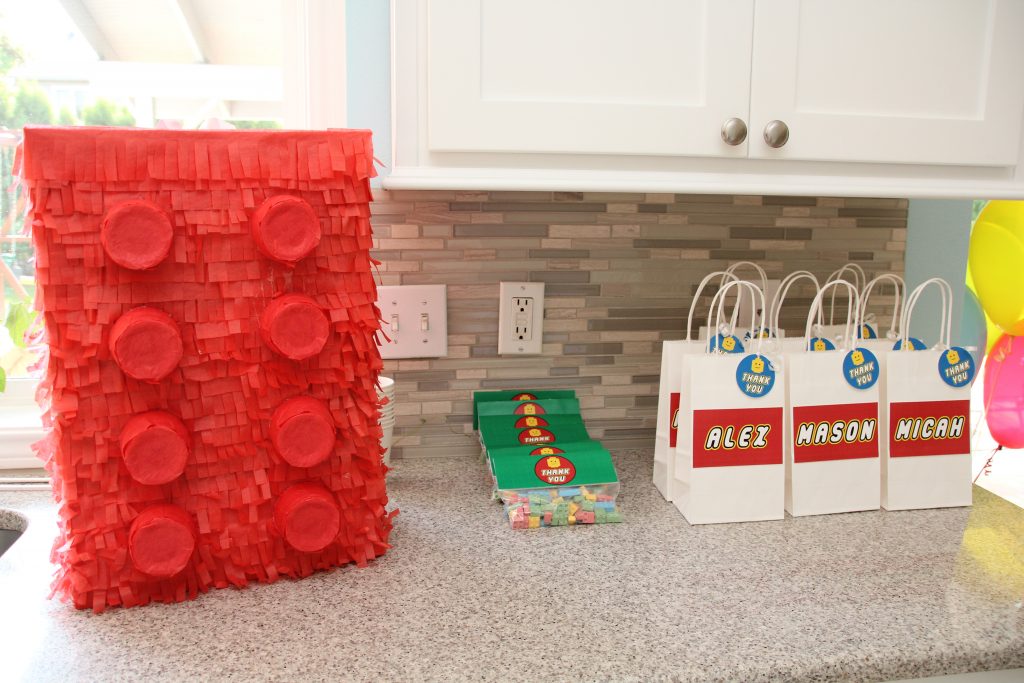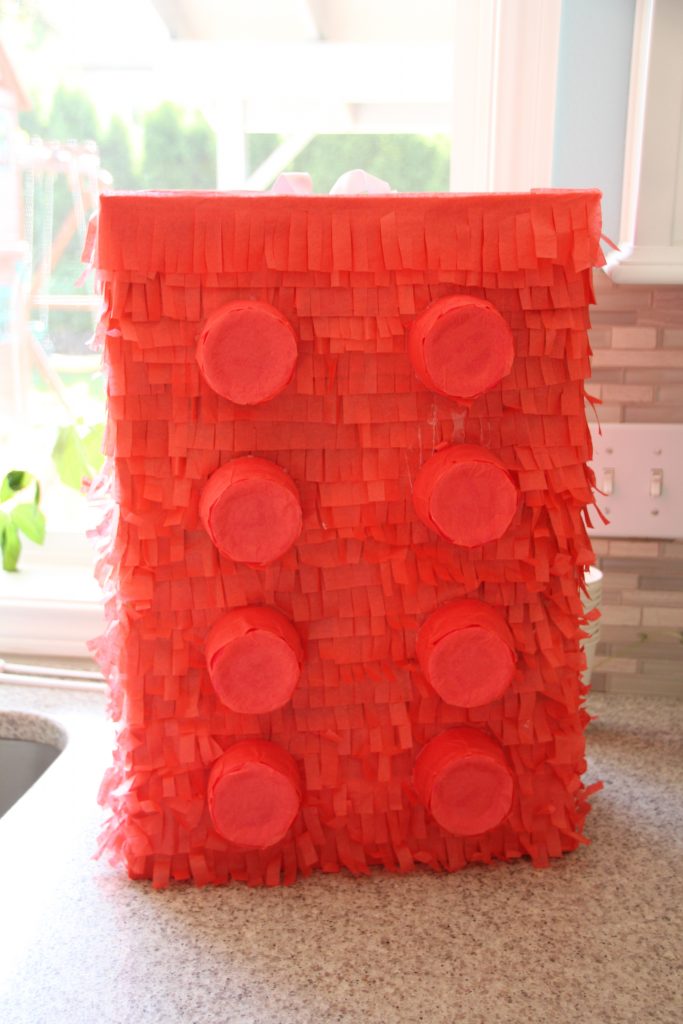 Each guest had a bag to collect their pinata candy!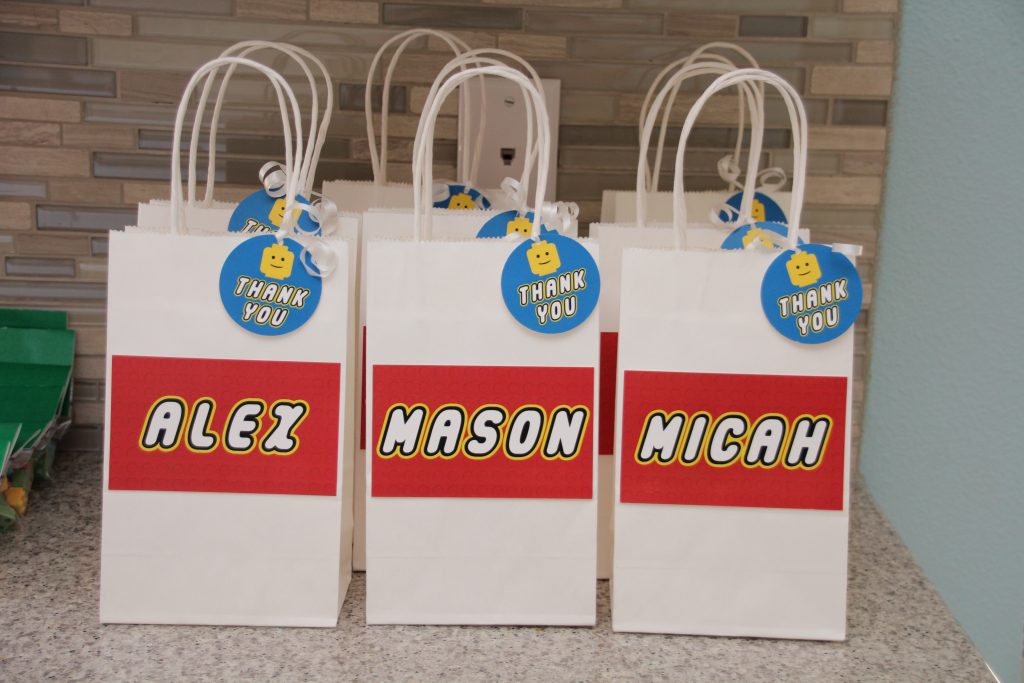 I created these fun treat bag with these lego printable treat bag toppers and brick candy from the bulk candy section.
It was such a fun party building with my boys!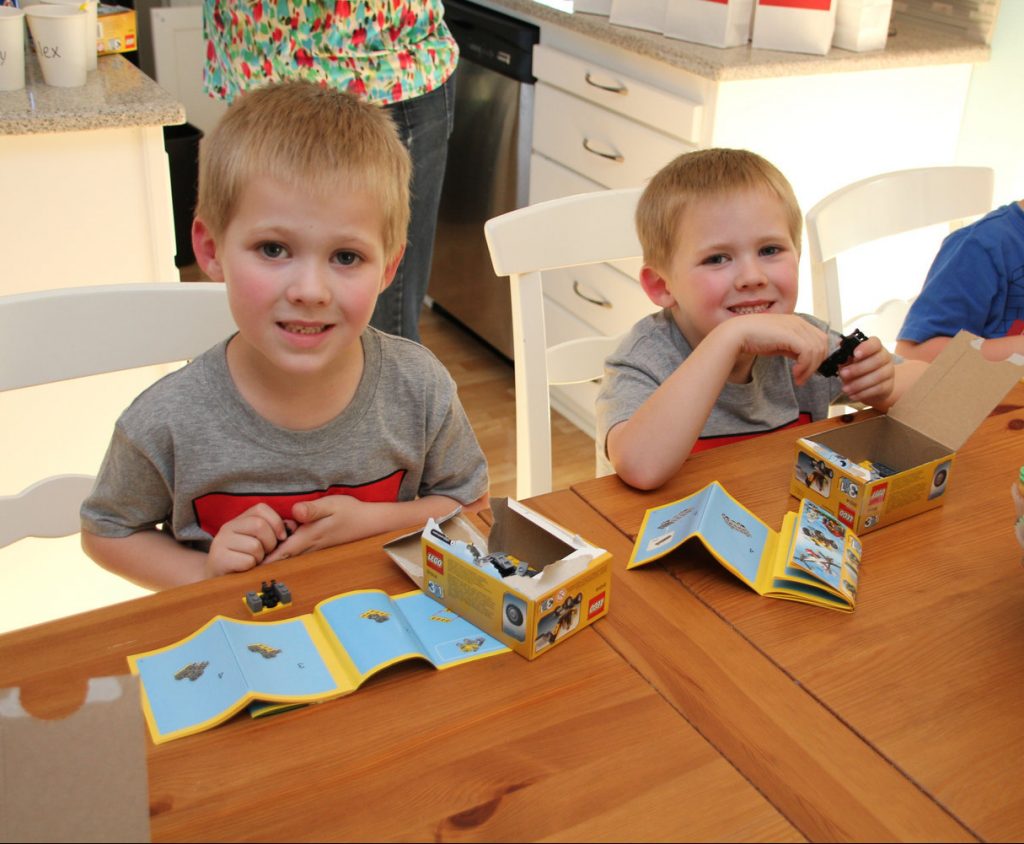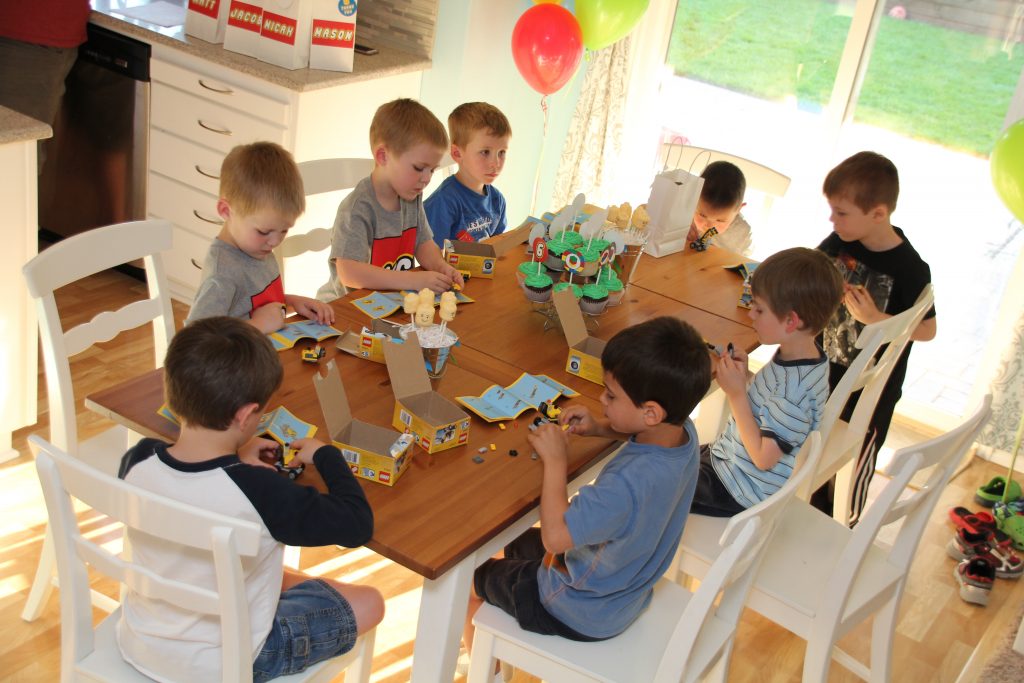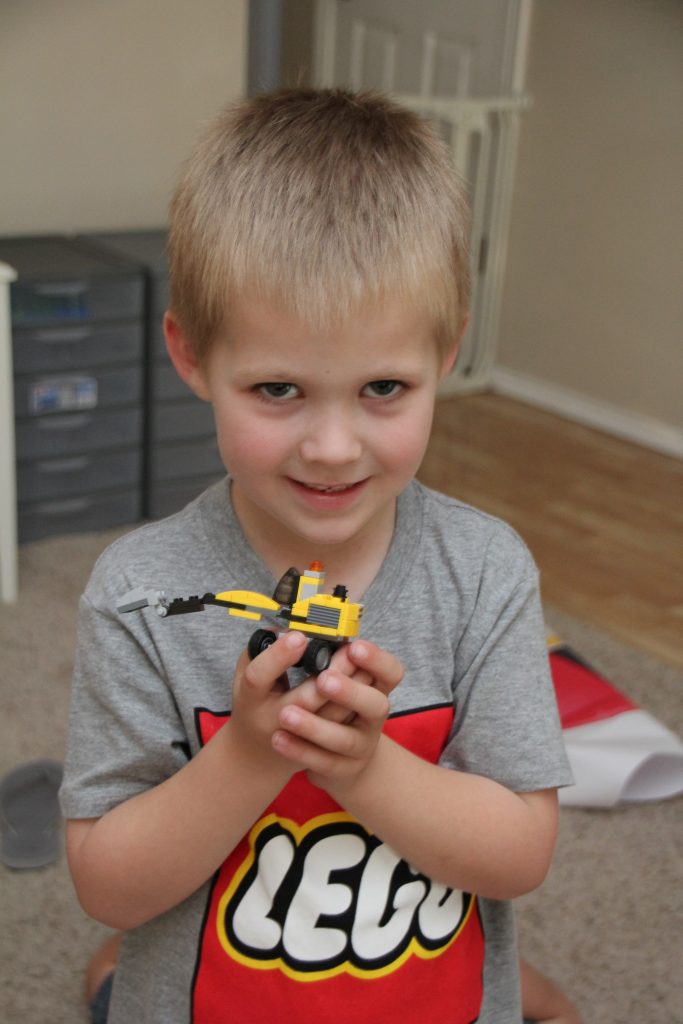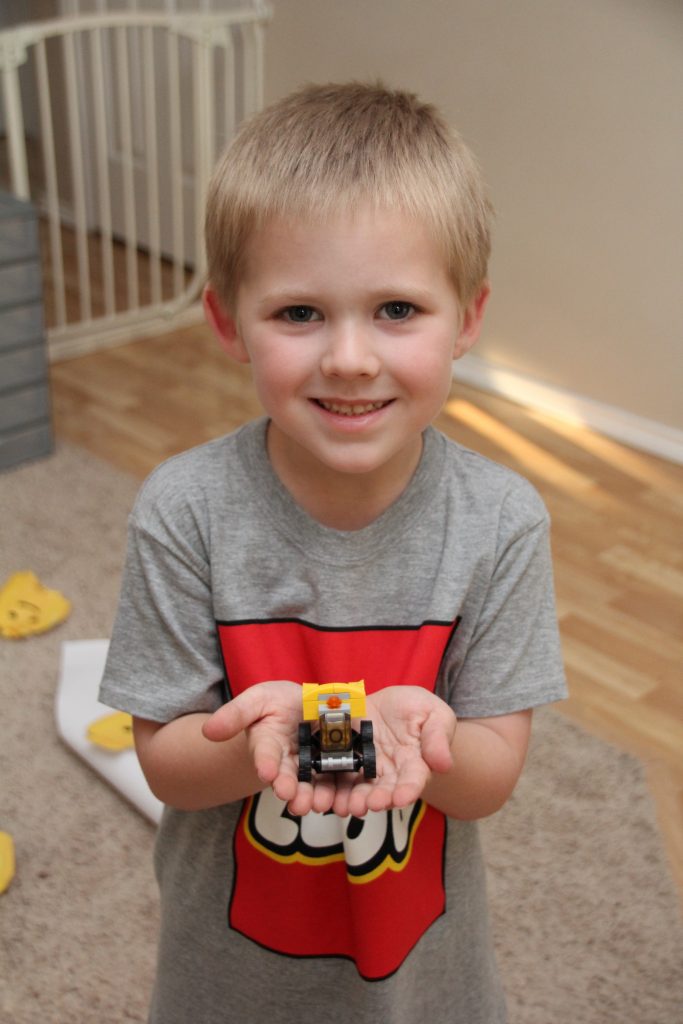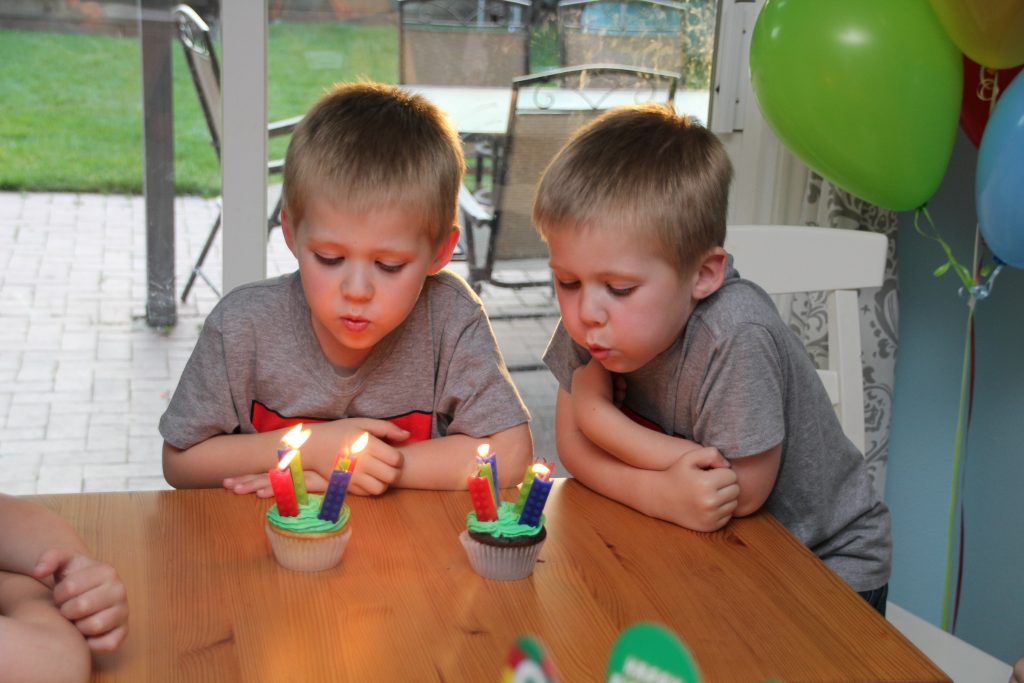 Here is everything you get with the free printable download. Fill in the blank invites included! Enjoy!  CLICK HERE (FOR PERSONAL USE ONLY)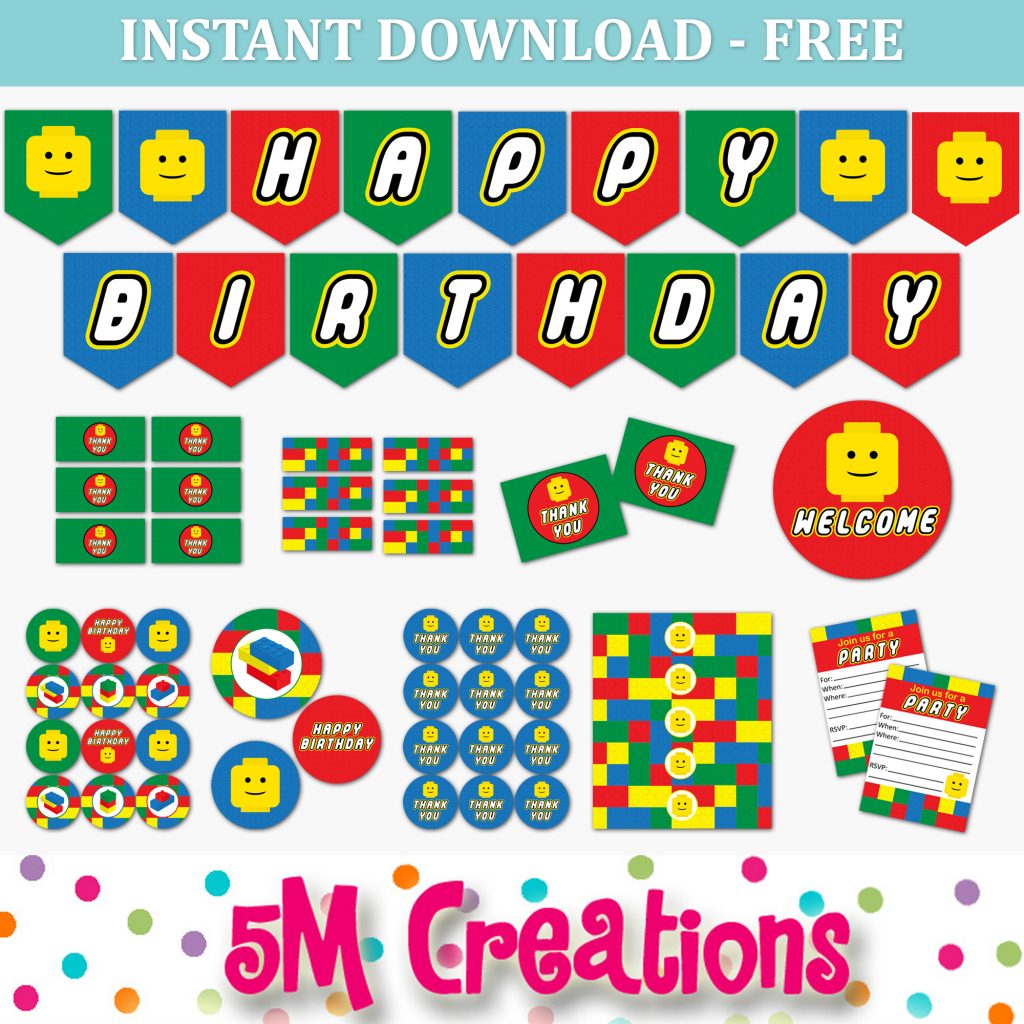 5M Creations August 17th, 2020
Posted In: Boy Birthday Party
Tags: free printables, freebies, lego birthday party, party printables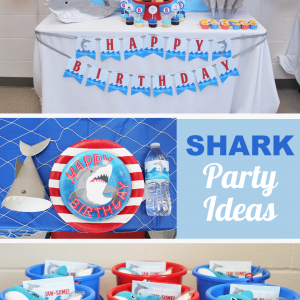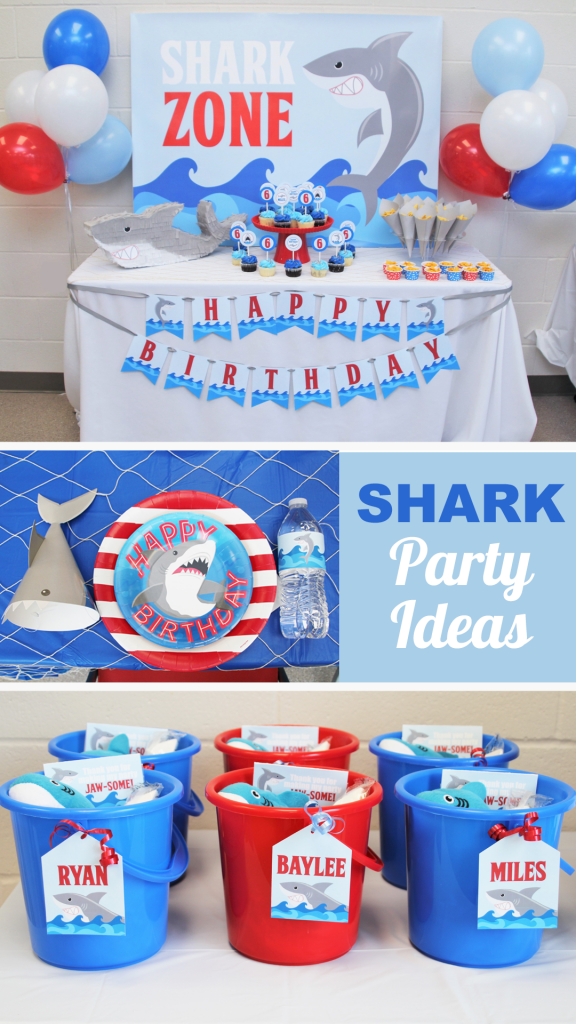 My son turned 6 in March and we were lucky enough to have his party right before the world closed down. He wanted a SHARK party, so the perfect location was our local pool. They had a great party room that we rented. We spent the first hour in the party room having treats and doing gifts. Then we swam for the rest of the time. It was great to have a space for the guests to keep their swim bags and take a break if needed.
I know sometimes it can be overwhelming to think about decorating somewhere other than at home, but it is possible. The key is reserving enough time to allow for set up before your party time. We got there 1 hour before to unload it all and set up the décor. I had a few party helpers to put things in place. My biggest tip is to arrive with everything READY TO GO! Have centerpieces fully assembled, banner strung, balloons in bouquets, and a bag of essentials like safety pins, tape, scissors, and anything you need for serving food items.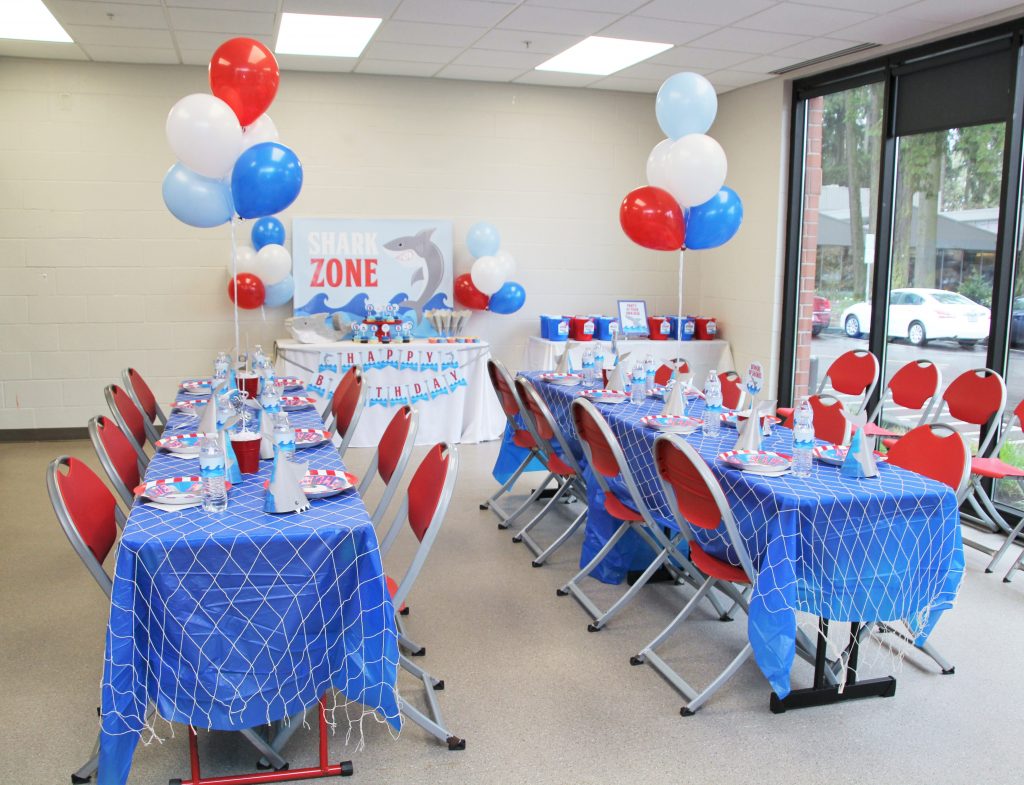 I kept the party table simple with a banner, easy to pop up backdrop sign and some balloons. Snacks were all easy to hand out items: cupcakes, goldfish, and shark teeth(bugles).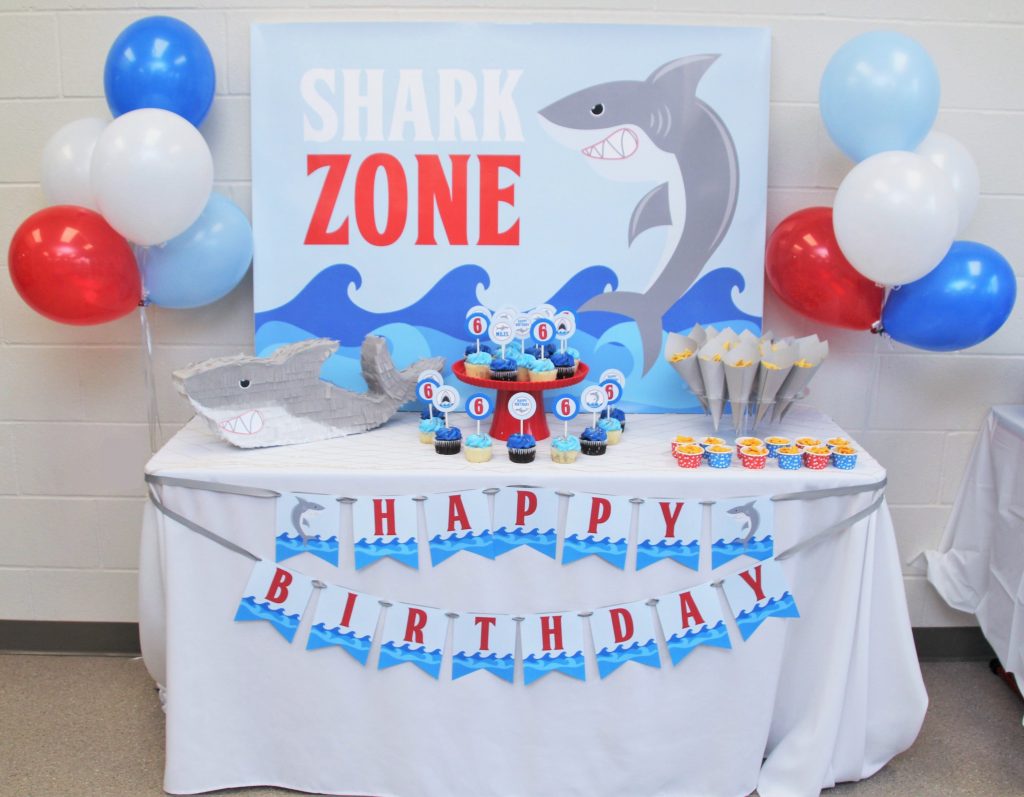 Cupcakes are my go to for parties with lots of guests. Easy to hand out and share extras with parents or siblings. I always grab an extra pack of cupcakes for just that reason. Printable editable shark cupcake toppers tied it all together with a fun red cake stand.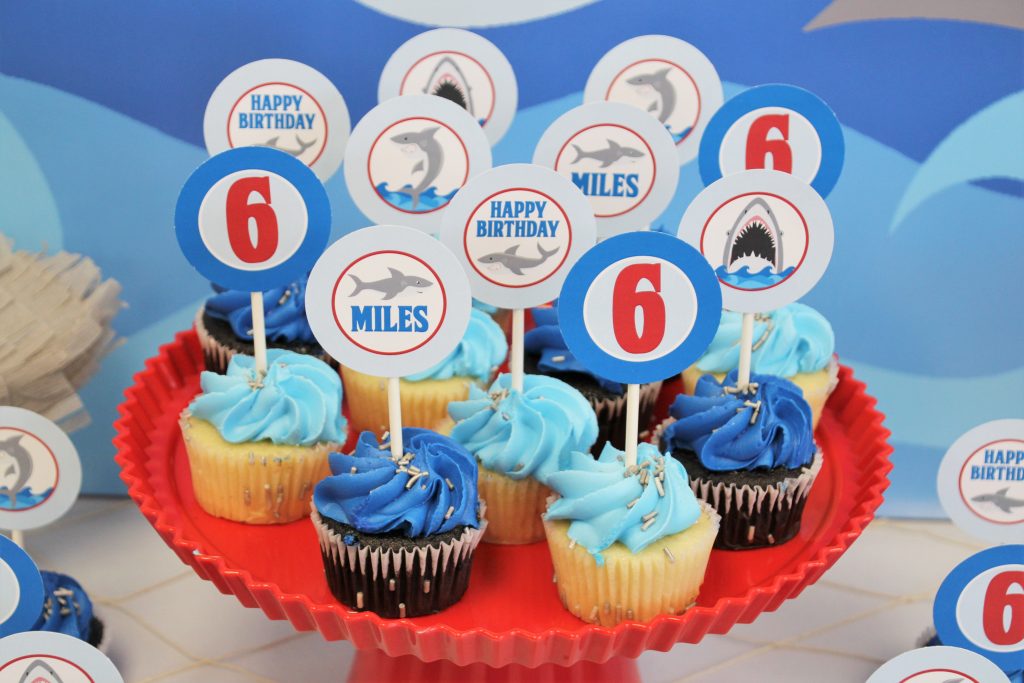 Originally this awesome shark piñata was going to be the centerpiece for my guest tables. After my amazing friend made this guy we realized they were going to be too big for the size of tables my venue had. I went to plan B and had him be part of our main table. He was way to cool to not have front and center. Can you believe she made this?
Shark fin paper cones were the perfect vessel for our shark tooth snack of bugles. I bought gray cardstock at my local craft store, folded and added some adhesive to keep them together. Super easy and so fun!
At the last minute I decided I needed one more thing to fill space on my table. I had these great mini treat cups in my party stash. Gold fish seemed like the obvious shark party snack.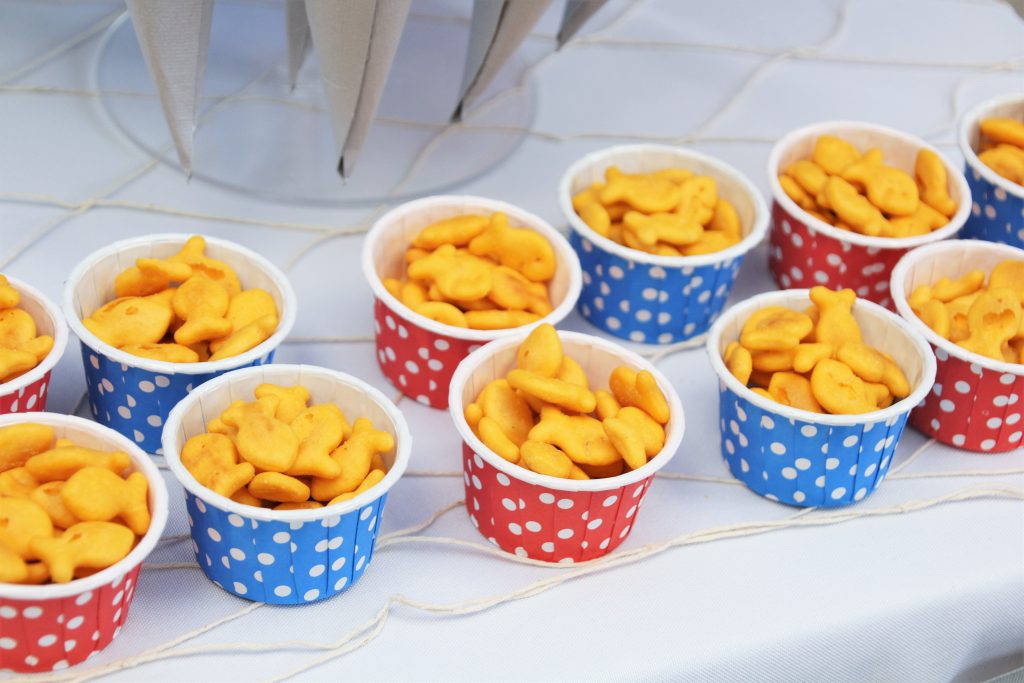 This printable Happy Birthday Shark banner was a great addition to the front of the table. It can be edited to say whatever you like when you purchase the printable package.

I love a printable backdrop for parties. Especially when it's not at home. I attach them to a canvas and it is ready to be popped up on a table. They make a great big impact with little work.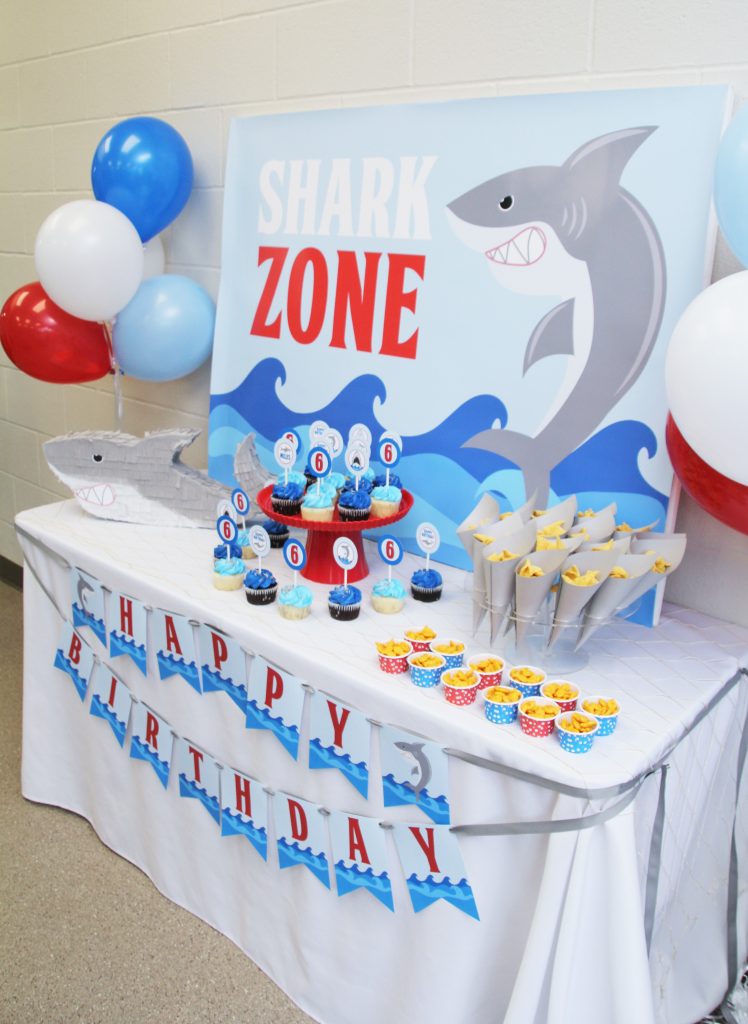 The main focal point of the room was definitely the guest tables. I added some balloons to the center to add some color and fill up the space the tall ceilings provided in the room. I started with plain blue plastic table cloths. Easy, cheap and can be thrown away on site at the end of the party. Then I started layering. Fishing net gave a great texture and under the sea feel to the tables.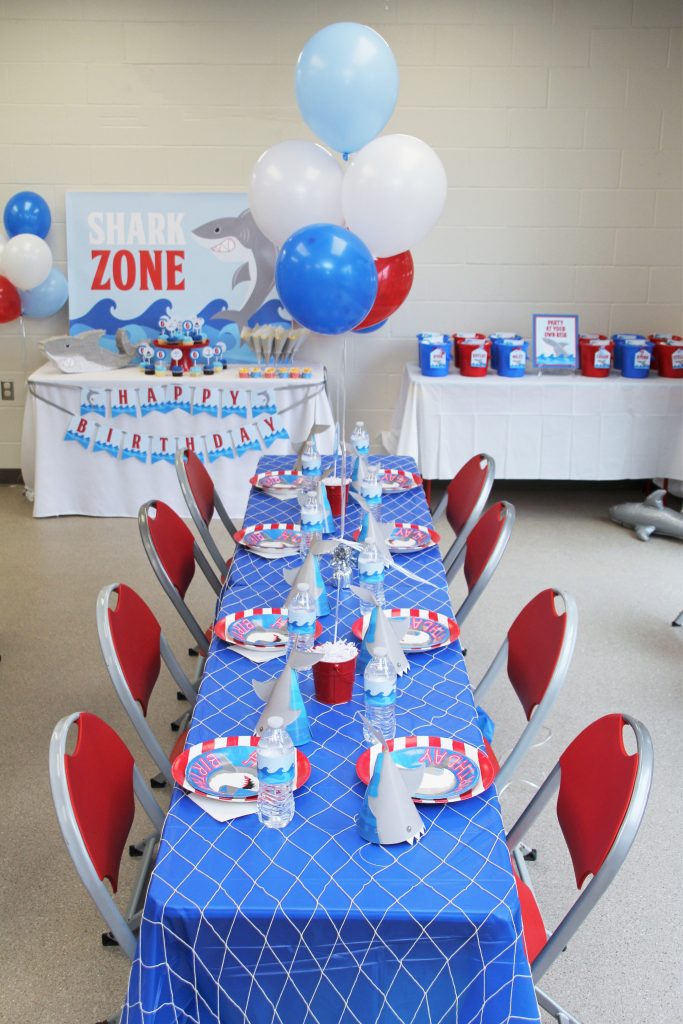 Each place setting had layered red and white striped plates and these awesome shark plates I found at Hobby Lobby. I added printable labels to the water bottles. The big hit were the shark party hats my son had to have also from Hobby Lobby.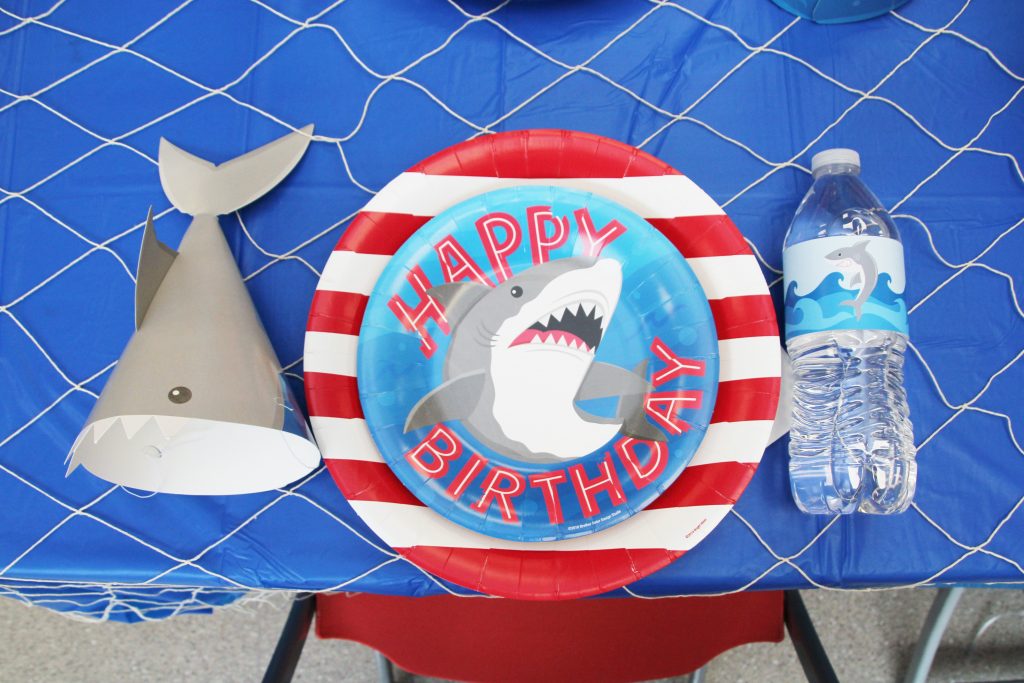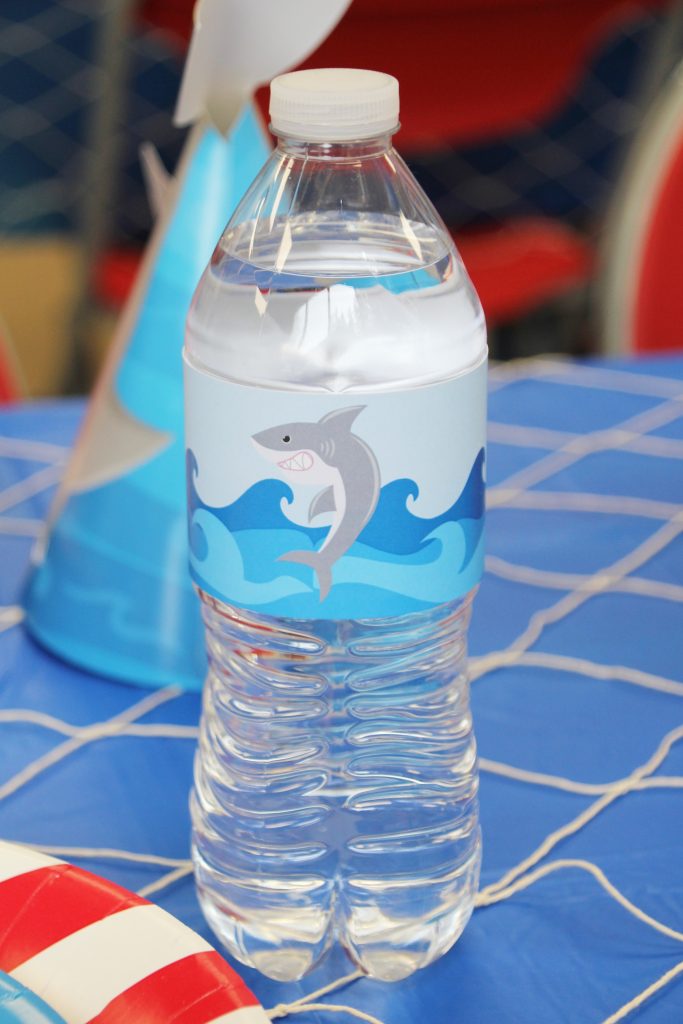 Down the center of the tables I had mini red buckets featuring printable shark centerpiece circles. There were 4 designs.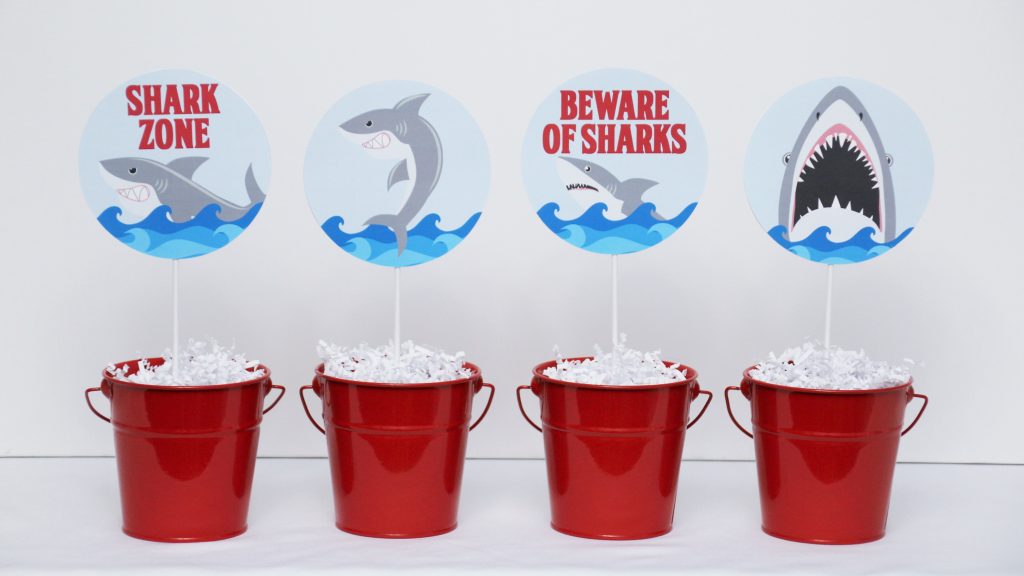 My cute birthday boy had such a blast at his shark birthday party!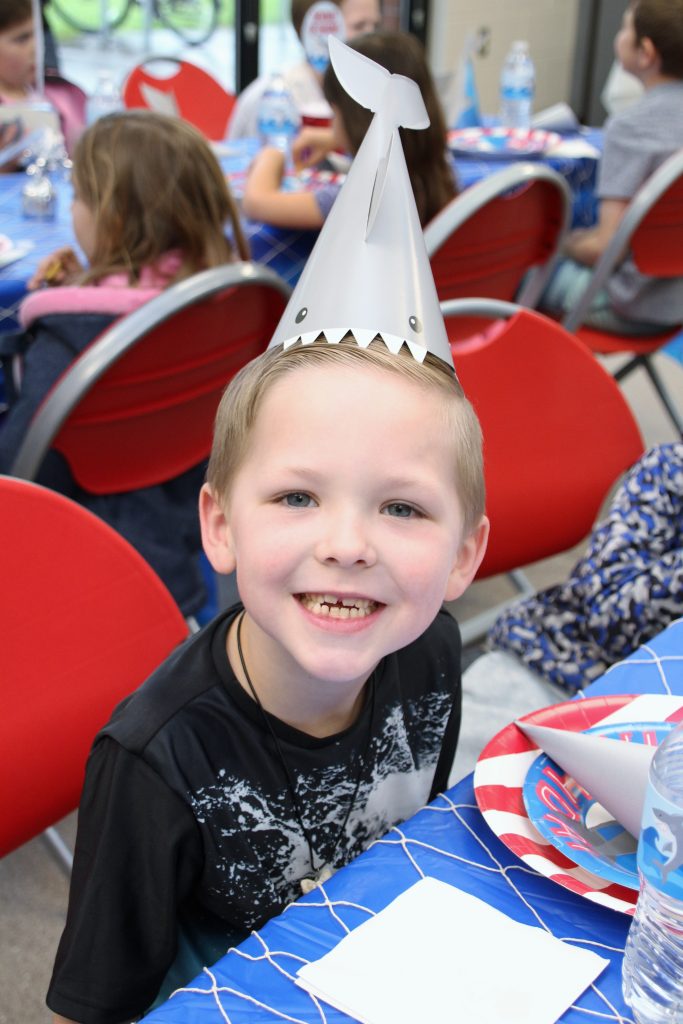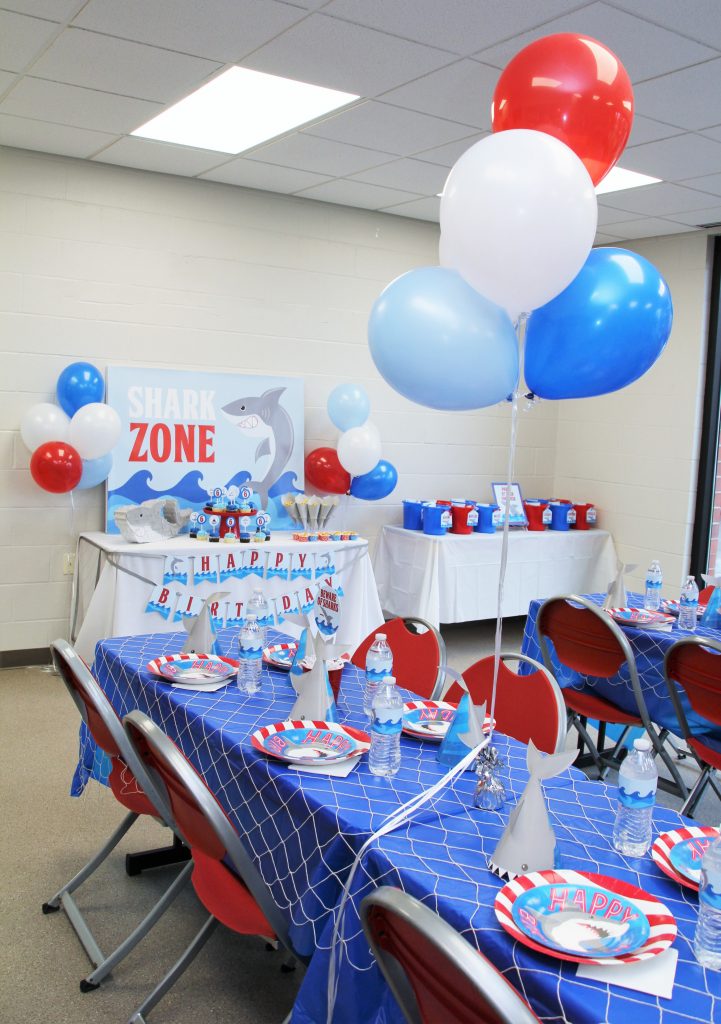 Party favors were fully contained and easy to grab and go in these red and blue sand buckets from Oriental Trading Co. Each bucket contained a plush shark. gummy sharks with a printable treat bag topper, shark tattoos, and a shark tooth candy necklace.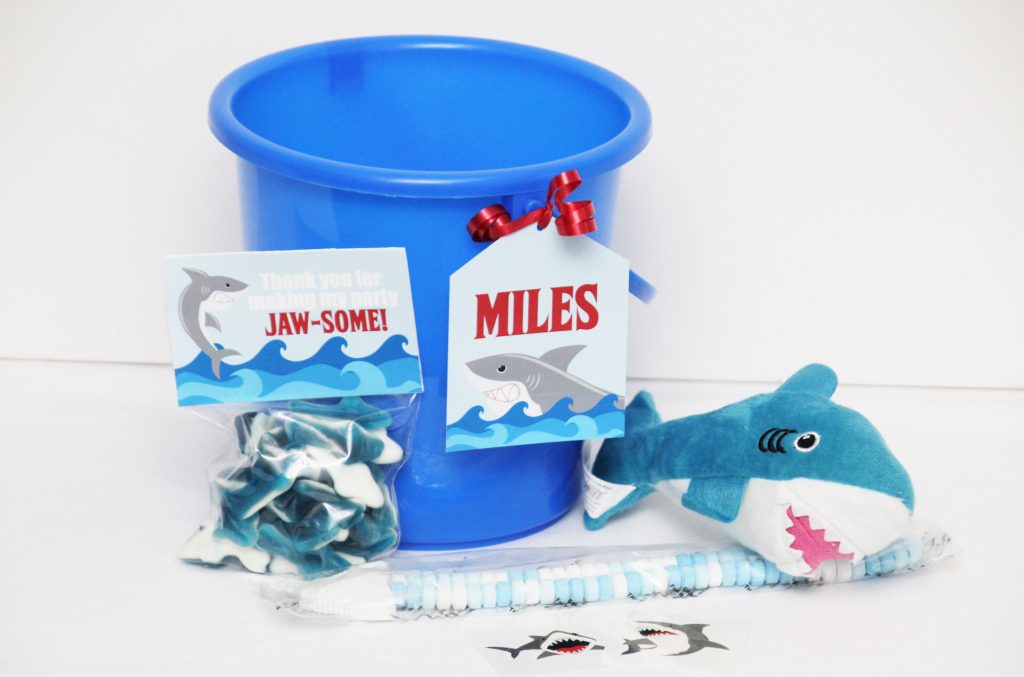 Printable name tags made it easy for guests to know to take their gift at the end. My kids always love seeing their names on things. It makes that gift even more special.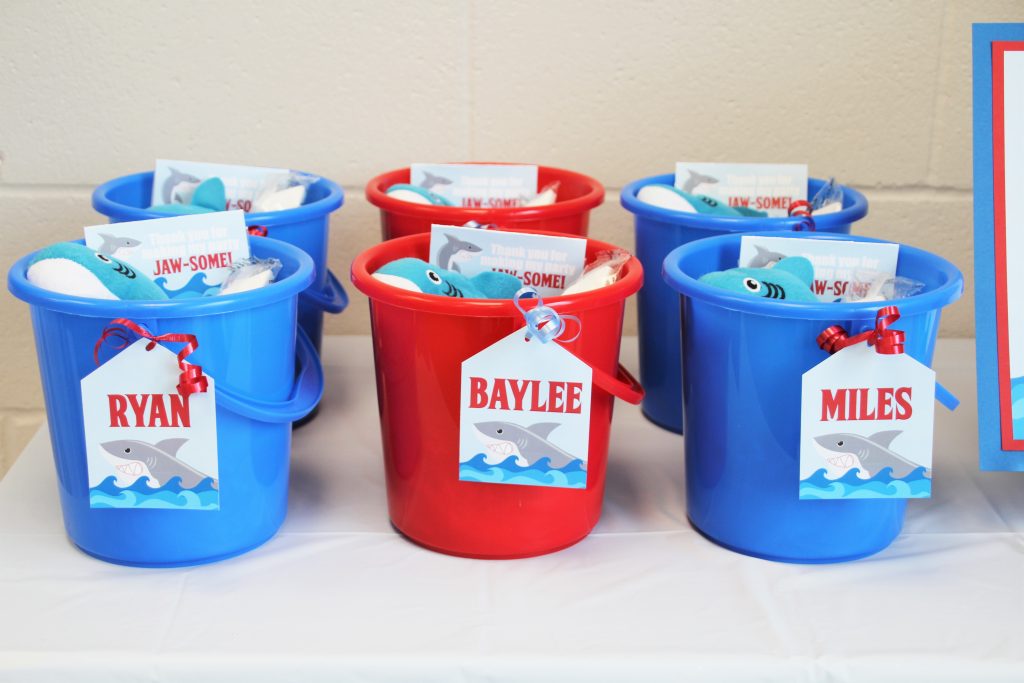 These tags are also fully editable with the printable shark party package.
While this was not the intention when I originally created this sign for the party, the parents had a big laugh at this sign with Coronavirus just starting to rear its head. Little did we know what was coming. To the kids it was a fun shark addition to the party.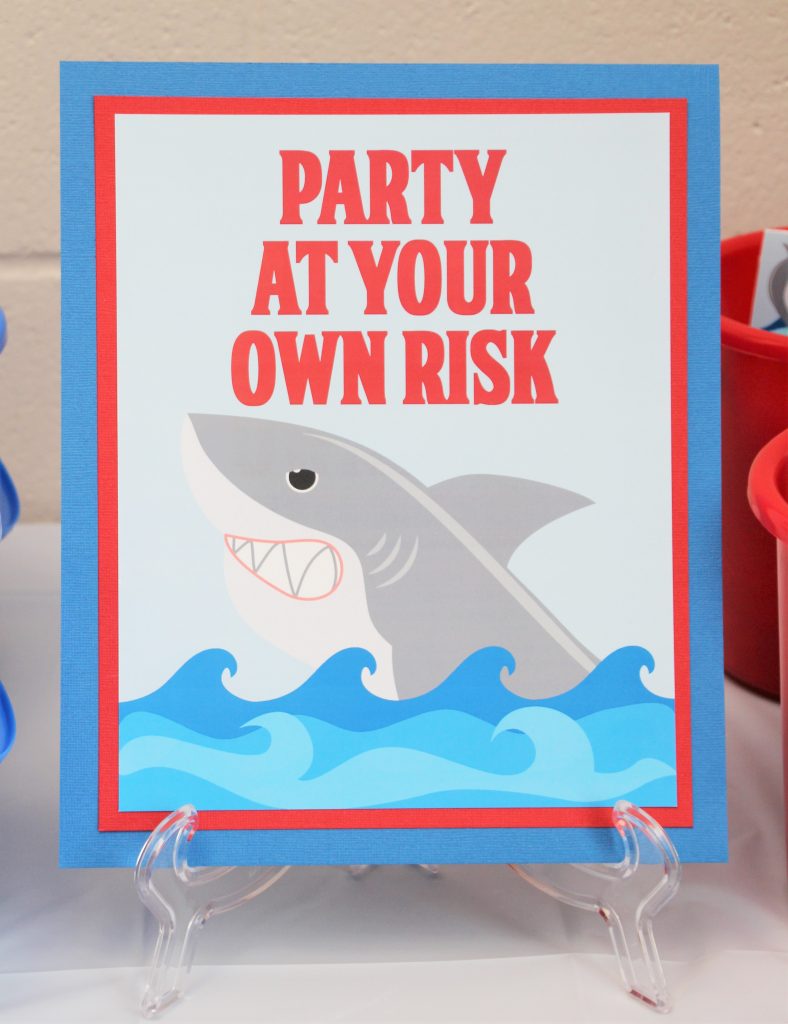 I absolutely love how this party turned out and I am so thankful we got to squeeze it in before we were home for the weeks ahead. We have since celebrated 2 at home quarantine birthdays. While they didn't look like this, I know they will be remembered for years to come. Even at home we have had a fun time being creative and celebrating the ones we love. I look forward to when I can throw our next big party with all of our friends gathered around. For now I hope you enjoyed this party and can save away a few tips for your next event. I know many people are planning a big bash when the world returns to normal.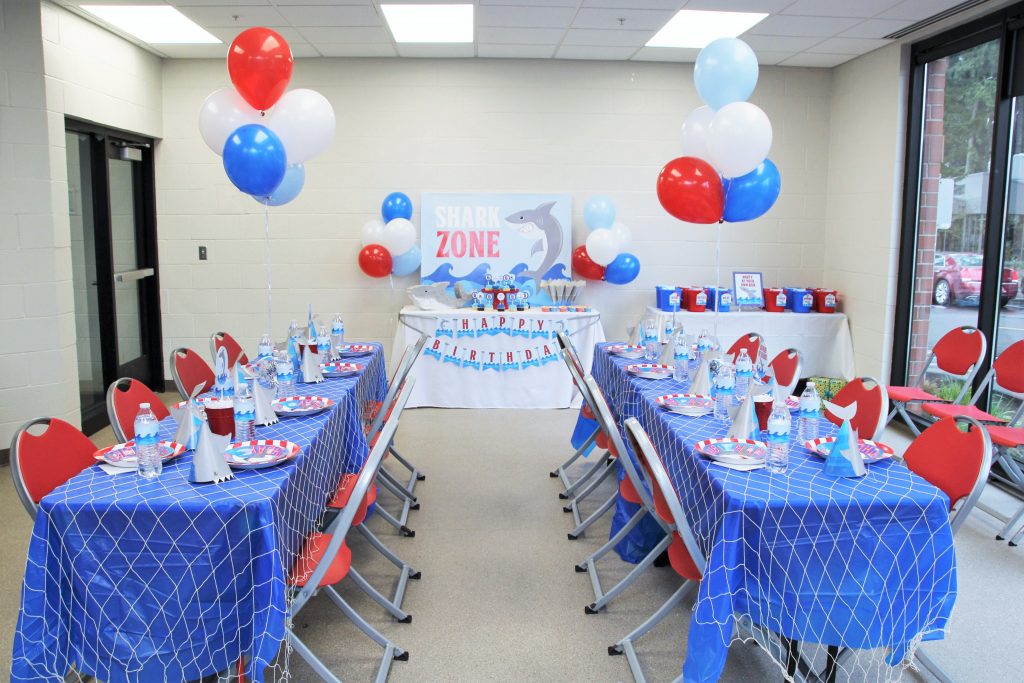 Editable Printable SHARK Party Package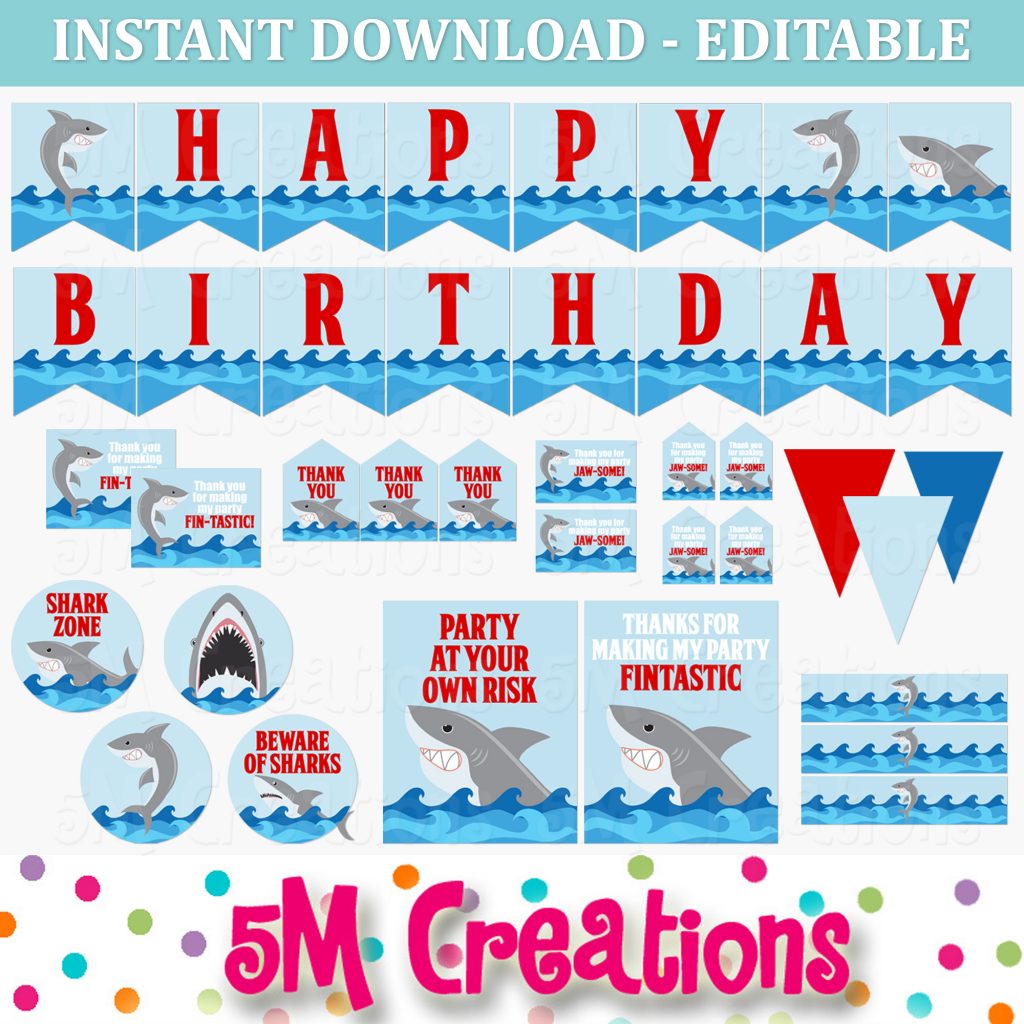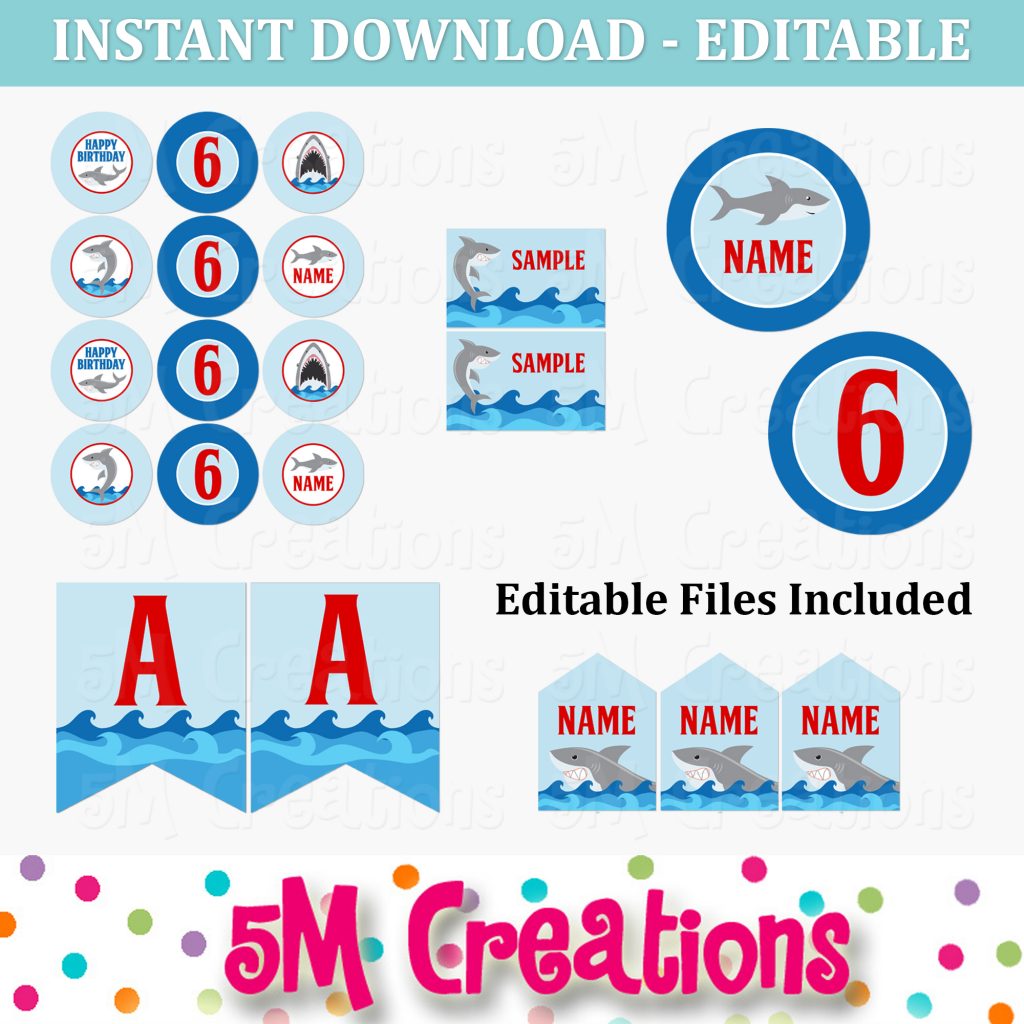 Editable Printable Shark Party Invitation
Party Supplies:
All Printable Supplies by 5M Creations
Plush Sharks- Oriental Trading Co 
Shark Tooth Necklace- Oriental Trading Co.
Sand Bucket- Oriental Trading Co.
Table Netting- Oriental Trading Co.
Blue Tablecloth- Oriental Trading Co.
Shark Party Hats- Hobby Lobby
Shark Tattoos- Hobby Lobby
Shark Plates- Hobby Lobby
Red/White Striped Plates- Hobby Lobby
Red Centerpiece Bucket- Hobby Lobby (mutliple sizes available)
Clear Cone Holder- Amazon (AD) (not exact one used but similar style)
5M Creations May 12th, 2020
Posted In: Boy Birthday Party
Tags: boy party, party ideas, party printables, pool party, shark birthday, shark party, summer party