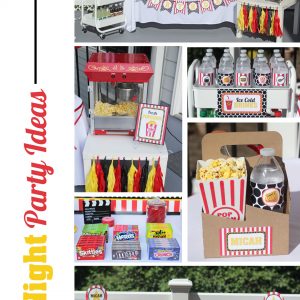 My twins didn't get to have a party this year due to quarantine so we celebrated later in the summer with a backyard movie night. It was a great way to see a few friends with minimal contact. I set up this fun concessions table with portioned snacks for everyone.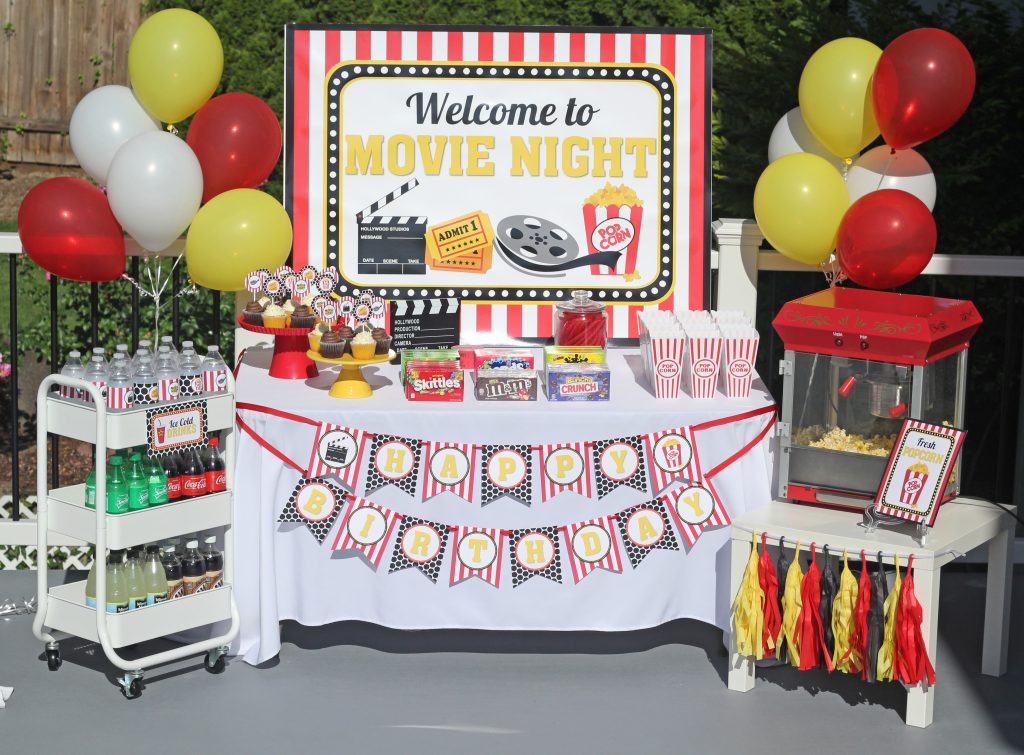 This art cart made a fun drink station for the boys. I added a printable sign and water bottle labels to fit the theme.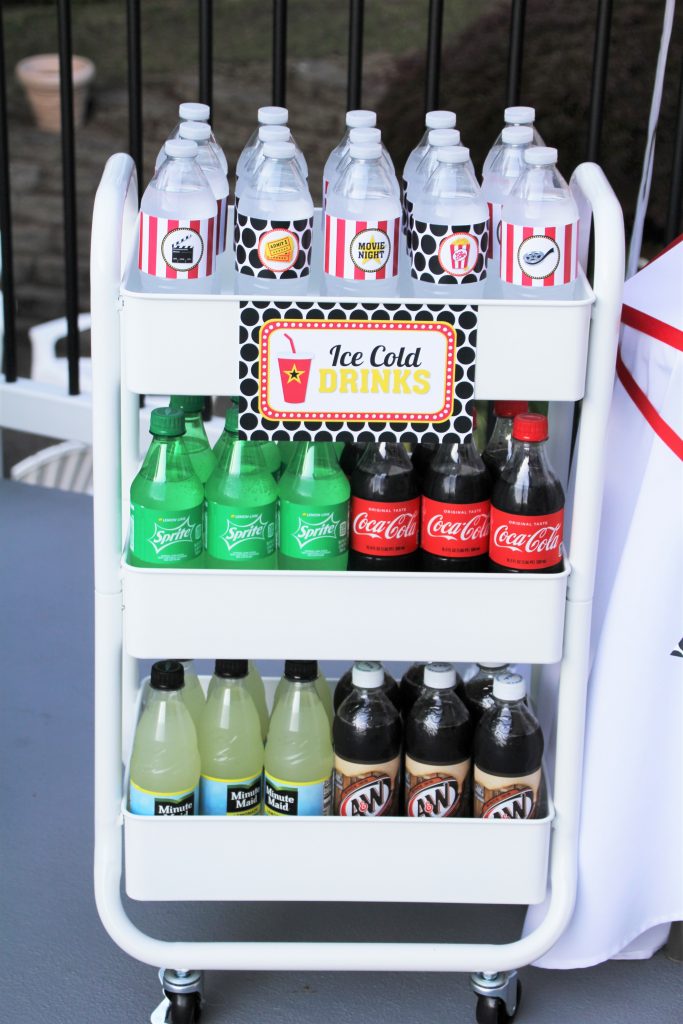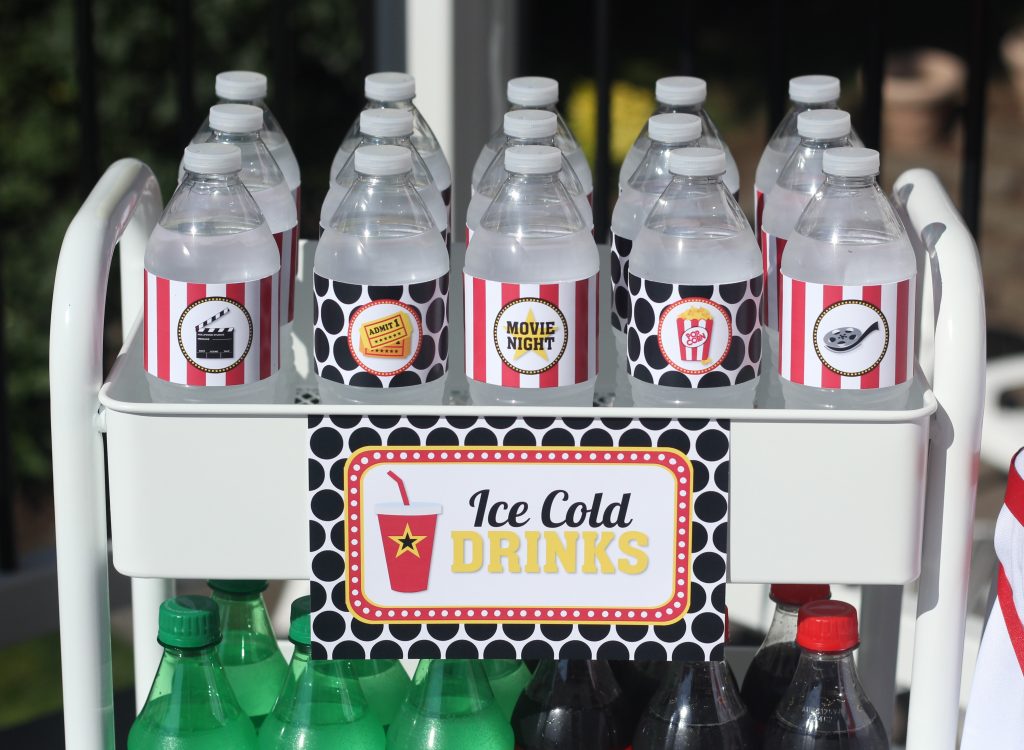 We served cupcakes, licorice, popcorn, and of course candy! All the classic movie treats. Each boy came up one at a time to grab their goodies. Even though we were celebrating late we added a fun movie inspired Happy Birthday printable banner to the table.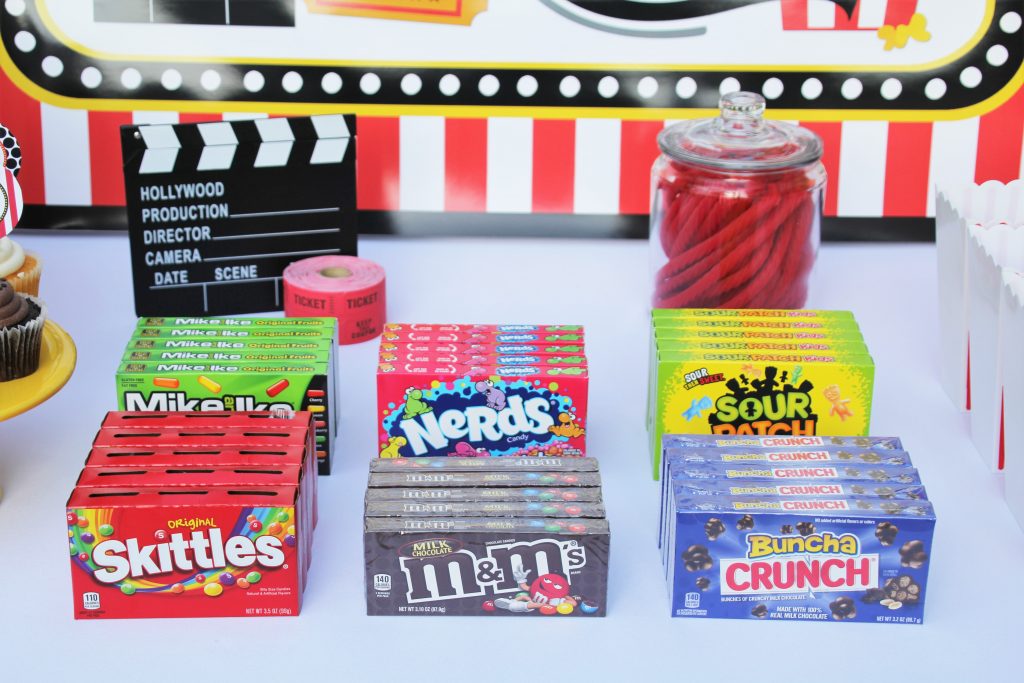 You can find these great popcorn containers on AMAZON HERE (AD) as well. Perfect to use for any movie night at home and they are reusable.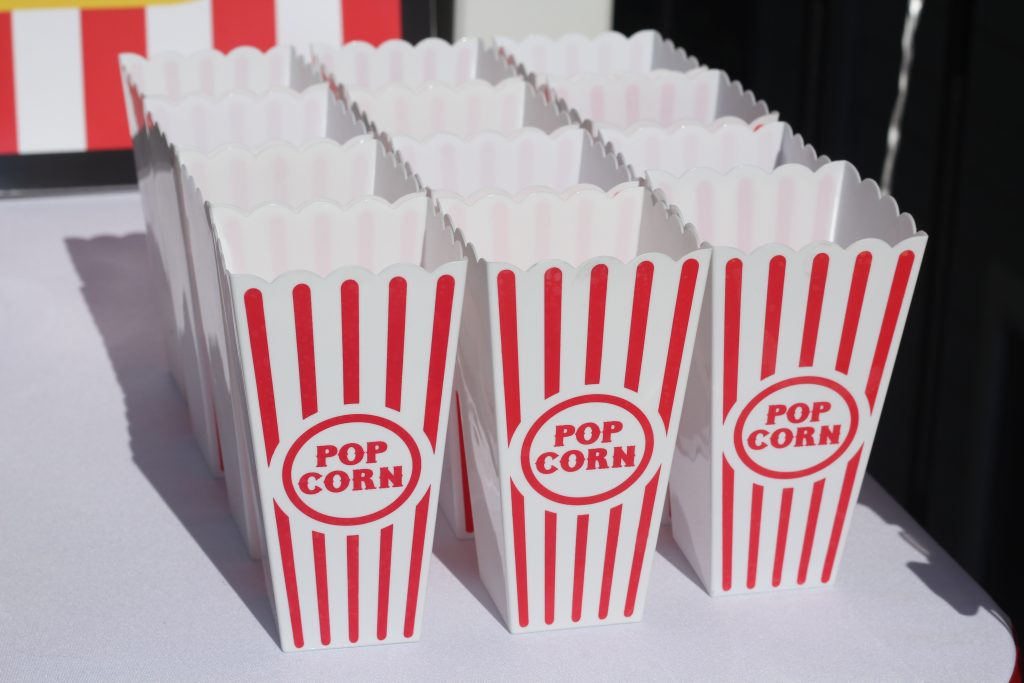 Printable movie cupcake toppers featured film rolls, tickets, popcorn and more. Perfect for a movie night even without a birthday party.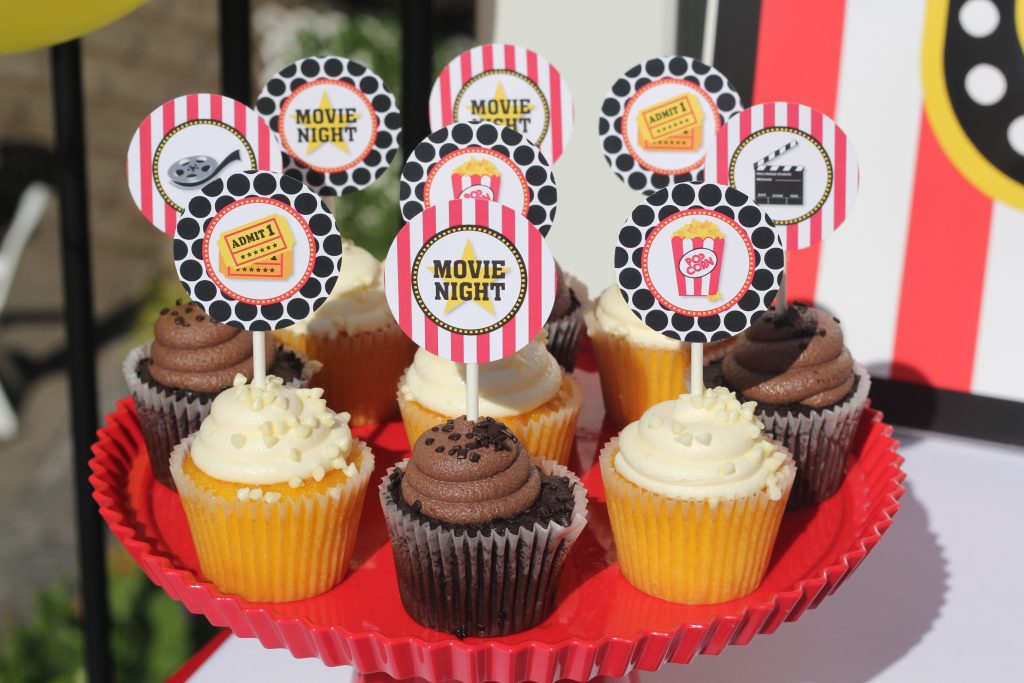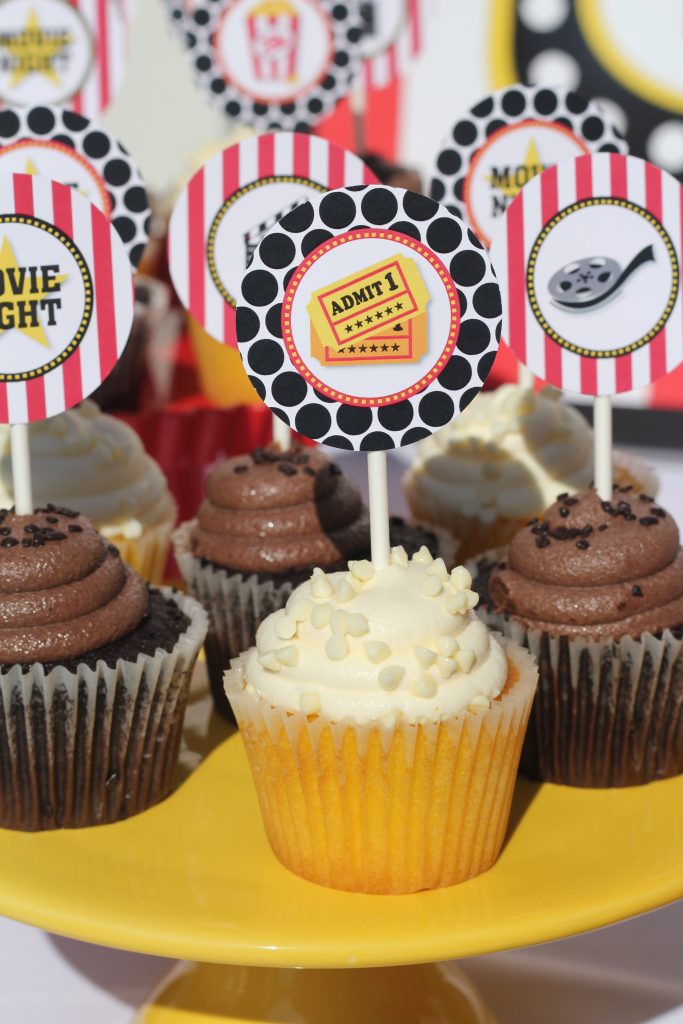 We were lucky enough to borrow this awesome popcorn machine from my parents. Every movie theater needs the smell of freshly popped popcorn.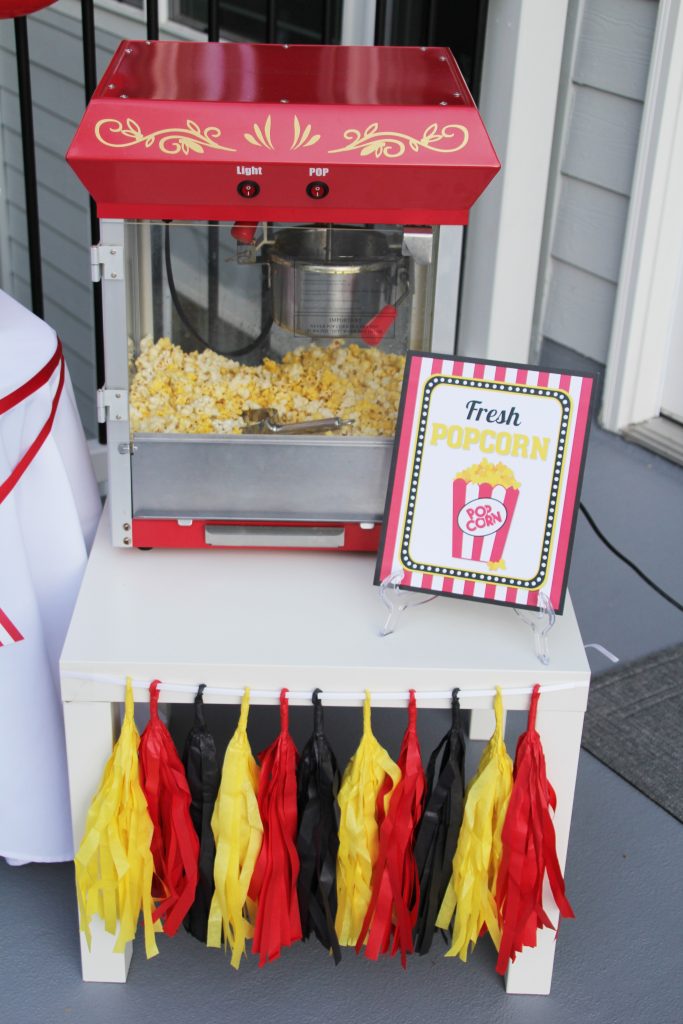 I created this smaller table to hold carriers for each guest. They were able to carry home any leftovers in their personalized box. I love the banner with oversized cut outs of the movie images.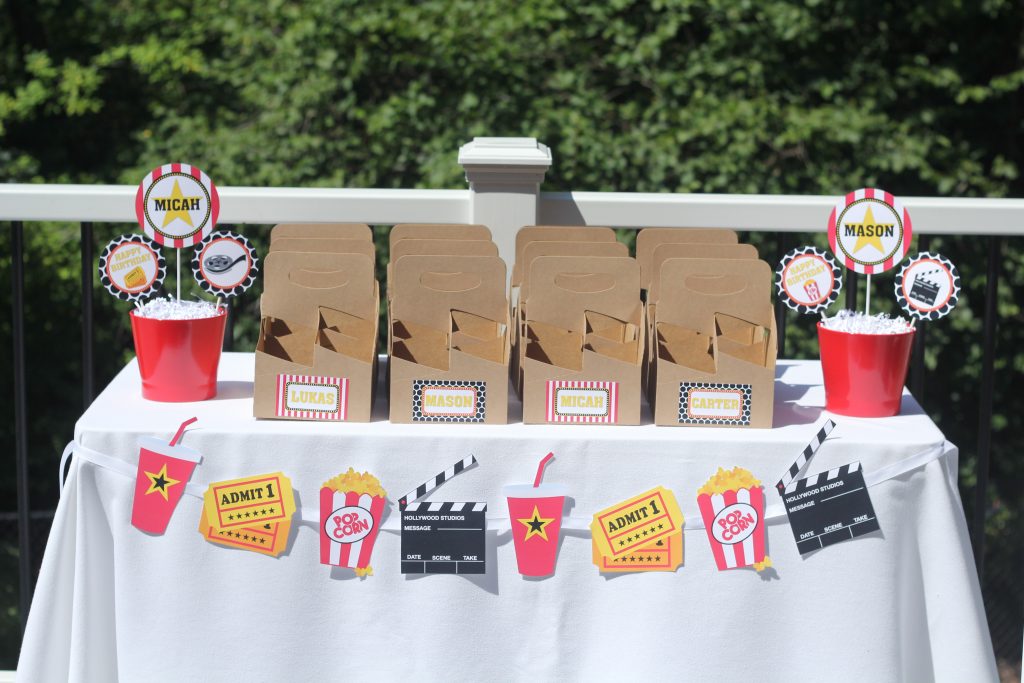 Both birthday boys had a centerpiece featuring his name on a star.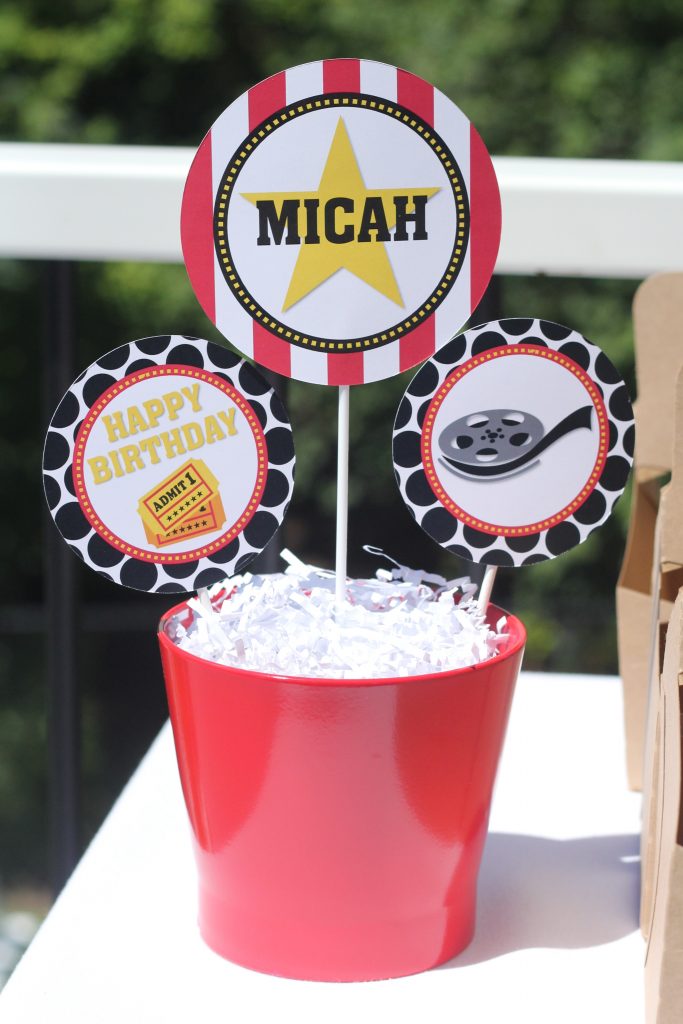 Each guest received a carrier to hold all of their treats. They were able to hold 2 beverages, popcorn, and several boxes of candy. This helped them keep their items from being mixed up and much less contact. You can find them HERE ON AMAZON (AD).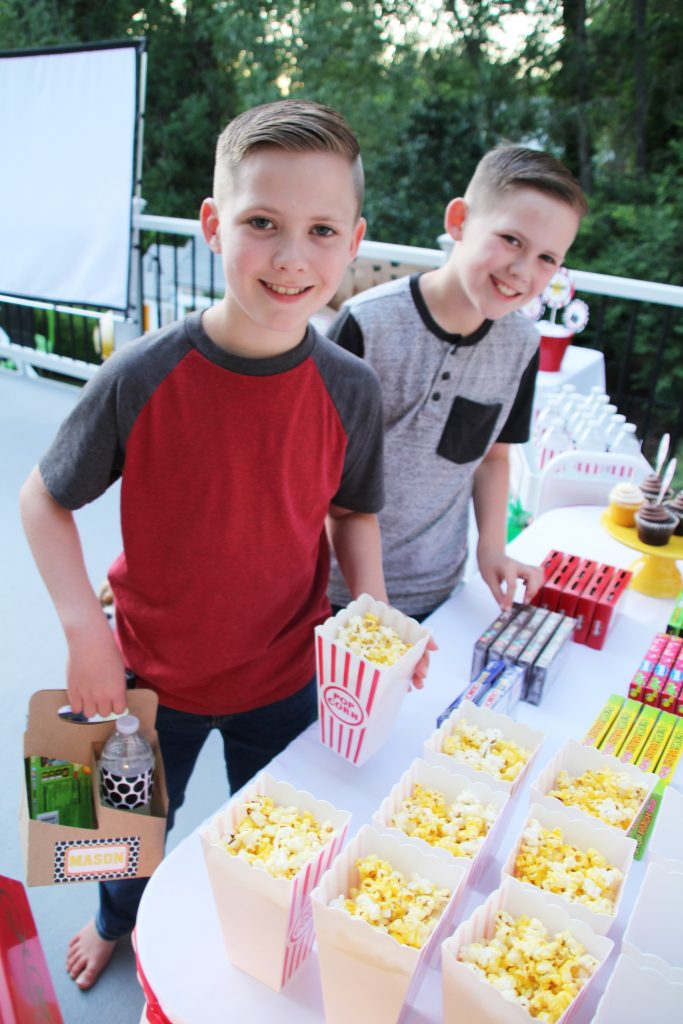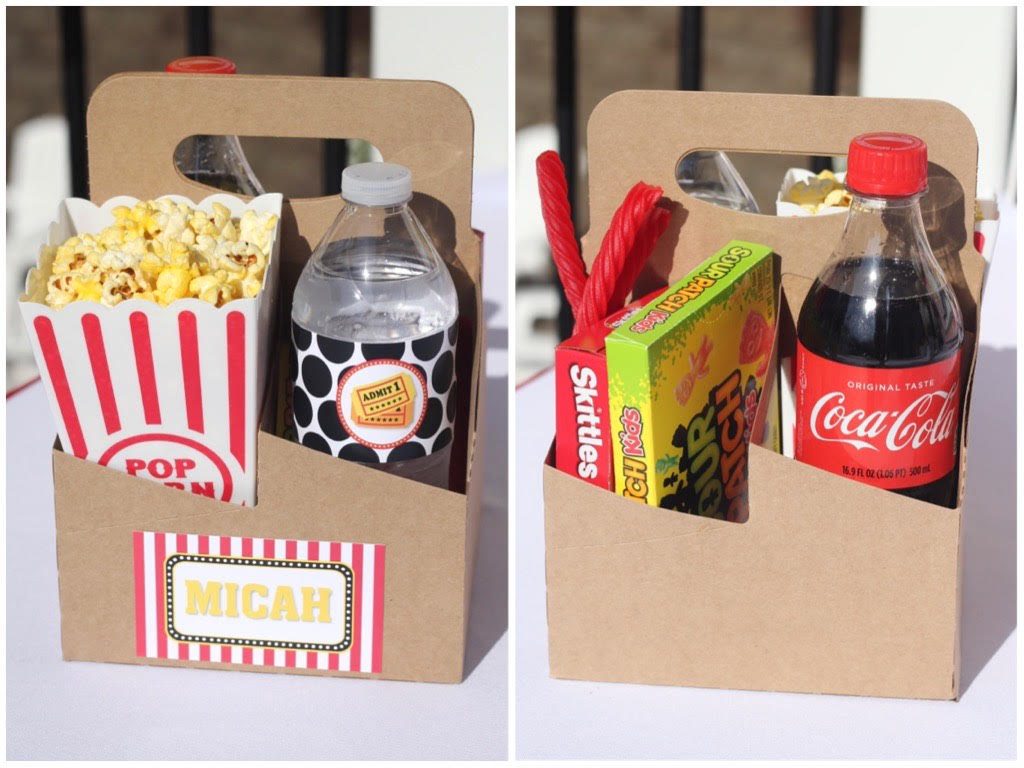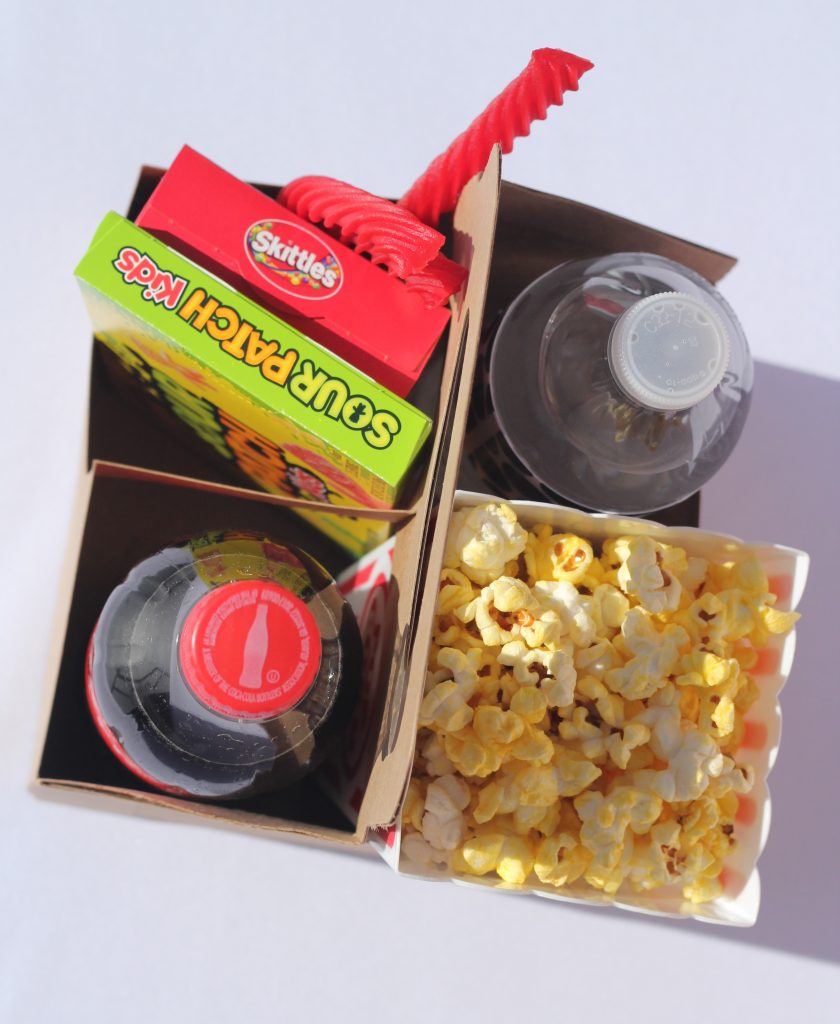 This was such a fun summer party set up! We were lucky to have a warm evening to enjoy our movie.
I have been loving these large printable signs as backdrops for my parties. They are a great way to incorporate your theme and they are so easy to use. I get mine printed at a local print shop then mount it on poster board or a large canvas that I use over and over for parties using command strips. Just set it on the table and you have instant decor.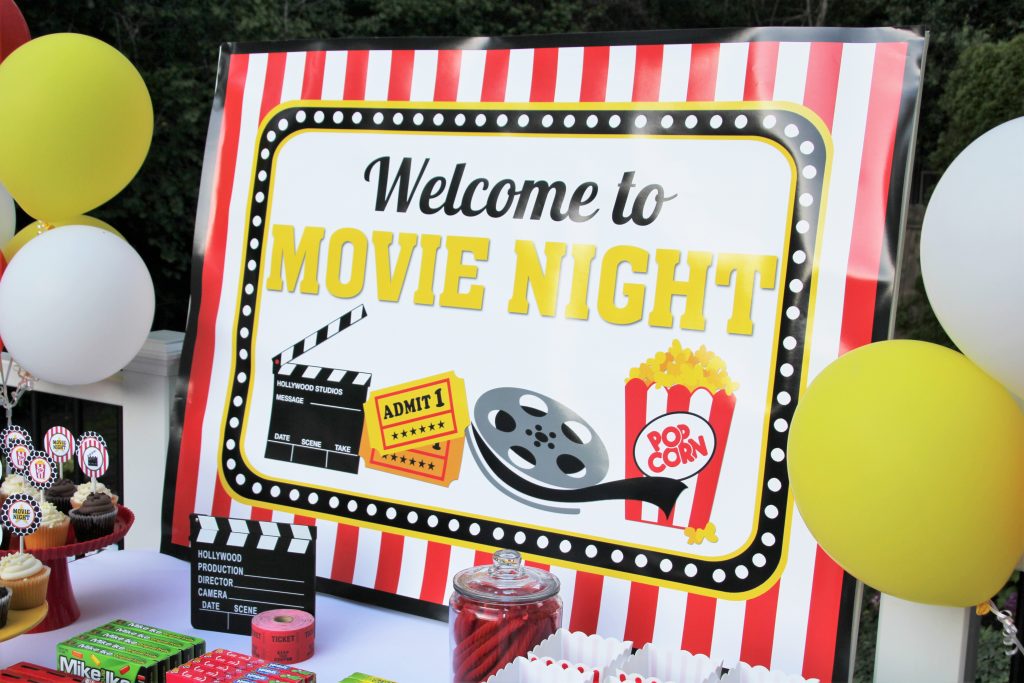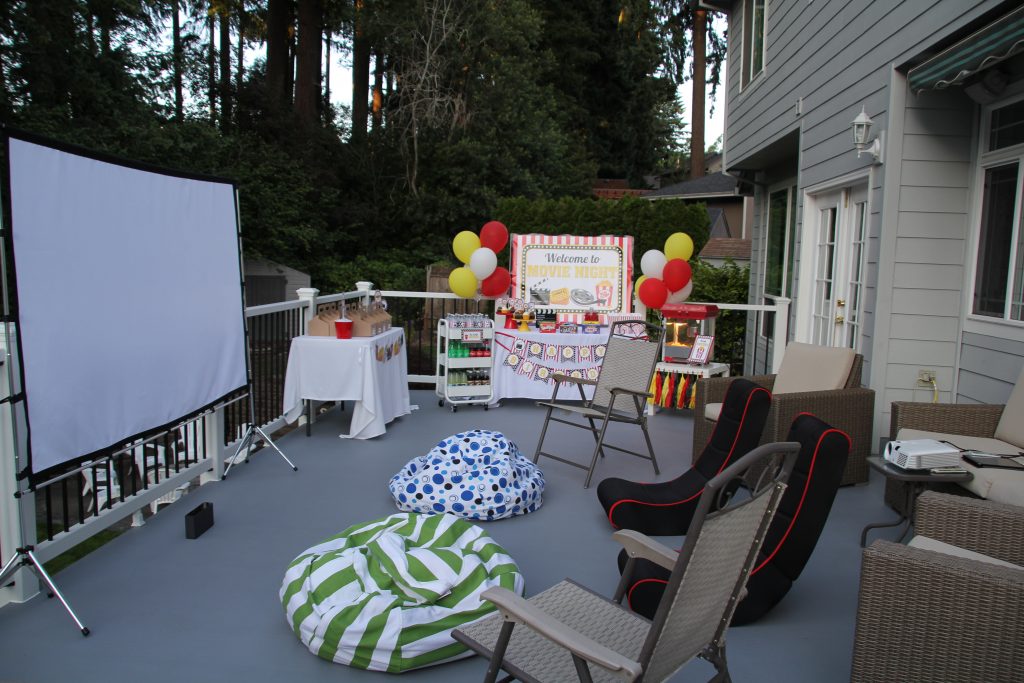 Even without a birthday this is such a fun summer activity. Just skip the birthday banner and create one using the editable files saying Movie Night or any other custom text. Why not set up a family movie night in the backyard? Make it extra special with my printable package! Perfect for an end of summer bash! Find the printables HERE!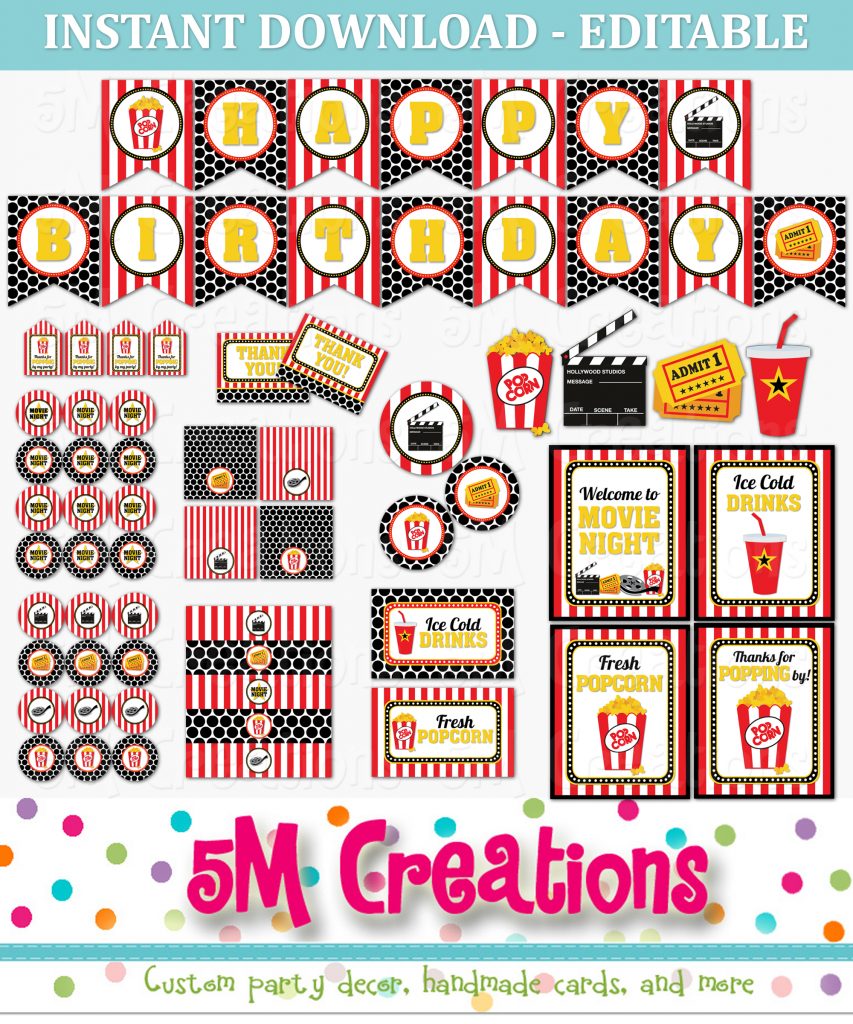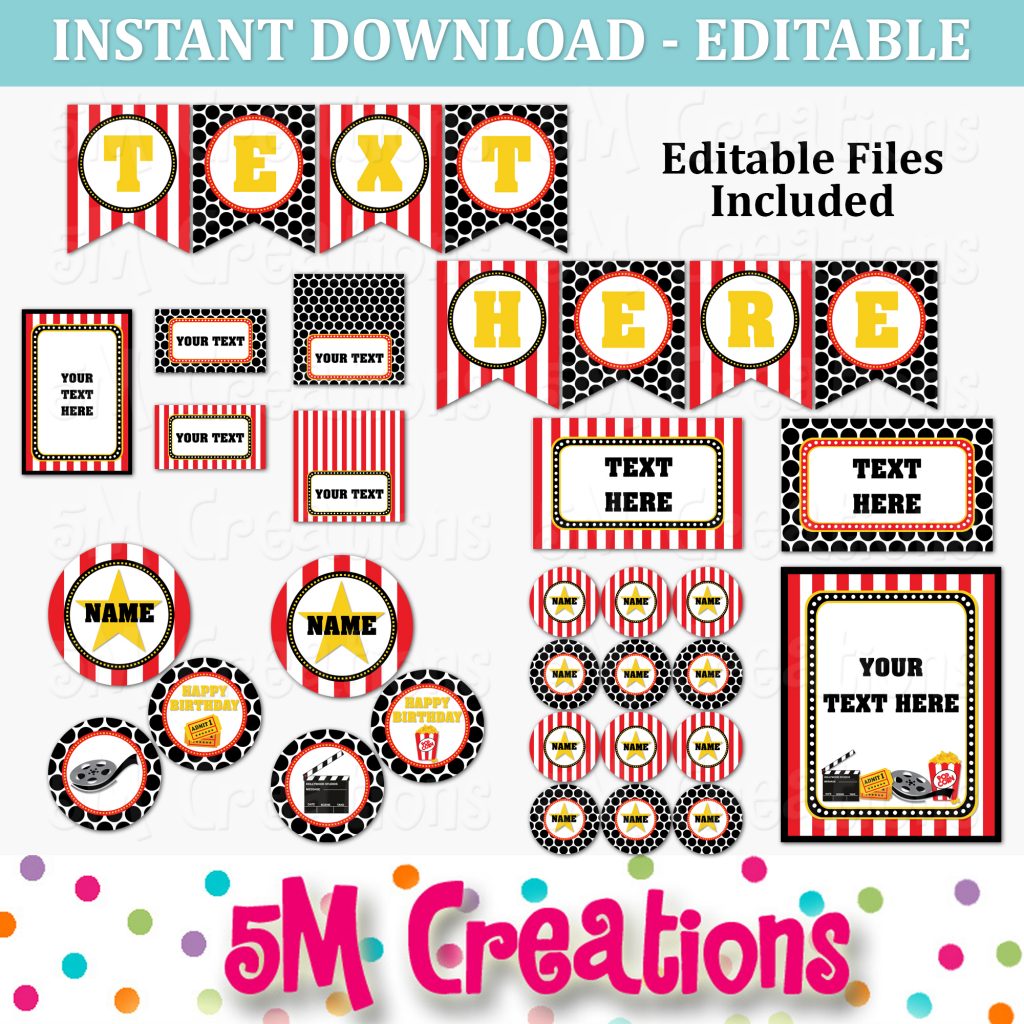 I also have a POPCORN party package available in my store for a slightly different look.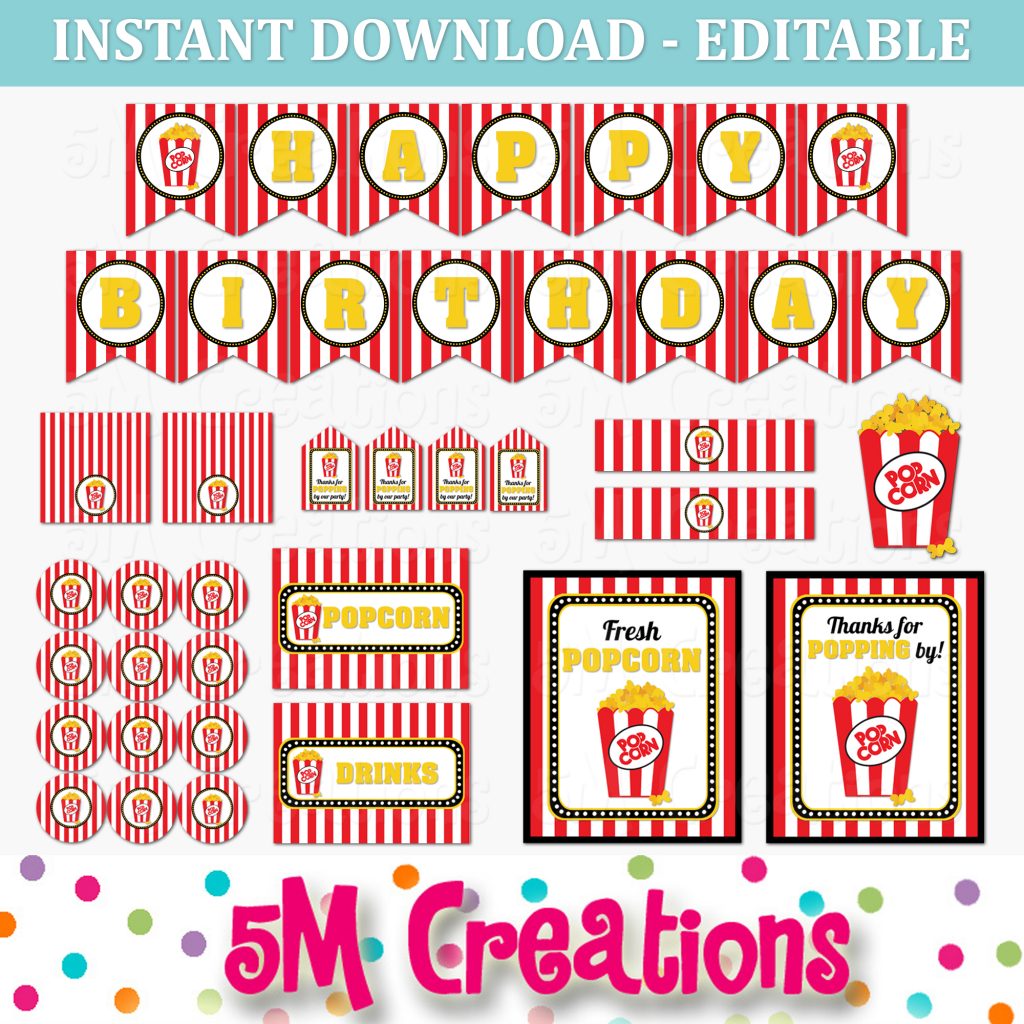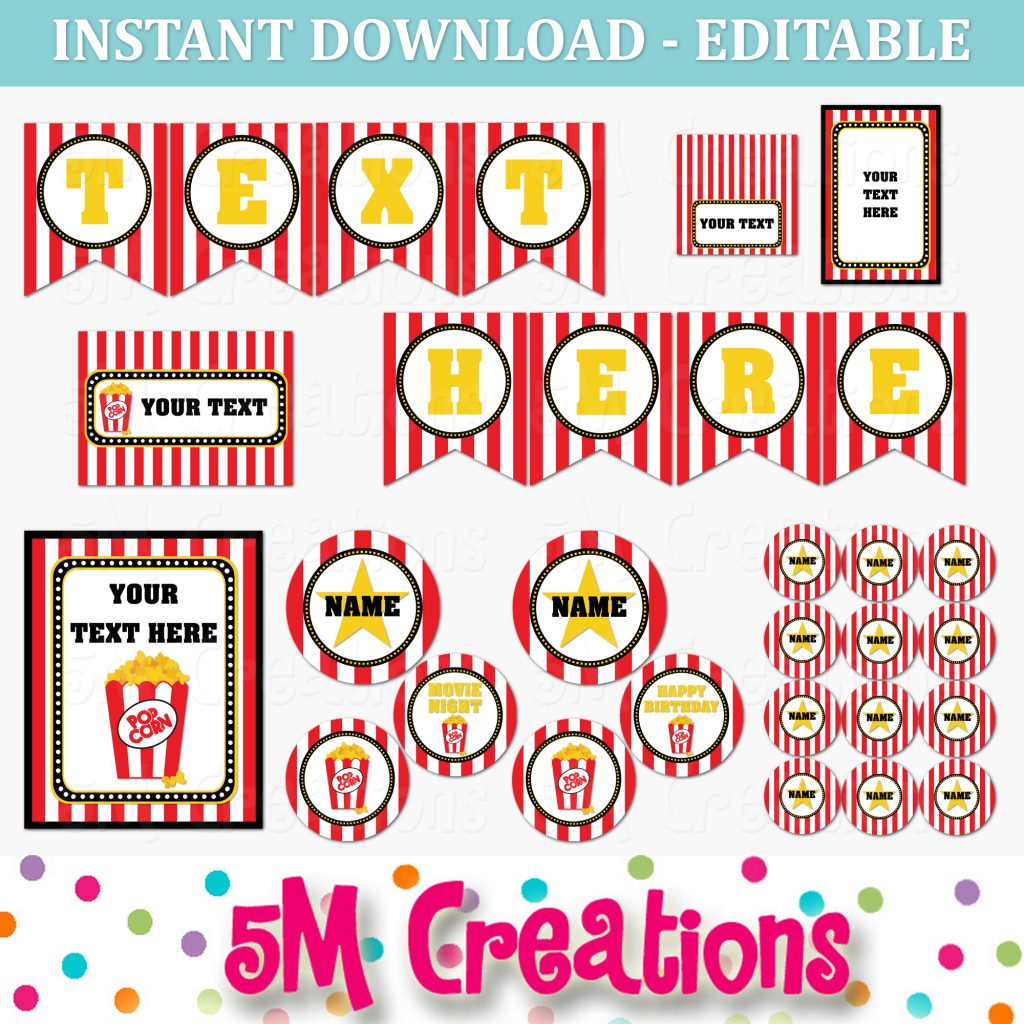 Hope you are enjoying the rest of your summer and creating special moments with those around you.
5M Creations August 7th, 2020
Posted In: Boy Birthday Party, Girl Birthday Party
Tags: backyard movie night, movie night, movie party, party ideas, printable decor, summer party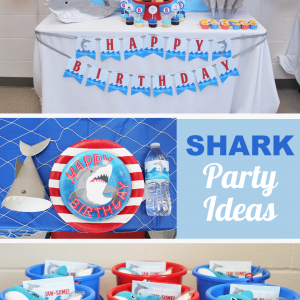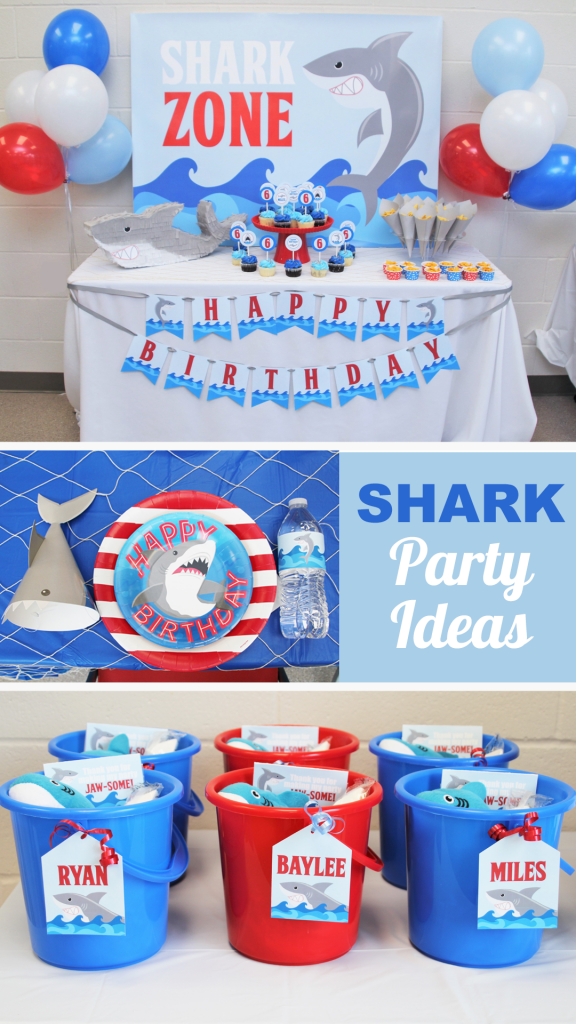 My son turned 6 in March and we were lucky enough to have his party right before the world closed down. He wanted a SHARK party, so the perfect location was our local pool. They had a great party room that we rented. We spent the first hour in the party room having treats and doing gifts. Then we swam for the rest of the time. It was great to have a space for the guests to keep their swim bags and take a break if needed.
I know sometimes it can be overwhelming to think about decorating somewhere other than at home, but it is possible. The key is reserving enough time to allow for set up before your party time. We got there 1 hour before to unload it all and set up the décor. I had a few party helpers to put things in place. My biggest tip is to arrive with everything READY TO GO! Have centerpieces fully assembled, banner strung, balloons in bouquets, and a bag of essentials like safety pins, tape, scissors, and anything you need for serving food items.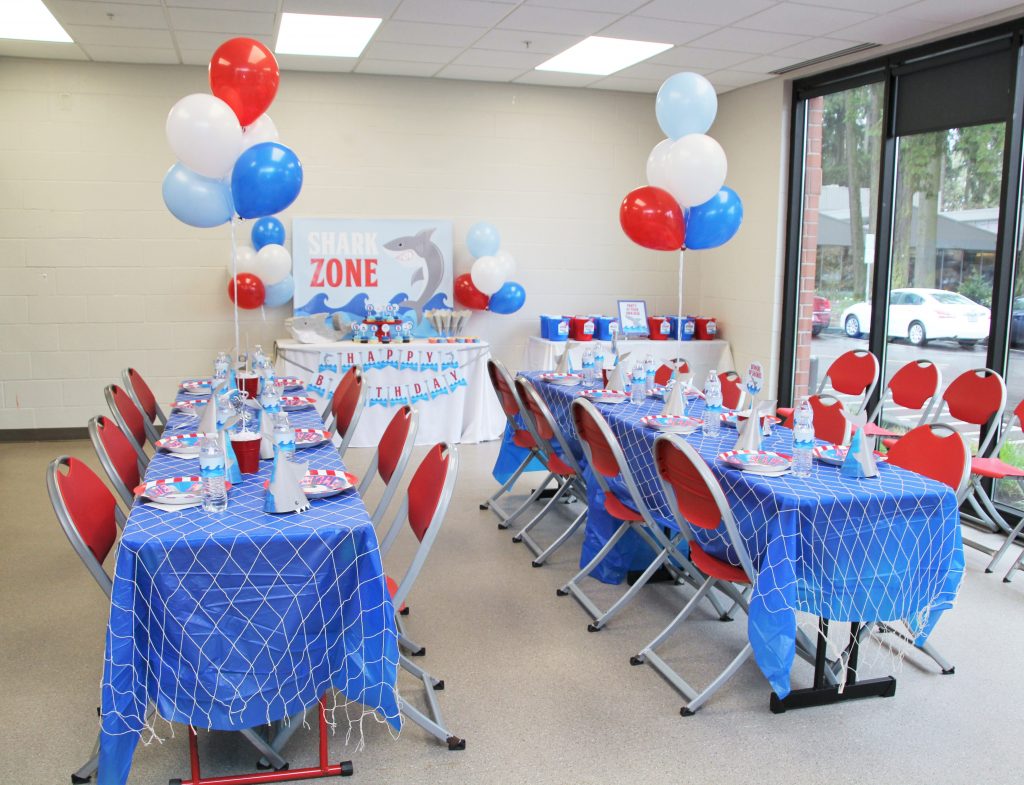 I kept the party table simple with a banner, easy to pop up backdrop sign and some balloons. Snacks were all easy to hand out items: cupcakes, goldfish, and shark teeth(bugles).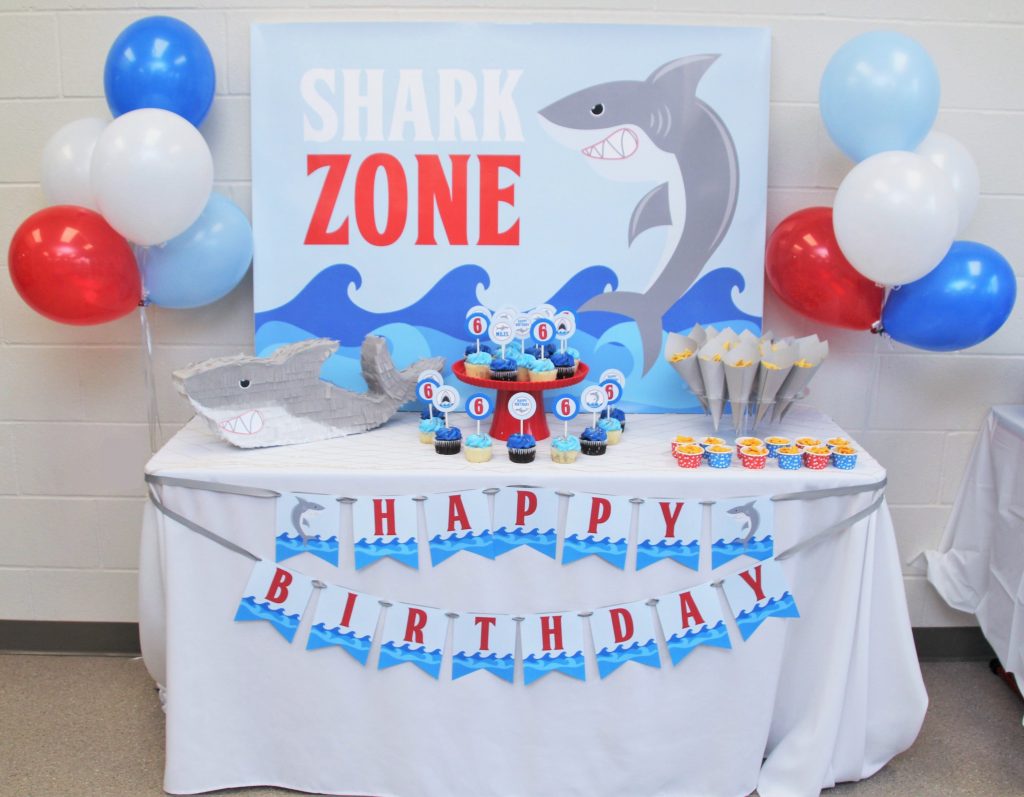 Cupcakes are my go to for parties with lots of guests. Easy to hand out and share extras with parents or siblings. I always grab an extra pack of cupcakes for just that reason. Printable editable shark cupcake toppers tied it all together with a fun red cake stand.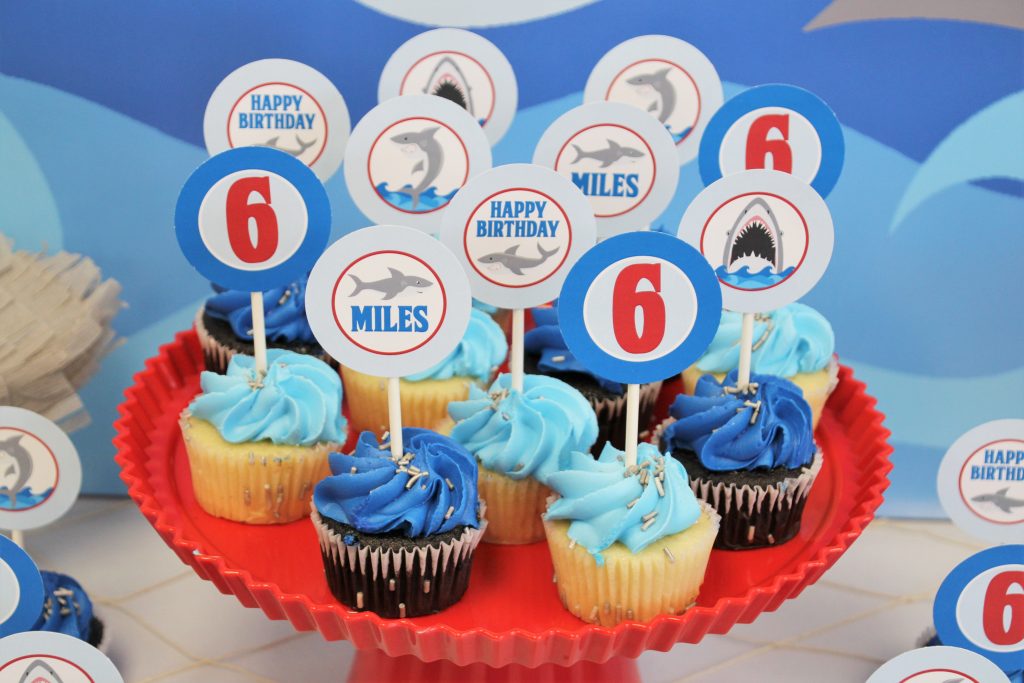 Originally this awesome shark piñata was going to be the centerpiece for my guest tables. After my amazing friend made this guy we realized they were going to be too big for the size of tables my venue had. I went to plan B and had him be part of our main table. He was way to cool to not have front and center. Can you believe she made this?
Shark fin paper cones were the perfect vessel for our shark tooth snack of bugles. I bought gray cardstock at my local craft store, folded and added some adhesive to keep them together. Super easy and so fun!
At the last minute I decided I needed one more thing to fill space on my table. I had these great mini treat cups in my party stash. Gold fish seemed like the obvious shark party snack.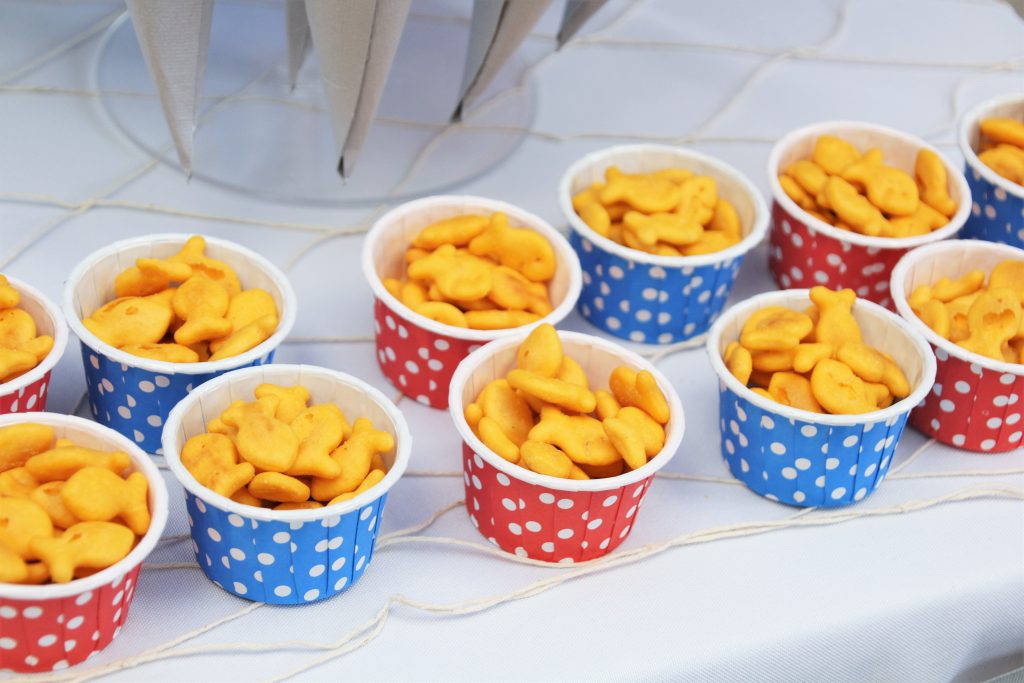 This printable Happy Birthday Shark banner was a great addition to the front of the table. It can be edited to say whatever you like when you purchase the printable package.

I love a printable backdrop for parties. Especially when it's not at home. I attach them to a canvas and it is ready to be popped up on a table. They make a great big impact with little work.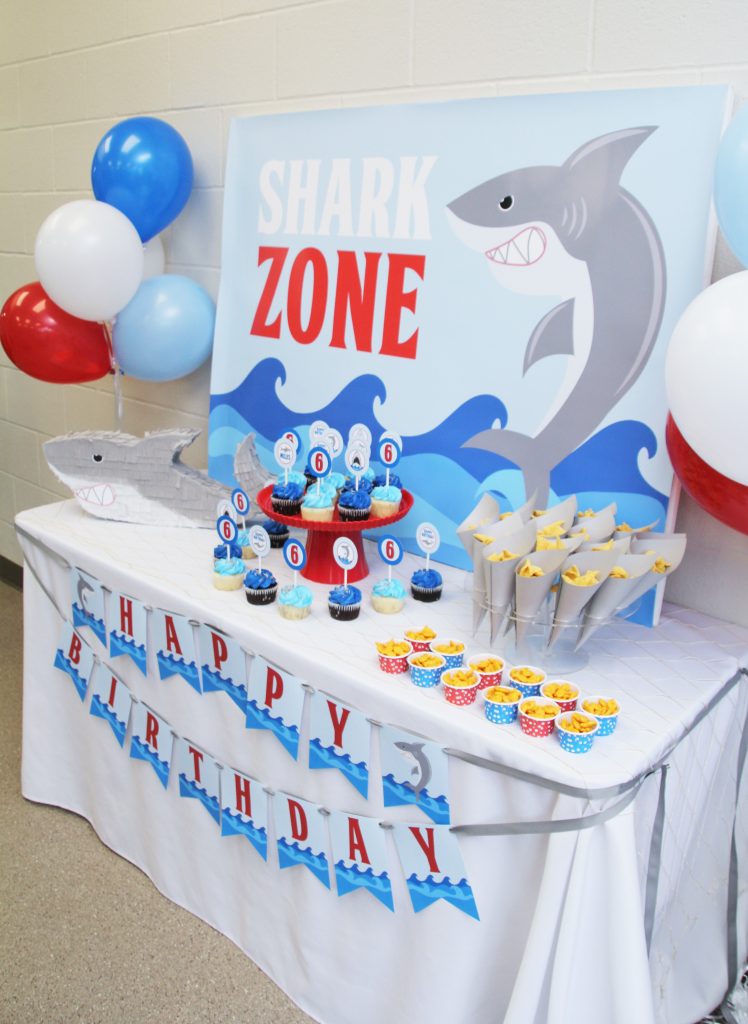 The main focal point of the room was definitely the guest tables. I added some balloons to the center to add some color and fill up the space the tall ceilings provided in the room. I started with plain blue plastic table cloths. Easy, cheap and can be thrown away on site at the end of the party. Then I started layering. Fishing net gave a great texture and under the sea feel to the tables.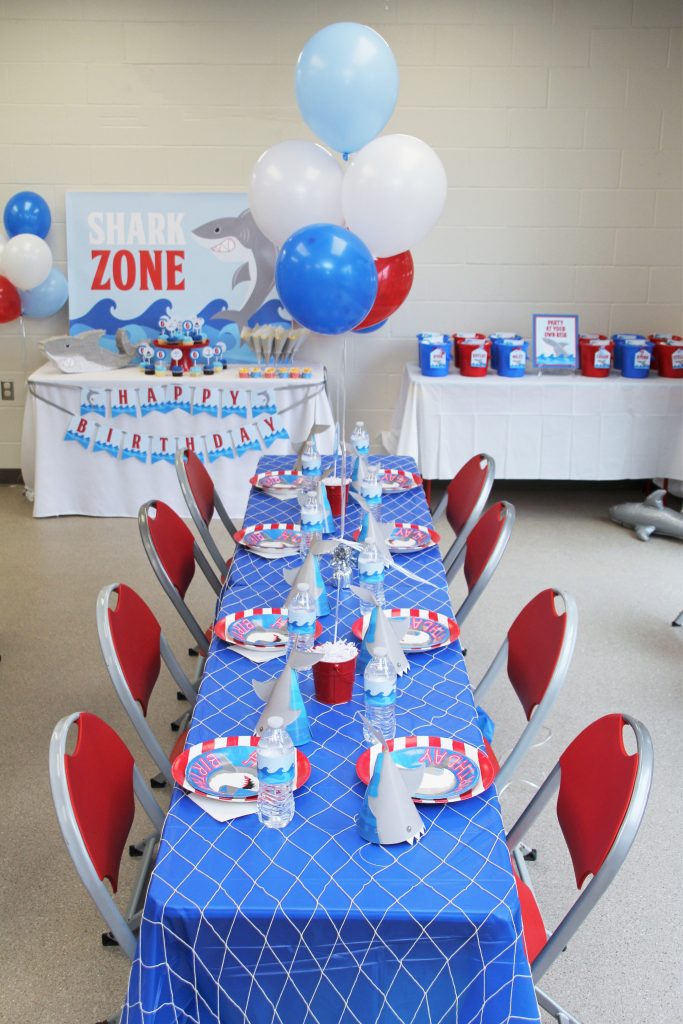 Each place setting had layered red and white striped plates and these awesome shark plates I found at Hobby Lobby. I added printable labels to the water bottles. The big hit were the shark party hats my son had to have also from Hobby Lobby.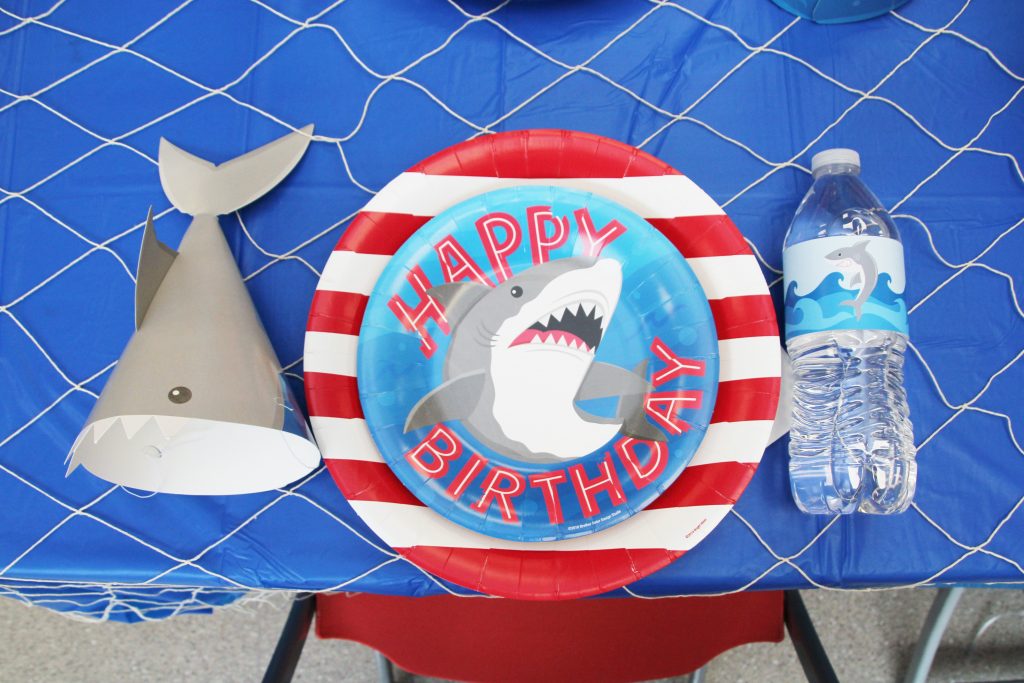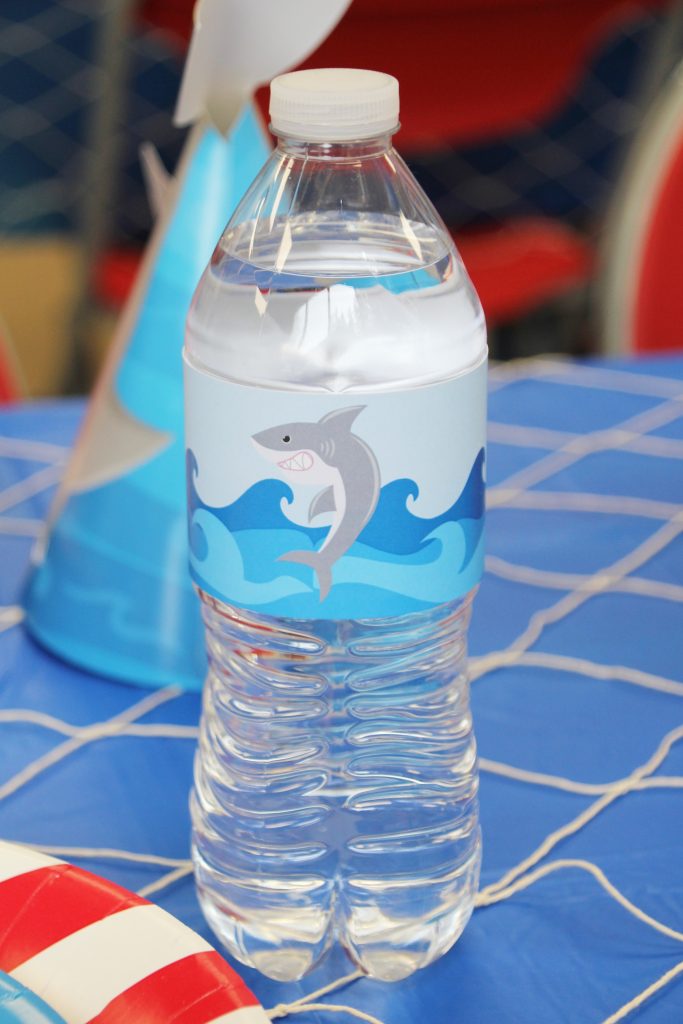 Down the center of the tables I had mini red buckets featuring printable shark centerpiece circles. There were 4 designs.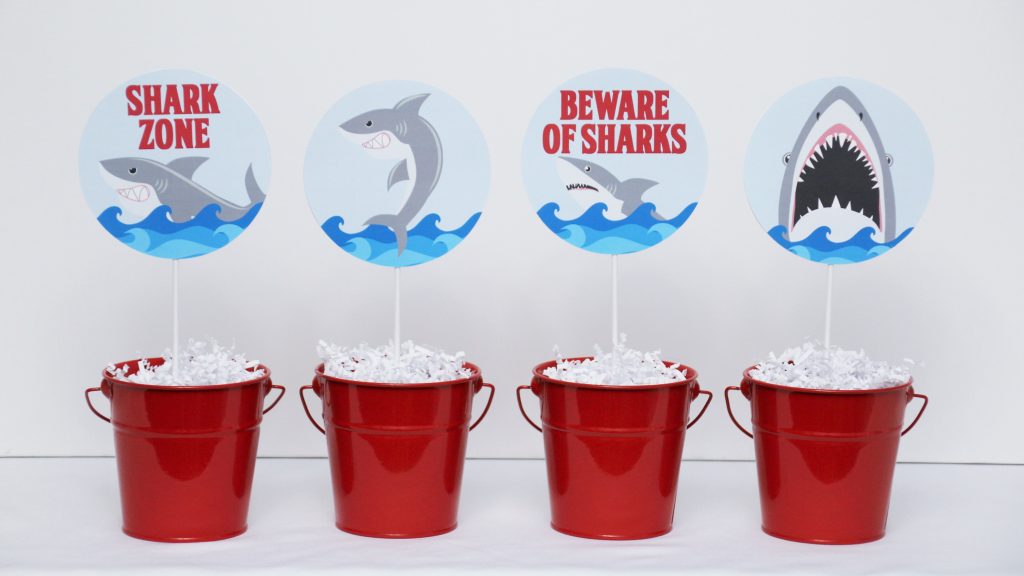 My cute birthday boy had such a blast at his shark birthday party!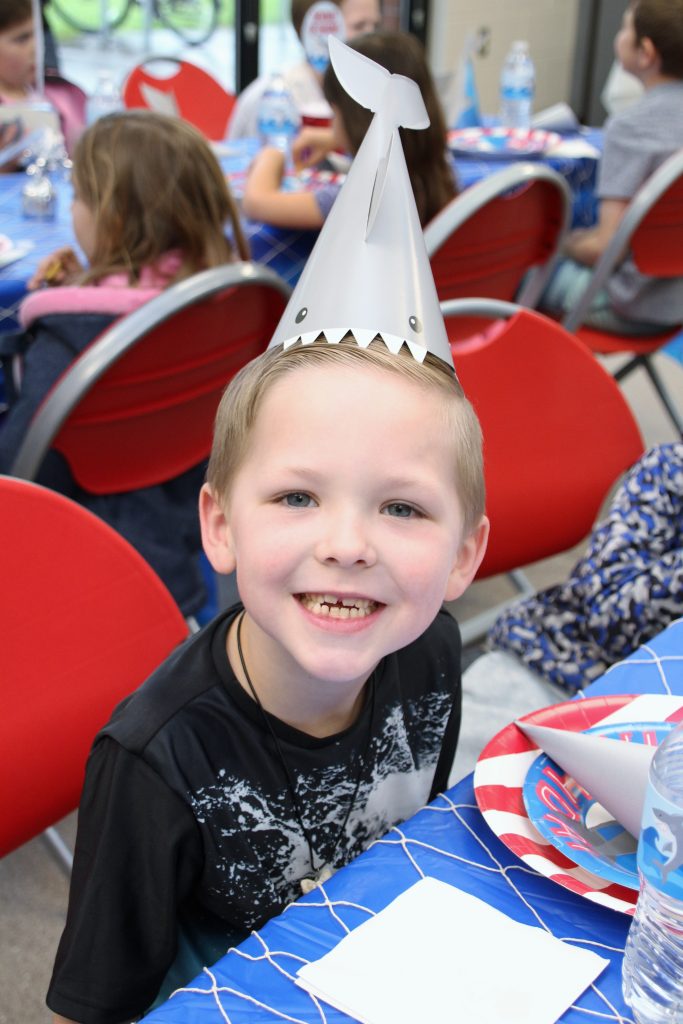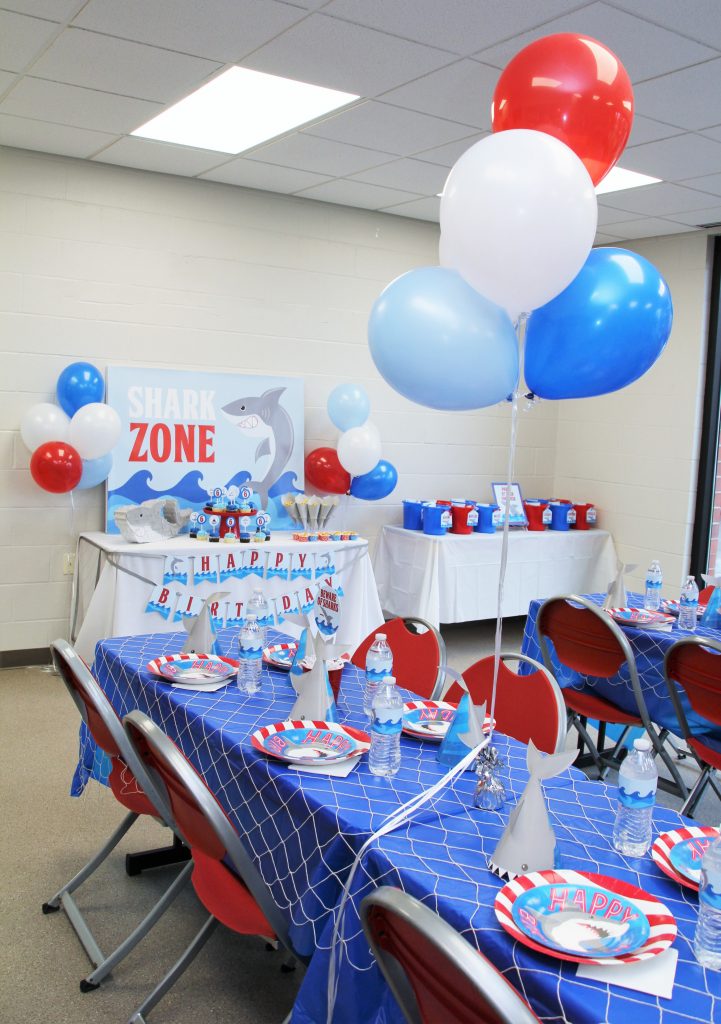 Party favors were fully contained and easy to grab and go in these red and blue sand buckets from Oriental Trading Co. Each bucket contained a plush shark. gummy sharks with a printable treat bag topper, shark tattoos, and a shark tooth candy necklace.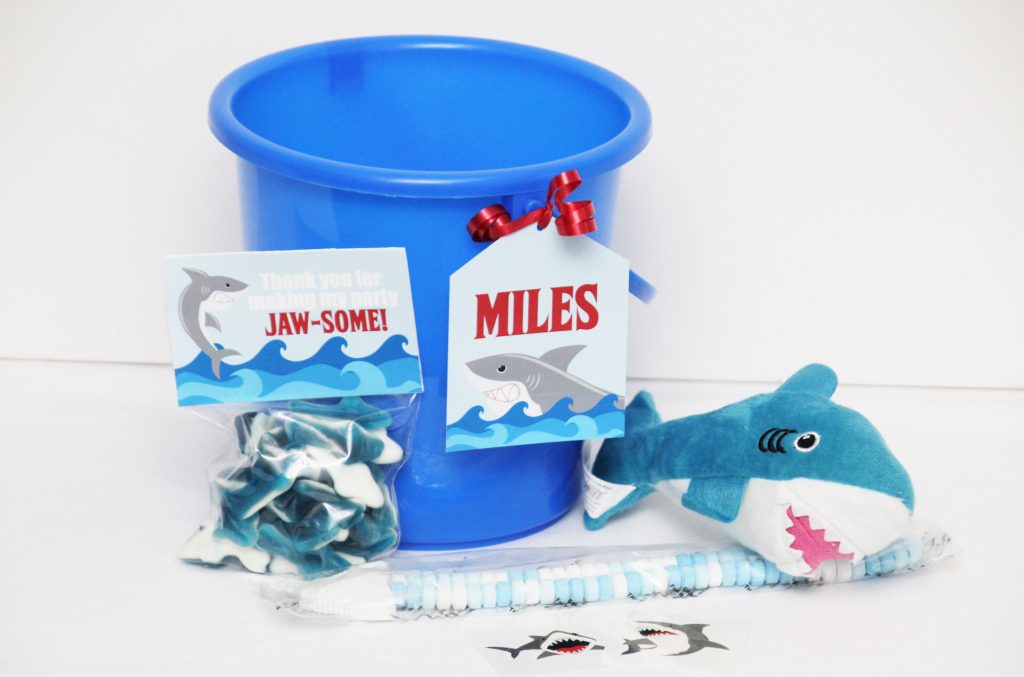 Printable name tags made it easy for guests to know to take their gift at the end. My kids always love seeing their names on things. It makes that gift even more special.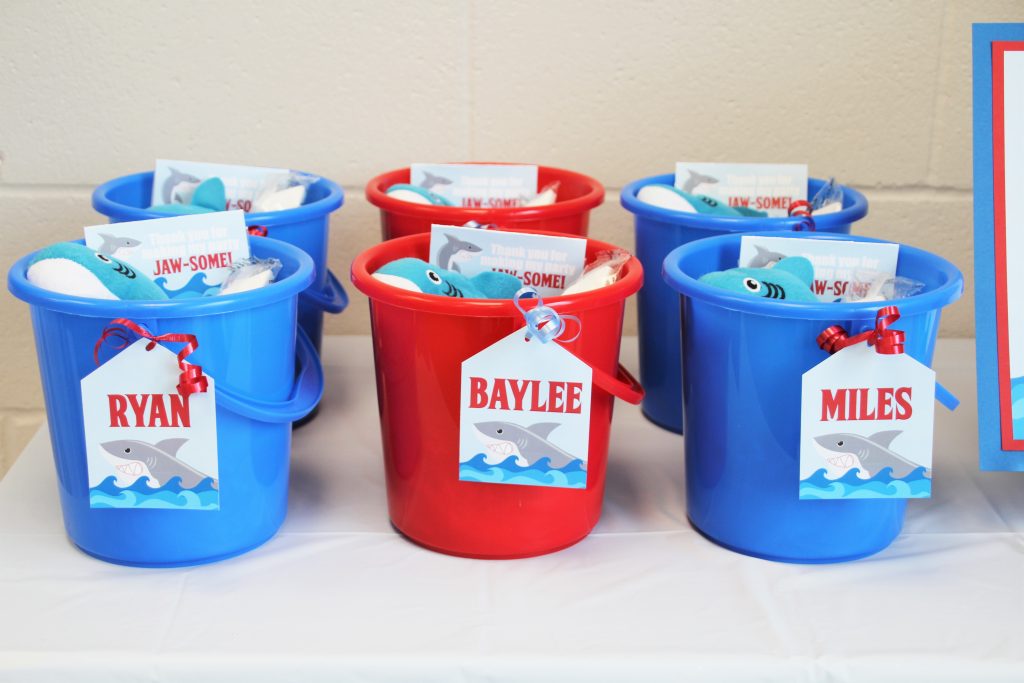 These tags are also fully editable with the printable shark party package.
While this was not the intention when I originally created this sign for the party, the parents had a big laugh at this sign with Coronavirus just starting to rear its head. Little did we know what was coming. To the kids it was a fun shark addition to the party.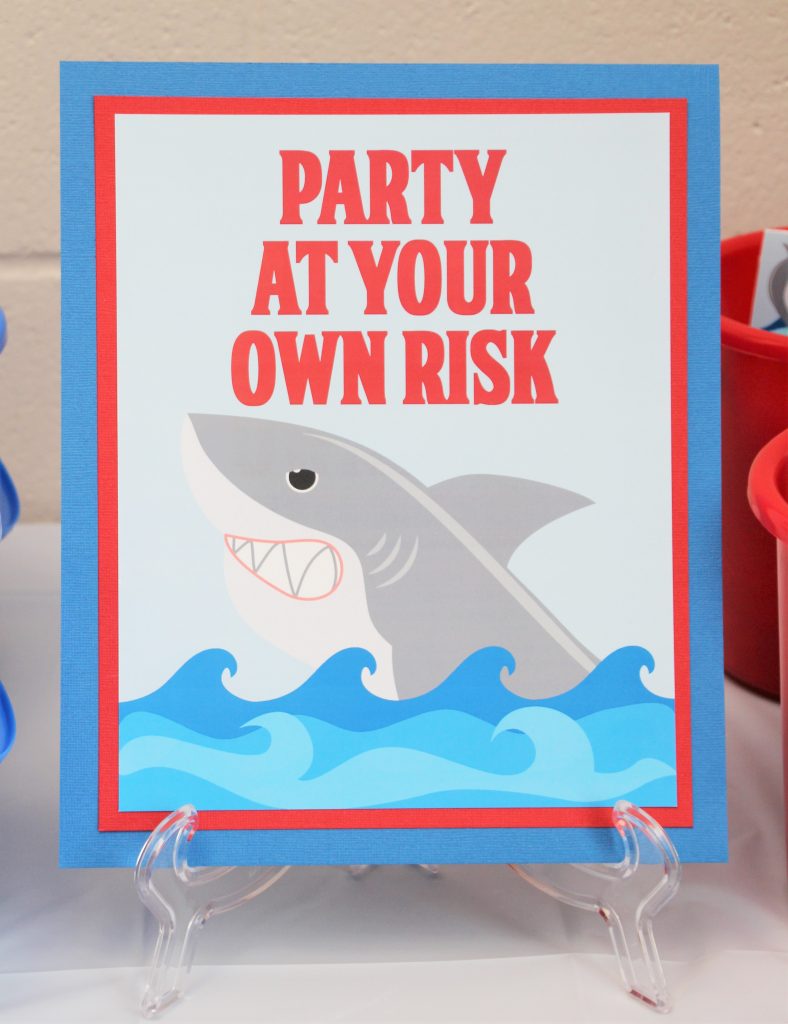 I absolutely love how this party turned out and I am so thankful we got to squeeze it in before we were home for the weeks ahead. We have since celebrated 2 at home quarantine birthdays. While they didn't look like this, I know they will be remembered for years to come. Even at home we have had a fun time being creative and celebrating the ones we love. I look forward to when I can throw our next big party with all of our friends gathered around. For now I hope you enjoyed this party and can save away a few tips for your next event. I know many people are planning a big bash when the world returns to normal.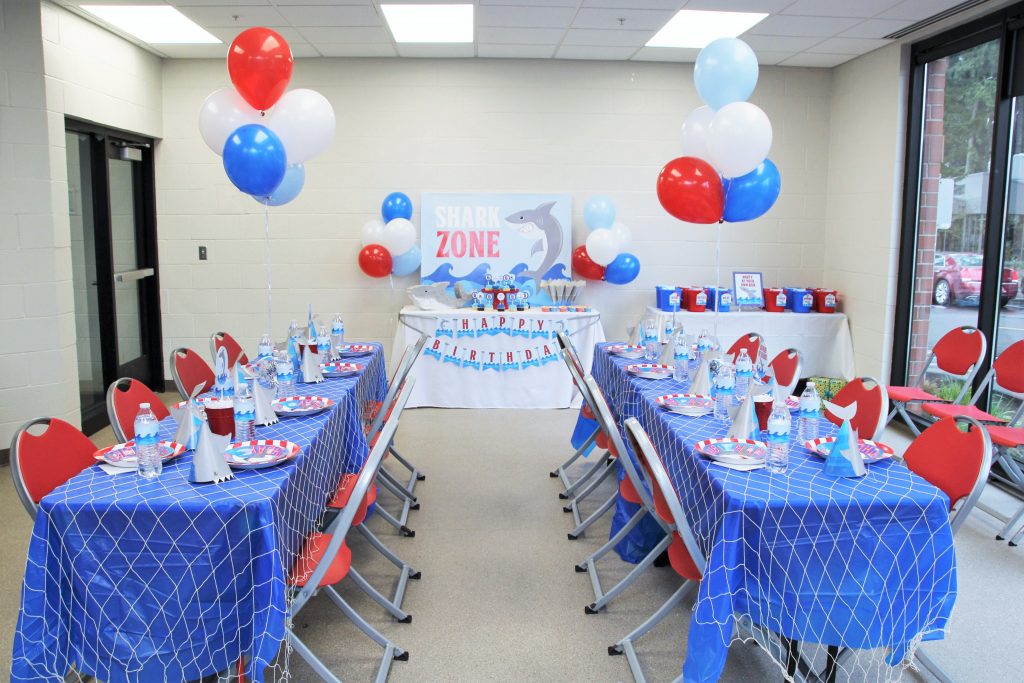 Editable Printable SHARK Party Package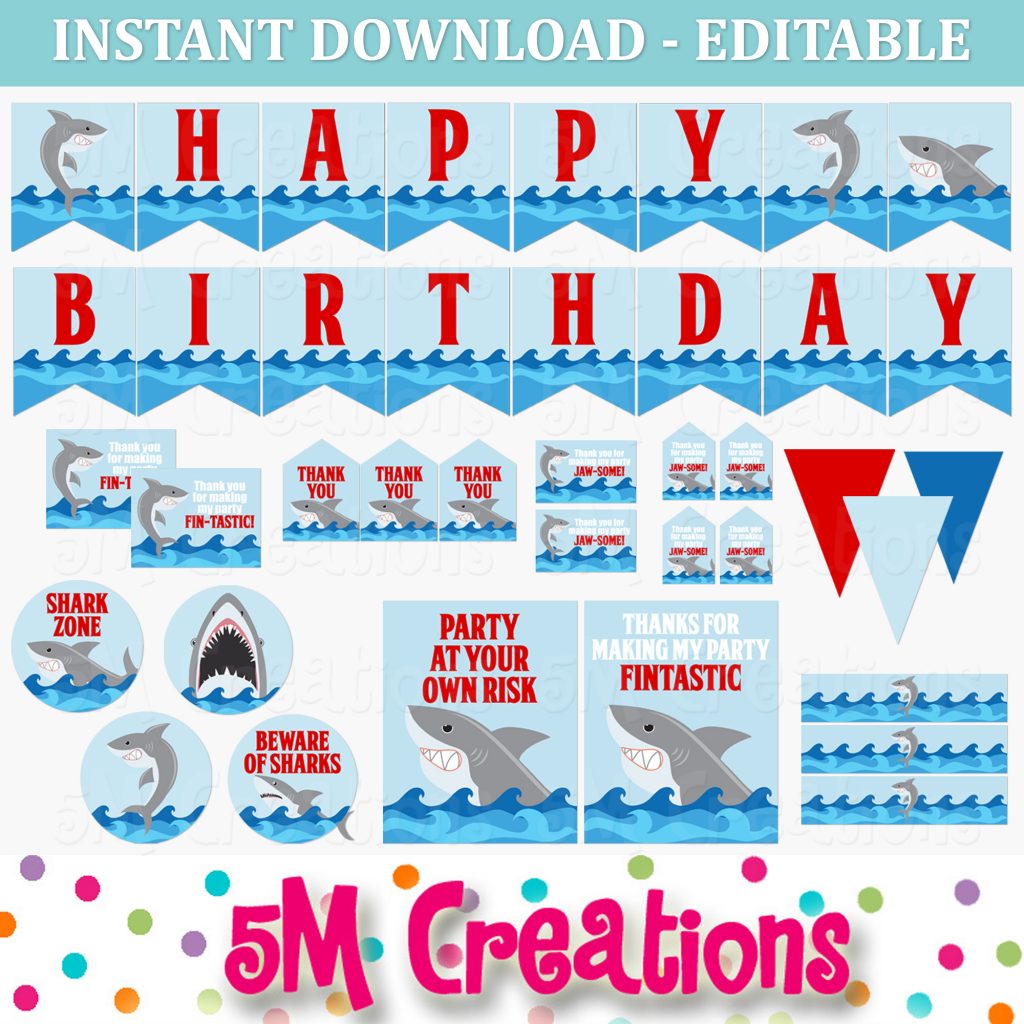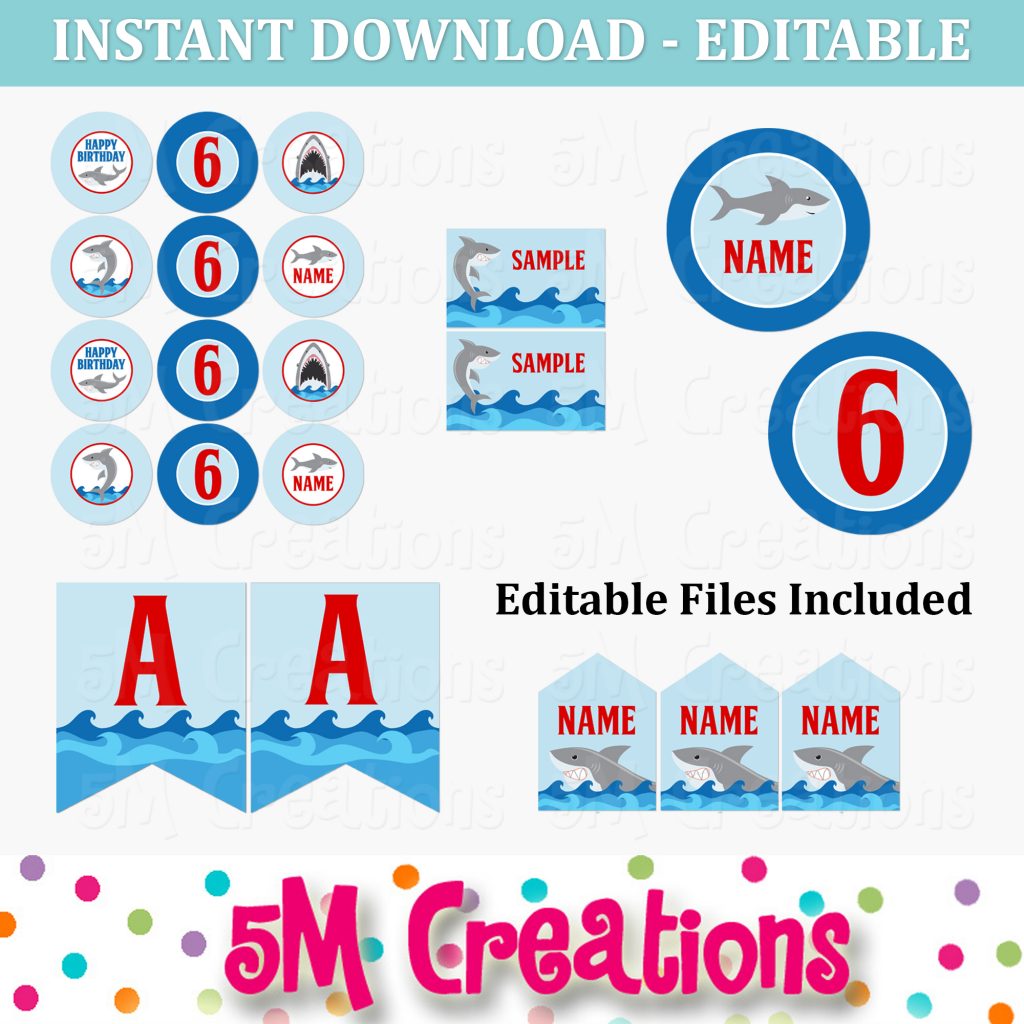 Editable Printable Shark Party Invitation
Party Supplies:
All Printable Supplies by 5M Creations
Plush Sharks- Oriental Trading Co 
Shark Tooth Necklace- Oriental Trading Co.
Sand Bucket- Oriental Trading Co.
Table Netting- Oriental Trading Co.
Blue Tablecloth- Oriental Trading Co.
Shark Party Hats- Hobby Lobby
Shark Tattoos- Hobby Lobby
Shark Plates- Hobby Lobby
Red/White Striped Plates- Hobby Lobby
Red Centerpiece Bucket- Hobby Lobby (mutliple sizes available)
Clear Cone Holder- Amazon (AD) (not exact one used but similar style)
5M Creations May 12th, 2020
Posted In: Boy Birthday Party
Tags: boy party, party ideas, party printables, pool party, shark birthday, shark party, summer party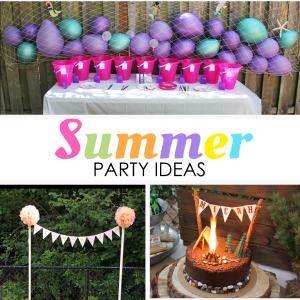 Flowers are blooming and the sun is shining. Ok so it's only March but it has been gorgeous here and making me long for summer days. If you are a planner like me you are already thinking ahead to summer birthdays. I am sharing a few of my most popular themes great for those summer birthdays. None of my kids actually have summer birthdays. I am always so envious of friends who get to have warm, water filled backyard parties. I hope you enjoy some of the ideas below.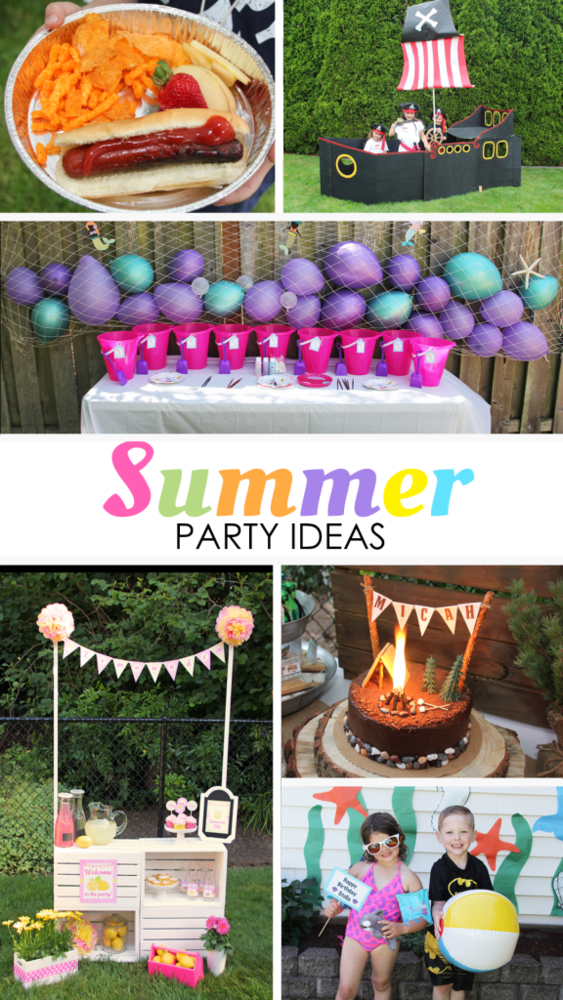 MERMAID PARTY
Do you have a mermaid lover? This party has such gorgeous colors that scream mermaid. It's a beautiful mix of classic party décor, balloons, treats, etc and backyard fun. This would be a great theme for a birthday party hosted at a pool as well.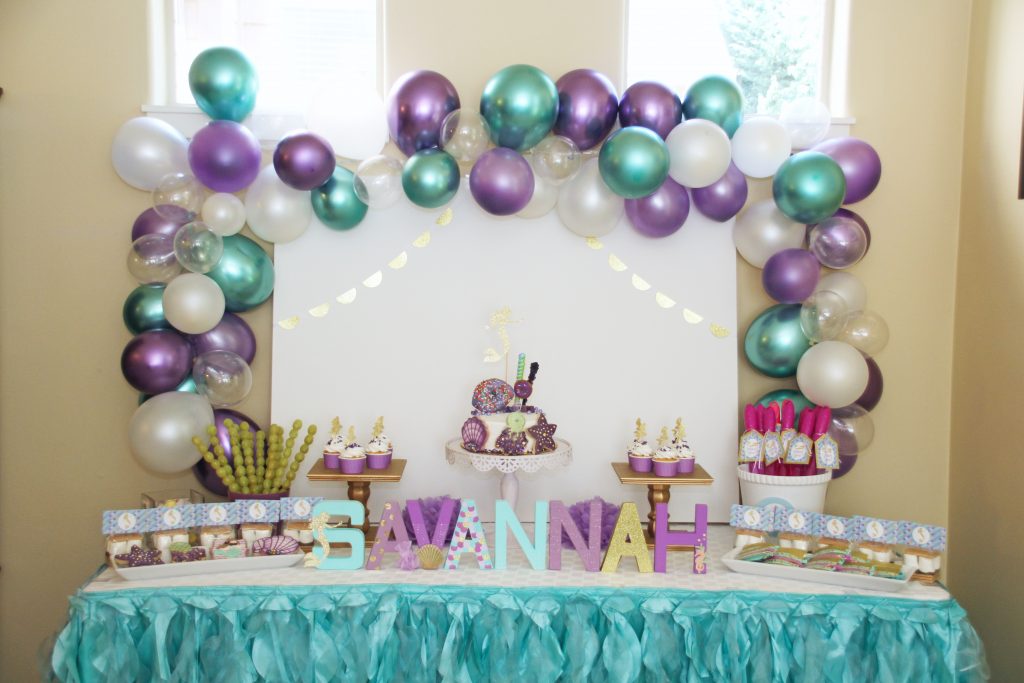 Sand buckets are the perfect container for a party favor. Guests will get lots of use from it all summer long.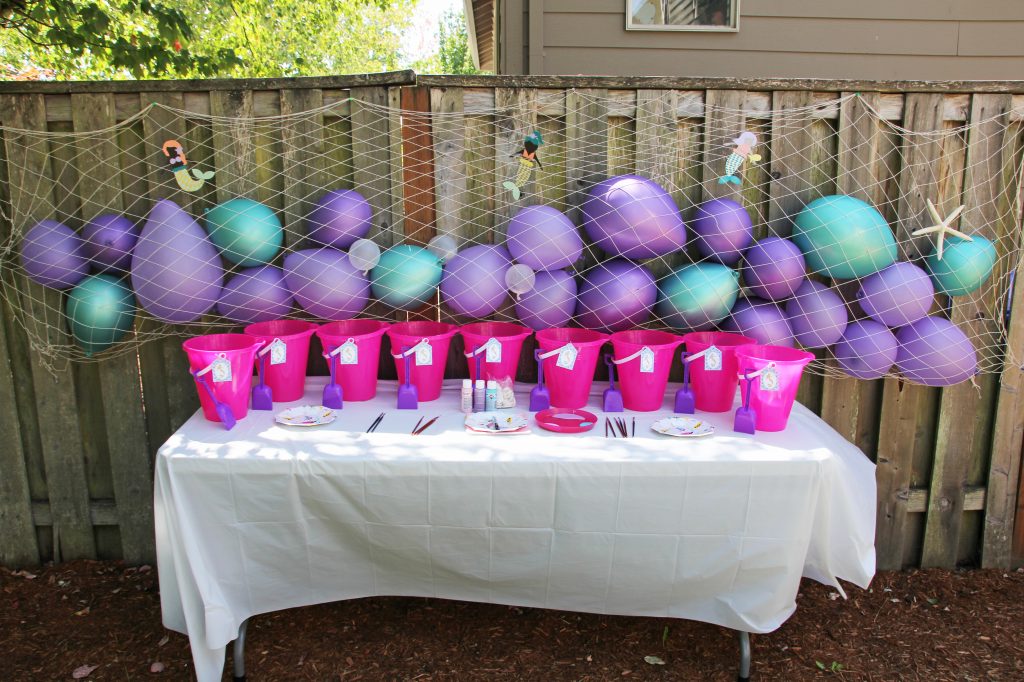 Water guns, sprinklers, a pool. Any water play is the perfect activity. Beach towels double as mermaid tails. A perfect mix of function and fun!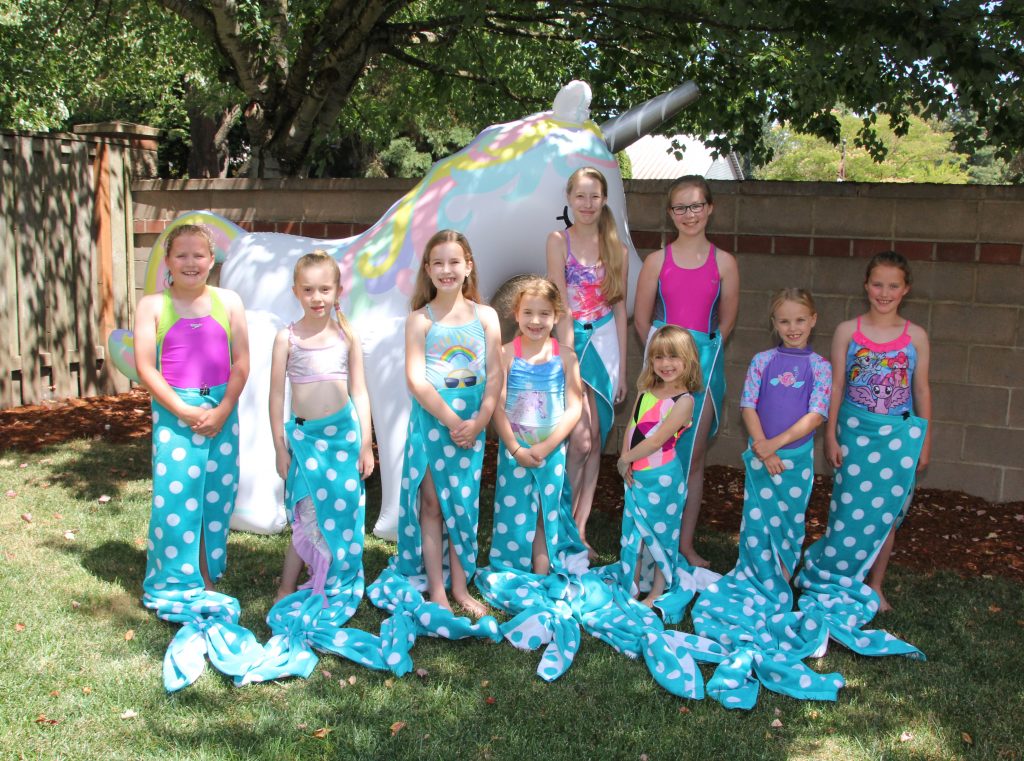 You can see more mermaid party photo details here.
PIRATE PARTY
Next up is a PIRATE party theme. This is a great theme for boys and girls as shown in this party for 3 siblings. They utilized their trampoline to create the sea. kiddy pool as walk the plank, party games, and an amazing pirate ship made by mom.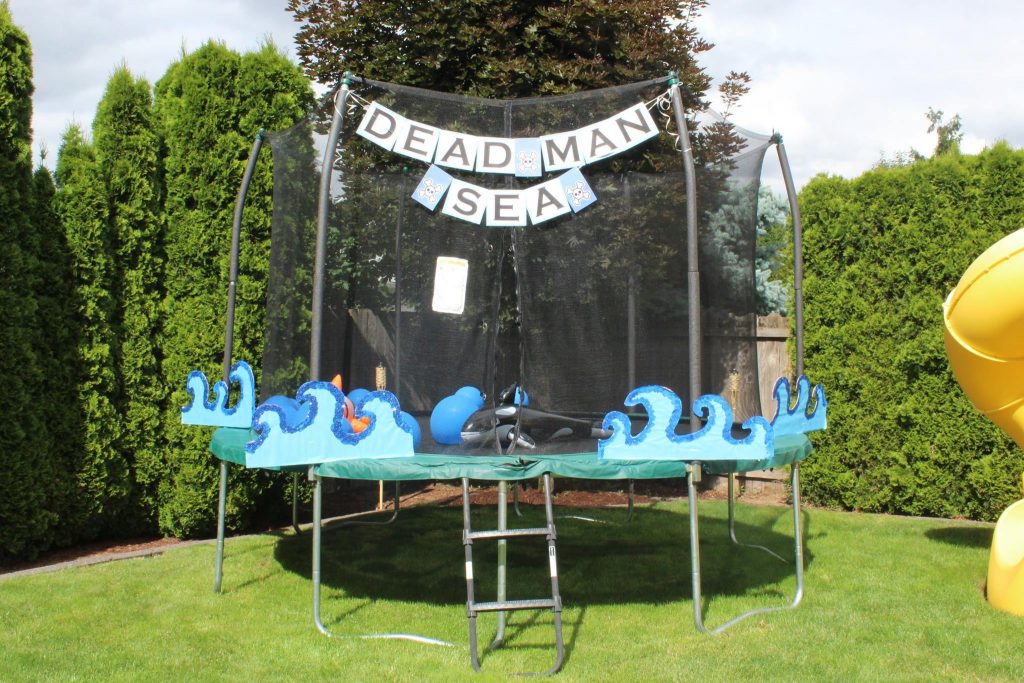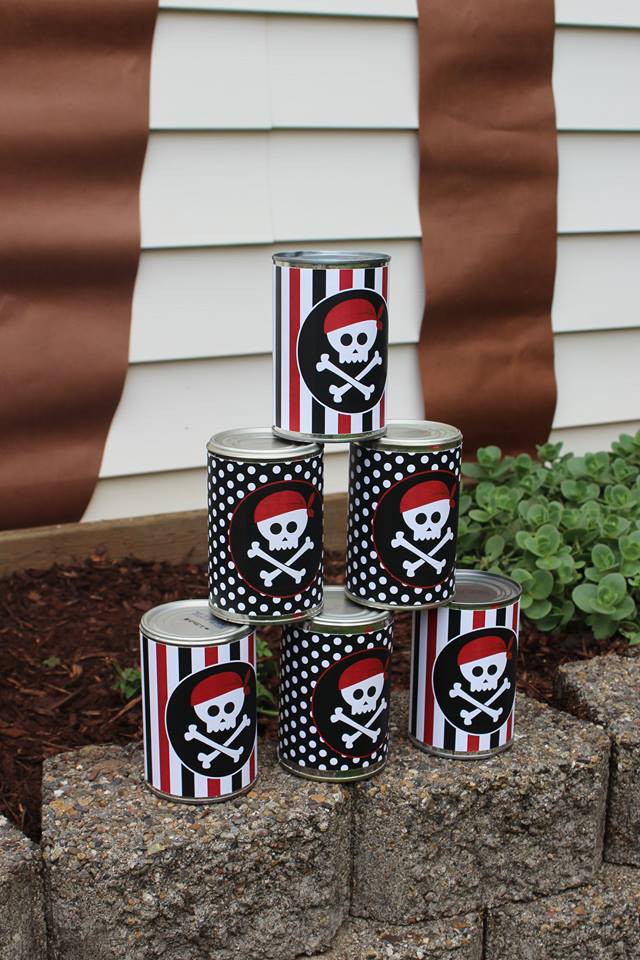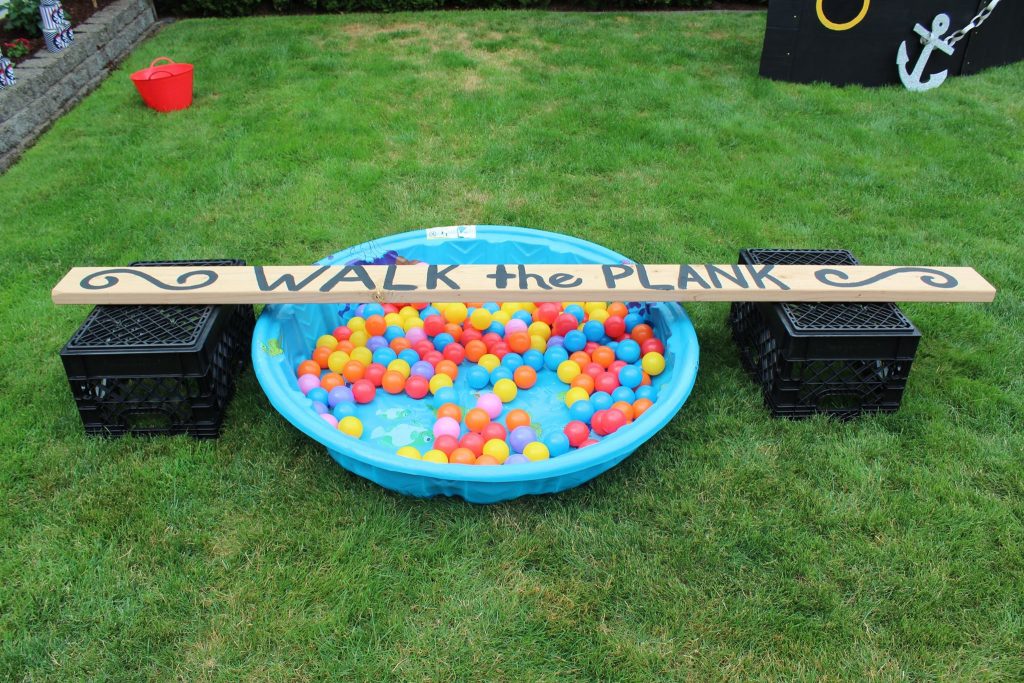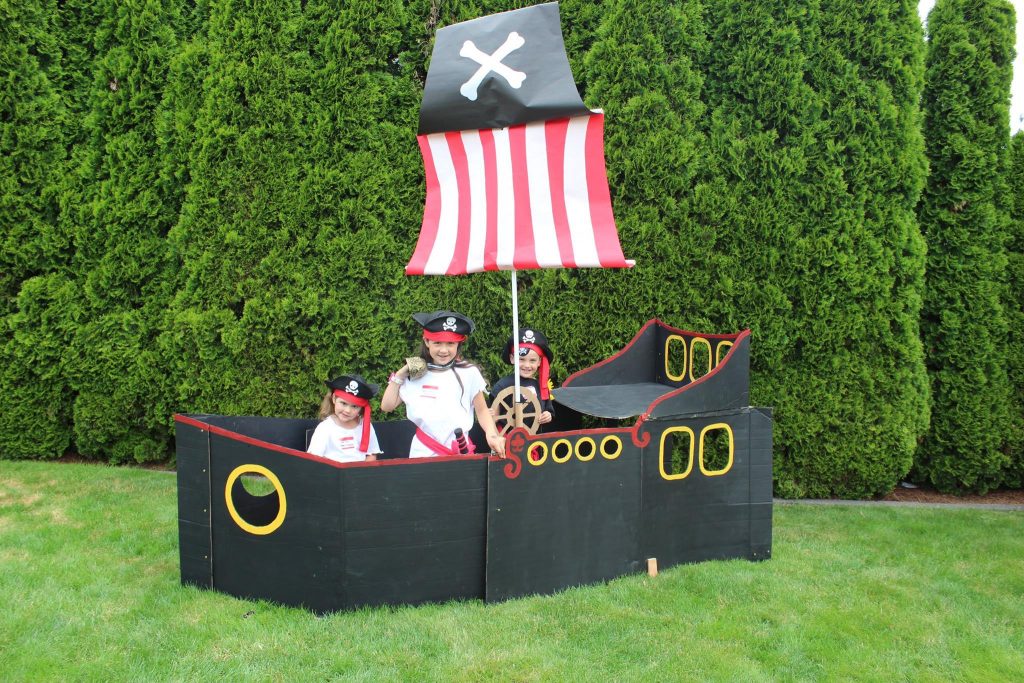 Check out all of the pirate party fun here. There are lots more pirate party tips including a tattoo station and lots of great pirate party food ideas.
CAMPING PARTY
This next party is a personal favorite. I threw a camping themed birthday for my twins. This actually wasn't in the summer. We battled rain, but it was so worth it. A camping theme can be done in the backyard or at an actual campground. The most important thing is, Don't Forget the Smores!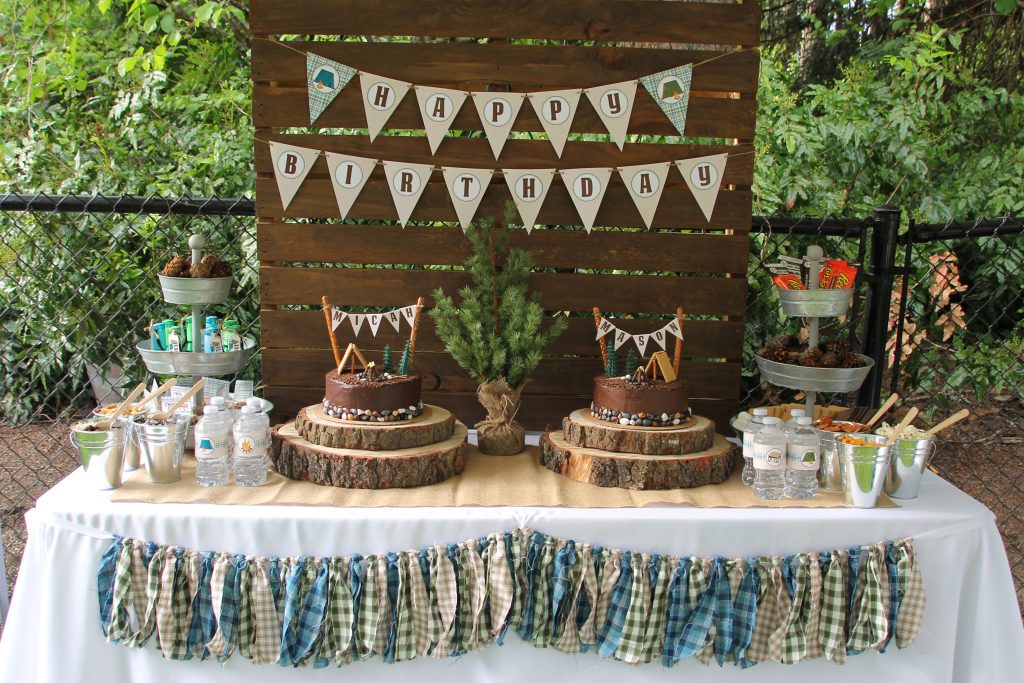 We had a scavenger hunt in the forest behind our house. This was a big hit.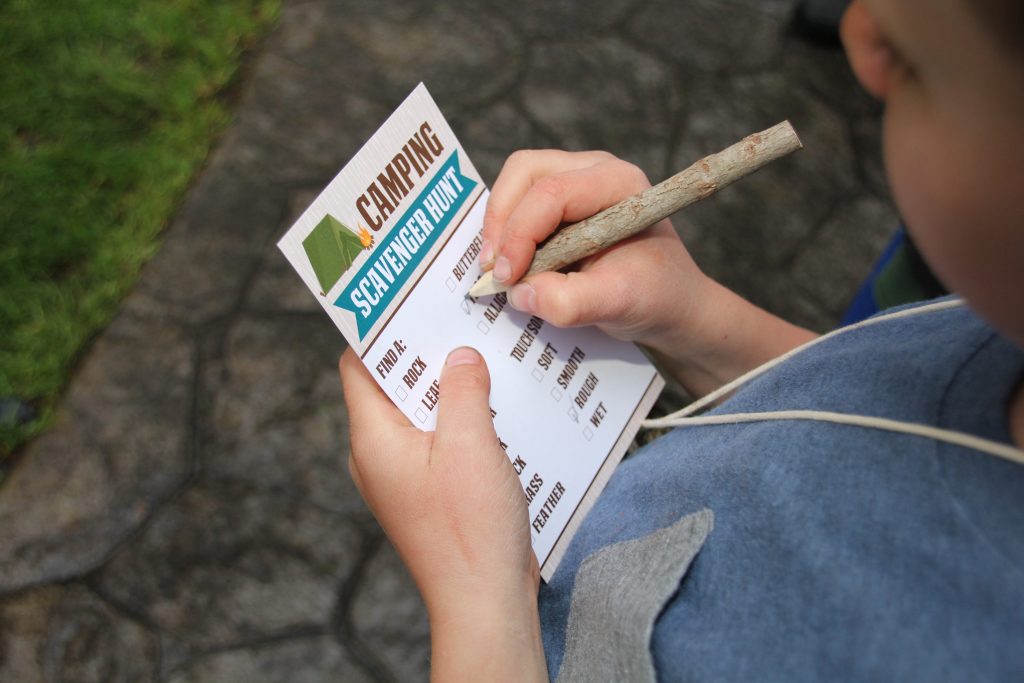 Hotdogs and smores over the fire was the party themed party food. Easy and delicious. We also had a create your own trail mix bar. Lots of yummy snacks to mix and match.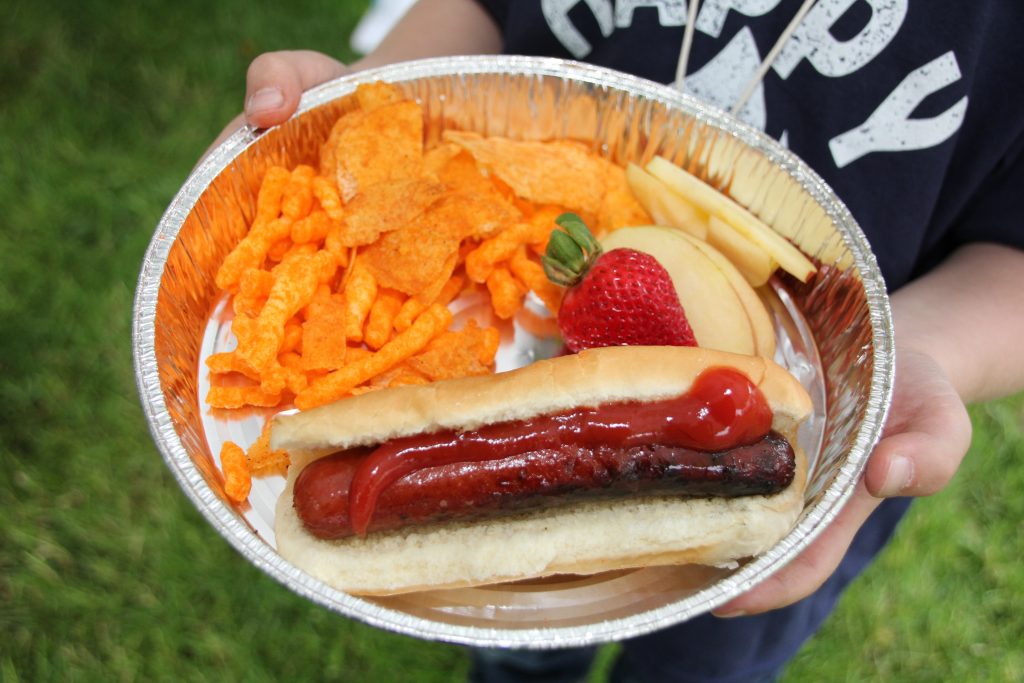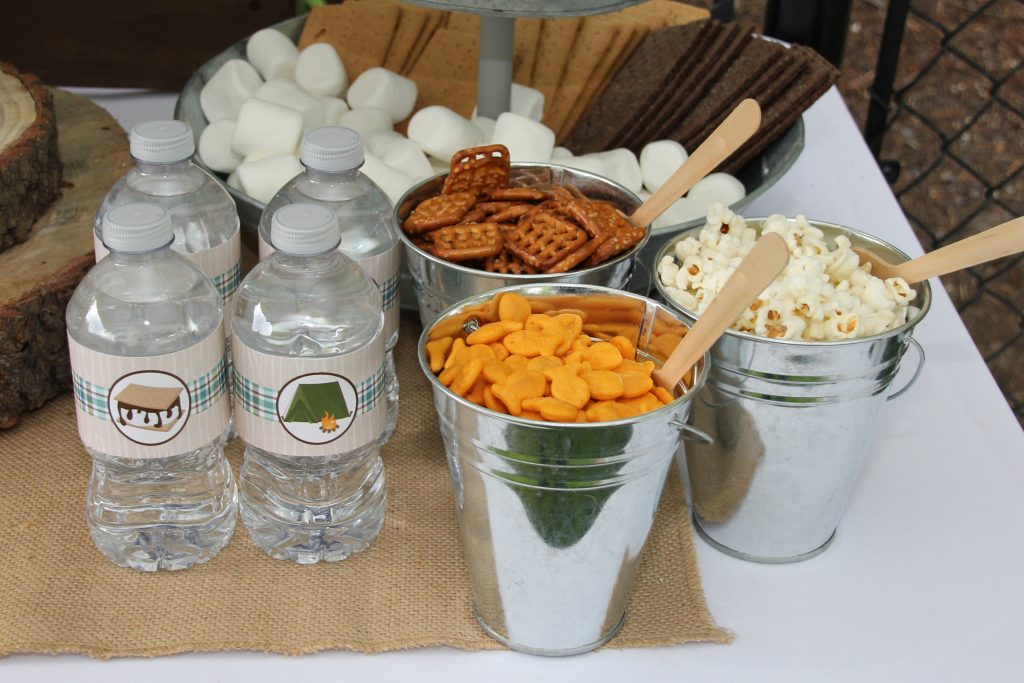 These smores kits were just one of the party favors the boys took home. Check out more details here.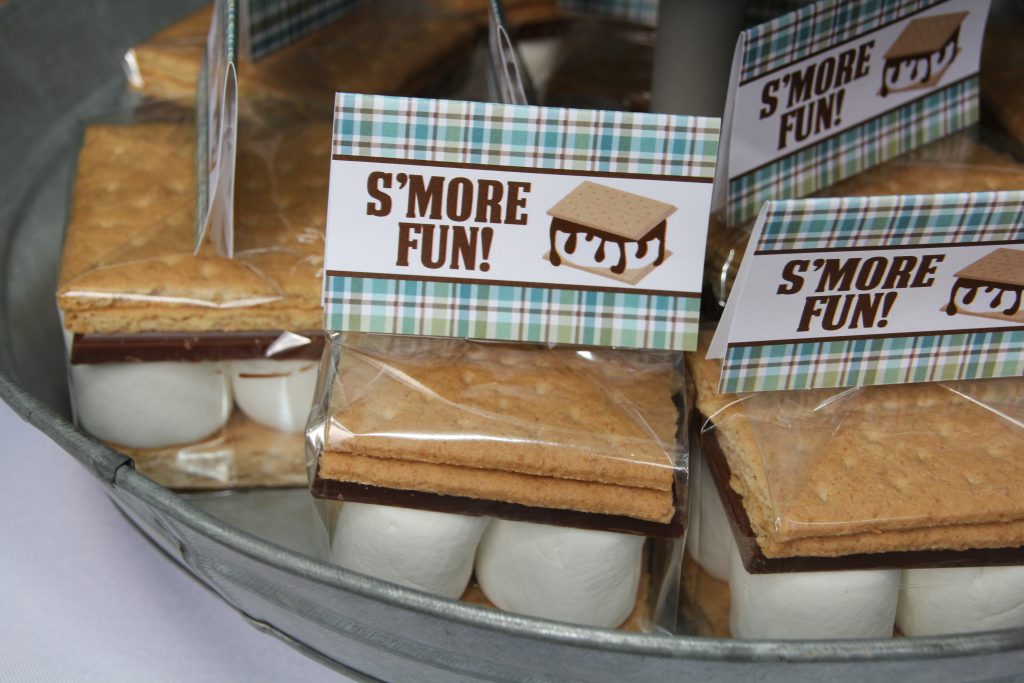 LEMONADE STAND PARTY
A lemonade stand is such a classic memory of a childhood summer day. If your kid has not done one, I am sure they have probably asked to at some point. I know mine have. We have never lived in a great place to have a real lemonade stand. This party brought all of the fun with a beautiful tea party feel right in our backyard.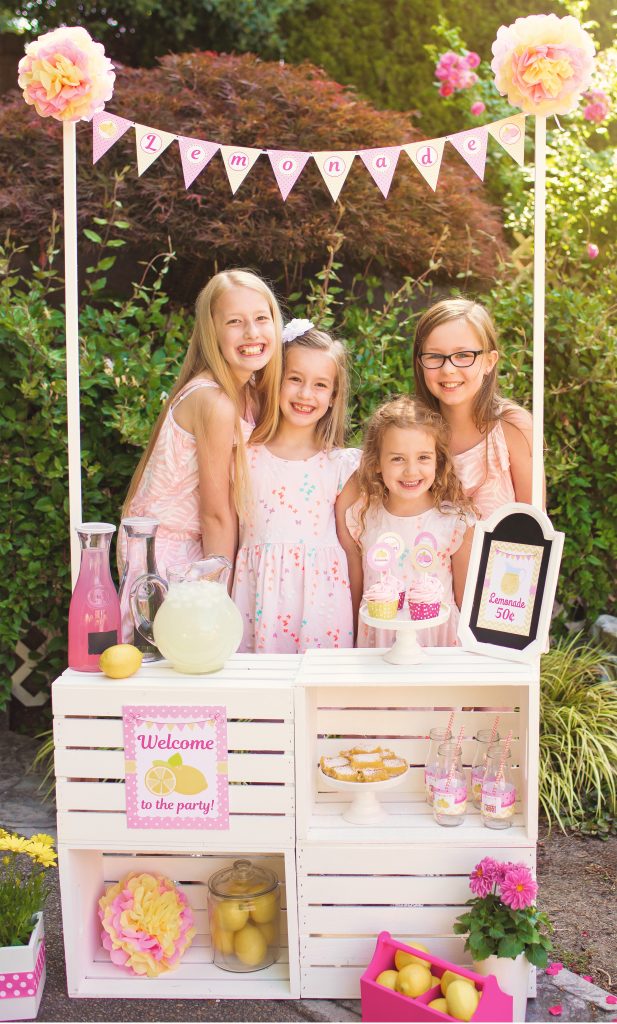 Sweet treats and party favors around the lemon theme were such a great addition to this lemonade stand. The girls took turns serving each other at the stand and enjoyed a beautiful table to eat their treats.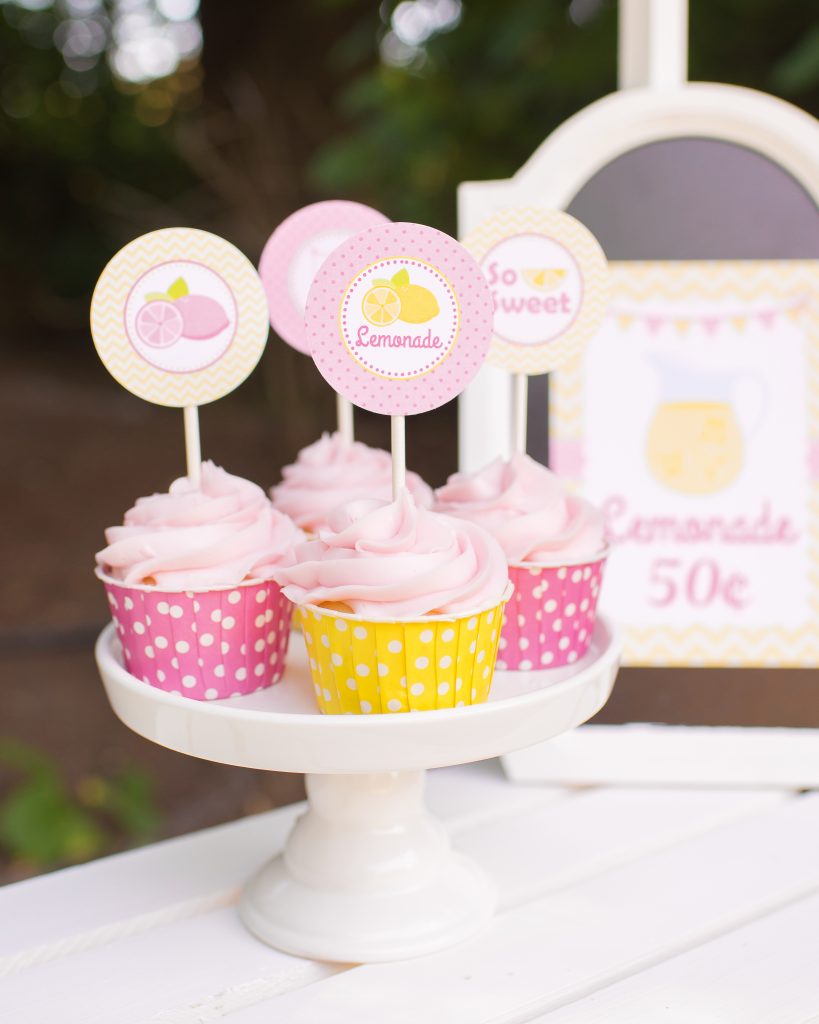 See more lemonade party details here!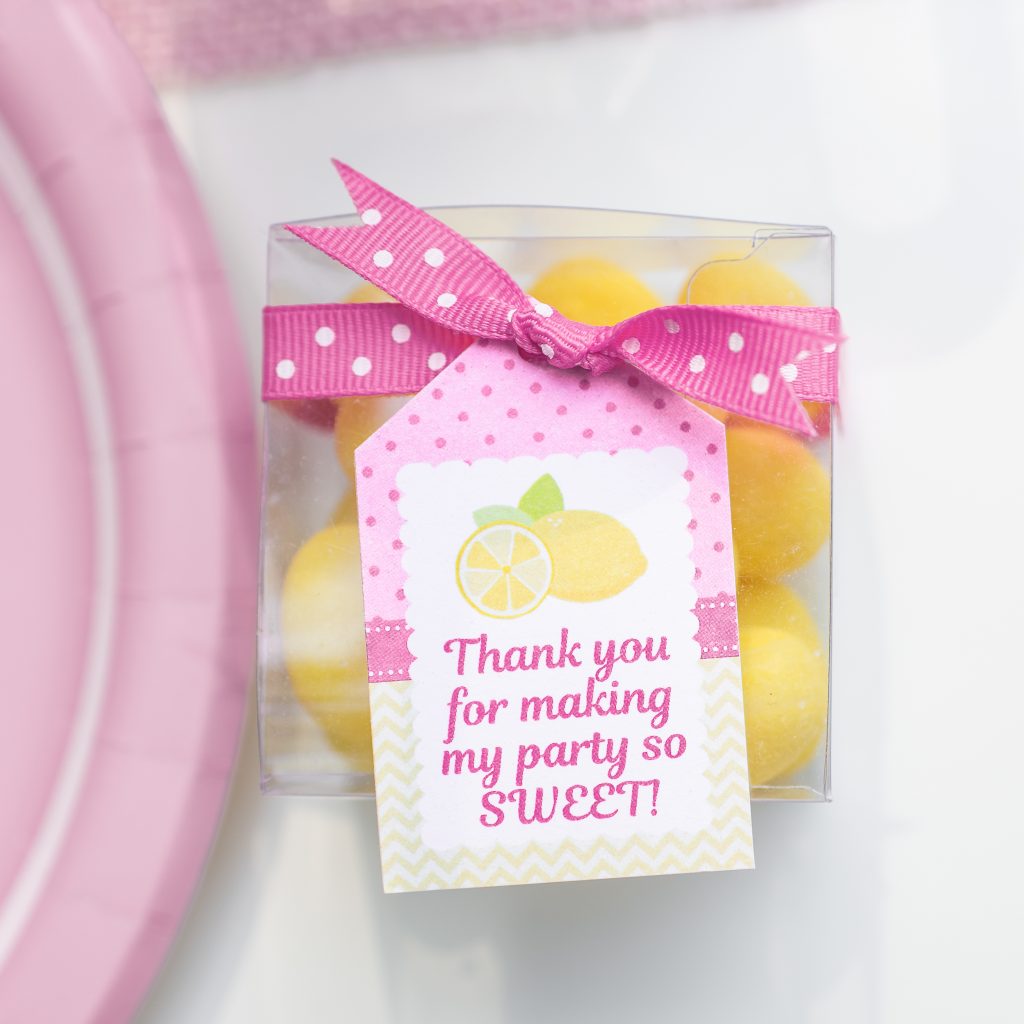 DOLPHIN PARTY
Last is this cute dolphin party. A warm summer day lends itself well to any theme under the sea. Tissue poms and simple streamers create a perfect watery backdrop.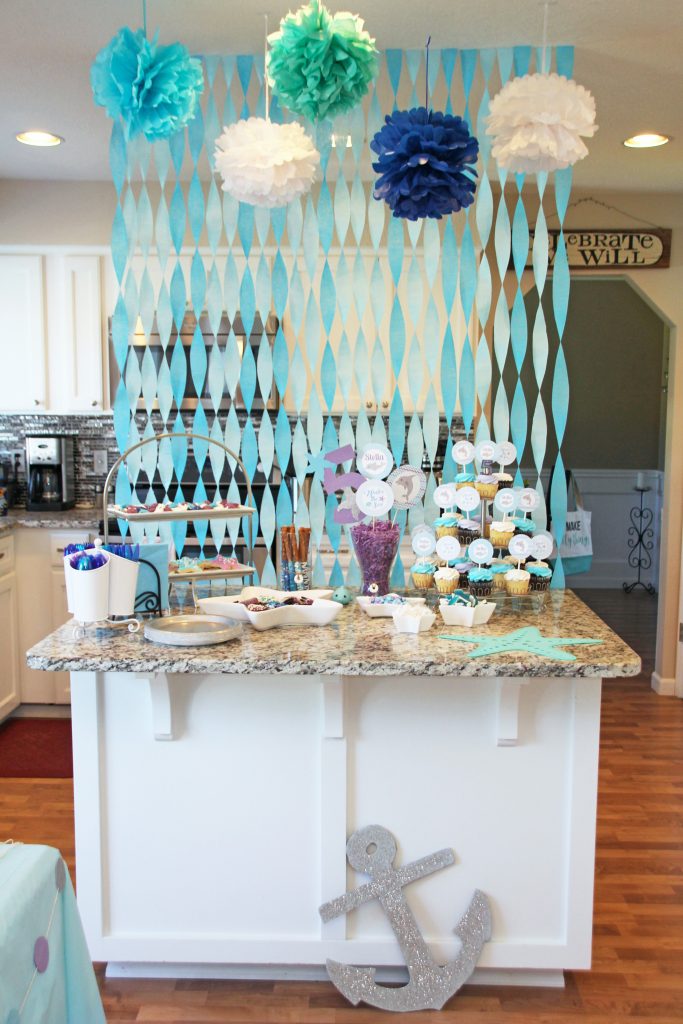 A fun photo booth with props from your summer activities is a great way to capture silly moments with your party guests.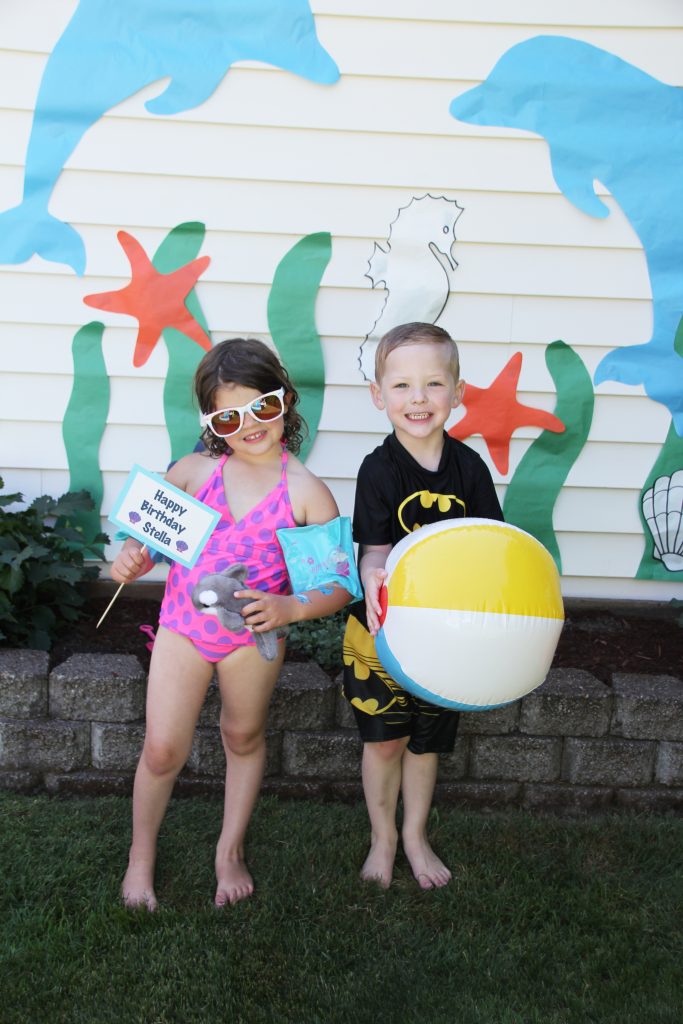 Add any water activity to this theme and you have your party activity done! The kids played for hours.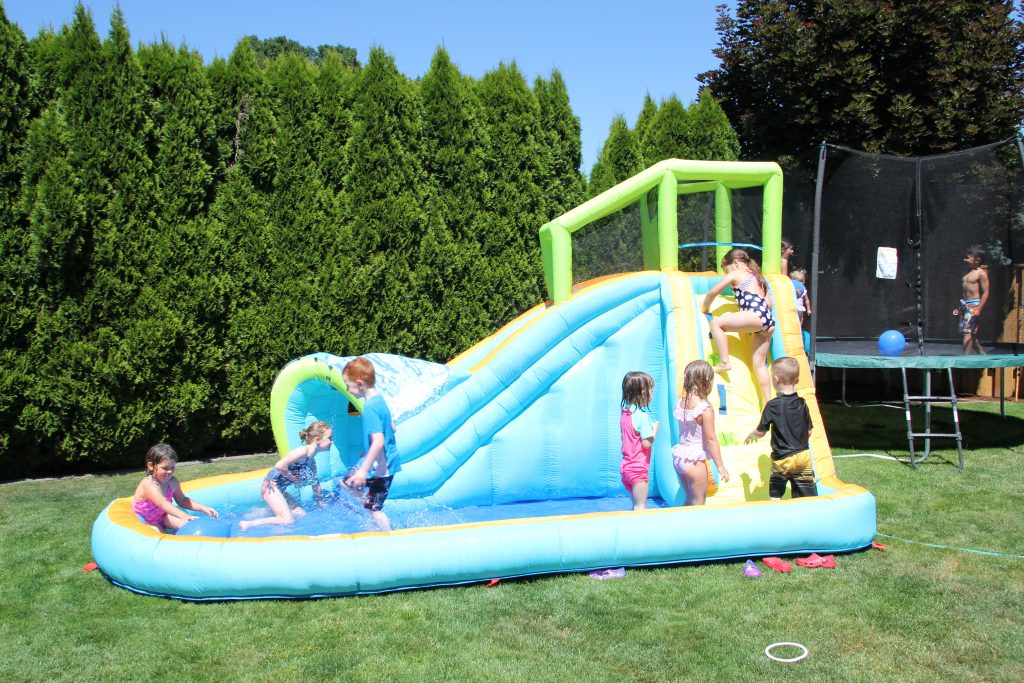 This is another theme where sand buckets work perfectly for party favors. They are inexpensive and easy to find at your local dollar store.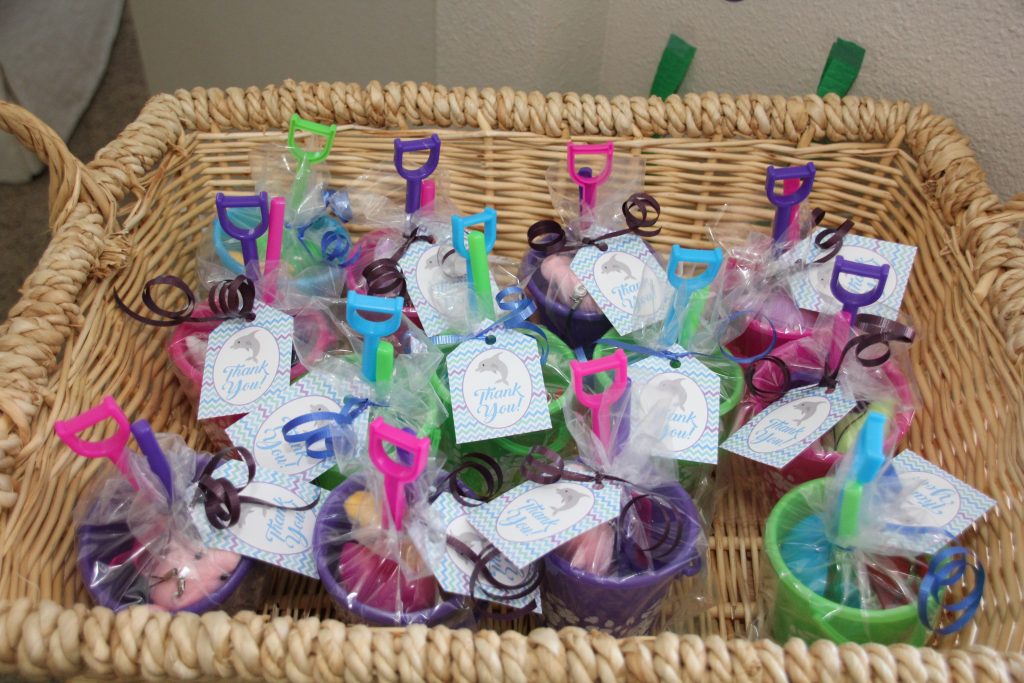 Printable party decor is such an easy way to dress up any party and season of the year.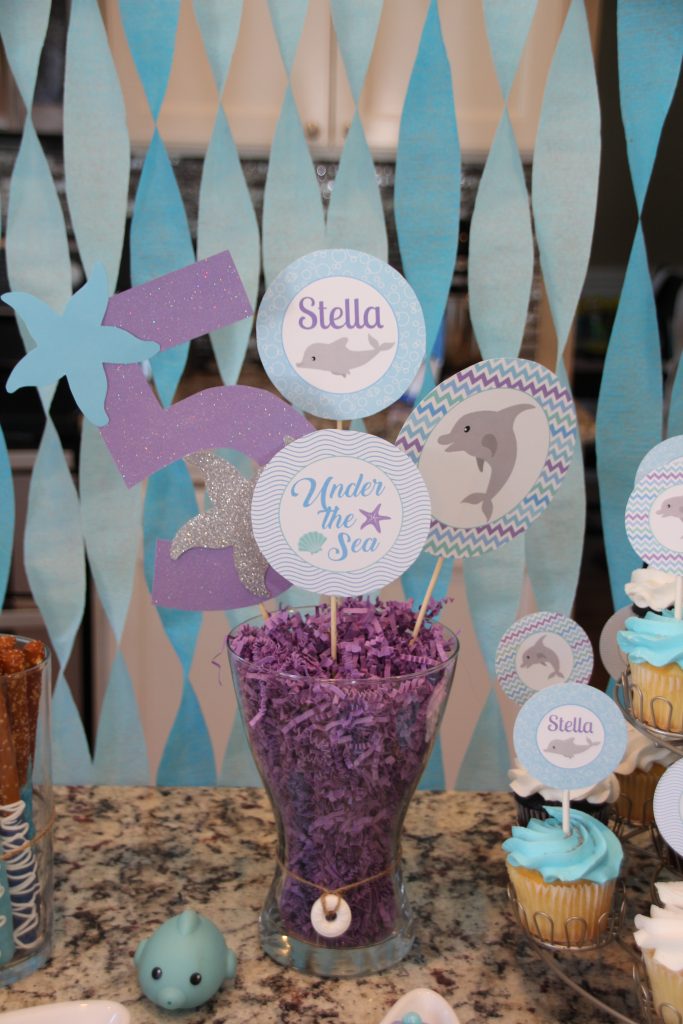 More dolphin party details here. 
Here are a few more summer themes available in my shop.
Watermelon, Cherry, Mermaid(2), Camping(2 more styles), Flamingo, Baseball
Happy summer party planning!
5M Creations March 5th, 2020
Posted In: Uncategorized
Tags: birthday party, camping party, dolphin party, kids party decor, lemonade party, mermaid party, pirate party, summer party