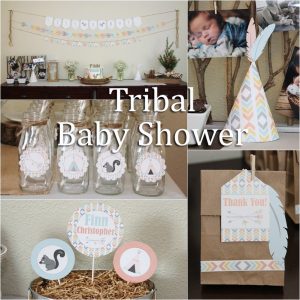 This tribal baby shower has become a best seller in my shop. I thought it was about time to share with you all the party details.
I was honored to co-host a baby shower for a dear friend's 2nd baby boy. She had a squirrel as her only suggestion for a theme. I love throwing showers that I can incorporate decor into a gift for their nursery. We had done a fox woodland theme (you can see it on the blog) for her last son so wanted to go a slightly different direction. We did more of a tribal feeling theme. We used teepees, arrows, feathers, and the cute little gray squirrel. It was such a fun theme that lent itself to so many cute details. This set is available in my shop showing WITHOUT the squirrel since he was such a custom request but he is a cute add on I include as a freebie with the package. Enjoy the party pics below.
These layered banners made such a big impact in the room. I love the use of twine to tie them continuing the earth tones.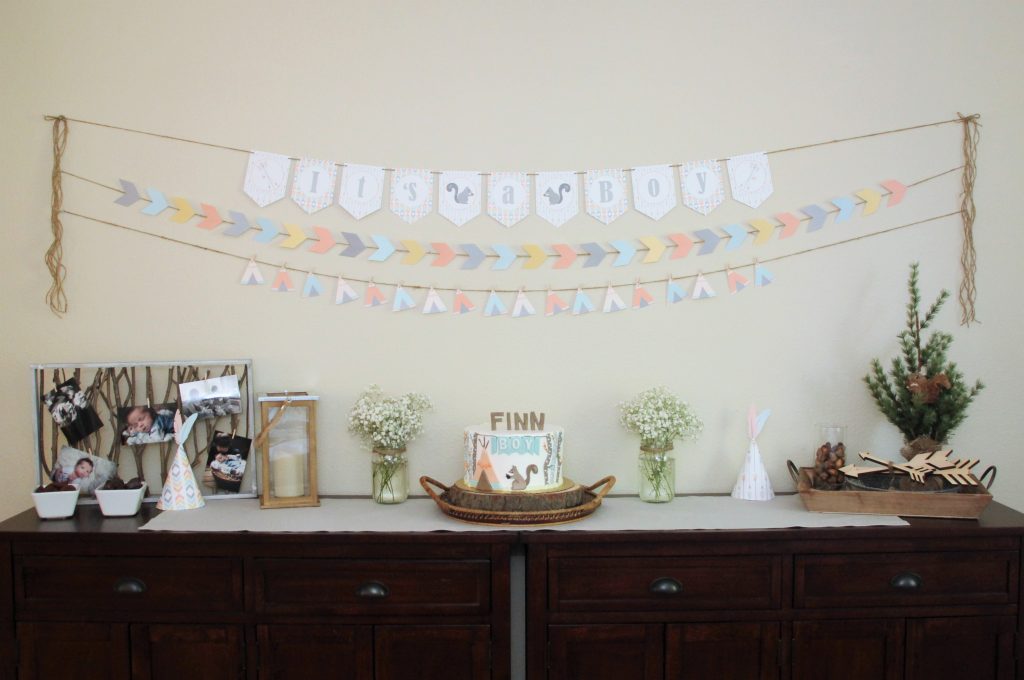 The row of arrows tie into the patterns on the It's A Boy banner. The tiny teepees were clipped onto the twine with mini clothespins. All of these items are included in the tribal baby shower printable party decor package. The package also includes images of teepees, arrows, and dream catchers if you are not using squirrels. These would all be adorable in the new baby's nursery after the shower.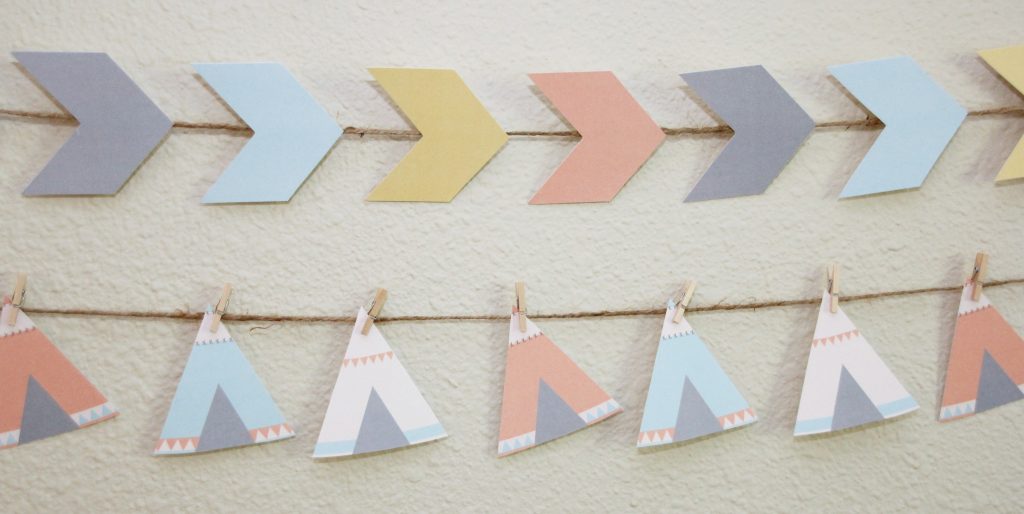 This cake was custom made to coordinate with our invitation. You can see the inspiration at the bottom of this page. I love the look of the cake on the woven basket and tree slice.
We tried to incorporate as many natural elements as we could. This branch frame was the perfect addition and a great find at a local craft store. The addition of the clothespins and baby photos made a great gift for the mom to be.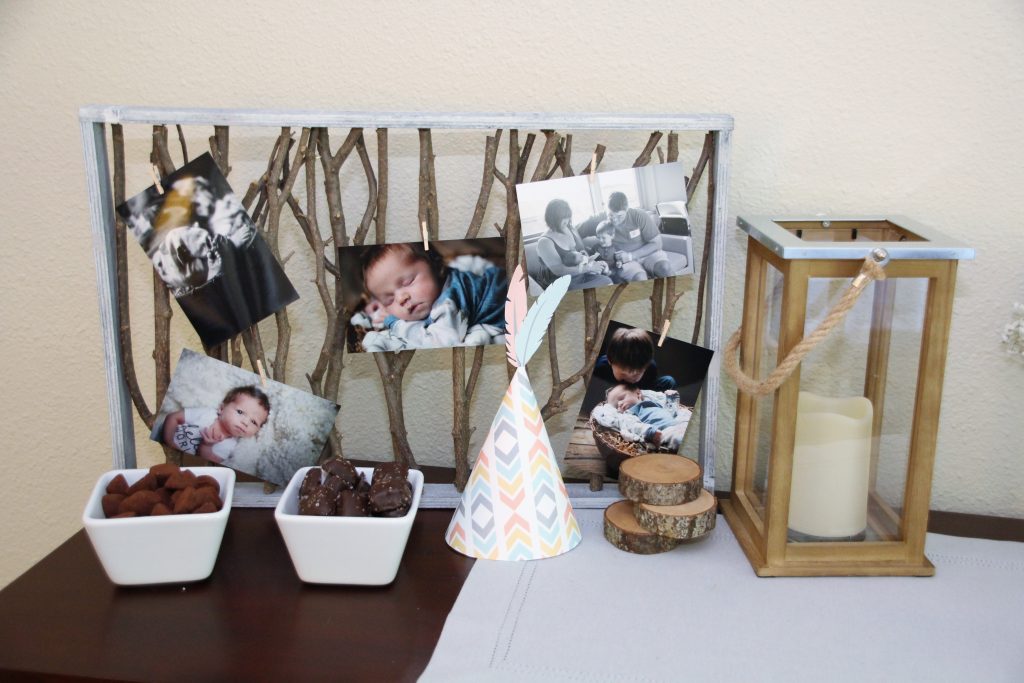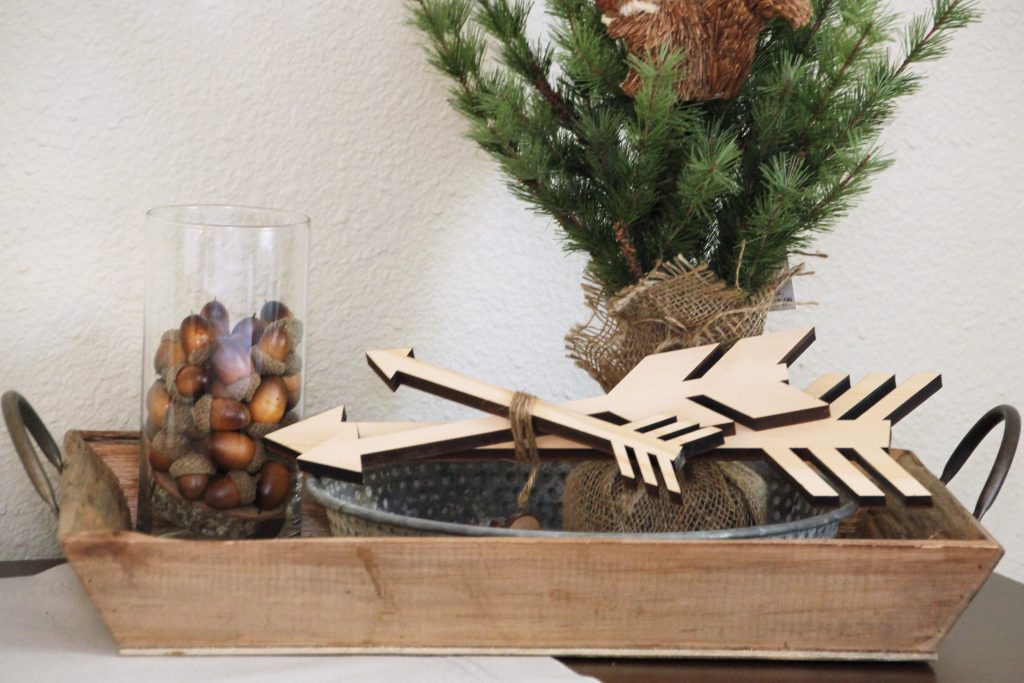 We had a second table just for the all the yummy food. On the back wall you can see 3 custom pieces of art that will be used as a gift for mom for baby's room. The center image has all of baby's birth stats. This shower was thrown after his arrival. I am working on adding more sets like this to my shop soon.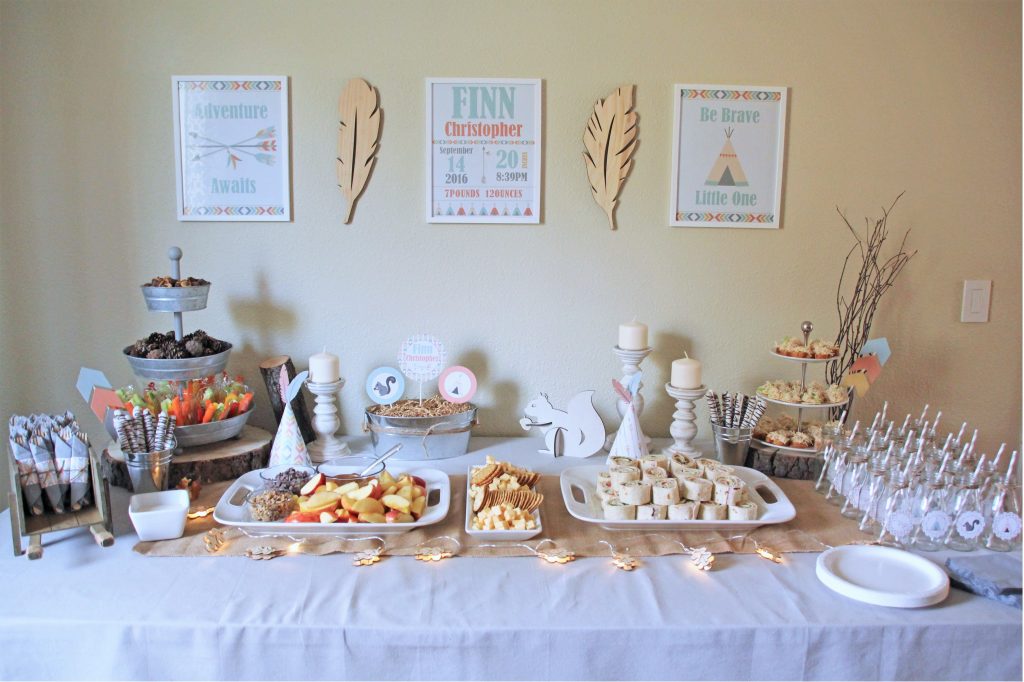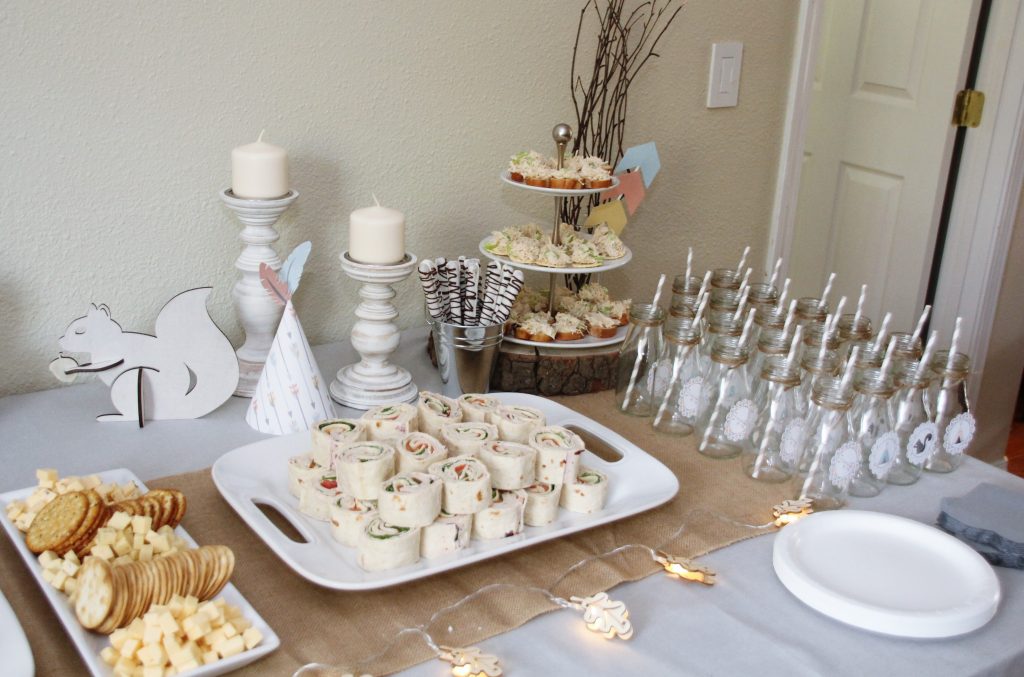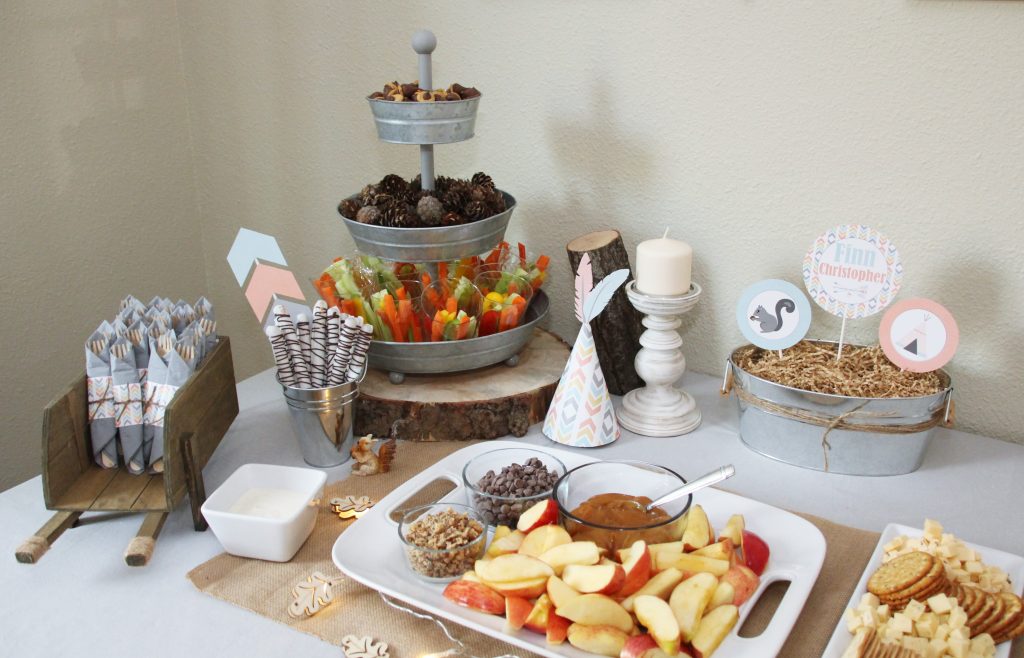 A sweet printable centerpiece incorporated baby's name and the images used throughout the party. As I mentioned before several other images are available in the tribal baby shower printable party decor package.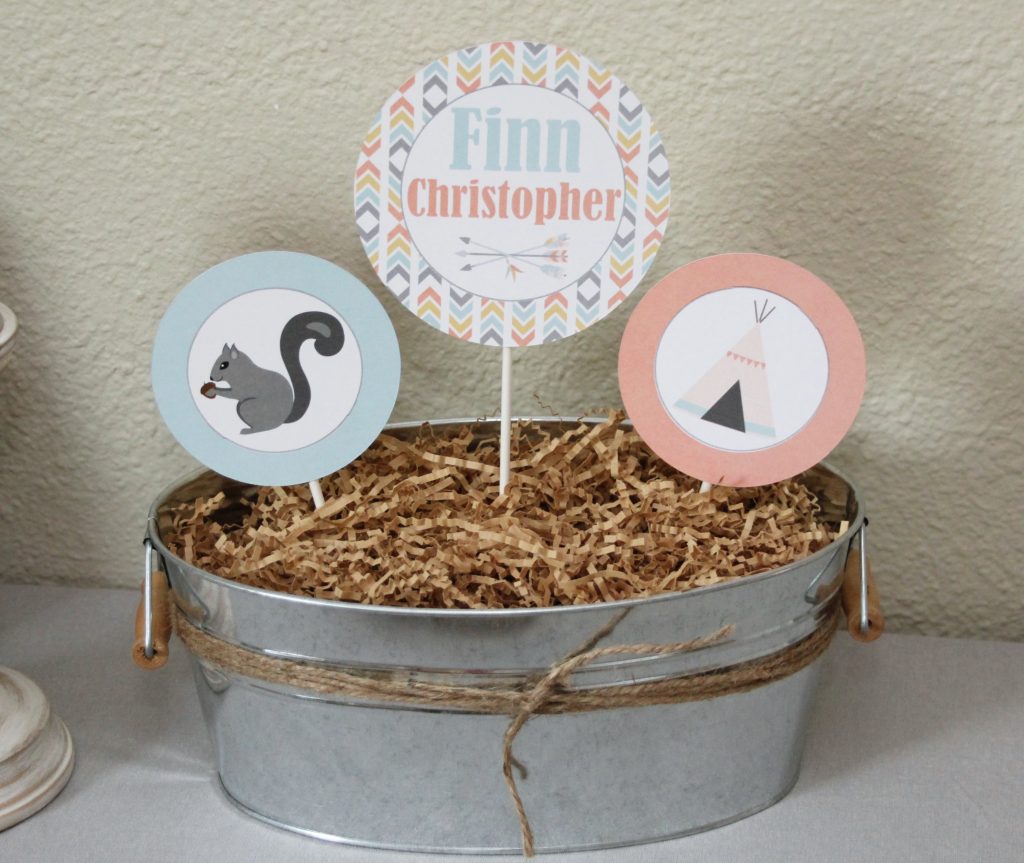 These little teepee hats were one of my favorite items we created. They were on both tables in the 2 coordinating papers. The paper feathers were the perfect touch.
My favorite stacking tray was used once again in this shower. Tiny little acorn cookies filled the top tier, pinecones to add to the nature feel and yummy veggie cups.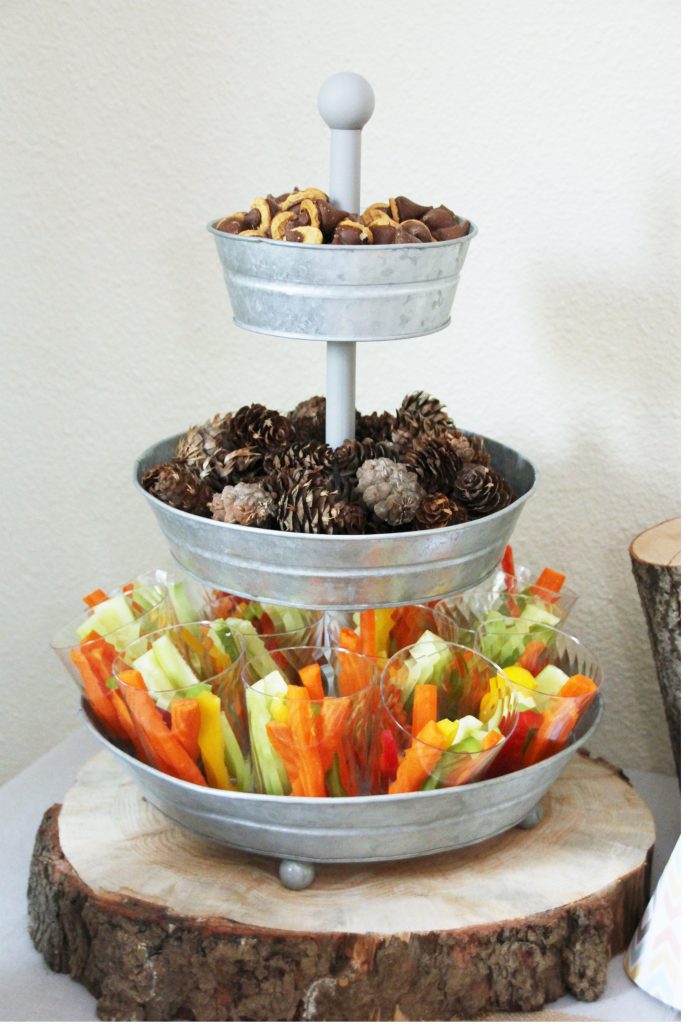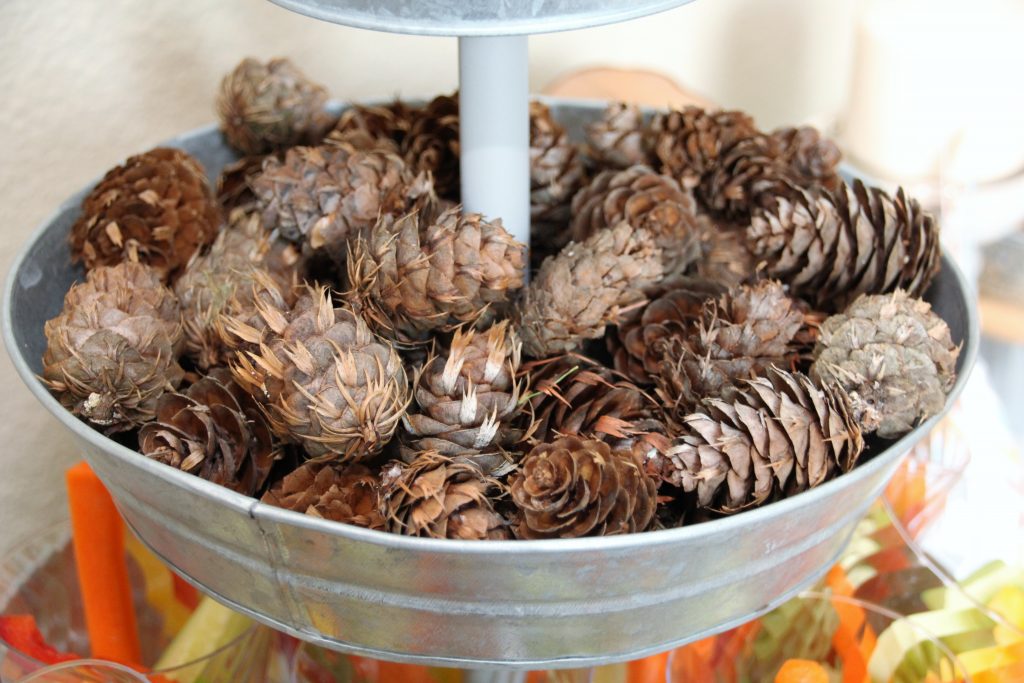 There were lots of yummy food items for guests to enjoy. Pinwheel sandwiches, cheese and crackers, apples and dip.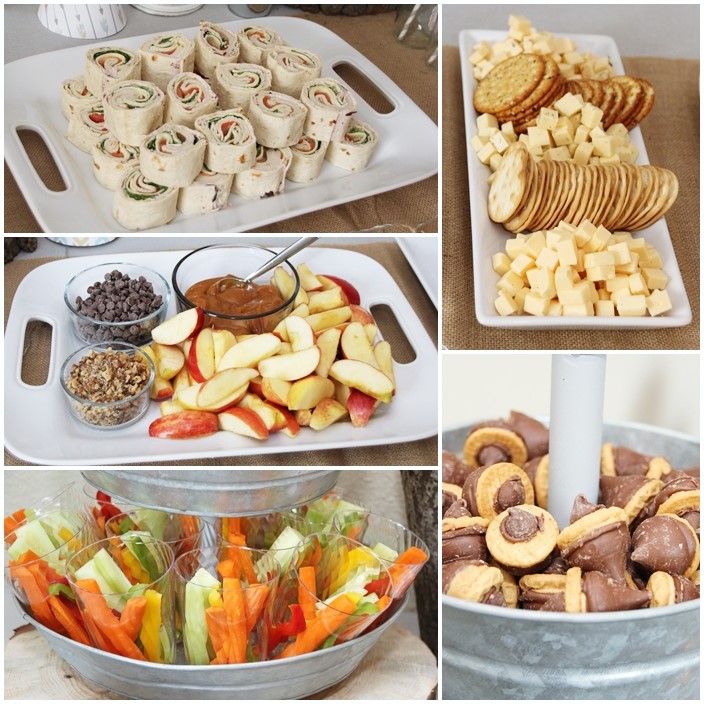 These tiny chicken salad appetizers were an easy but savory item to include. For baby showers I love doing an assortment of finger foods that feel fancy. The chocolate dipped pretzels mimicked our trees on the decor perfectly.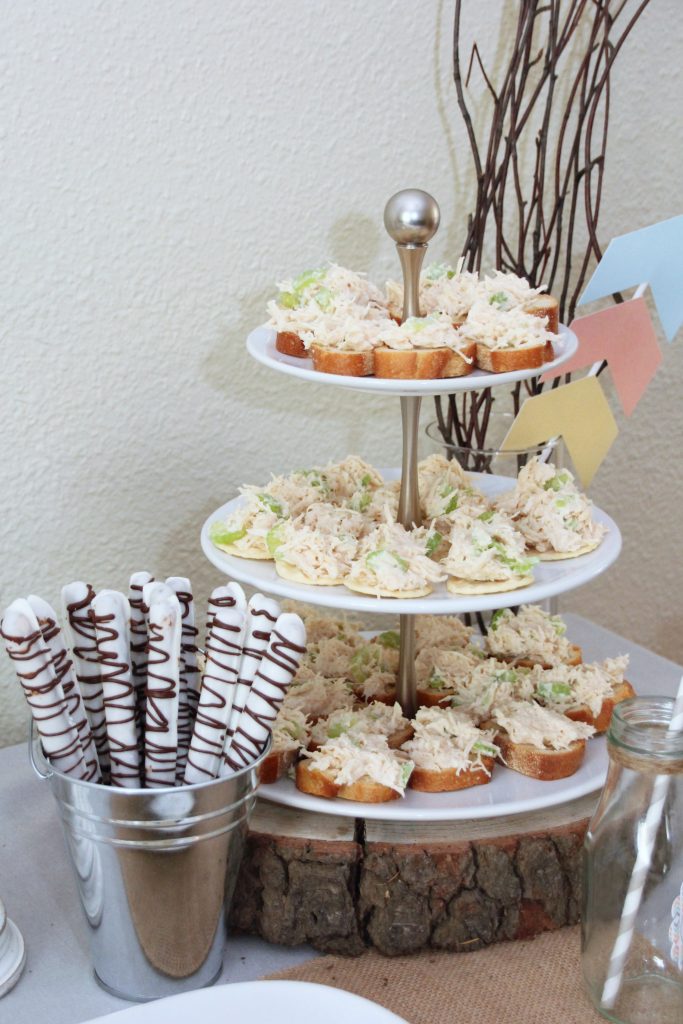 Once again here is my love for napkin wraps. These were made from the matching patterned paper and placed in a cute mini wheel barrow. The wooden silverware follows our natural elements throughout the baby shower.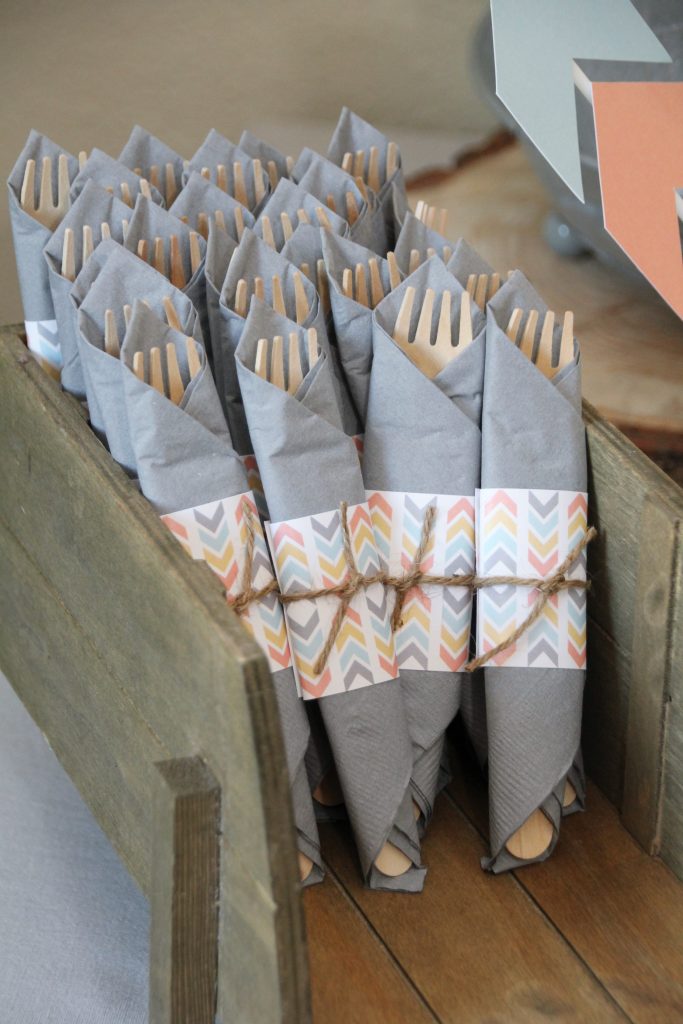 Since we did not have cupcakes I used the toppers on glass milk bottles for the guests to enjoy beverage in. A touch of twine and a paper straw dressed up an ordinary container.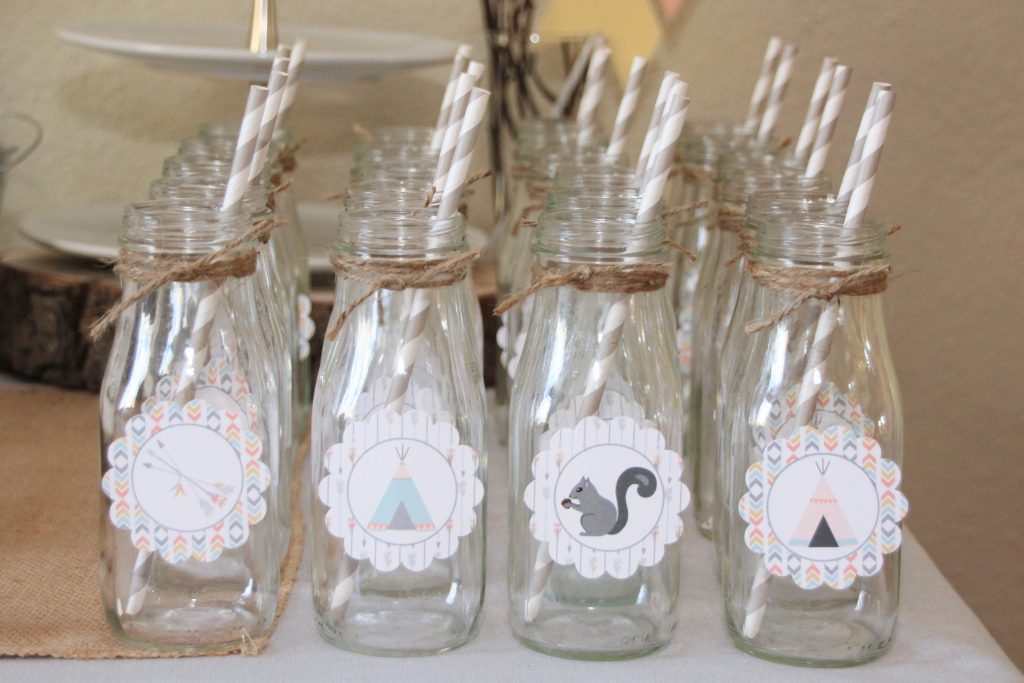 The beverages were in the kitchen, but there was no reason this space should be ignored. A branch with pinecones and a simple vase of flowers pulled together an otherwise boring area.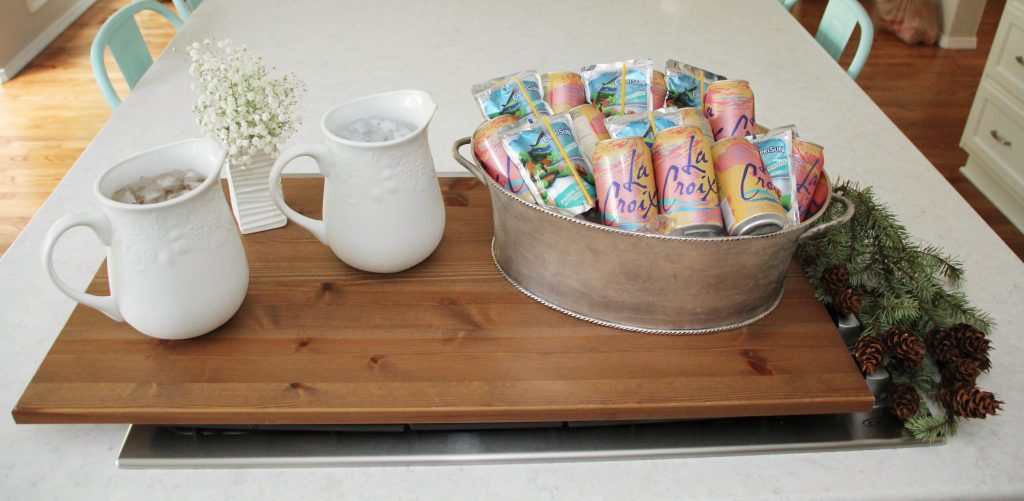 My co-host found these sweet items for the baby's nursery so we used them on our gift table. Isn't that wooden teepee art amazing?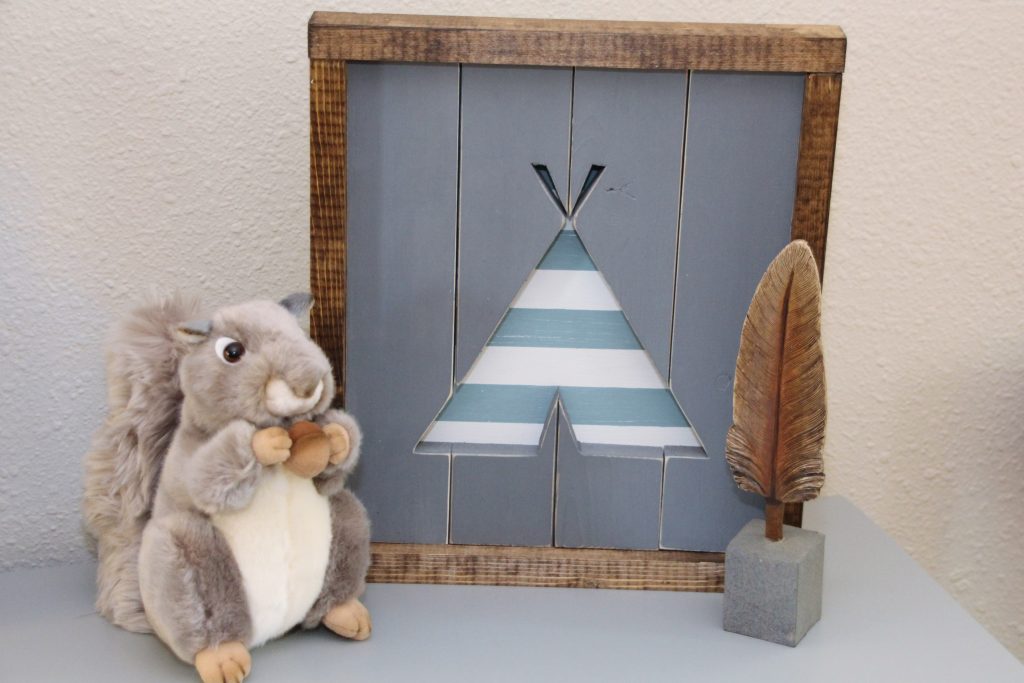 We played 2 games. The Price is Right and Scattergories. I don't know about you but I am not a huge fan of typical baby shower games. These were fun and brought out the creativity and competitiveness of the group. They will be available in my shop shortly along with a bingo card.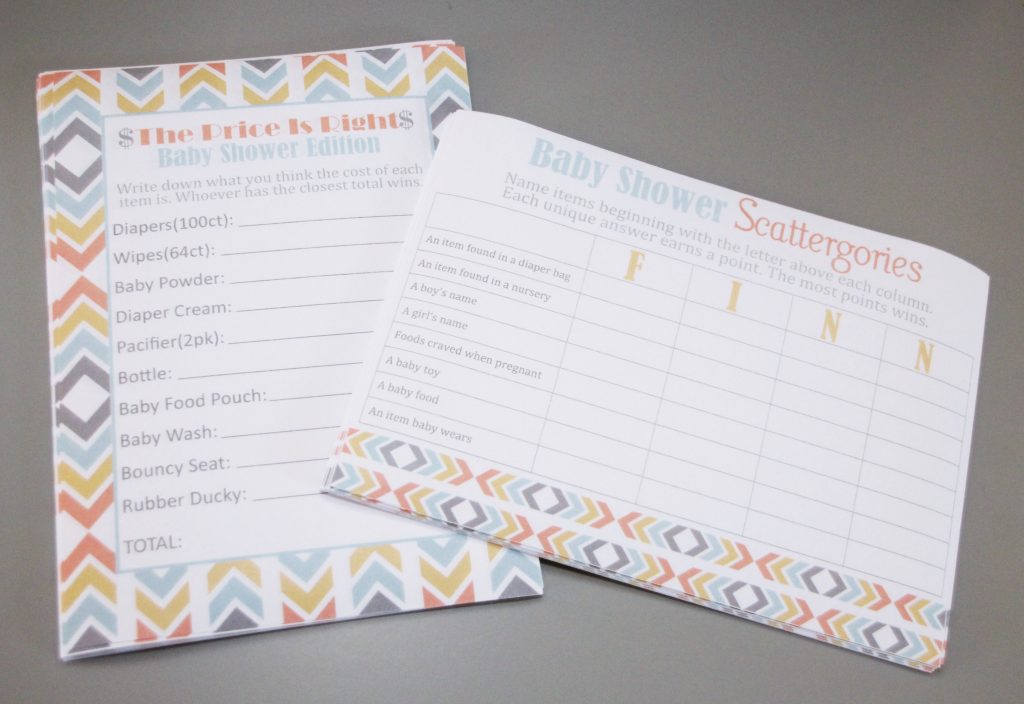 As guests entered and left the party this was in the entry. I created another large sign that could be used in baby's nursery but also welcomed guests to the space.  Don't be afraid to use frames already in your home by adding custom art.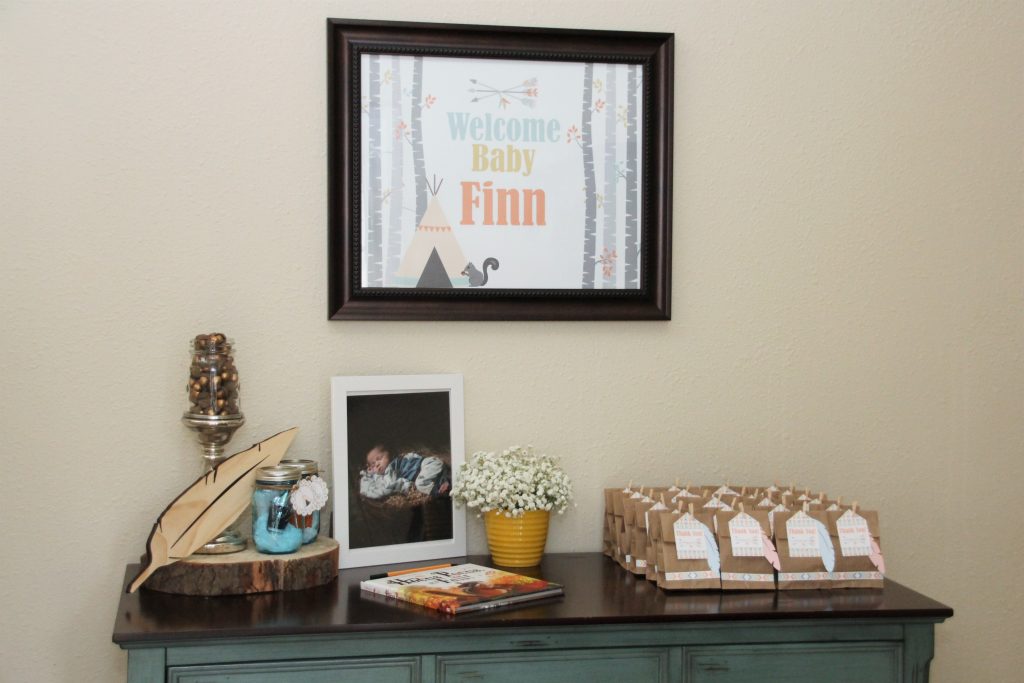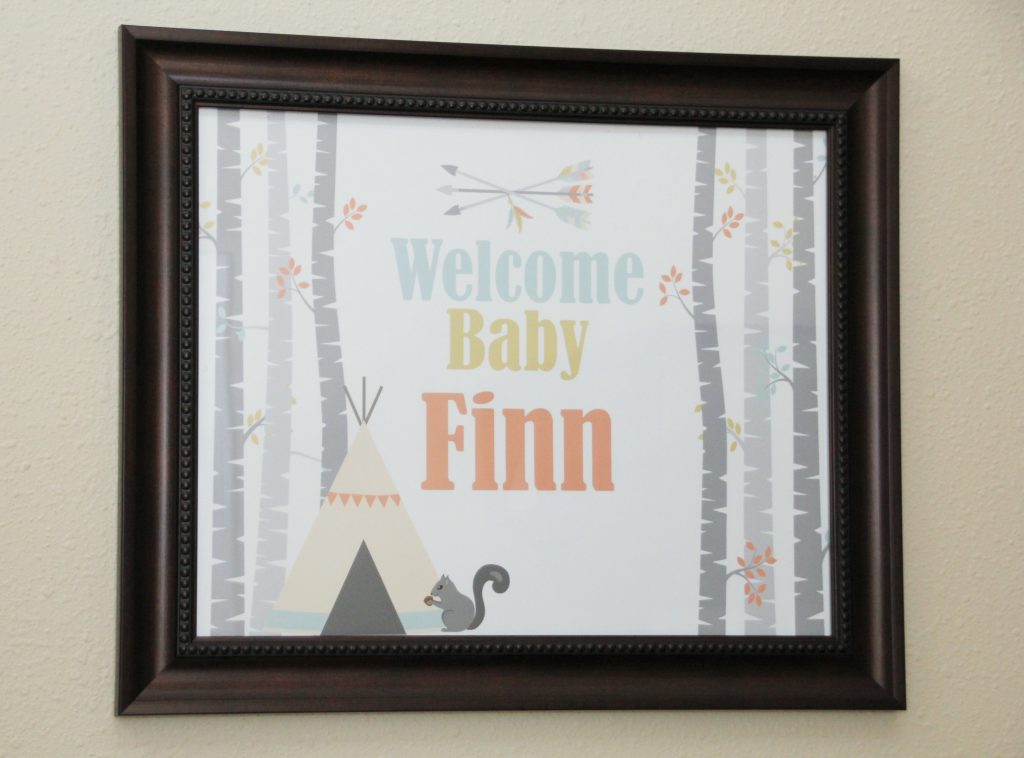 Each guest signed this squirrel book with a message for baby as he grows. What a special keepsake from a fun day.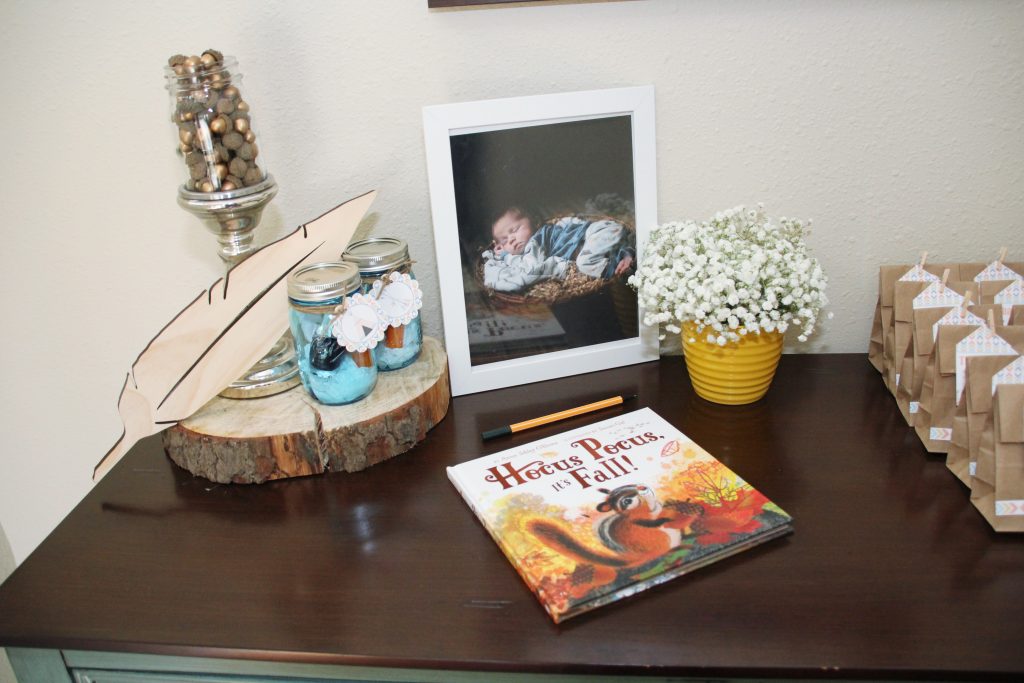 The blue jars you see were the prizes for the games. Mason jars make such cute vessels for so many things. We had them filled with flowers in several places as well as the acorns above.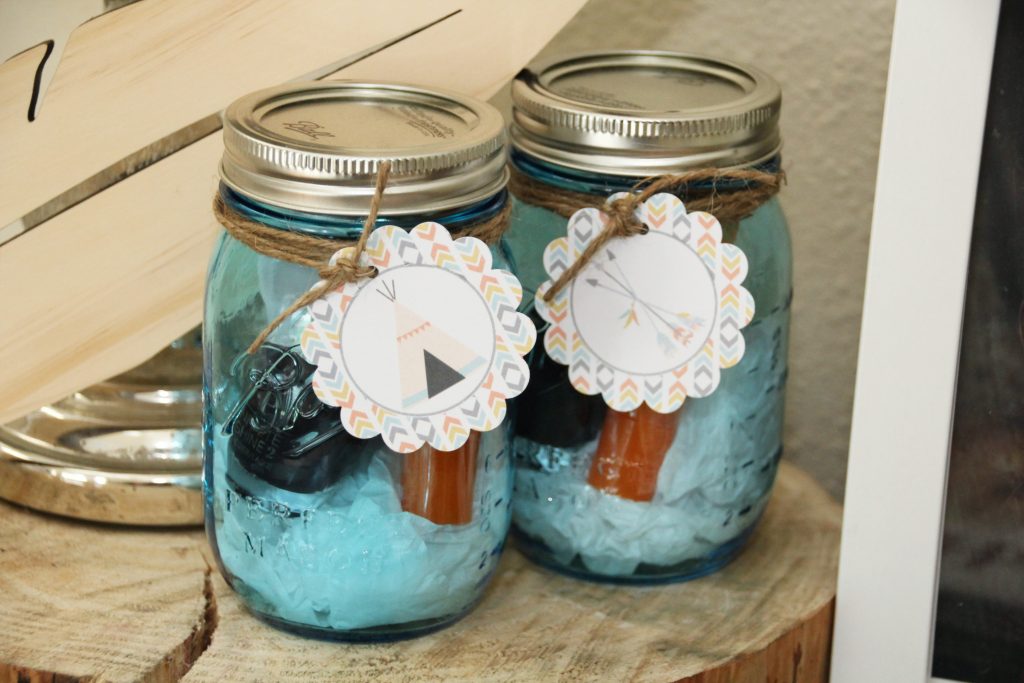 The favor bags each had a printable favor tag and paper feather clipped with the mini clothespin. Inside were yummy truffles and salted caramel chocolates. I love sending guests home with something to remind them of the party.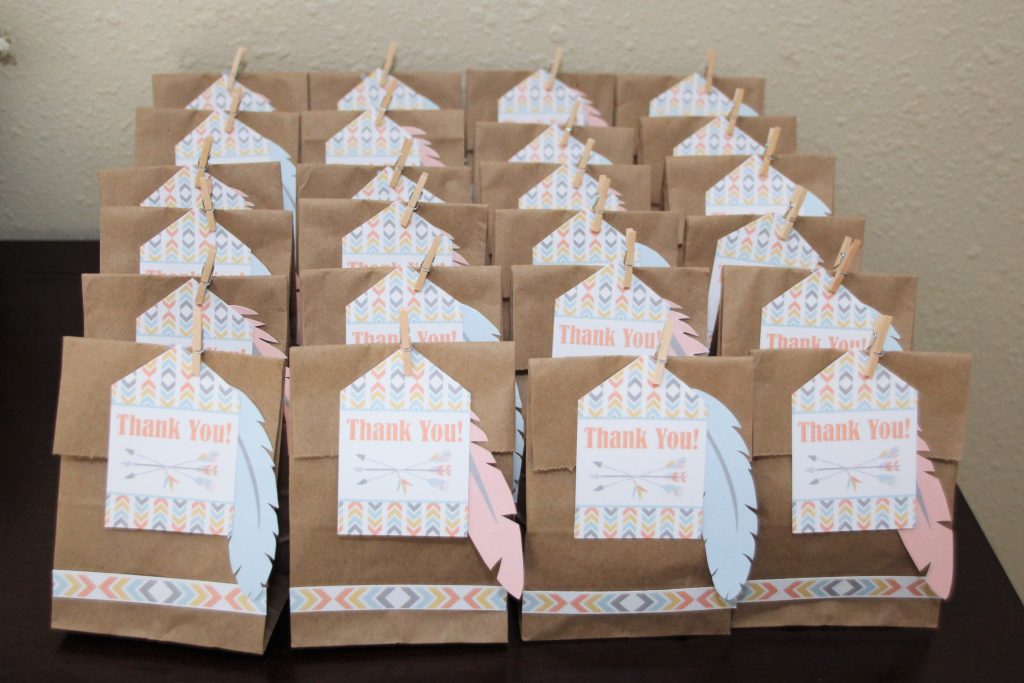 The Tribal Baby Shower Printable Decor Package is available in my etsy shop. It is also available in girl colors. If you love this set but are throwing a shower for someone who doesn't know the gender just message me. I would be happy to do it with Baby Shower wording vs It's a Boy/Girl!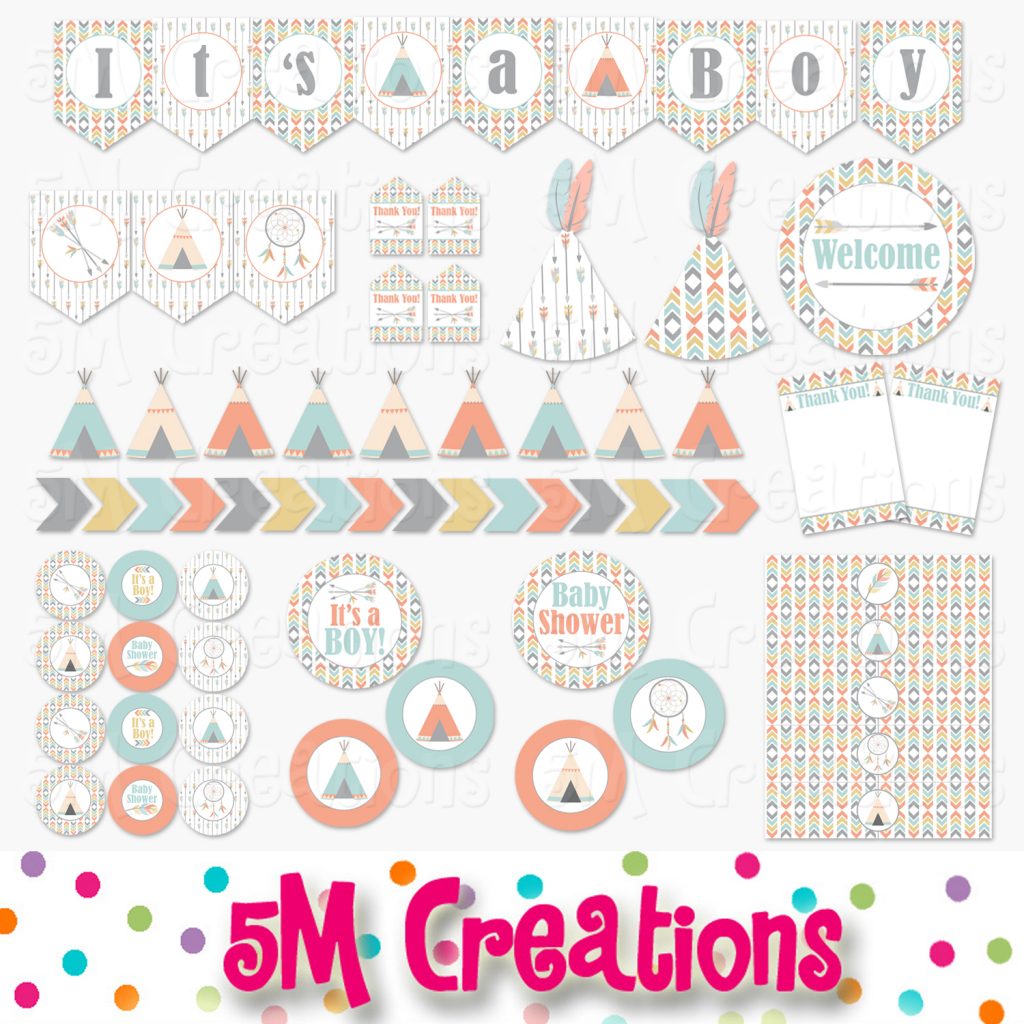 This is the original invitation created for the shower. I love the tall trees on either side.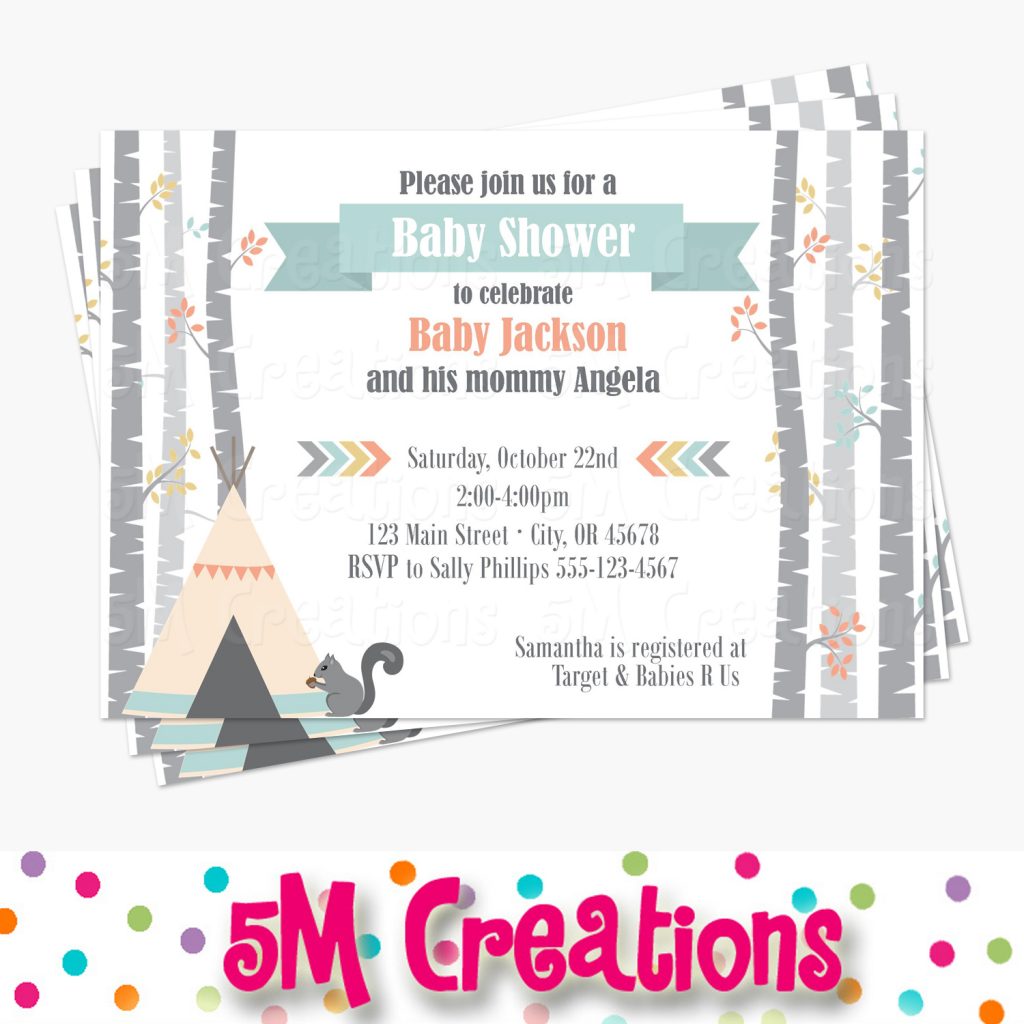 I also created this version in both a baby shower and birthday party layout. Wouldn't a Tribal Birthday Party or a Wild One Birthday Party theme be so fun?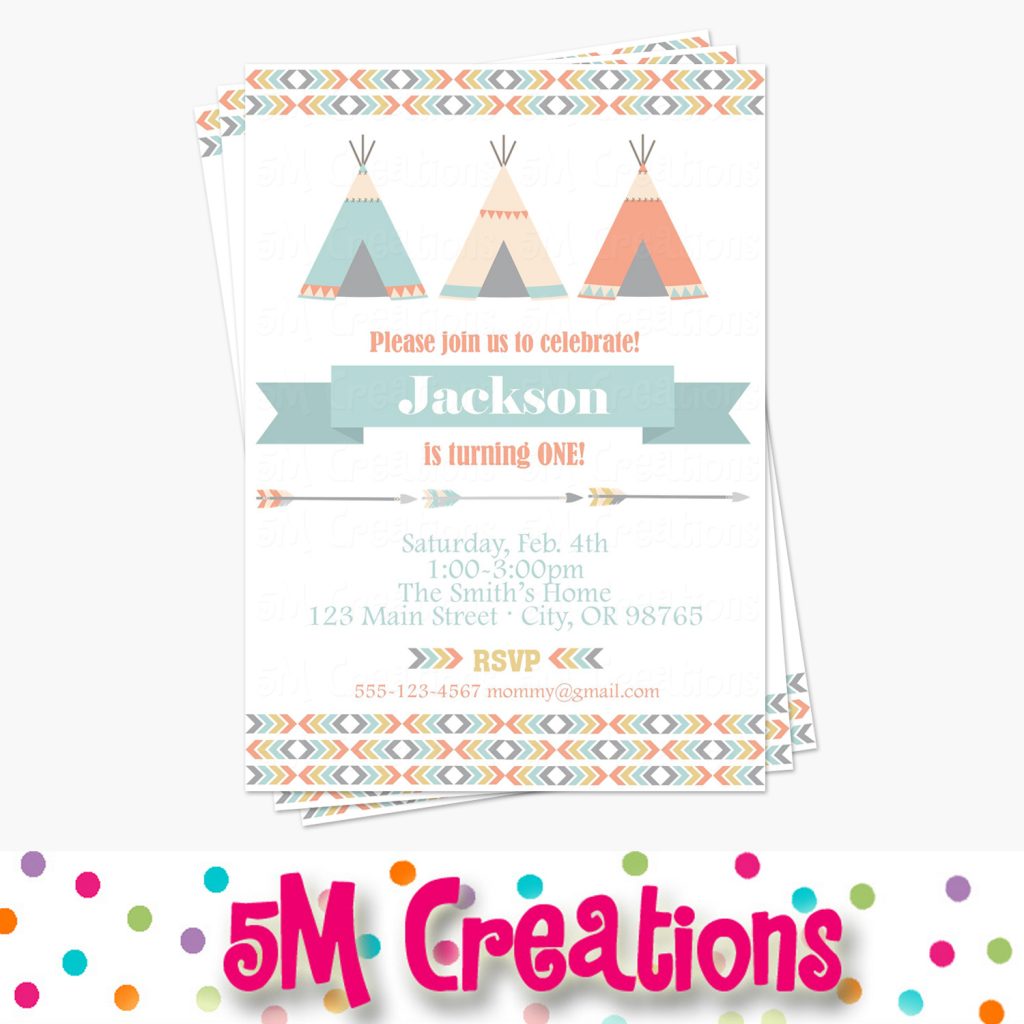 It is also available in girl colors.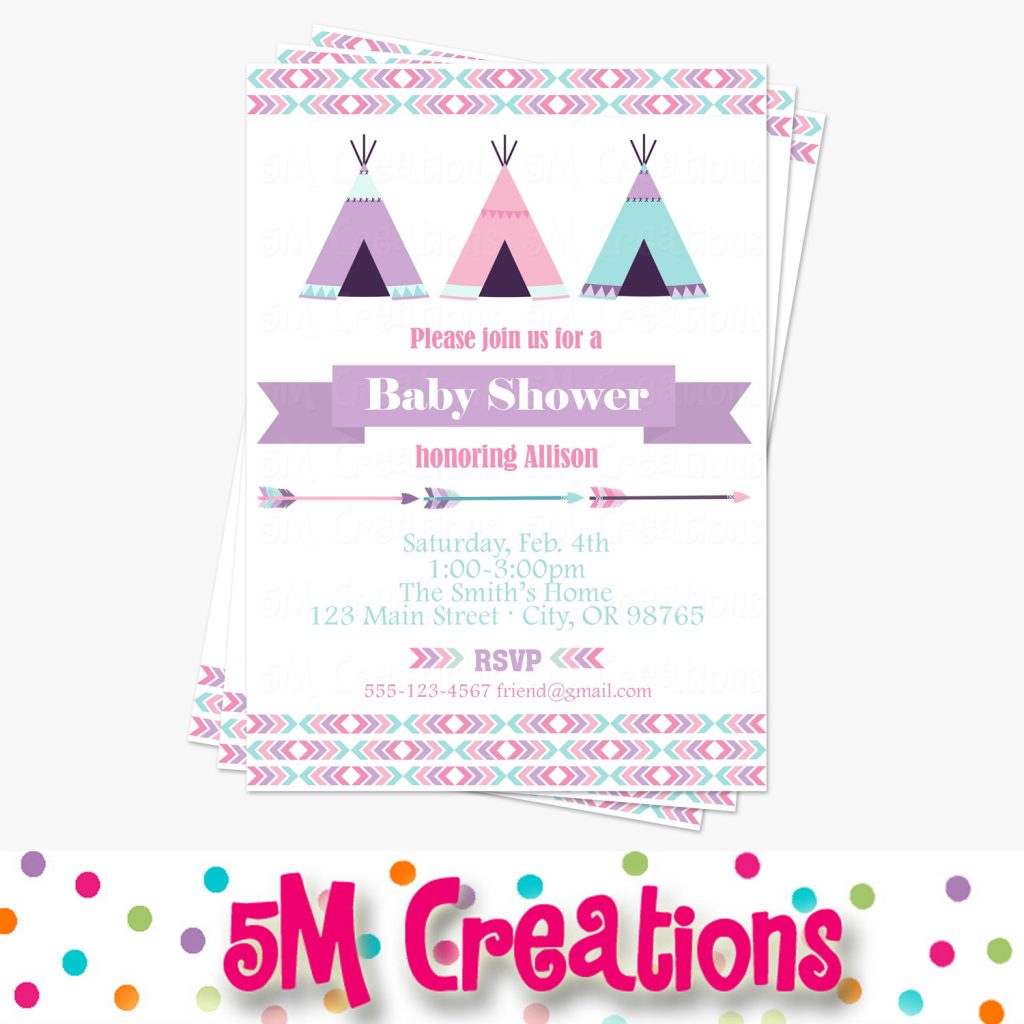 If you throw a party using either of these packages I would love to see photos of your event. You can email them to fivemcreations@gmail.com.  I am always looking for parties to feature here or in my shop.
5M Creations June 9th, 2017
Posted In: Baby Shower, Boy Birthday Party
Tags: baby shower, Banner, birthday party, centerpiece, printable decor, printable party, teepee, tribal