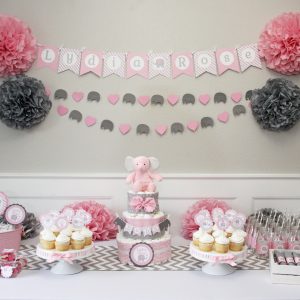 A few weekends ago I had the pleasure of hosting a baby shower for a friend's baby girl. She chose an elephant theme in her nursery so I went with the same theme. I love being able to use the nursery theme when designing a baby shower. I use decorations from the shower as a gift for the mom to be.
I started this set with the base of my original boy Elephant baby shower I designed a few years ago. I swapped the colors for a soft baby pink and gray and updated some of the designs. Be watching for an updated boy version soon. I had fun adding some layered die cut card stock elements to my printables for this party. 5M Creations originally began with all die cut layered party décor. It was fun to use them again.  I love the mix of patterns you get with printables and the texture the layered card stock brings.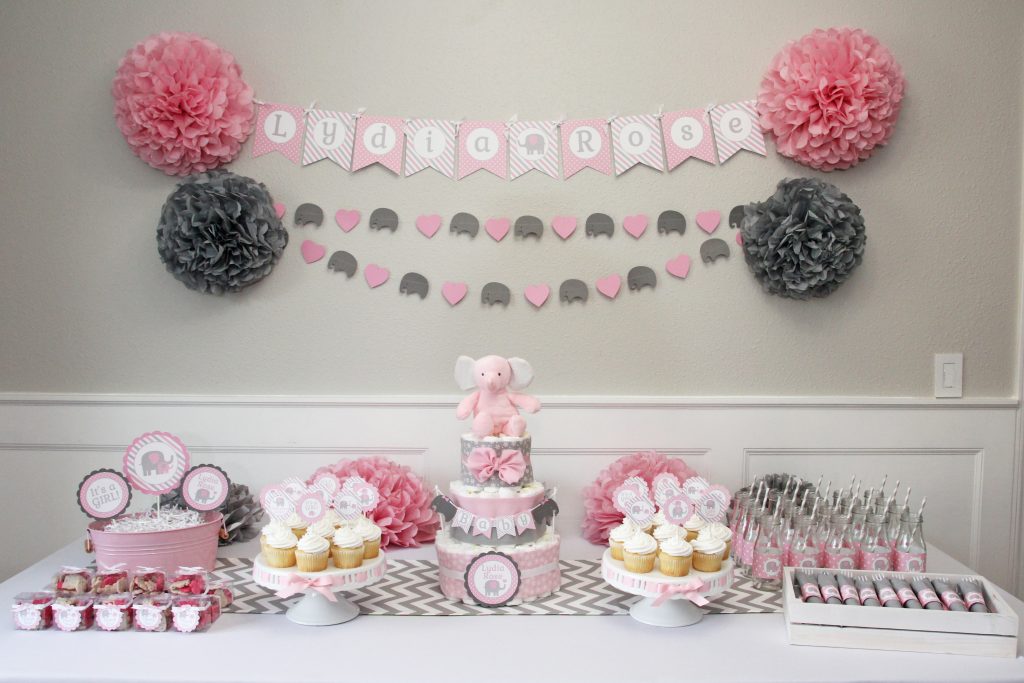 As one of the gifts for the mom to be I created this diaper cake. If you have never made one, it is just diapers rolled up to make each tier. I prefer Pampers Swaddlers(since they are white) in a size 1. I bought these sweet pink and gray fabrics at my local craft store. I cut them to the size I needed and secured them in the back with straight pins. You can use swaddle or receiving blankets as well if you find some that match your colors.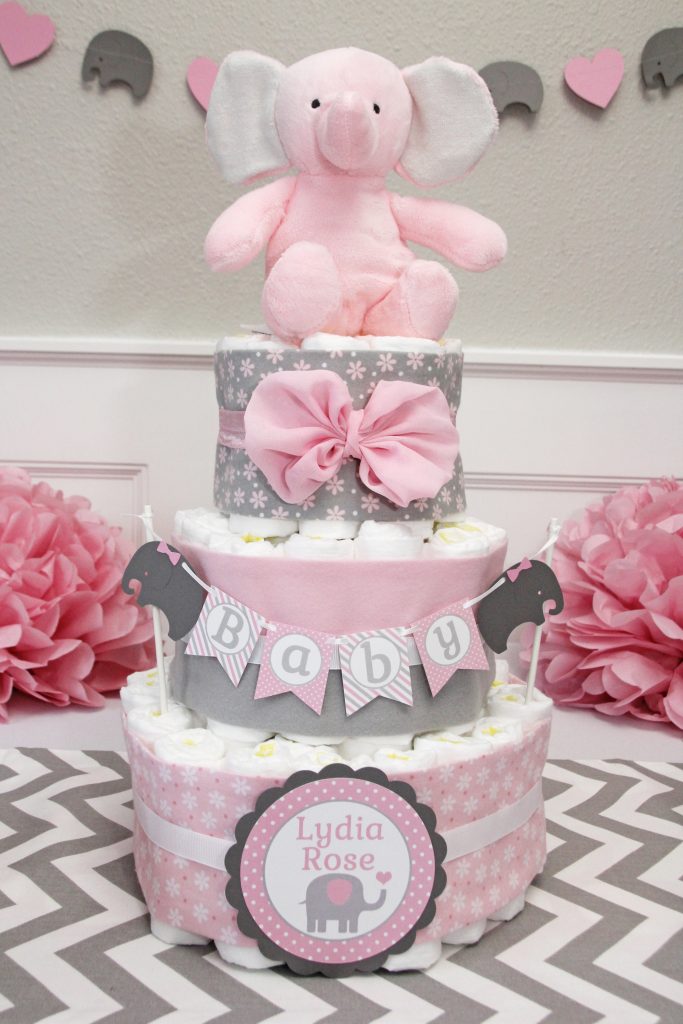 I created a mini Baby banner in this printable elephant baby shower package to use on the middle tier. I added die cut elephants to the end and secured them to lollipop sticks. I also used one our the printable centerpiece circles for the bottom tier.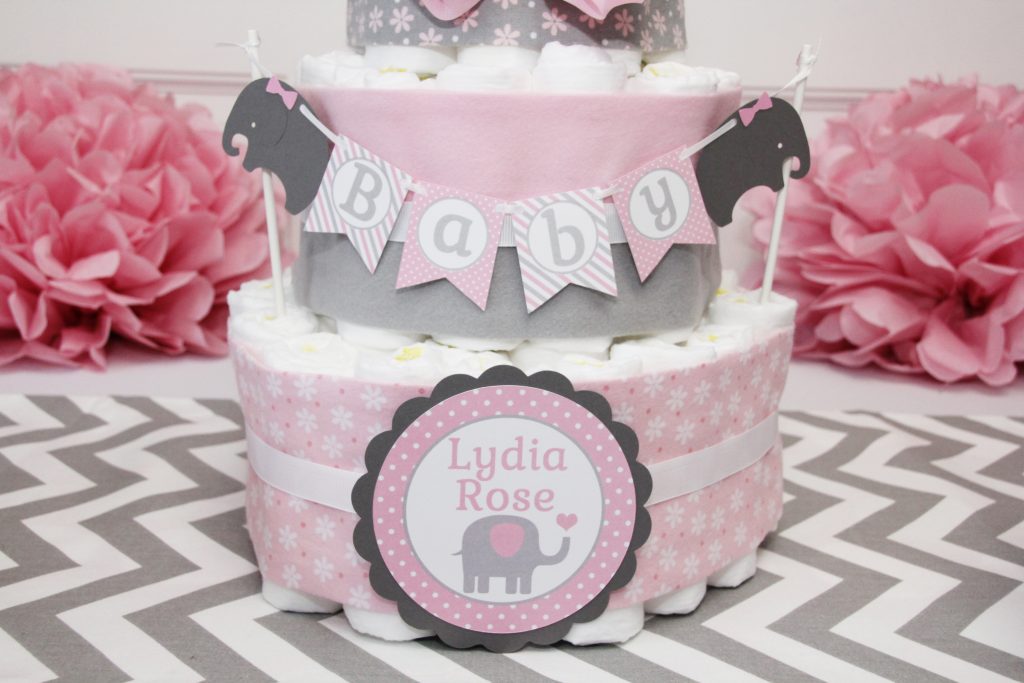 For the top tiers I found this adorable pink elephant plush at Target! I was so thrilled. Isn't it the cutest. I also found a set of baby headbands in white and this soft pink bow. It was the perfect accent for the top tier. This is another way to tie in a gift for mom in your decorations.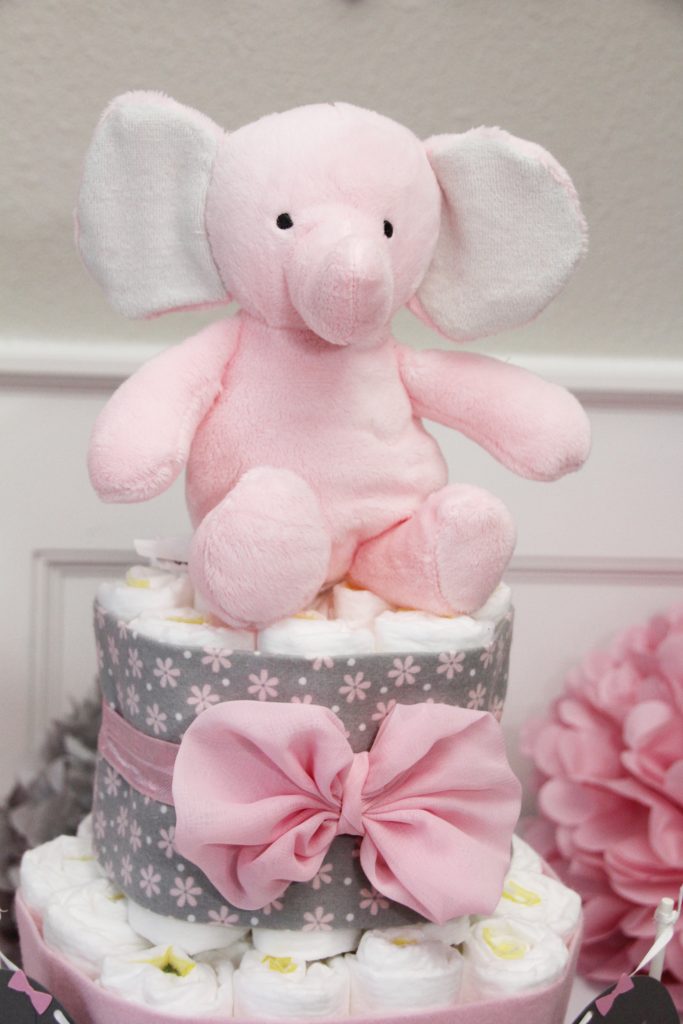 I kept the sweets simple with classic white cupcakes. I added sweet cupcake toppers punched with a scallop punch for a girly touch. I love this cake stand from Home Goods. I can swap out the ribbon to match any theme I need.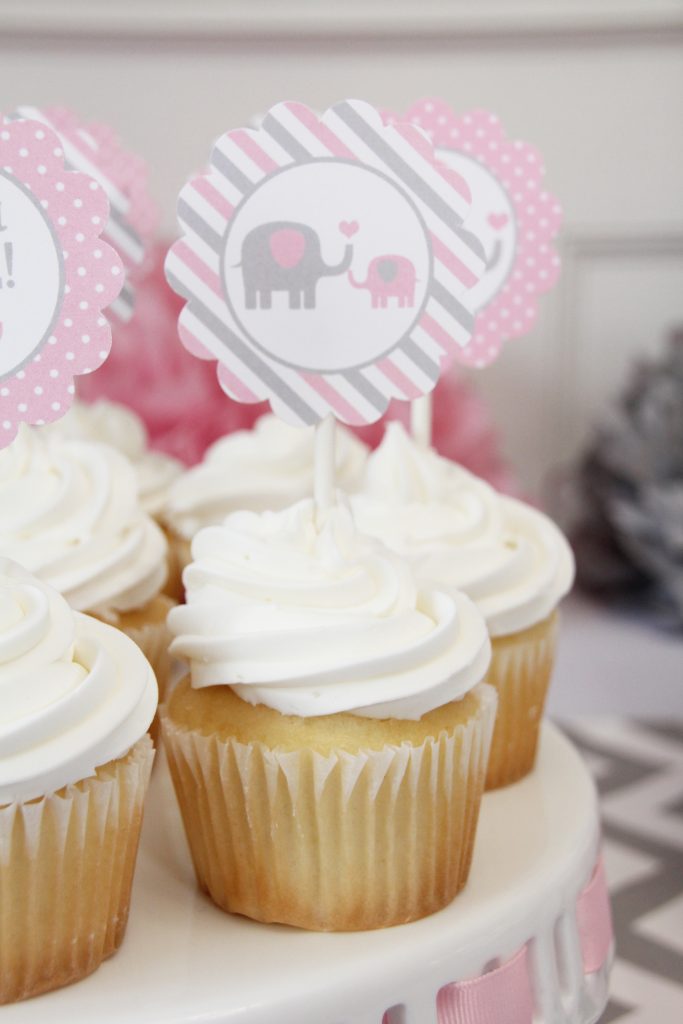 My printable elephant centerpiece circles were dressed up with an extra layer of scalloped circles behind them. Add them to a cute pink bucket and they are a perfect focal point for any table.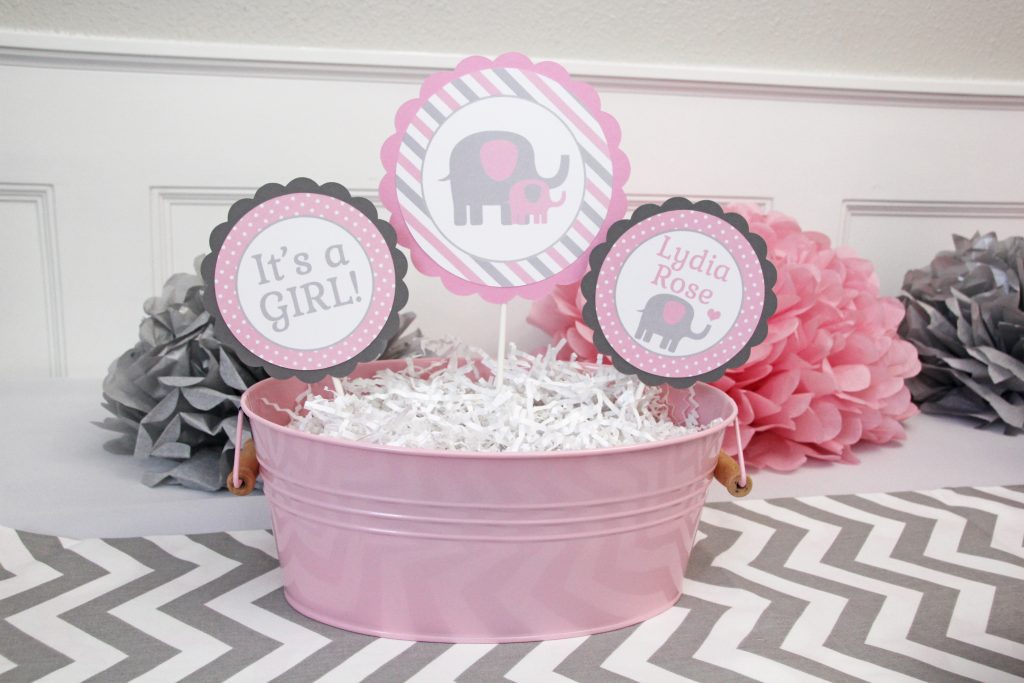 One of my favorite drink containers to use are these glass milk bottles. I have mentioned in previous posts that I purchase starbucks coffee in these bottles and remove the labels. So much less expensive than buying fancy glassware. Add a cute printable water bottle wrap and a paper straw to add to any party theme.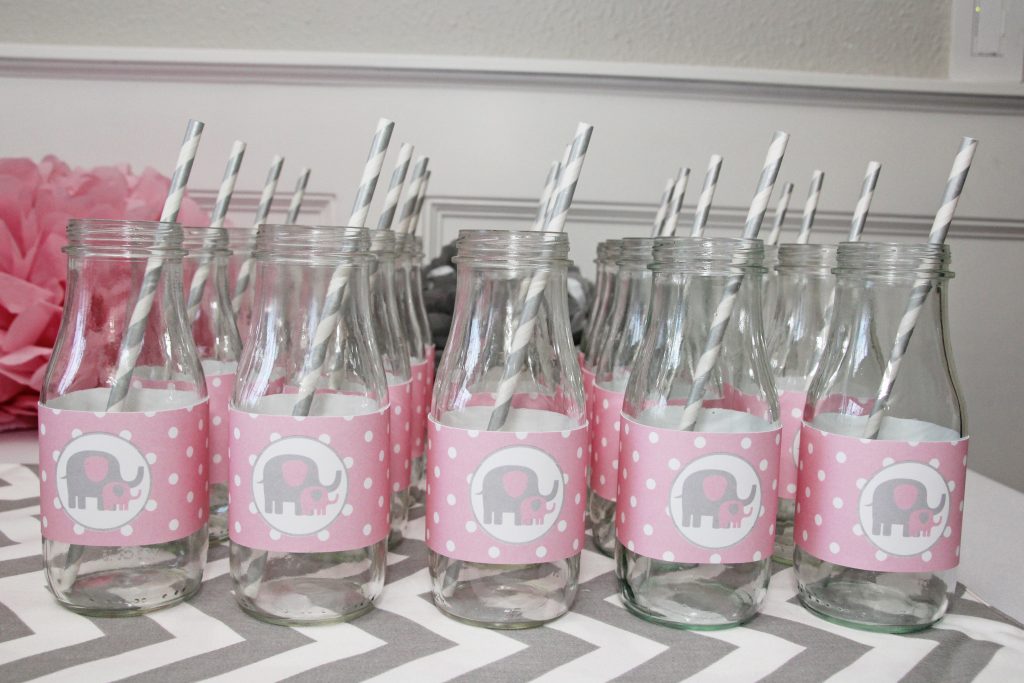 I love the little details in parties. These printable napkin wraps are a perfect way to add an extra little touch of cuteness. Plain silverware and napkins become part of the décor.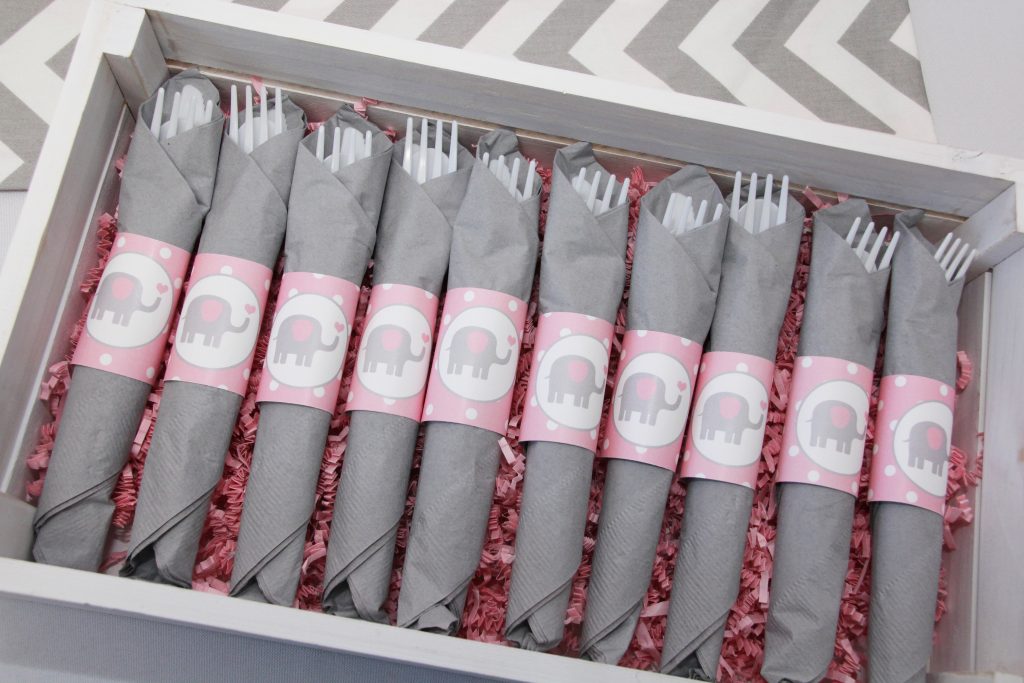 Tissue poms are such a fun decoration for a baby shower. They are so soft and whimsical. My table was very deep and I needed a way to fill the space without making it look to busy. Tissue poms were perfect. They pulled in the colors of the party perfectly while serving a purpose. I used them on the wall as well around the banners. Tissue poms are such an inexpensive way to add big impact to a party space. You can find a tutorial here.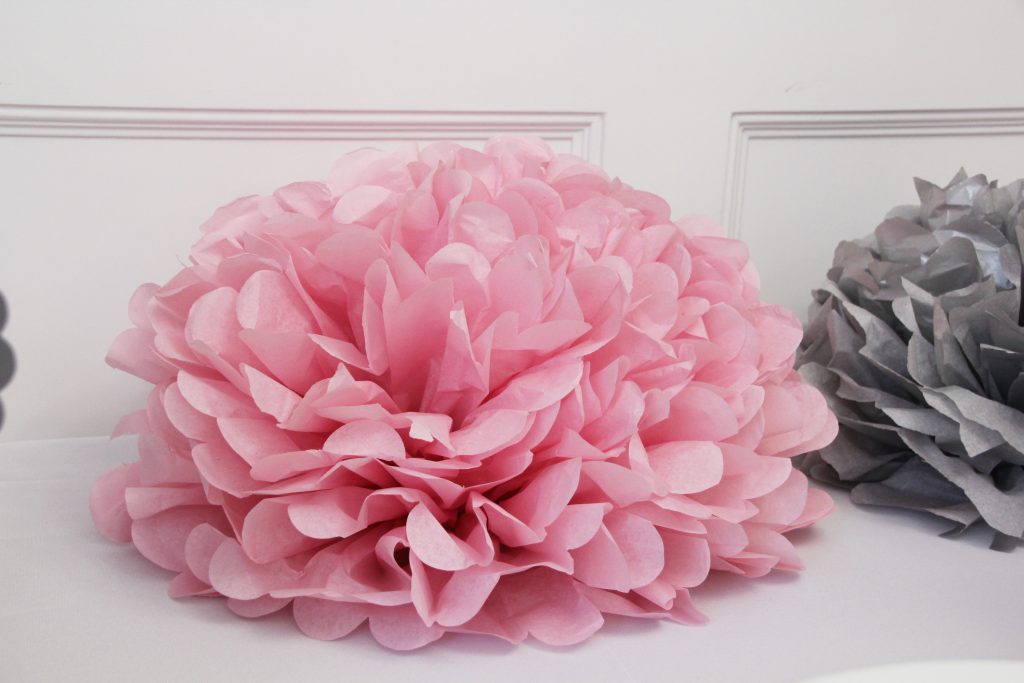 For party favors I used pink and white circus cookies in these tiny clear boxes. They were an adorable sweet treat to send with guests as they left. However most of them were eaten before they even got out the door. You are never to old for animal crackers.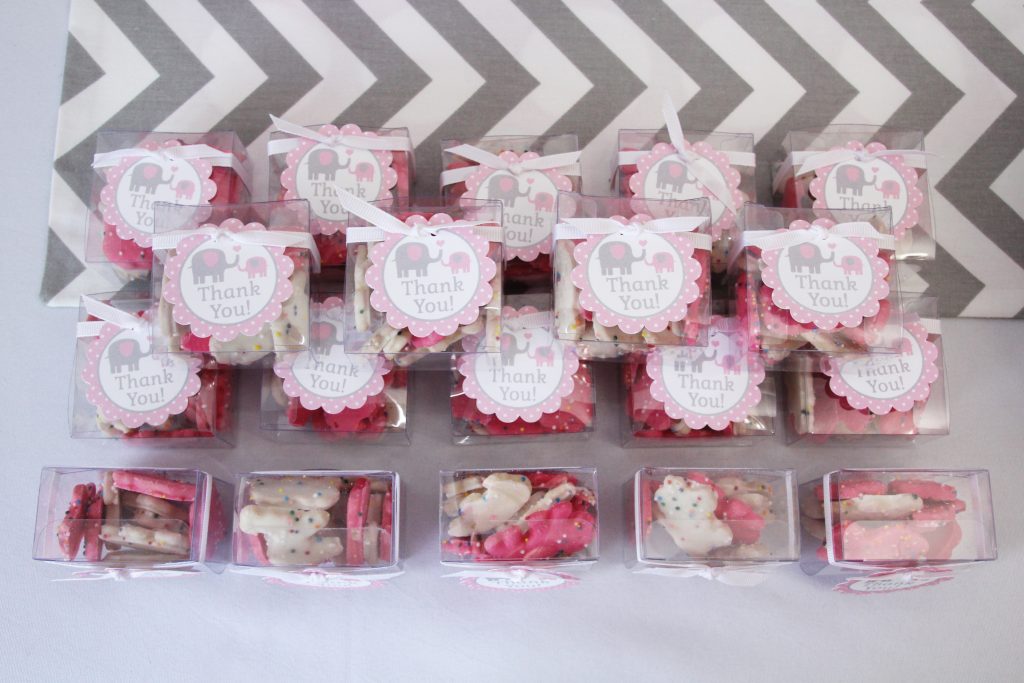 I tied a printable favor tag punched with a scallop punch to each box with a simple white ribbon.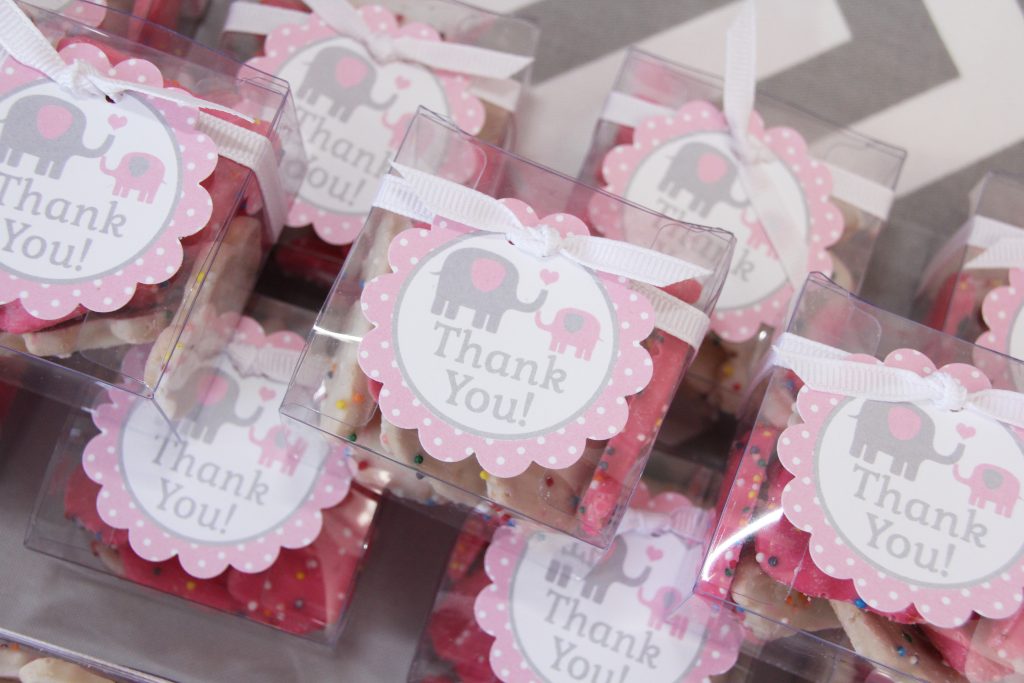 My printable elephant baby shower décor package includes an It's A Girl banner. For this party I created a banner using the baby's name so that it could be used in t he nursery as well. Personalization is always an option with any of my party packages. 

This elephant pennant banner dressed up a mirror in my party space that was over the food table. It is included in the package.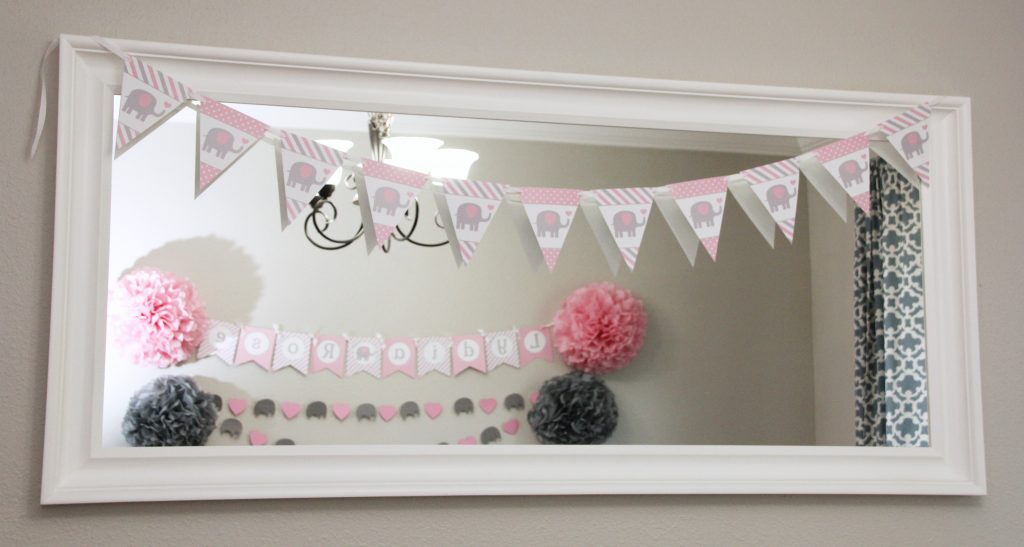 As guests entered the party I had them put addresses on envelopes to make it easier for mom to send out thank you cards. I printed a set of matching printable elephant thank you cards to send with the mom as well. This sweet L was created by purchasing a wooden letter from the craft store. I traced it onto scrapbook paper and glued the paper to the letter. I added one of the die cut elephants. Decoration that doubles as a gift.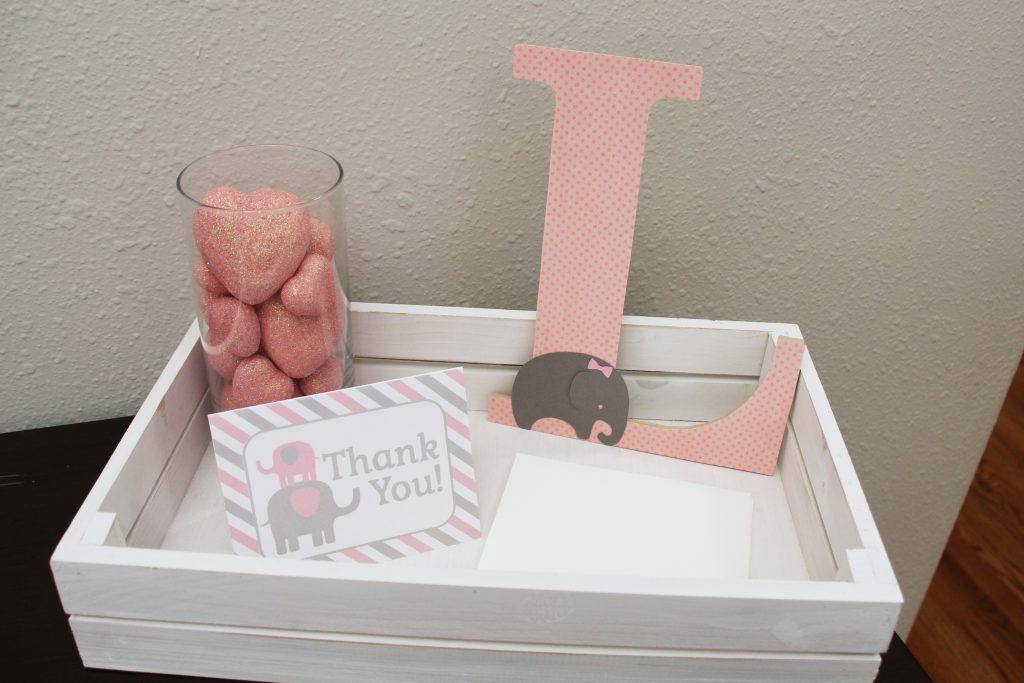 Another sweet gift for mom were these blessing cards. Guests wrote messages to the baby girl. Add them to an album for a sweet keepsake to look back on years later.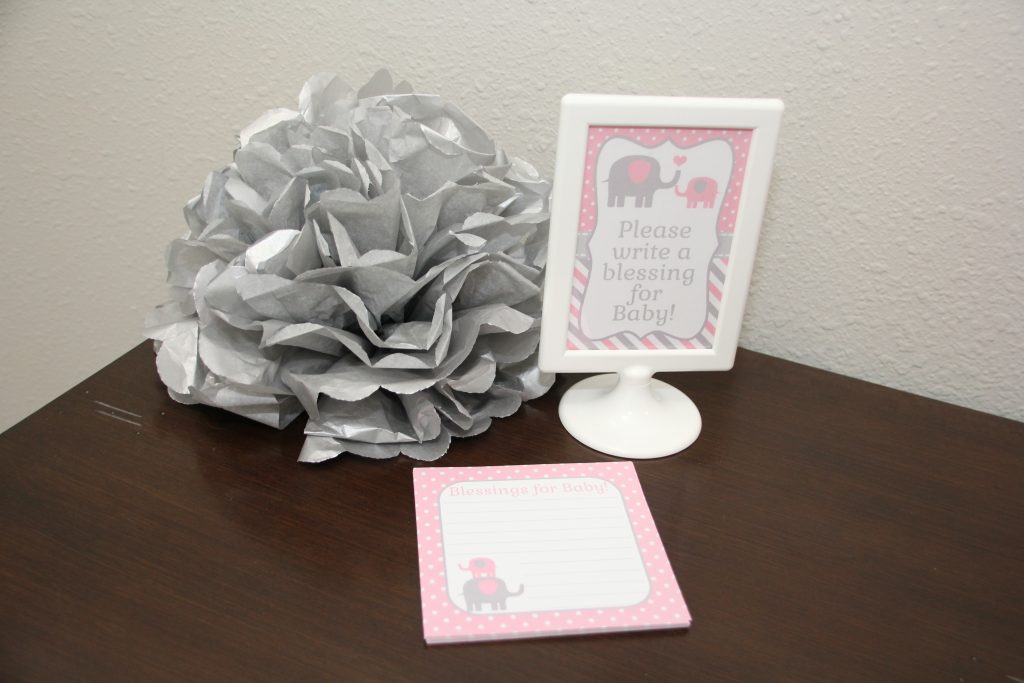 Last in my photo story, but really first… as guests entered they were greeted by this welcome sign. It would be adorable on a nursery door as well.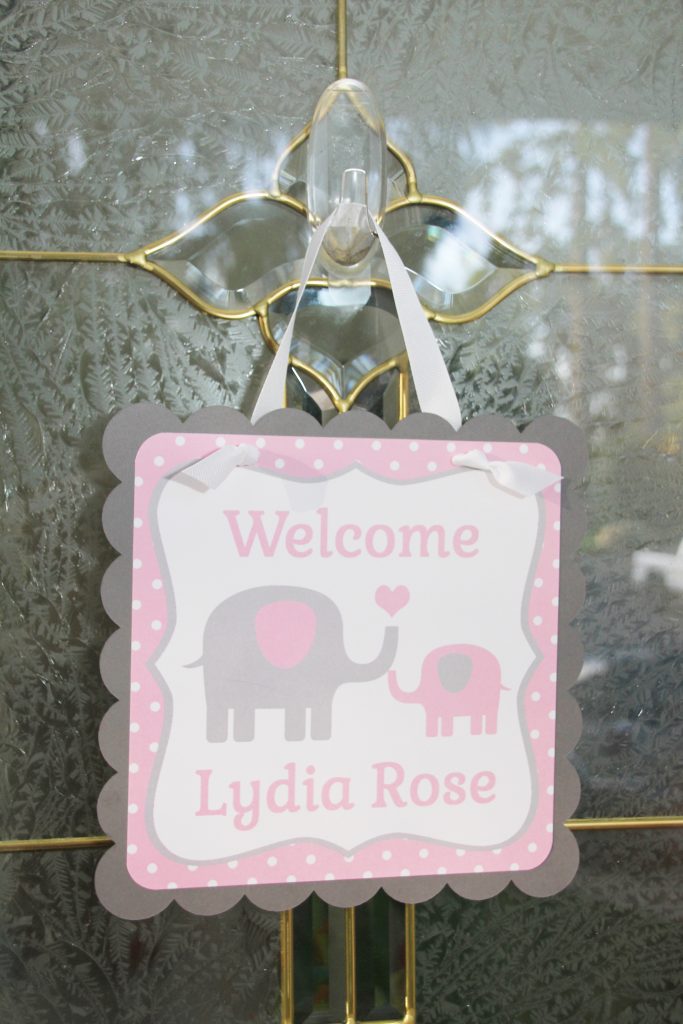 I love the soft look of this pink and gray combo. It was such a fun party to design. The full party décor package and printable elephant baby shower invitation are both in my shop. I hope you enjoyed this party as much as I did.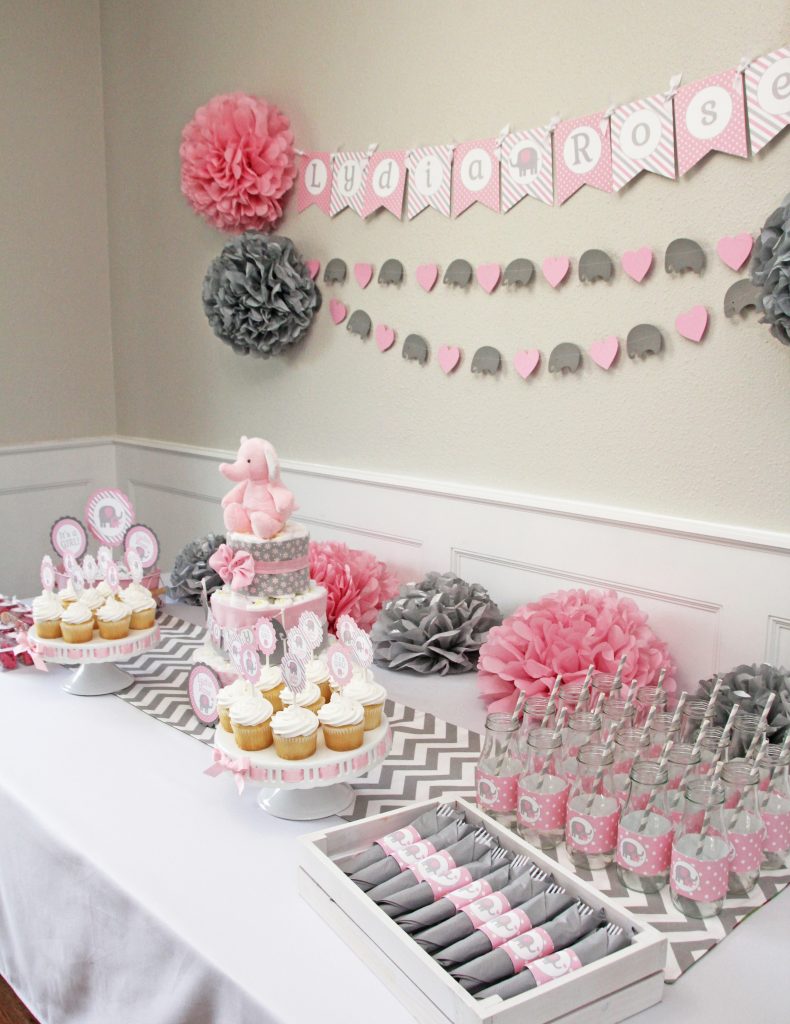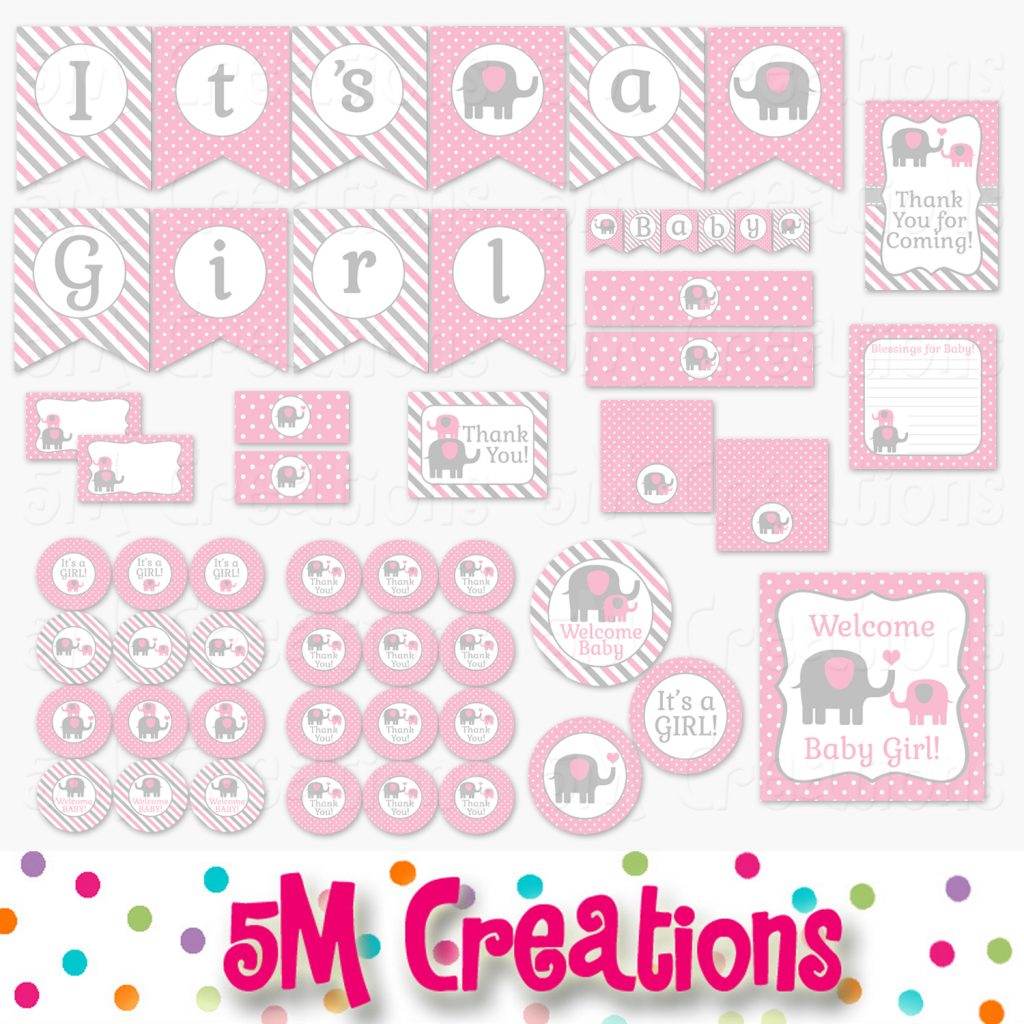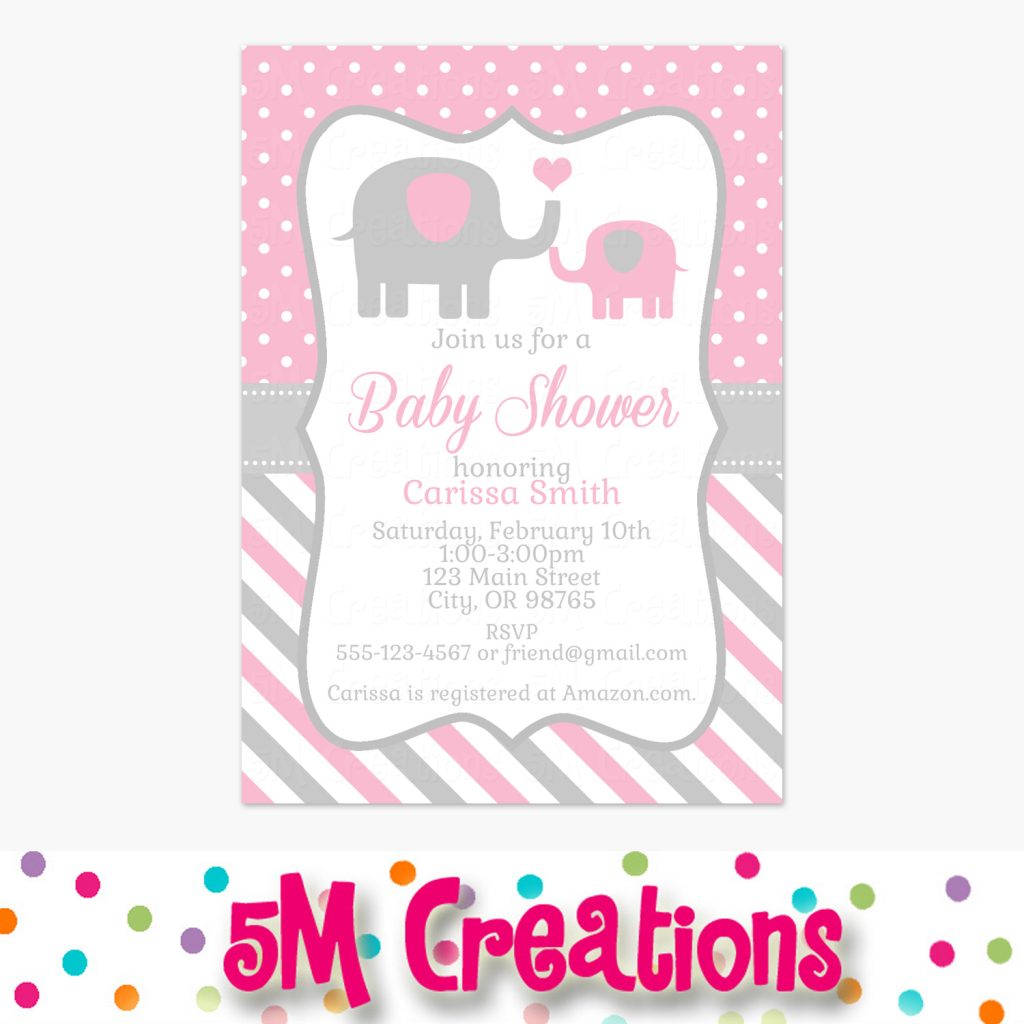 5M Creations February 22nd, 2018
Posted In: Baby Shower
Tags: baby shower, Banner, centerpiece, cupcake toppers, elephant, favor tag, girl, girl party, party favor, pink gray, tissue poms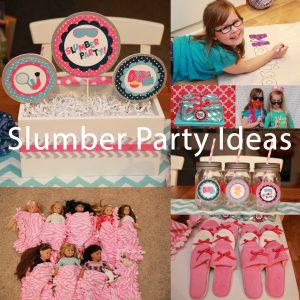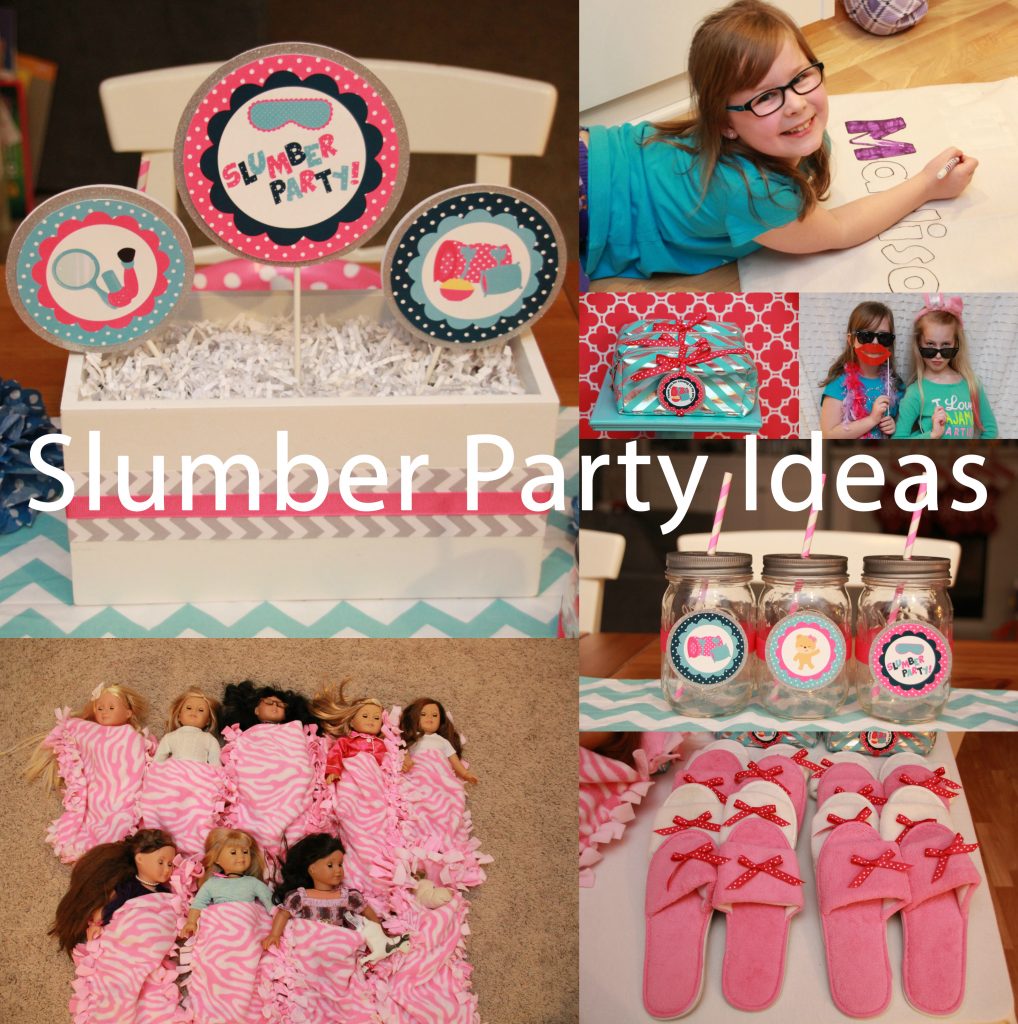 My daughter waited not so patiently to turn 8 so she could have a slumber party for her birthday. Since a slumber party is an event all on its own we decided to make that our theme. No need for anything else. A sleepover lends itself to so many fun activities.
She wanted silver accents throughout. We decided the easiest way to do that was to layer all the slumber party printable decorations with silver glitter paper. You will notice the touch of sparkle throughout the decor.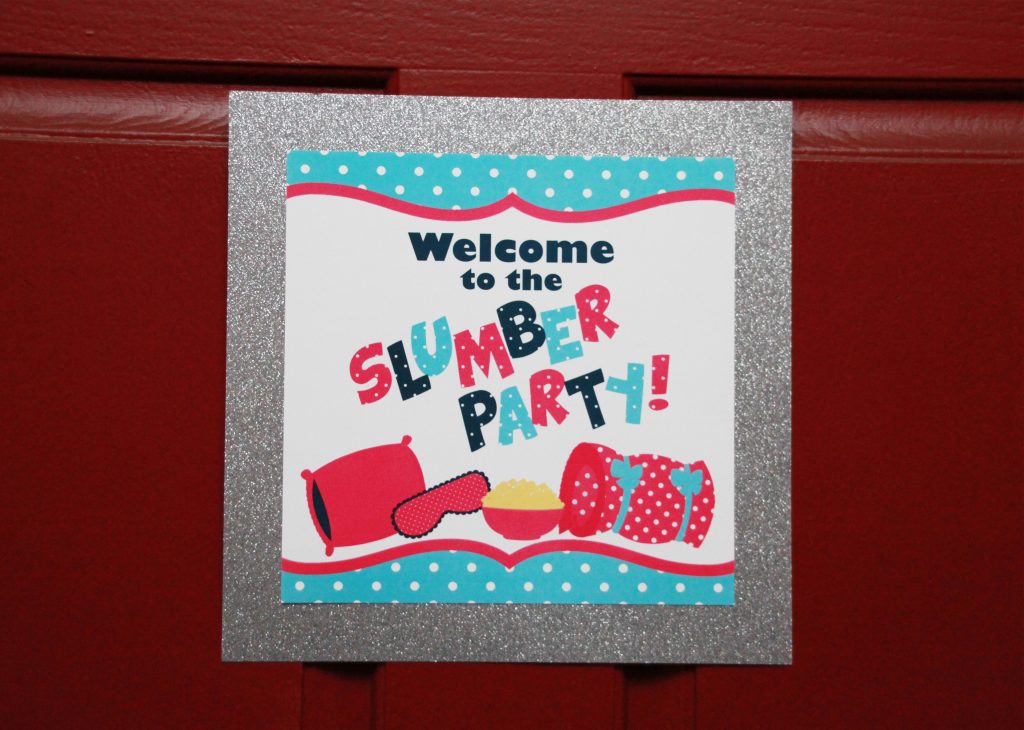 We created a fun space to eat in our dining room. I lucked out that my paint scheme coordinated nicely with our party colors of aqua, hot pink, and navy. We used the chevron table runner from our Bake Shop Party. I found simple pink polka dot plates, and added a pop of color with polka dot tissue poms on the table and hanging.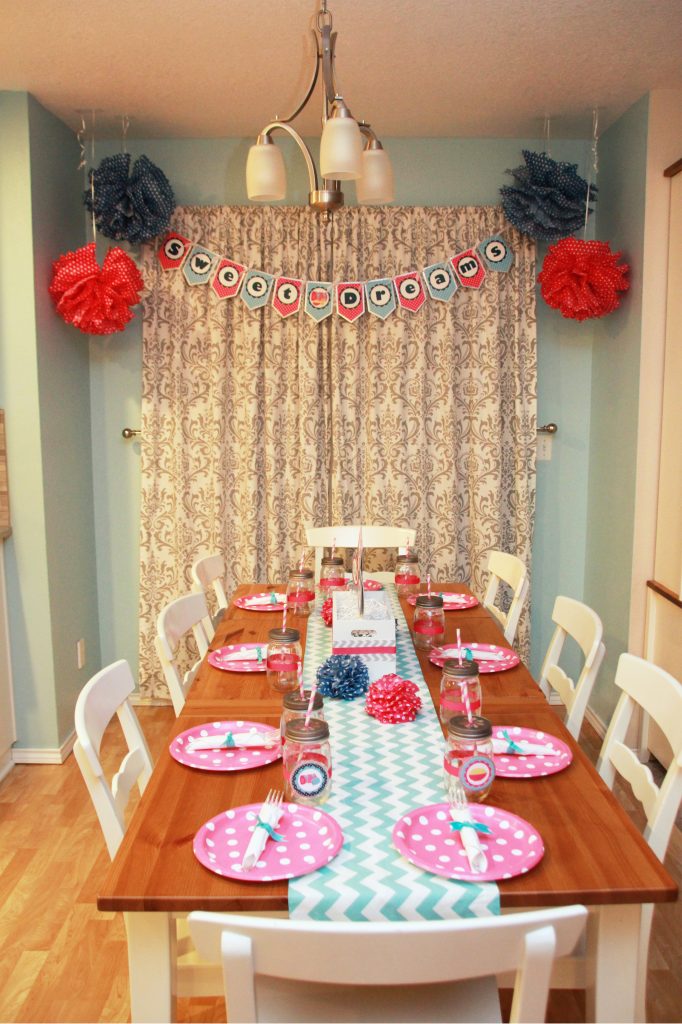 I love this printable slumber party centerpiece trio. It features classic slumber party images. You can see the glimmer of sparkle added with the silver paper. Any basic box or container can be transformed to make a centerpiece. Just add green floral foam to the bottom and crinkle paper to cover it. Insert your sticks. Dress it up with some ribbon if you like.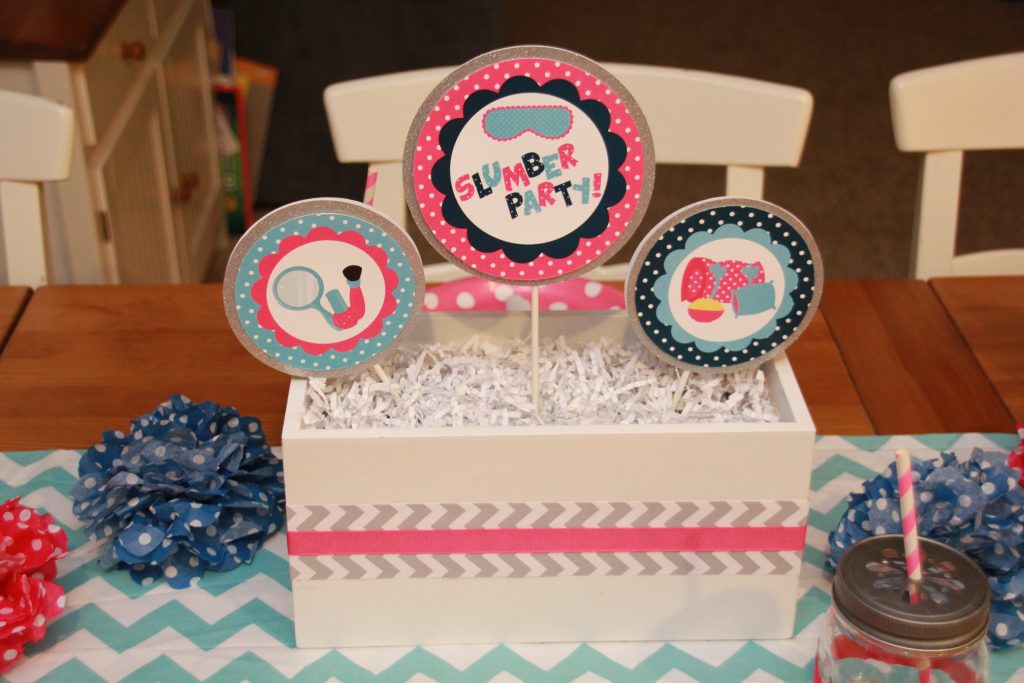 We didn't need cupcake toppers for this party as we were doing an ice cream bar. They were to cute not to use though. We dressed up mason jars using the slumber party cupcake topper circles, daisy cut out lids, and hot pink paper straws.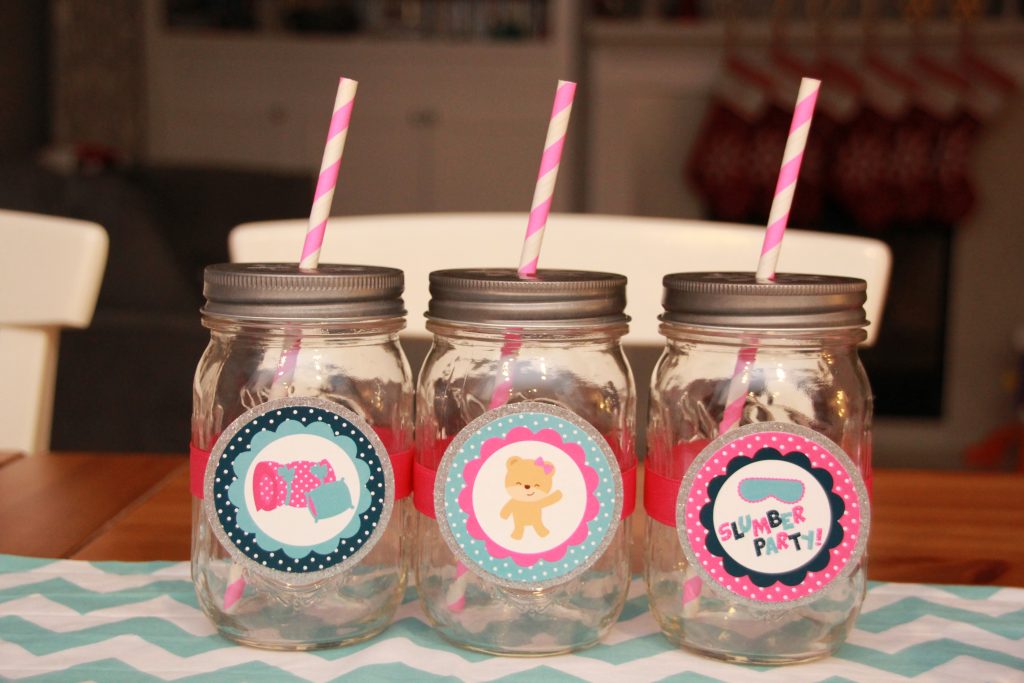 A simple piece of ribbon adds a touch of color to a plain napkin.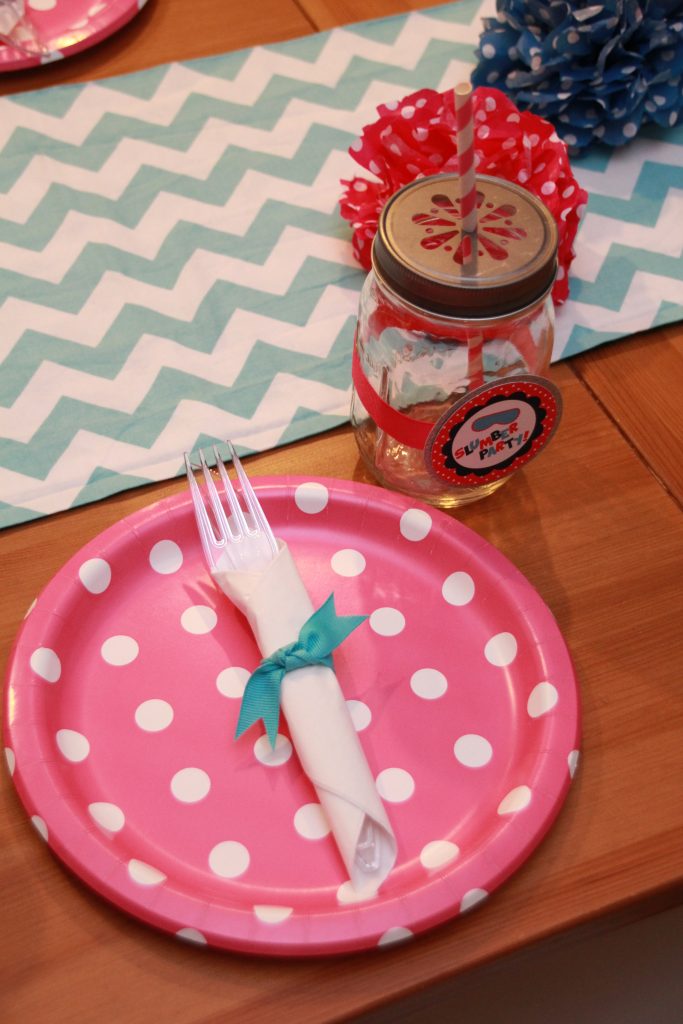 Instead of the traditional Happy Birthday banner we did Sweet Dreams to follow our slumber party theme. This is now hanging in my daughter's bedroom. So fun to be able to use it as decor later as well.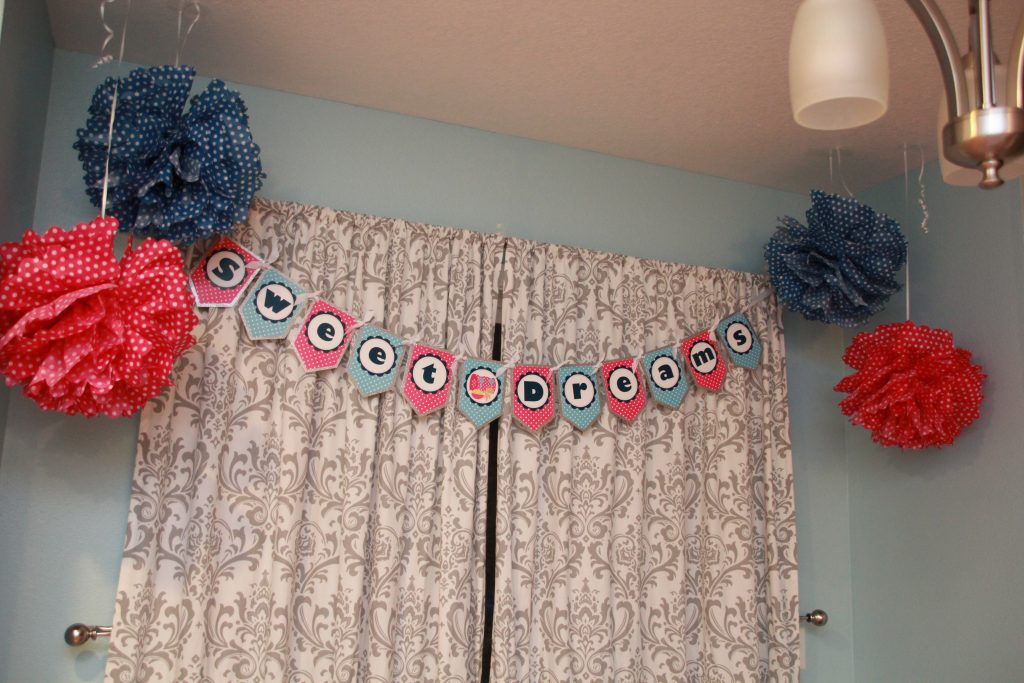 Who says tissue poms have to be solid colors. I love the polka dots. These are also hanging in my daughters room. 
We started the evening with pizza making. We used pie dishes from the dollar store to hold each girl's pizza. This kept all the toppings in place and not all over my kitchen. They all got to personalize their pizzas with their favorite toppings.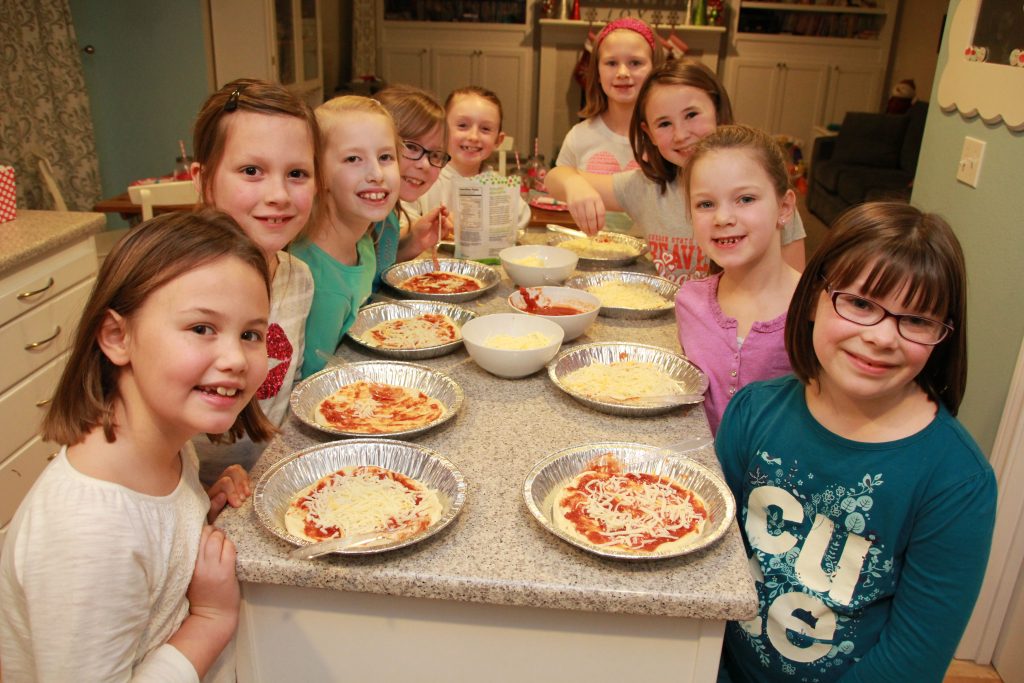 For dessert the birthday girl wanted an ice cream bar. The girls LOVED this. Set out a variety of toppings and styles of cones. Let them go crazy!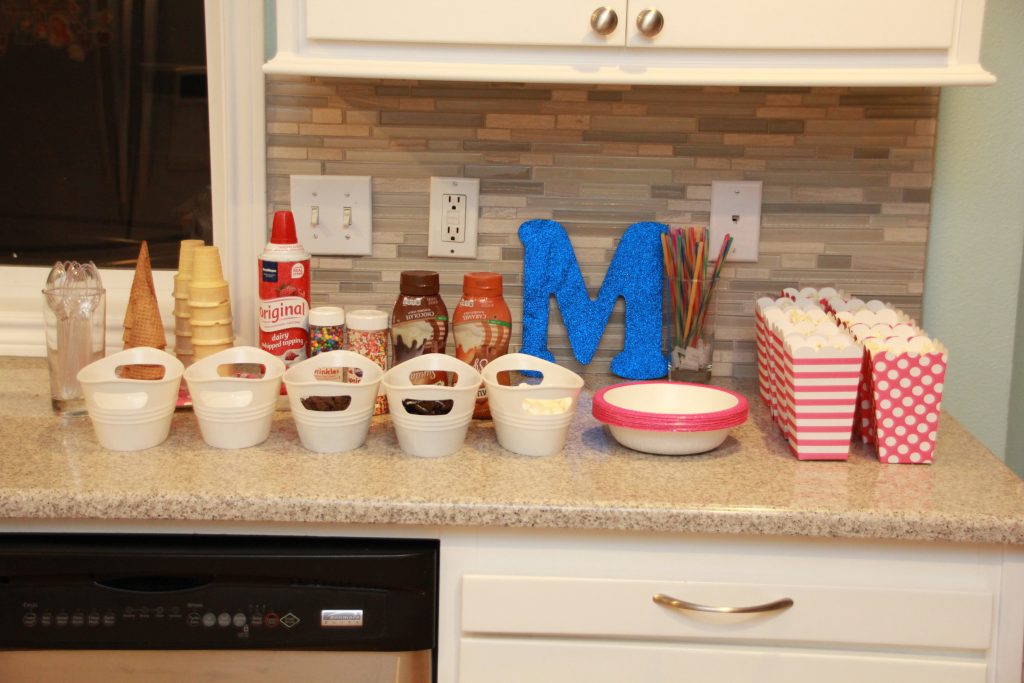 The birthday candle for the birthday girl.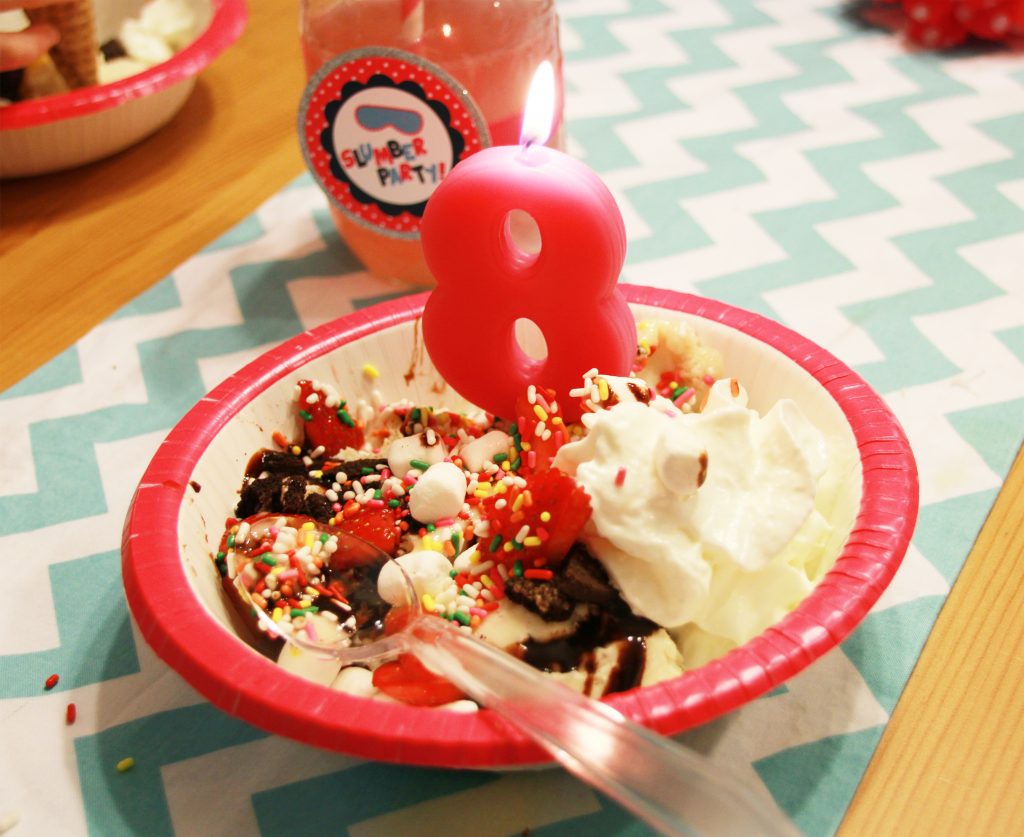 Every slumber party needs popcorn and a movie. These cute popcorn boxes made cute perfect individual portions.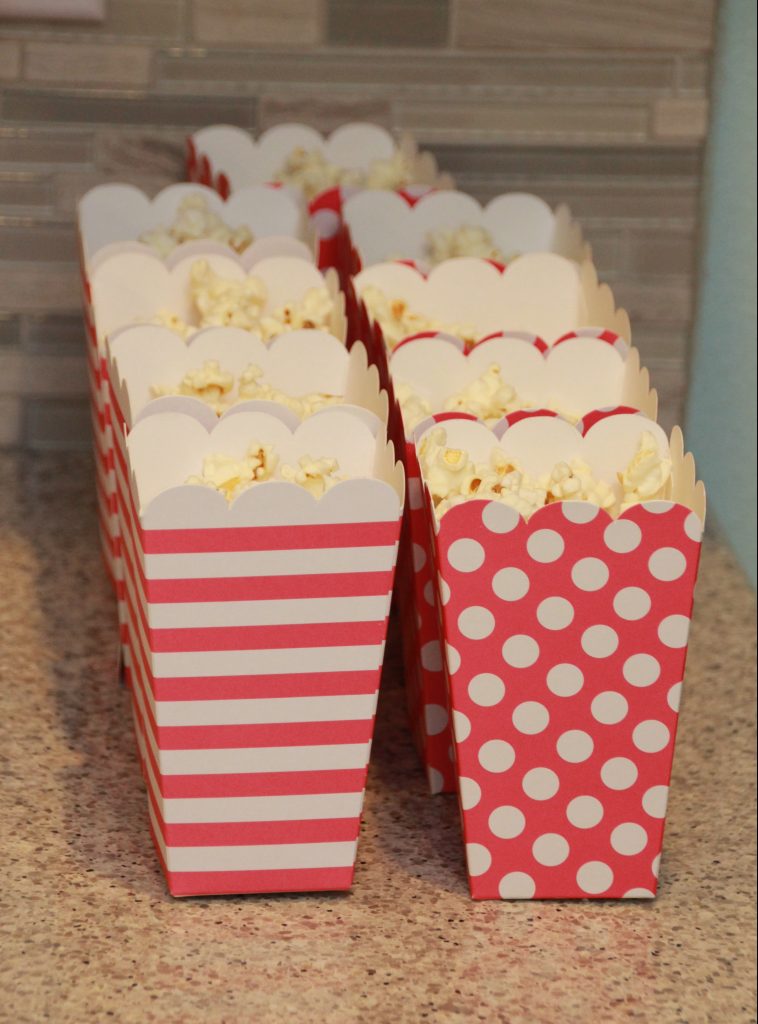 For the late night fun we had glow sticks ready.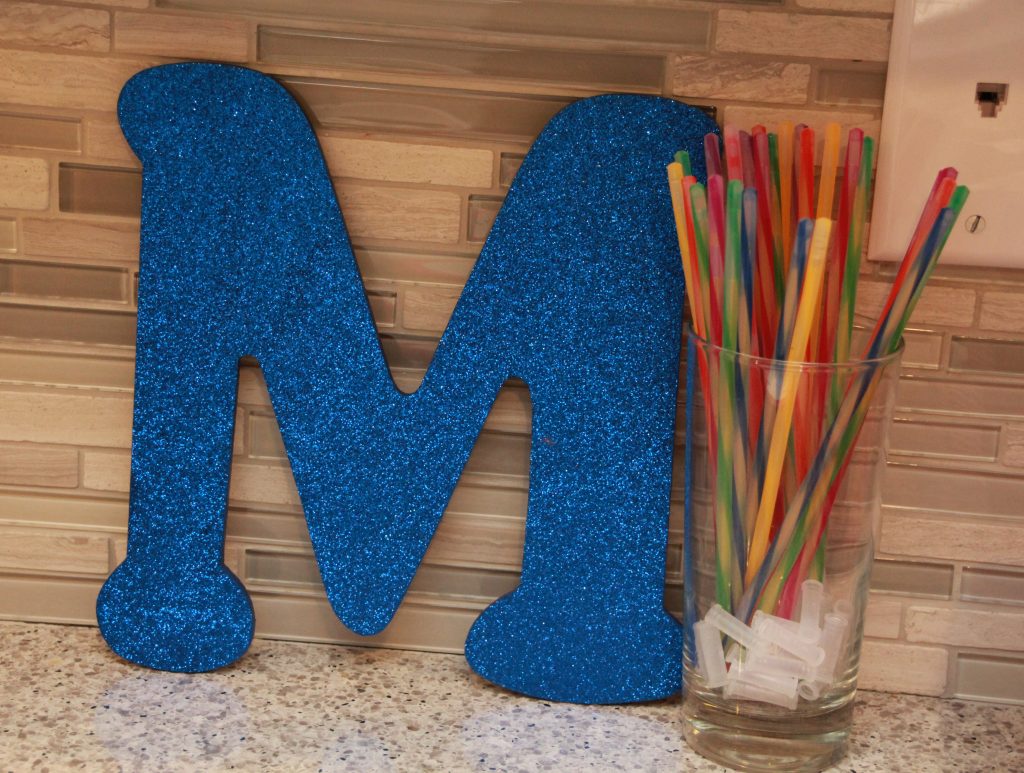 We created a fun table with the party favors. All fitting the slumber party theme of course.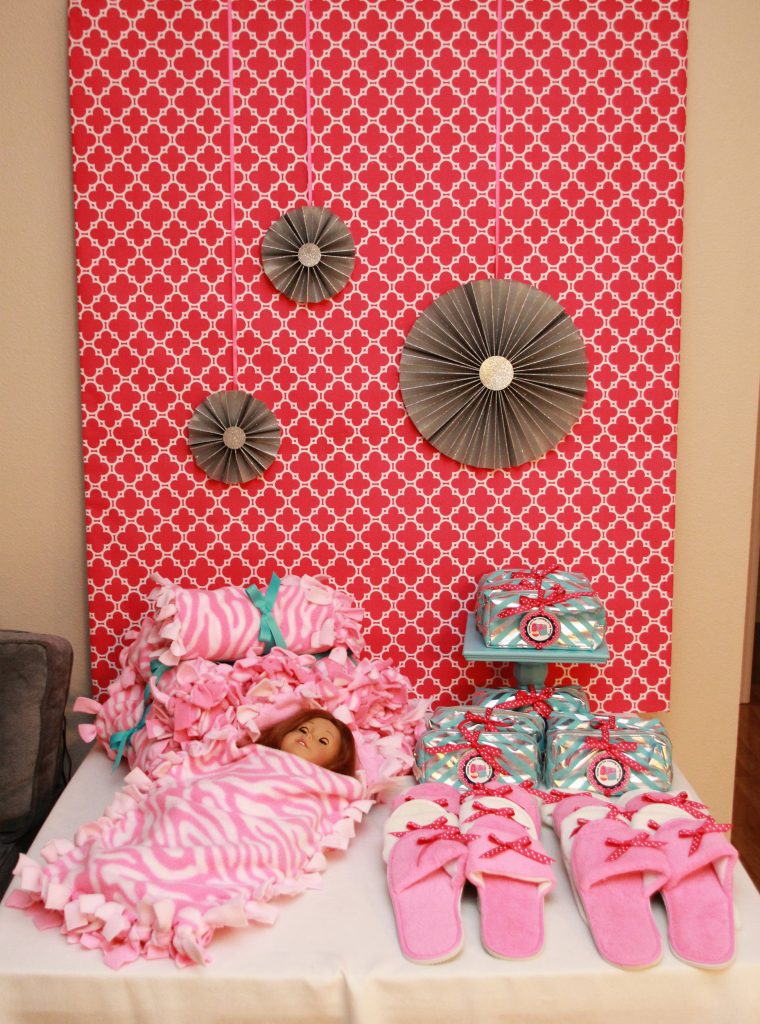 I created these paper fans from the same silver glitter paper we used everywhere else. They were the perfect addition to our favor table. The background was a board covered in cute wrapping paper.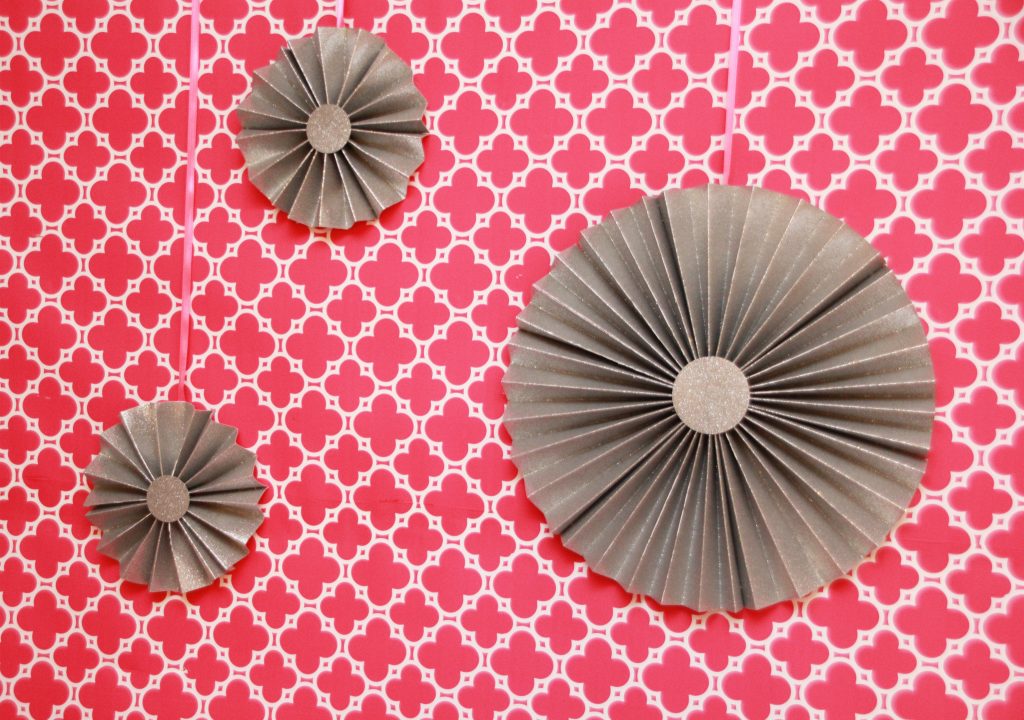 I found these cute toiletry bags in the Target dollar spot. We filled them with nail polish, nail files, nail stickers, and lip gloss.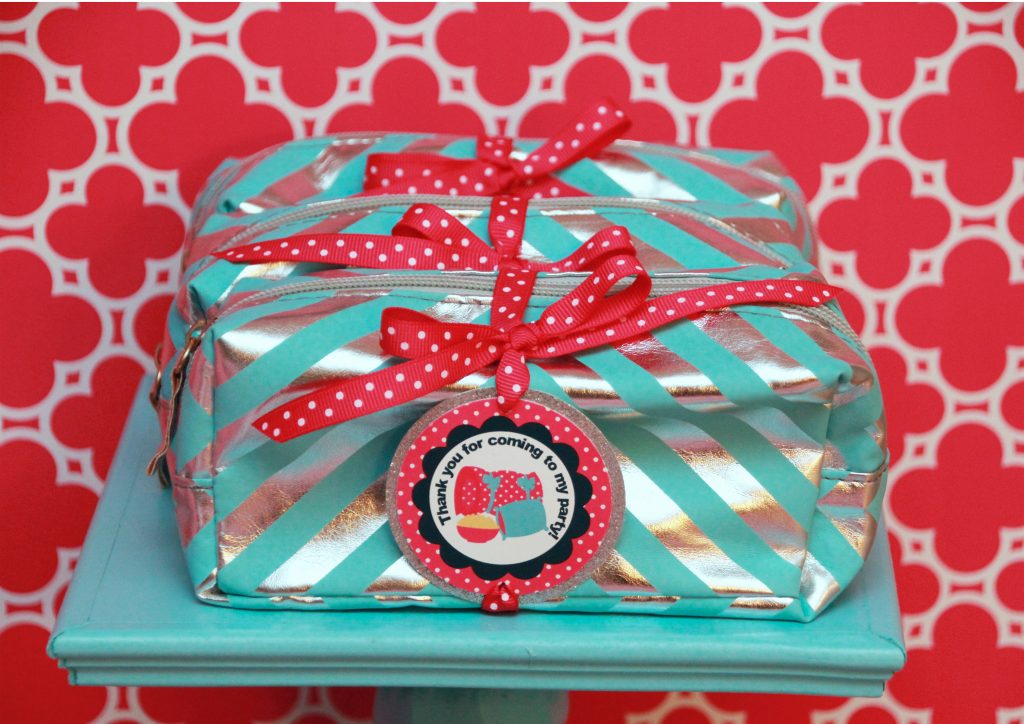 We bought slippers from the dollar tree (we added a cute bow).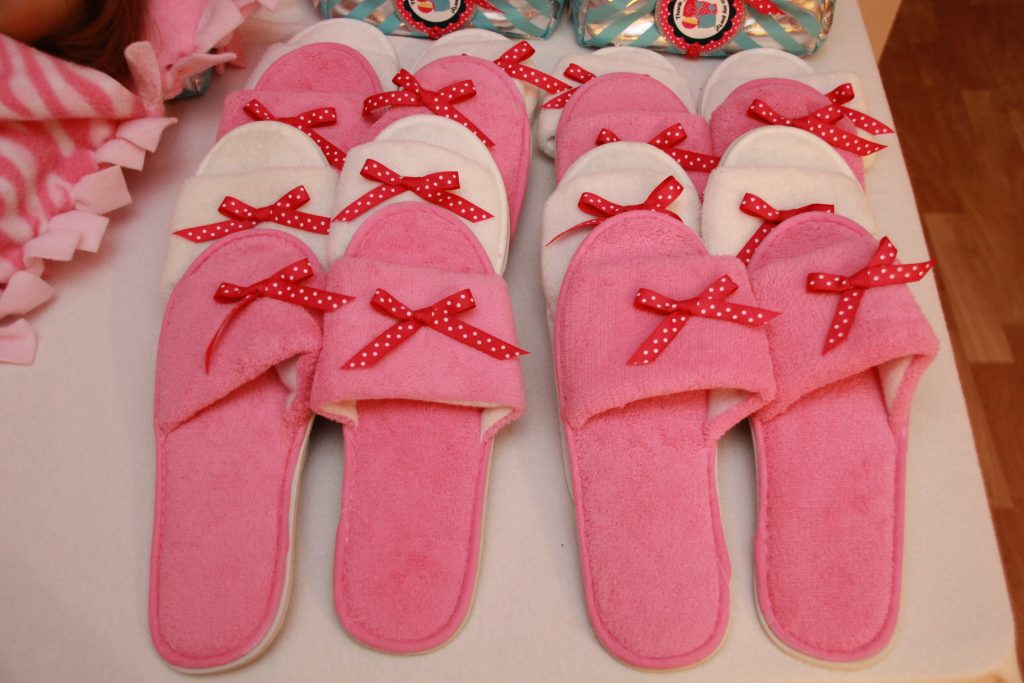 Each girl brought a doll to the party. For party favors my daughter helped me make these fleece no sew sleeping bags for the dolls. You can find a tutorial here.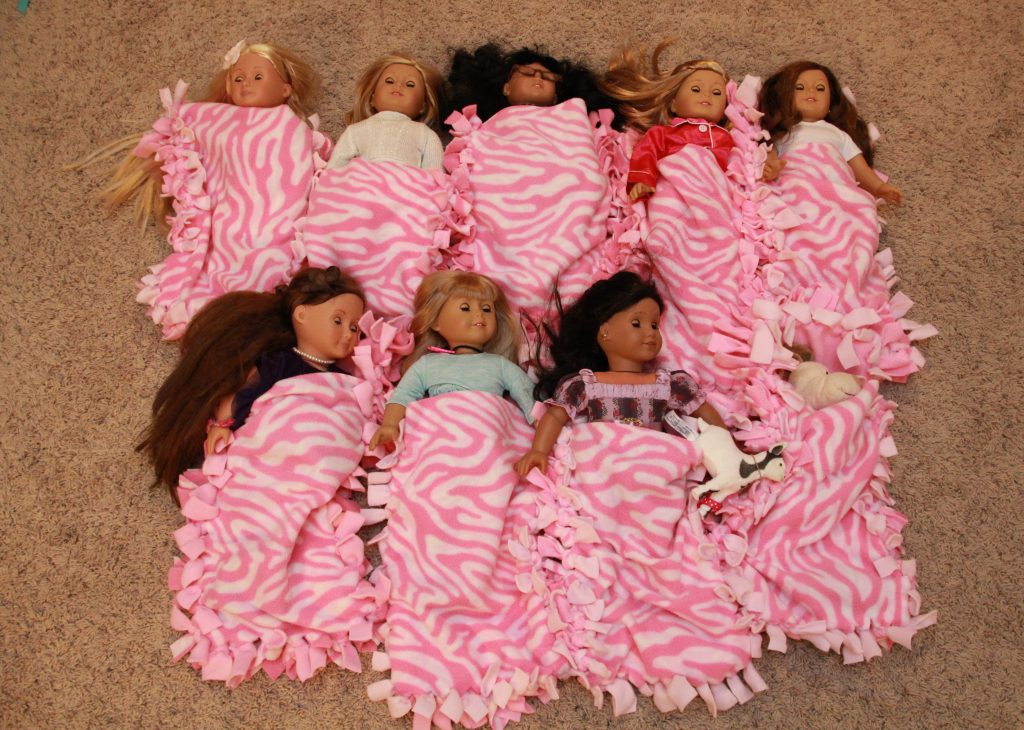 The girls had a blast with a photo prop wall. We hung a piece of fabric and have them all sorts of dress up objects. They were so goofy!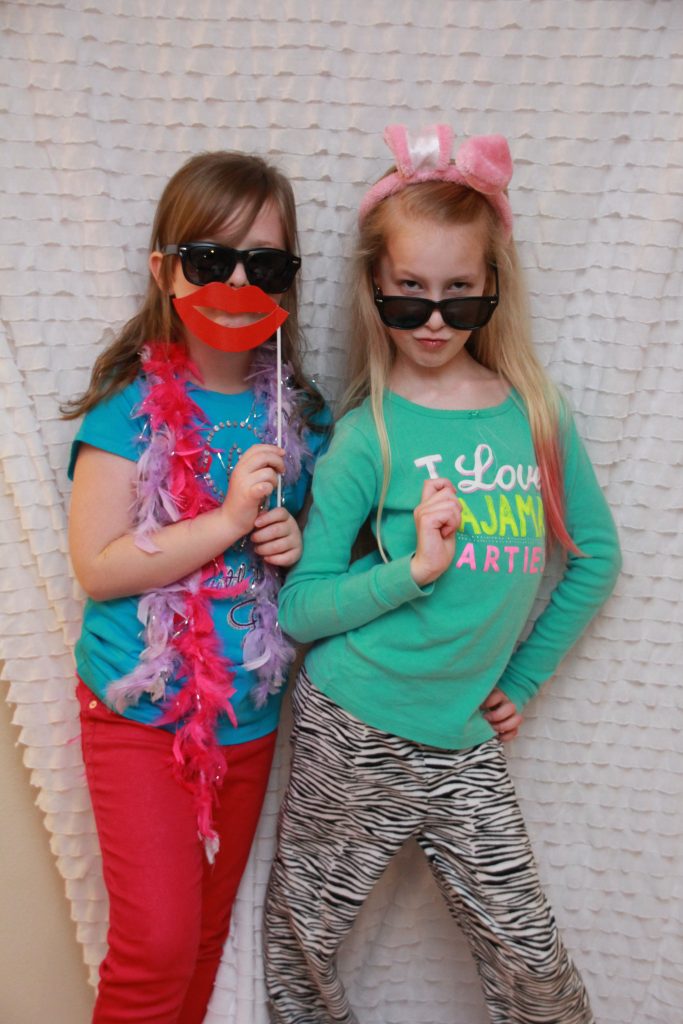 Our last activity of the evening was coloring pillow cases. I traced each girl's name with black onto plain white pillow cases I purchased on amazon. We provided multiple colors of fabric markers. I placed a piece of cardboard between the layers of fabric so it would not leak through. They colored during our movie time.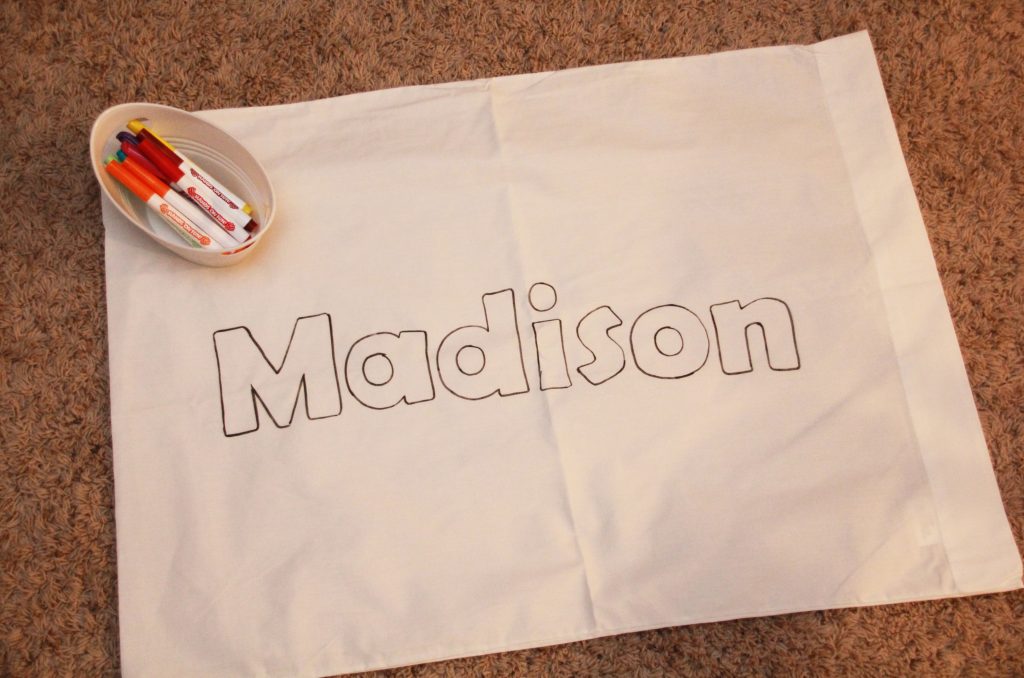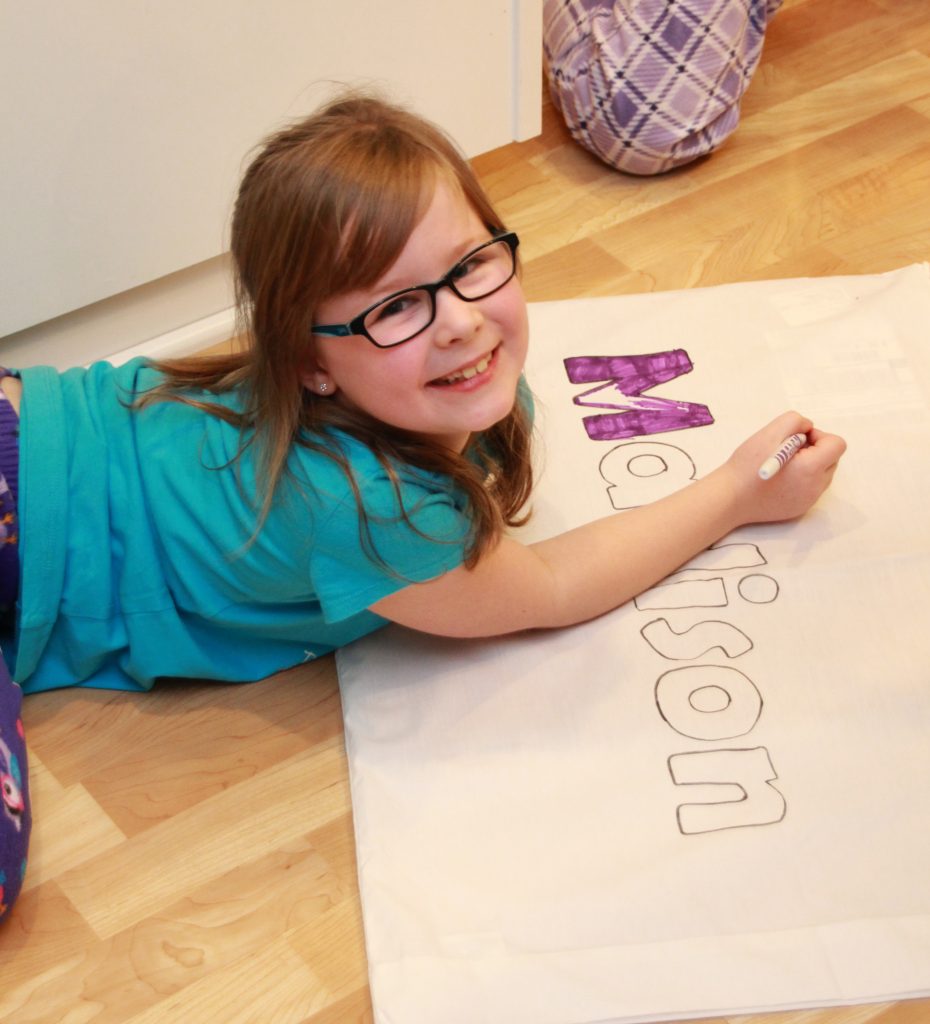 For breakfast we had a waffle bar. Assembly style bars were kind of the theme for the food. haha! It made for a lot of elements to prep but the girls loved picking and choosing what they wanted.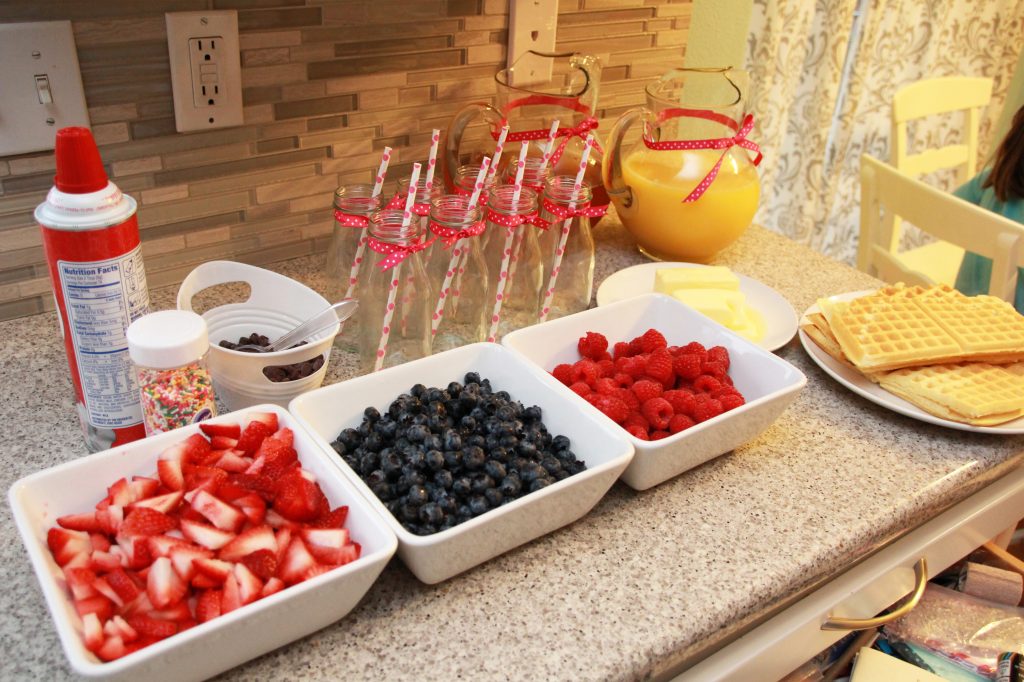 We dressed up cute glass milk bottles with ribbon and polka dot straws for the morning beverages.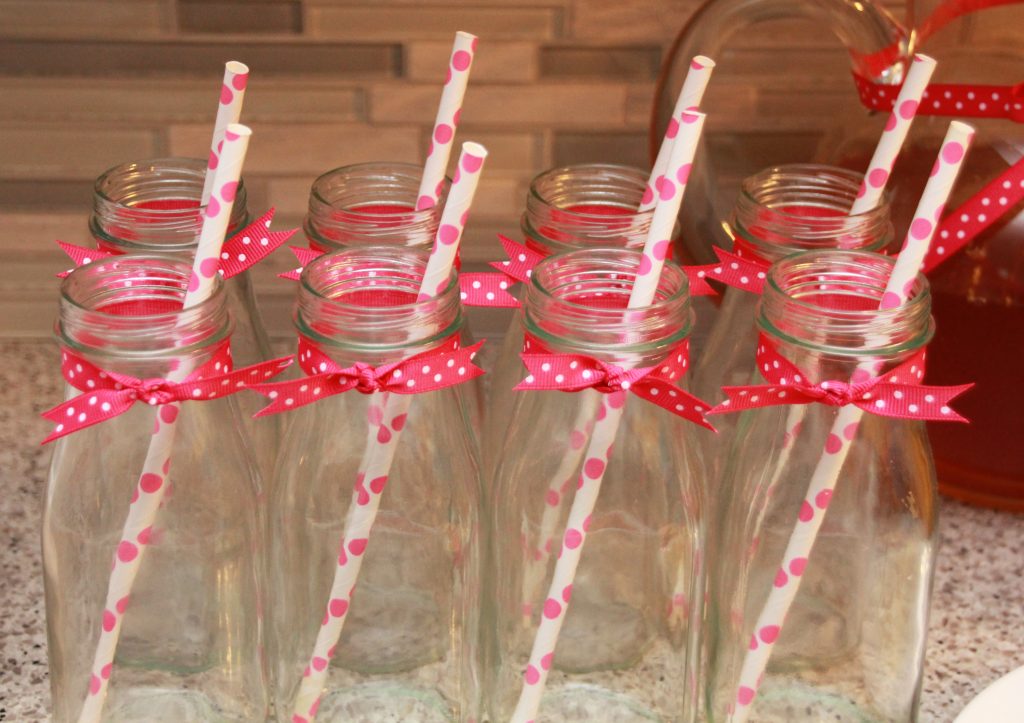 Pjs, behead hair, and piles of waffles were the perfect way to end the party.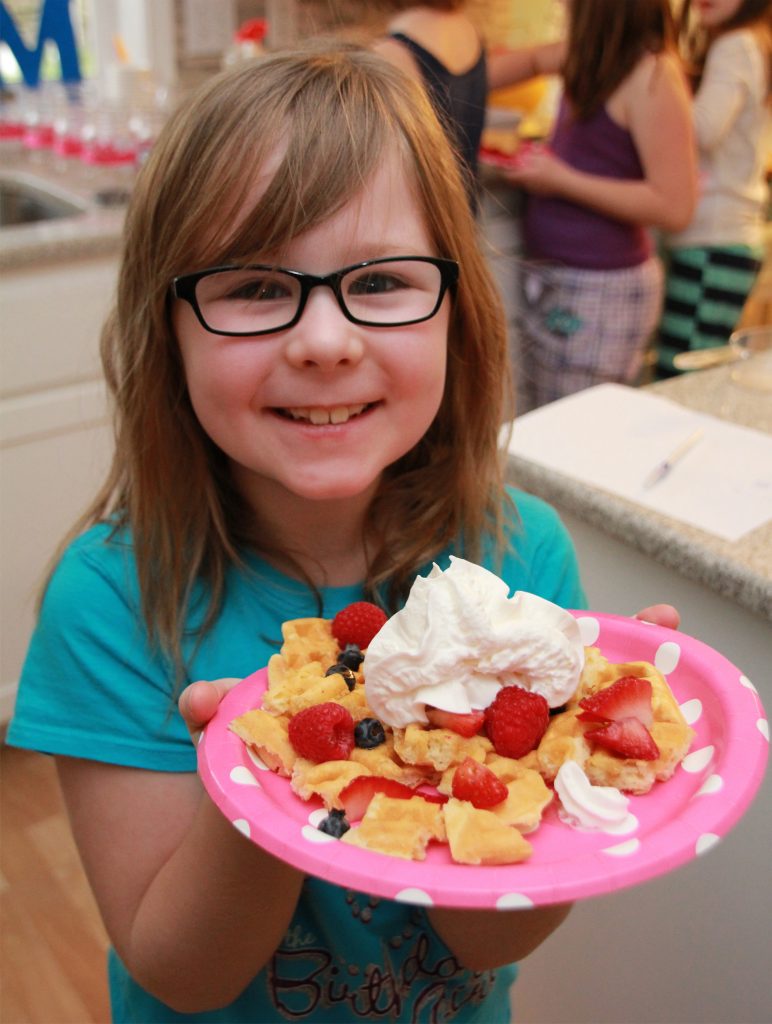 You can find the printable package in my shop here. 
And of course a matching invitation here.
5M Creations March 29th, 2017
Posted In: Girl Birthday Party, Uncategorized
Tags: Banner, birthday, centerpiece, cupcake toppers, party, party favor, sleepover, slumber party, tissue poms