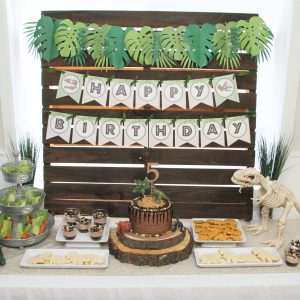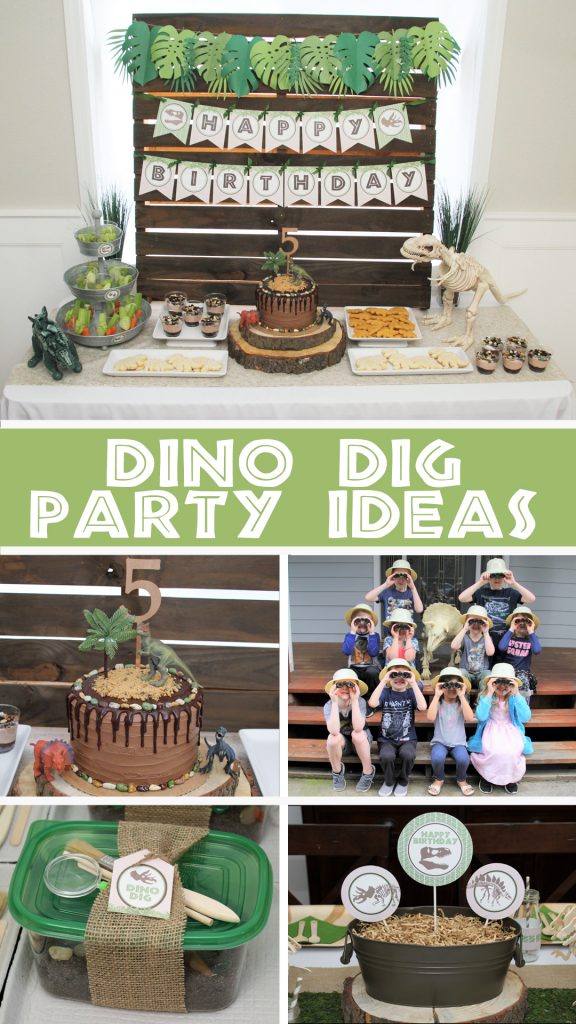 This party was inspired by my 5yr old and his love everything dinosaurs! We did a dino first birthday party for him as well but it had a completely different feel with bright colors and silhouettes. I knew that this party needed to be much more rustic. We spotted the large dino skeleton at Joann Fabrics and it became the starting point to our party. Earth tones and greenery everywhere you looked set the stage for a DINO DIG!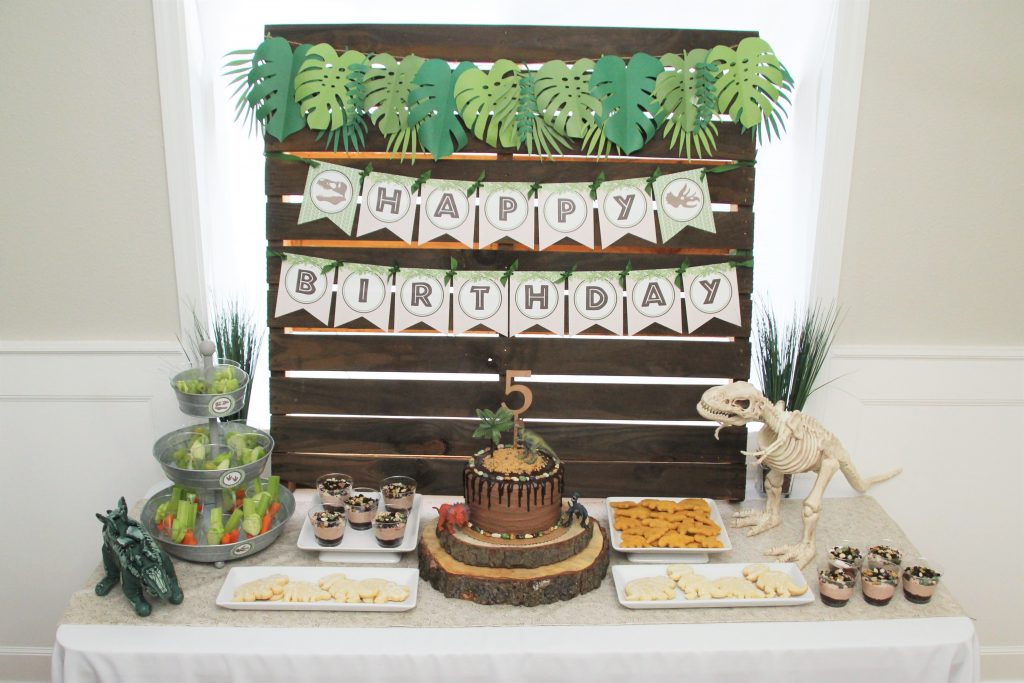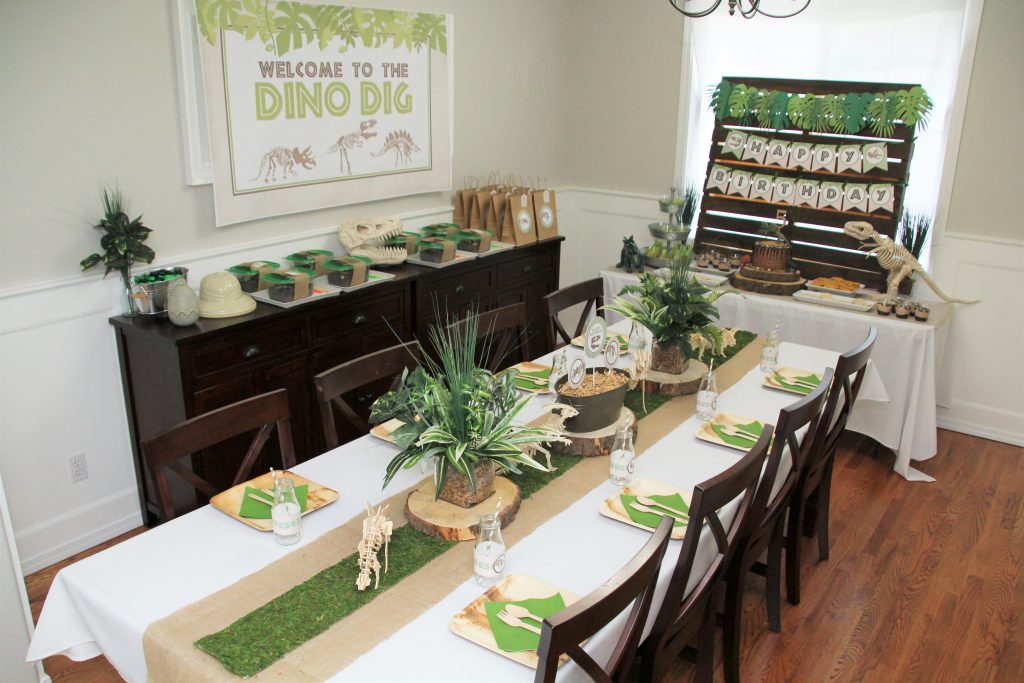 My wood pallet was the perfect backdrop for the party table. I created it for the camping party I did a few years ago. I created this gorgeous leaf garland using images cut on my silhouette. I was inspired by a similar banner on pinterest and knew it would give the table the color and texture it needed. Paired with the printable dino happy birthday banner they made a great impact in the space.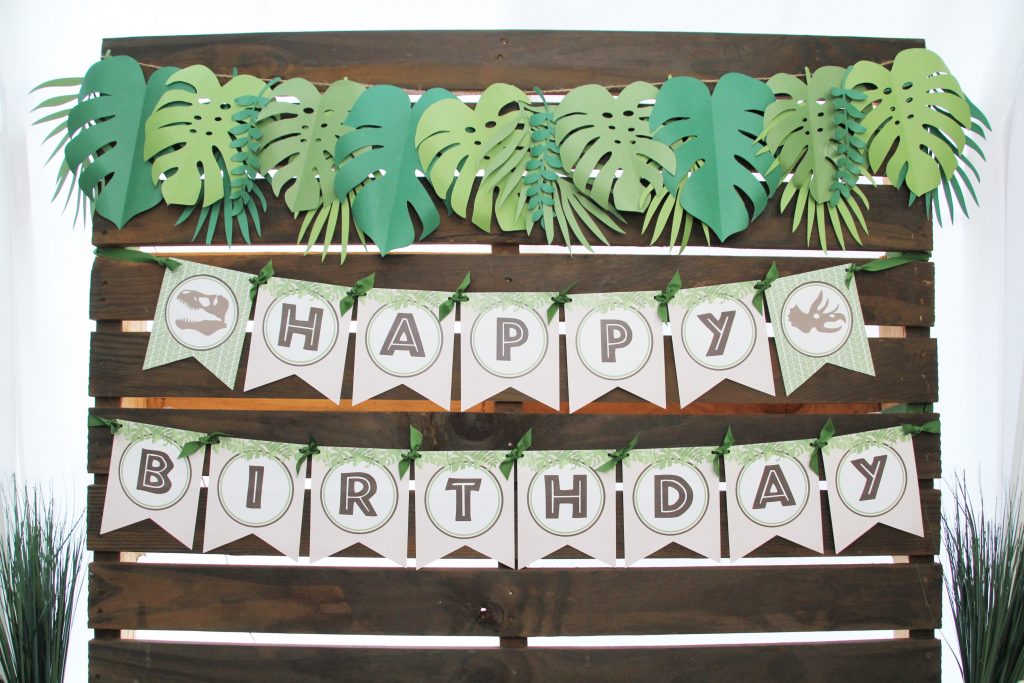 For the party cake I wanted something equally as rustic as the decor. Nothing too perfect. This cake was super easy to make at home. The top is crushed Chips Ahoy cookies, a chocolate ganache drizzle, and candy rocks bought on amazon. Stacking it on wood slices gave it height and added more texture and nature to the space.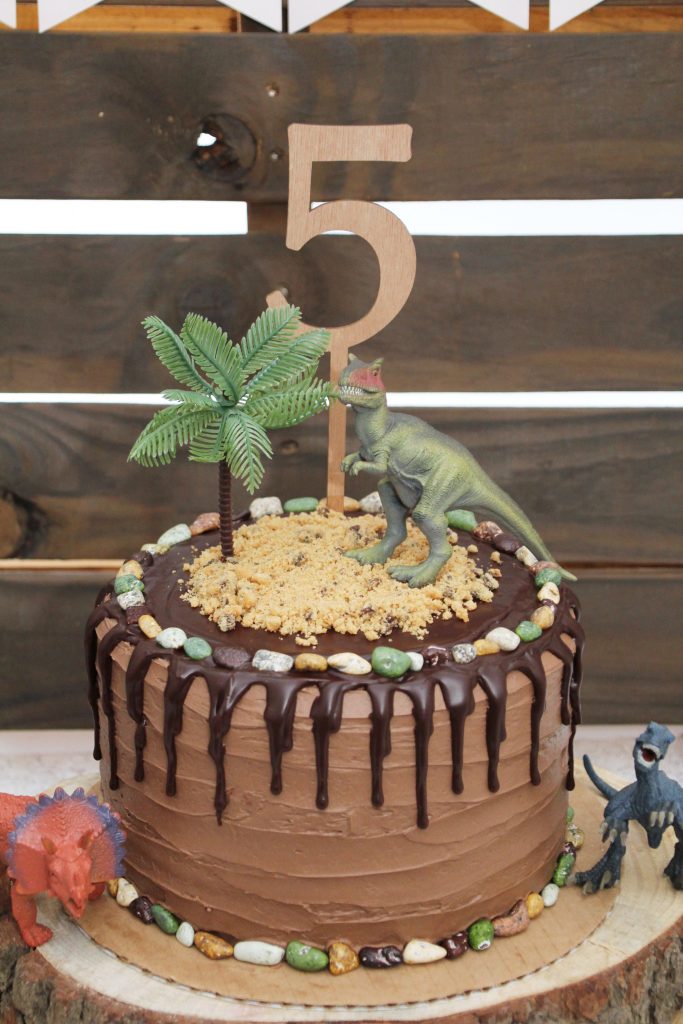 For party food I tried to keep everything in greens and browns. We had green fruits and veggies (apples, cucumber, celery, and carrots), pudding dirt cups with candy rocks, dinosaur skeleton sugar cookies, and of course dino nuggets!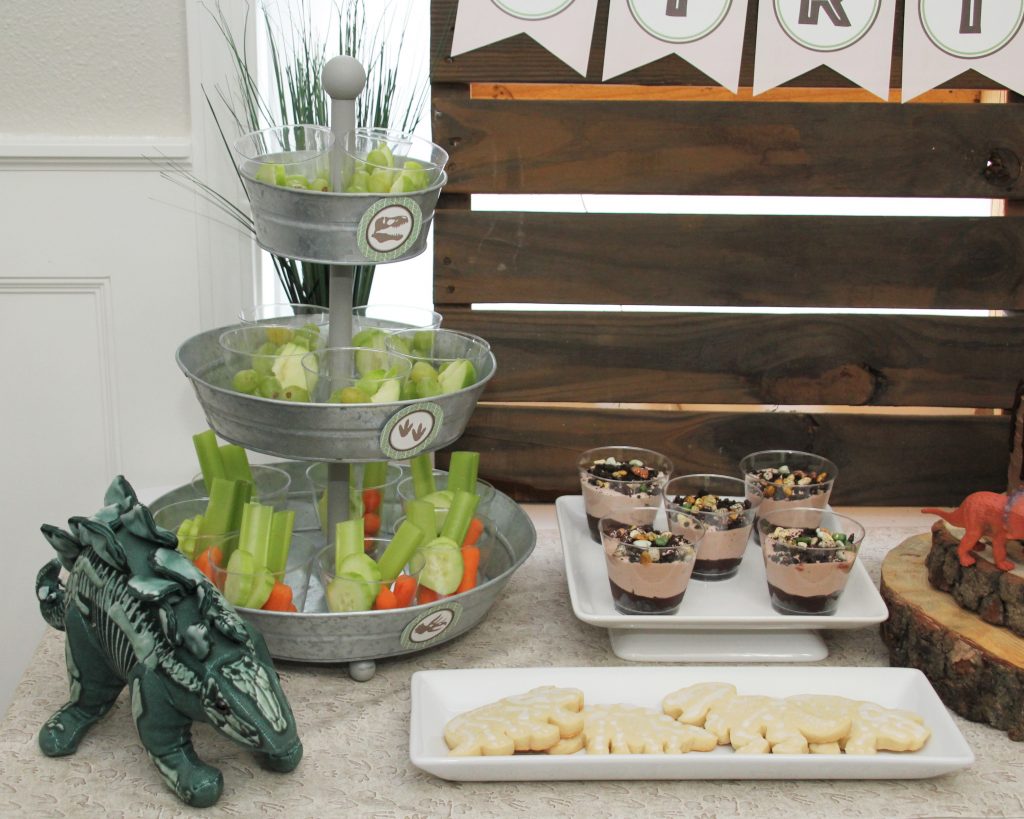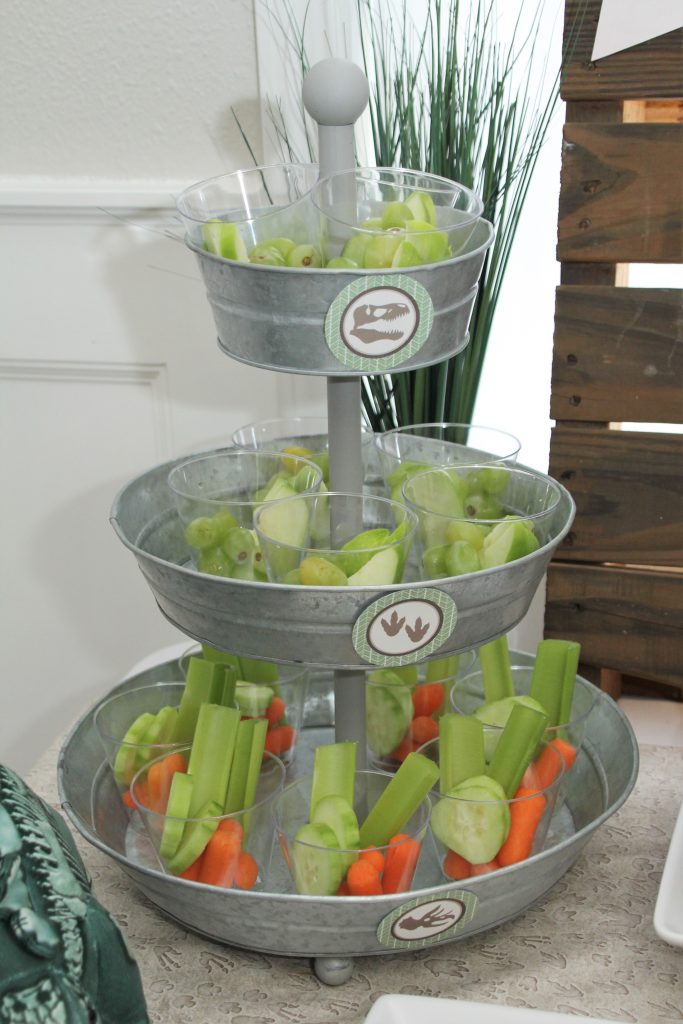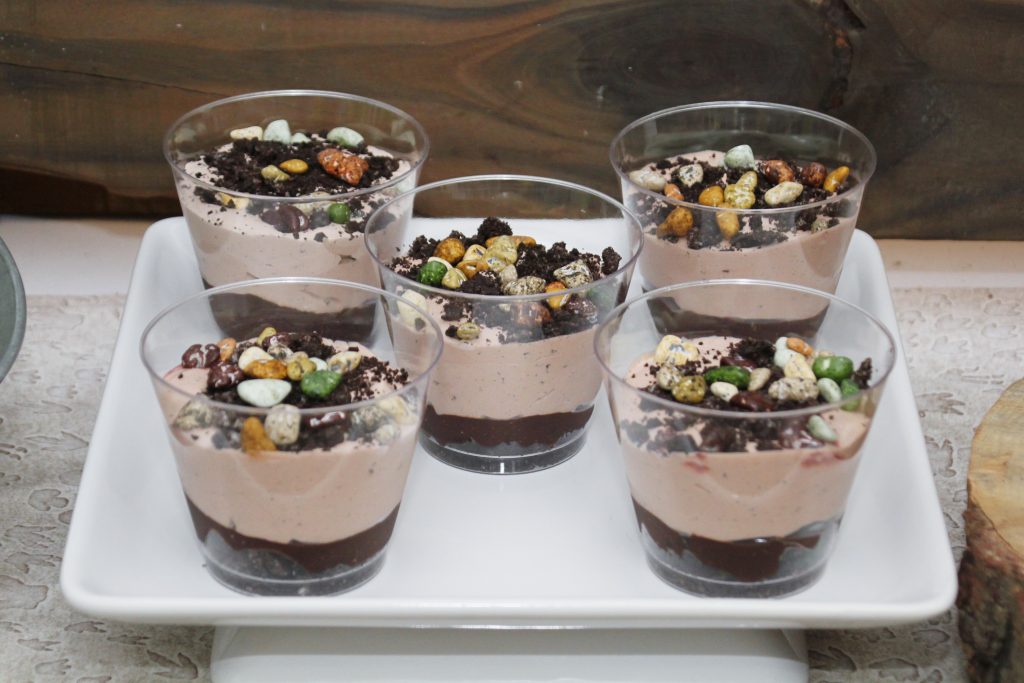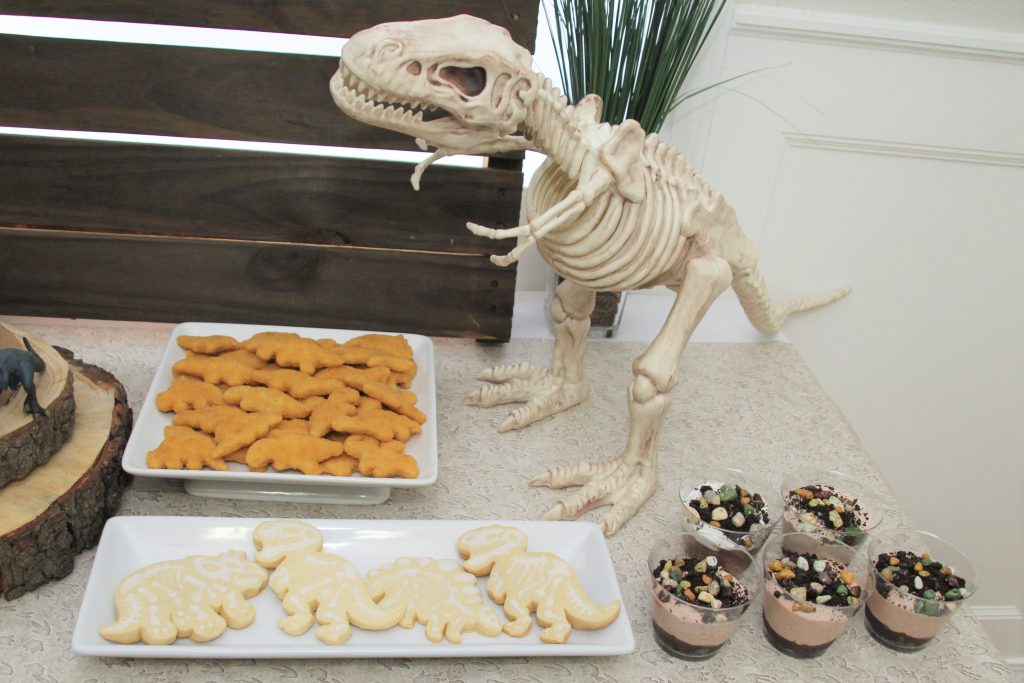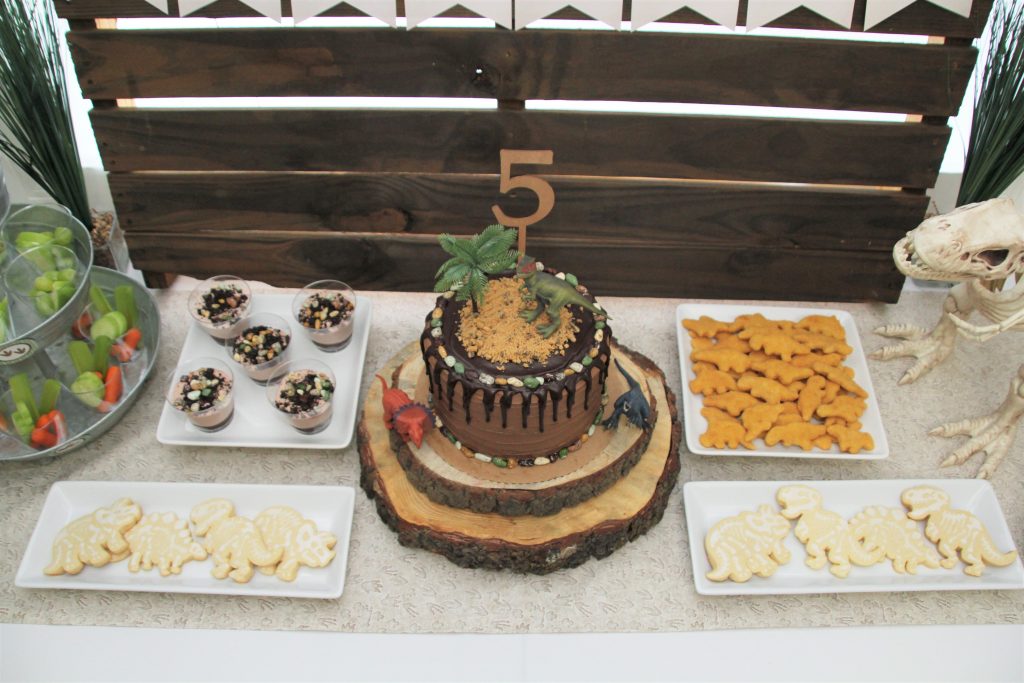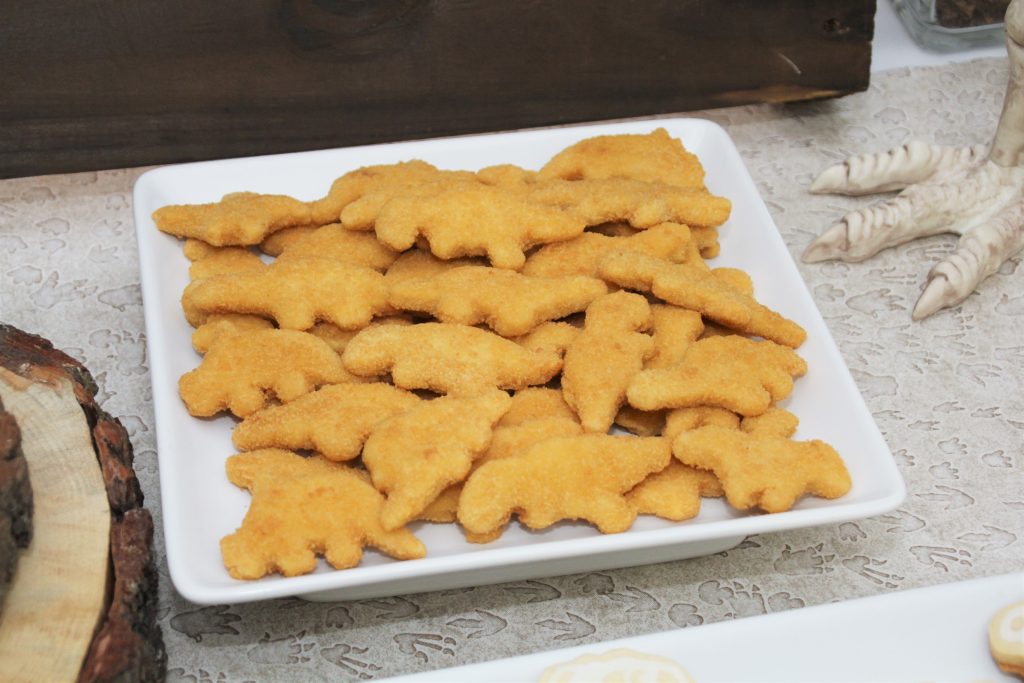 I saw the cookie cutter for these dinosaur skeleton sugar cookies online and knew I had to have them. I was pleasantly surprised how easy they were. I will share step by step details on them in another post. The kids loved them and they were so yummy!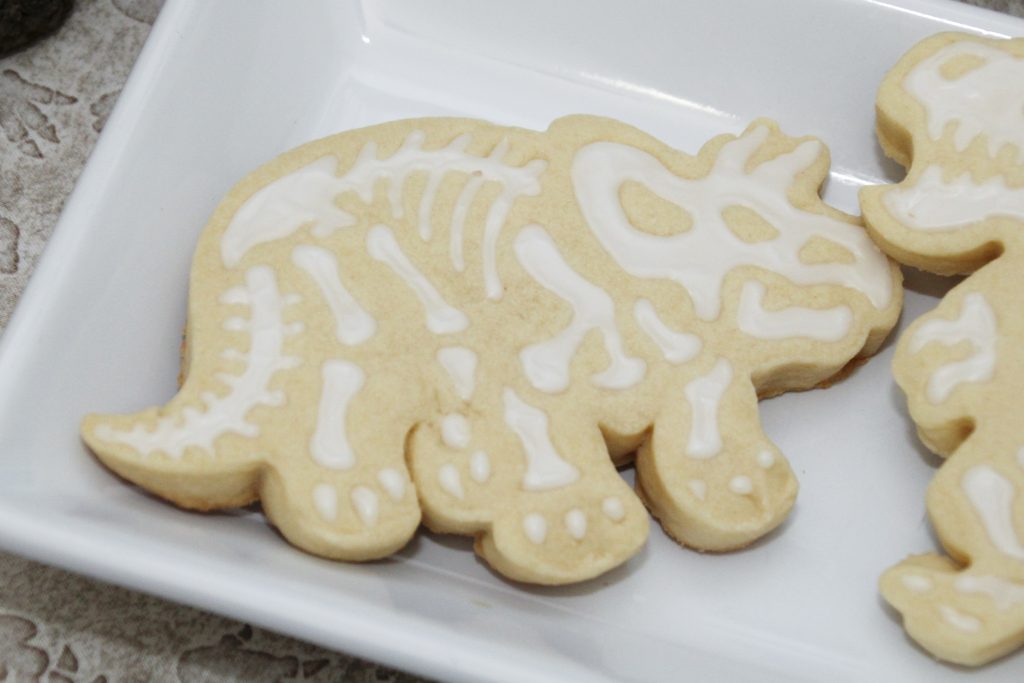 Our activities for the party were a Dino Dig, scavenger hunt, and pinata! Each child received dino dig kit, binoculars, hat, and bag to take home their goodies.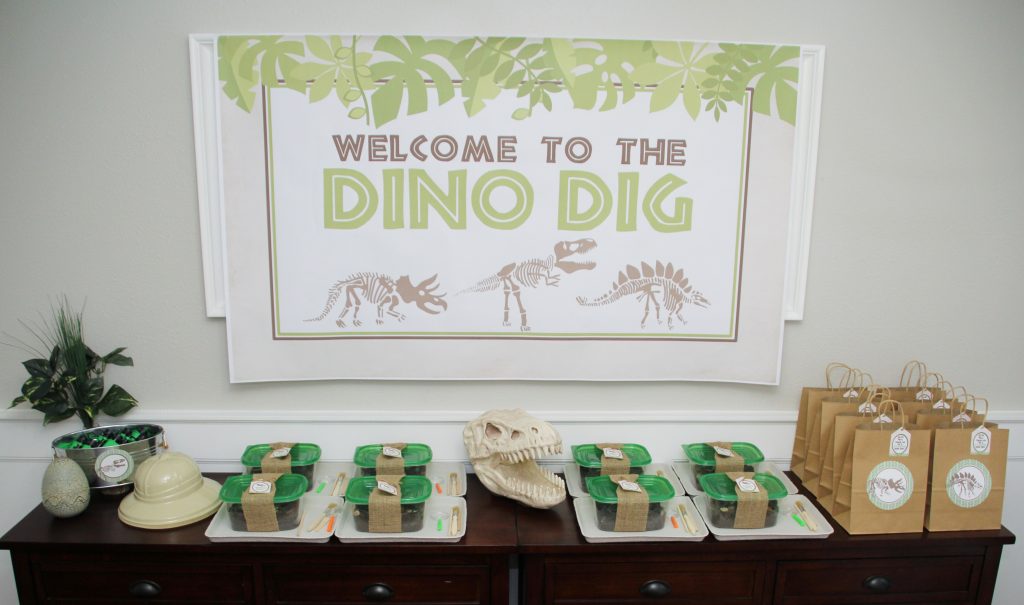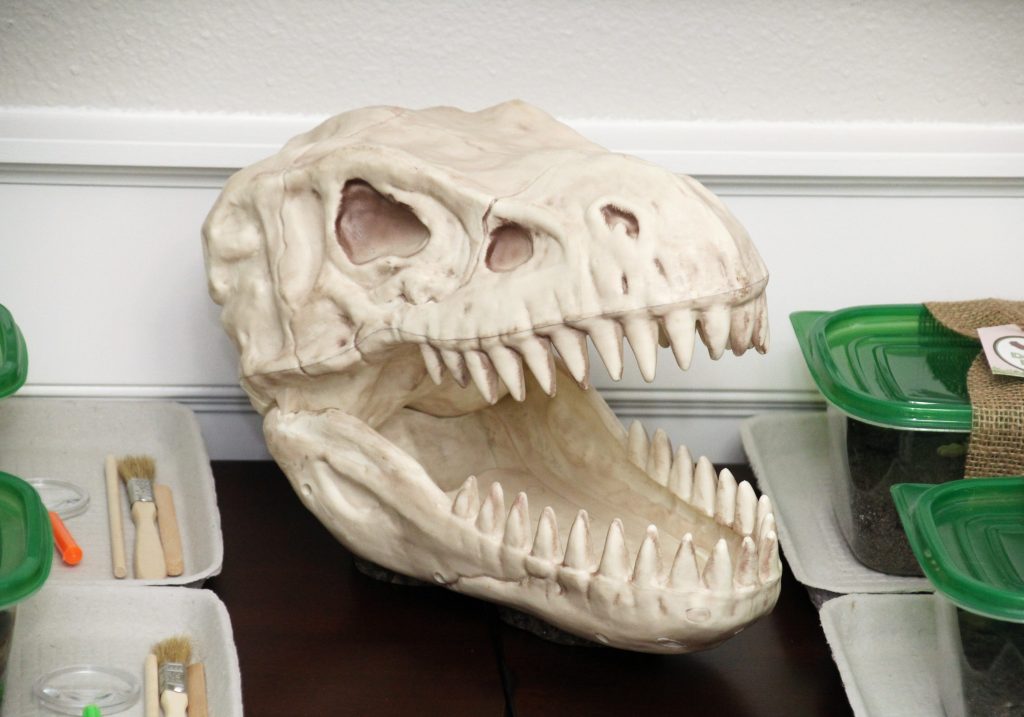 These dig kits were so easy to create. The containers were purchased at my local dollar store. A sand mixture inside buried gems, rocks, and dino skeletons. I included a magnifying glass, several dig tools, and brush for their archaeological findings.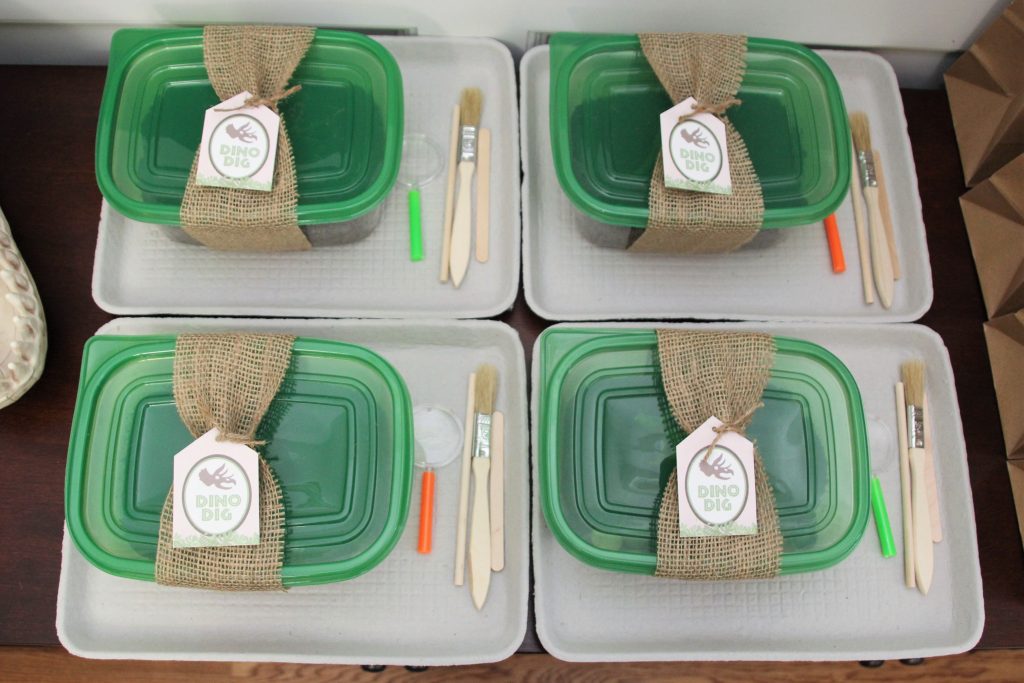 A printable dinosaur favor tag and strip of burlap added a fun touch to each box.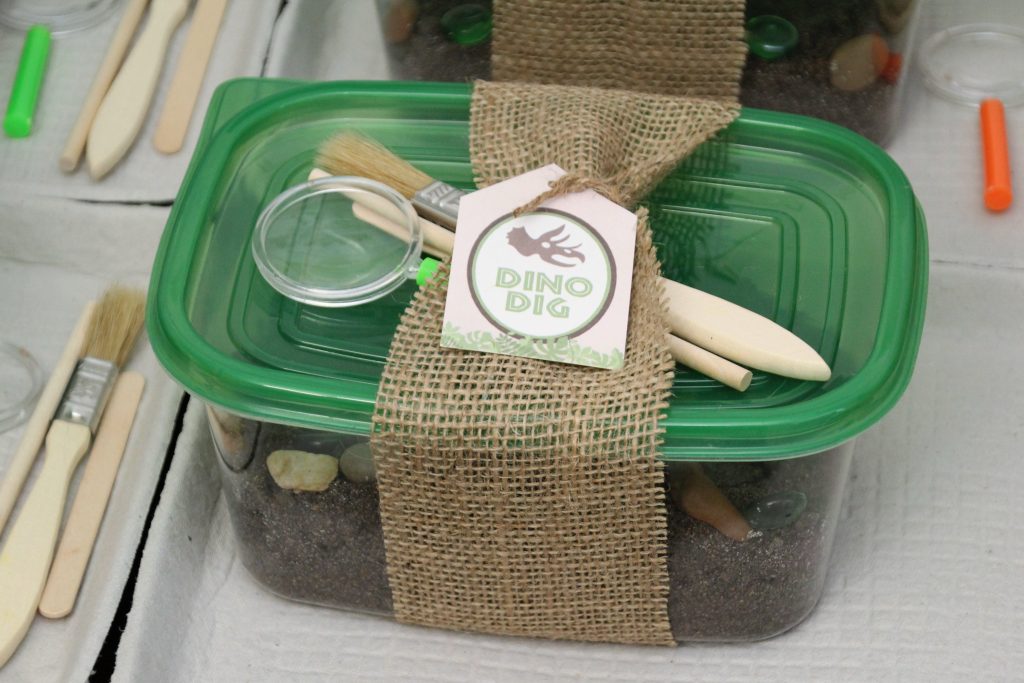 Inside each box were several layers of dinos and stones to dig for.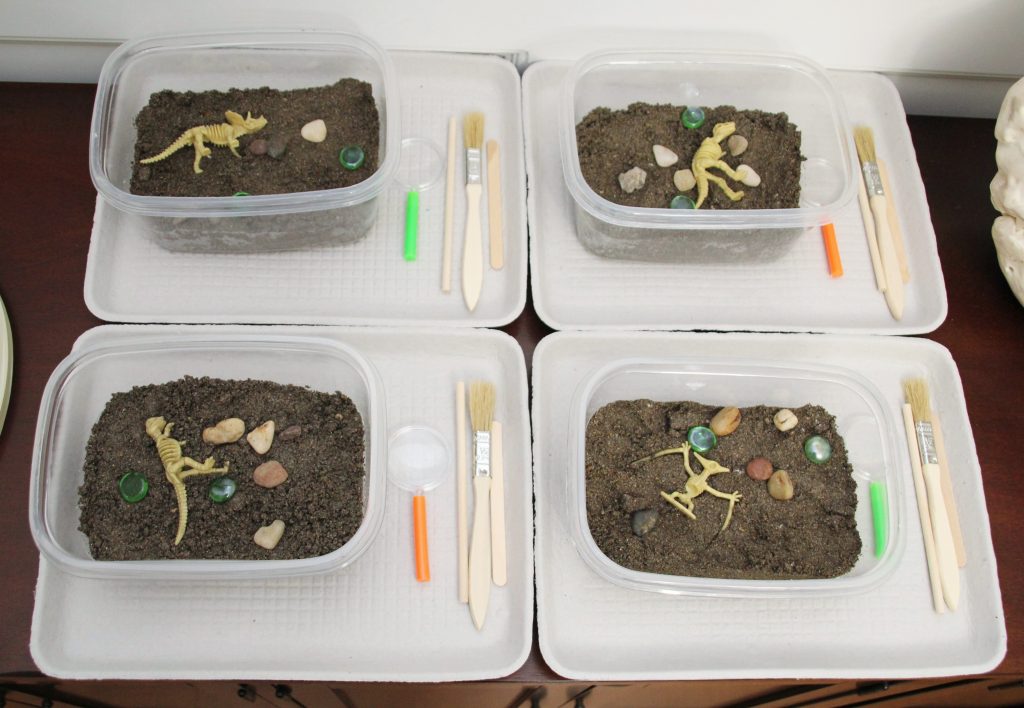 Kraft paper bags were easy to dress up with a printable centerpiece circle and favor tag. Each guest was able to collect all of their party goodies inside to take home.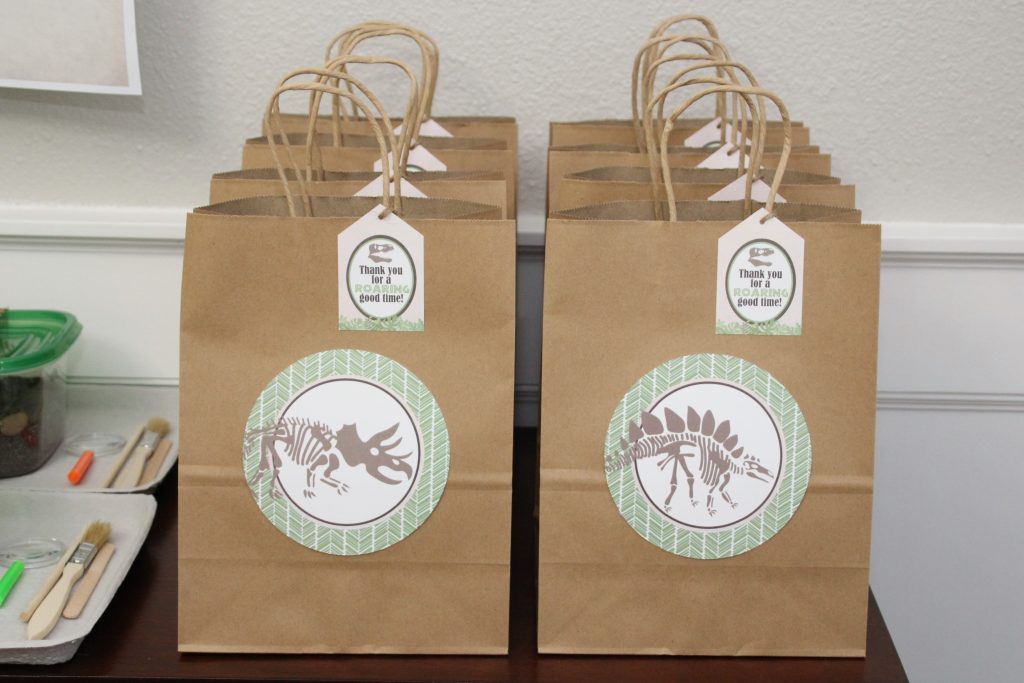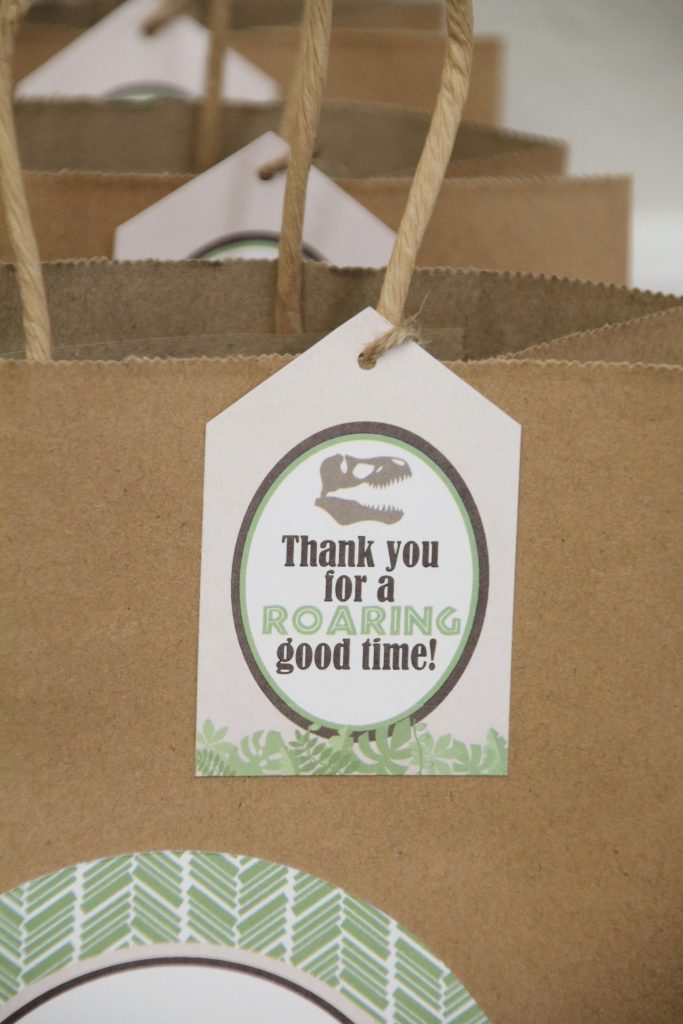 As party guests arrived we helped them look the part of a paleontologist with hats and binoculars. These were such a big hit!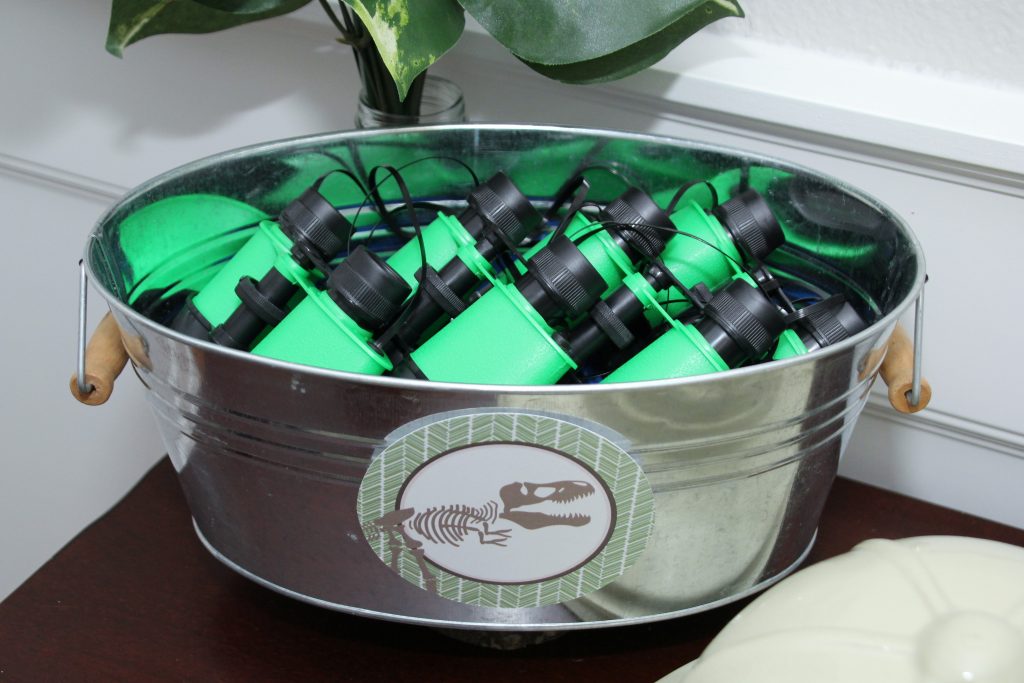 The main party table was so fun to create. It had so many layers of color, texture, and dinosaur elements including wood, moss, greenery and more.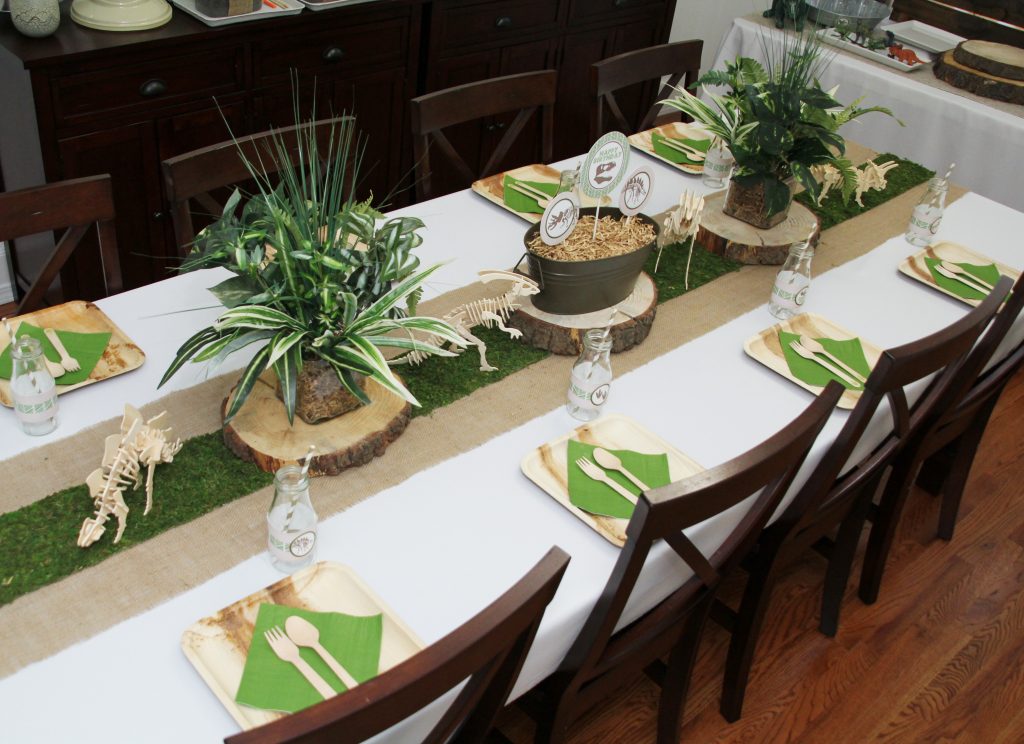 A printable 2 sided centerpiece was at the very center of the table.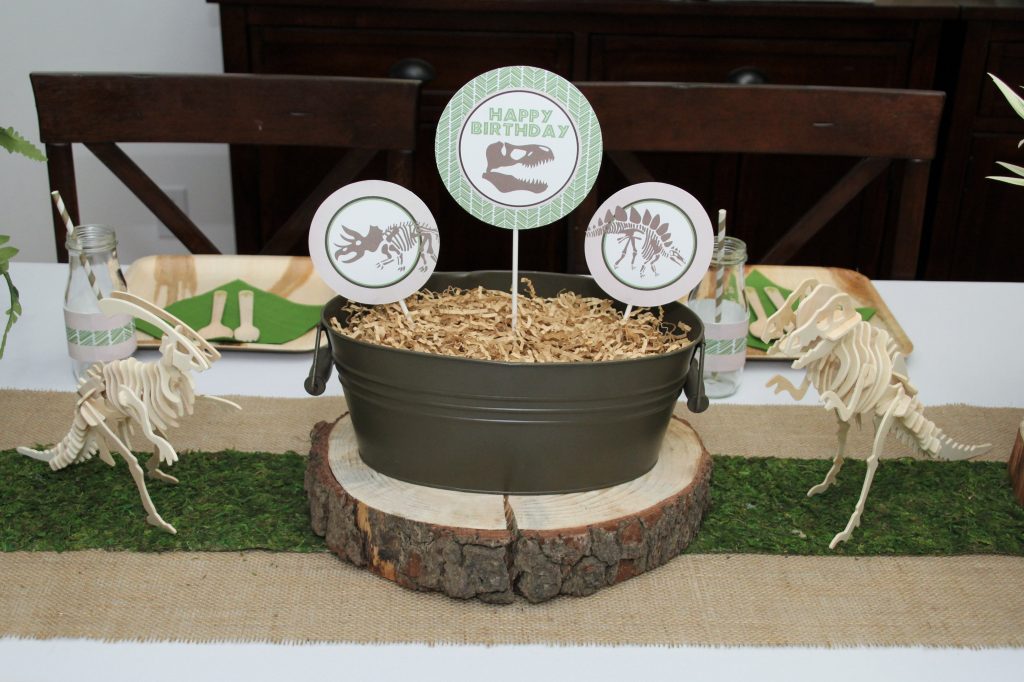 The table runner was created using burlap and a roll of moss found at the craft store. I loved the texture the moss brought to the table.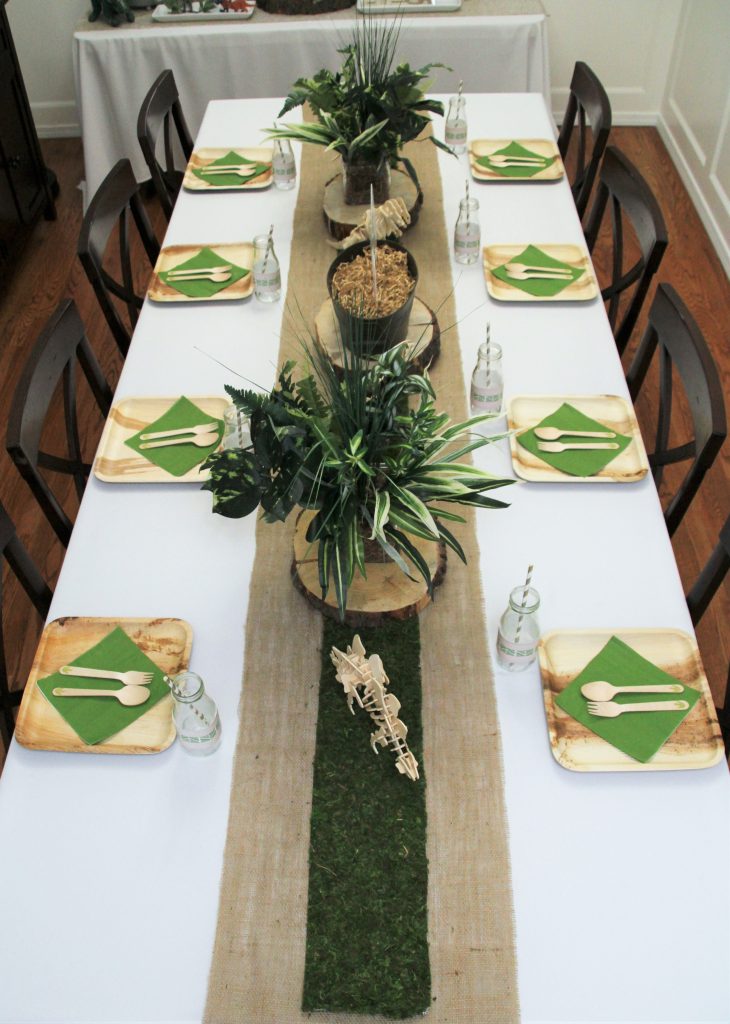 These awesome wood dinosaur skeleton puzzles were perfect to bring in the dinosaur bones in another way. We had 4 different dinosaurs on the table.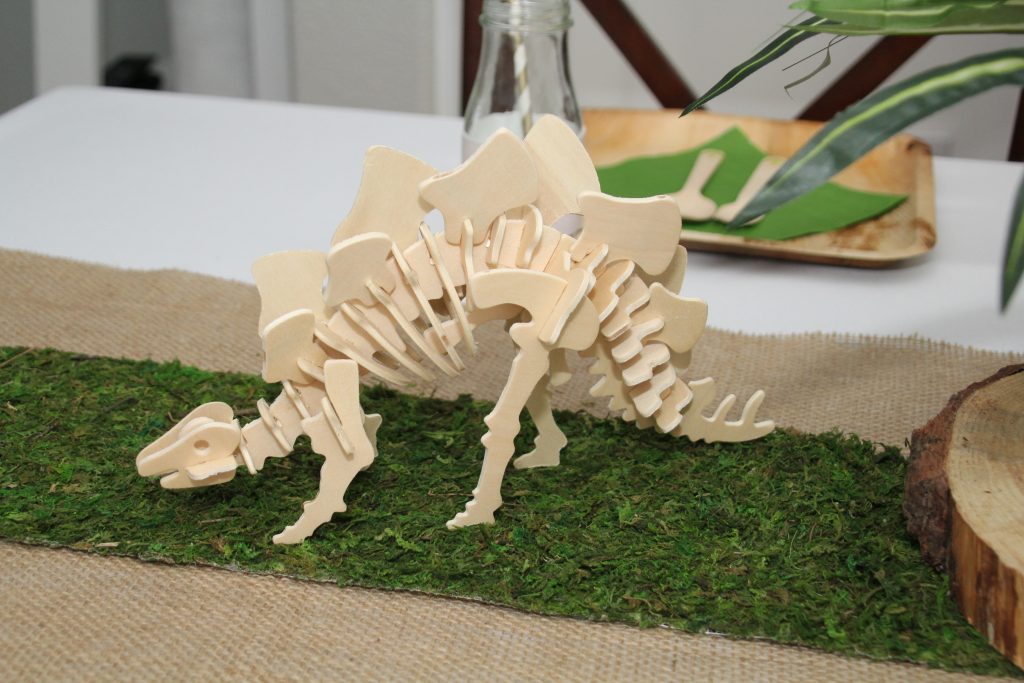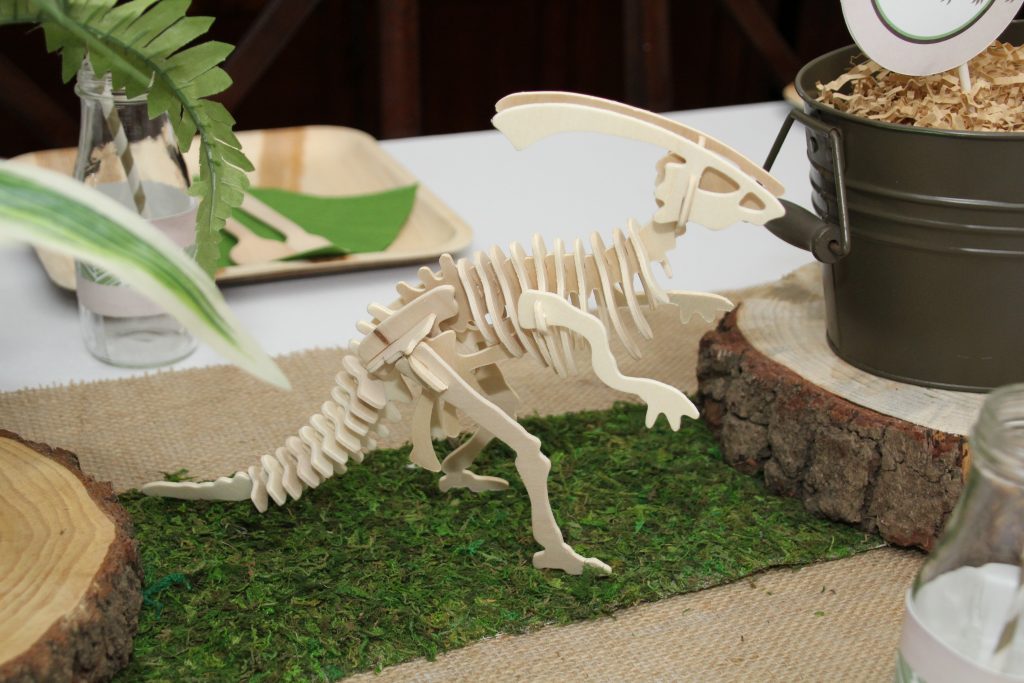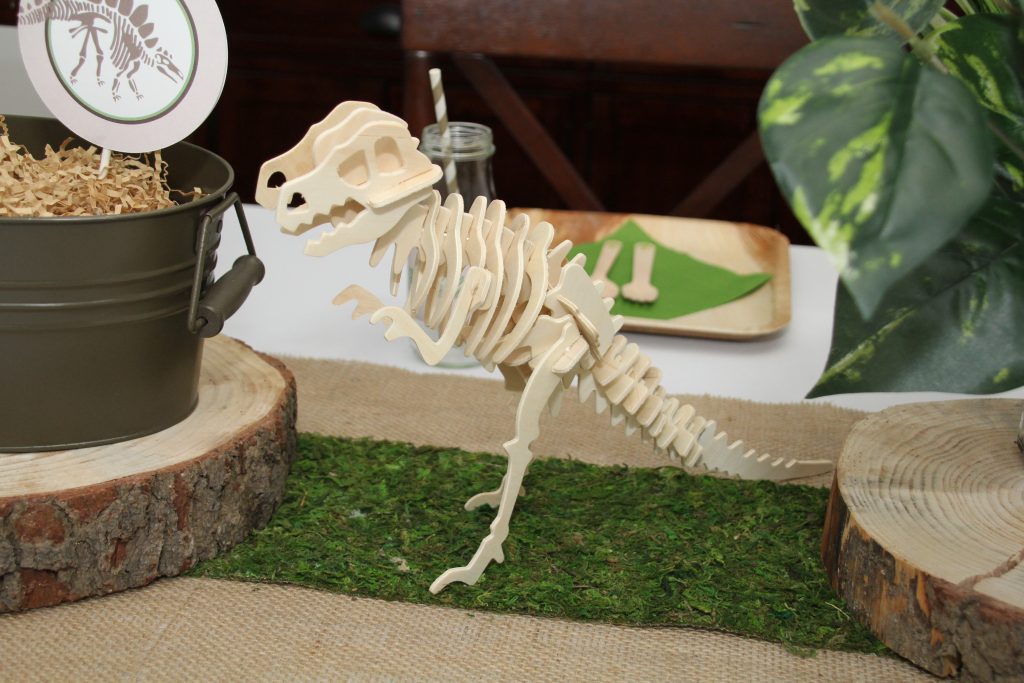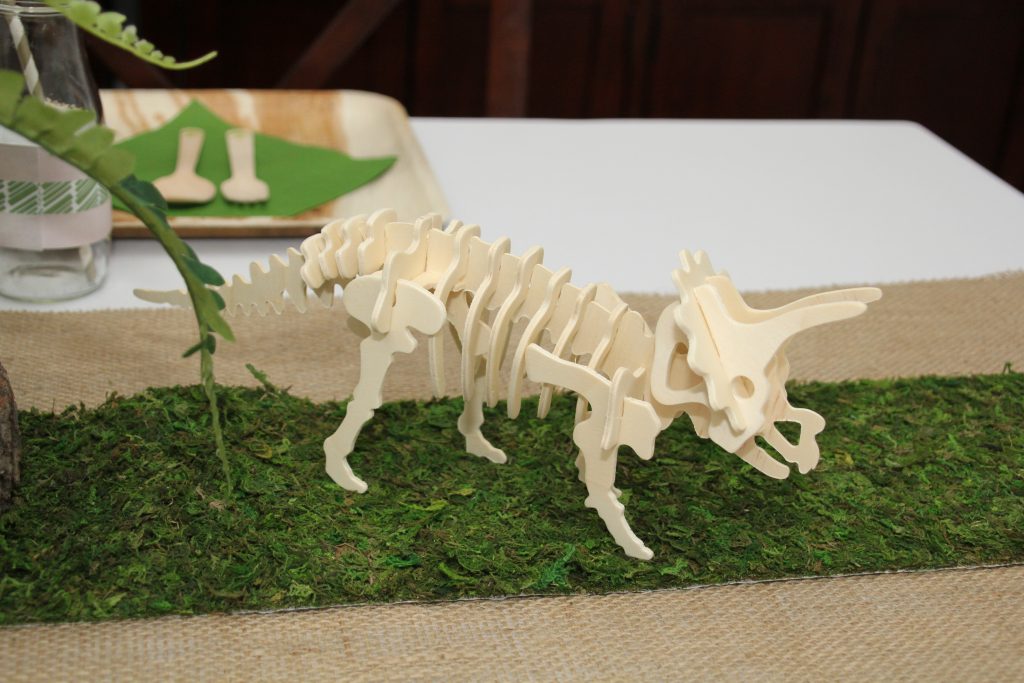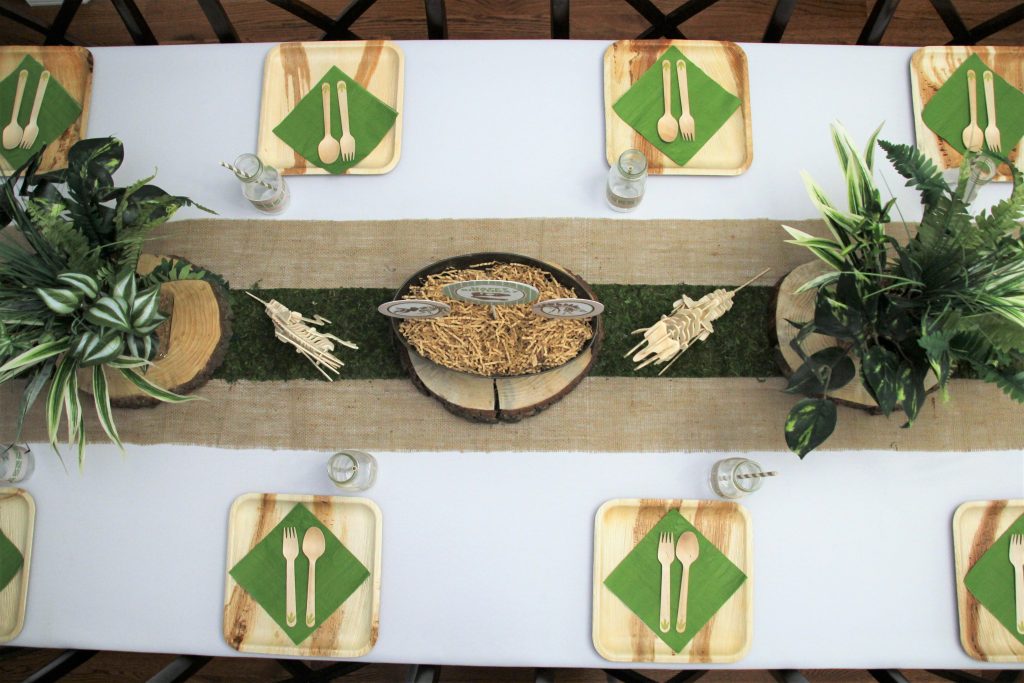 Each place setting included these gorgeous wood grain plates. They were one of my favorite finds for this party. I layered green napkins with wood silverware. The little dino foot was added using a rubber stamp I had in my craft collection. 
Glass milk bottle are one of my favorite containers to use on a party table. They are so versatile. I wrapped them with a printable dinosaur water bottle label to match the printables throughout the party.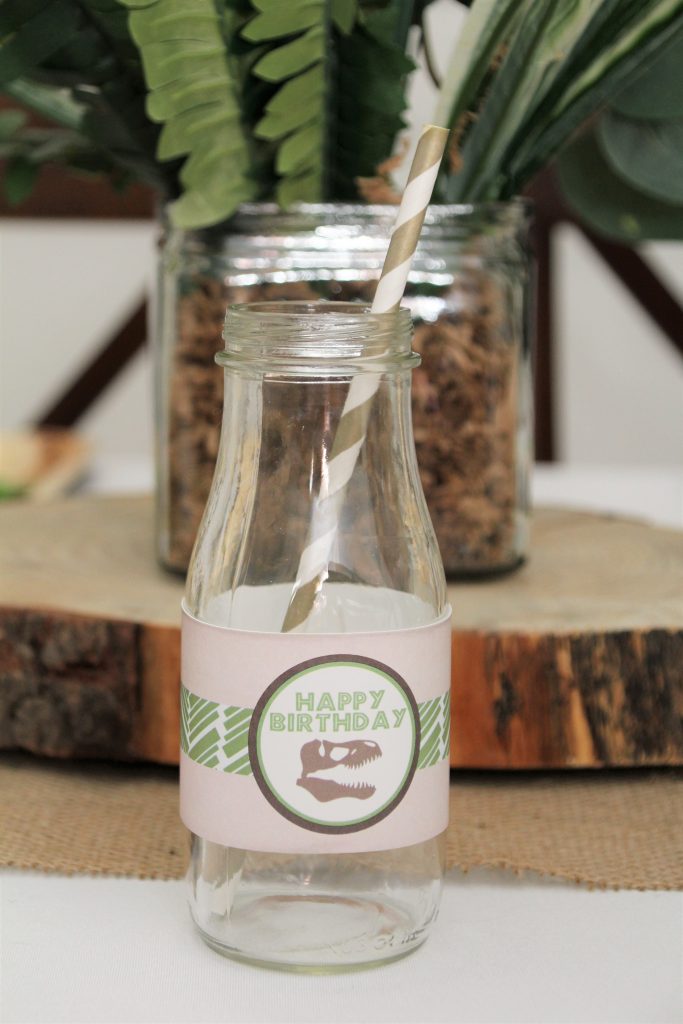 The greenery was all found at my local dollar store. I stuck them into a foam block with brown crinkle paper around it to mimic dirt. I used multiple containers of greenery throughout the space to add color and height anywhere I could.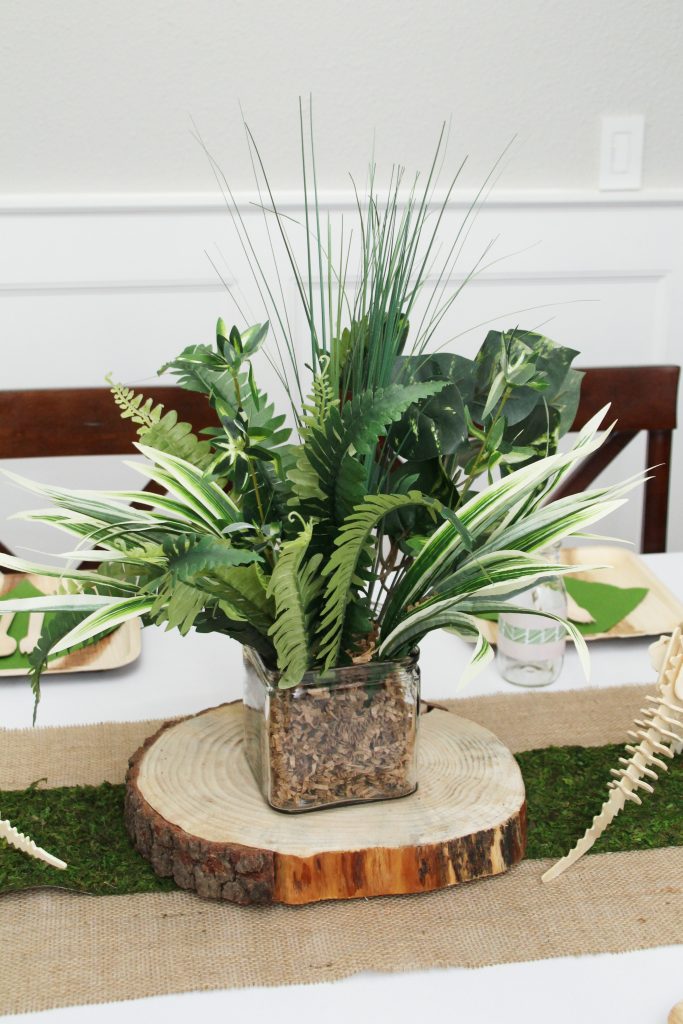 You have seen several elements already that the kids took home. A hat, binoculars, and dino dig box. I also created these favor bags using a printable treat bag topper from the printable dinosaur package. Chocolate rocks were a fun addition to the bags to continue our outdoor dig theme.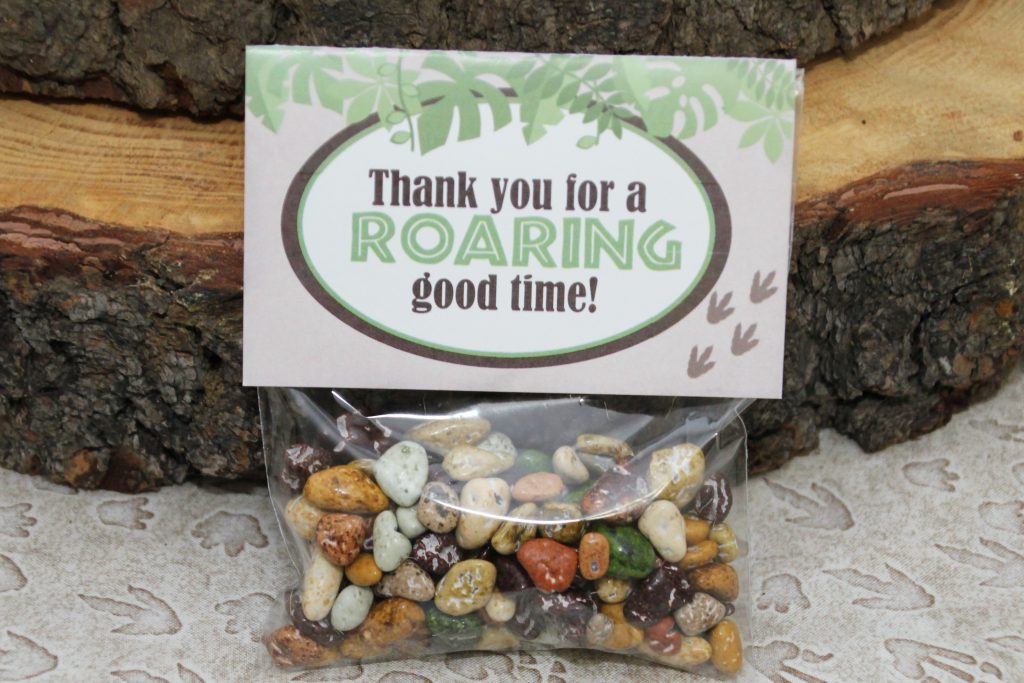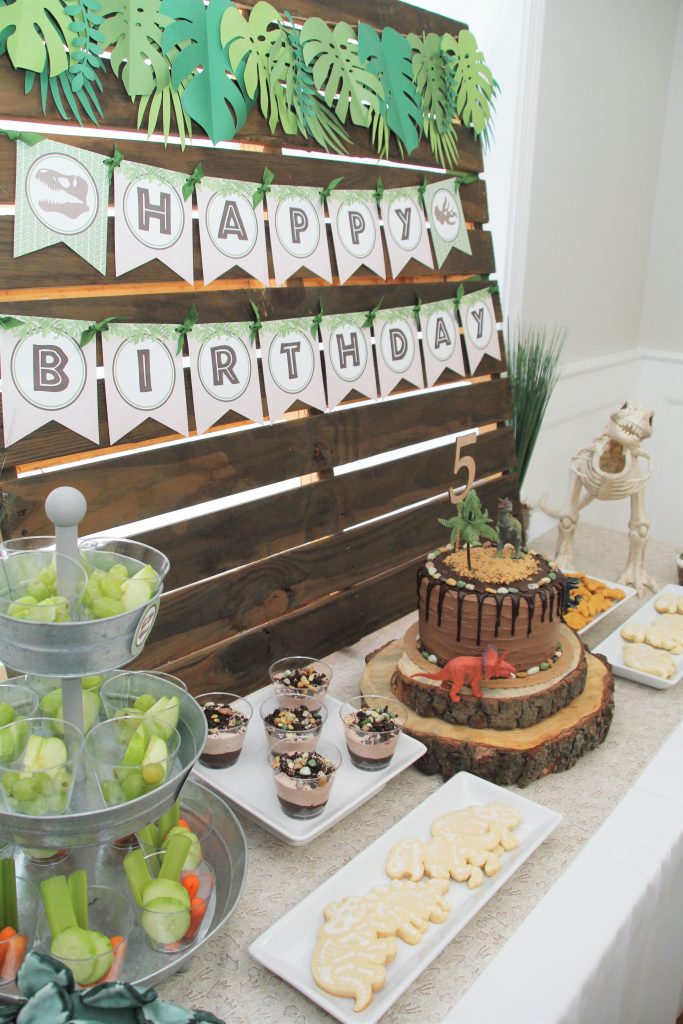 After lunch we headed out for a scavenger hunt to find a dinosaur. The kids dressed up and were ready for the hunt!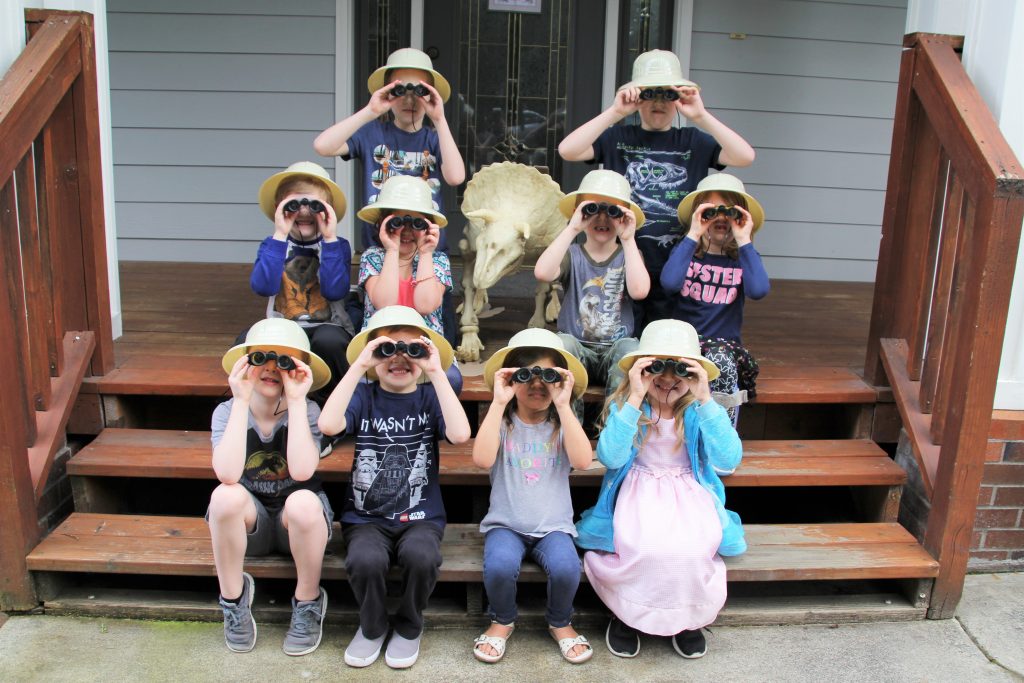 I created cards that I hid around our home and neighborhood to lead them to the final prize.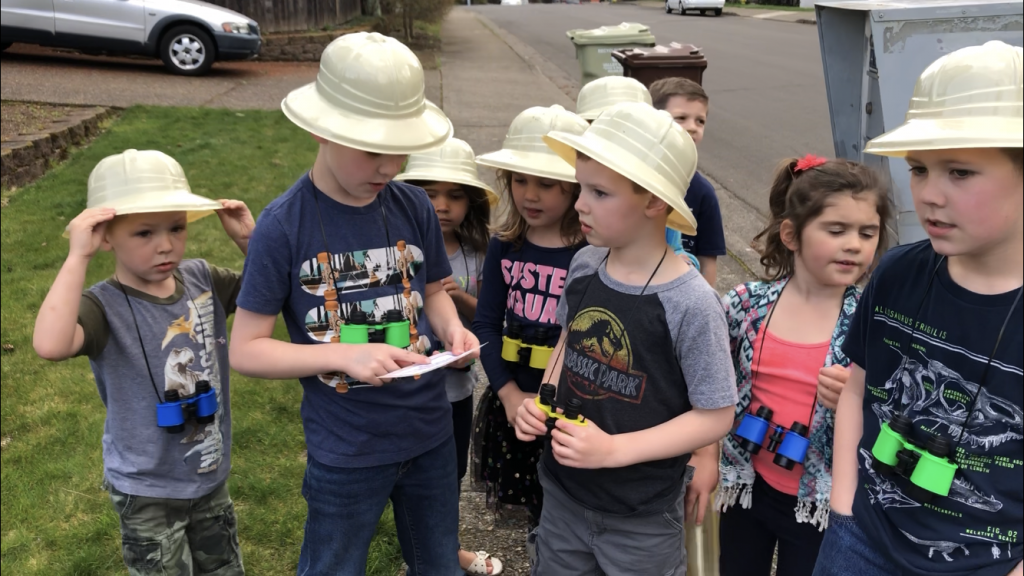 They succeeded and found the dinosaur pinata.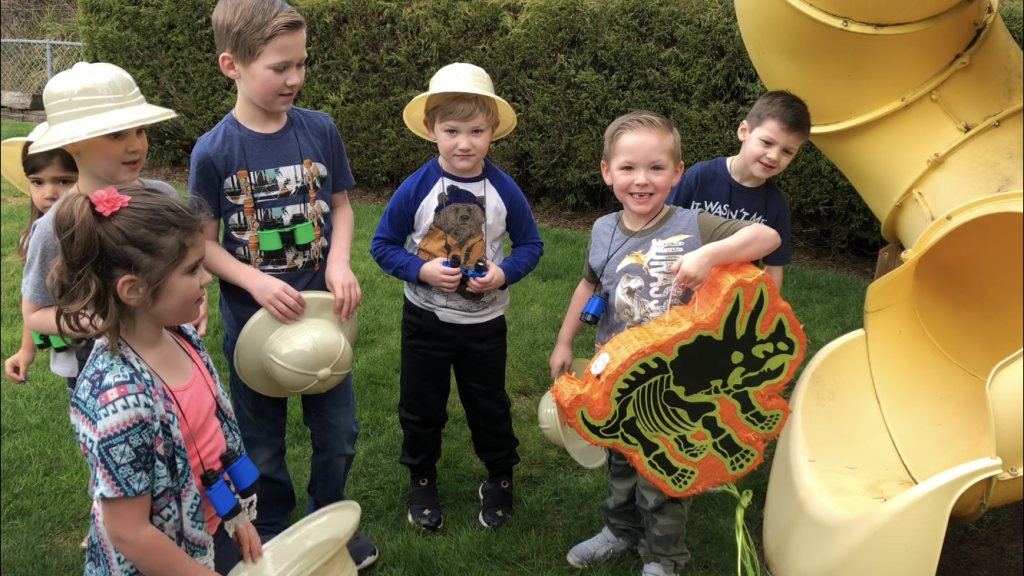 After the hunt we went back inside to DIG! The kids LOVED this so much. I gave each kid a tray to attempt to contain some of the mess. They had so much fun finding all the treasures. I originally attempted a moon sand recipe for the boxes but out Home Depot did not have the right kind of sand. At the last minute it basically ended up being a wet sand mixture that was still fun to dig through. Pinterest has some great ideas for dig boxes containing plaster but for 5 year olds I did not want it to be hard to do. They were able to use bury their treasures again and dig over and over.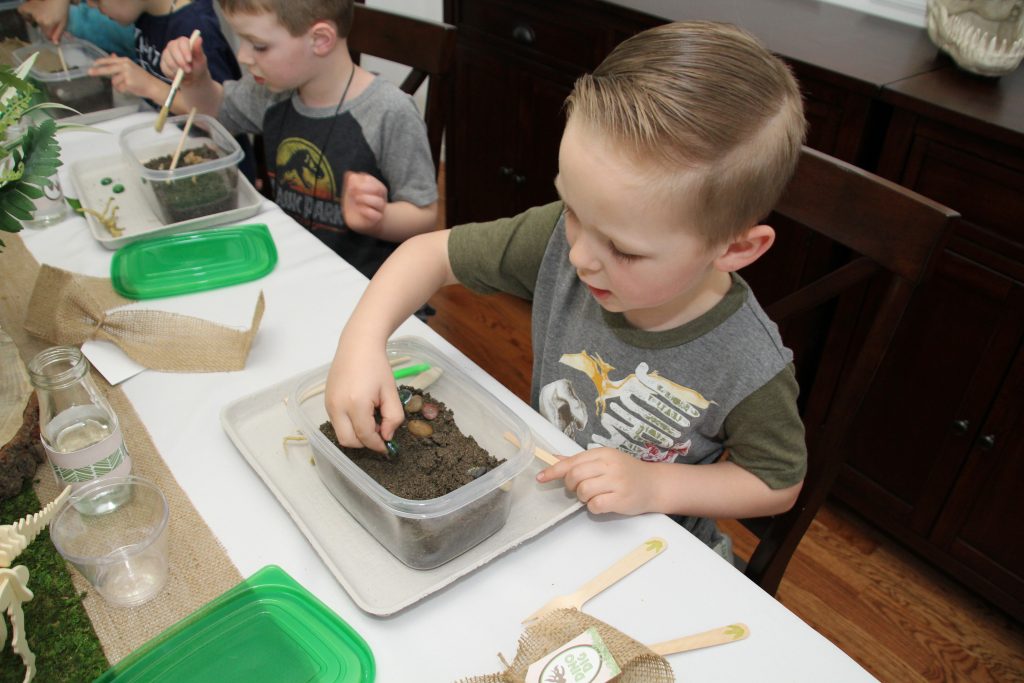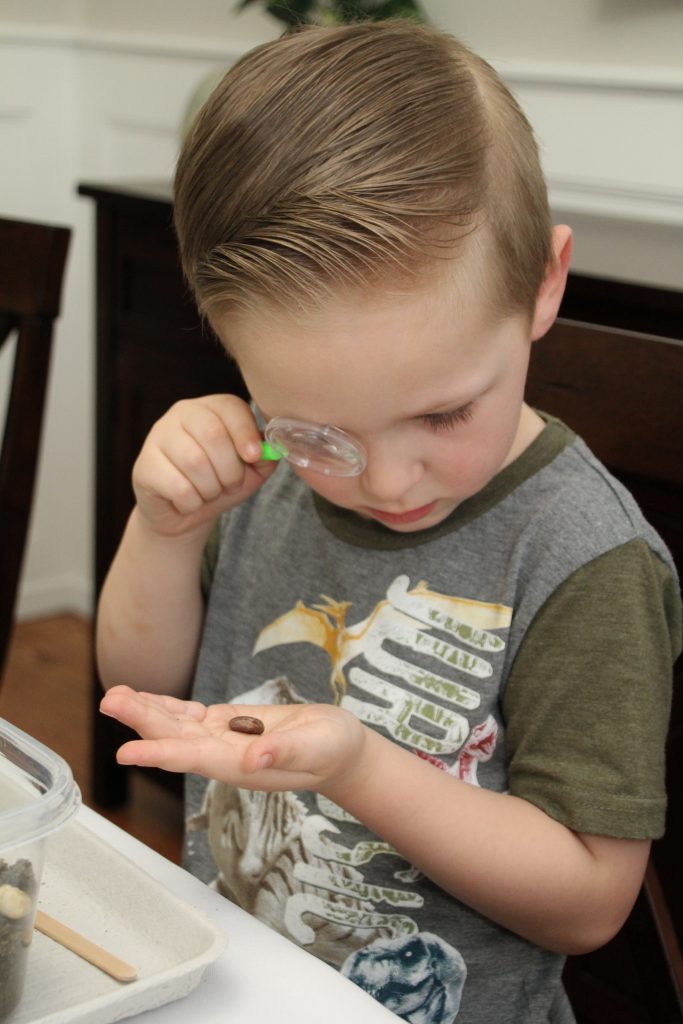 Last, but actually first was the front door that greeted guests as they came in. A neighbor had this great giant dinosaur skeleton from Halloween we were able to borrow. I cut dinosaur footprints out of cardstock leading up to the party.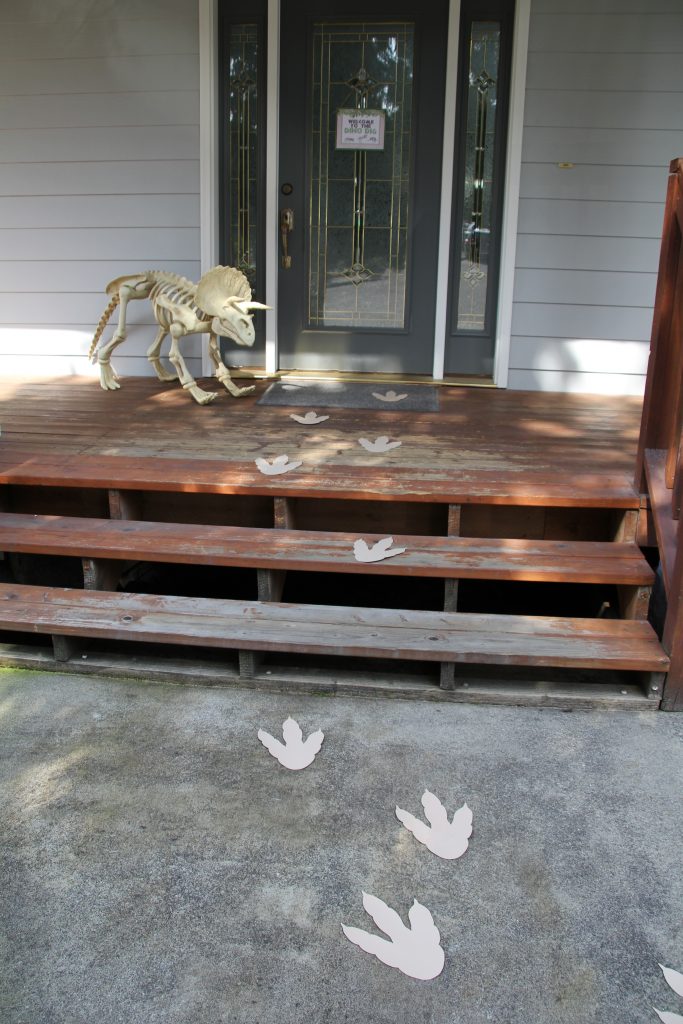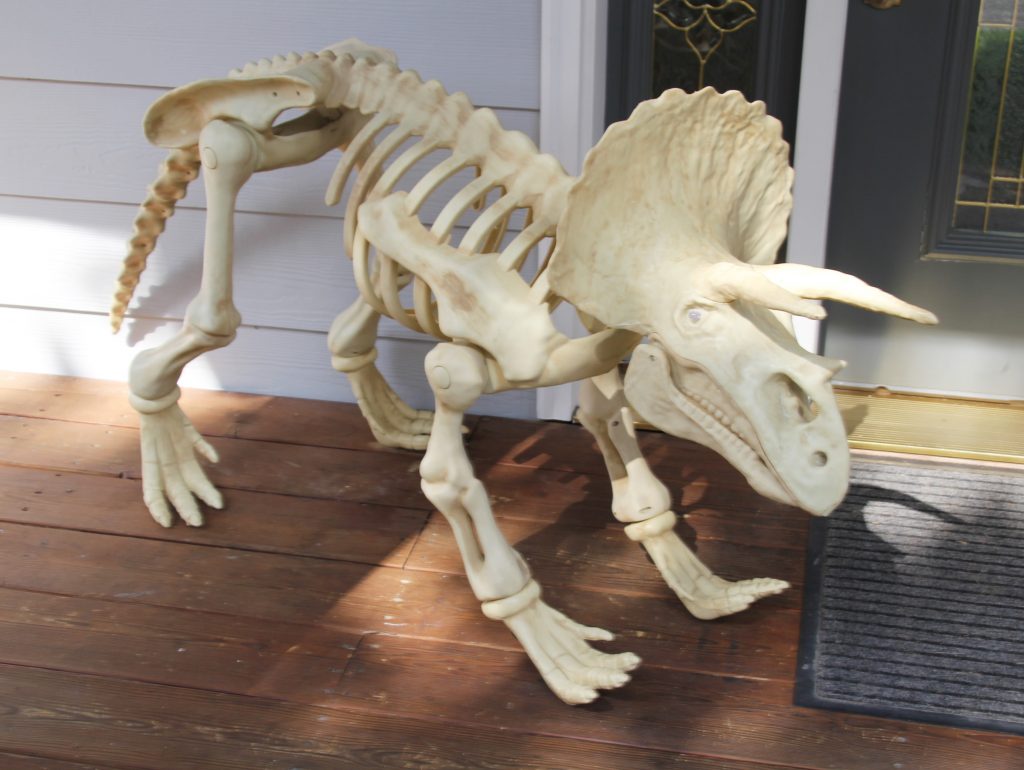 A printable welcome sign was mounted on layered cardstock and hung using twine. So easy and so cute!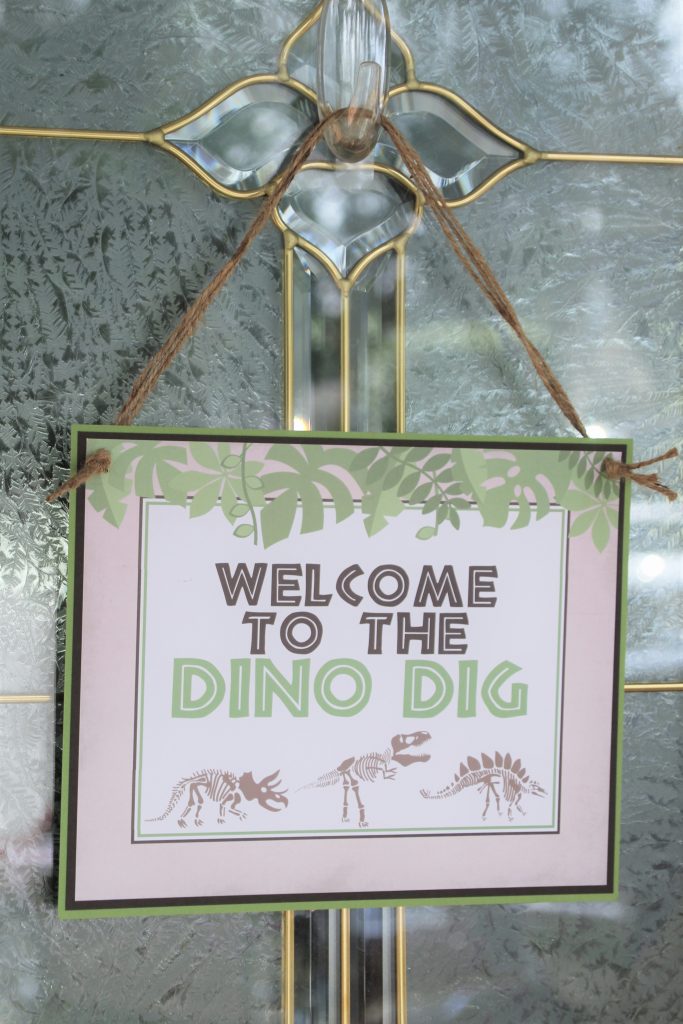 This cute 5 year old of mine loved his dinosaur dig party! He said it was the best party ever! haha! It is always fun to incorporate something my kids LOVE into a theme.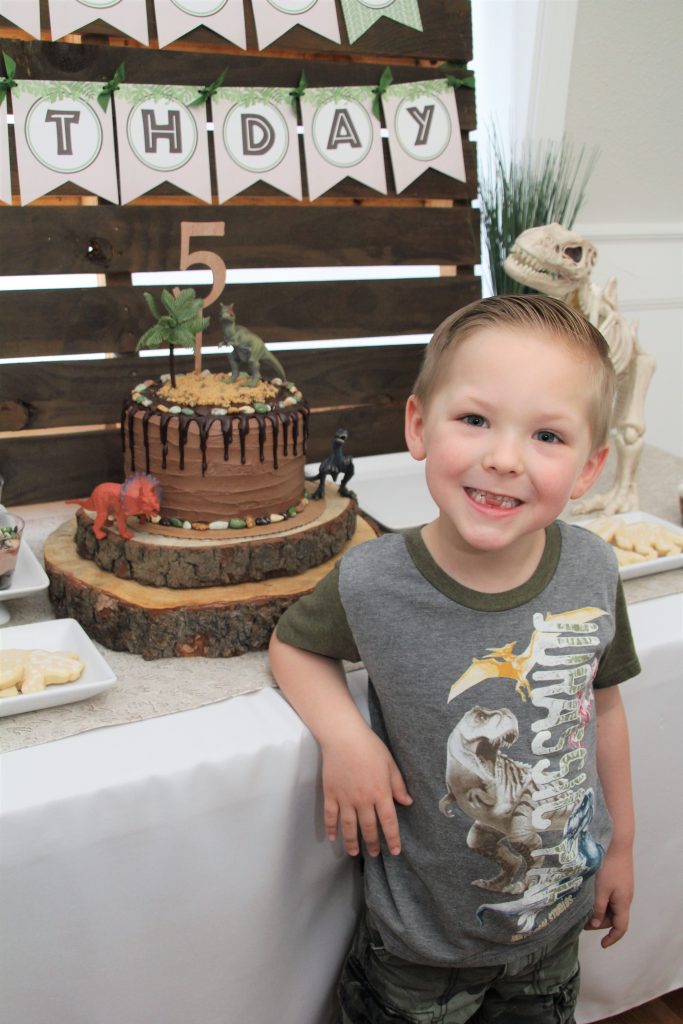 You can find all of the printable decor in my etsy shop! I hope you enjoyed all of our Dino Dig party details!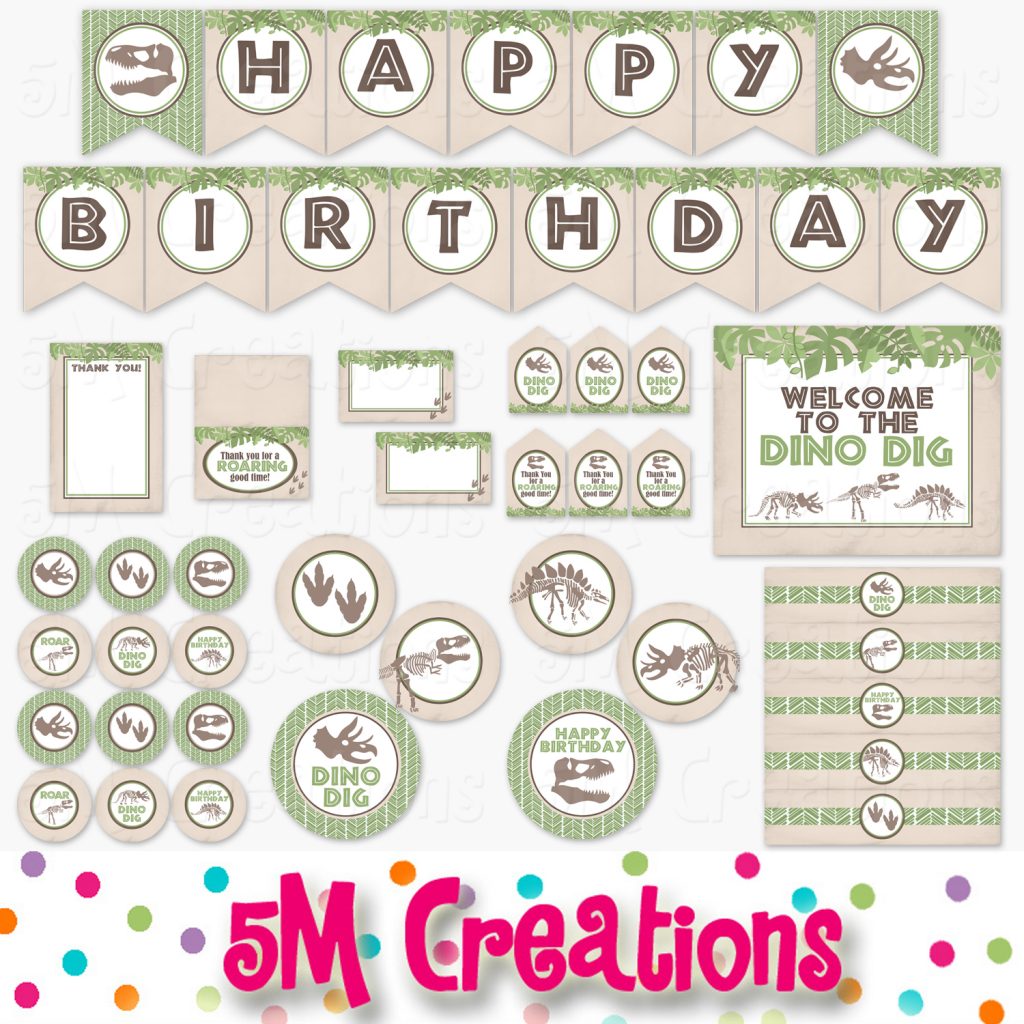 The printable dino invite can be found here.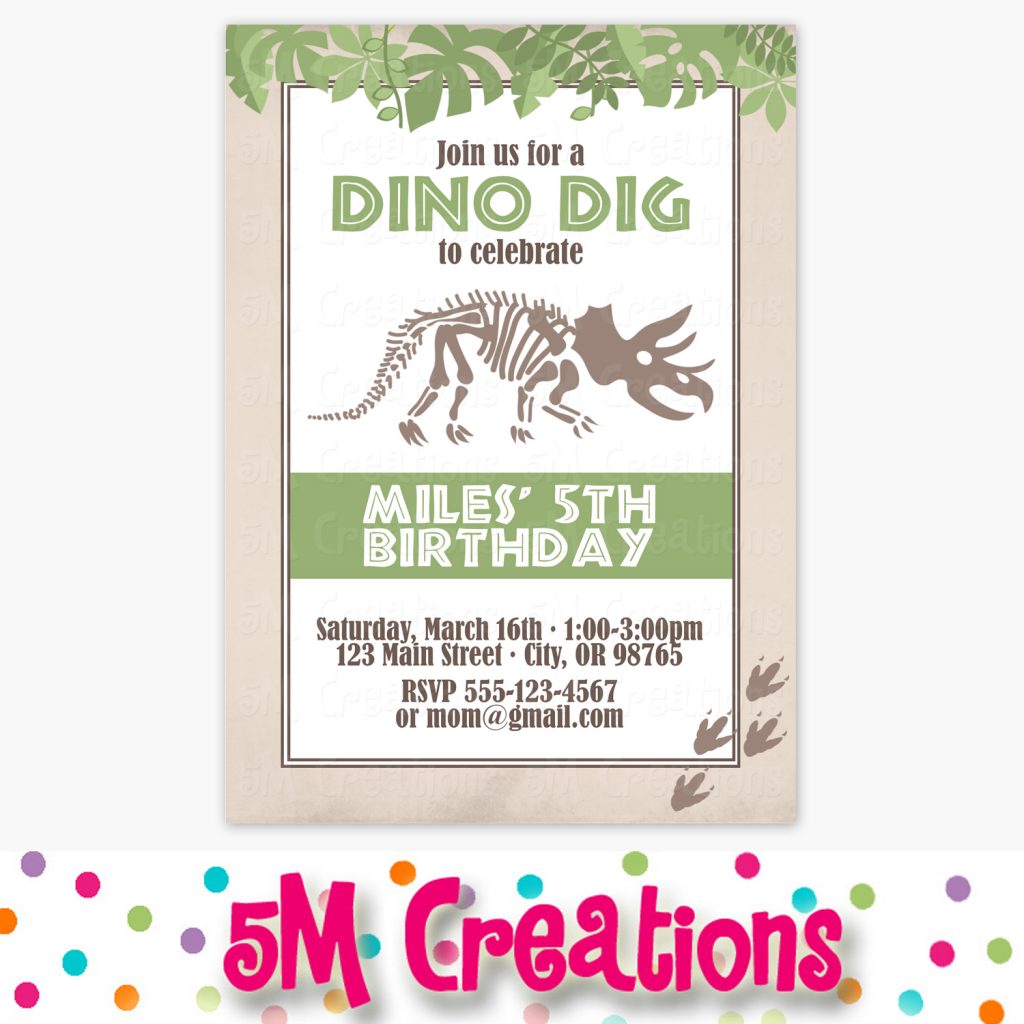 Find the large printable dino dig sign here.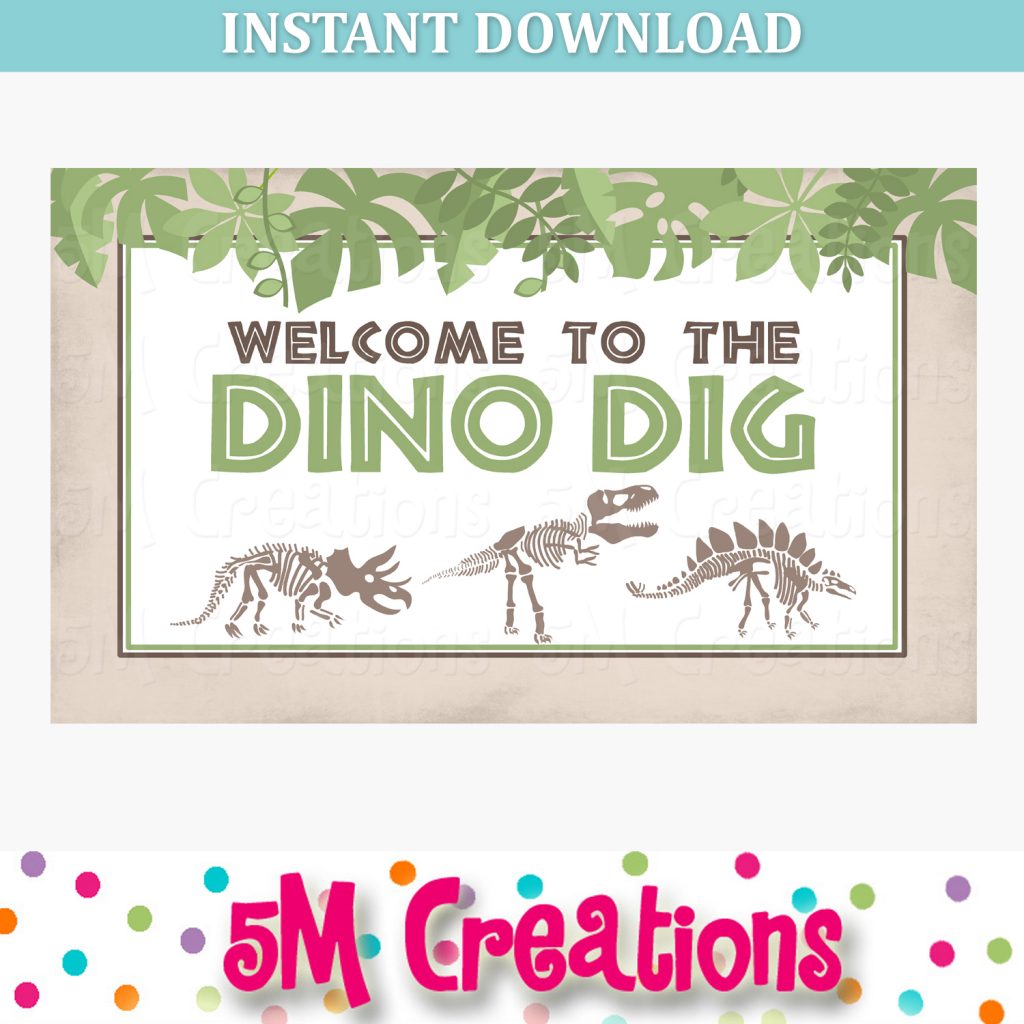 Party Supplies:
Large Dinosaur Skeletons- Joann Fabric (Halloween season)
Wooden 5 Cake Toppers- Amazon
Dinosaur Cookie Cutter/Stamp Set- Amazon
Greenery- Dollar Store
Wooden Dinosaur Skeletons- Amazon
Binoculars- Amazon
Safari Hats- Amazon
Bamboo Plates- Amazon
Wood Silverware- Amazon
Dinosaur Skeleton Pinata- Oriental Trading Co.
Dig Boxes & Rocks- Dollar Store
Mini Dino Skeletons- Amazon
5M Creations May 13th, 2019
Posted In: Boy Birthday Party, Uncategorized
Tags: Banner, Boy Birthday, cake, centerpiece, cupcake toppers, dinosaur, dinosaur skeleton, jurassic, party favor, pinata, scavenger hunt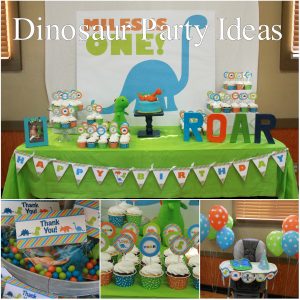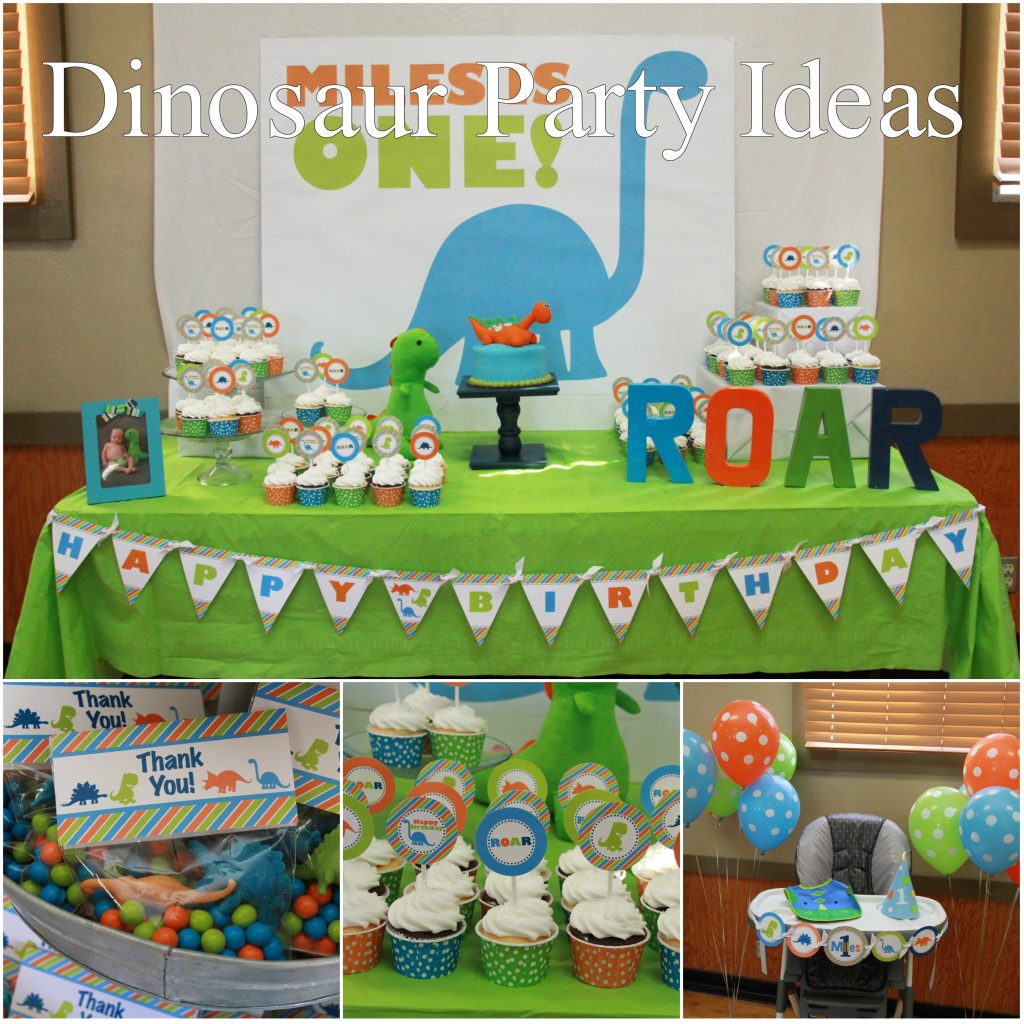 For my littlest guy we created a dinosaur nursery. It is so fun with bright pops of green, orange, and navy. I knew when I did his nursery that I wanted his first birthday party to match. I created this party line with dinosaur silhouettes inspired by some of the art I had in his room.
His smash cake featured this adorable fondant dino. The cake stand is from my daughter's bake shop party got spray painted navy to fit a boy theme.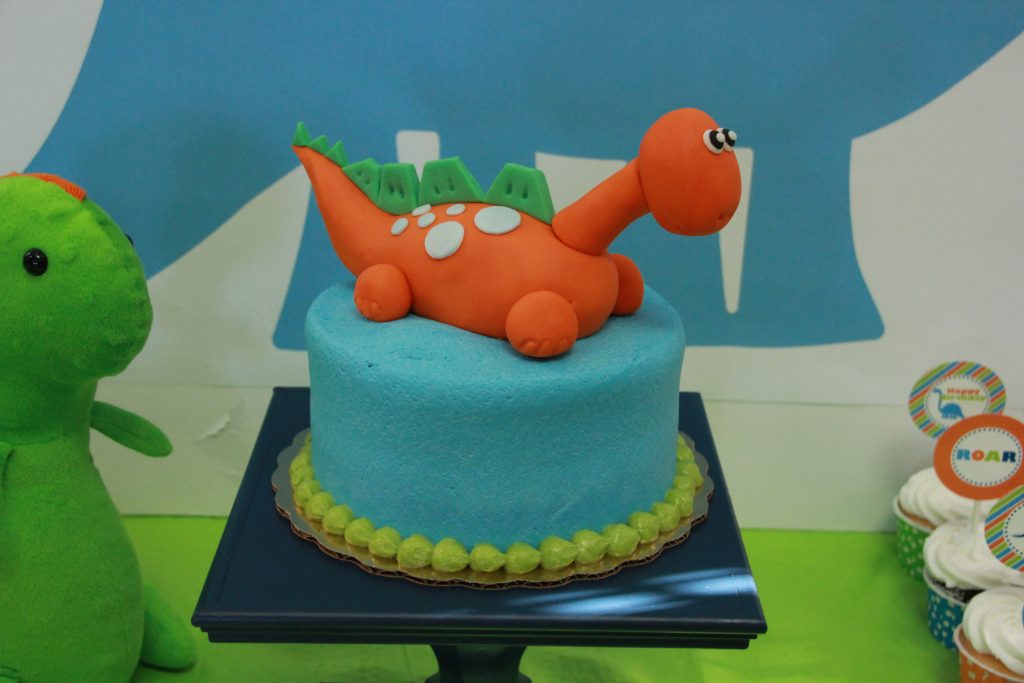 These letters sit on top of his bookshelf in his room. I love that they are such a fun bold piece of decor on the table.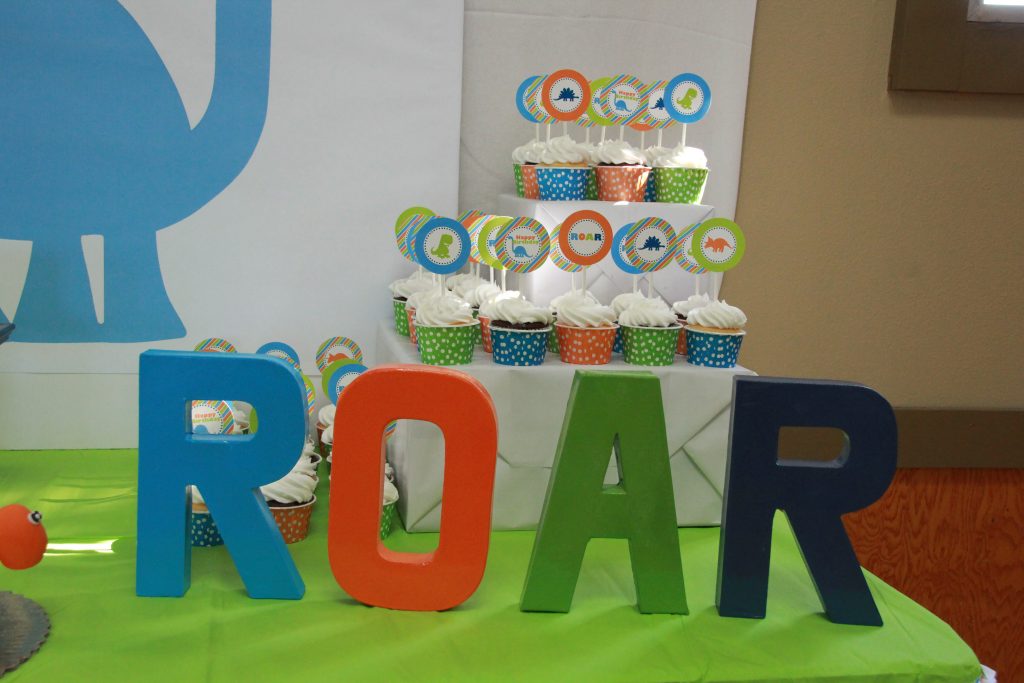 I created printable cupcake toppers with a mix of dinosaur silhouettes, happy birthday, and roar in the party colors. I love the look of these cute polka dot cupcake cups. They add so much color to the treats.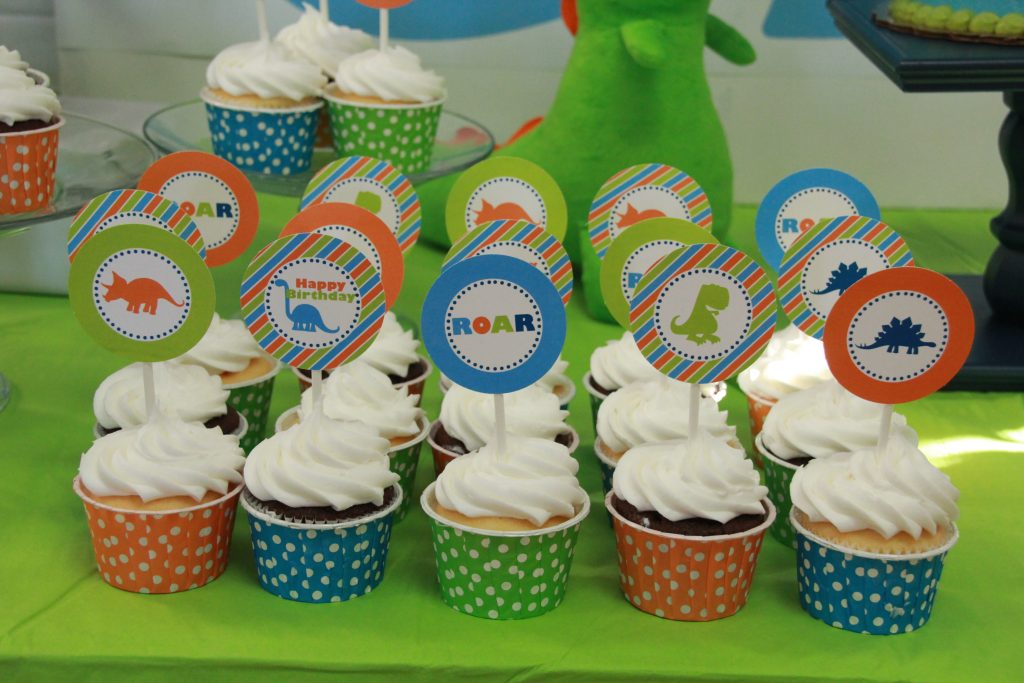 Each month I took a photo of my little guy with his stuffed dinosaur in his lime green cloth diaper. A blue frame made it the perfect addition to our dessert table. This party was all about celebrating his first year!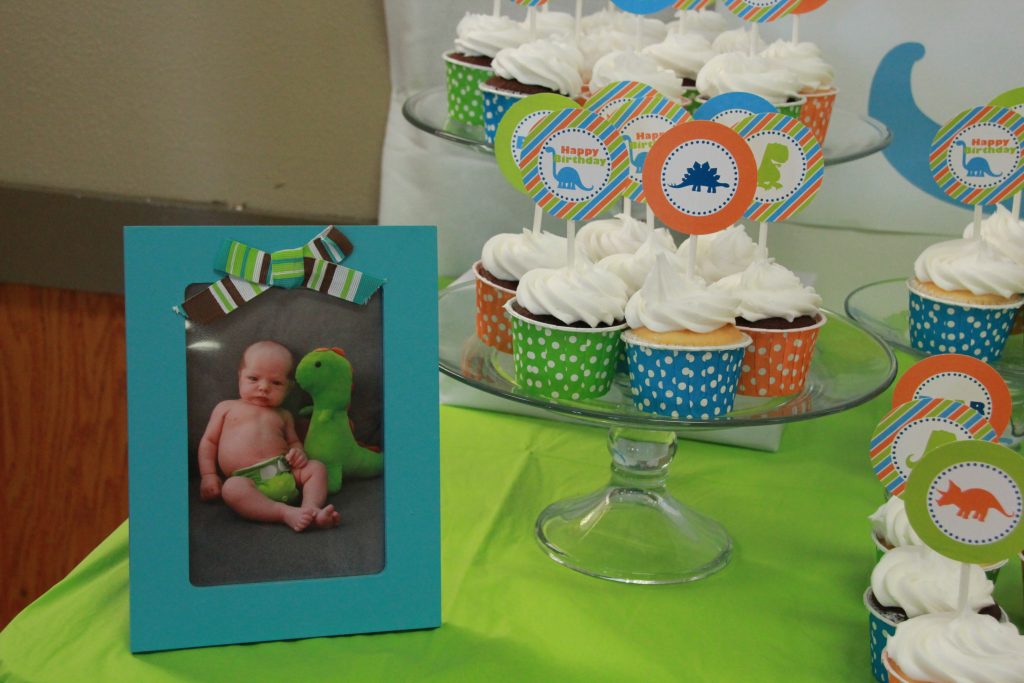 For his high chair I created a mini banner with the printable dinosaur centerpiece circles and a personalized circle with his name from our party decor package. I added a dinosaur bib from Skip Hop and a sweet birthday hat I found at my local party store.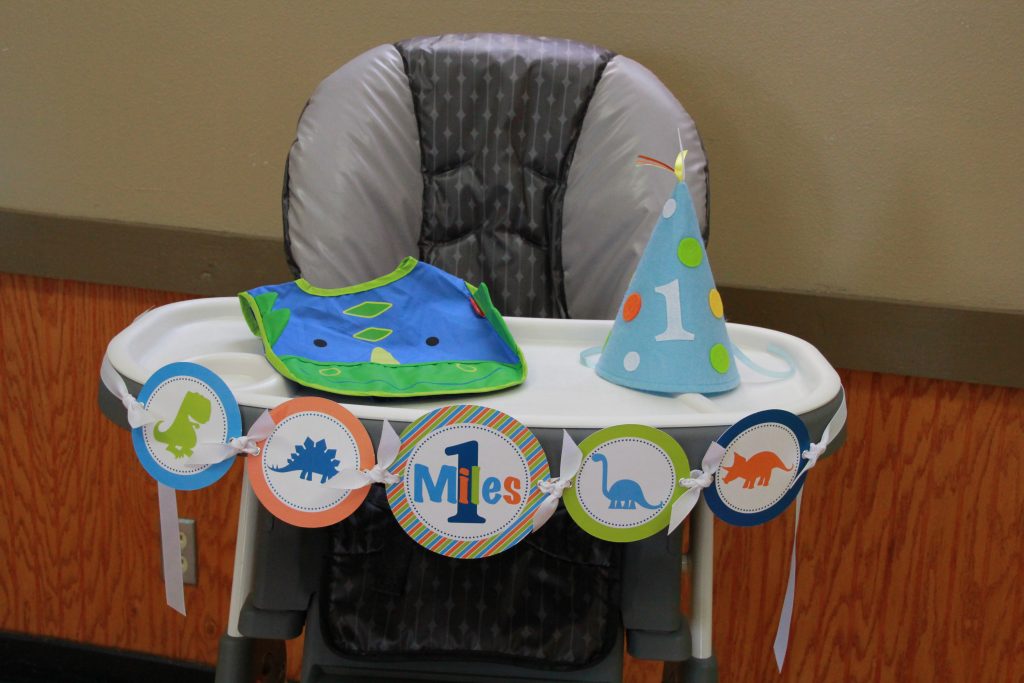 We rented a large community center to host the event. We expected around 75 friends and family. Even though it was a big space I wanted to make sure it was bright and colorful. The polka dot bouquets of balloons at each table were the perfect addition.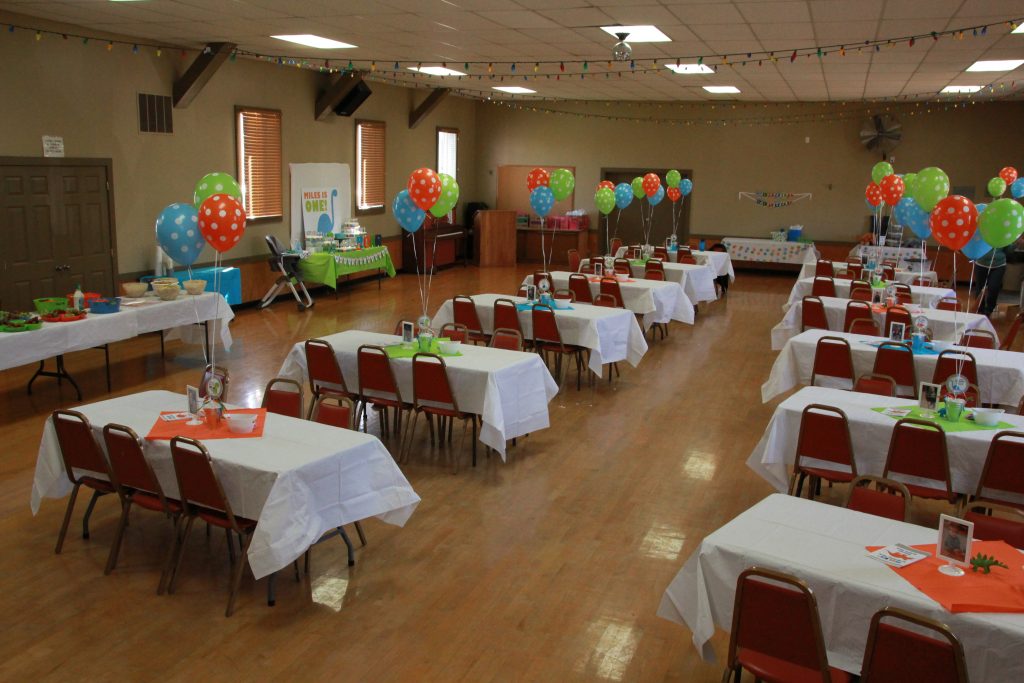 Each table had a centerpiece, different photos of our little guy from throughout the year, a painted dinosaur figure, and an activity book I created for the kids. They were able to decorate it with stickers and crayons. Inside was a word search, maze, and more.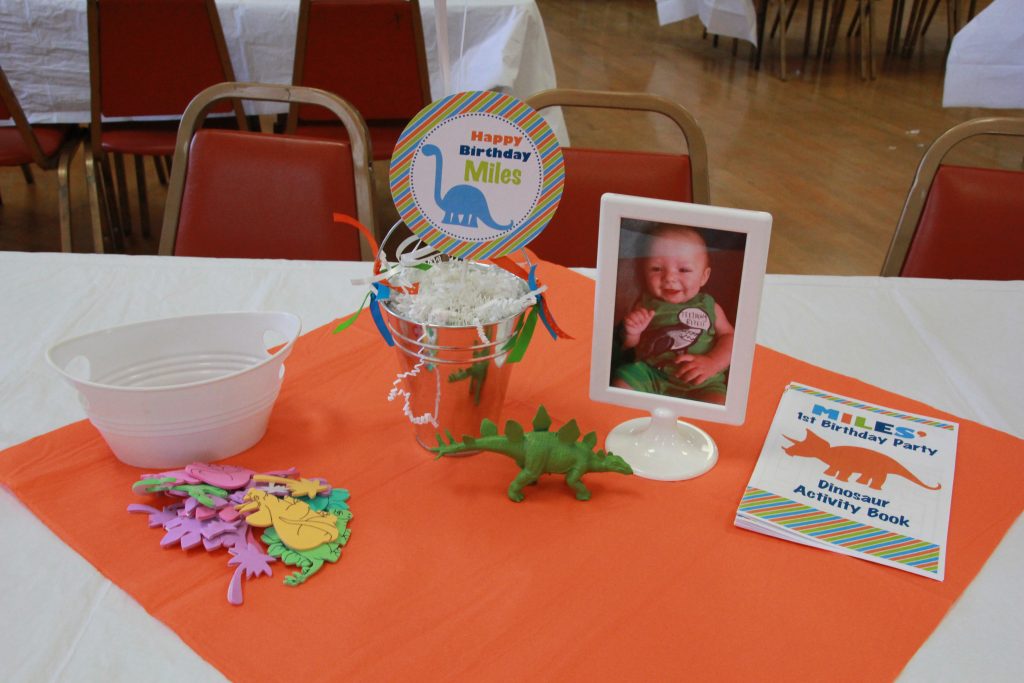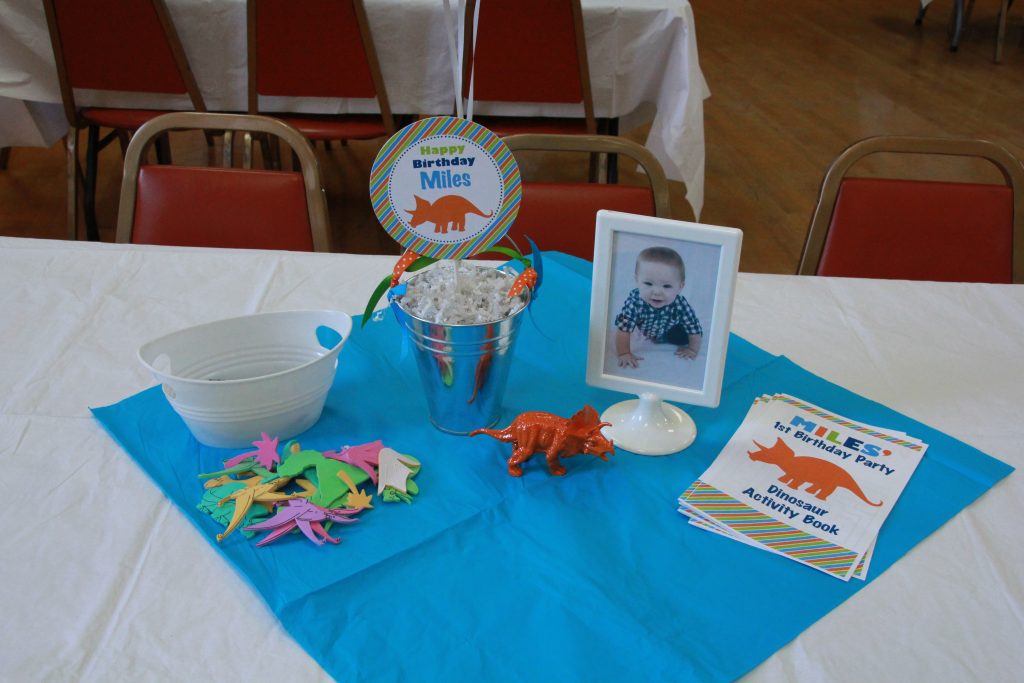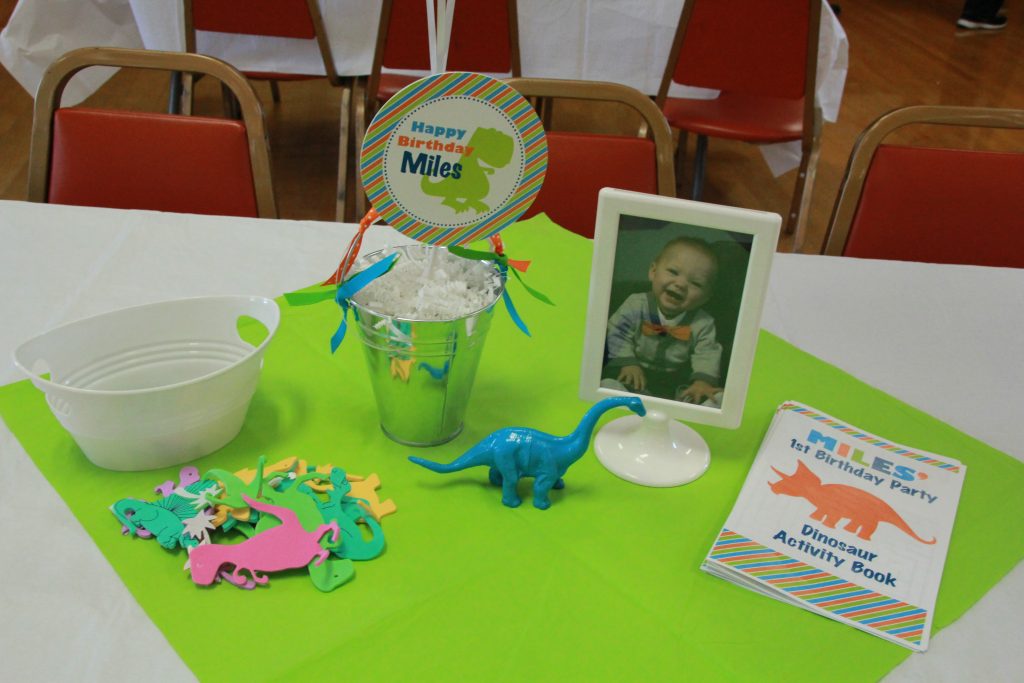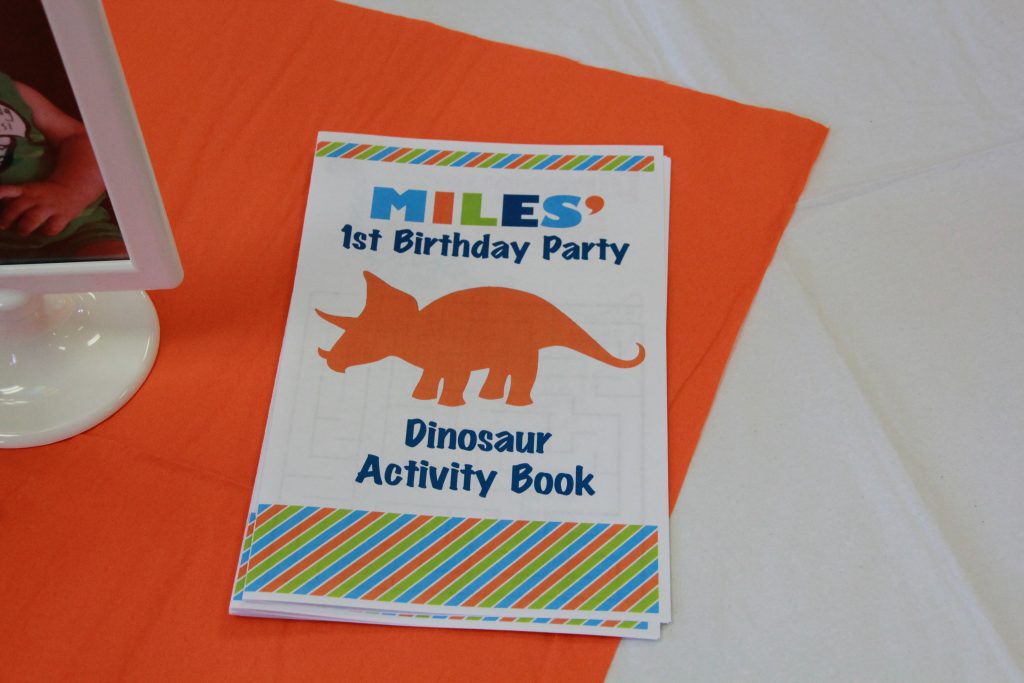 Again for the decor I utilized several items from his room. The large M, stuffed dinos, and orange frame filled in the favor table nicely.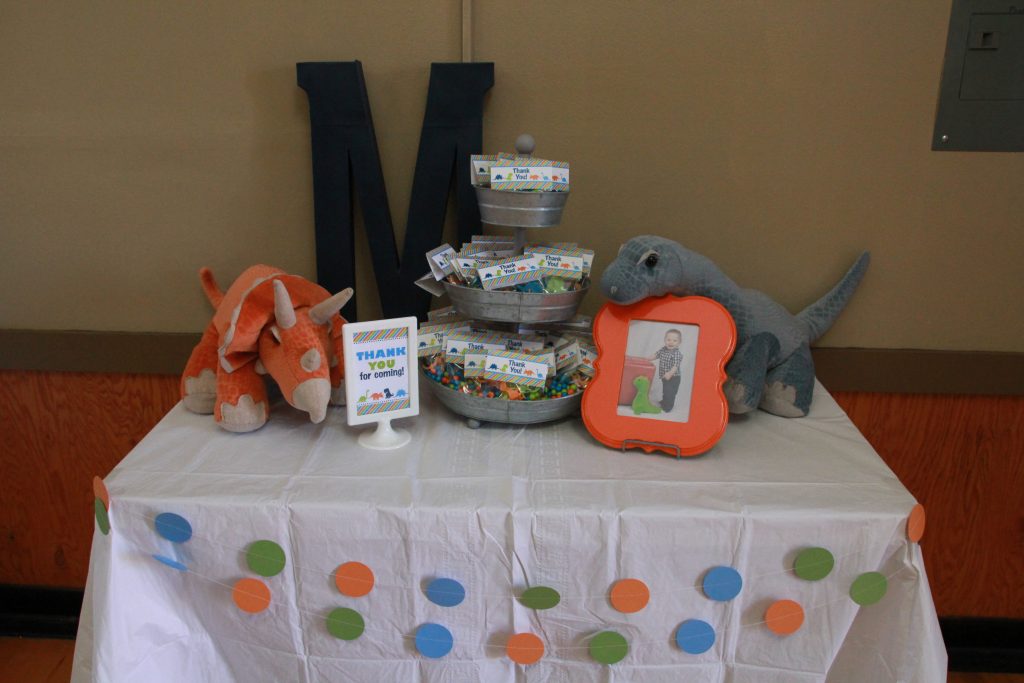 One the way out each guest took a favor. Inside was colored sixlets and mini dinosaur figures, topped with our printable treat bag toppers.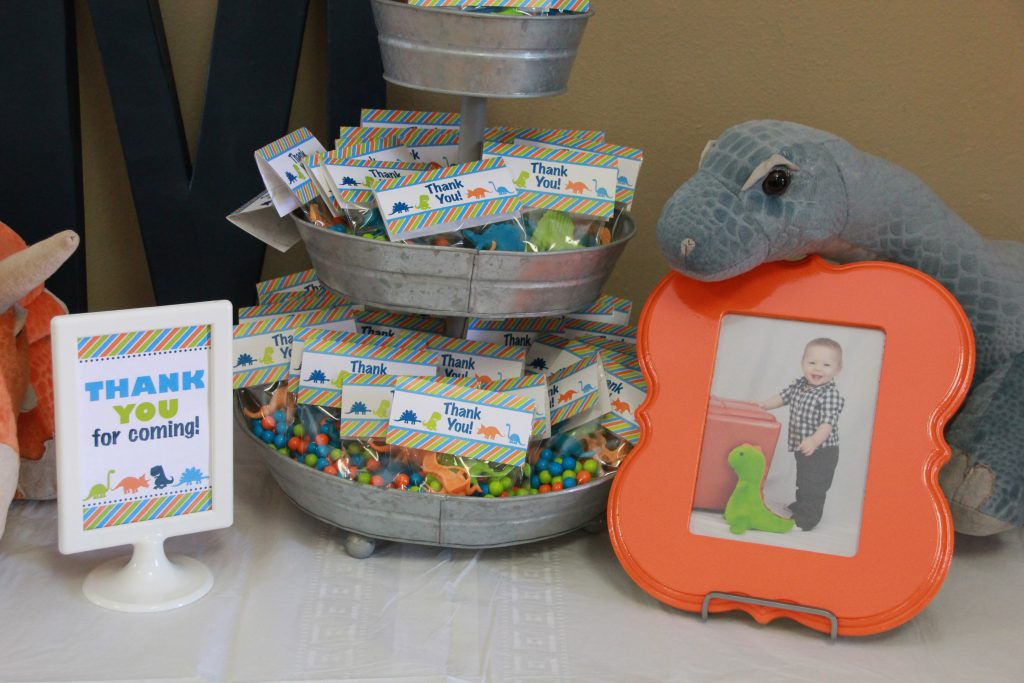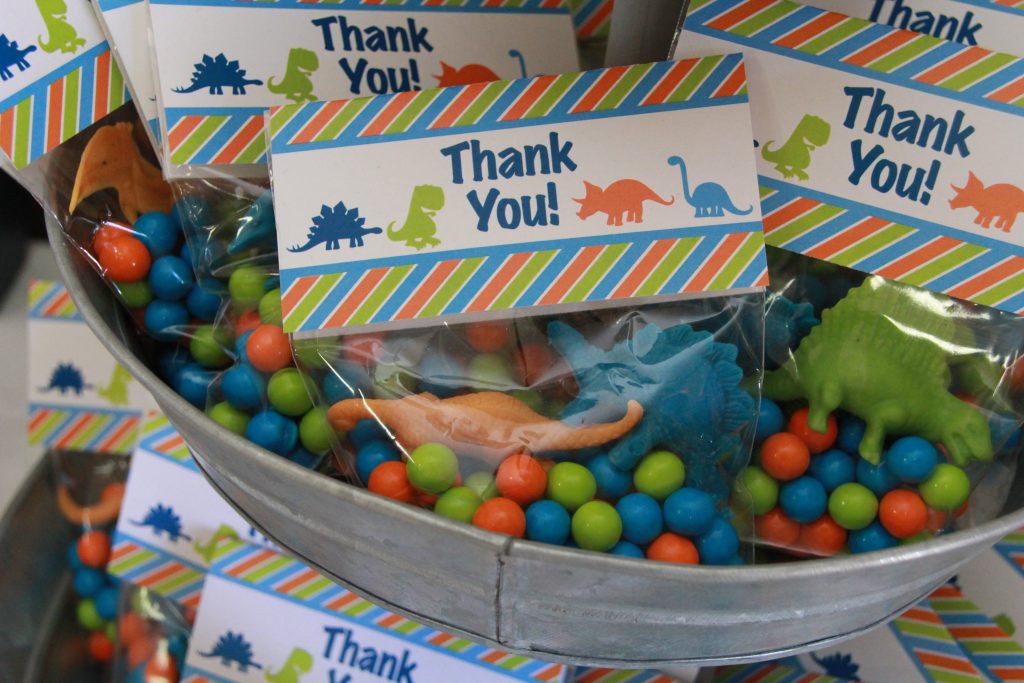 There are so many fun elements included in this printable dinosaur party package. Not just for a first birthday. If you need other ages for a ONE banner just send me an email. I am happy to send you another age along with your purchase. Personalization of your child's name is always an option. You can find it here in my etsy shop.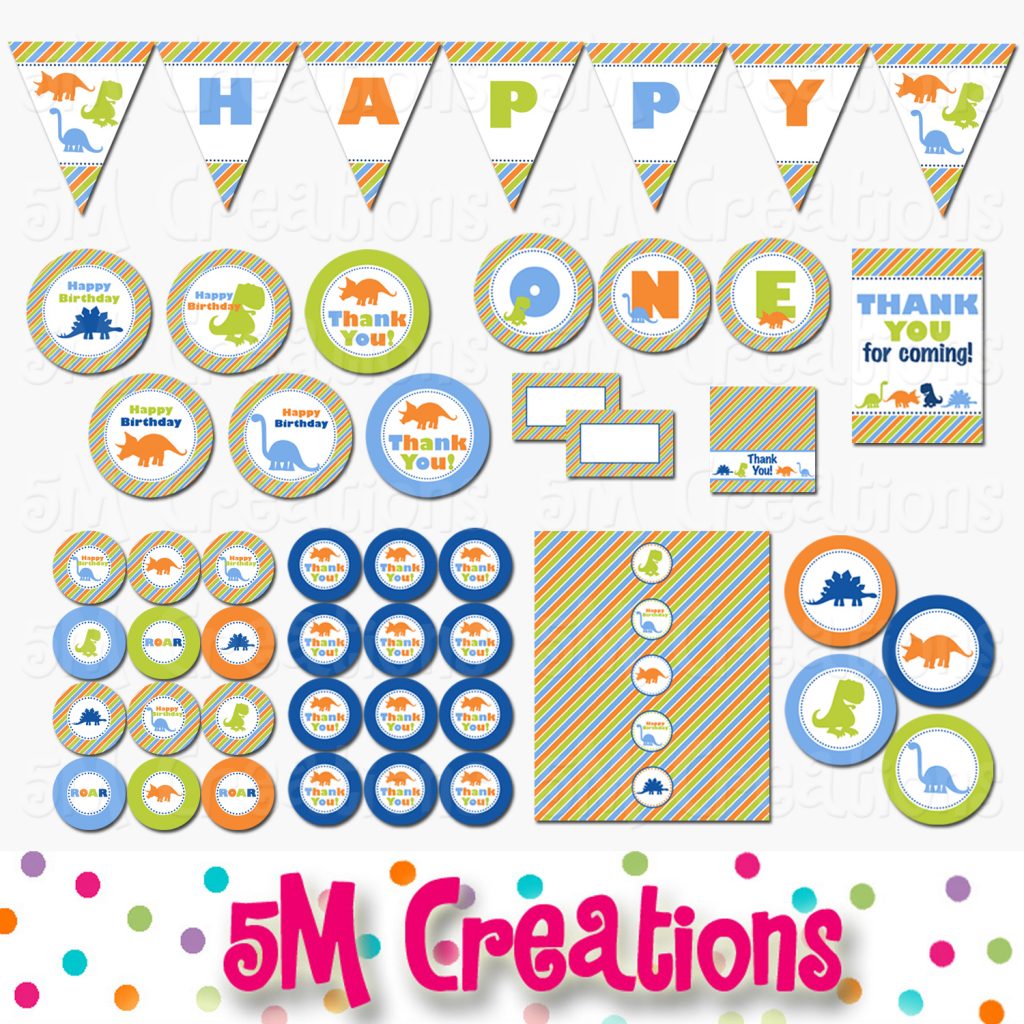 A matching printable photo invitation is also available. A non photo version is available upon request. Soon I will be offering this package in girl colors. Girls love dinosaurs too!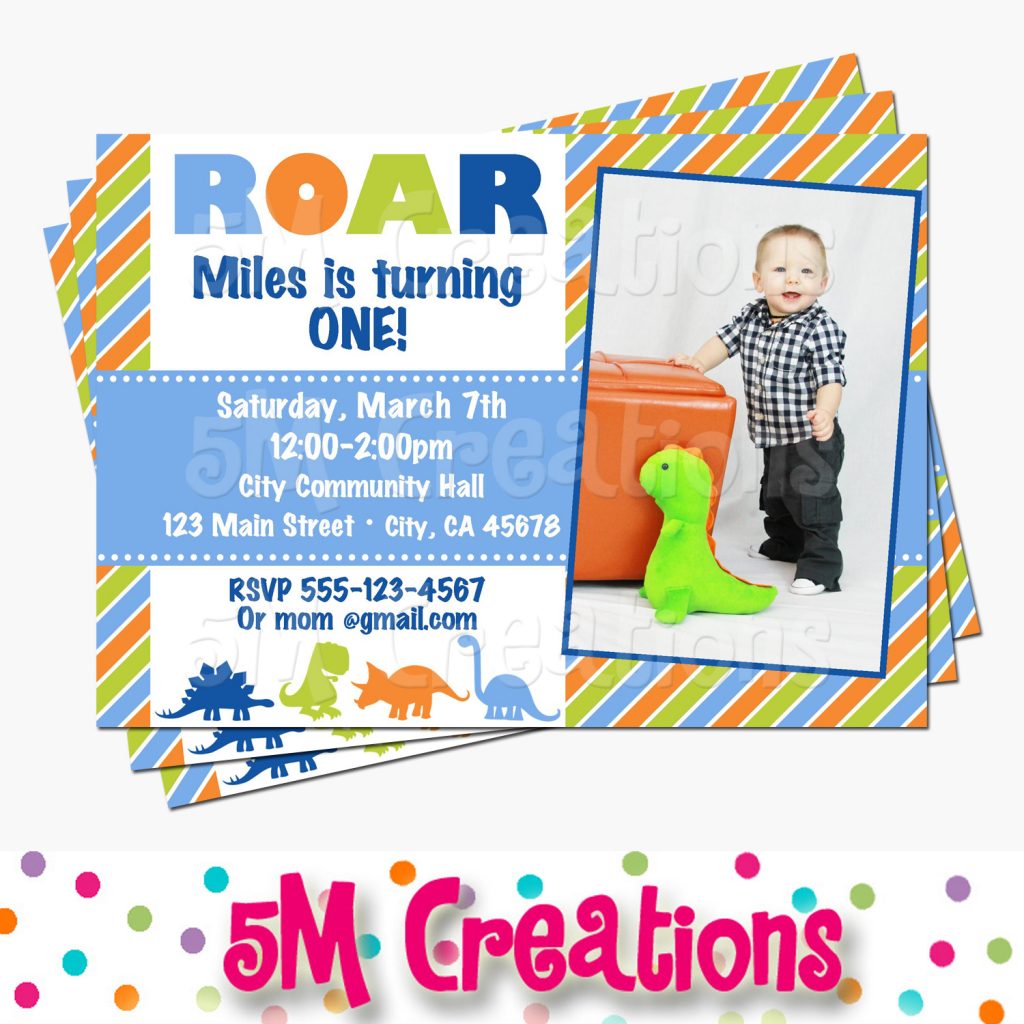 5M Creations April 18th, 2017
Posted In: Boy Birthday Party
Tags: activity book, backdrop, balloons, Banner, birthday party, cupcake toppers, dinosaur, first birthday, party favor