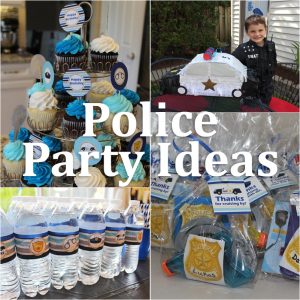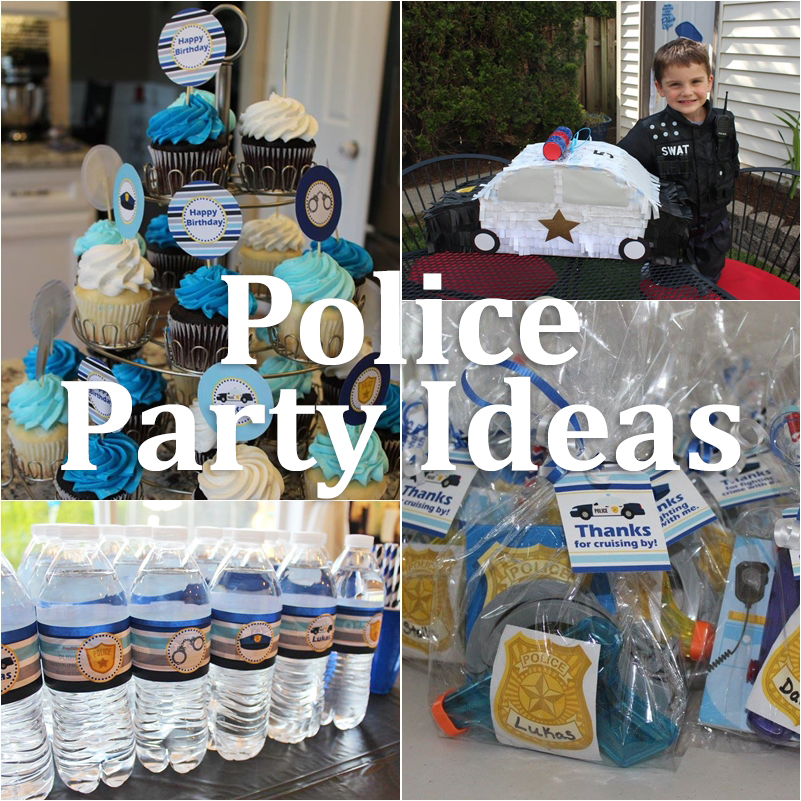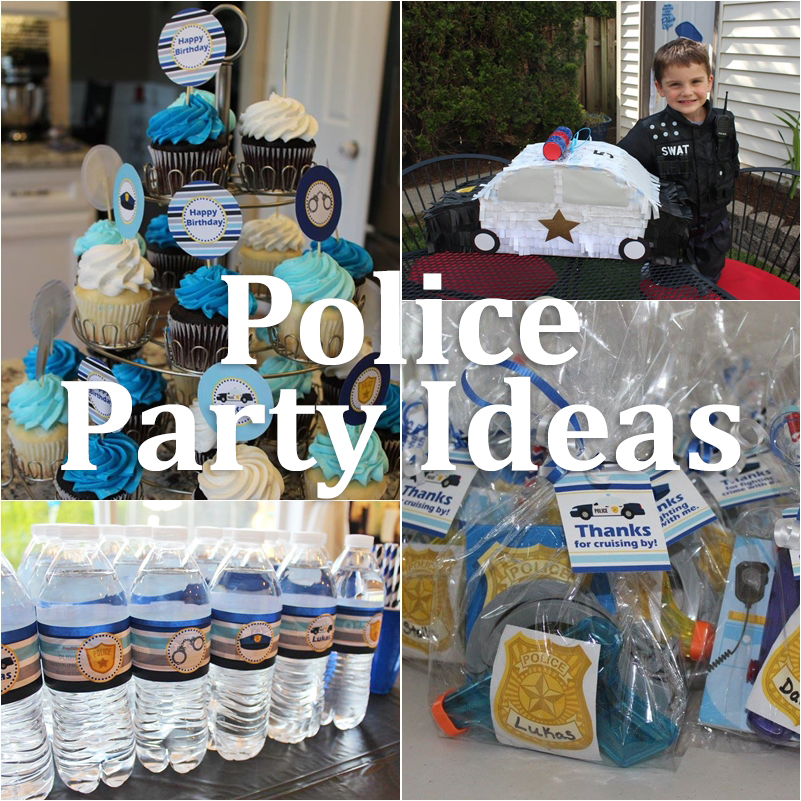 I feel like I have been saying this a lot lately, but this Police Party Package has become one of the most popular sets in my shop. A friend shared these photos of her son's party using our printable police birthday party decorations. There are so many fun details. The front door welcomed guests with a cute ride on police bike and the porch(just outside the photo) was wrapped with caution tape.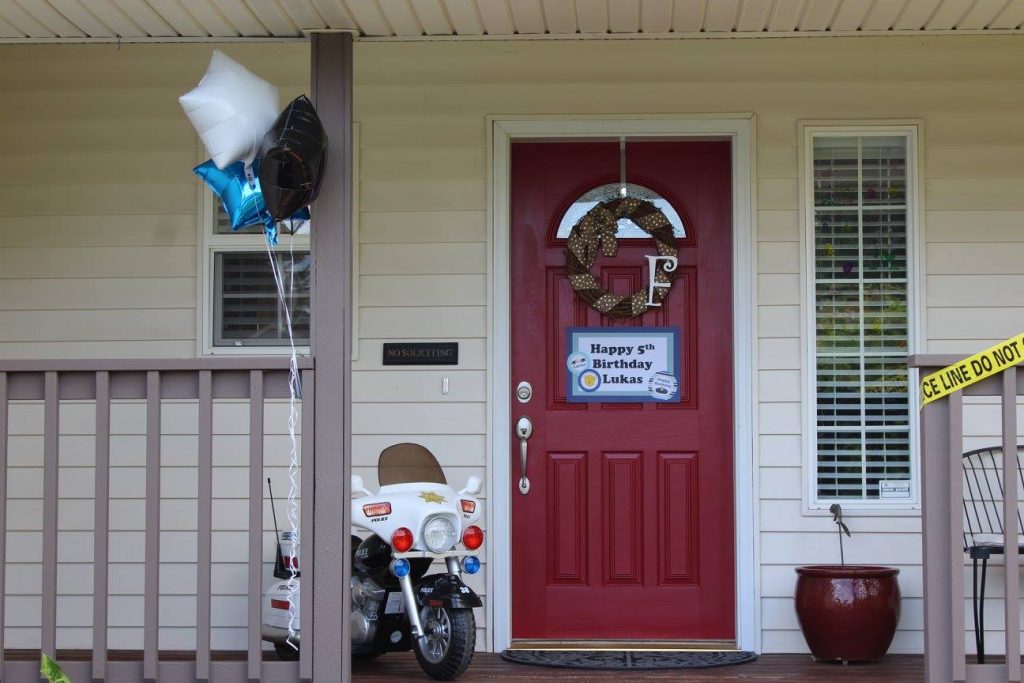 This printable police party package was created to coordinate with the police tableware from Oriental Trading Company. They have tons of cute accessories to add to your party.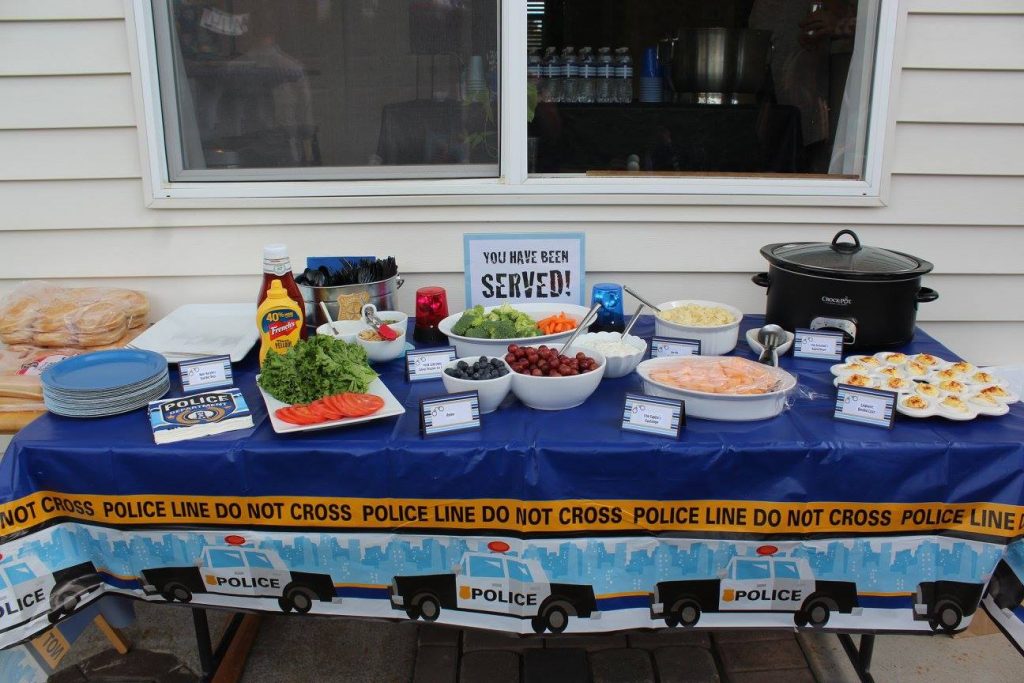 Our printable Police Happy Birthday Banner was hung above the food table in the backyard. It was mounted on white card stock to add an extra border.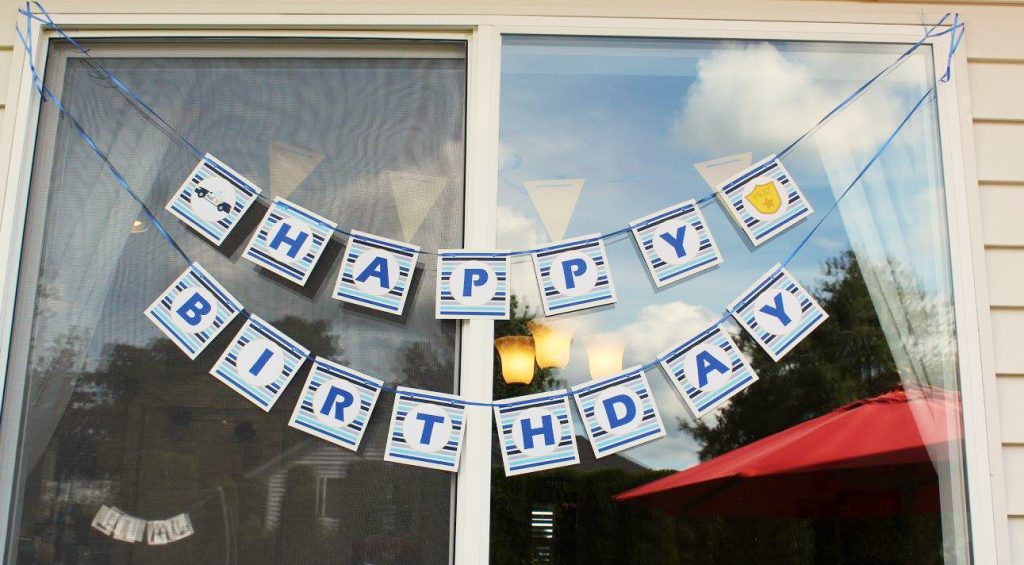 The backyard was transformed into a police training area. There was a nerf shooting range, pin the badge on the officer, and a Police Car Pinata.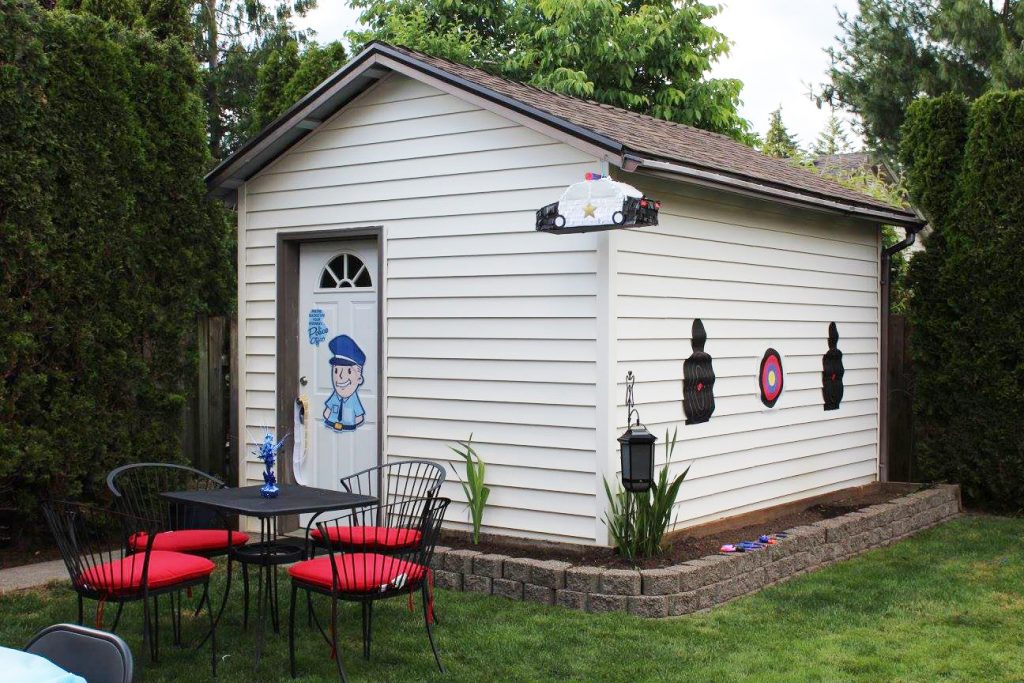 This amazing police car pinata was made by mom!!! Isn't it awesome! And that swat costume on the birthday boy is super cute.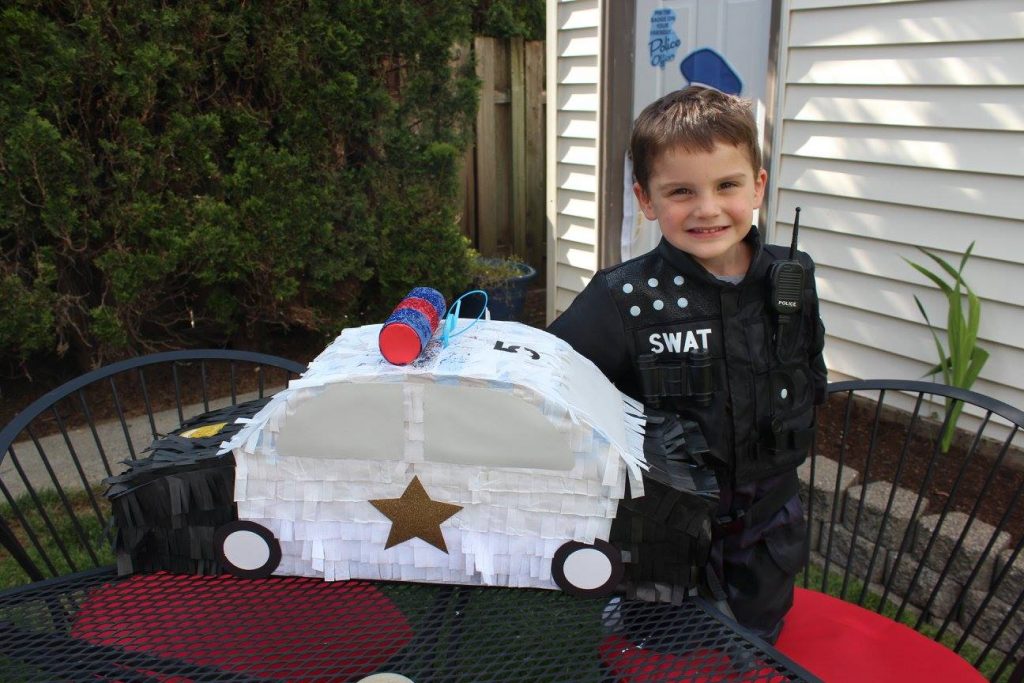 Our printable police centerpiece circles were at each guest table.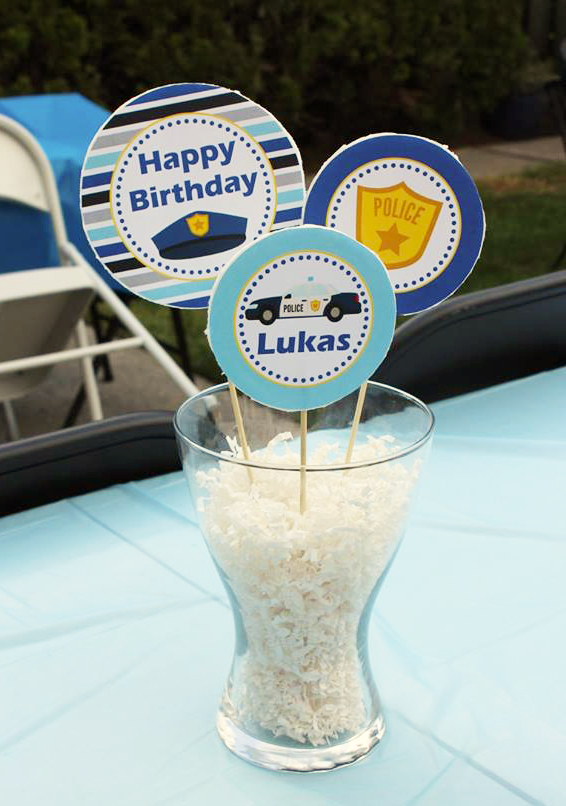 The trampoline was the jail! So fun!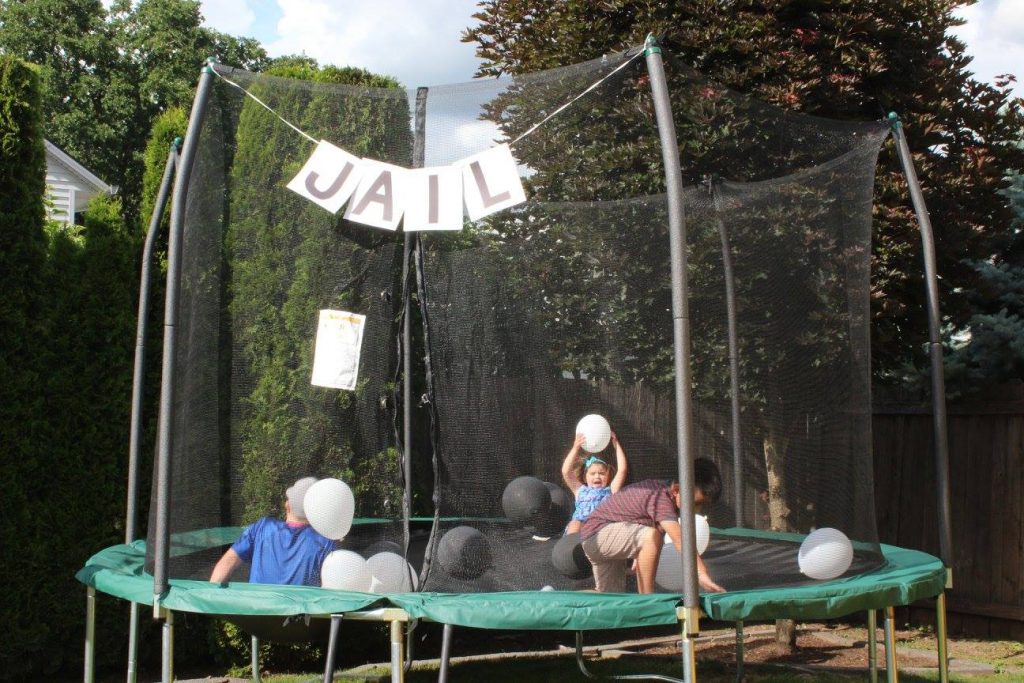 Inside was a dessert table with cupcakes featuring printable police cupcake toppers, dipped pretzel rods in the party colors, money(chocolate gold coins) and donuts of course.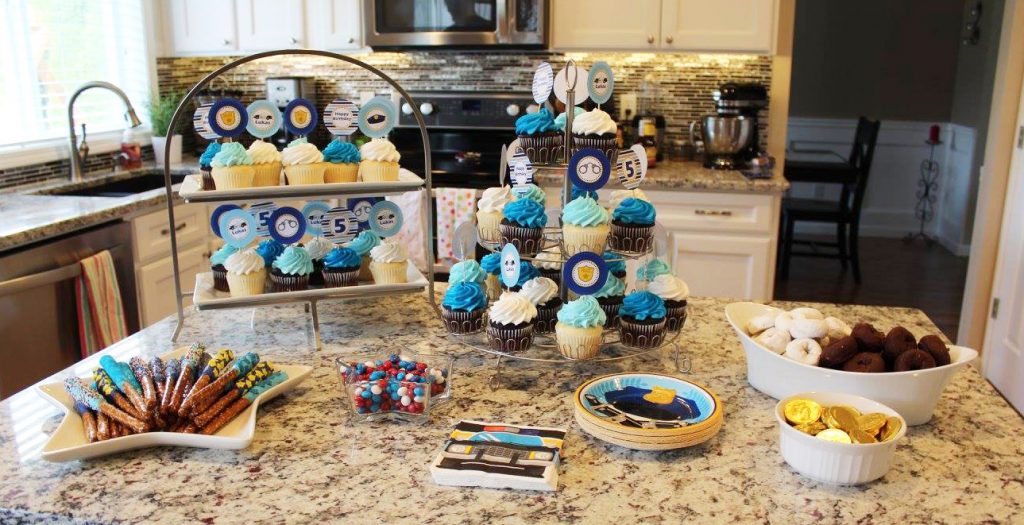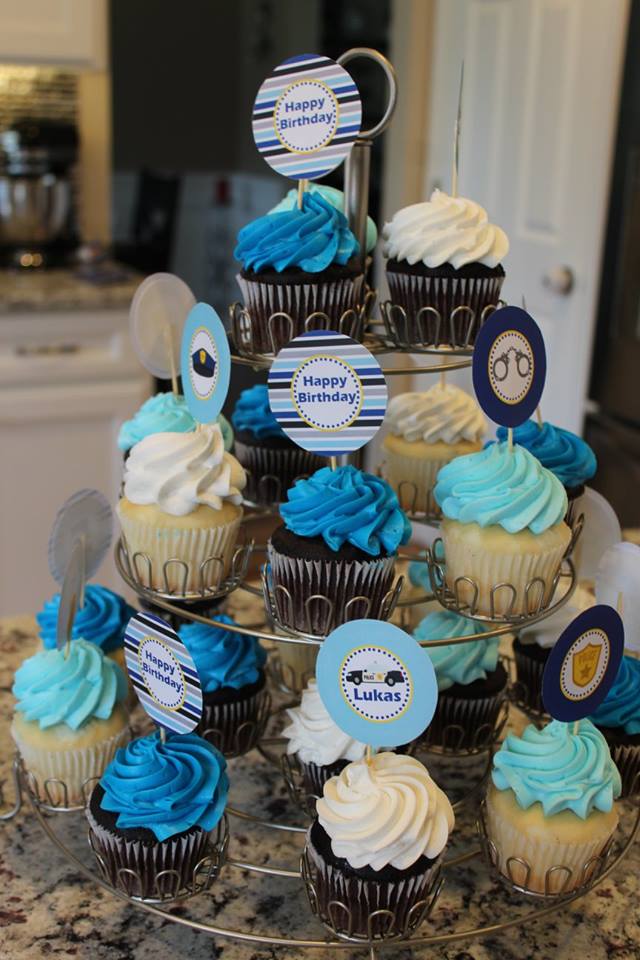 Water bottles for the parched officers were wrapped with our printable police water bottle labels.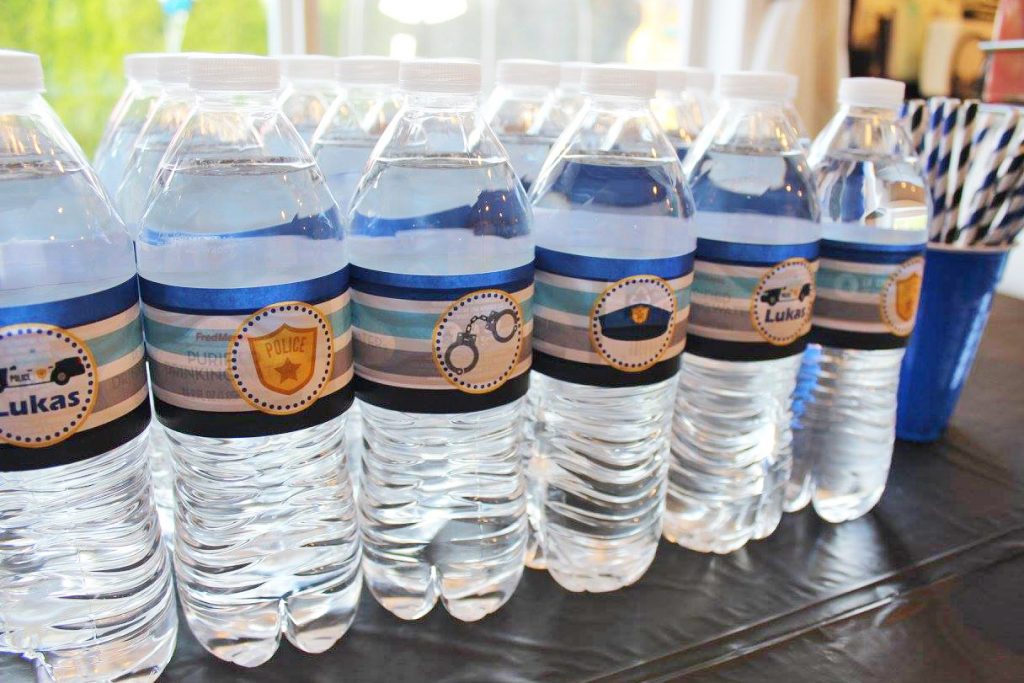 This photo op was so cute! The kids had a blast standing in front of it.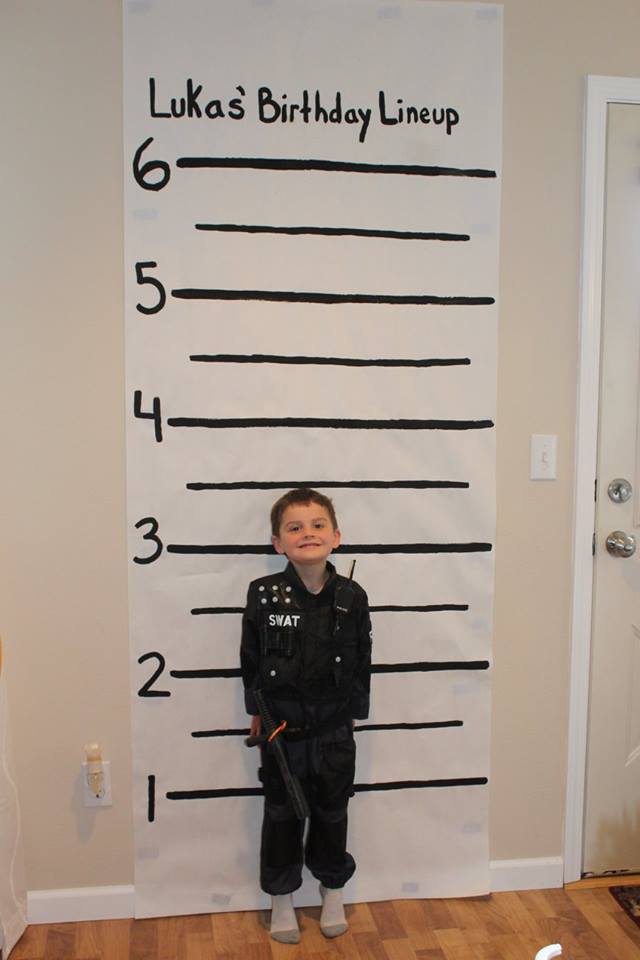 No booking is complete without fingerprints.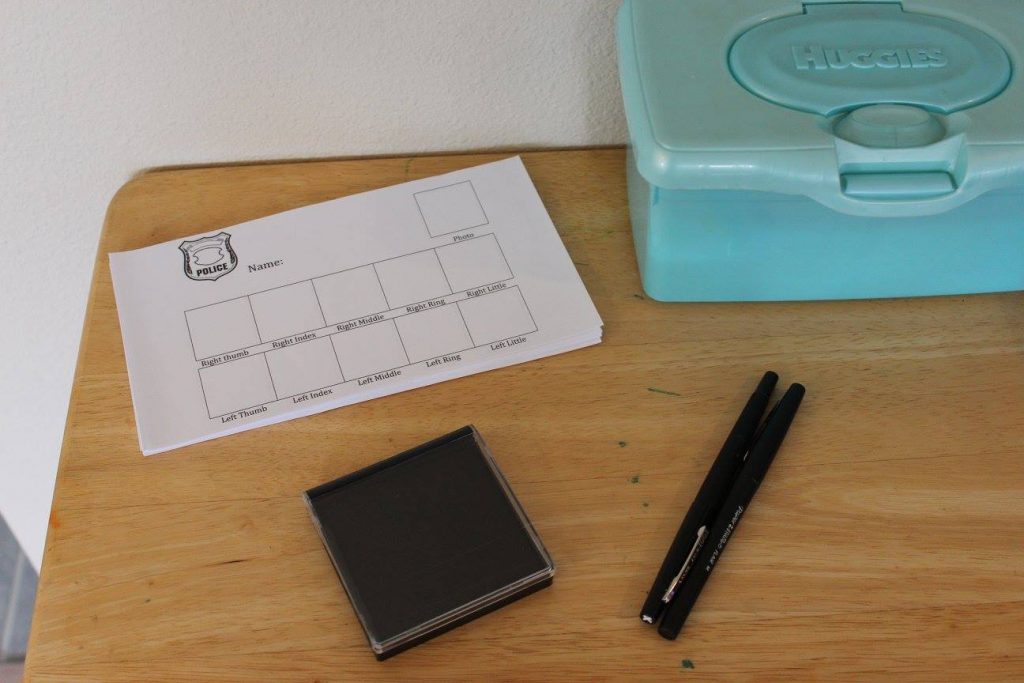 Last, everyone went home with a favor. The contained everything a police officer needs. A gun(squirt gun of course), notepad, handcuffs, and more.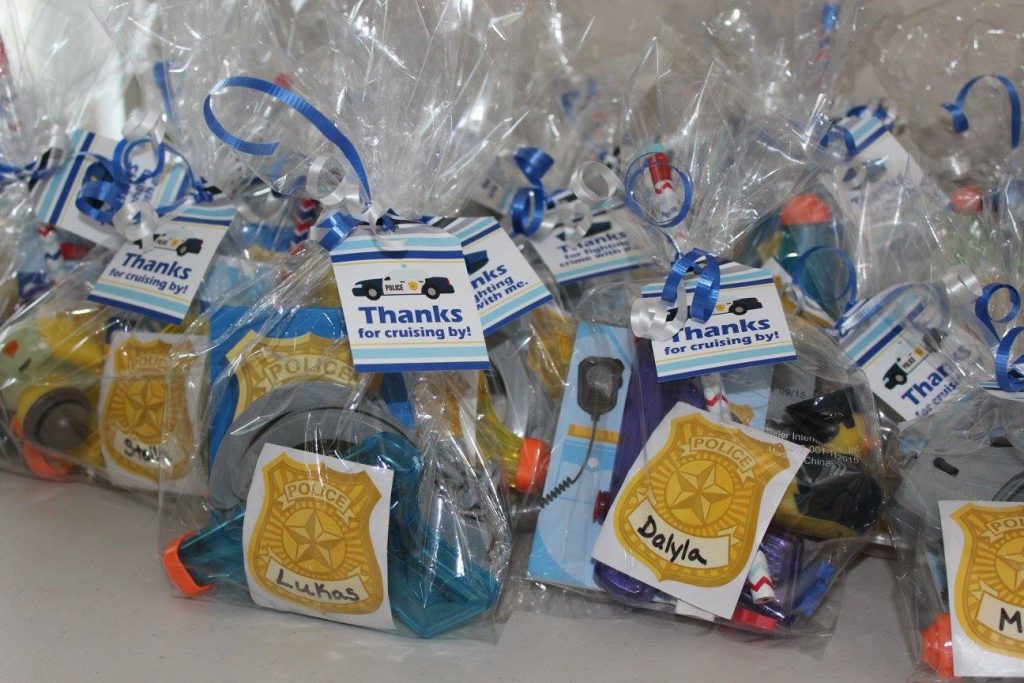 You can find all of these printable decorations and more in my etsy shop. Personalization can also be added as shown in the party photos.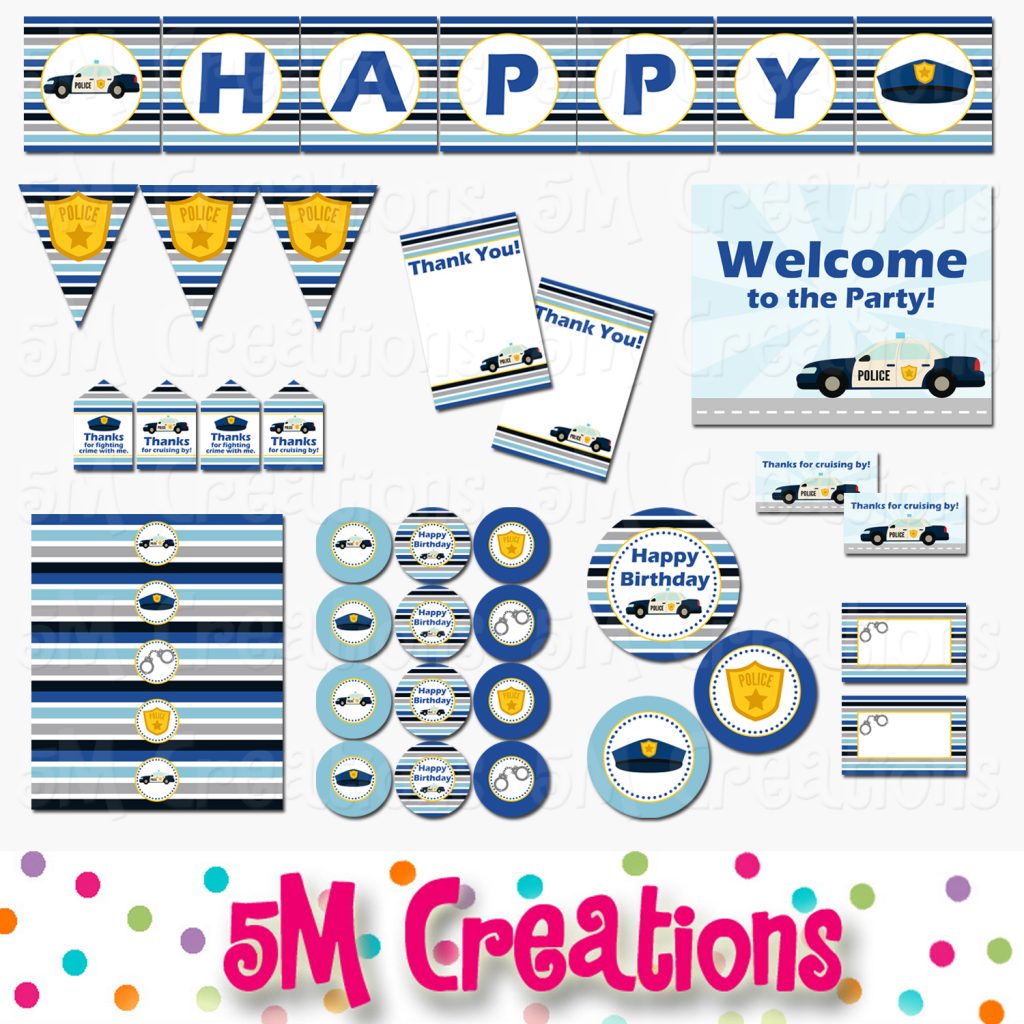 There are 2 printable police birthday party invitations in the shop. The first is below with a light blue background. It can be found here.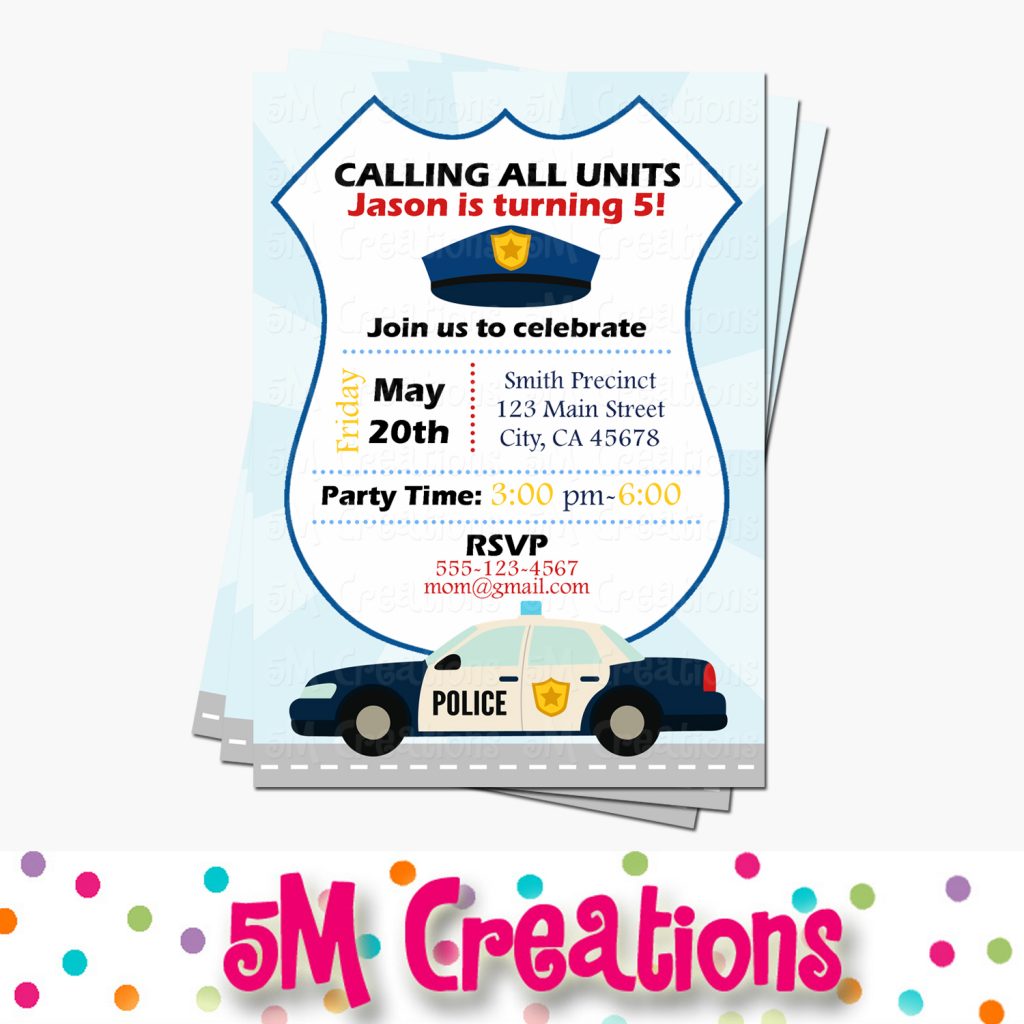 The second invite features the stripe pattern shown in the party decor. It can be found here.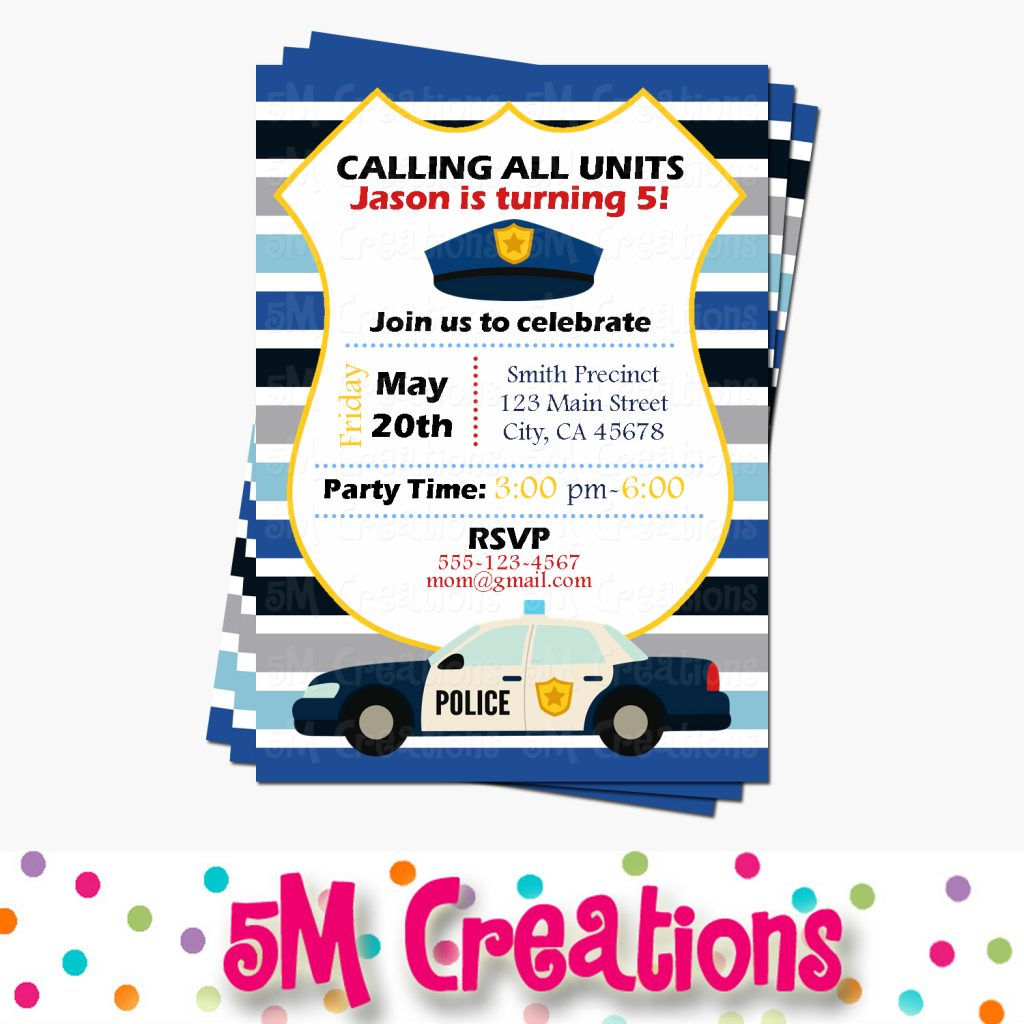 If you have used our printable police party decorations I would love to see photos and possibly feature it on my instagram or on my blog. fivemcreations@gmail.com
5M Creations July 6th, 2017
Posted In: Boy Birthday Party
Tags: Banner, birthday party, boy, Boy Birthday, cupcake toppers, invitation, party favor, party games, pinata, police, printable decor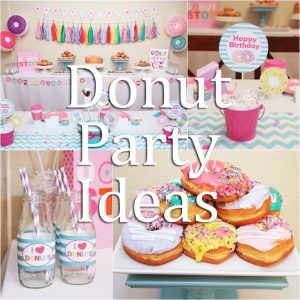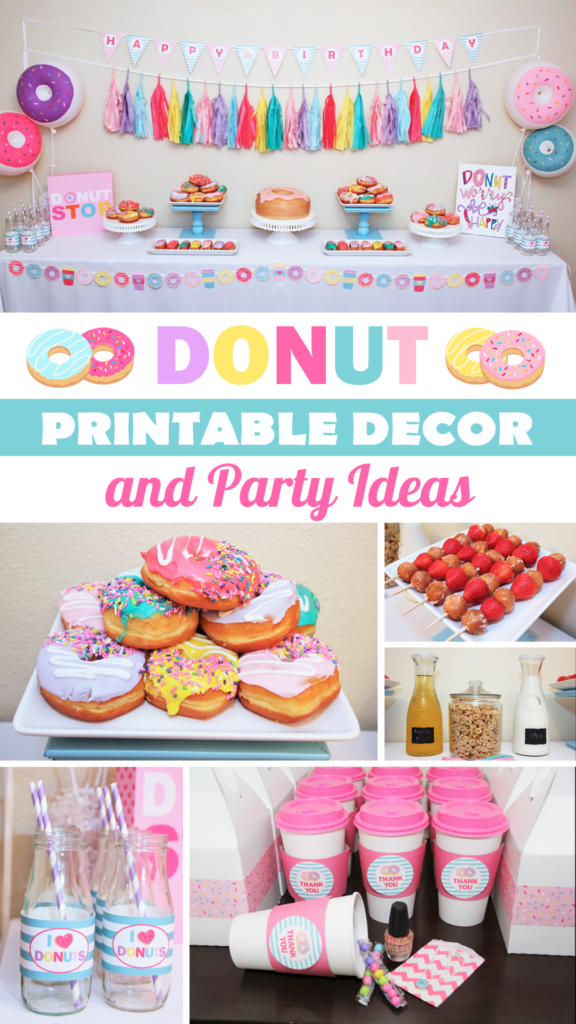 Welcome to our Donut Shop! In today's post I am sharing ideas for throwing a donut themed birthday party. Set the stage for your guests with a great invite telling them about your theme before they ever step foot into the party. We used this printable donuts and pajamas party invitation. It features bright colored donuts, sprinkles, and fun coffee(hot chocolate) cups.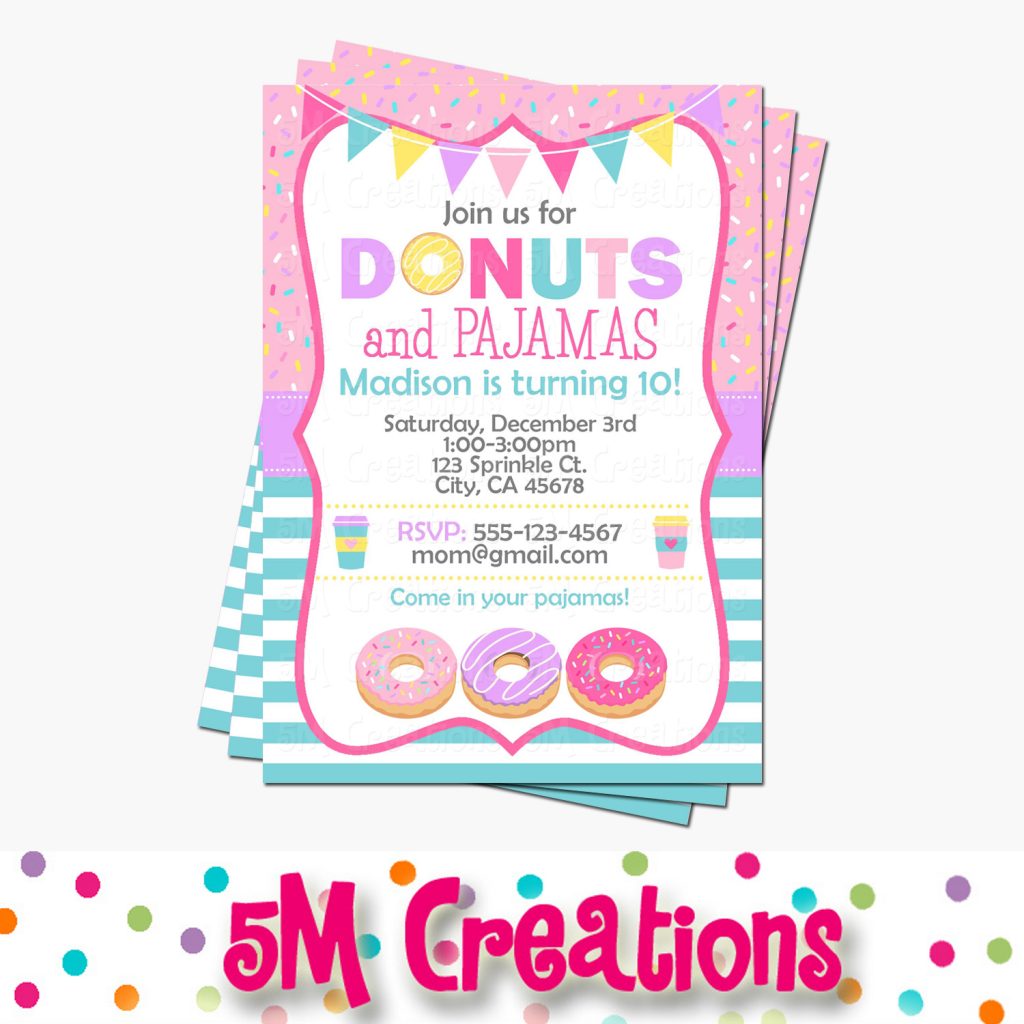 We welcomed the guests with this printable donut sign on the front door.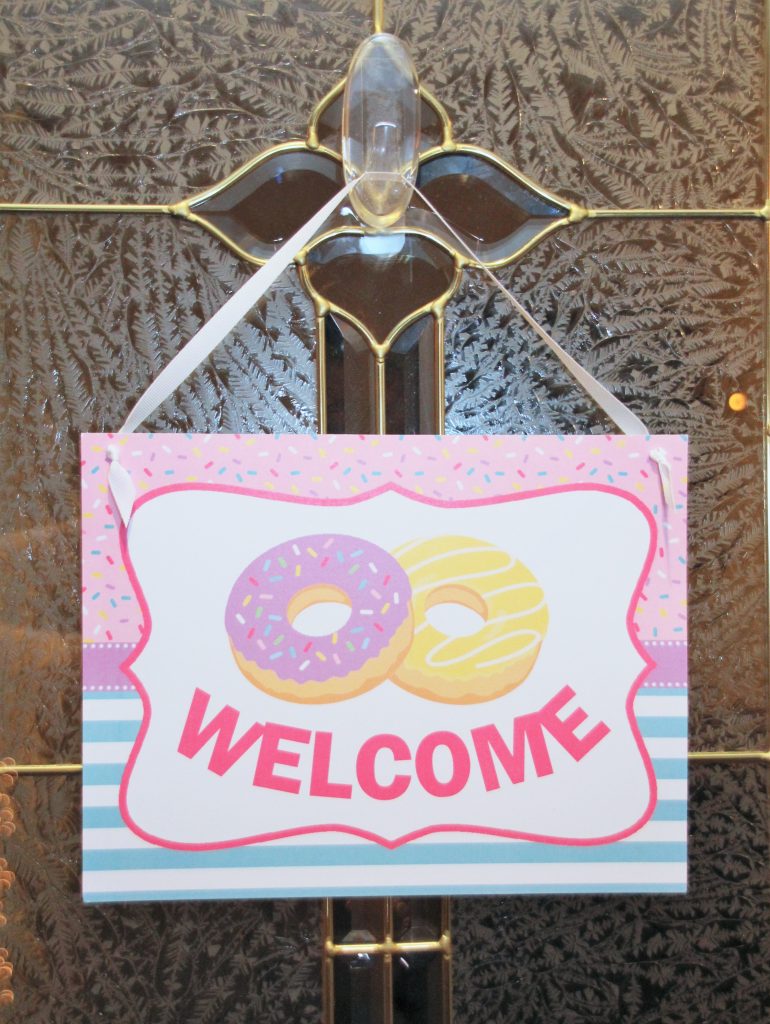 My daughter wanted lots of and lots of bright colored donuts on display for this party. Donuts were everywhere! From real donuts, to balloons, plates, centerpieces, and banners.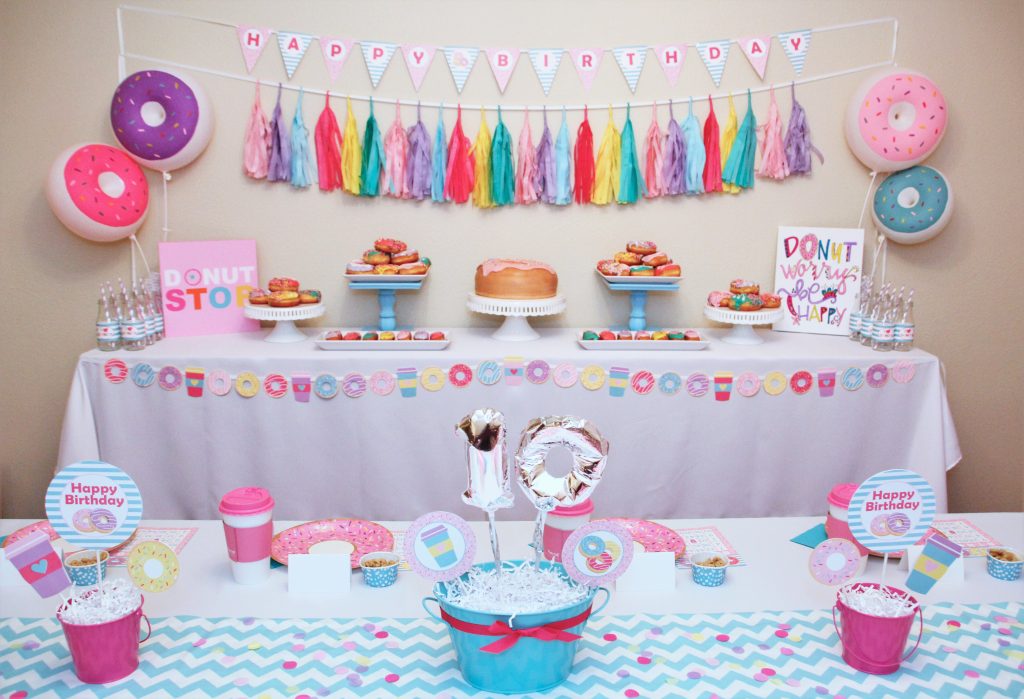 We created a colorful party table with different heights of cake stands piled high with donuts in lots of colors and shapes. The tassel garland and printable donut happy birthday banner just carried the colors throughout the room. I love the mini donut and coffee cup garland as well. It dressed up a plain tablecloth. You can never have to many donuts.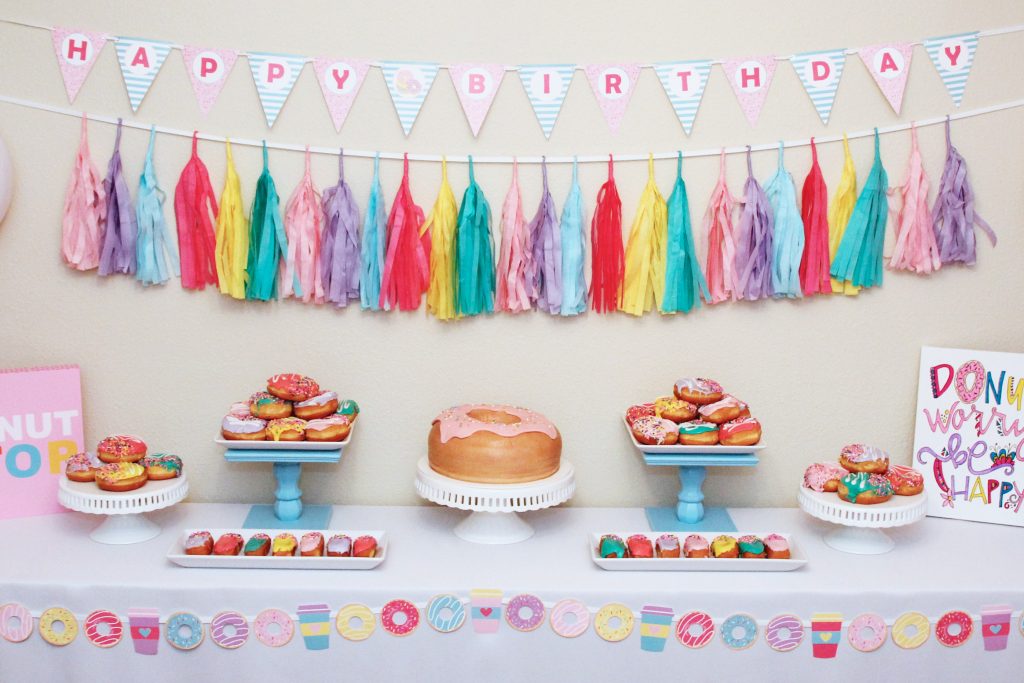 Even though we had donuts for dessert, the birthday girl wanted a cake. Of course a giant donut cake was the only answer. I love the classic light pink frosting with sprinkles.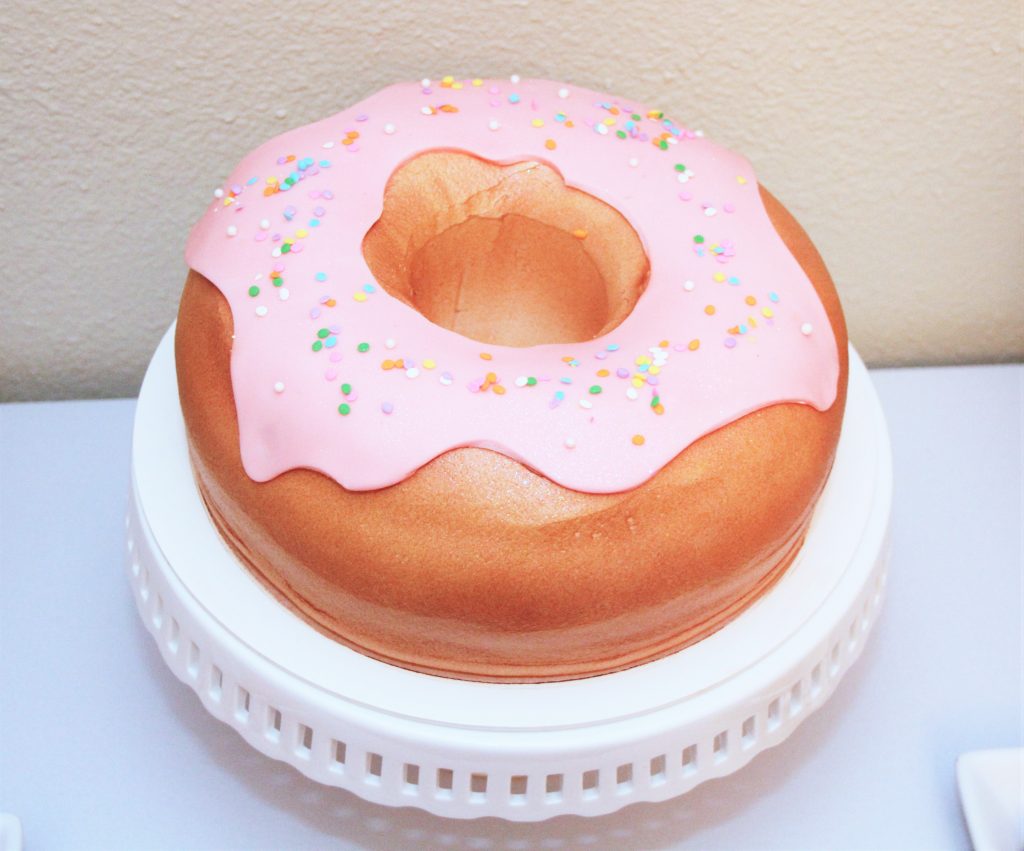 Donuts everywhere! They were the easiest decoration ever! All you have to do is stack them up on cute trays and they make such a big impact.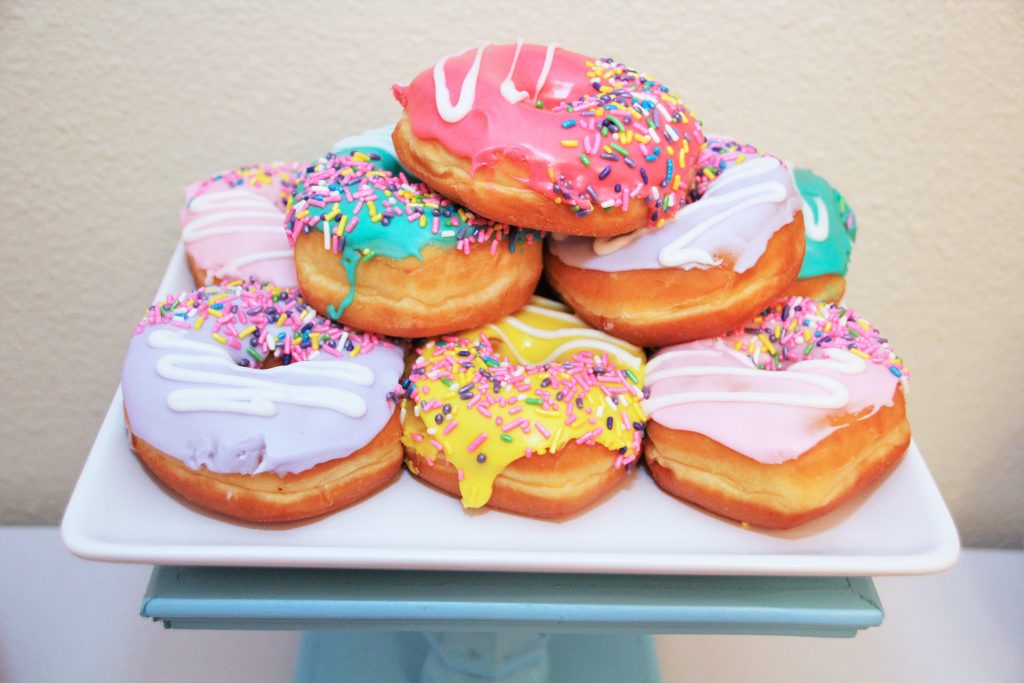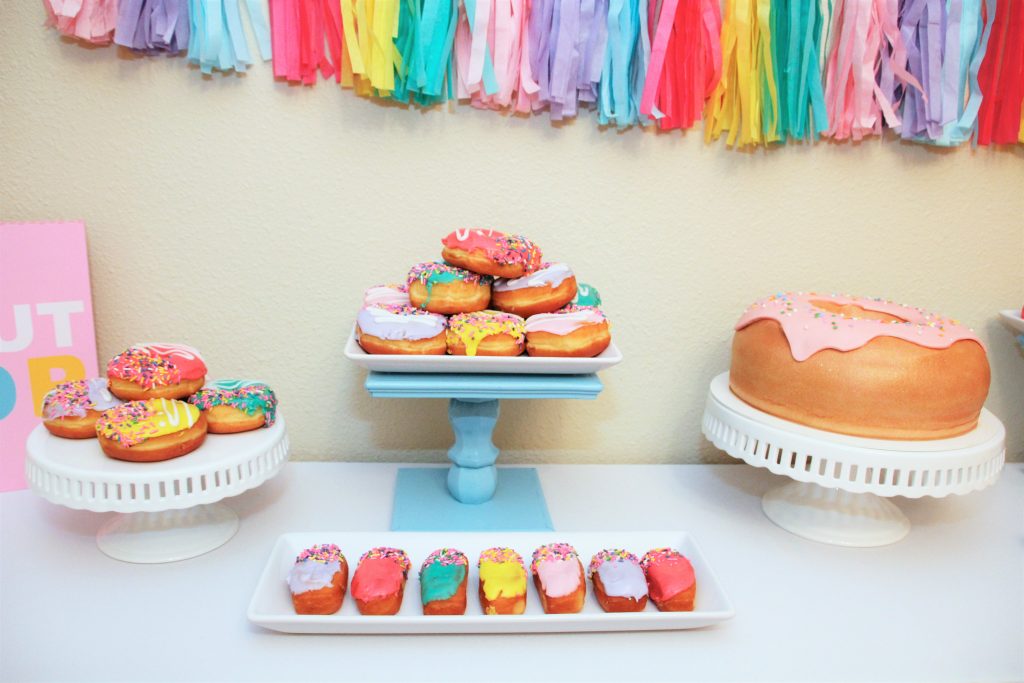 My dining room was the perfect space to create our donut shop. We even swapped out our normal curtains for pink to make the space as girly as possible. Don't be afraid to use what you already have in your space. Just customize it for your theme. Add photos to existing frames, cover throw pillows on couches with cute pillow covers to transform your space.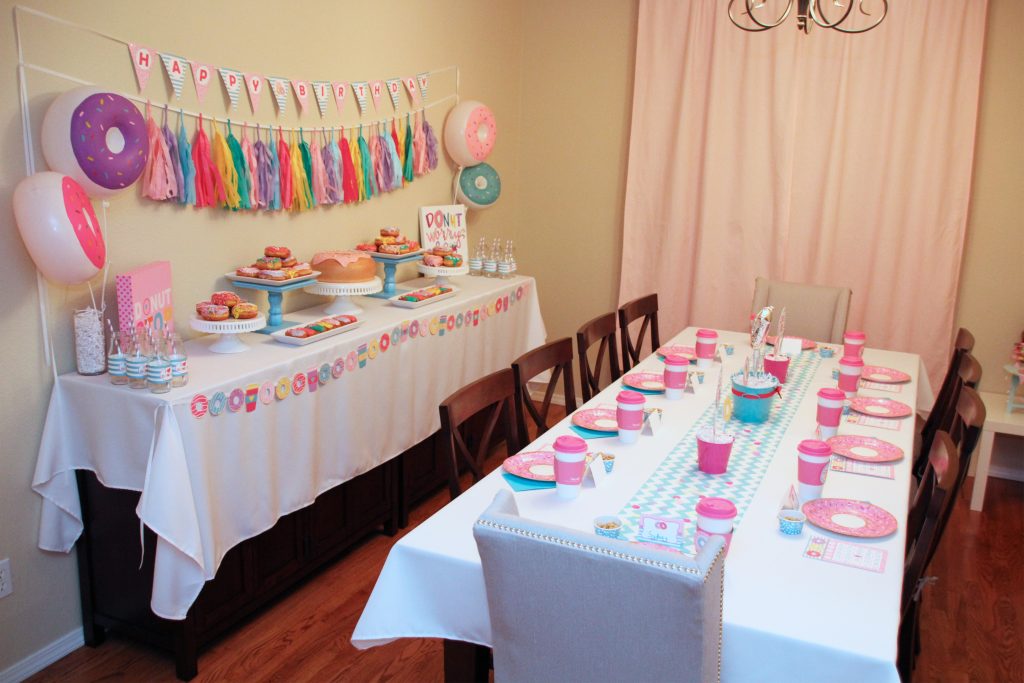 Printable water bottle labels around glass milk bottles made adorable glasses for the girl's beverages. I purchased the starbucks iced coffee drinks from our local Target and removed the labels.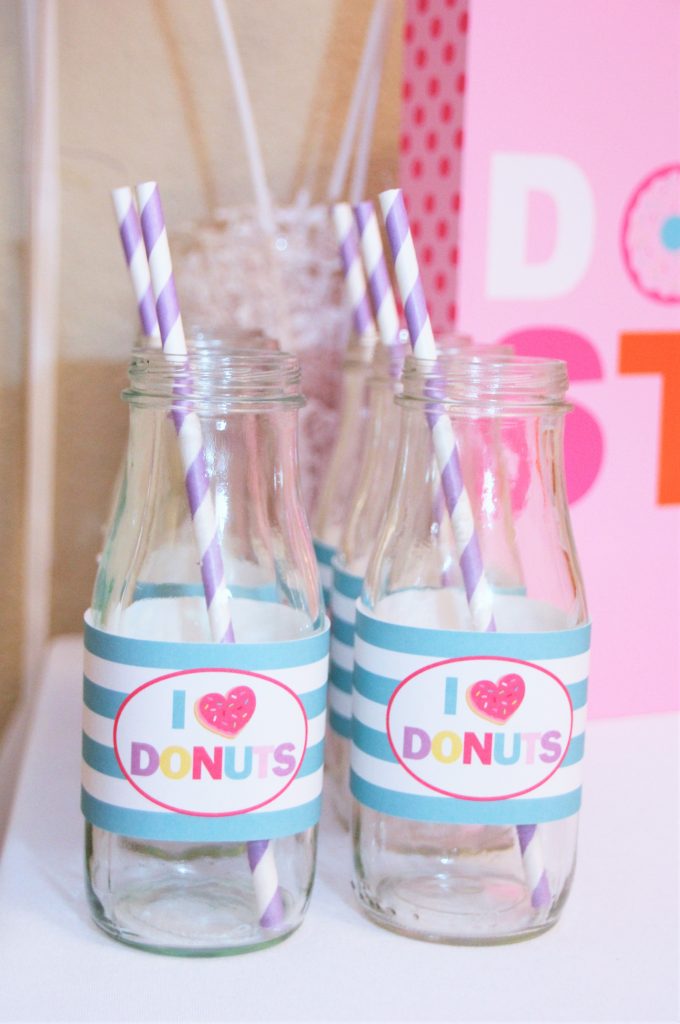 These donut shaped balloons were found at a local party store. I used acrylic craft paint to create frosting and sprinkles in our party colors.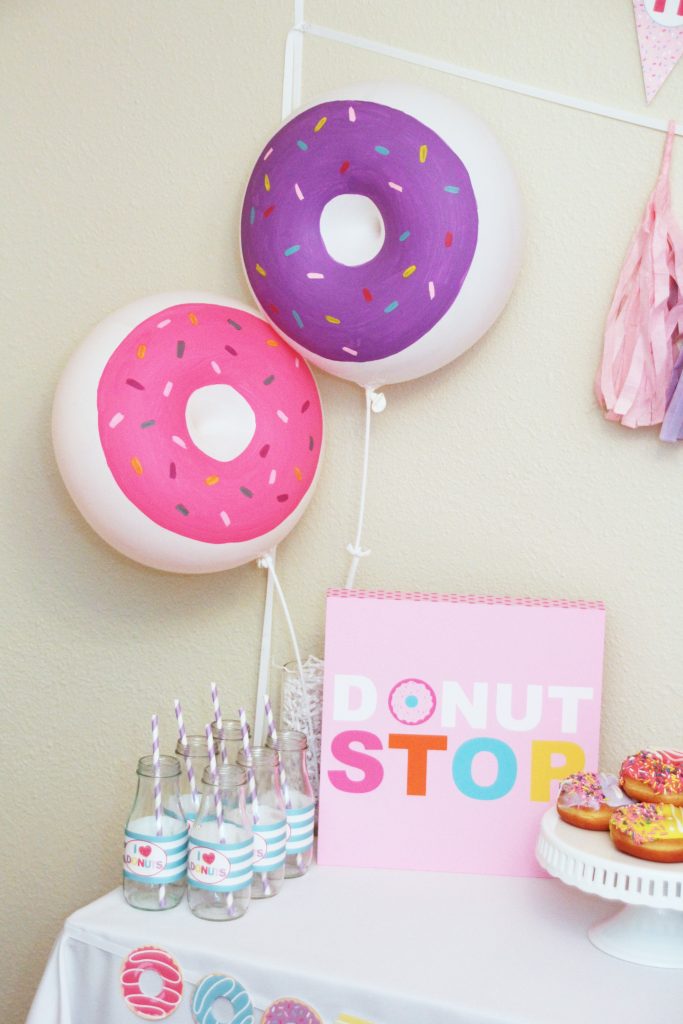 The Donut Shop sign above was a fun find at Home Goods. The Canvas below was colored by my daughter. We found it at Hobby Lobby. My daughter now has them in her bedroom. Think outside the box when it comes to decor. Use things that you can reuse in your home later.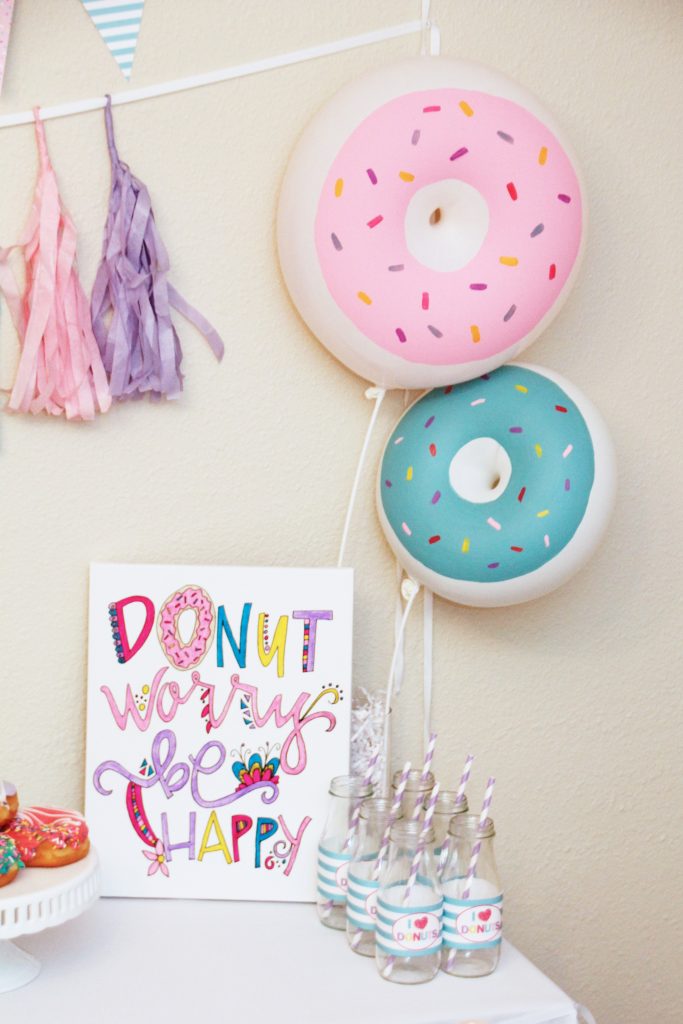 Mini number balloons and our printable donut party centerpiece circles created the main centerpiece on the party table. The chevron table runner added a splash of color to a bland white table cloth. Sprinkle confetti was created by punching circles out of tissue paper.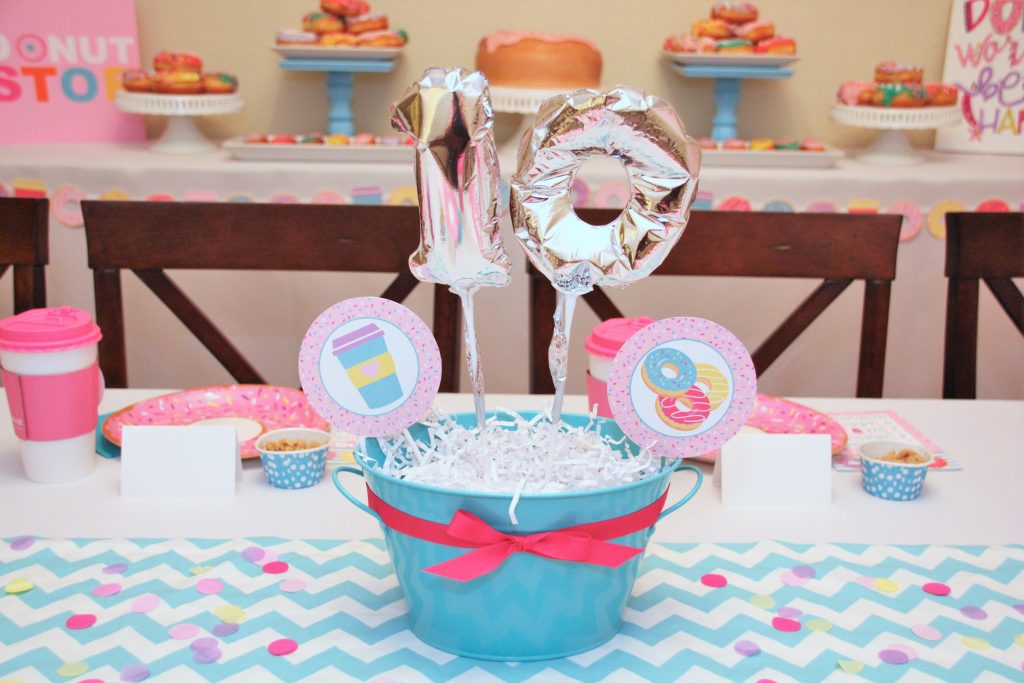 2 smaller centerpieces were created using the garland images and printable donut party centerpiece circles. Just add them to white lollipop sticks and insert into cute containers. I find all different sizes and colors on a regular basis in the Target Dollar Spot or our local craft stores. I typically only pay $1-3. I have collected them throughout the years in many sizes and colors.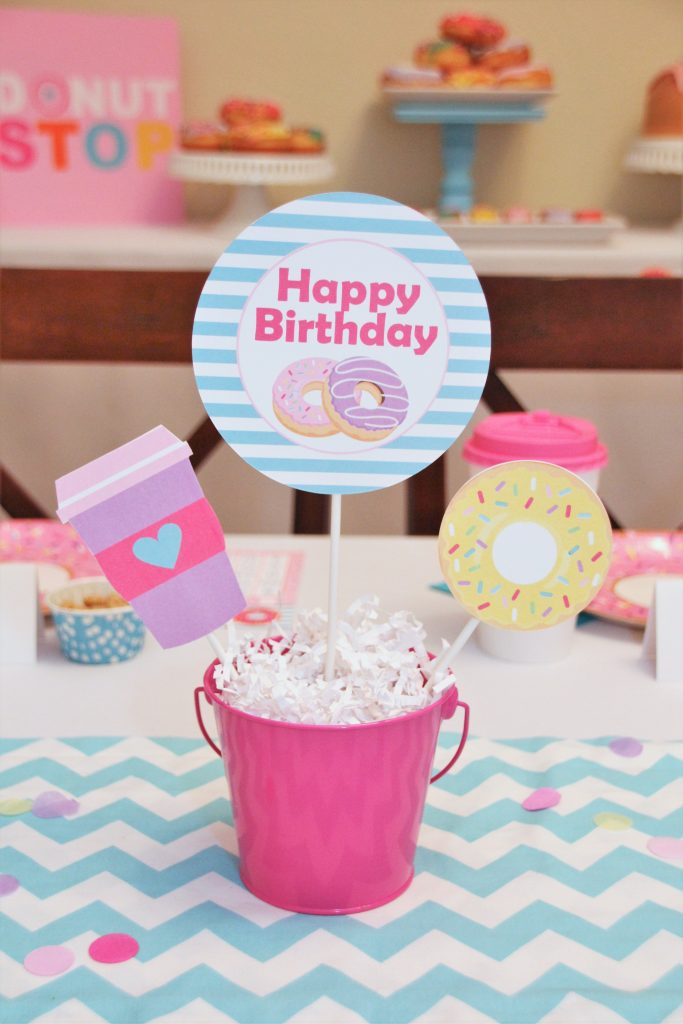 My daughter wanted to set up a mini donut party for her American Girl doll to enjoy as well. We made a mini donut balloon by not inflating one of the balloons fully. She also made a cute pennant banner using the matching printable paper from the party package.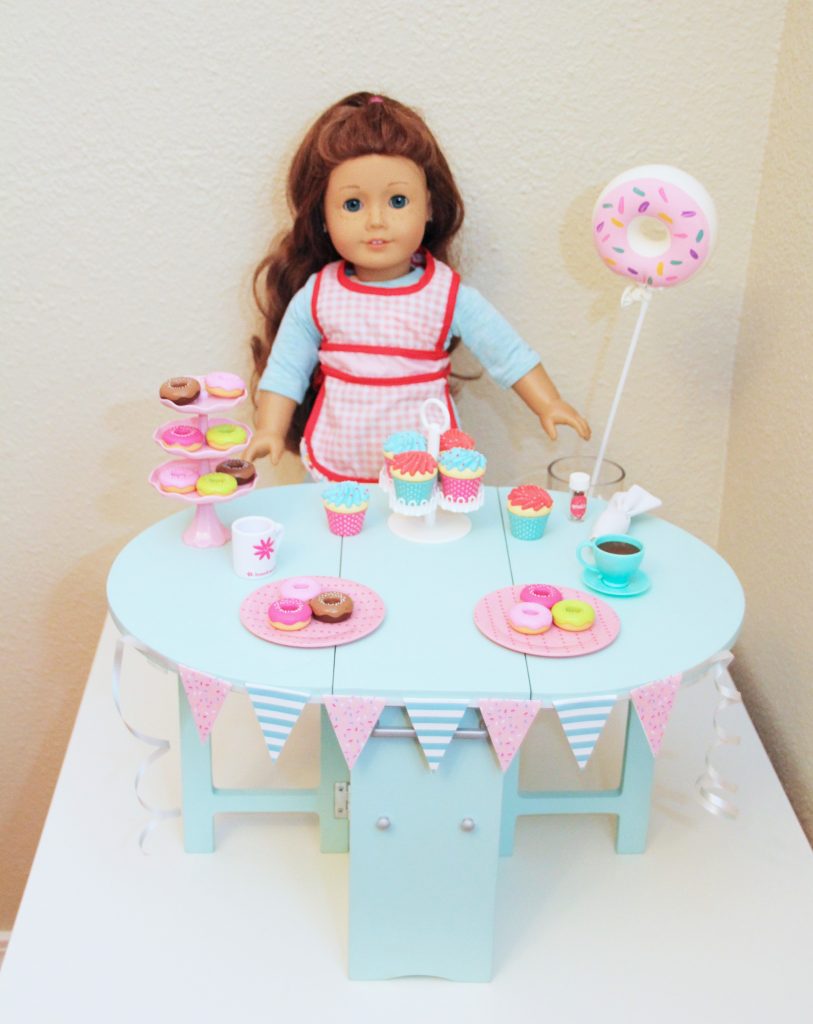 Spinkle donut plates, hot pink coffee cups for hot chocolate, printable donut bingo cards, and tent cards created a place setting for each girl.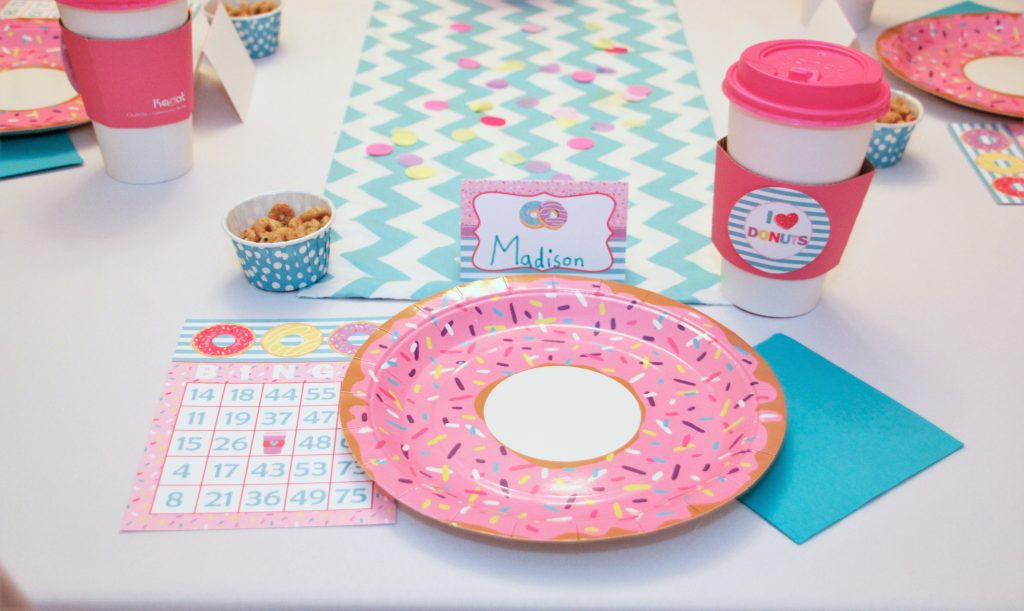 The first event of the evening was playing bingo. I created printable donut bingo cards to match the decor. I purchased a cute mini bingo cage from Amazon and used donut cereal as the markers. They girls had such a blast playing bingo. We did several rounds. I had donut notepads as prizes.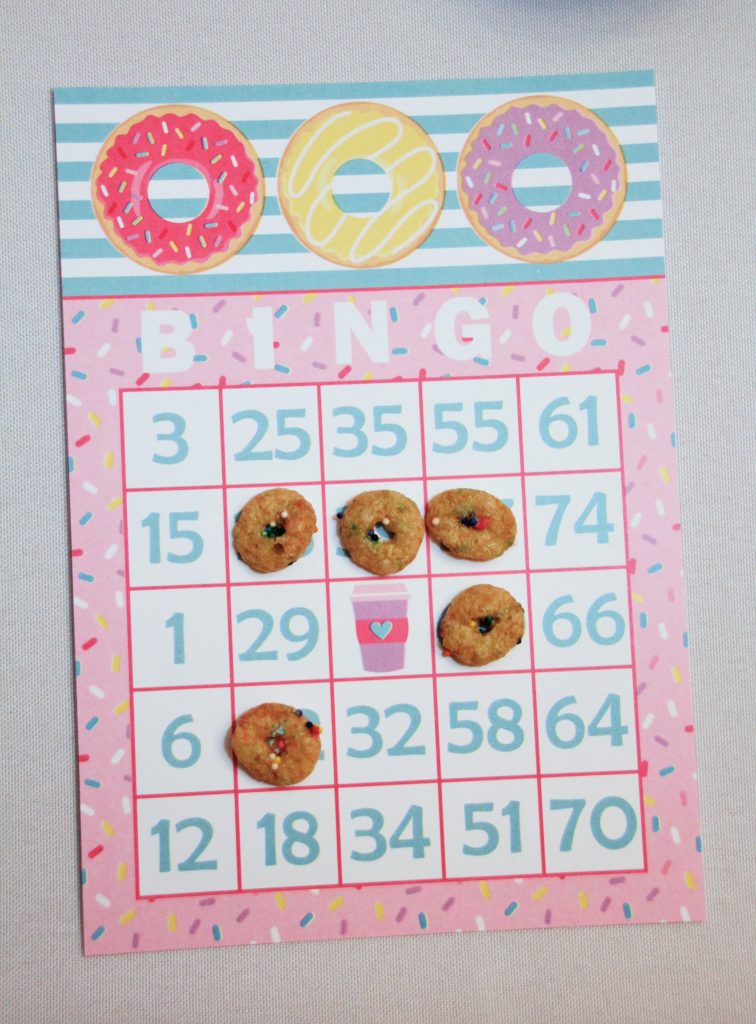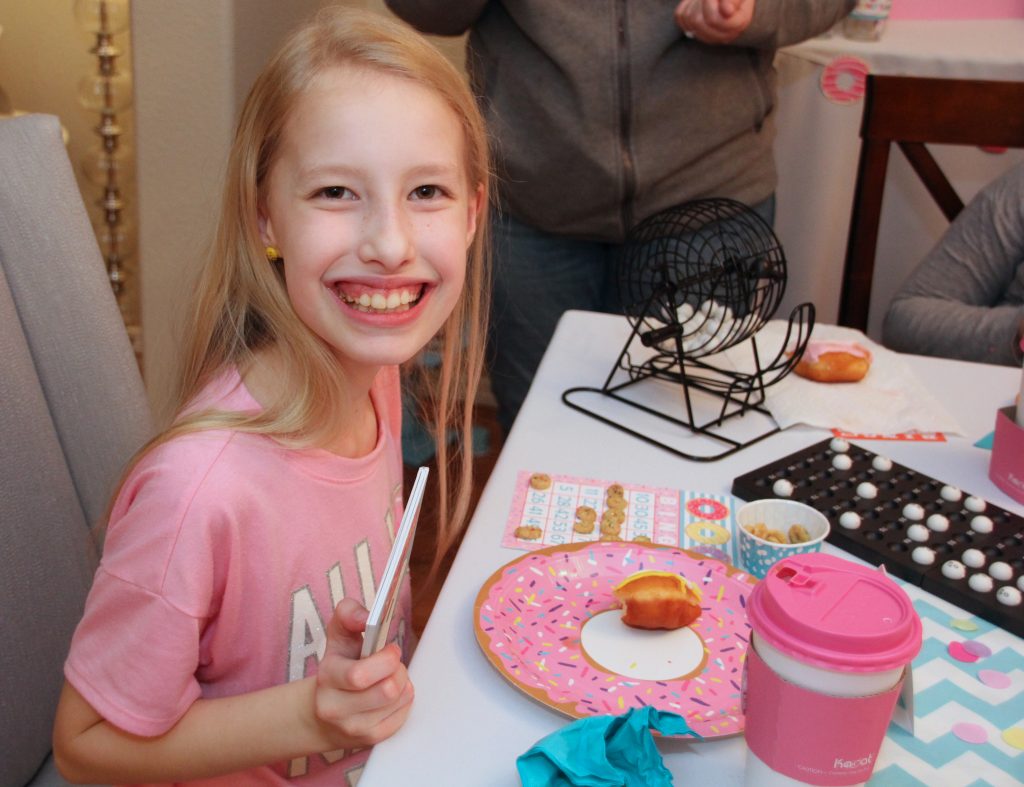 Once the girls had eaten their fill of donuts we played a few other games. The birthday girl wanted to have donuts and hot chocolate as her theme. We played off the hot cocoa by using marshmallows to do a few relays. They formed 2 teams and carried marshmallows on spoons across the room and back. They then had to pass the marshmallow to a teammate using no hands. It was so fun to watch. The blurry photo is because they were practically running. haha! They took it very seriously.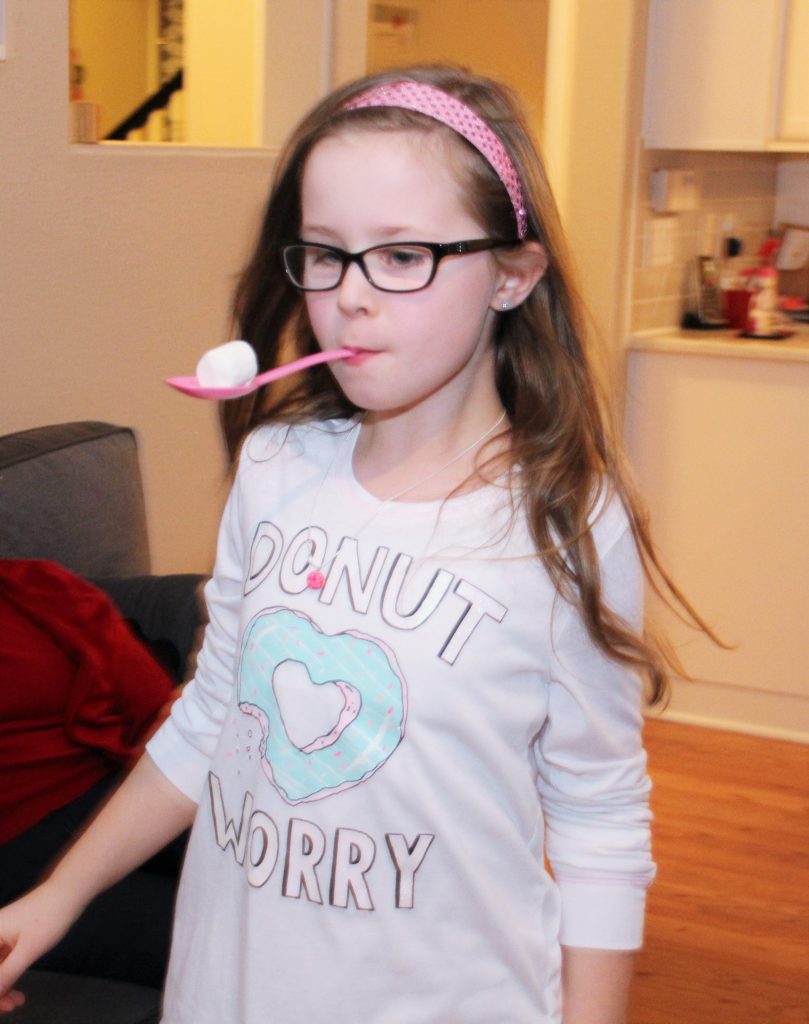 The second game we played was a mini marshmallow toss. Each girl had a cup of mini marshmallows and had to toss them into a hot cocoa cup. Whoever got the most in the cup won. We broke them up in to 2 groups. As soon can see by my floor it was harder than it looked.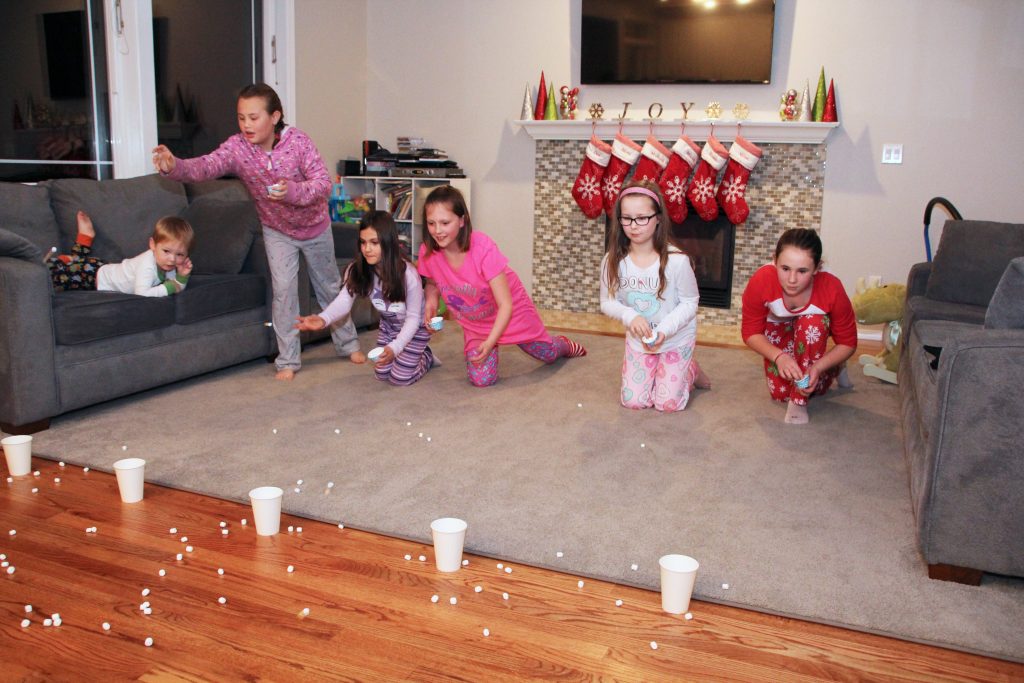 Everyone came in their pjs of course. These crazy girls can have fun doing just about anything. Silly faces!!!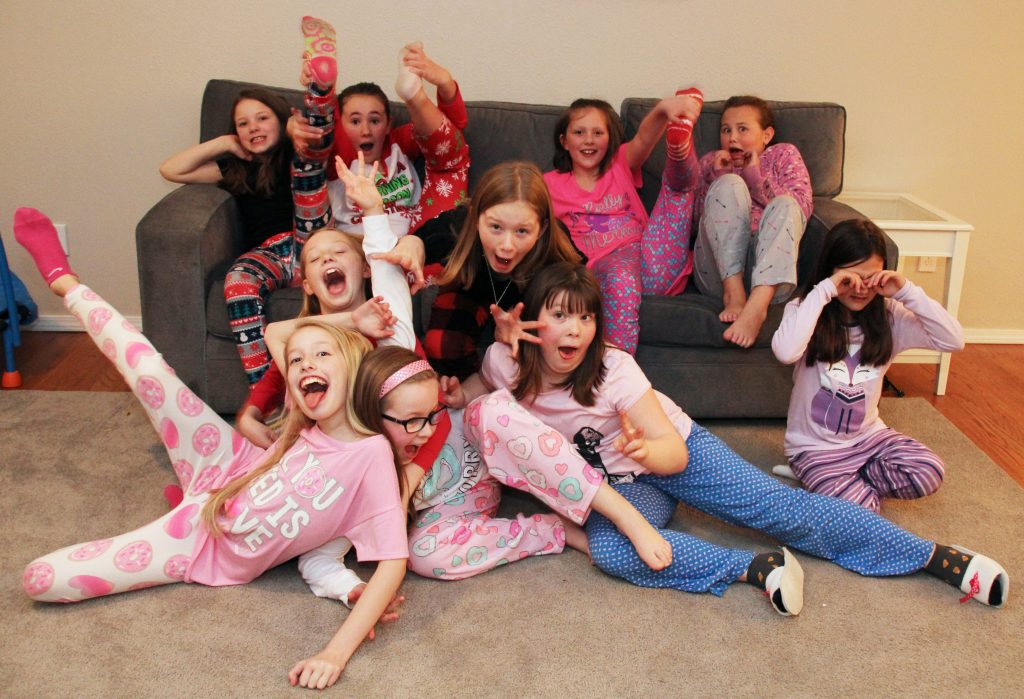 I am pretty sure the girls were stuffed from all the donuts but we still had cake!!! Happy Birthday sweet girl!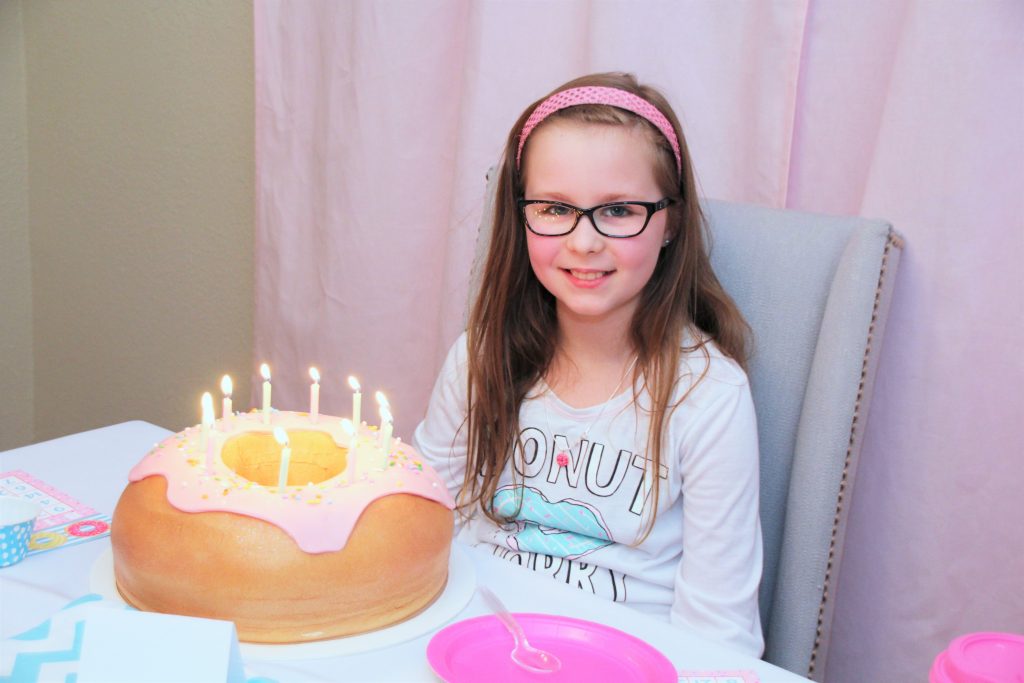 The next morning I created a donut inspired breakfast with not as many donuts. The girls were all glad for this. They got their fill the night before.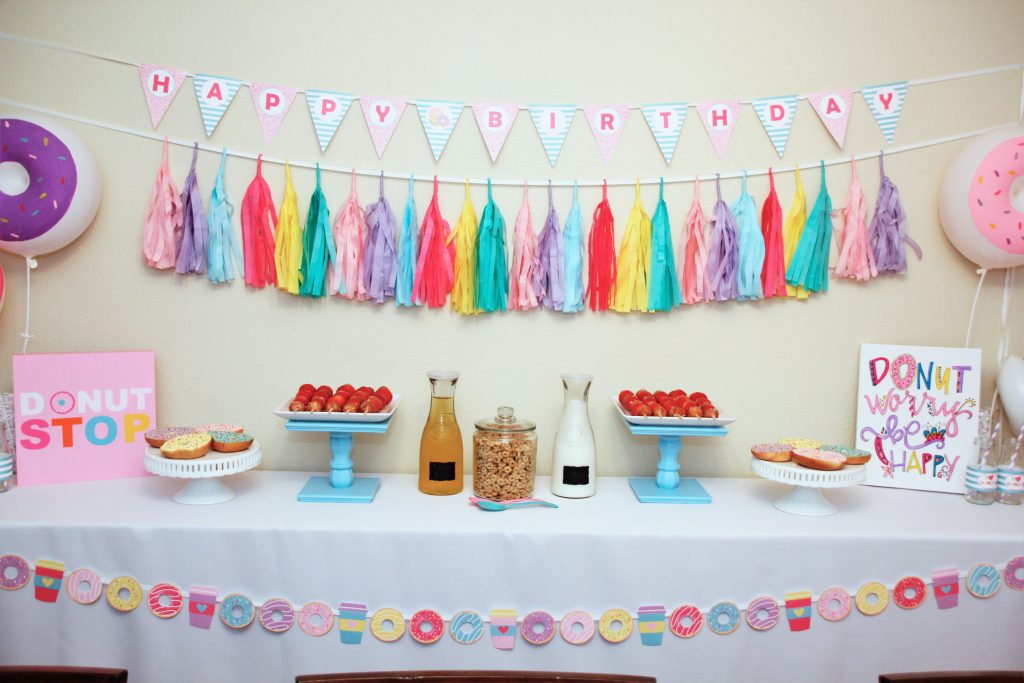 Donut sprinkle cereal was a perfect option to carrying on the theme. This is the same cereal we used for Bingo earlier.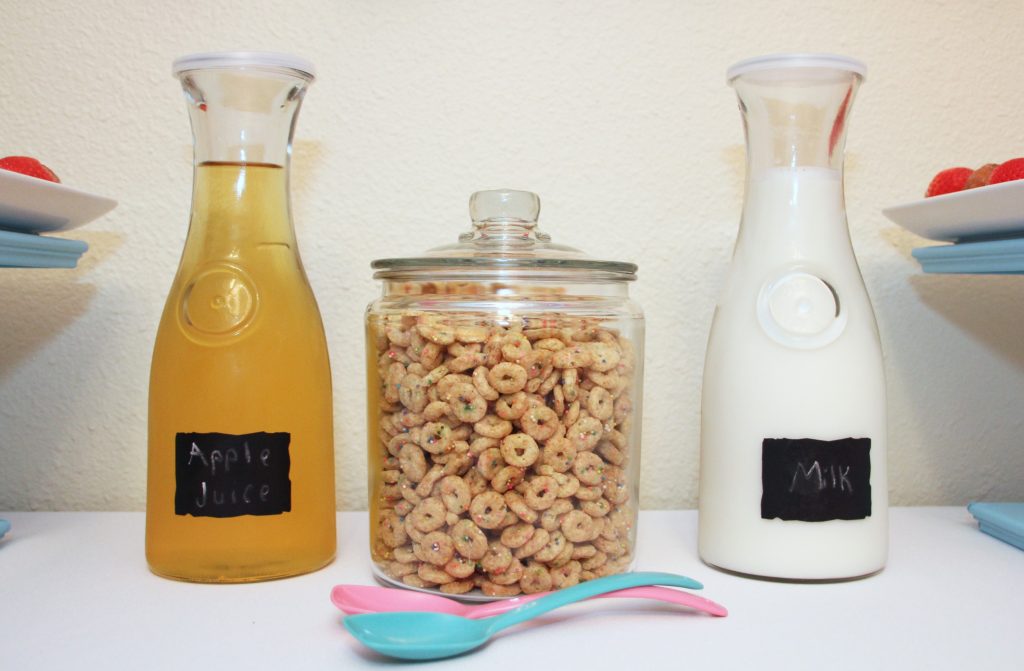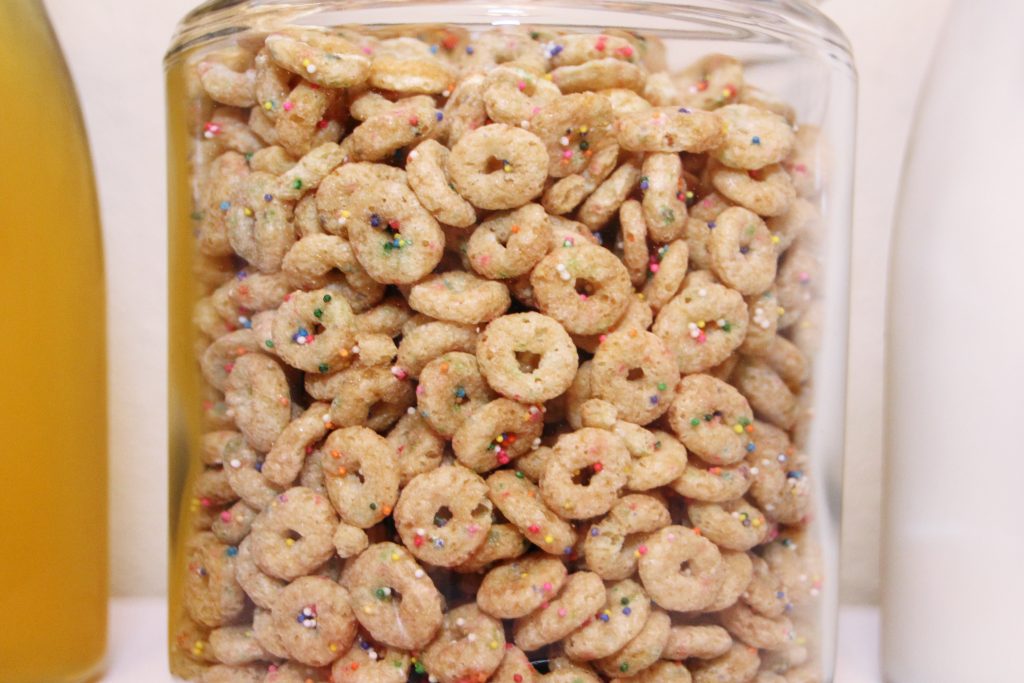 The only actual donut for breakfast were these donut hole strawberry skewers.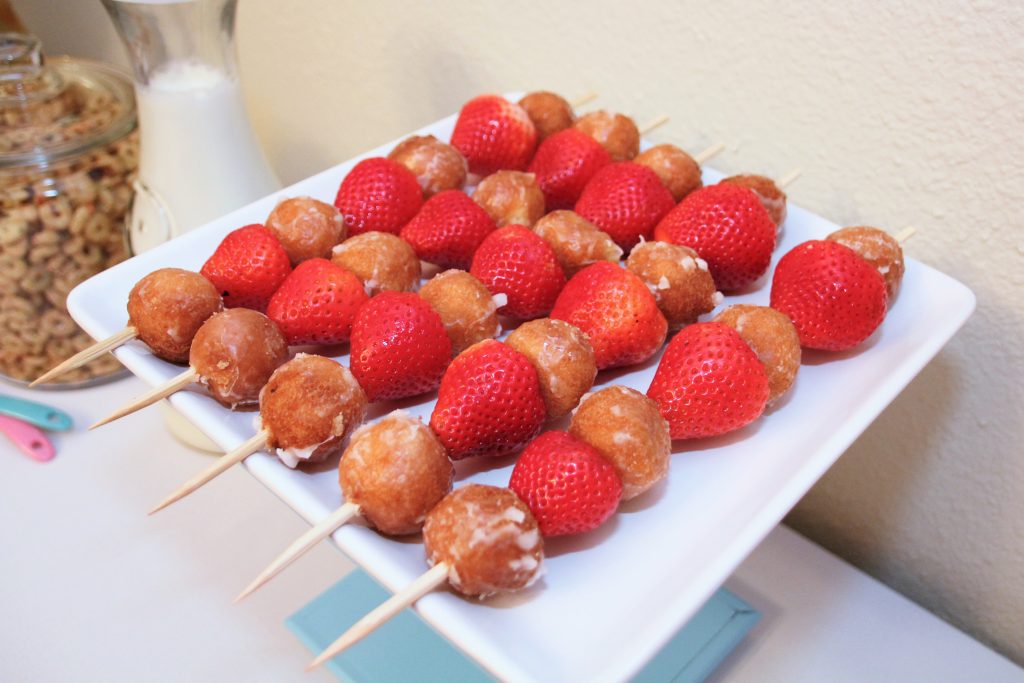 Last were donut bagels. (I colored cream cheese with food coloring to look like frosting)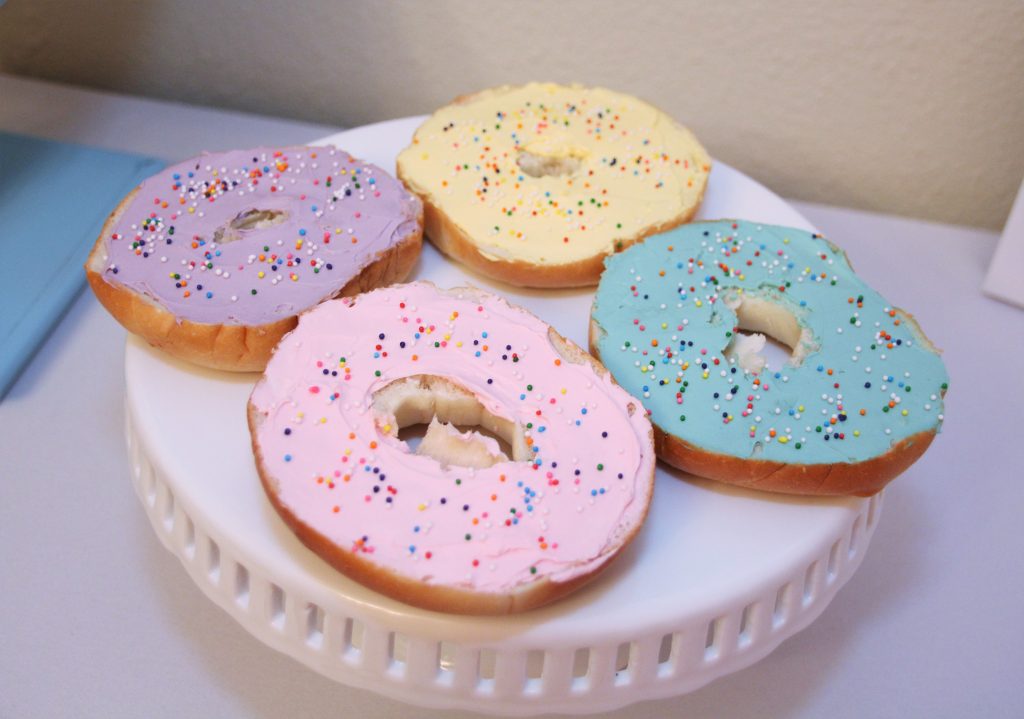 The I Love Donut milk bottles were used for our breakfast beverages.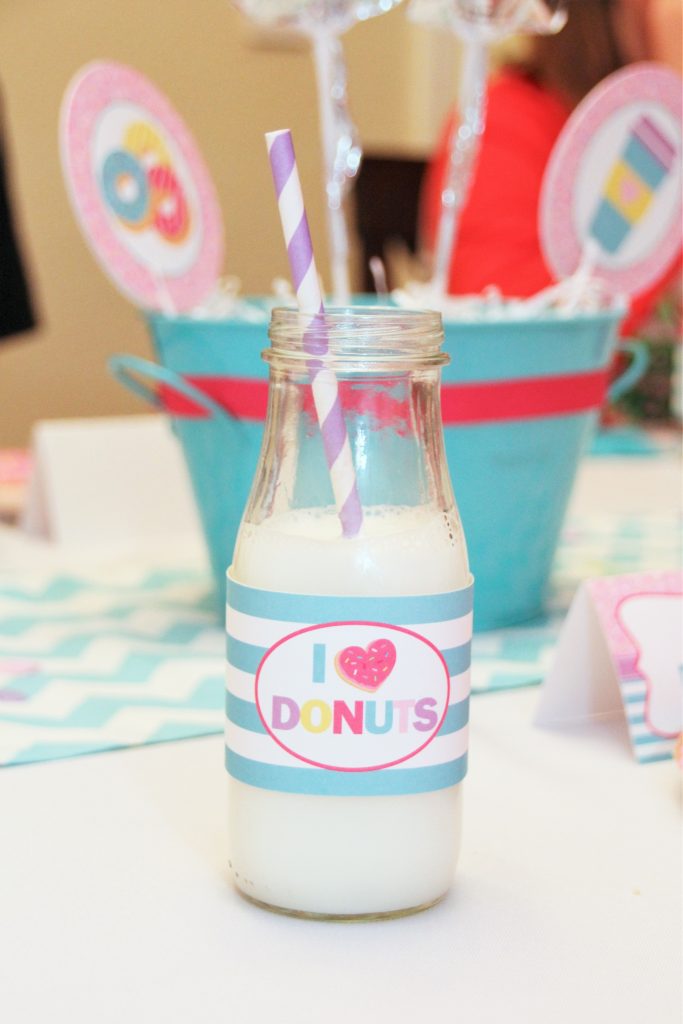 After all the party fun I loaded up extra donuts into gable boxes for the girls to take home.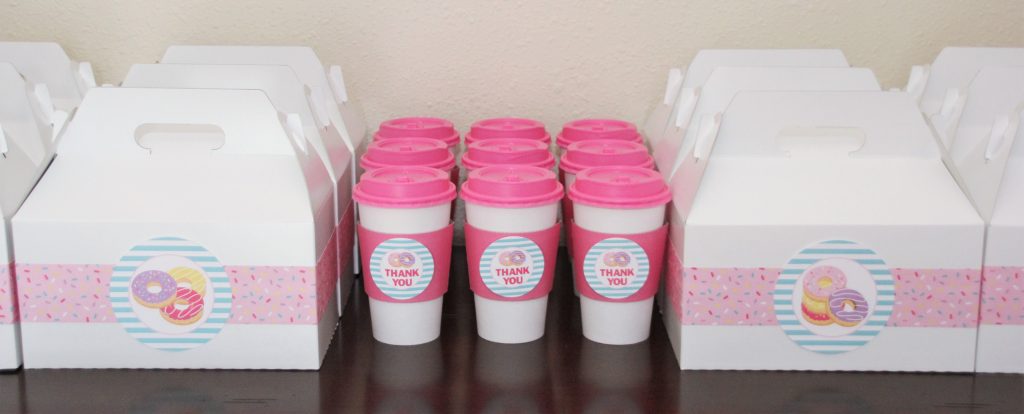 They also took home a coffee cup that had hot cocoa packets, sprinkles(sixlets), sprinkle nail polish, and a donut charm necklace.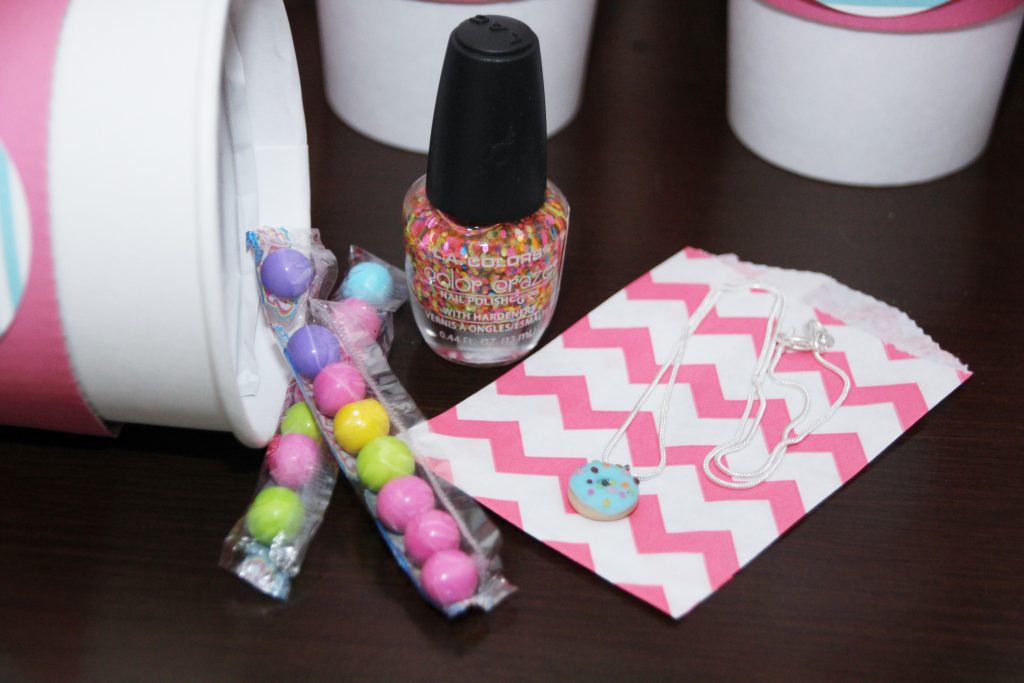 The birthday girl wore here necklace for the party.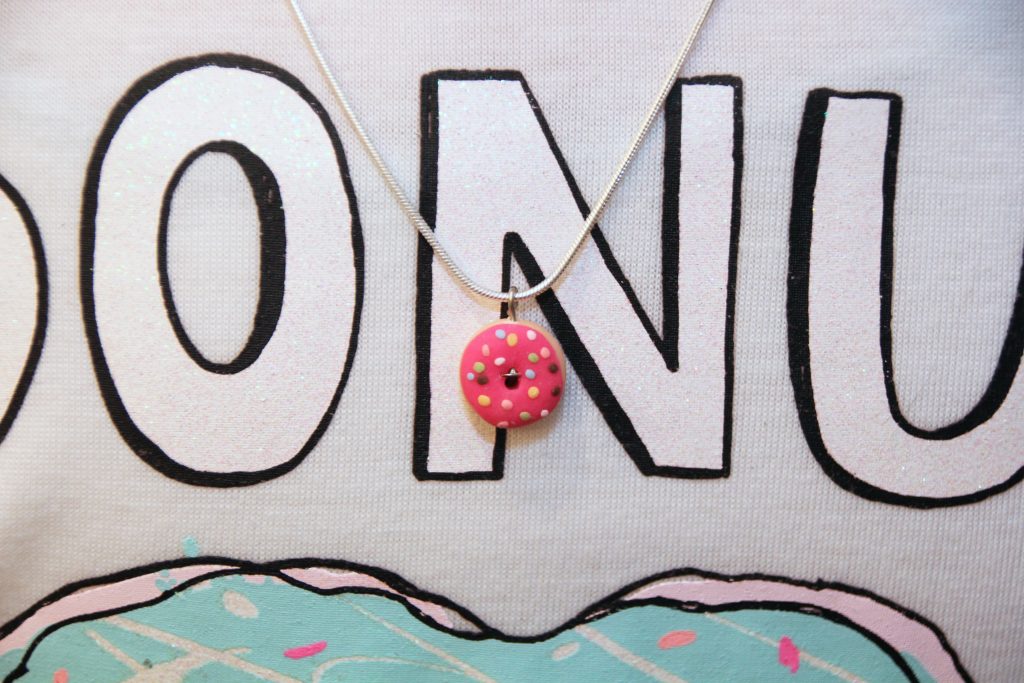 I hope you enjoyed all the donut party photos. This was one of my favorite parties as it included donuts in so many ways. Creating all the little touches is what makes a party so fun! The Donut Printable Party Decoration Package is available in my etsy shop as an instant download.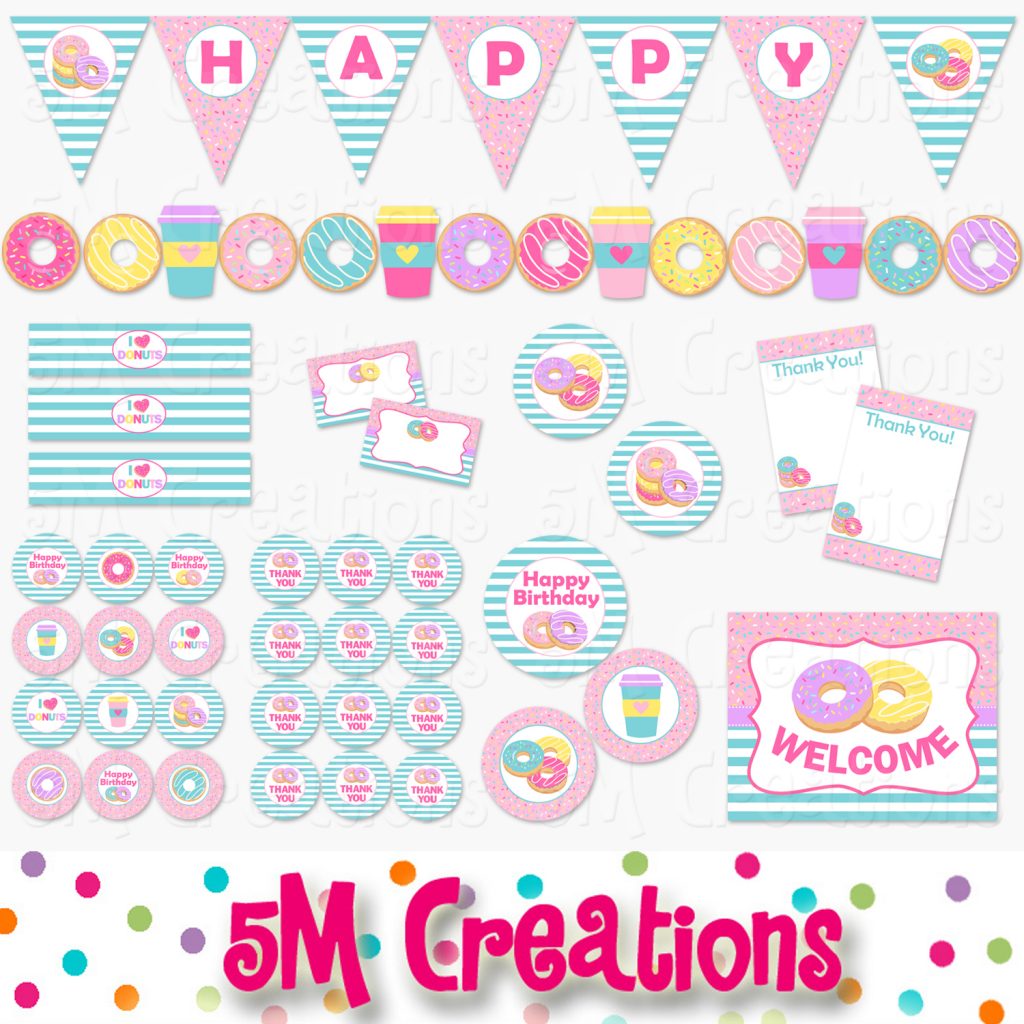 This matching Donut Bingo Card set includes 12 different cards. You can find the mini bingo cage here.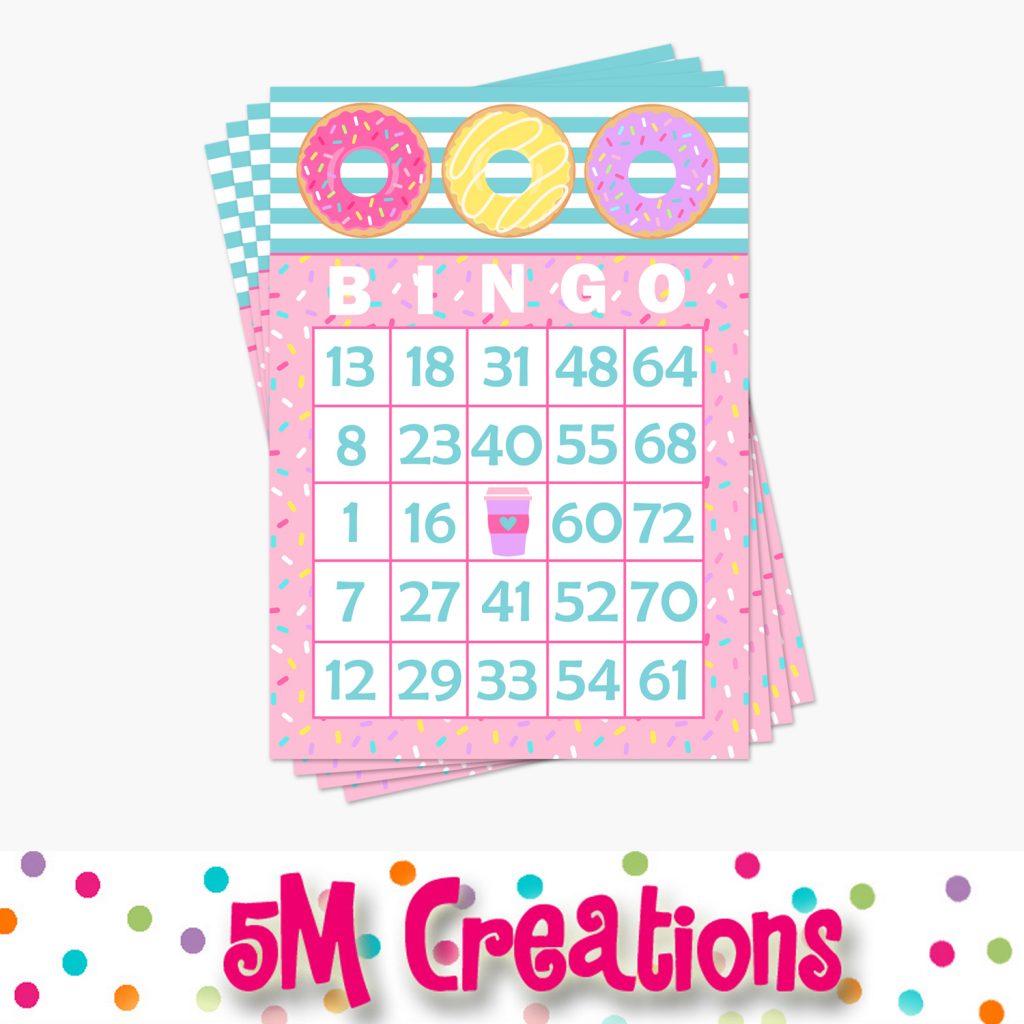 2 different styles of printable donut invitations are available in my etsy shop.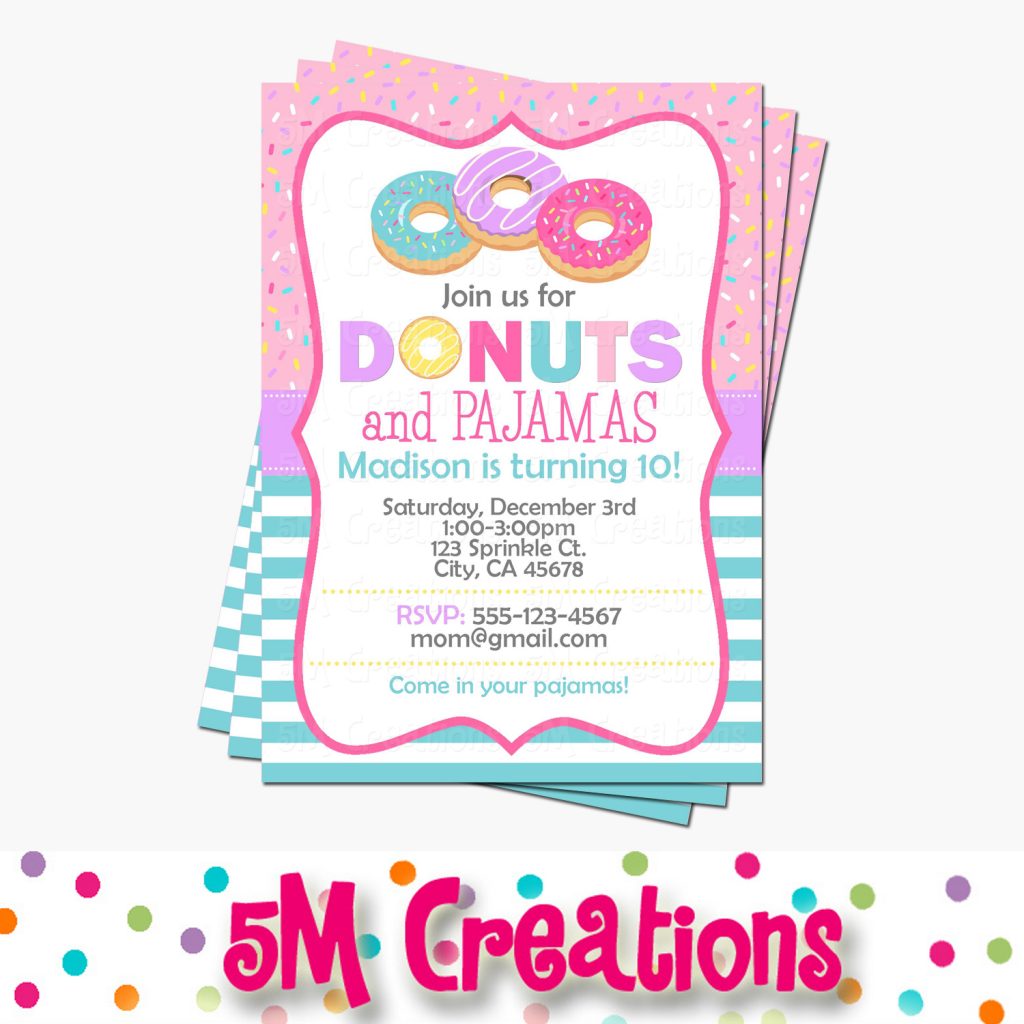 If this doughnut party decor was not quite what you were looking for I have another doughnut package in my shop. Take a look at the matching invites as well.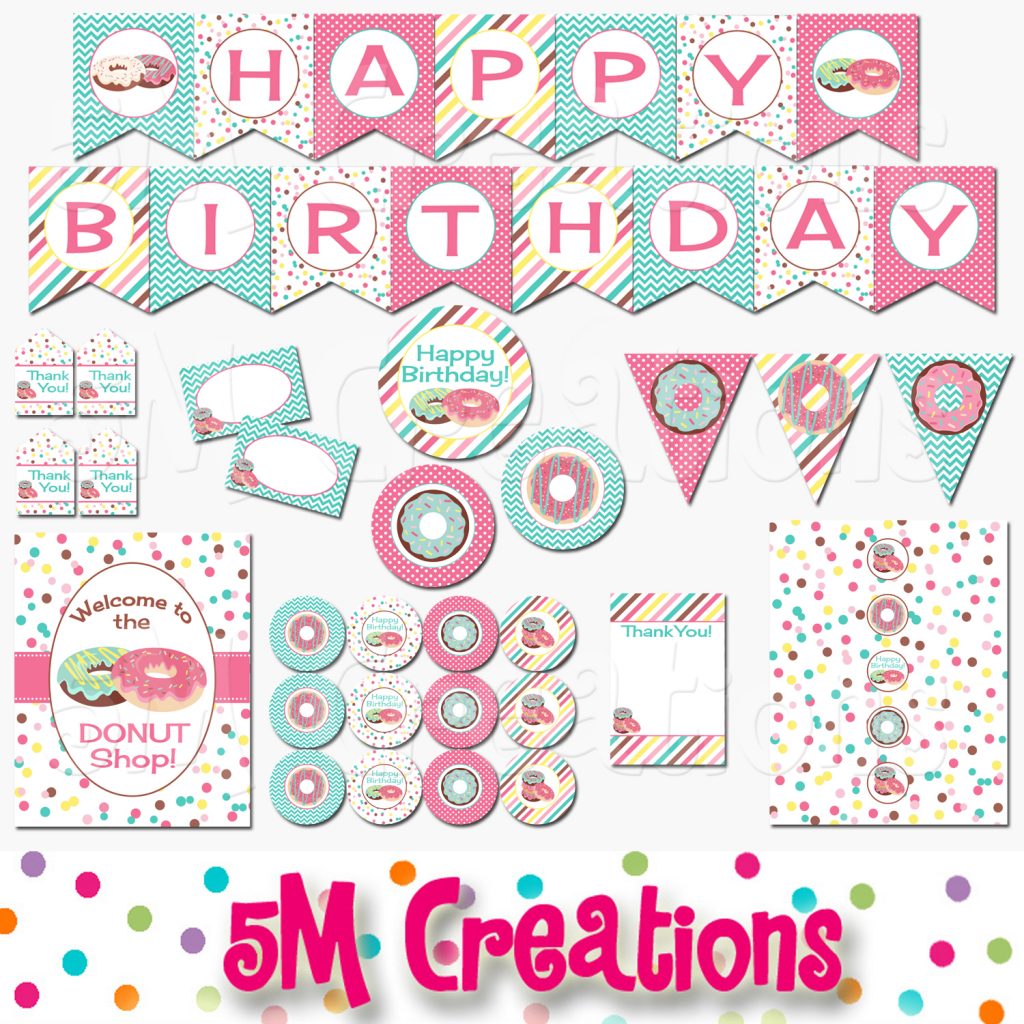 If you have used these printable products to create your own Donut Shop Party please send me photos to fivemcreations@gmail.com. I would love to see them and possibly feature them on the blog, instagram, or possibly my website. Thanks for stopping by!
5M Creations June 6th, 2017
Posted In: Girl Birthday Party
Tags: balloons, Banner, bingo card, birthday party, cake, centerpiece, donut, douhgnuts, girl party, party food, party games, printable decor, printable party