My best friend's daughter is OBSESSED with unicorns.  The party was a mix of pastel watercolors and gold glitter accents. This party had everything any little girl would want. Unicorns everywhere, sparkle, lots of yummy treats, and crafting.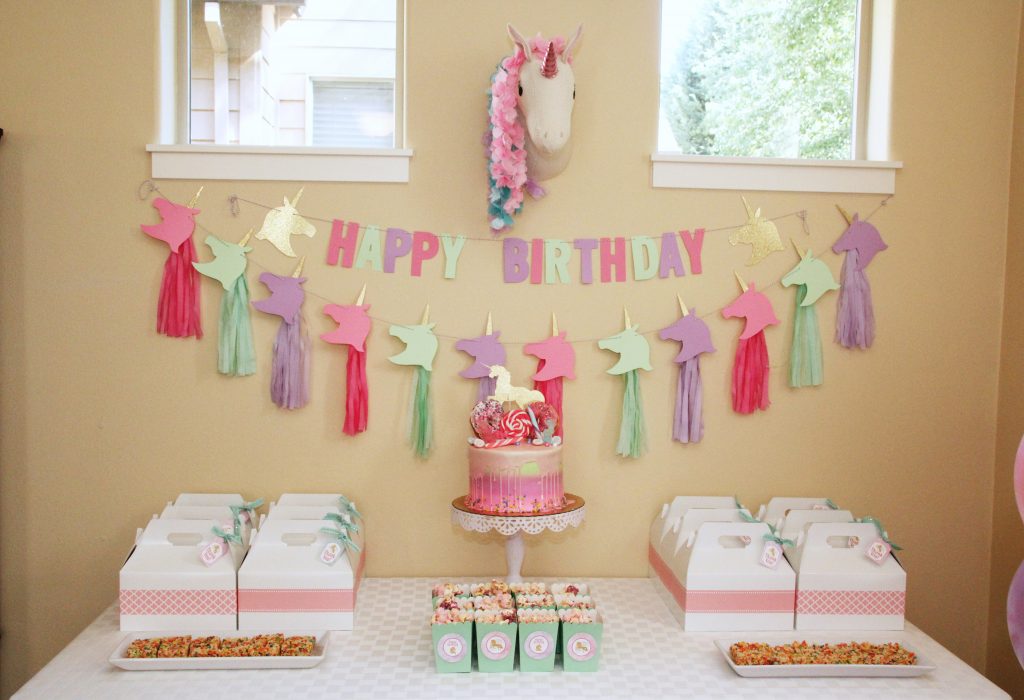 This unicorn was found at Target last year. It was not however nearly this cute. He was all beige. A sweet flower mane and pink unicorn horn were transplanted to create the focal point of the unicorn party table.
Isn't this cake dreamy?!?! My favorite cake lady made the beautiful cake base and mom added all kinds of yummy treats and the adorable cake topper to create a masterpiece.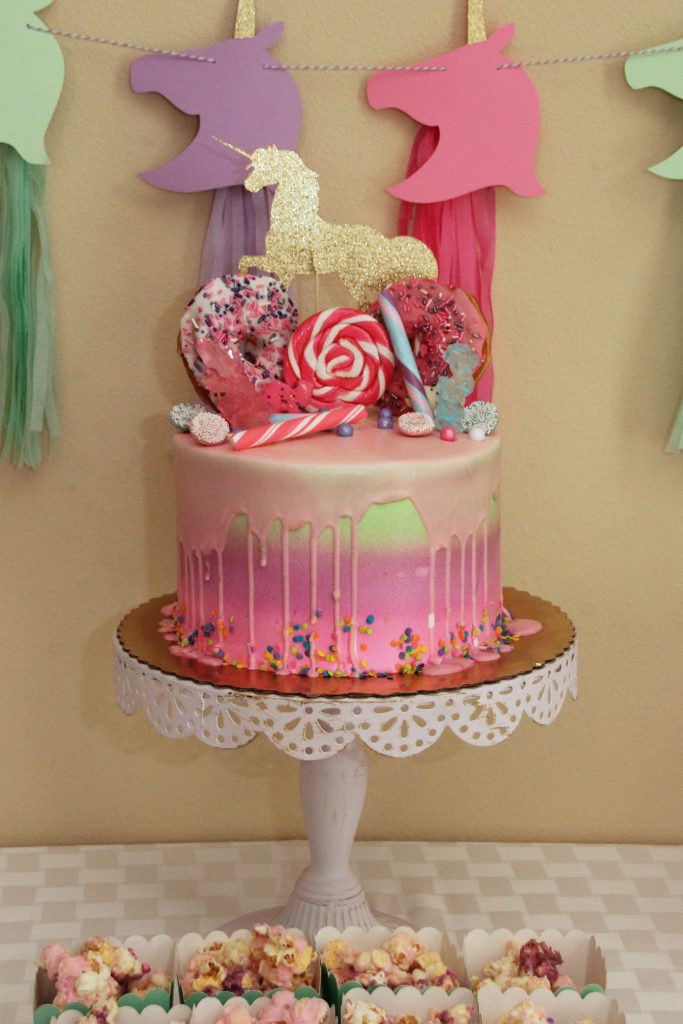 Fruity pebble rice crispy treats and candy melt coated popcorn were 2 of the yummy unicorn treats served. 
Cute mint green popcorn boxes were dressed up with my printable unicorn cupcake toppers.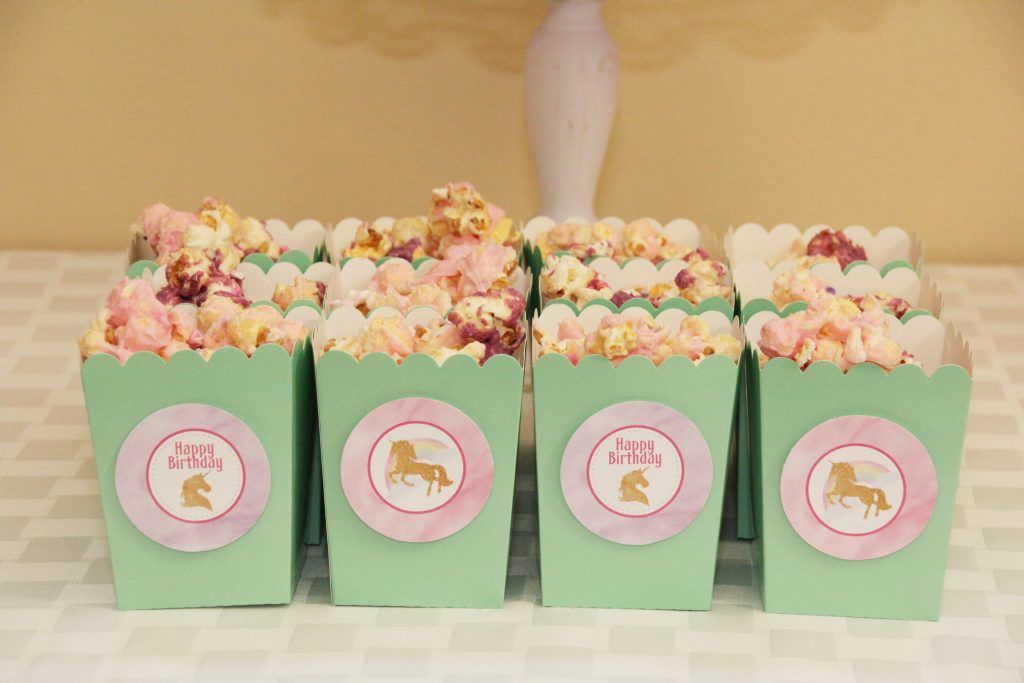 The girls each took home a favor box featuring one of my printable unicorn favor tags. Each included a plush unicorn, unicorn emoji cup, and unicorn cotton candy with another printable favor tag.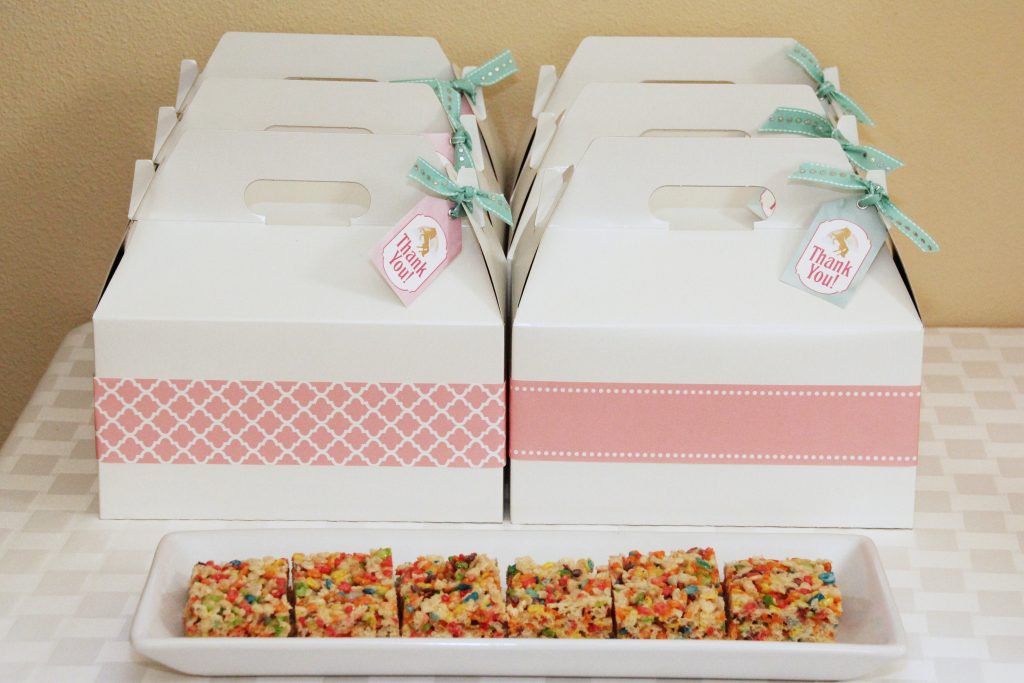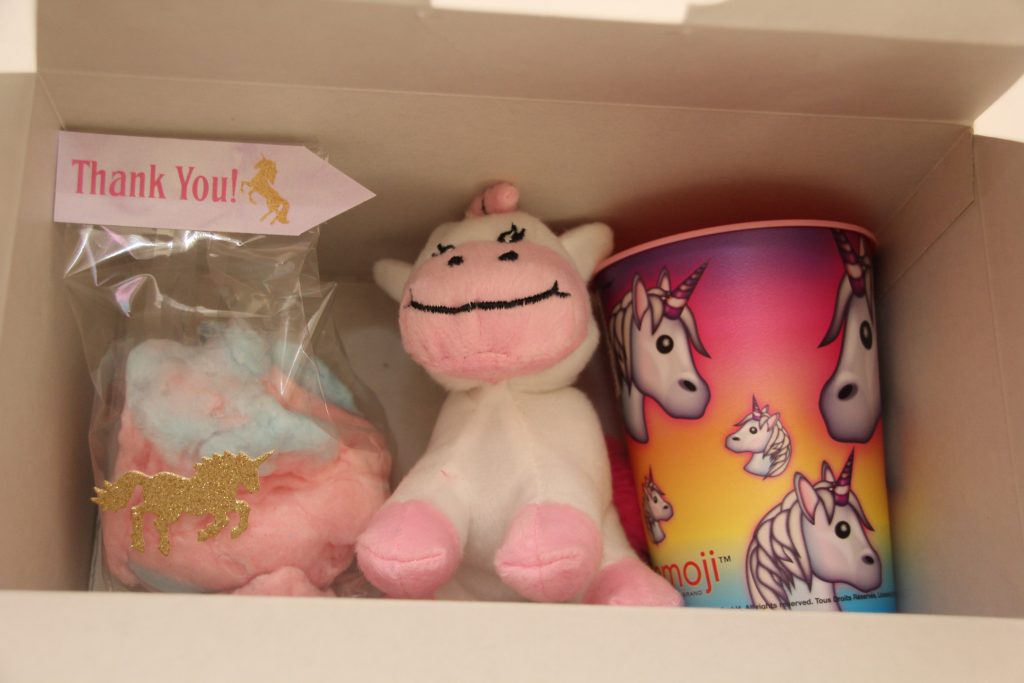 I love the combo of the pink, purple, and mint green used on this party table,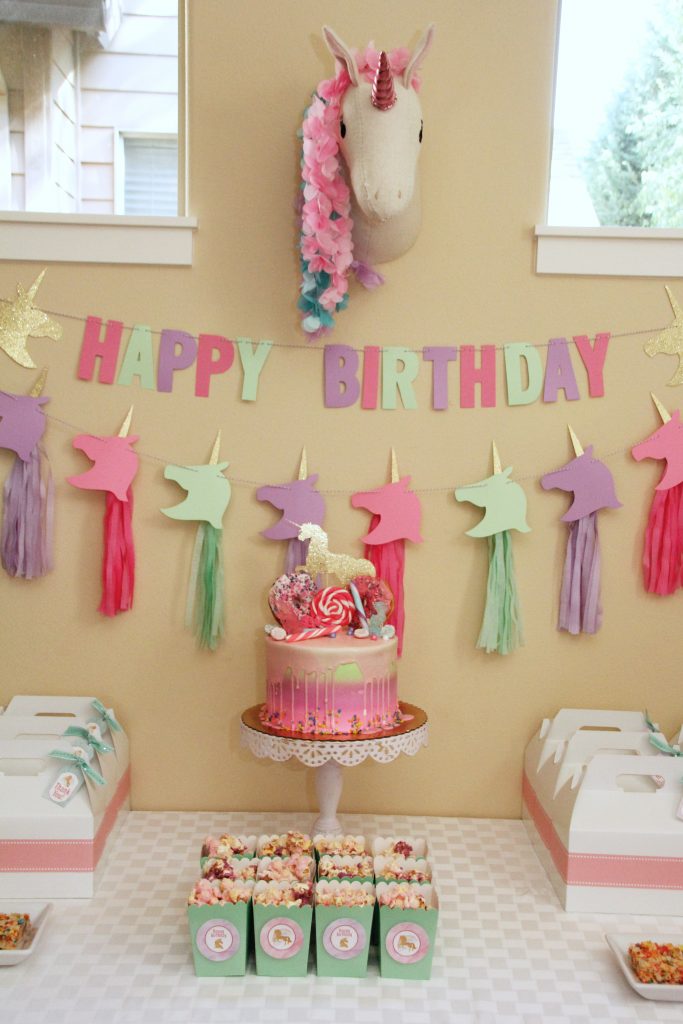 This sweet space was created for the birthday girl to open gifts. Our printable I (heart) unicorns banner and amazing unicorn balloon tower were perfect together.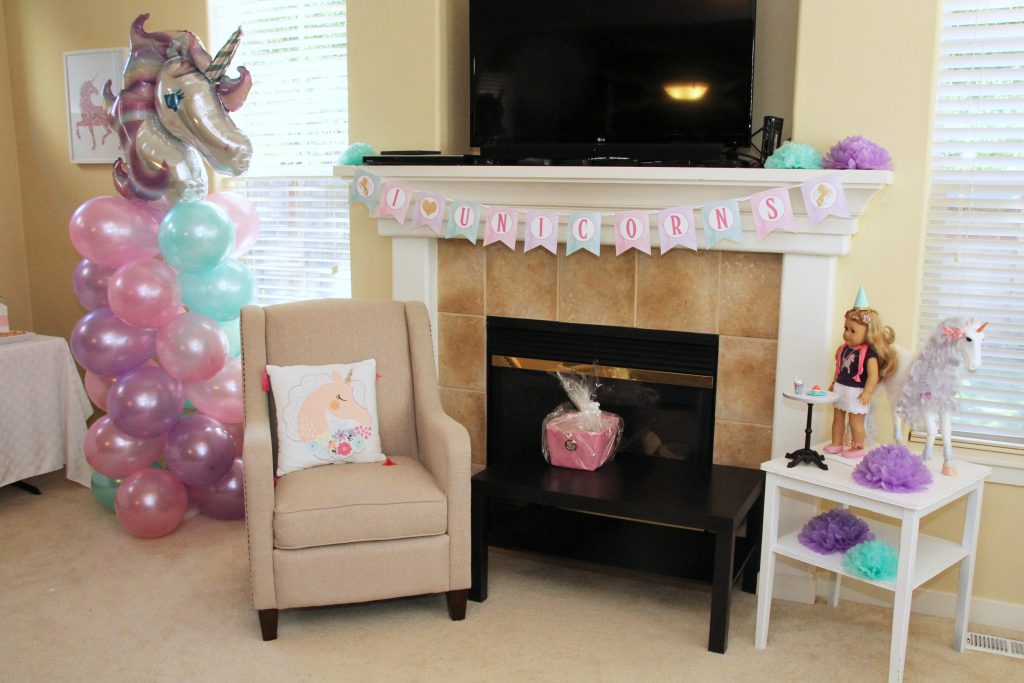 Even the dolls had a unicorn party.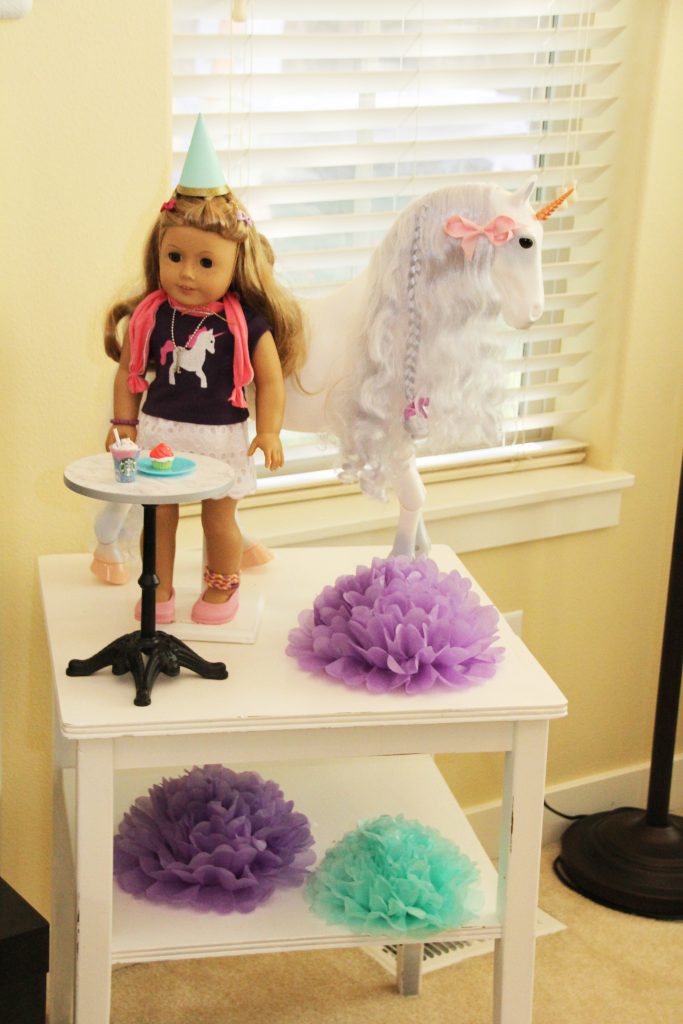 Lots of plush unicorn friends were a part of the festivities.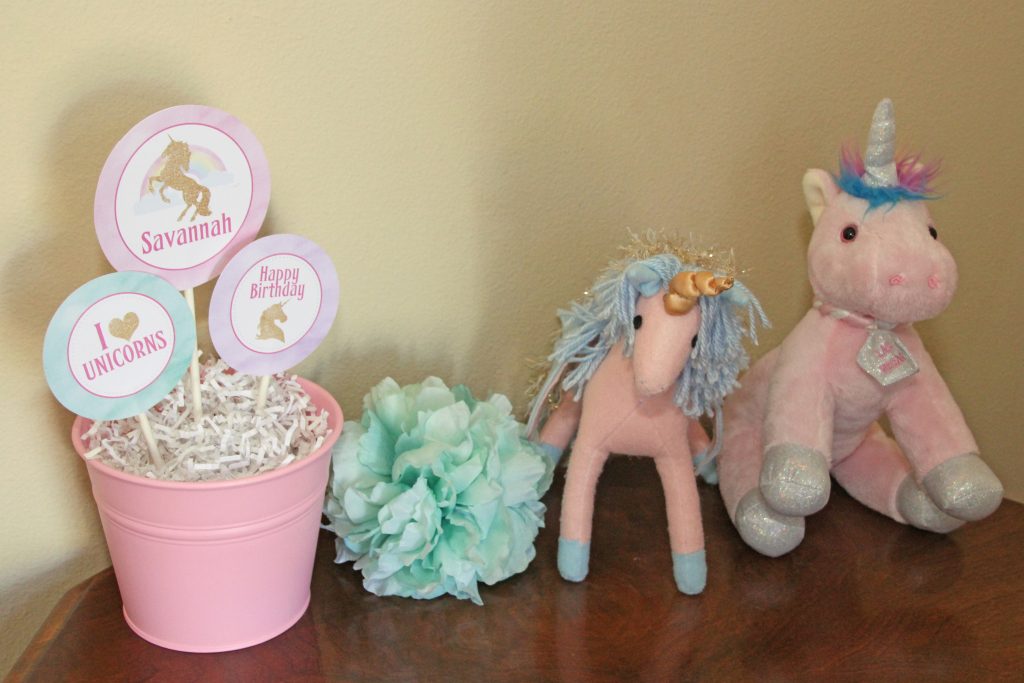 The printable unicorn centerpiece circles were used on several tables throughout the party.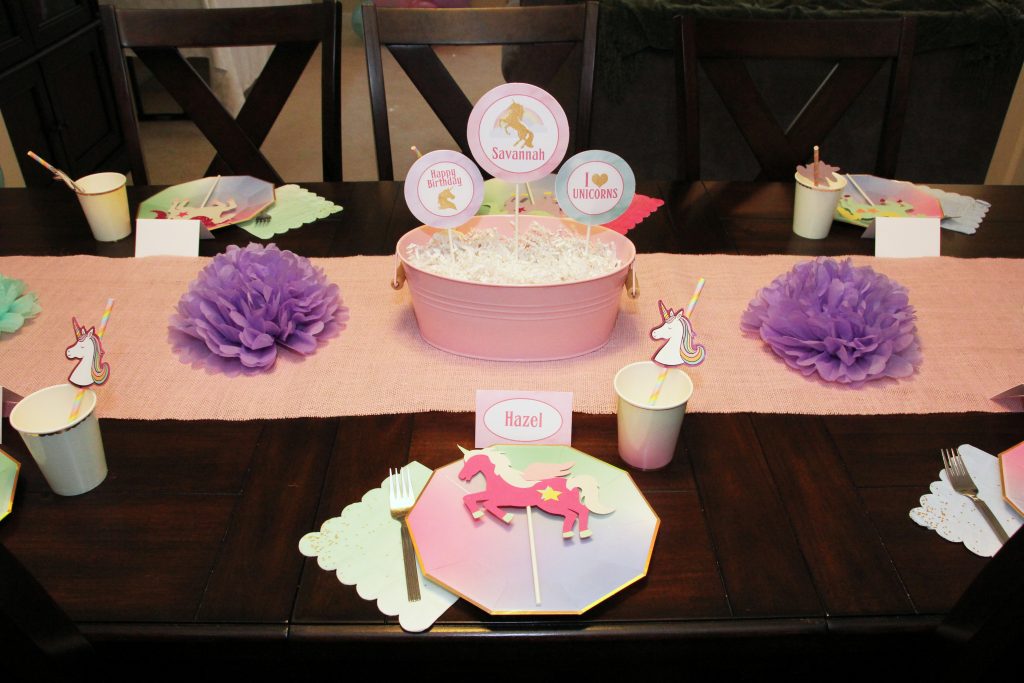 Face painting and crafts were next on the party agenda. This adorable unicorn horn was added to headbands for all of the guests to wear. So cute!!!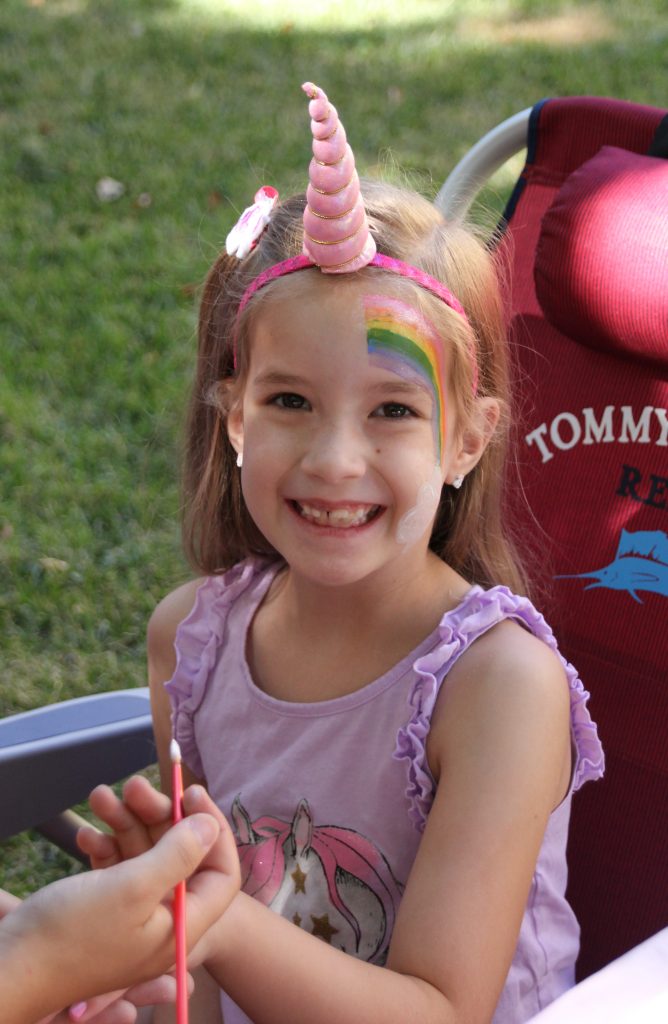 Last was a unicorn piñata!
Such a beautiful party for a beautiful girl!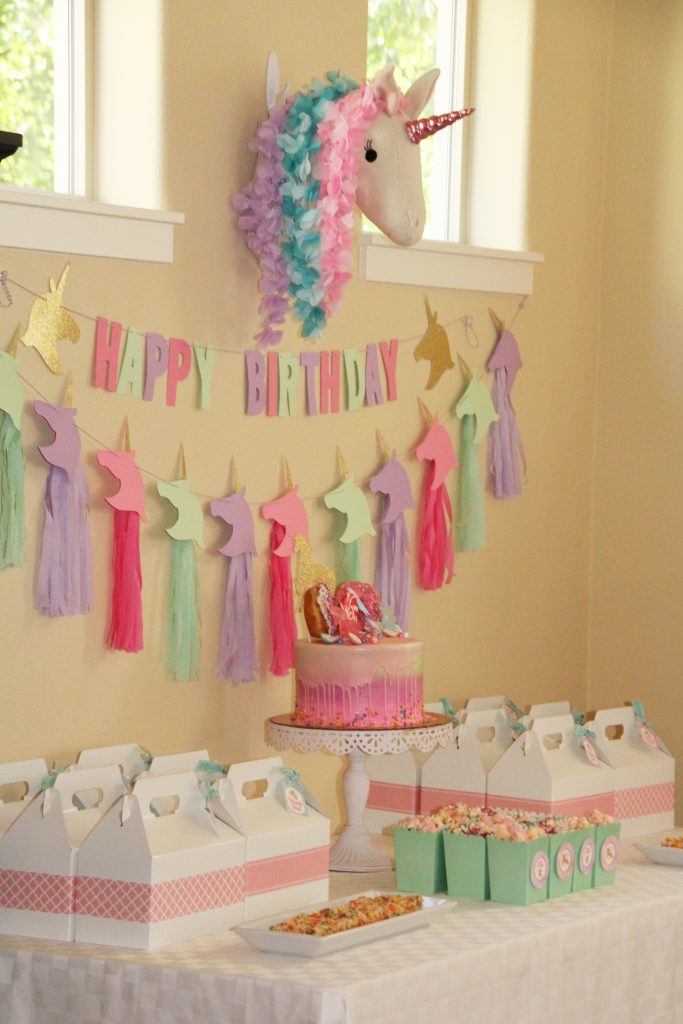 You can find the unicorn printable party décor package in my etsy shop.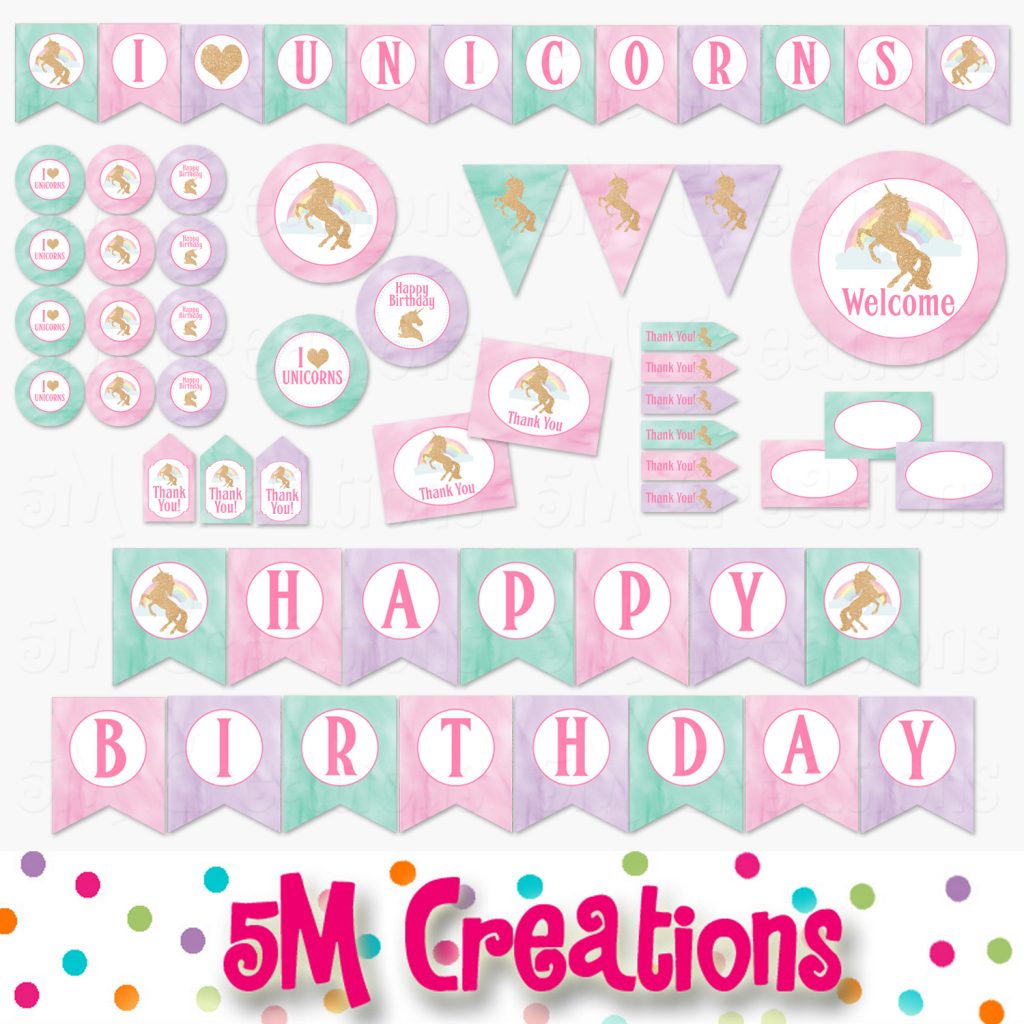 Printable Unicorn Birthday Party Invitation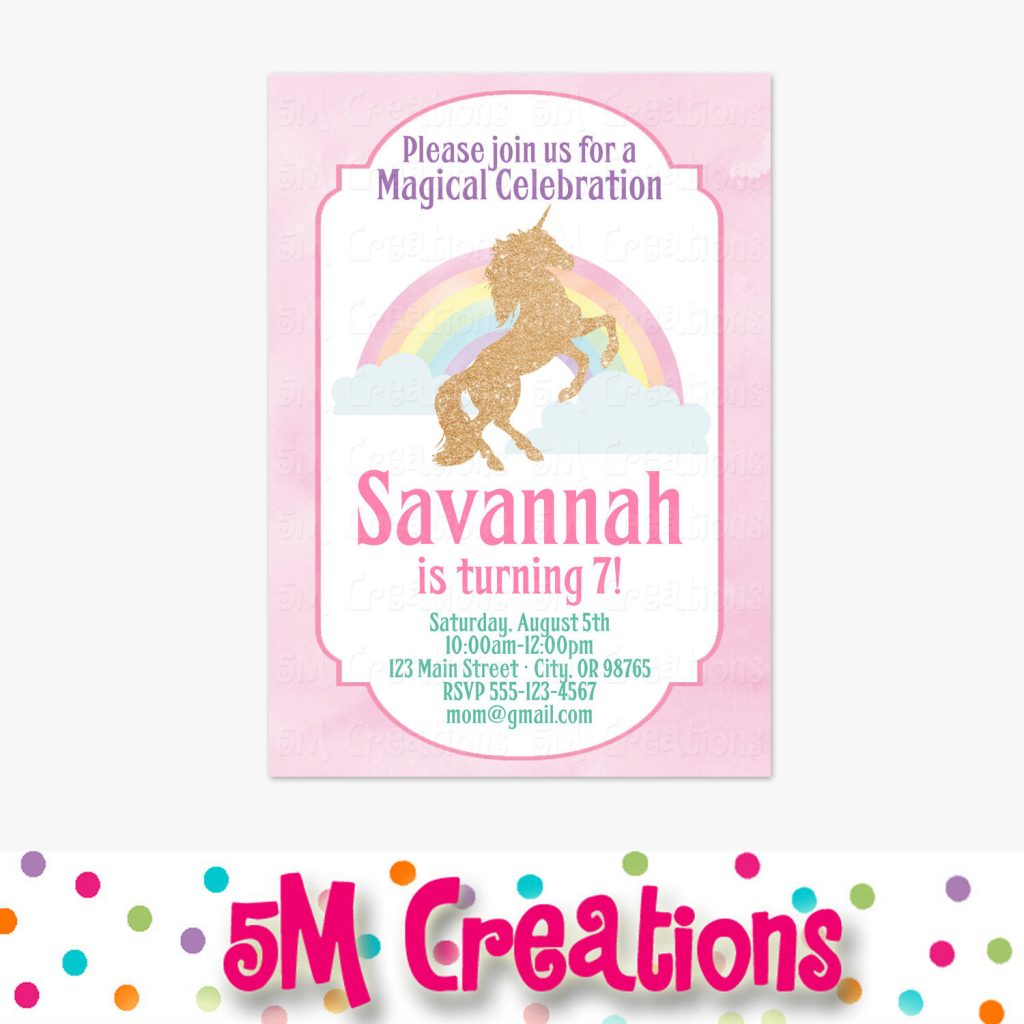 Party Sources
Plates/Napkins: Fancy That
Unicorn Horns: Pretty In Pink Supply
Cake Topper: Topper & Twine
Unicorn Wands: Paper Source (garland pieces were glued to sticks to make wands)
Happy Birthday Banner & Unicorn Tassel Garland: Lisa Frank Parties
Plush Unicorns: Oriental Trading Co.
Unicorn Straws: Target
5M Creations May 21st, 2018
Posted In: Uncategorized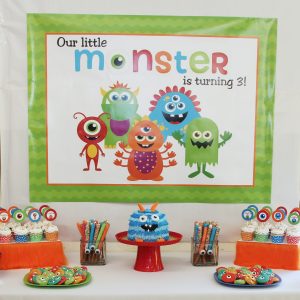 Our little monster turned 3! Monster has always been a nickname for our youngest, so it seemed like a perfect theme. I knew I wanted a variety of friendly monsters and bright colors. I LOVE how this party turned out. 
Classic white cupcakes are dressed up with printable monster cupcake toppers. I love the big eyeball. haha! I created these fun cupcake stands by covering a box in fur fabric. It added a fun monster feel and a great pop of color.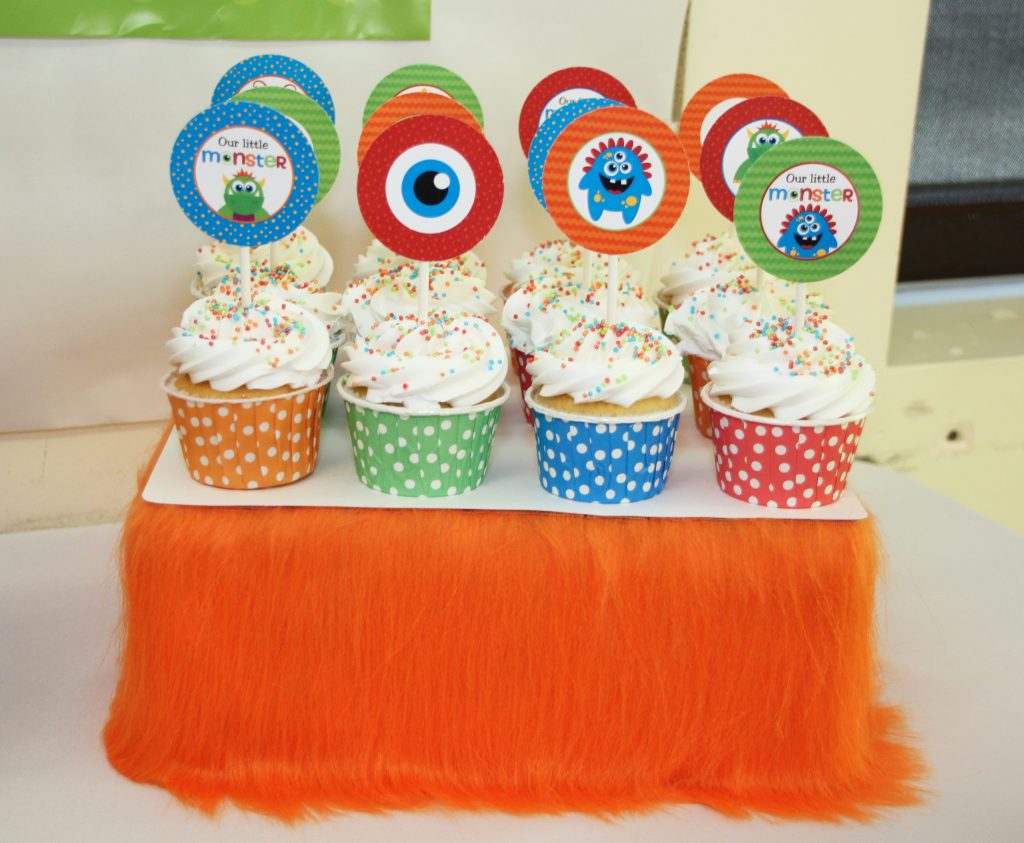 This cute little monster cake was one of my favorite items of the party.  Blue for my son's favorite color. There are lots of tutorials on pinterest to make these yourself.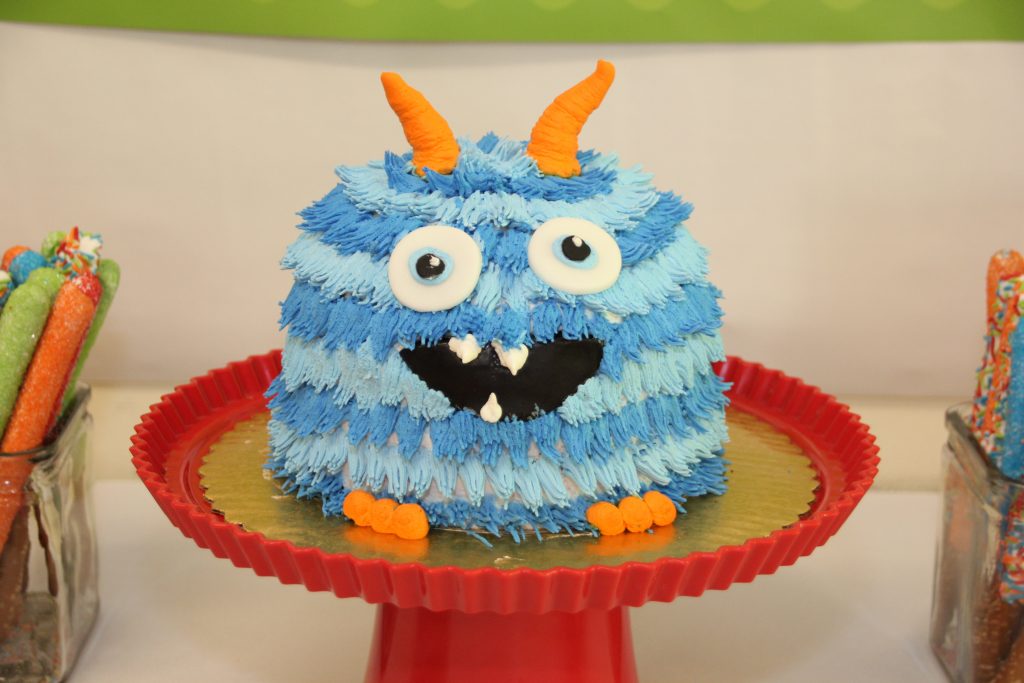 One of the things I loved about this theme was all of the cute treats that could be made. Wilton sugar eyeballs in several sizes were added to colored sugar cookies for a silly monster cookie.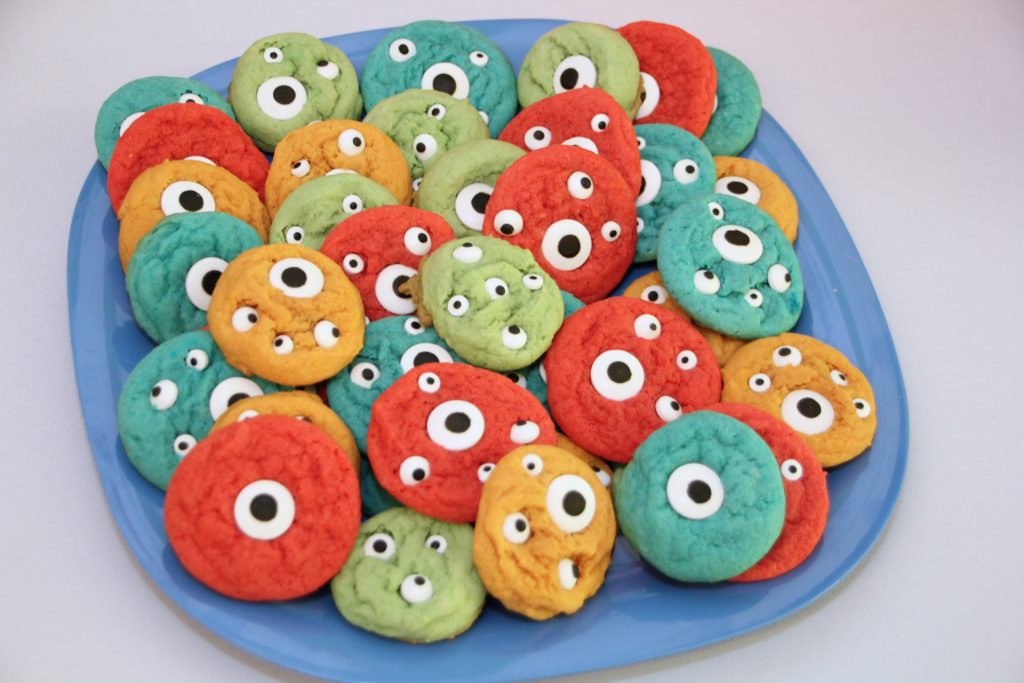 Dipped pretzels are a favorite at my parties. I purchase pretzel rods at my grocery store and dip them in melted Wilton's white candy melts. Then top with sprinkles of your choice. I added them to clear jar with eyeballs to make bright monster hair.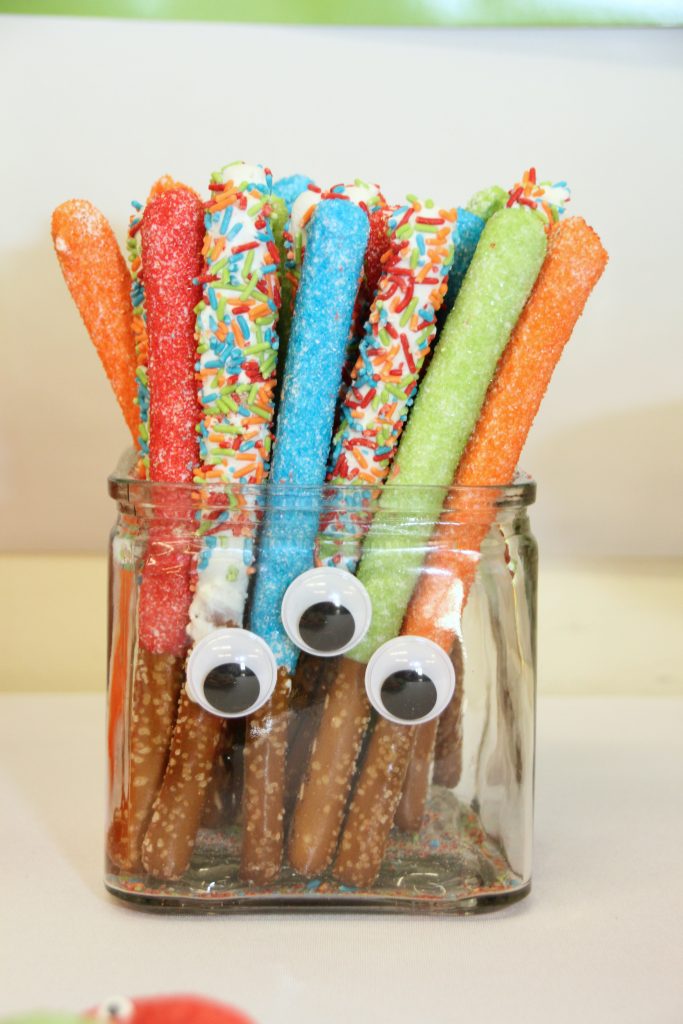 My son requested a party hat last minute. I found a plain blue party hat at my local party store and dressed it up with googly eyeballs, a card stock mouth, and fur accents left over from my boxes.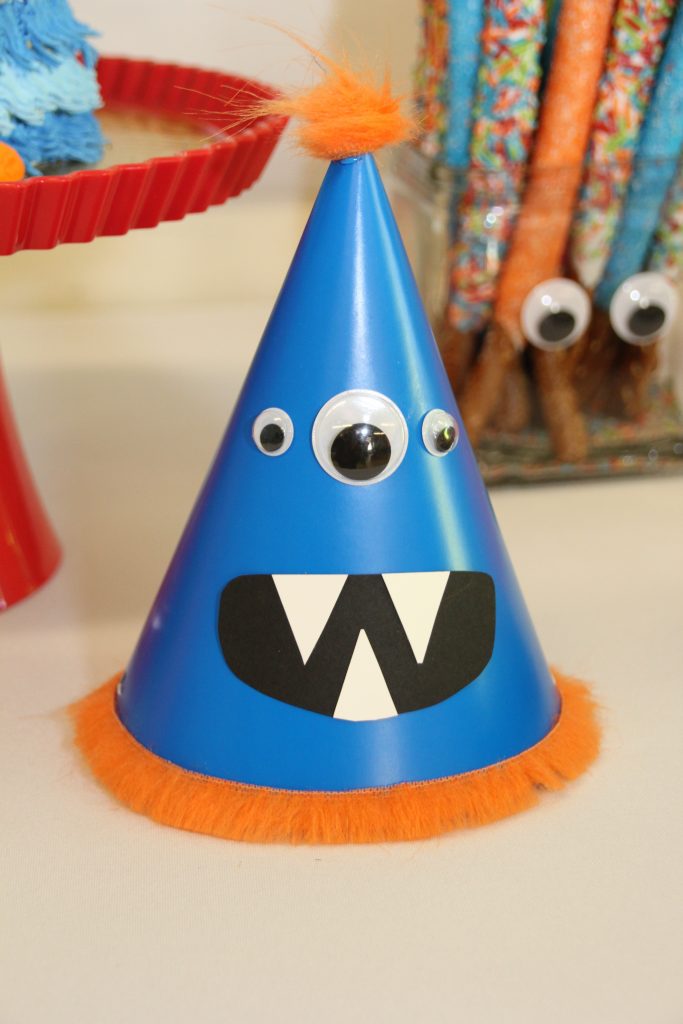 Isn't that hat the cutest? Ok maybe the birthday boy adds to the cute factor. 🙂 I found his adorable shirt on etsy from Heather Rogers Designs. It was perfect!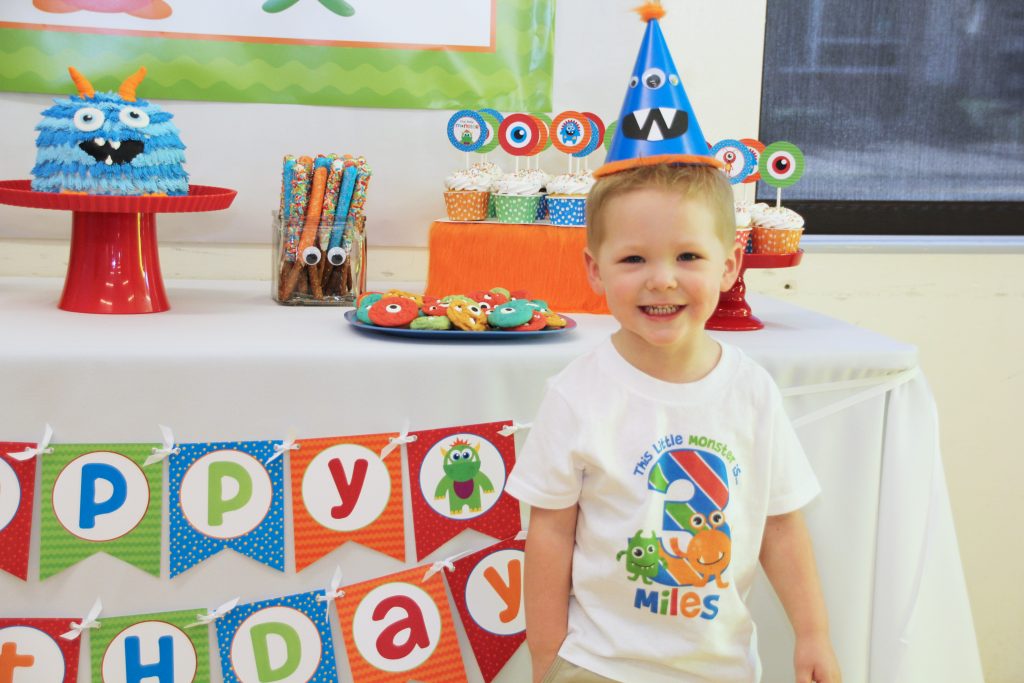 I created a kids party table with simple centerpieces made from my printable party circles in colored containers and monster sticker sheets.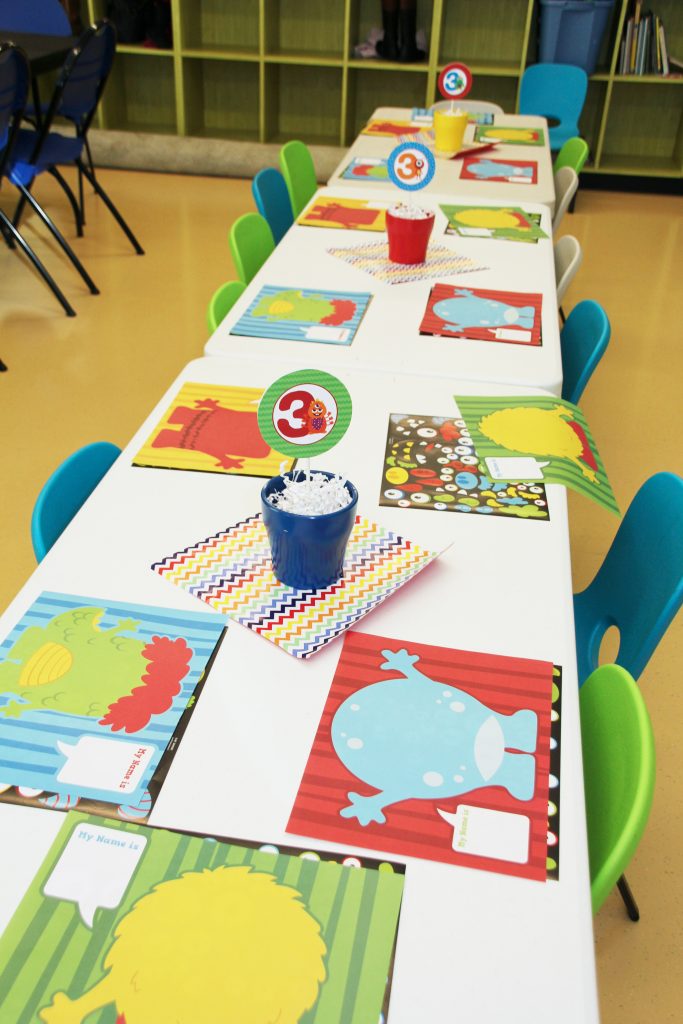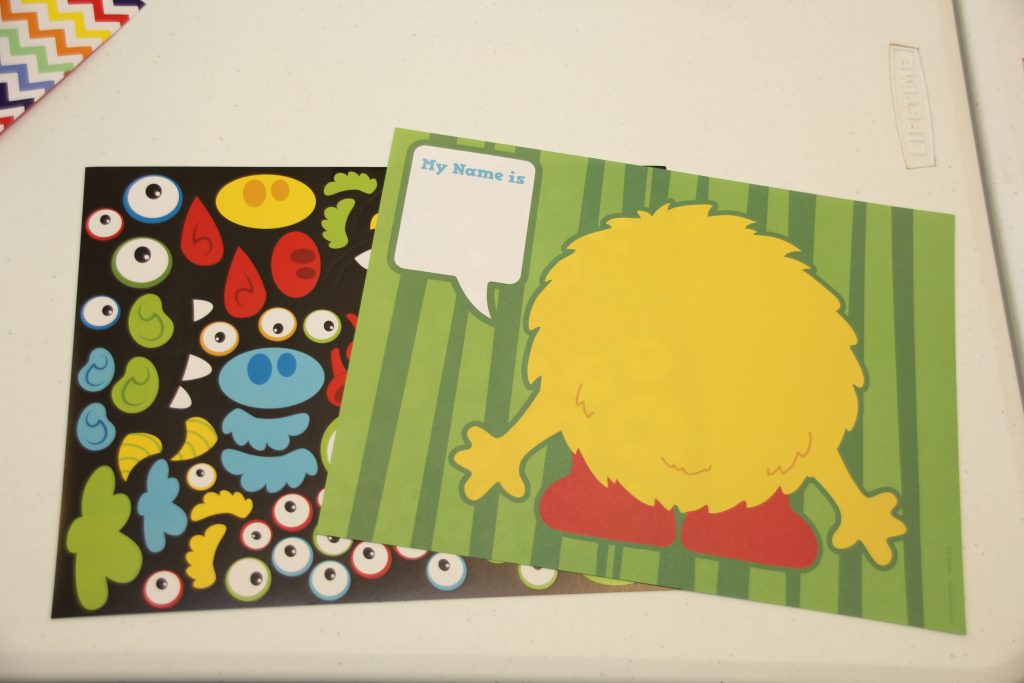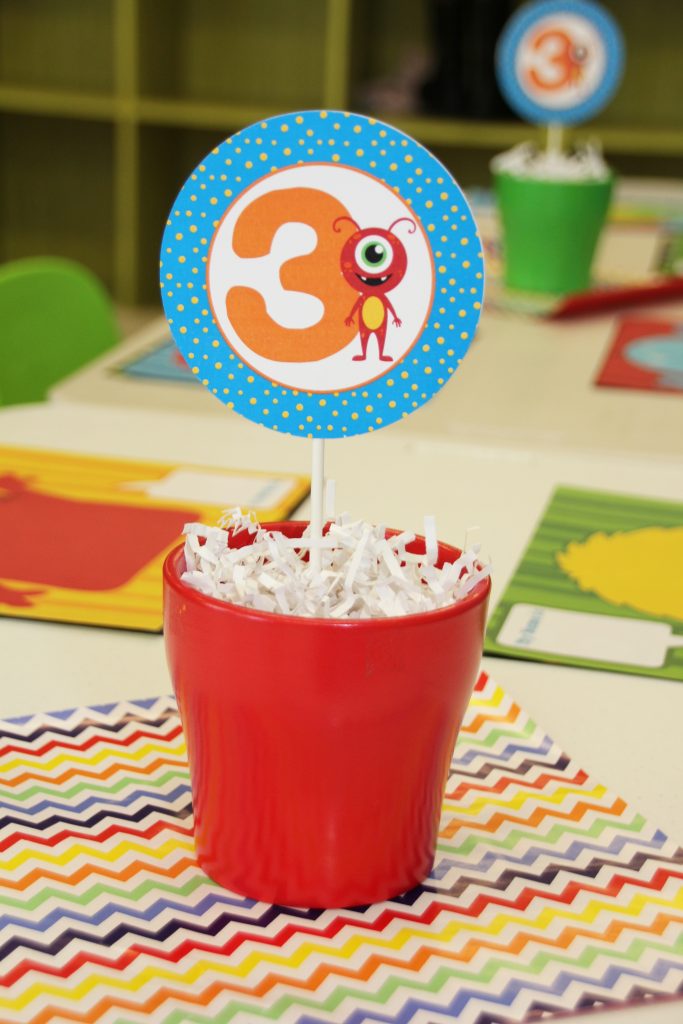 We had an Adopt a Monster table for guests to take home a party favor as they left. My printable monster centerpiece circles created a cute display.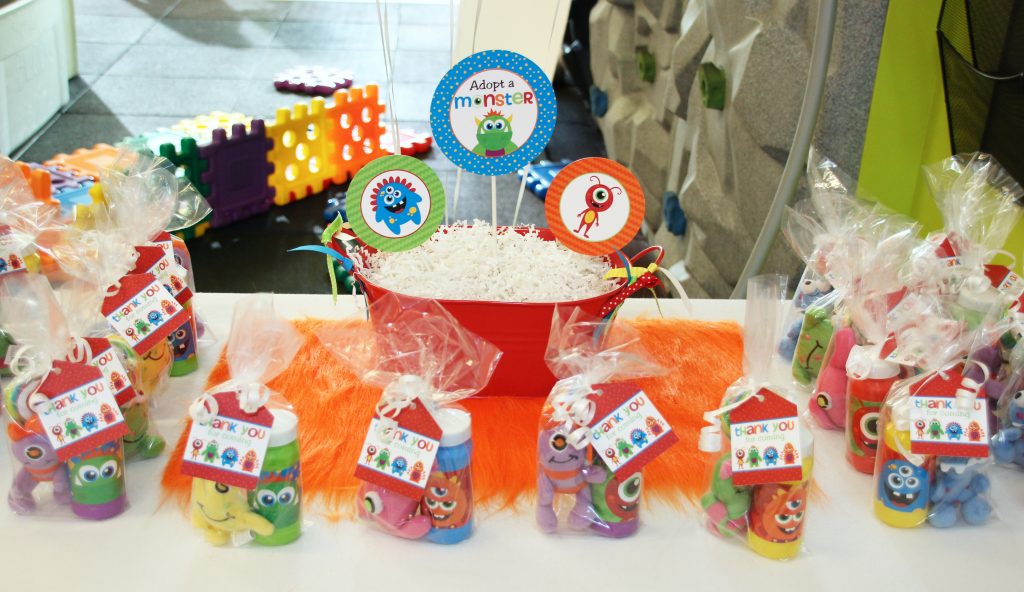 Each favor had a mini plush monster, bubbles with a printable label, and a monster sucker. They were packaged with my printable monster favor tags.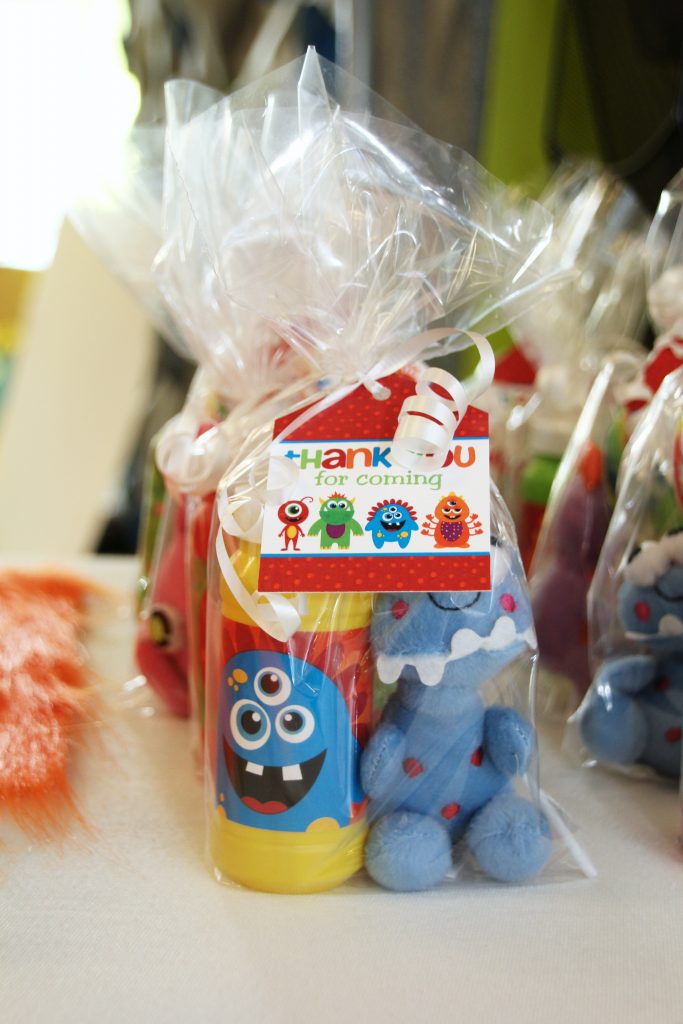 A friend and I created this monster bean bag toss. We used a large card board box and craft paint. Pizza pans and cookie sheets made perfect stencils for our smaller monsters. We used an exacto knife to cut out their mouths. We cut out the horns, teeth, and eyes from card stock to add some extra details. This was such an inexpensive party game and super fun to make.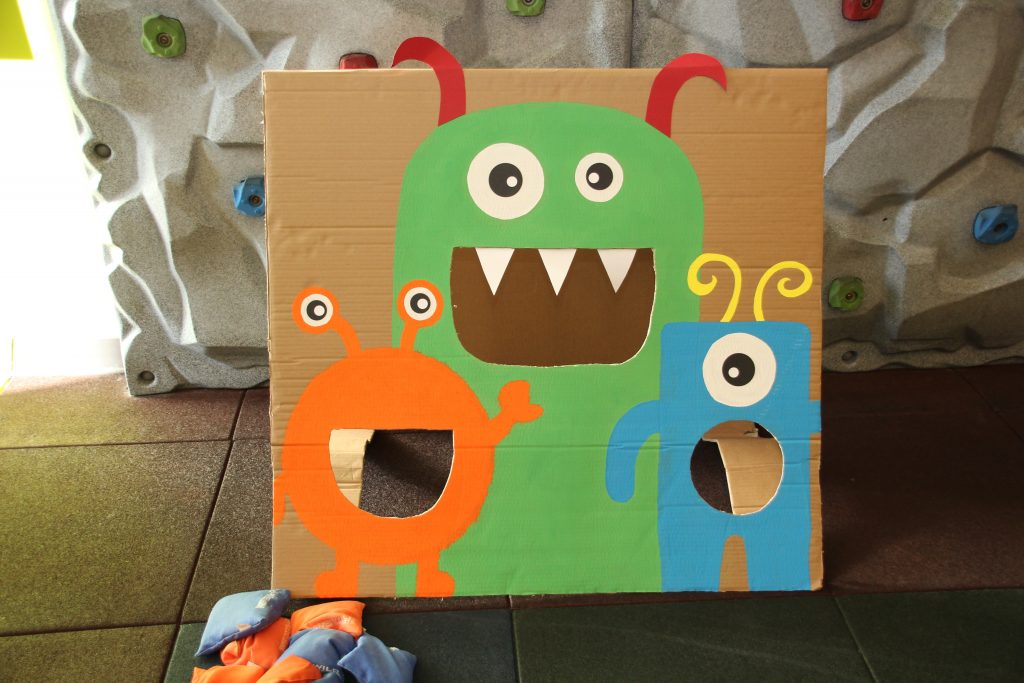 Around Halloween I found fun monster photo props at Target. My kids always love taking photos with friends using fun props. It has become a regular activity at our parties.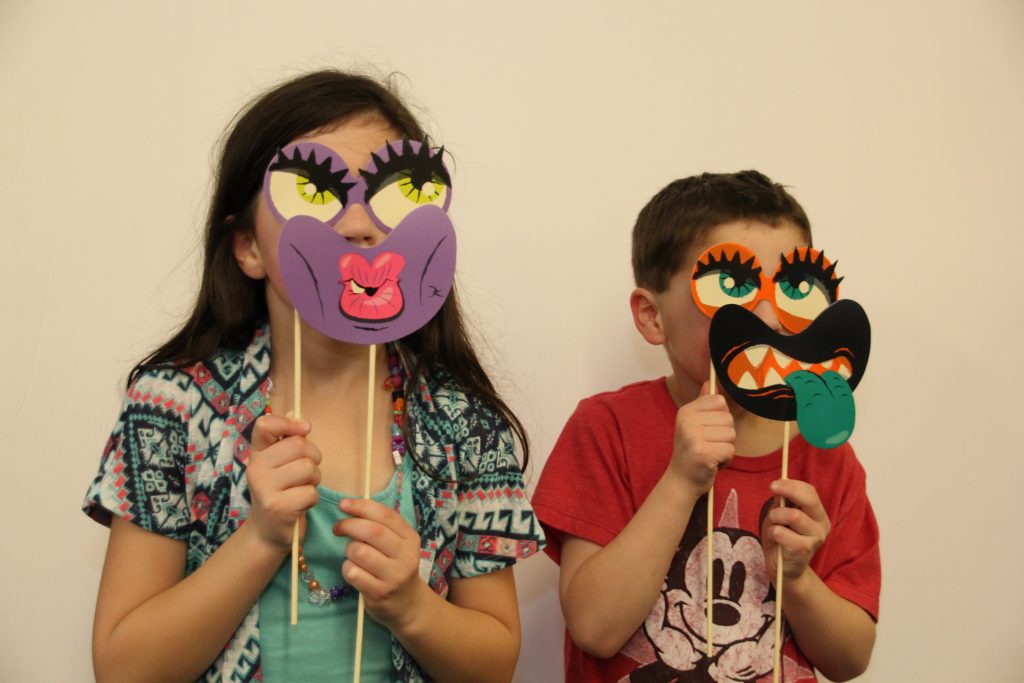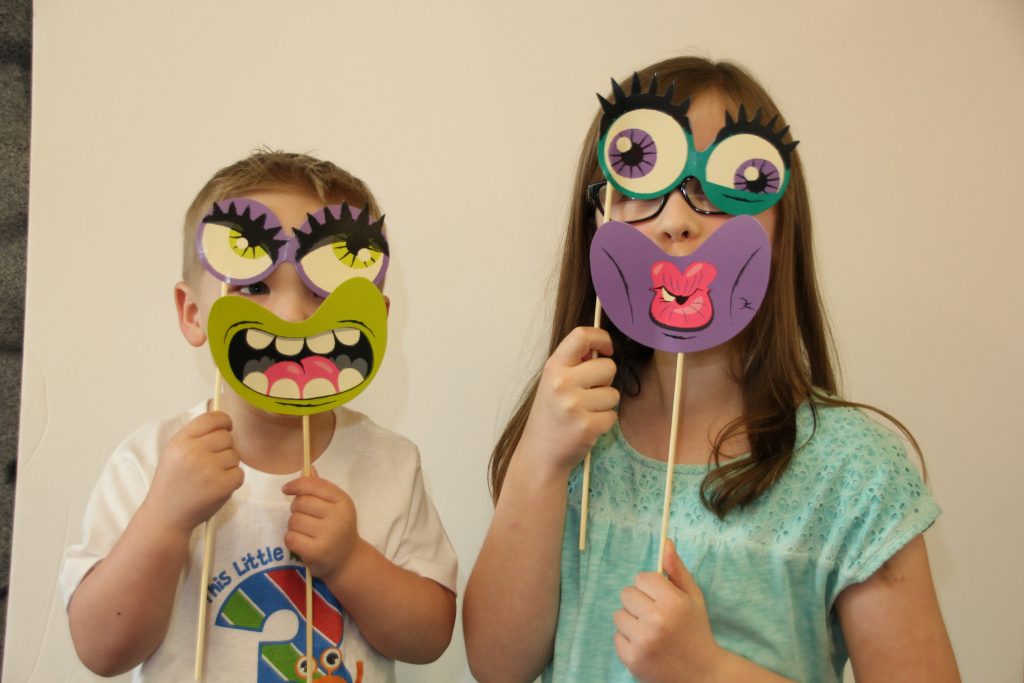 Our monster party was a big hit! I had one happy little boy. I hope you found some fun ideas for your next monster party.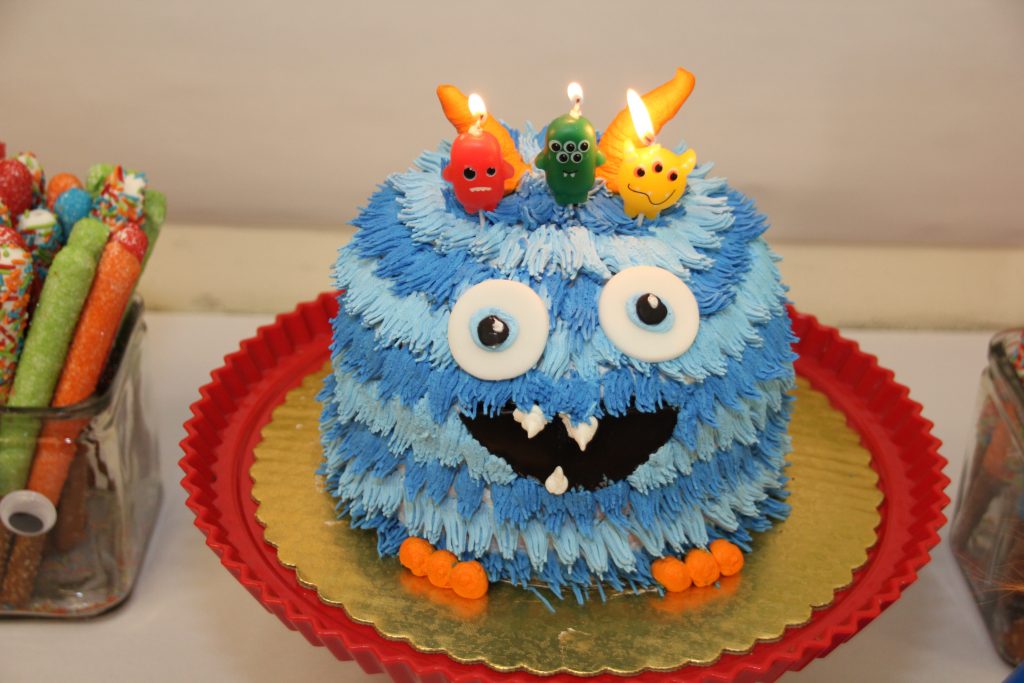 Happy Birthday Little Monster!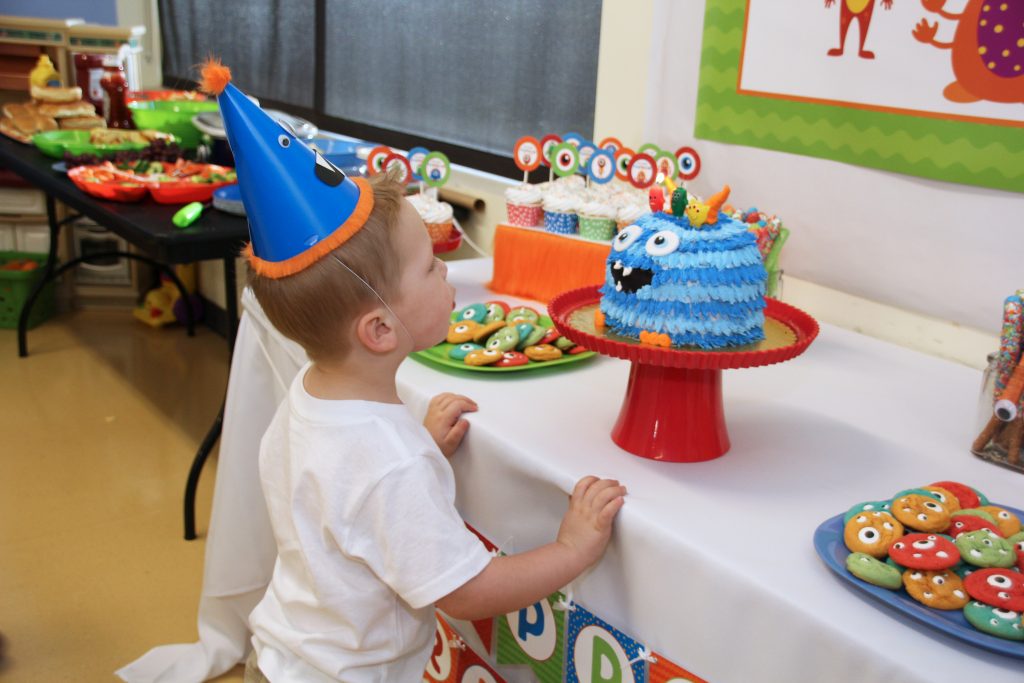 Check out the monster invitation, backdrop, and matching party décor in my etsy shop.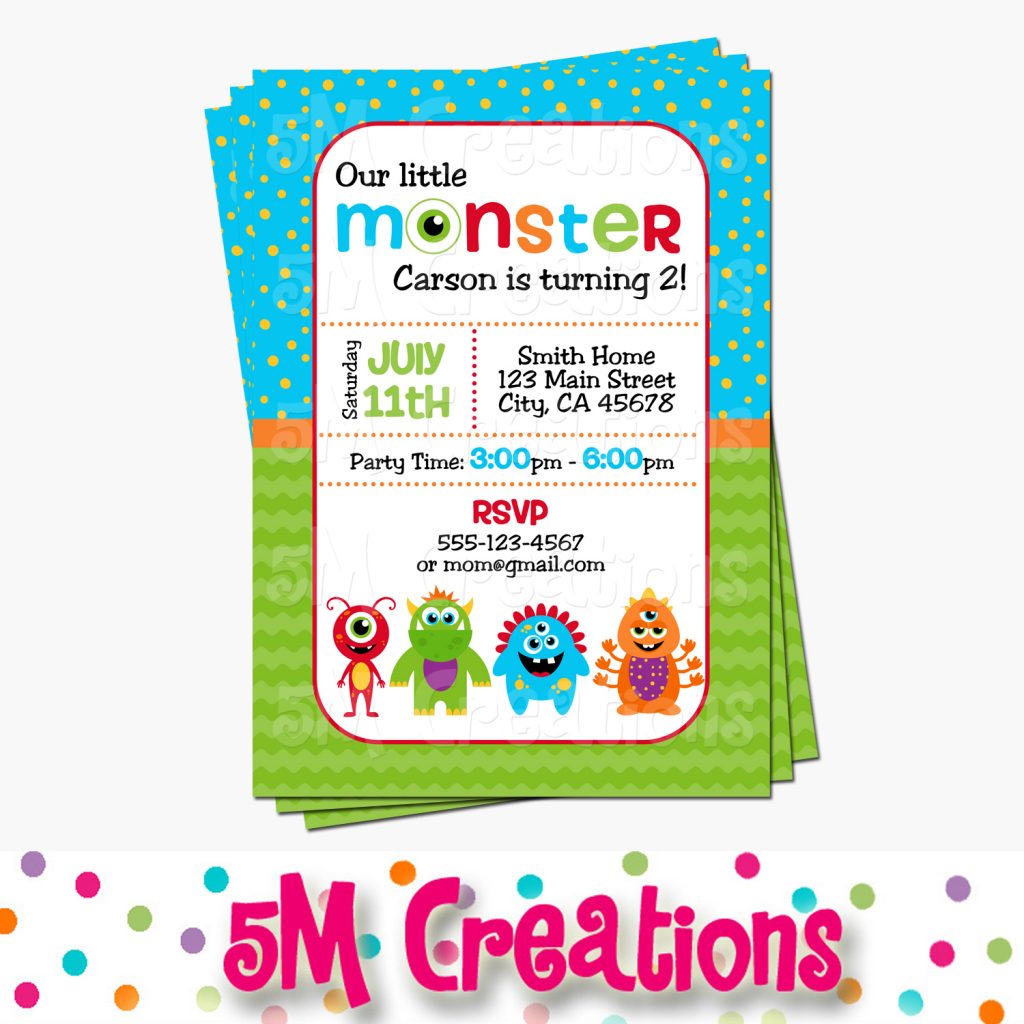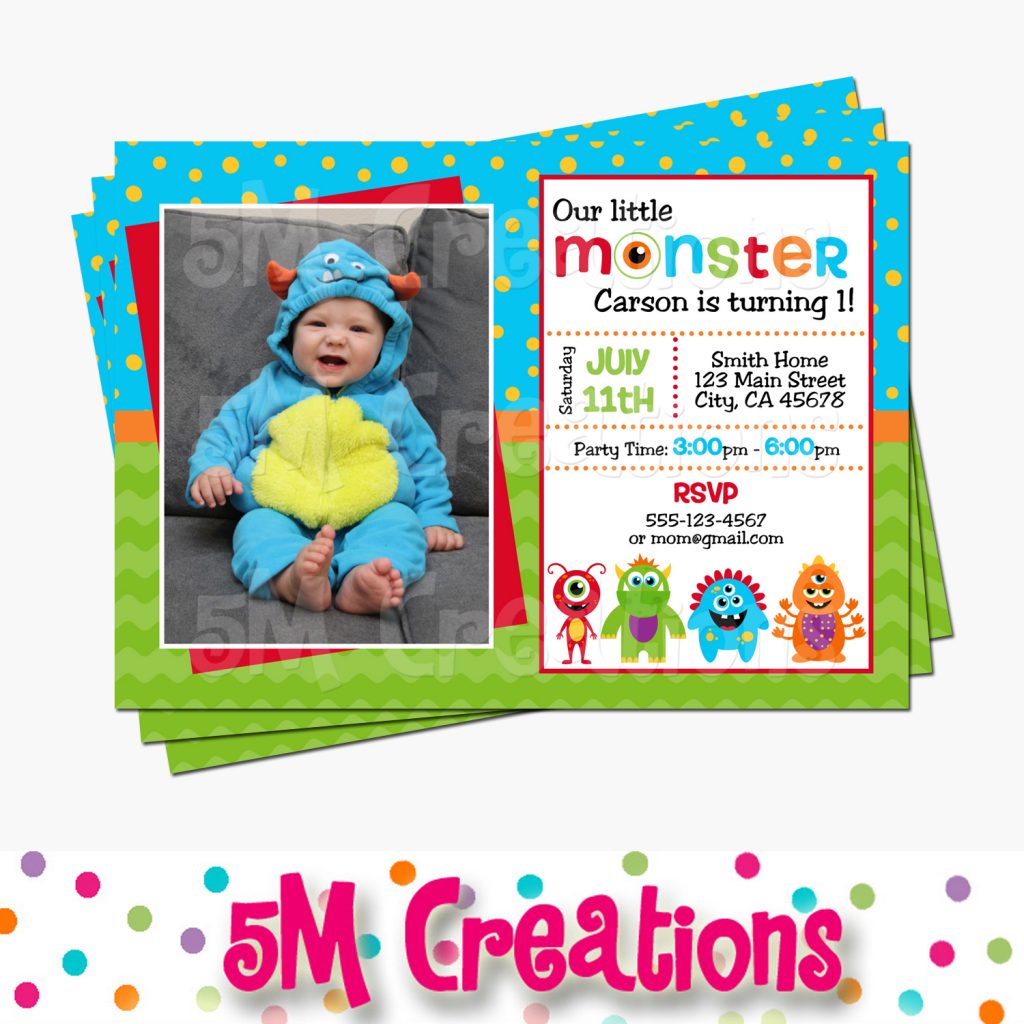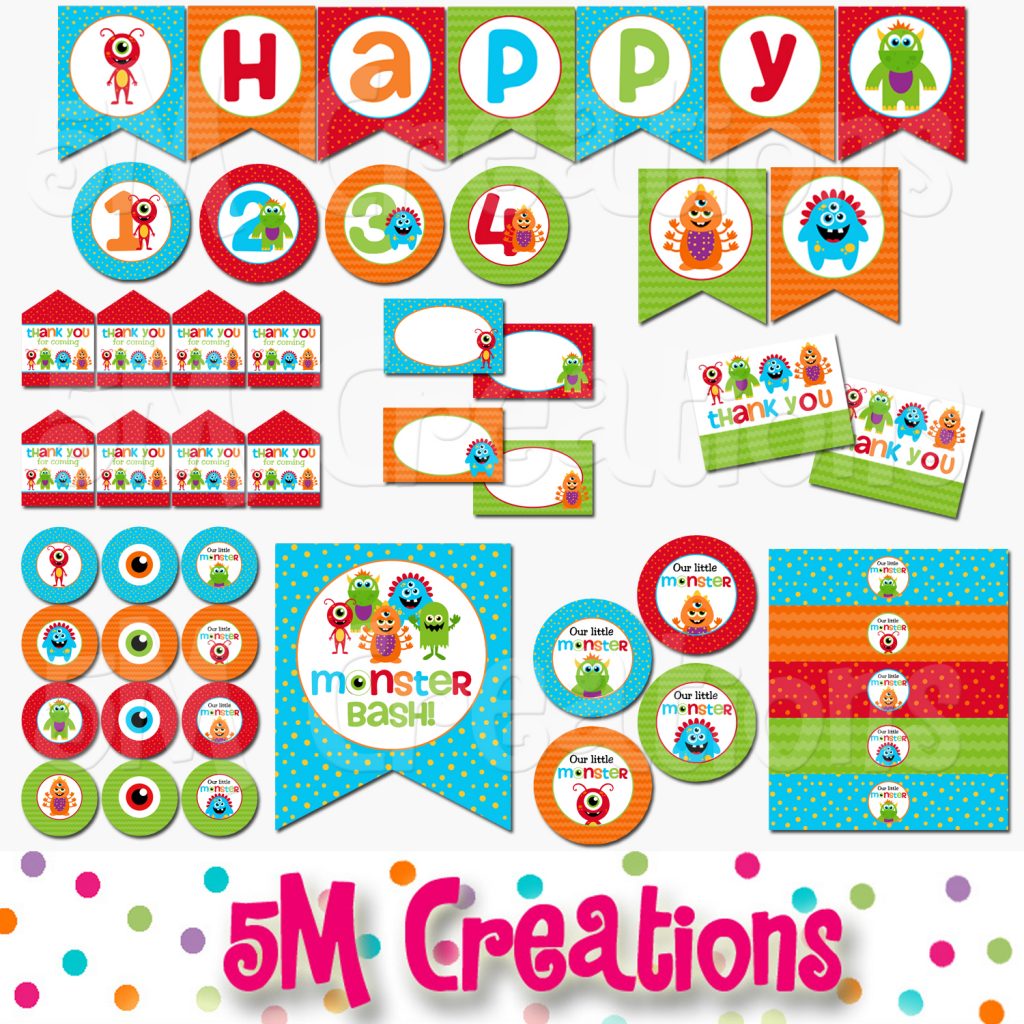 Shirt: Heather Rogers Designs
Monster Sticker Pages: Oriental Trading
Monster Plush: Oriental Trading
Monster Suckers: Oriental Trading
5M Creations May 14th, 2018
Posted In: Uncategorized
Welcome to the NEW 5M Creations blog! If you loved our old blog then you will love this even more. I am working on getting a new website up and running with all of our new party themes and printable products. I am hoping to share lots of our new items here on the blog with you as well as feature other great party companies, party tips, and more. Let me know what type of things you are interested in seeing in the comments. Be watching for more coming your way soon. Please help us spread the word by sharing our new blog with your friends,  check out our etsy shop at www.5mcreations.etsy.com, follow us on Instagram @5MCreations, and on pinterest at www.pinterest.com/5mcreations.
Don't worry! All of your favorite old party posts can still be seen on our old blog. www.5mcreations.blogspot.com. Thanks for stopping by.
kholsapple January 2nd, 2016
Posted In: Uncategorized
« Previous Page