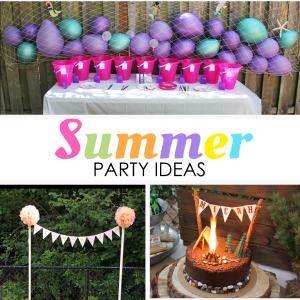 Flowers are blooming and the sun is shining. Ok so it's only March but it has been gorgeous here and making me long for summer days. If you are a planner like me you are already thinking ahead to summer birthdays. I am sharing a few of my most popular themes great for those summer birthdays. None of my kids actually have summer birthdays. I am always so envious of friends who get to have warm, water filled backyard parties. I hope you enjoy some of the ideas below.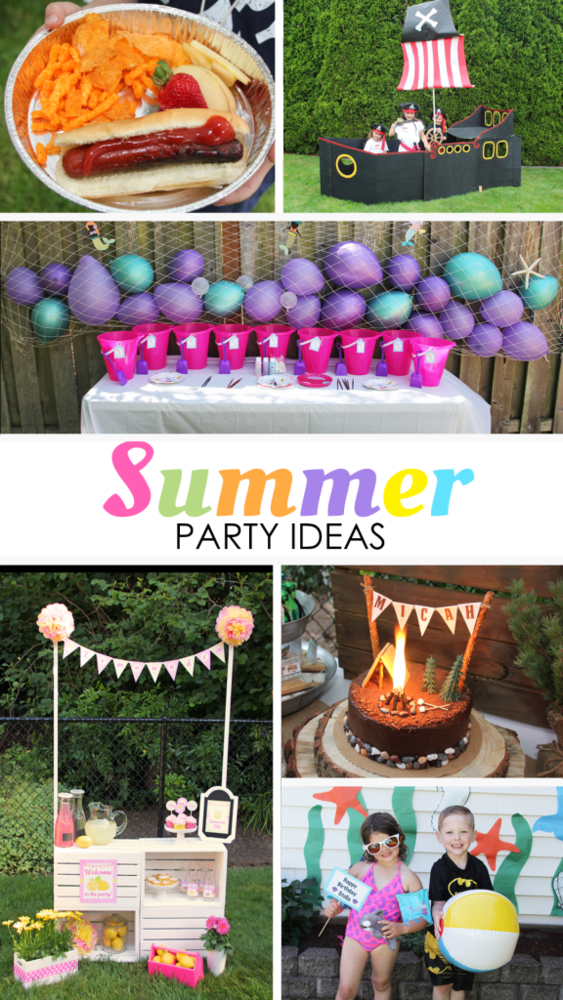 MERMAID PARTY
Do you have a mermaid lover? This party has such gorgeous colors that scream mermaid. It's a beautiful mix of classic party décor, balloons, treats, etc and backyard fun. This would be a great theme for a birthday party hosted at a pool as well.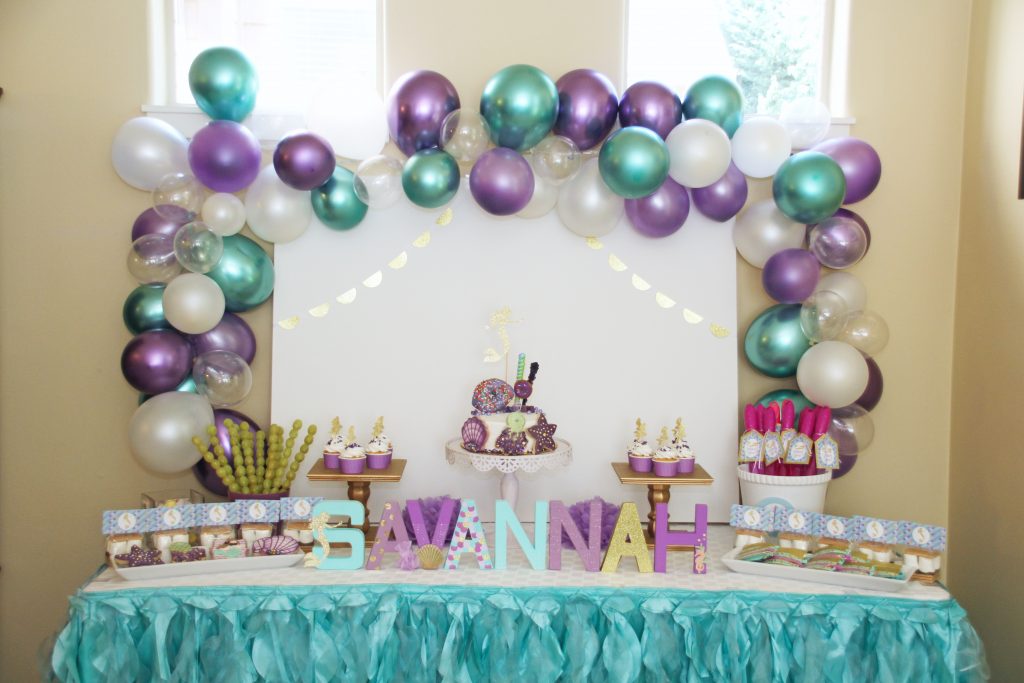 Sand buckets are the perfect container for a party favor. Guests will get lots of use from it all summer long.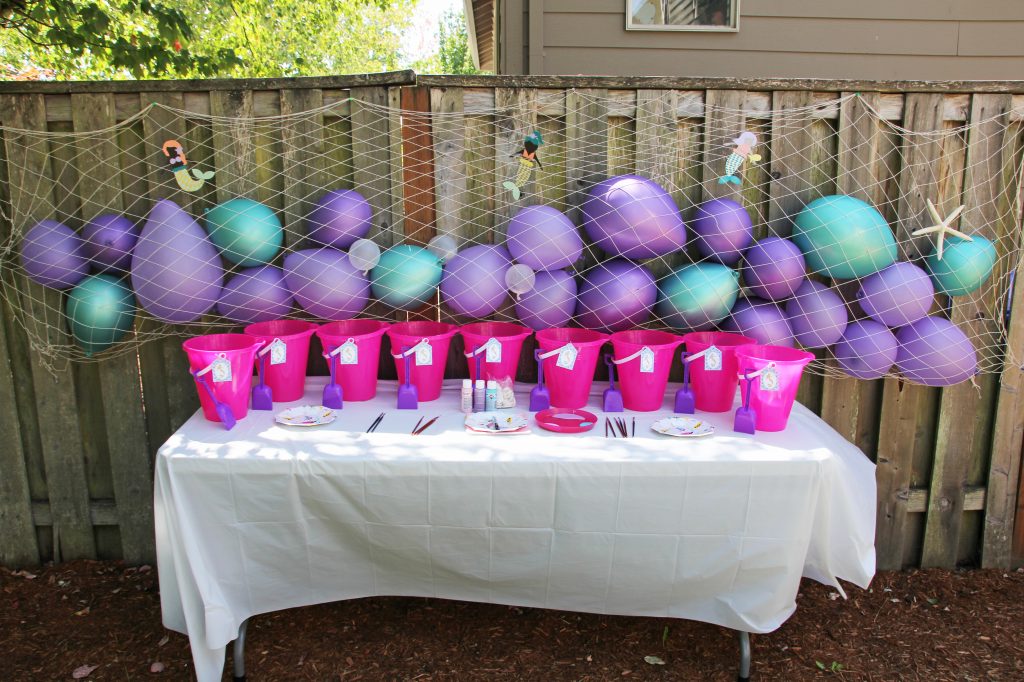 Water guns, sprinklers, a pool. Any water play is the perfect activity. Beach towels double as mermaid tails. A perfect mix of function and fun!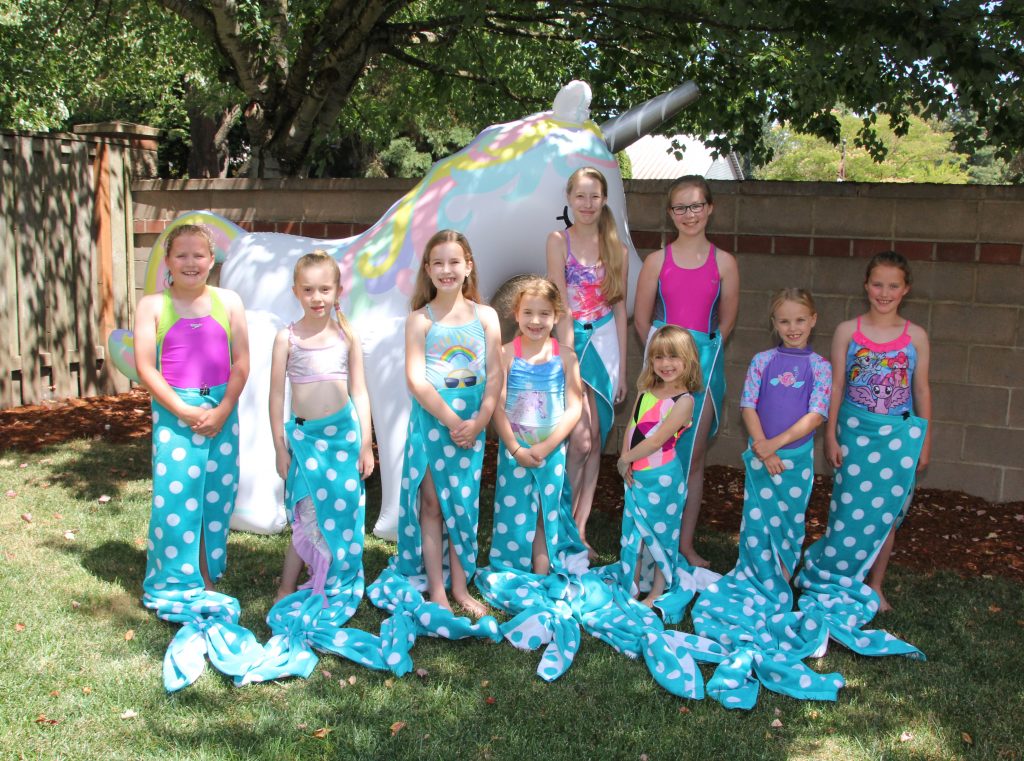 You can see more mermaid party photo details here.
PIRATE PARTY
Next up is a PIRATE party theme. This is a great theme for boys and girls as shown in this party for 3 siblings. They utilized their trampoline to create the sea. kiddy pool as walk the plank, party games, and an amazing pirate ship made by mom.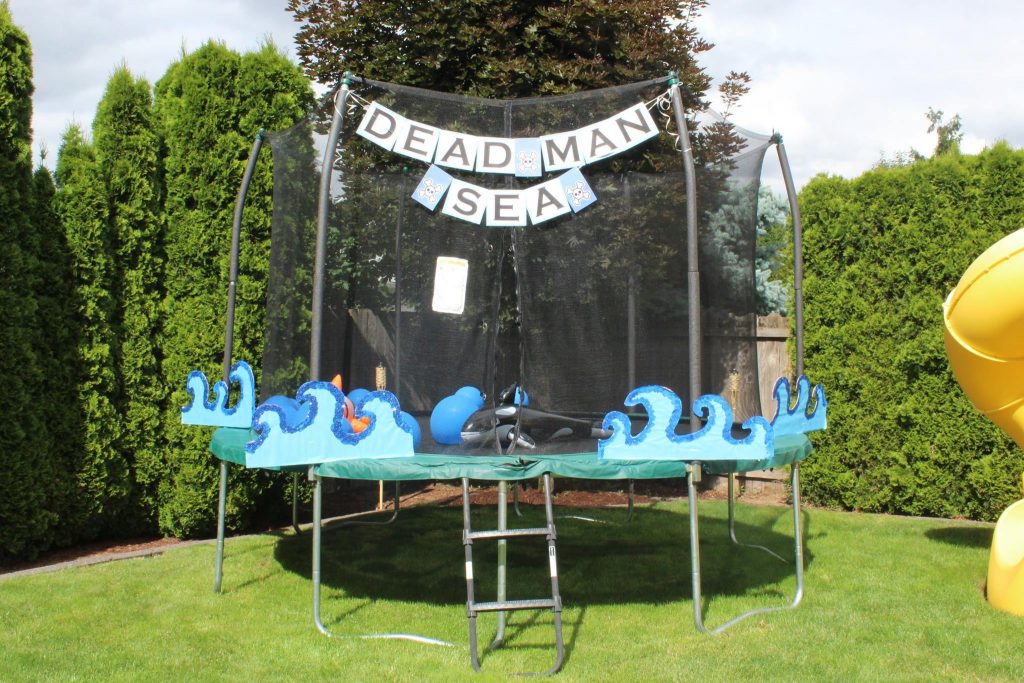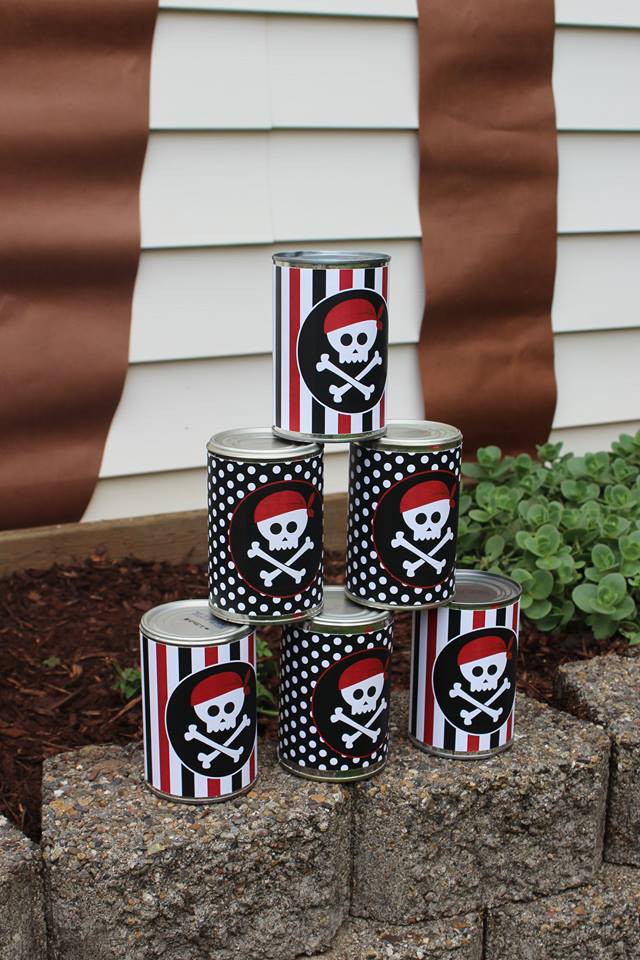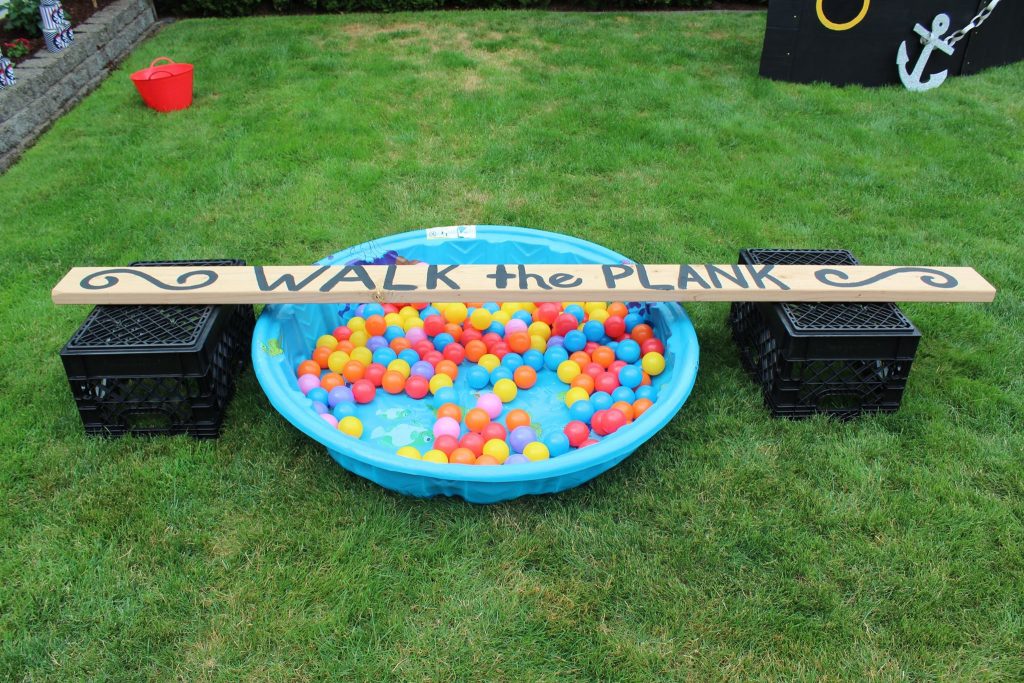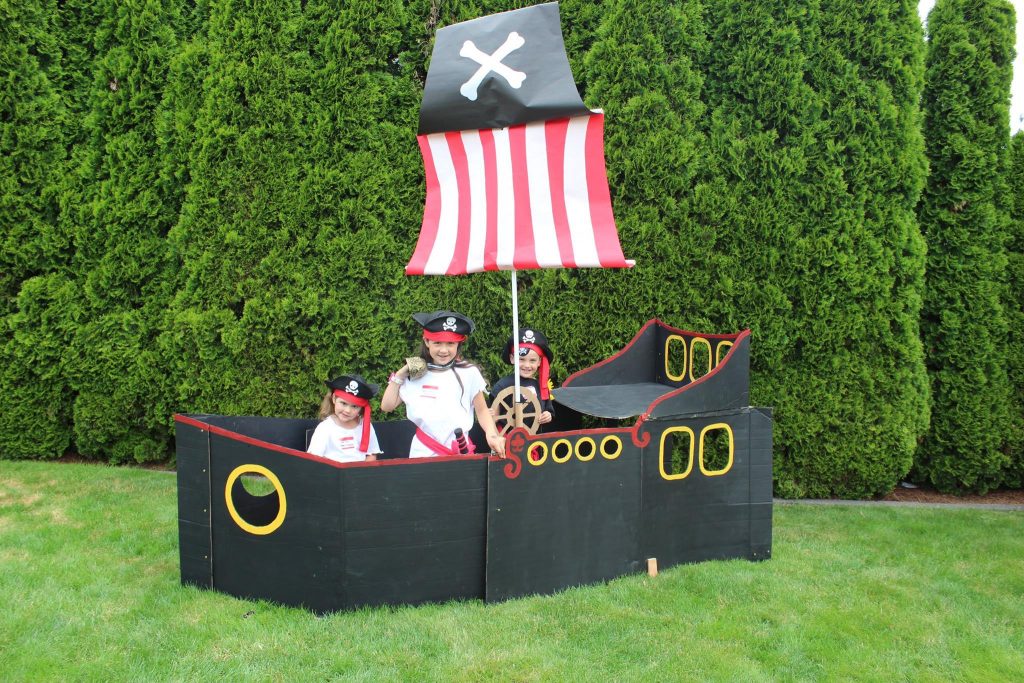 Check out all of the pirate party fun here. There are lots more pirate party tips including a tattoo station and lots of great pirate party food ideas.
CAMPING PARTY
This next party is a personal favorite. I threw a camping themed birthday for my twins. This actually wasn't in the summer. We battled rain, but it was so worth it. A camping theme can be done in the backyard or at an actual campground. The most important thing is, Don't Forget the Smores!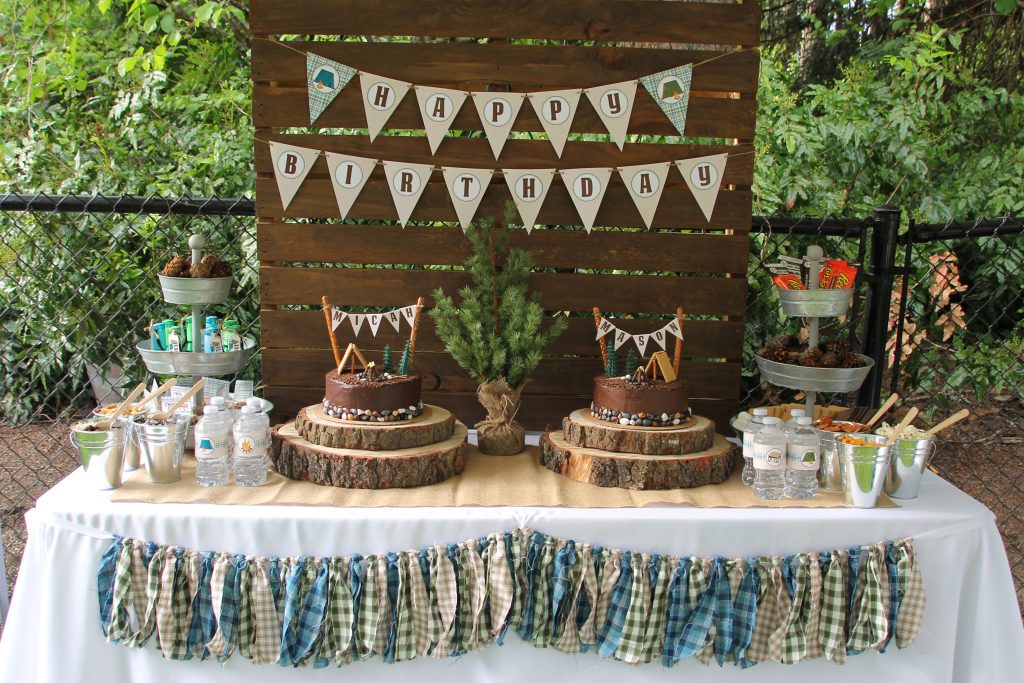 We had a scavenger hunt in the forest behind our house. This was a big hit.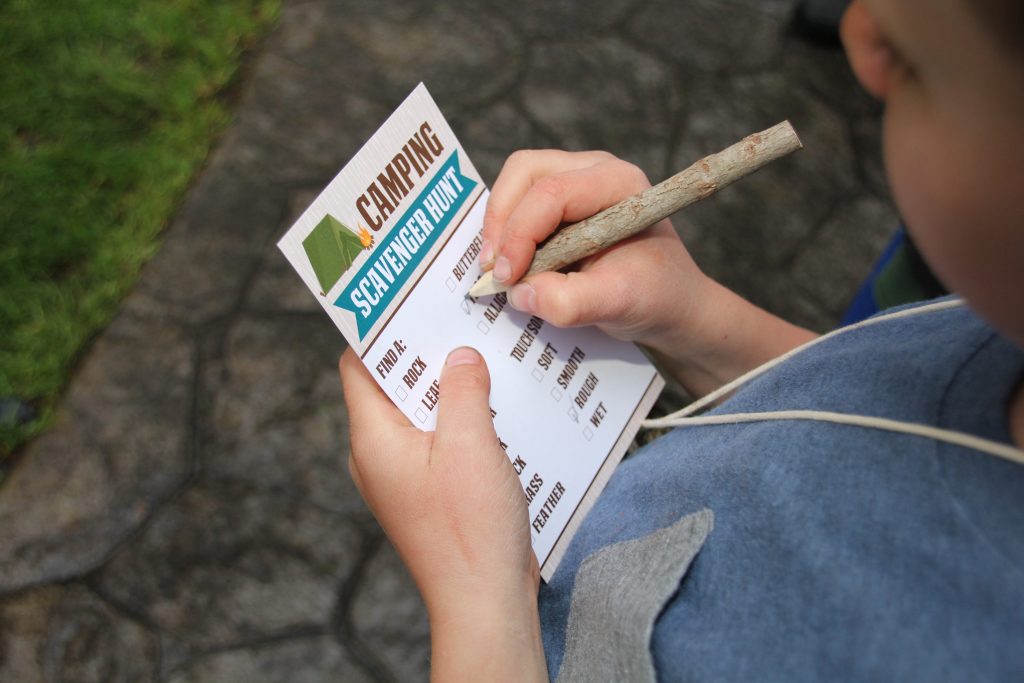 Hotdogs and smores over the fire was the party themed party food. Easy and delicious. We also had a create your own trail mix bar. Lots of yummy snacks to mix and match.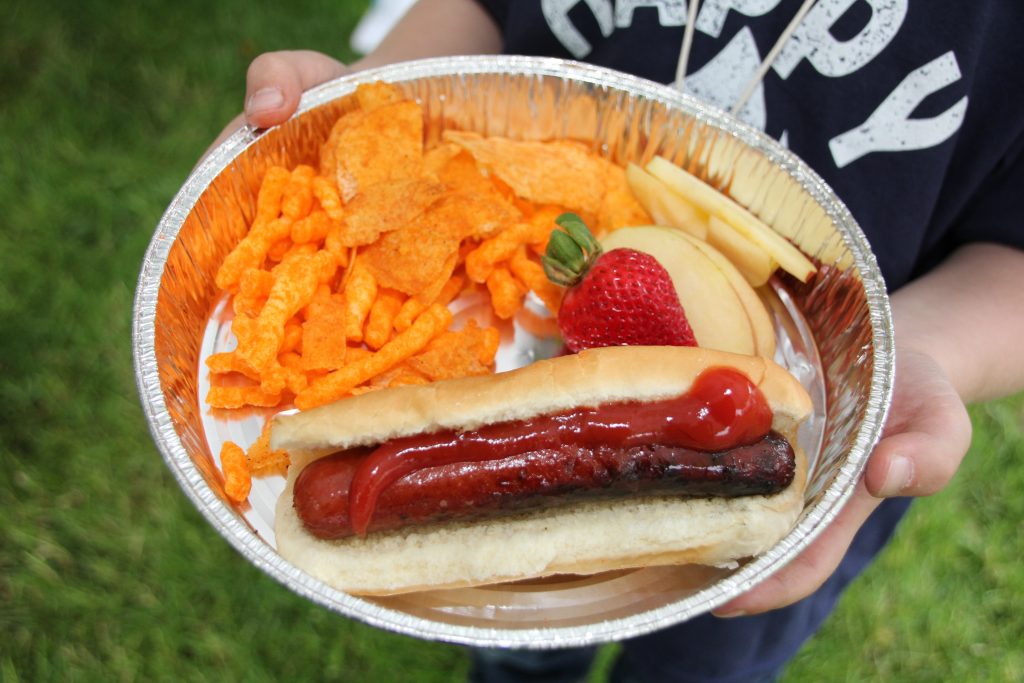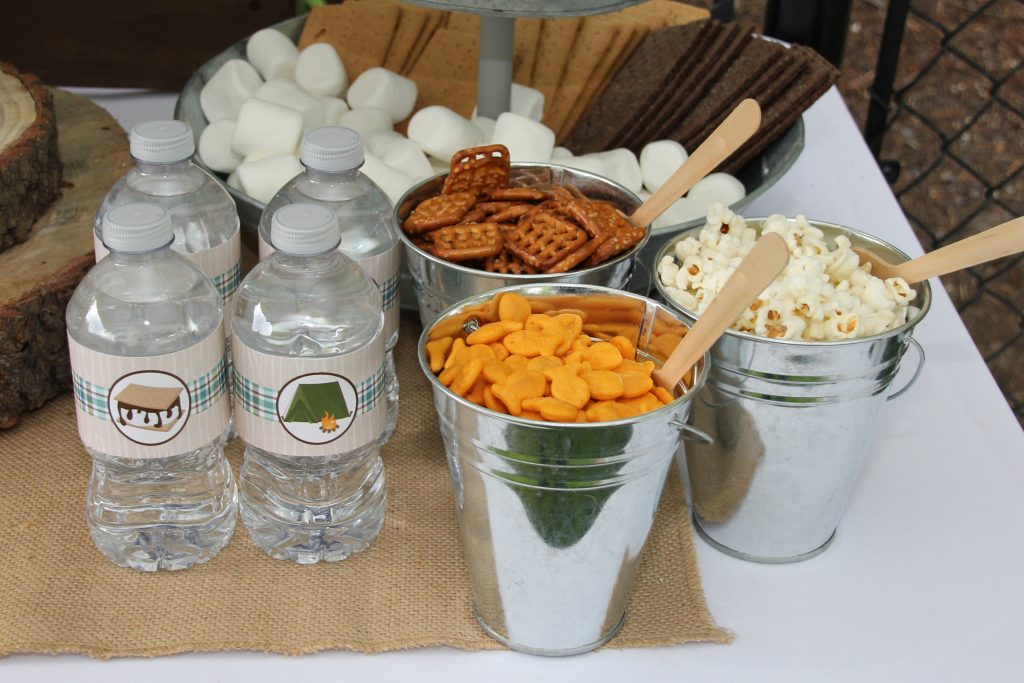 These smores kits were just one of the party favors the boys took home. Check out more details here.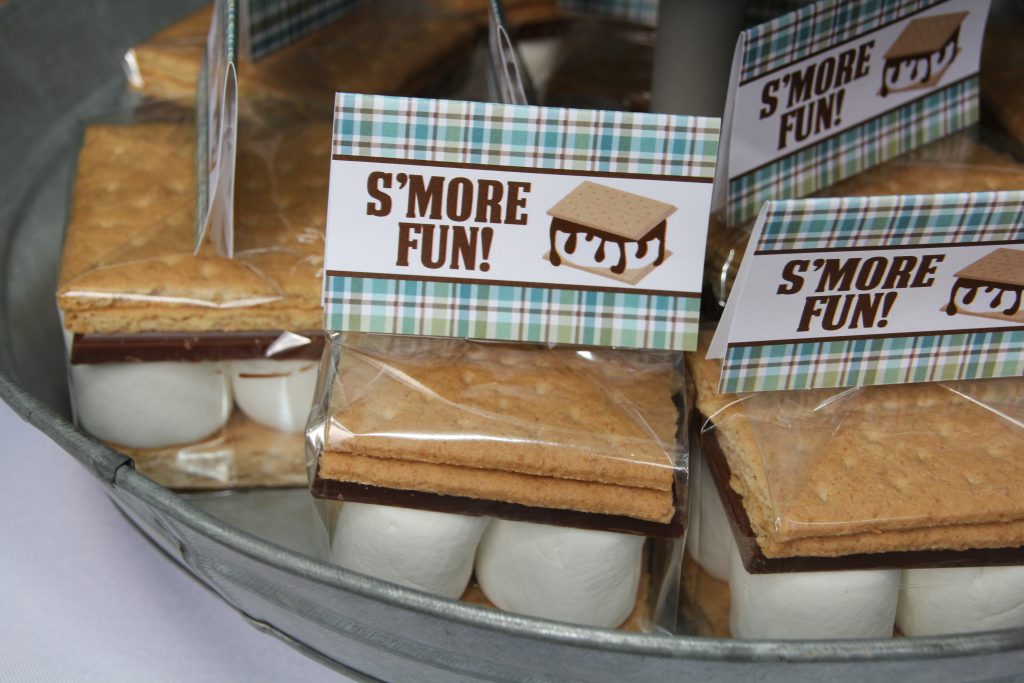 LEMONADE STAND PARTY
A lemonade stand is such a classic memory of a childhood summer day. If your kid has not done one, I am sure they have probably asked to at some point. I know mine have. We have never lived in a great place to have a real lemonade stand. This party brought all of the fun with a beautiful tea party feel right in our backyard.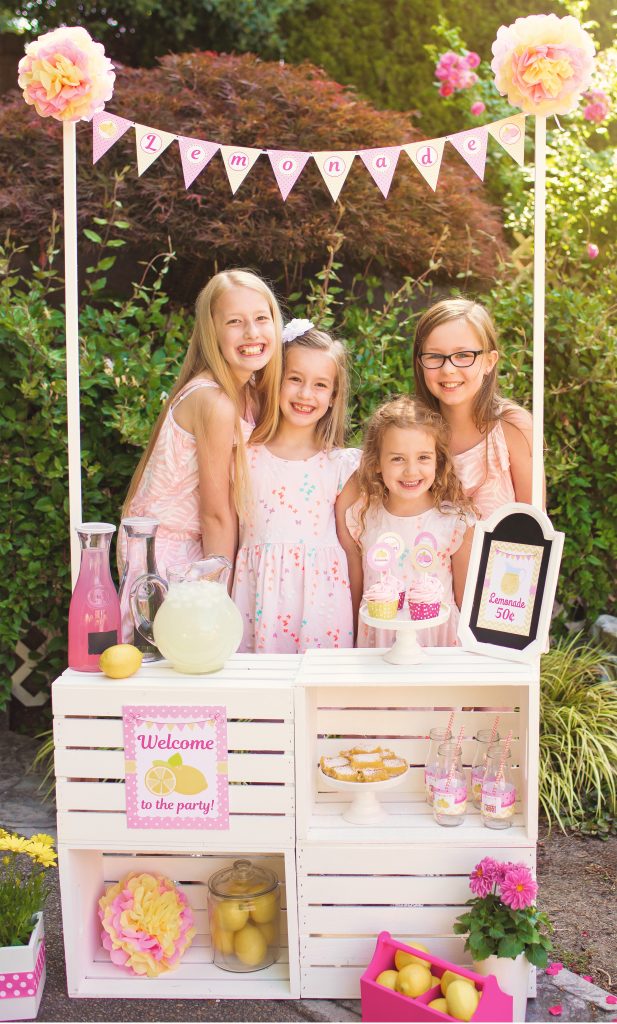 Sweet treats and party favors around the lemon theme were such a great addition to this lemonade stand. The girls took turns serving each other at the stand and enjoyed a beautiful table to eat their treats.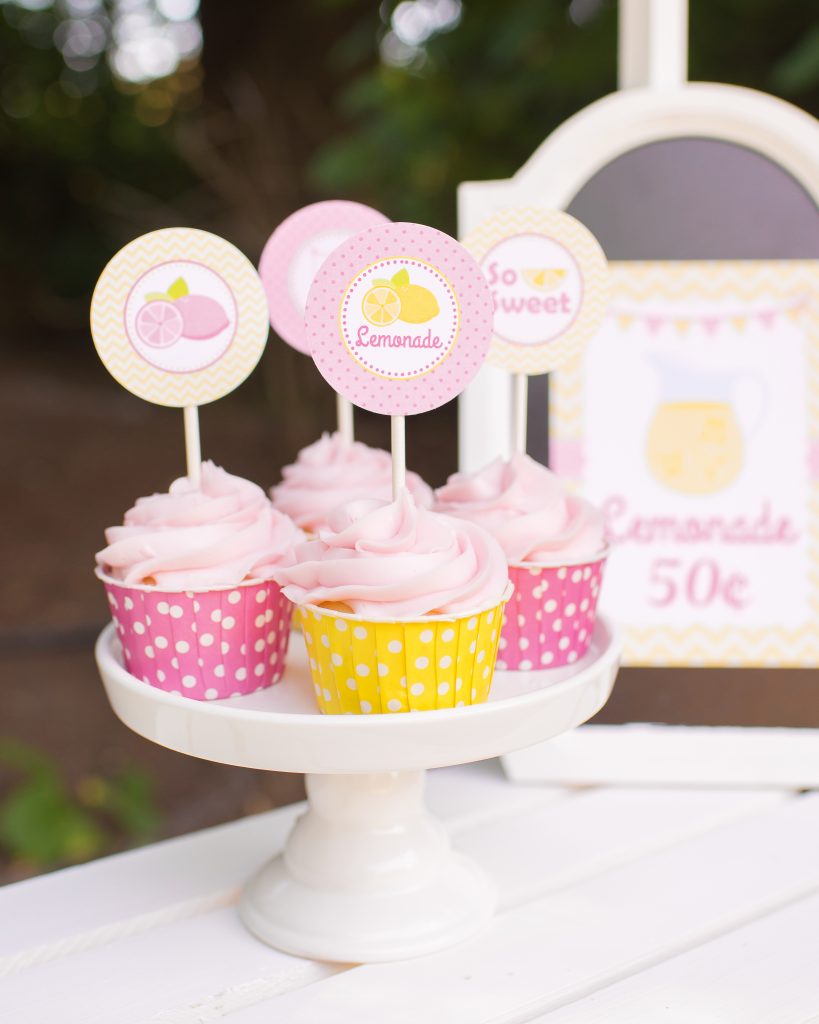 See more lemonade party details here!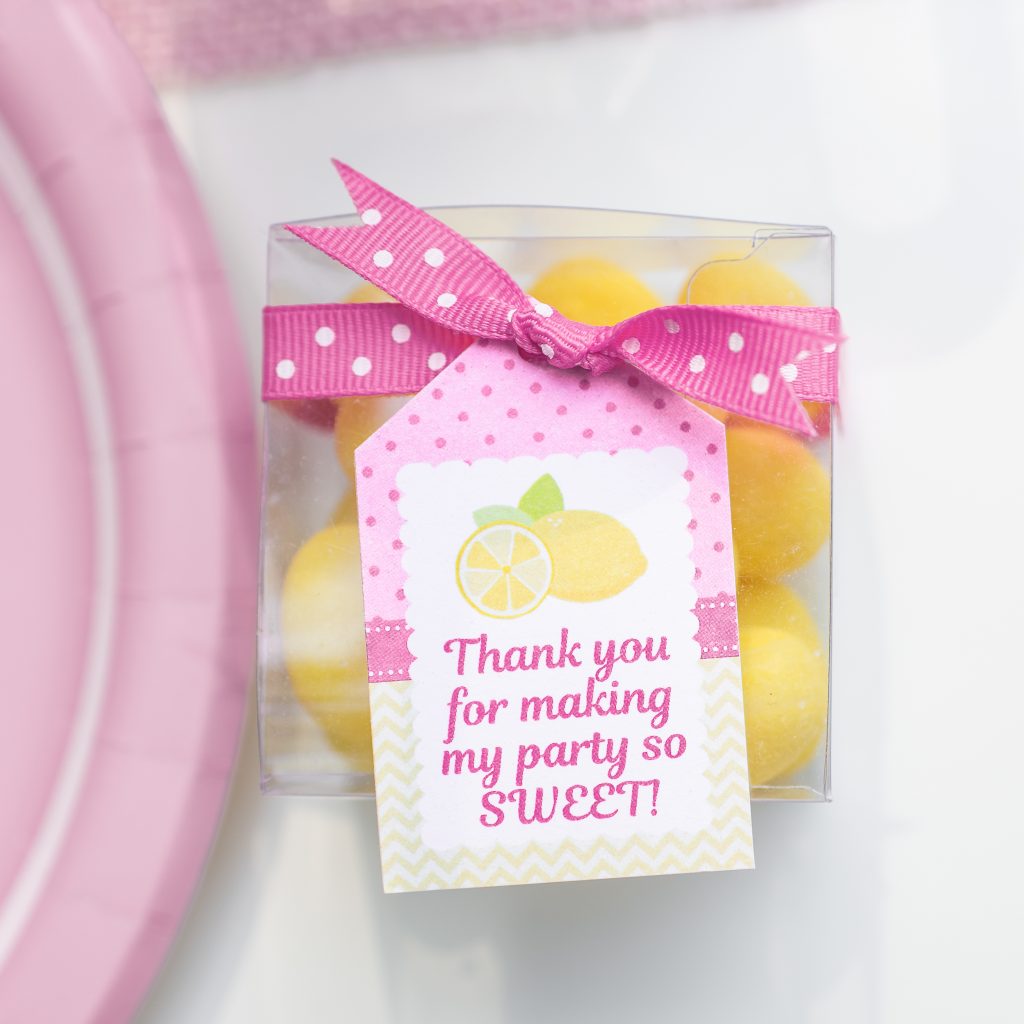 DOLPHIN PARTY
Last is this cute dolphin party. A warm summer day lends itself well to any theme under the sea. Tissue poms and simple streamers create a perfect watery backdrop.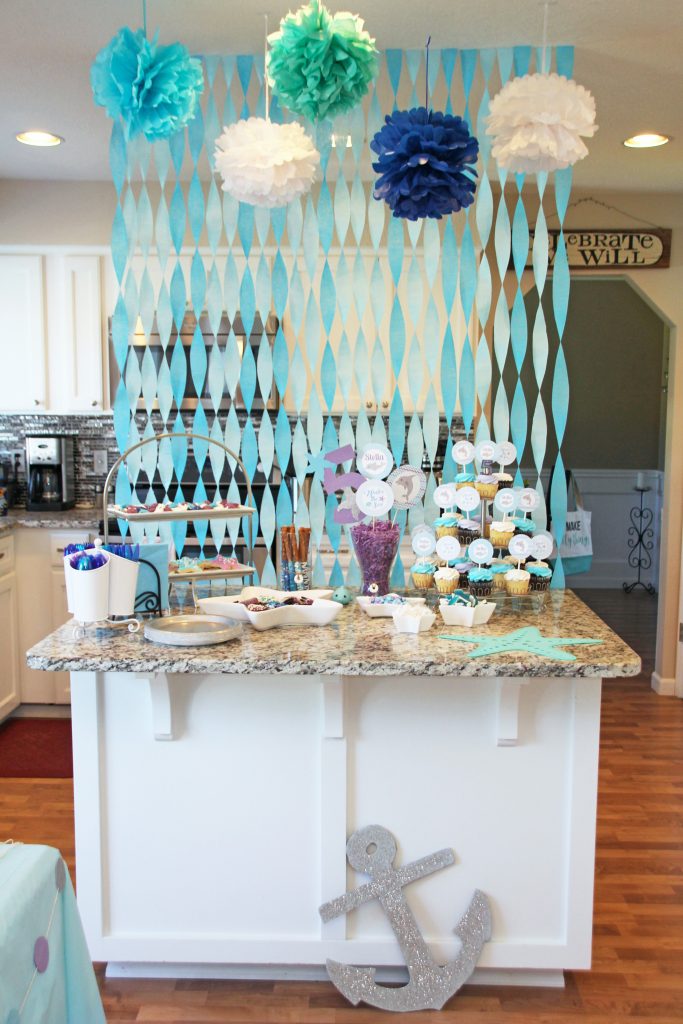 A fun photo booth with props from your summer activities is a great way to capture silly moments with your party guests.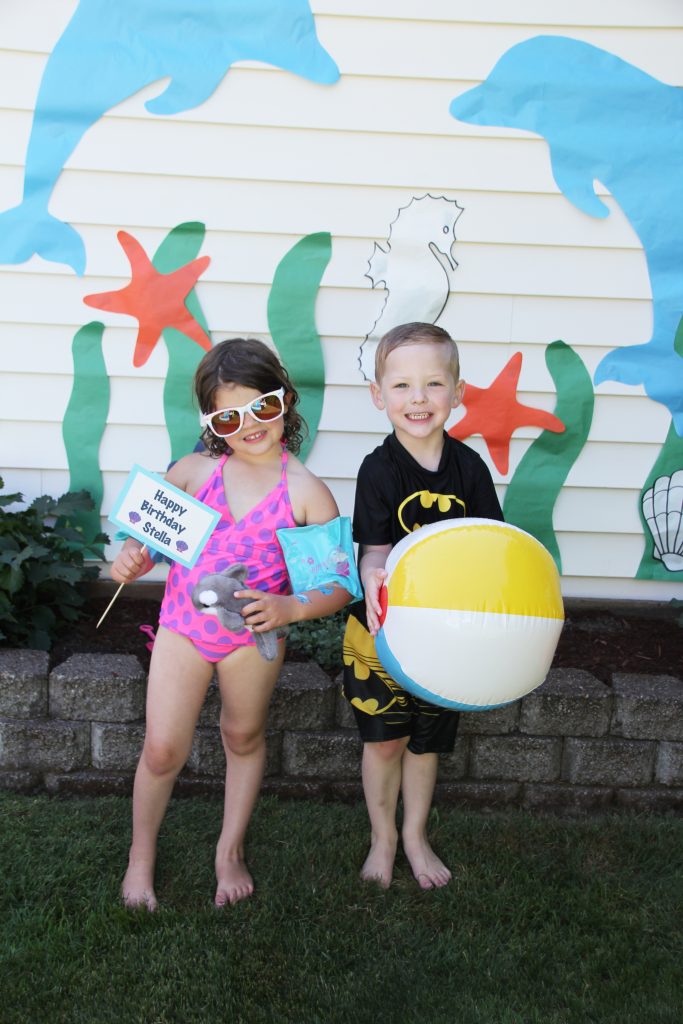 Add any water activity to this theme and you have your party activity done! The kids played for hours.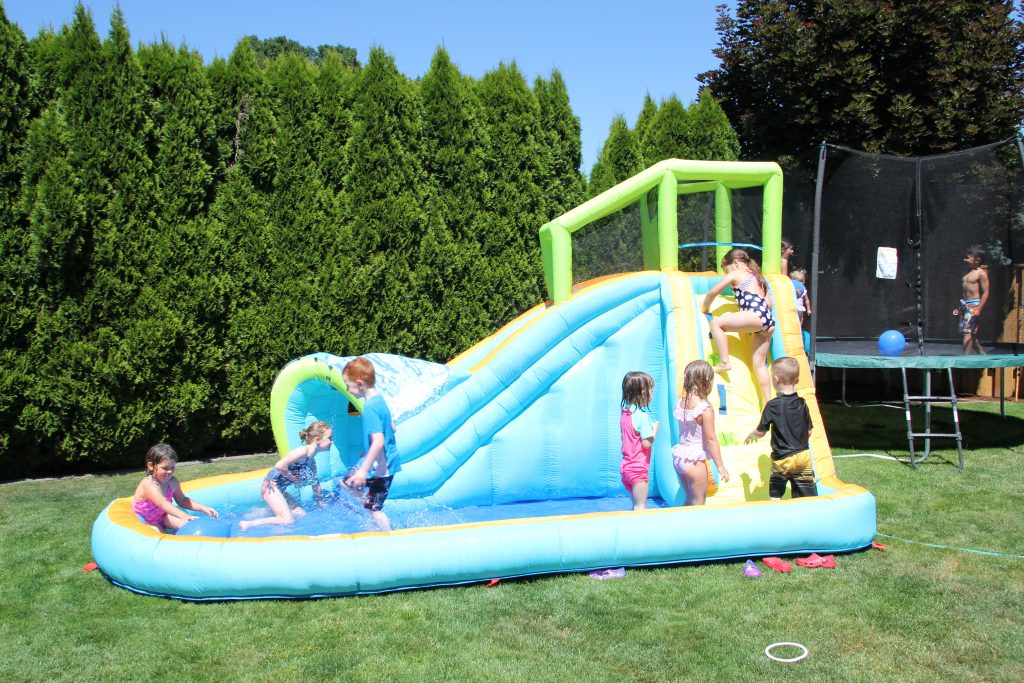 This is another theme where sand buckets work perfectly for party favors. They are inexpensive and easy to find at your local dollar store.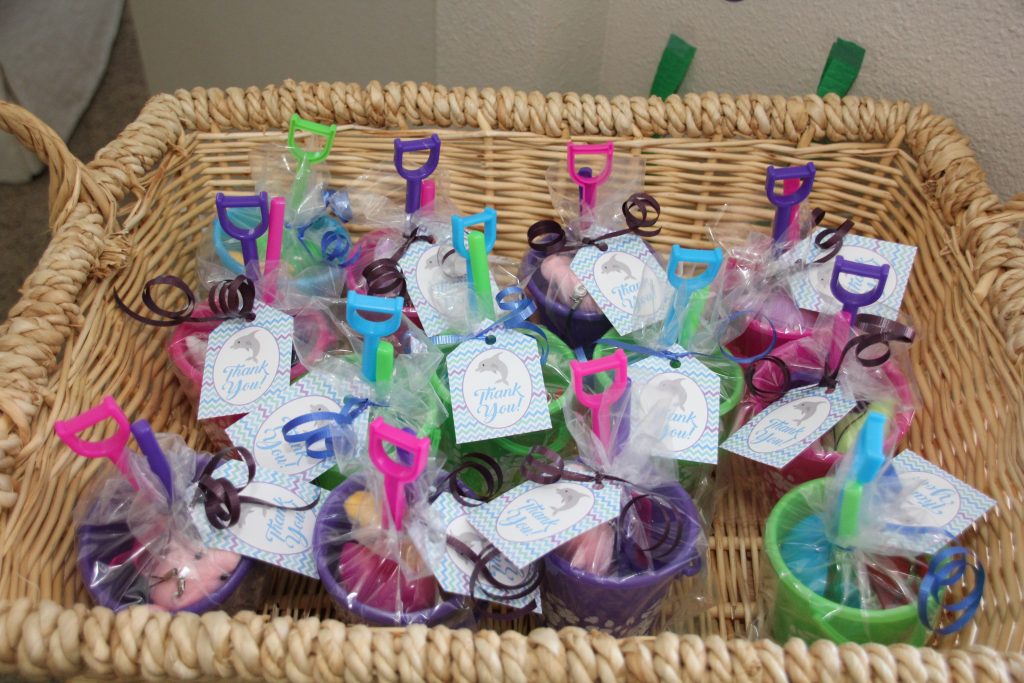 Printable party decor is such an easy way to dress up any party and season of the year.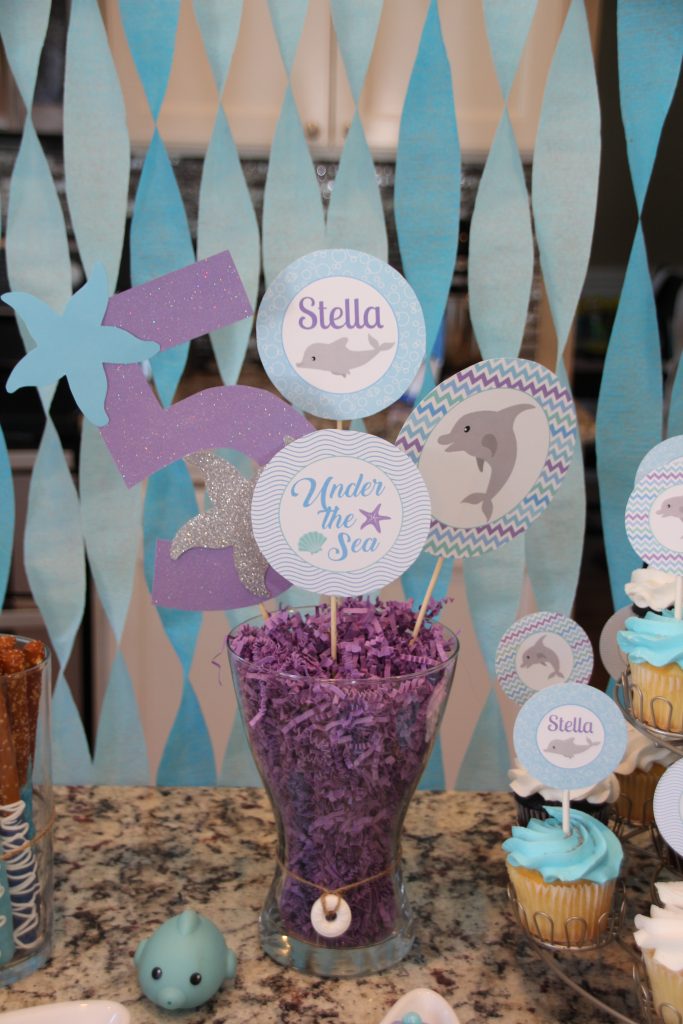 More dolphin party details here. 
Here are a few more summer themes available in my shop.
Watermelon, Cherry, Mermaid(2), Camping(2 more styles), Flamingo, Baseball
Happy summer party planning!
5M Creations March 5th, 2020
Posted In: Uncategorized
Tags: birthday party, camping party, dolphin party, kids party decor, lemonade party, mermaid party, pirate party, summer party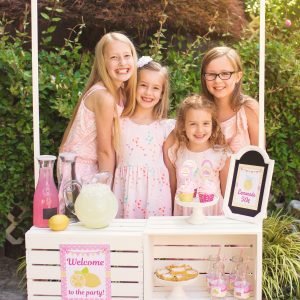 Months ago my friend Dara and I made a long drive to Hobby Lobby. It is almost 2 hours from our homes. If you are lucky enough to have ever gone to a Hobby Lobby you know why we went. We found so many fun things. We came across some adorable lemonade decorations. I mentioned to her that I have always wanted to do a lemonade party. It has never happened as my daughter has a December birthday. We decided to have a little lemonade party with 4 sweet friends. What a perfect thing to do on a summer day.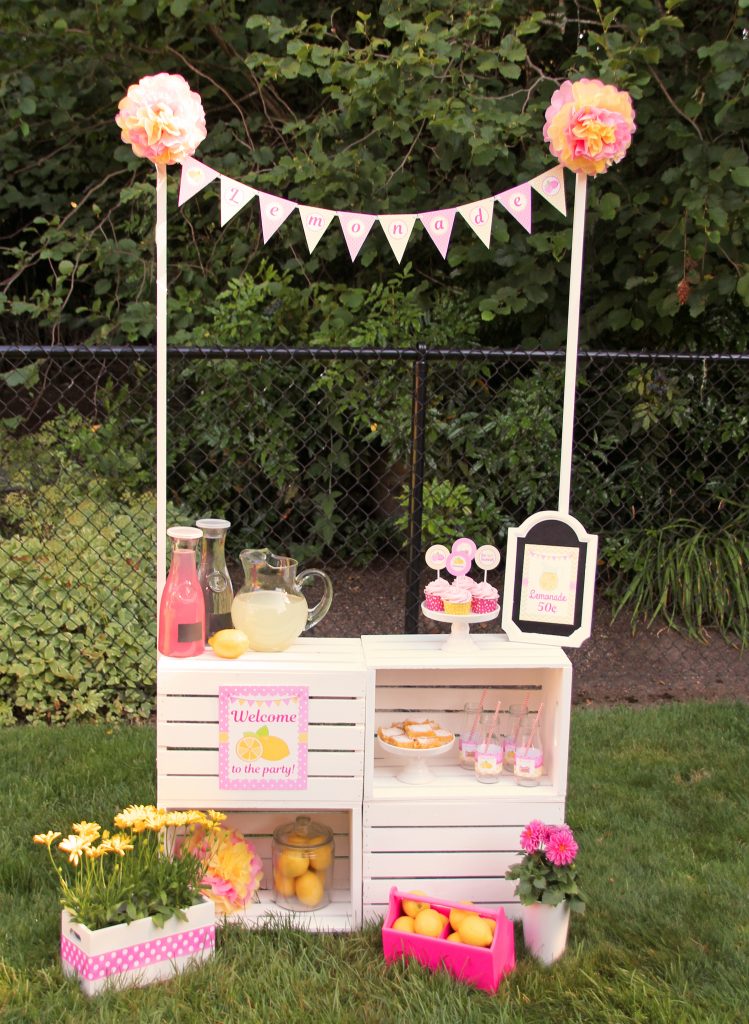 Dara found a great photo of a lemonade stand made from crates on pinterest. She went to work and created the most adorable stand. It was perfect for all of the party decor.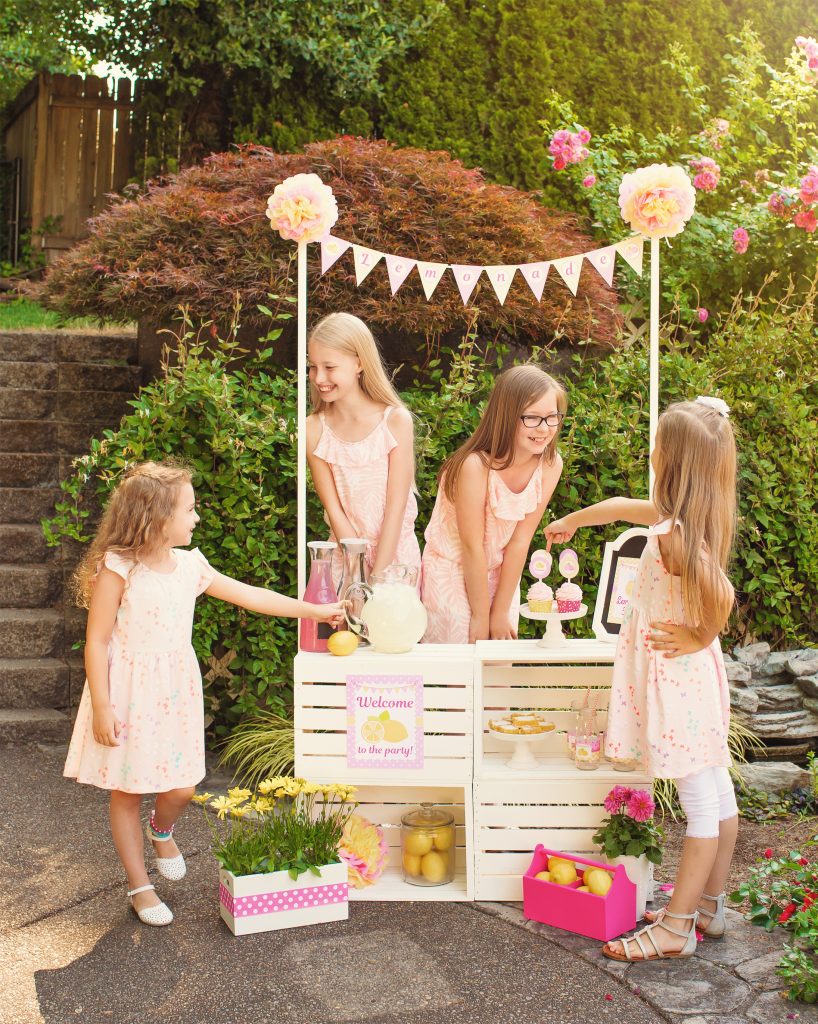 We set up the stand in my backyard. The shelves on the stand gave us places to add lots of lemon accents.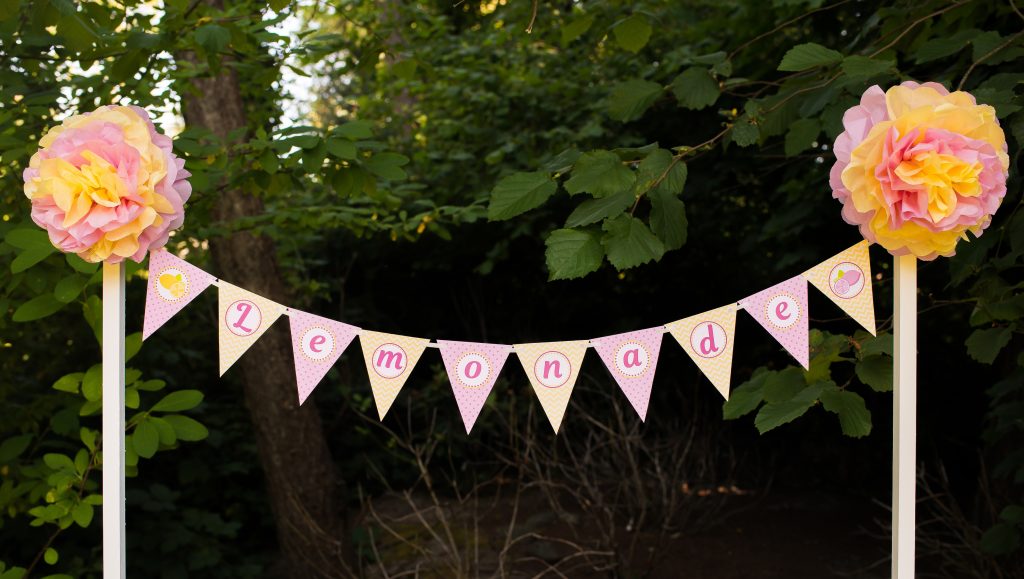 The top of the stand features my printable lemonade banner and these mini poms.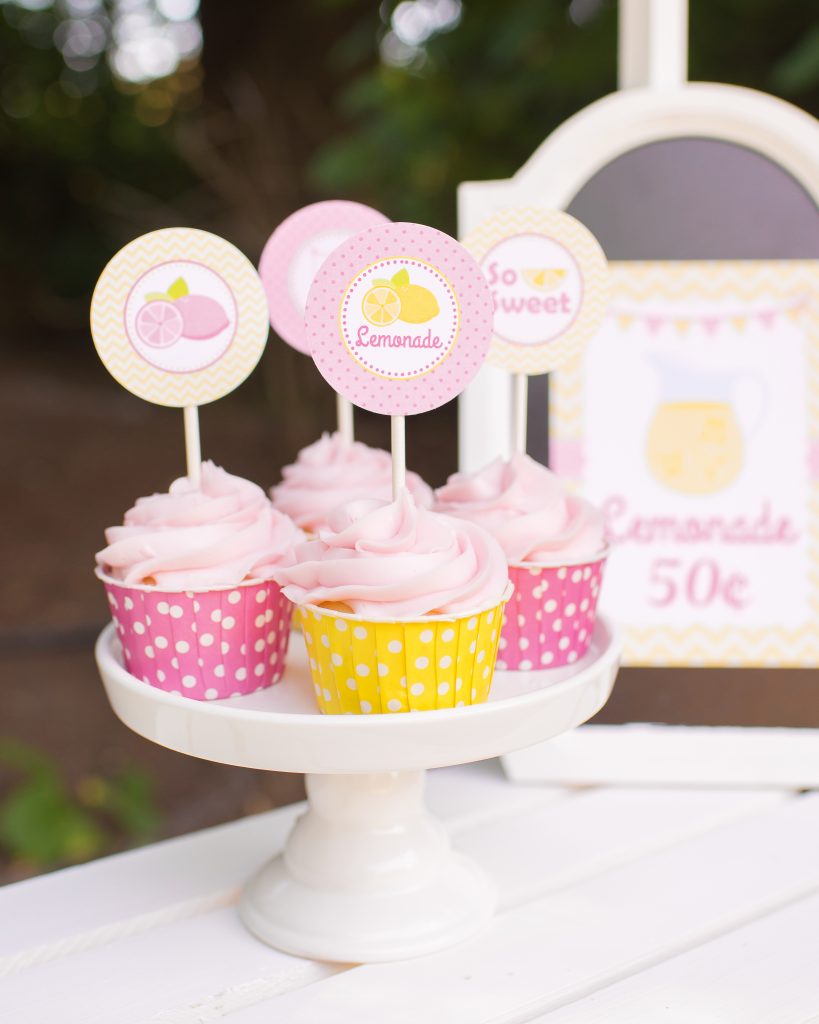 We served adorable pink cupcakes and lemon bars for our party treats. Dress up a store bought cupcake with a polka dot cup and printable lemonade stand cupcake toppers.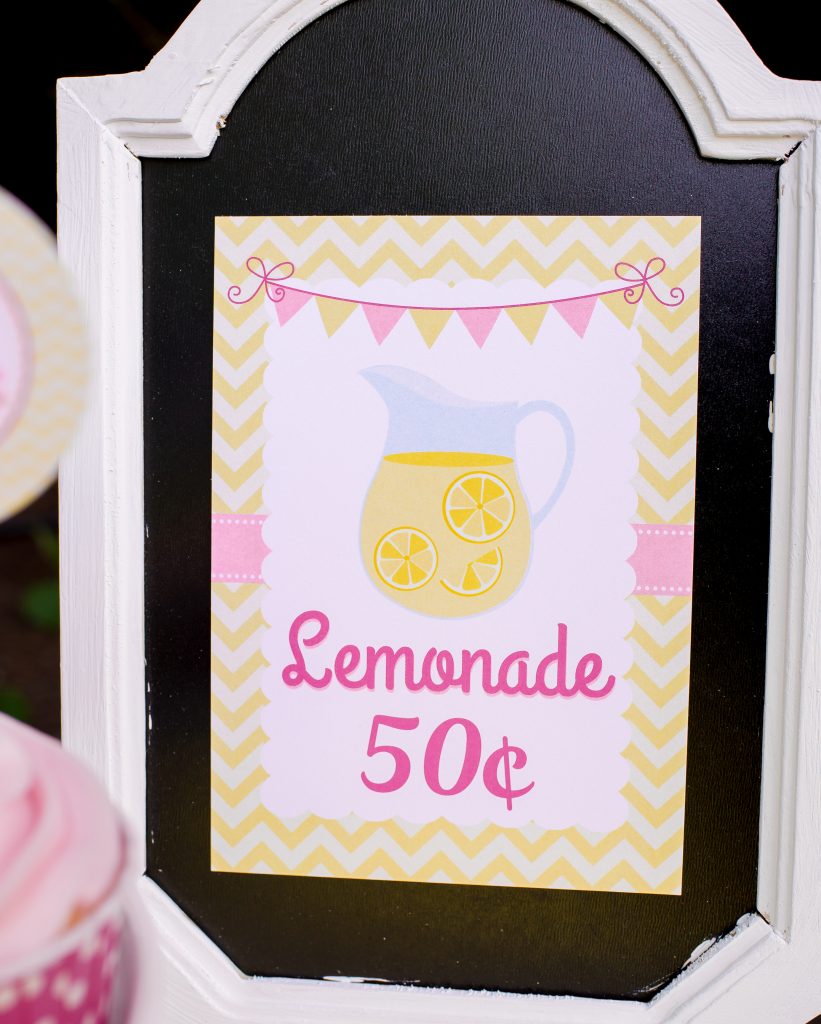 A cute chalkboard sign was the perfect frame for a printable lemonade sign. Every lemonade stand needs to tell customers how much each glass costs.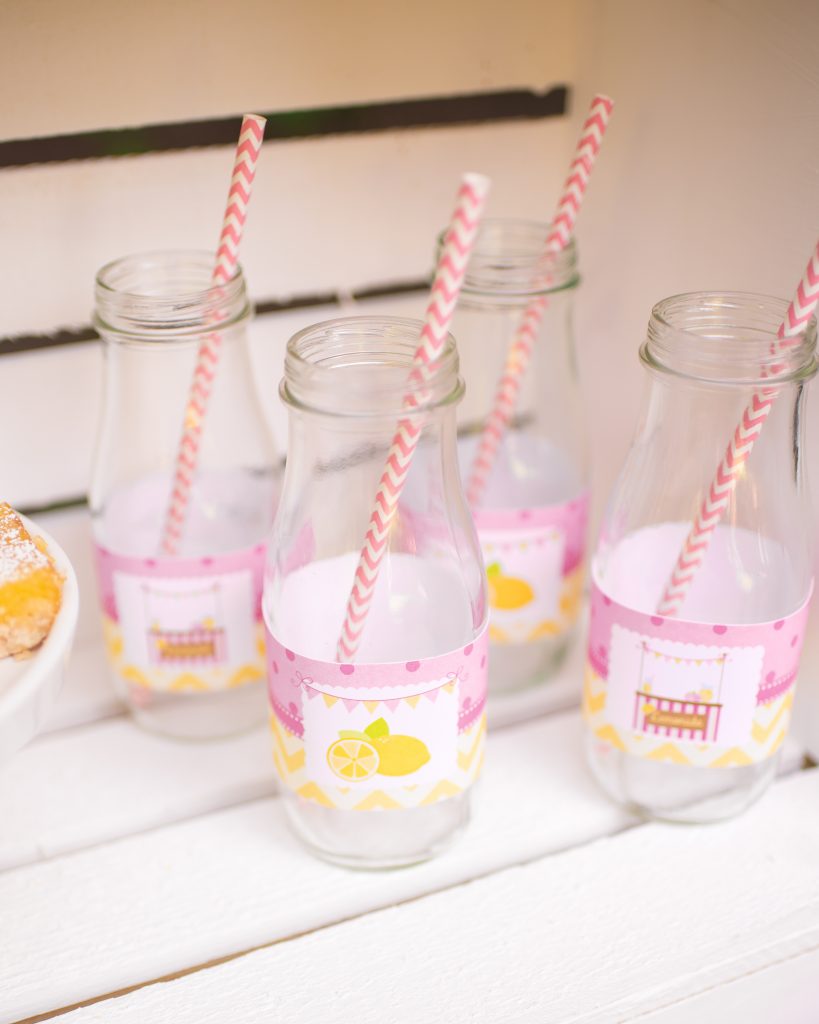 Clear glass milk bottles wrapped in my printable lemonade water bottle labels created the cutest drink containers.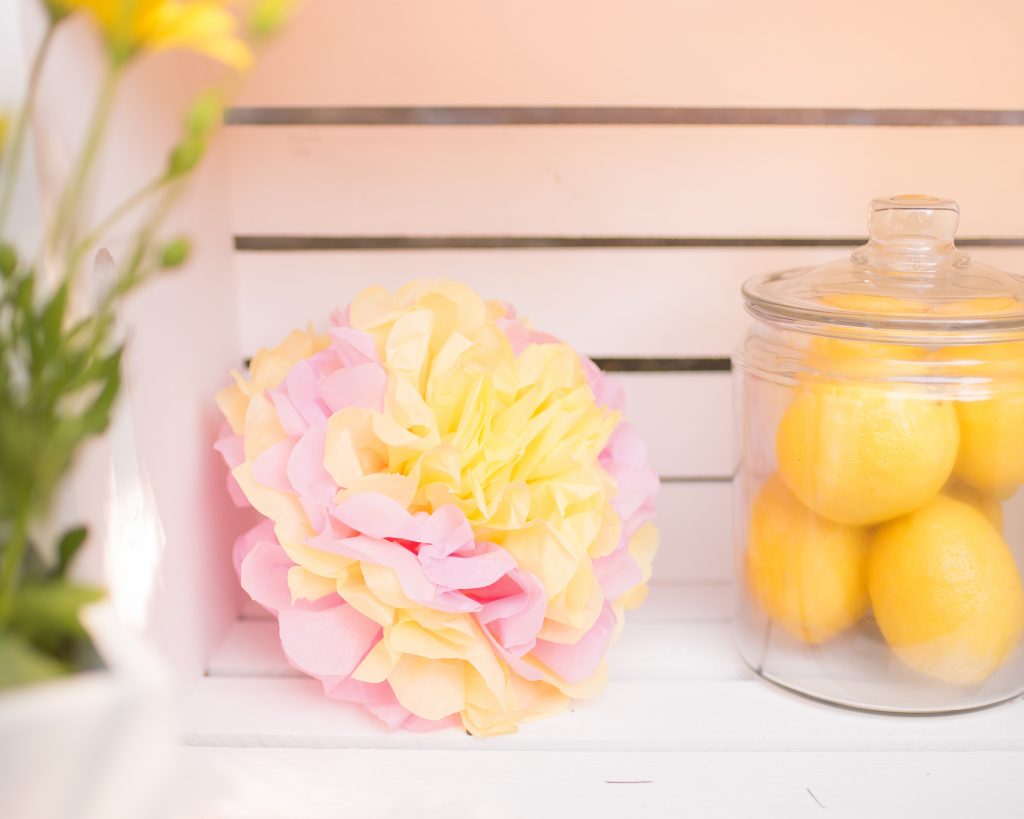 Pink and yellow layered tissue poms added a whimsical soft burst of color along side a jar of lemons.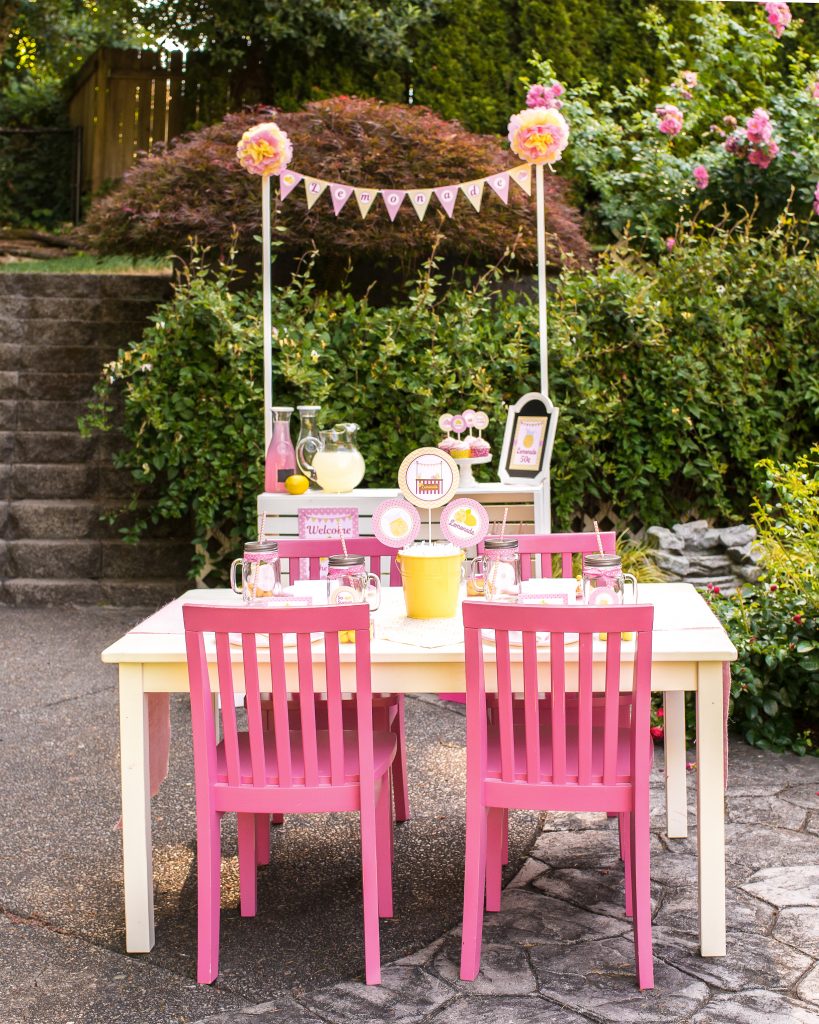 We created a tea party type atmosphere in my backyard. Dara's cute Pottery Barn table and pink chairs could not have been more perfect.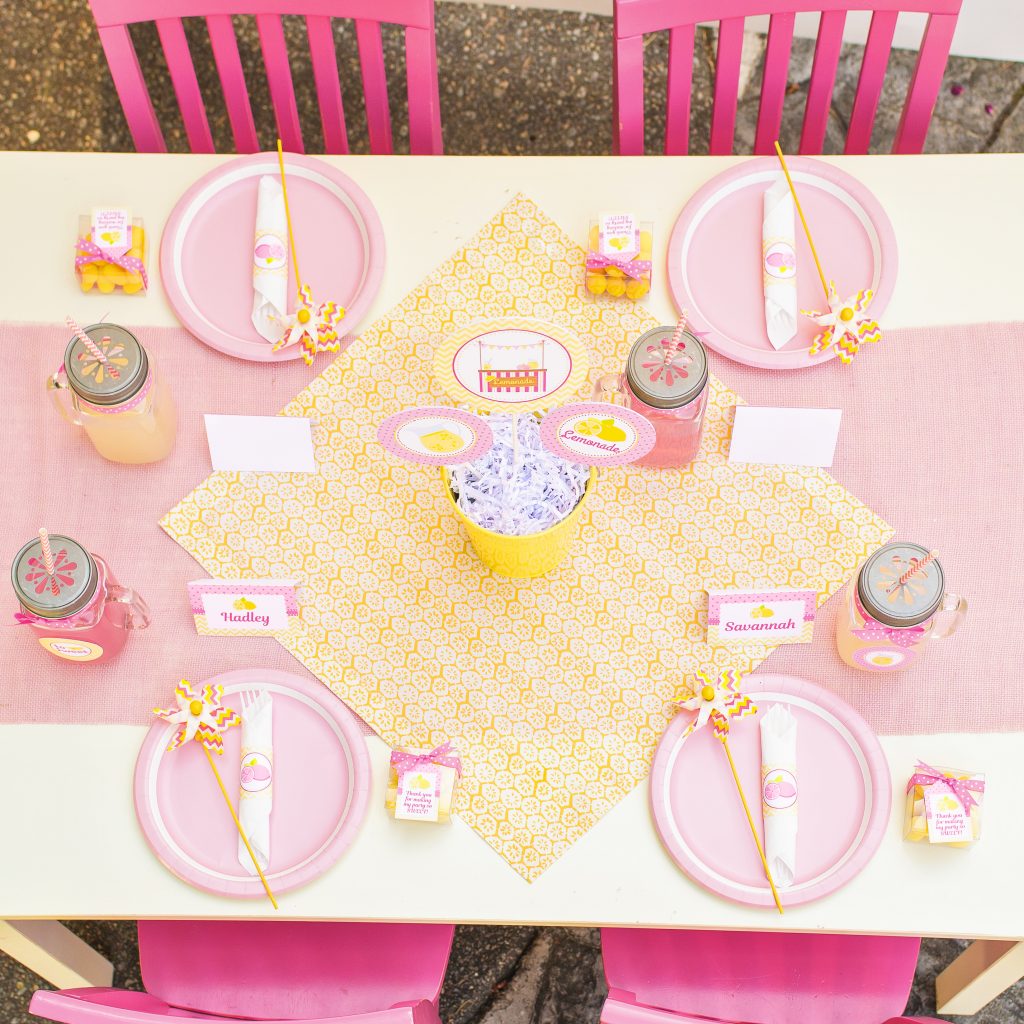 A baby pink burlap table runner was layered with a lemon slice cloth napkin to create a sweet tablescape.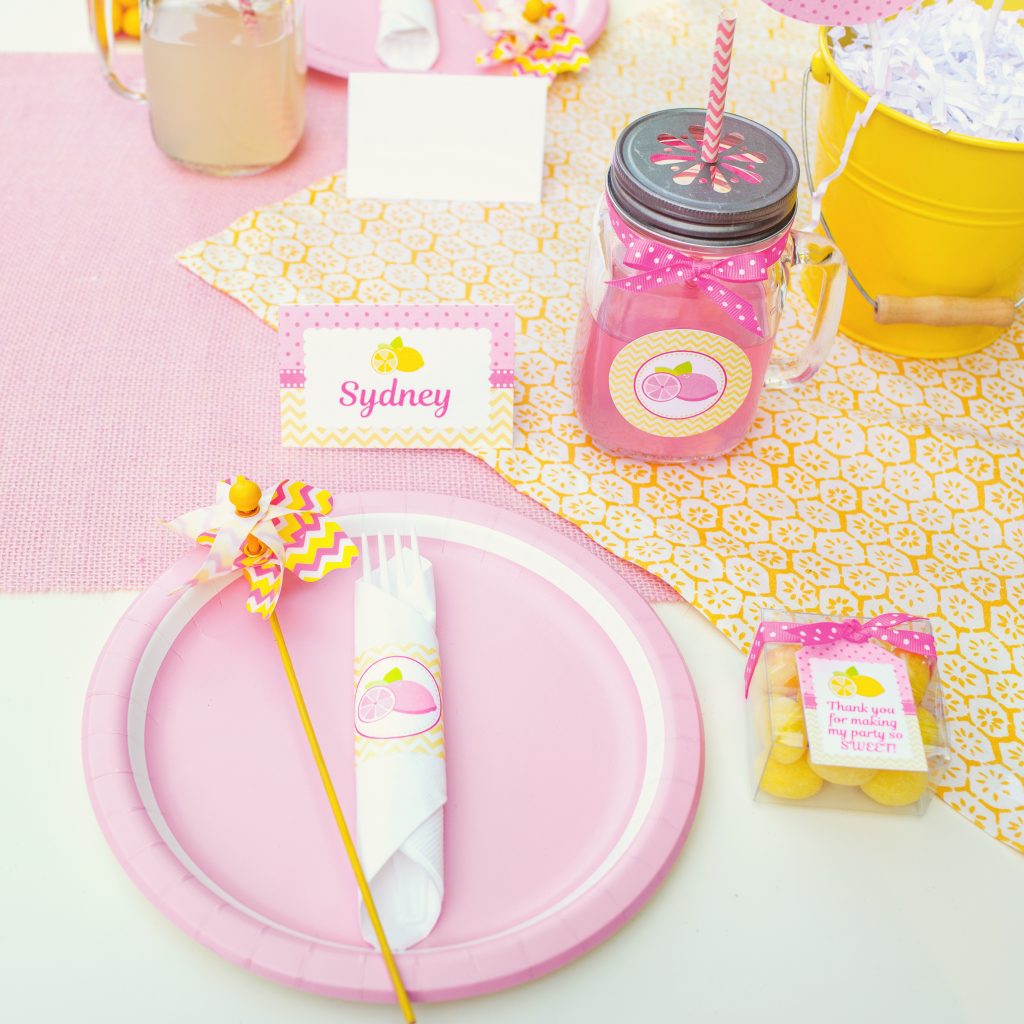 Each place setting had a place card telling the girls where to sit, a fun pink and yellow pinwheel, silverware wrapped in my printable napkin wrap, a jar of sweet lemonade, and a favor box.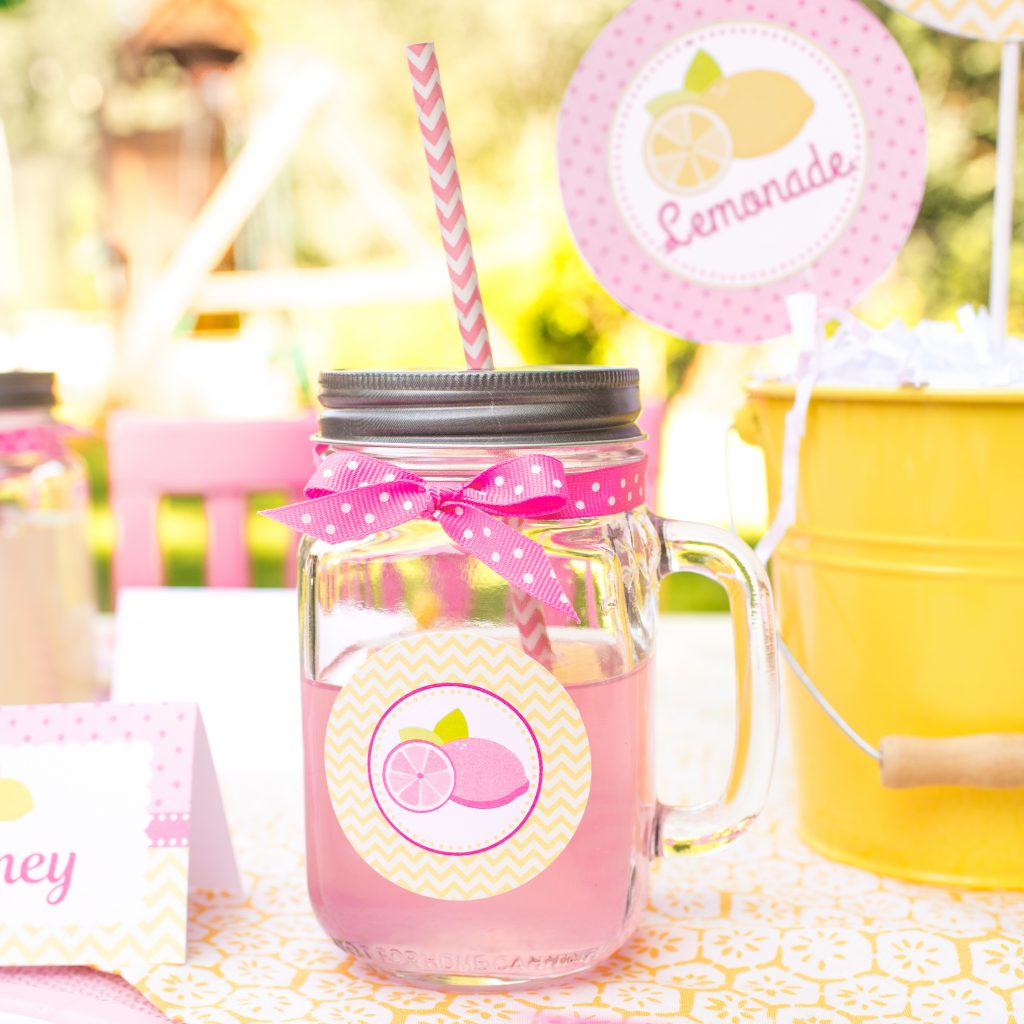 Dress up a mason jar with a ribbon, printable cupcake topper, and colored paper straw. I love how just a few little touches create such a custom fancy drink.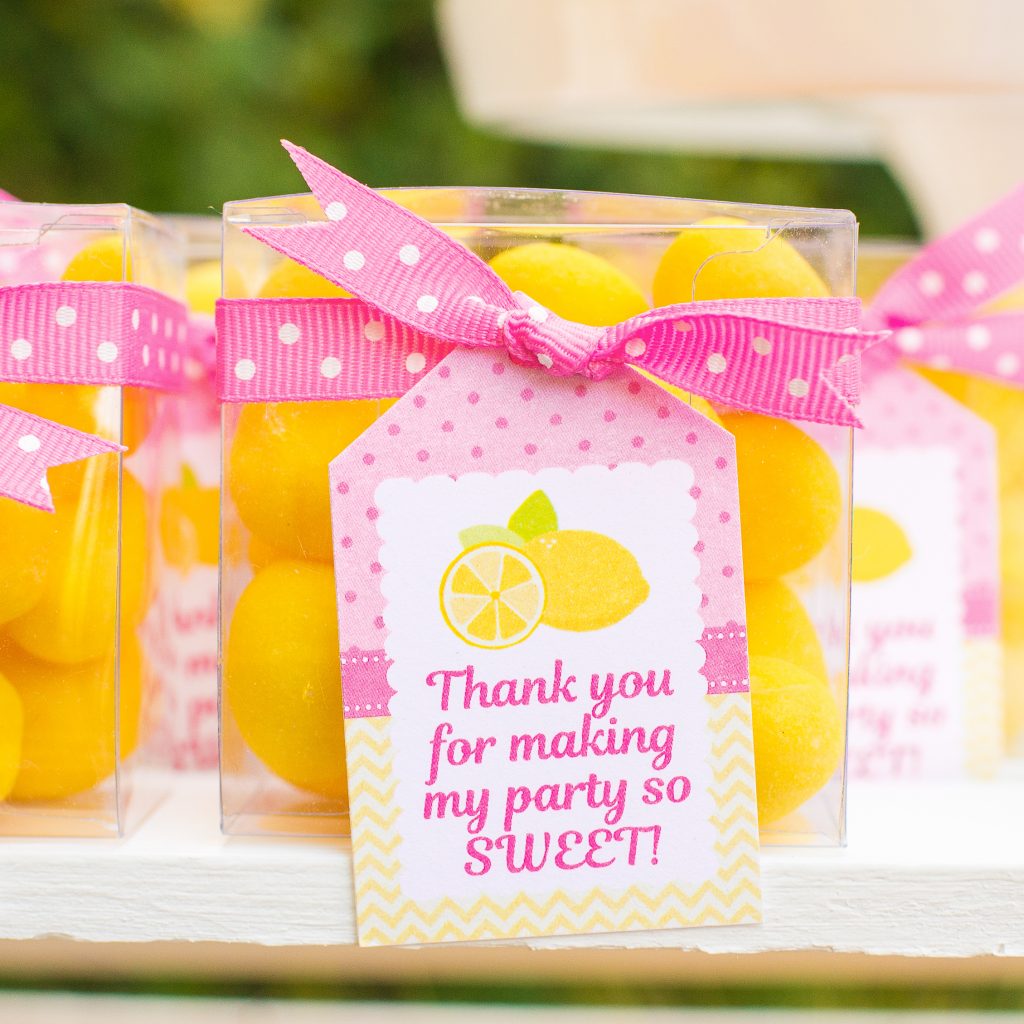 Lemon drops in clear boxes were the perfect sweet treat for the girls to take home. Just add a ribbon and printable lemonade favor tag.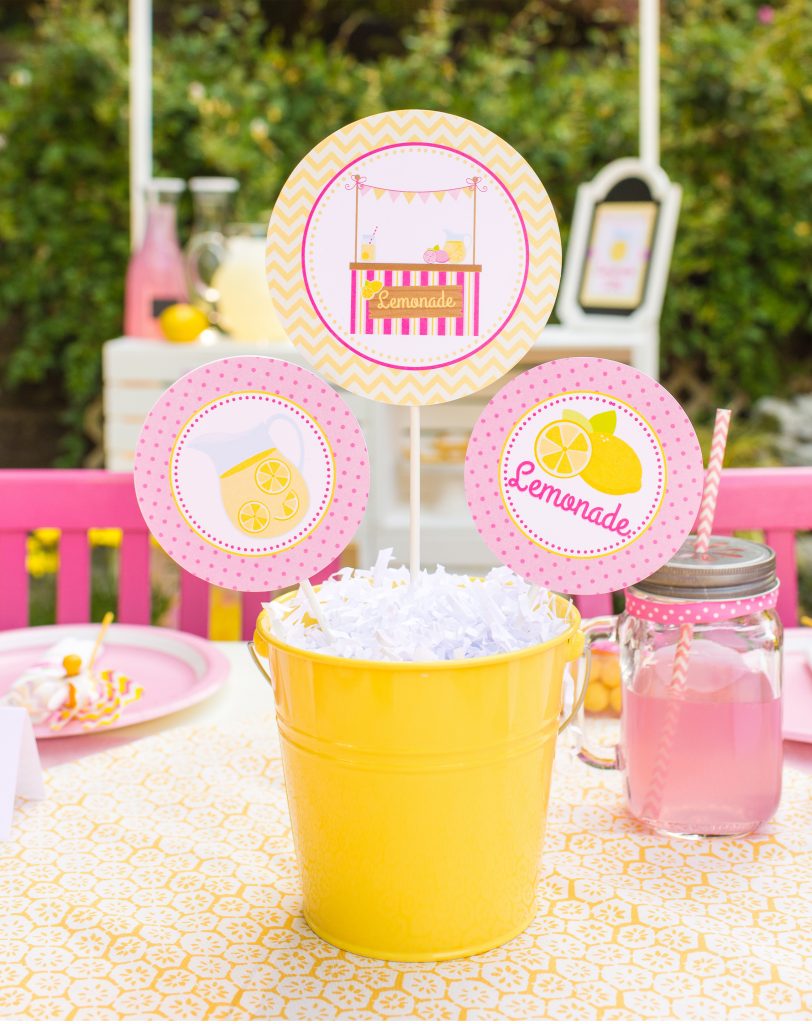 The center of the table featured my printable lemonade centerpiece set. A simple yellow metal bucket made it pop. Make the circles double sided so guests can enjoy it from both sides of the table.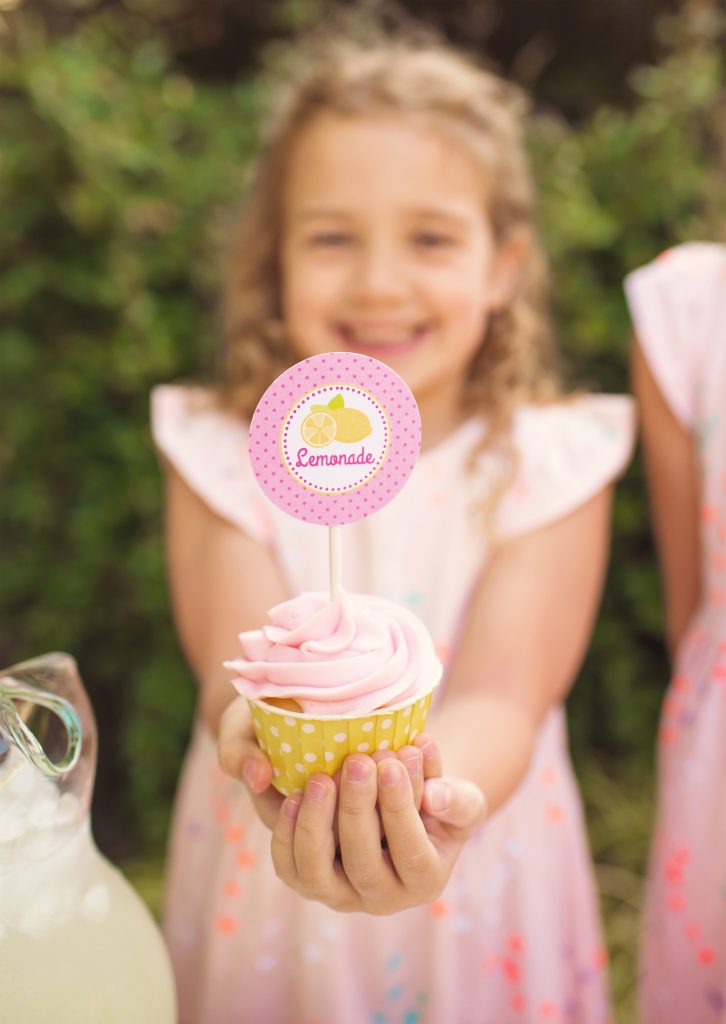 The girls were so excited to dig into these yummy treats.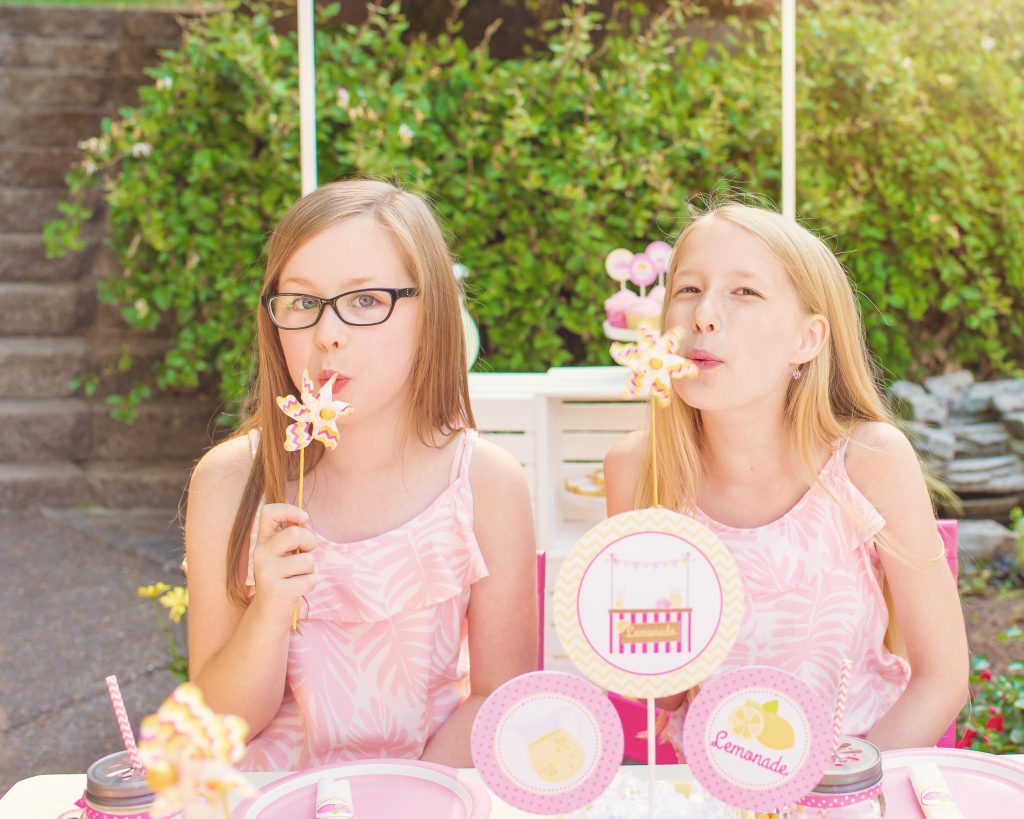 They had fun just being giggly girls. It was so fun watching them enjoy all the little details.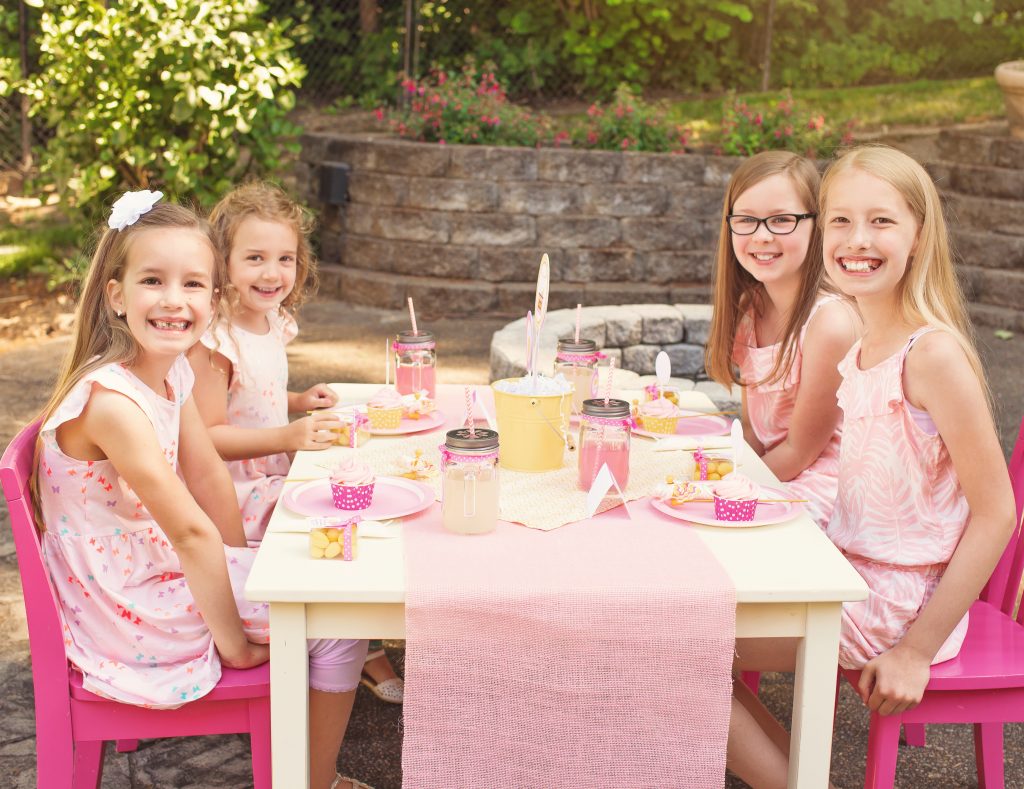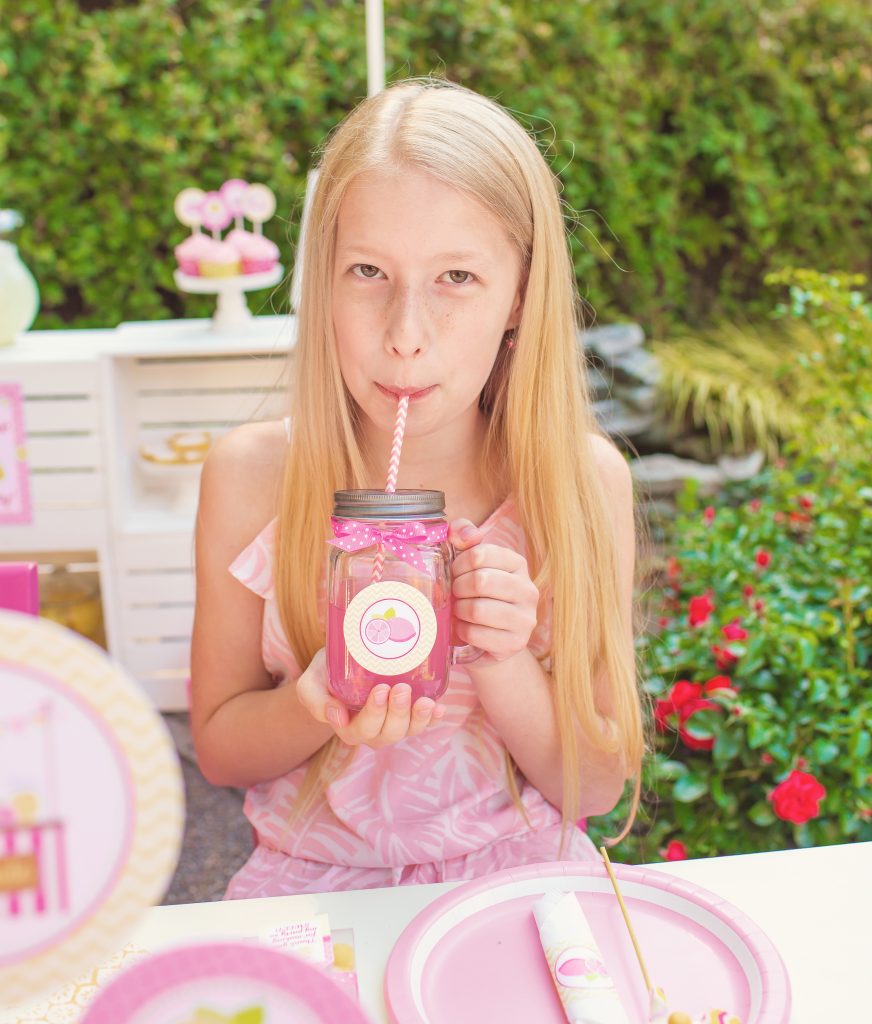 We enjoyed lots of yummy sweet lemonade of course.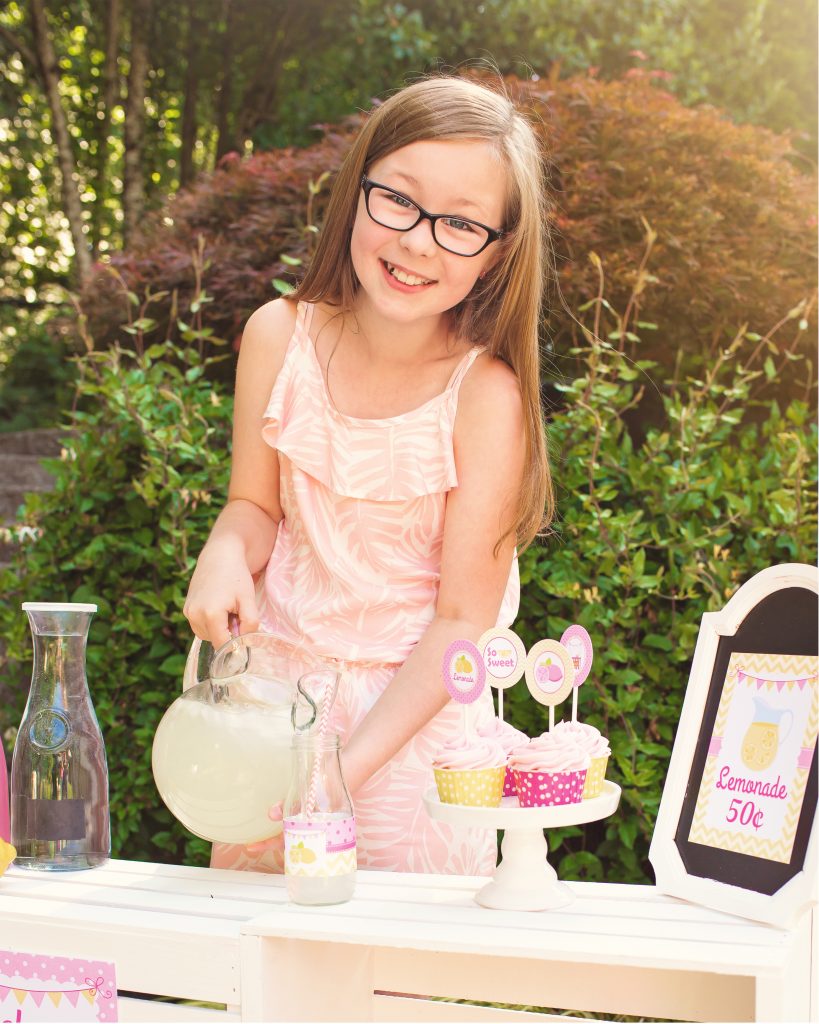 And went back to pour even more.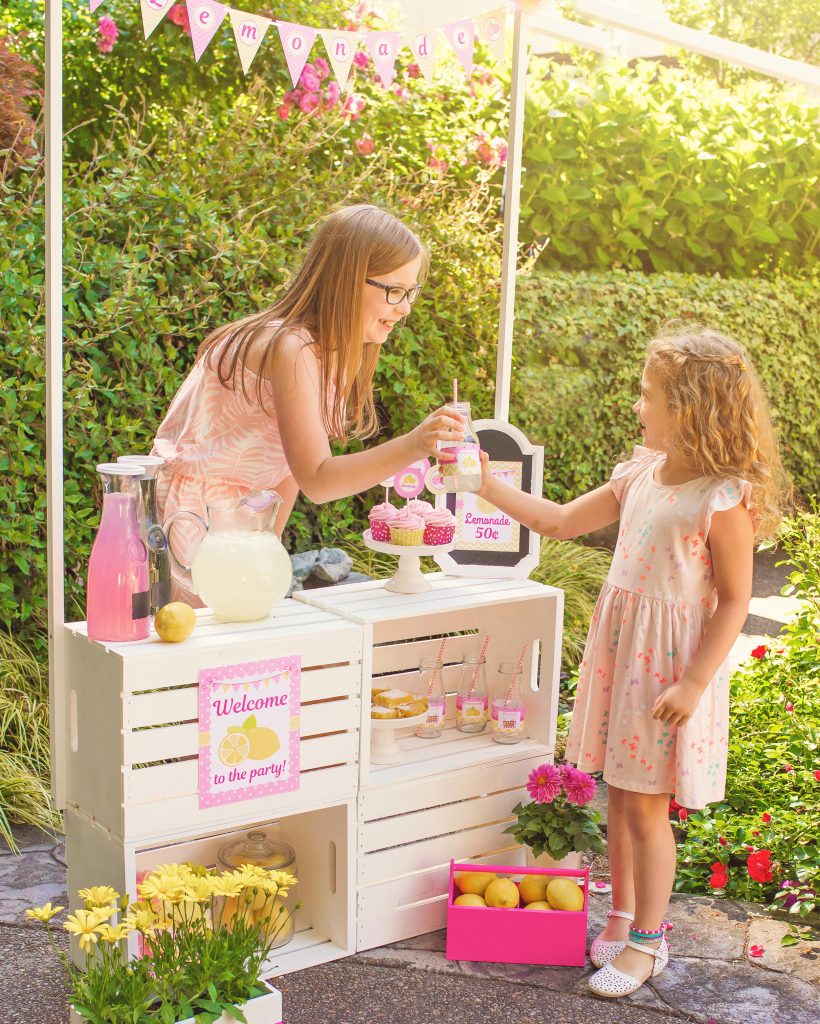 I think they would have spent all day playing at this lemonade stand if they could have.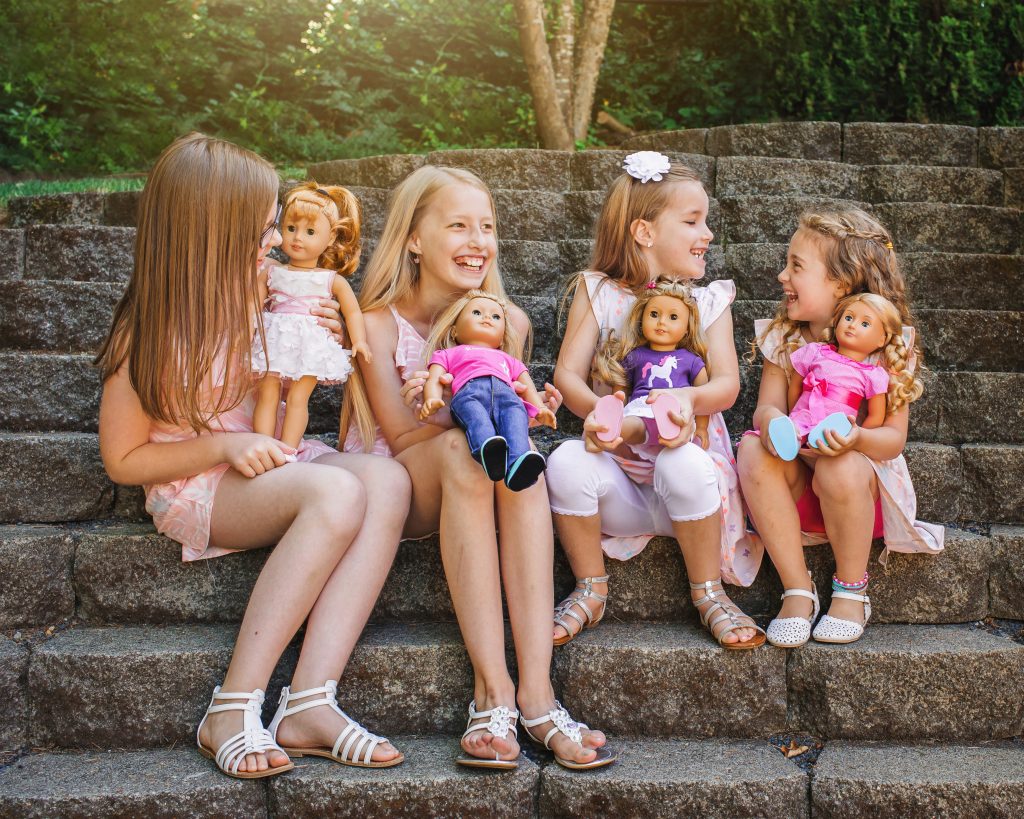 Their dolls even got in on the fun.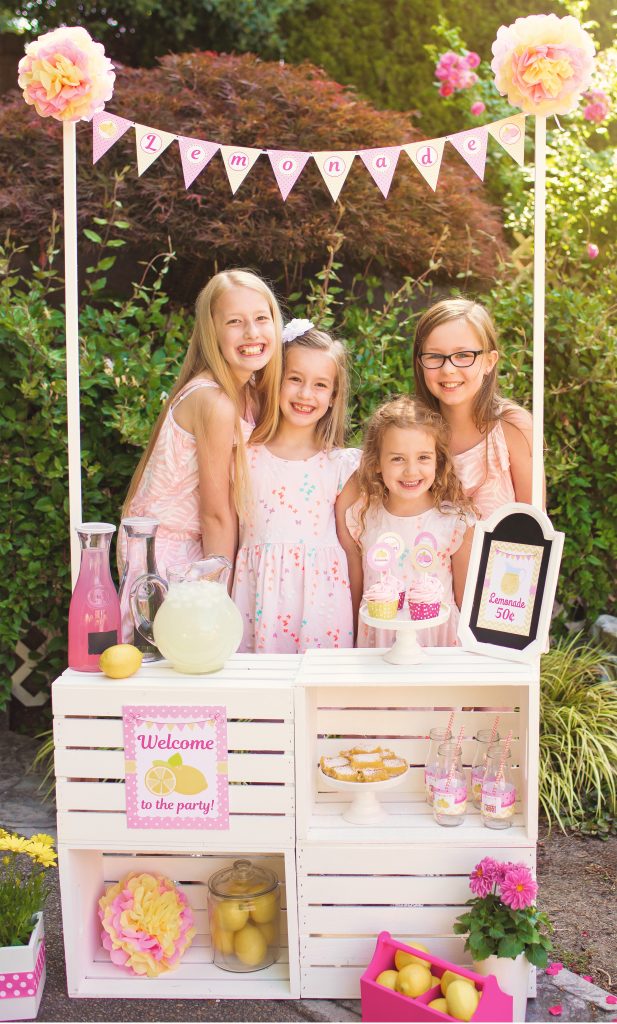 Our lemonade stand party was a big hit. Perfect for a backyard treat with friends, birthday party, or even a lemonade stand in the front yard. How could neighbors resist this cute lemonade stand?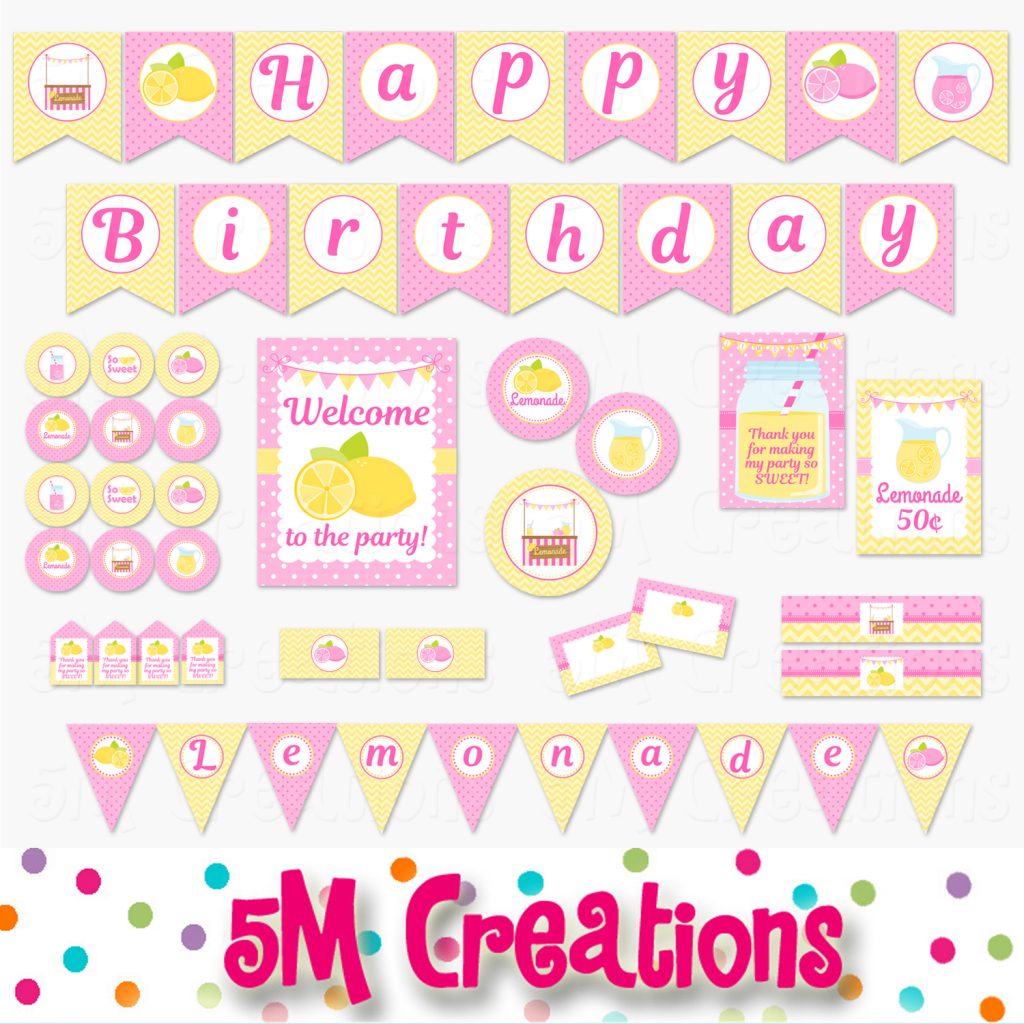 My printable lemonade party decor package is available now in my Etsy Shop. It comes with all the printable decor you saw above plus a Happy Birthday Banner.
2 matching invitation styles are also available.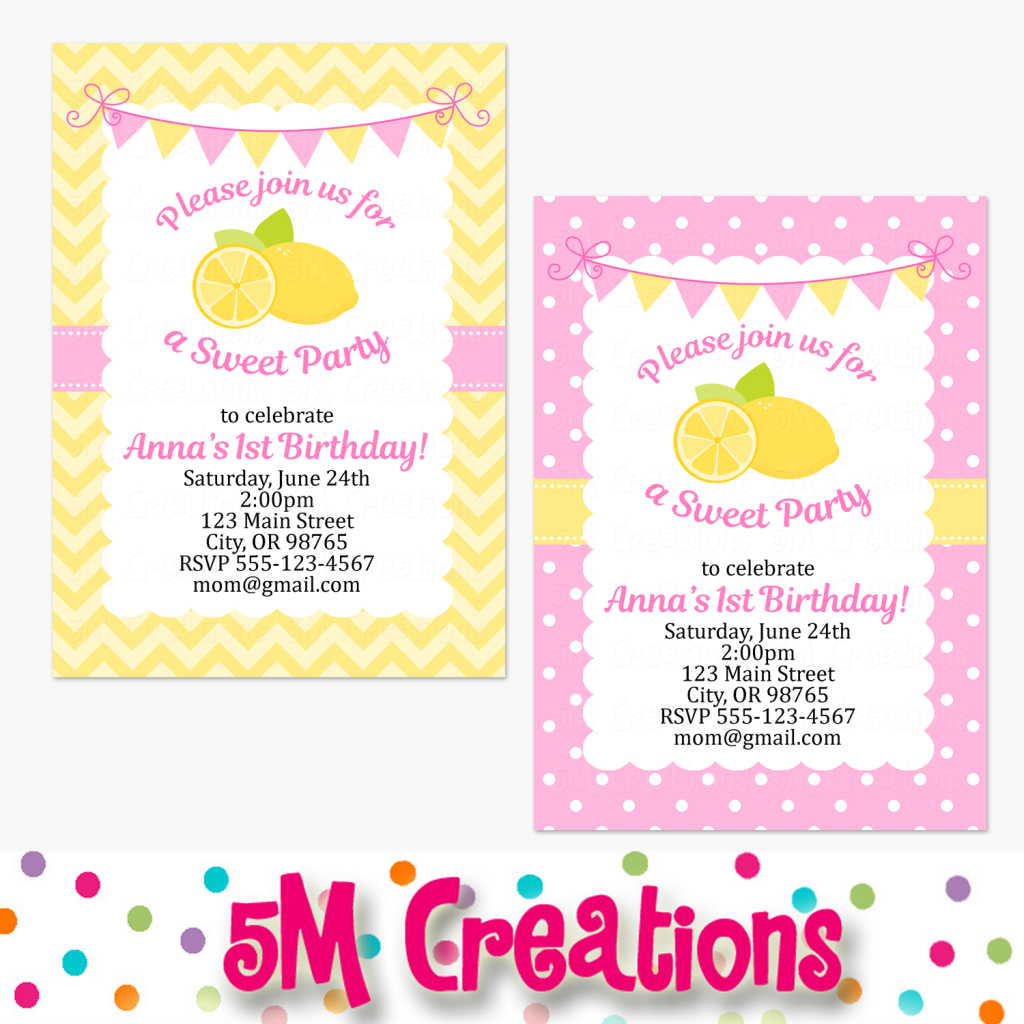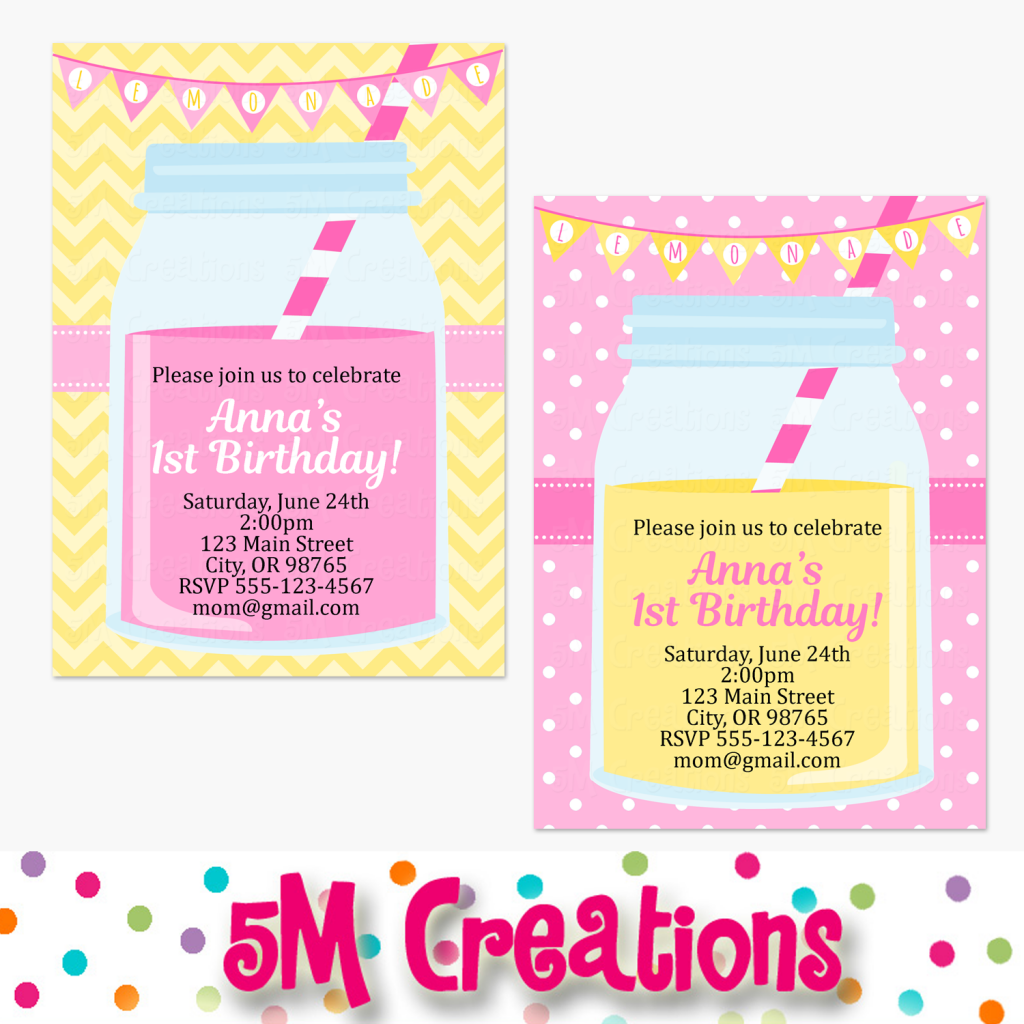 Party Details:
Handled Lemonade Jars: Amazon
Daisy Jar Lids: Amazon
Pinwheels: Hobby Lobby
Lemon Cloth Napkin: Pottery Barn
Girls' Outfits: H&M
5M Creations August 1st, 2017
Posted In: Girl Birthday Party
Tags: centerpiece, cupcake toppers, girl party, lemonade party